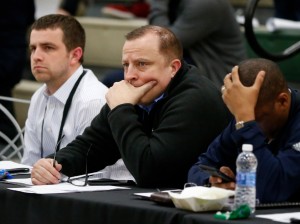 We're officially one week out from the NBA Draft. The mock drafts are ramping up. Most of them are just guesses, and we should probably ignore them. Even if they're educated guesses, they're mostly useless because one unexpected move at the top of the draft can change everything.
There's no real consensus when it comes to the Wolves and the No. 7 pick. Florida State freshman Jonathan Isaac's name comes up a lot, but six other teams will have a crack at him first if they decide that's what they want to do.
Trade speculation is fun, but most of it turns out to be fiction.
So is there any meaningful information even out there as we try to get a handle on the Wolves' situation heading into next week?
Well, thankfully, yes.
ESPN Insider Chad Ford just released his list of the six tiers of players in this year's draft class — everyone from potential superstars on down. This is not a top-of-the-head mock draft. This is actual information based on his polling of NBA scouts and executives — people who have been evaluating talent for a long time and will have major influence over this year's selections. It's still subjective, of course, but it's far better than a lot of other things you'll find out there on the draft.
And if you're a Wolves fan, it also reveals some very good news.
Only two players are listed in Tier I, the potential superstars — point guards Markelle Fultz (Washington) and Lonzo Ball (UCLA). But that's actually a lot, since Ford notes that since he started doing the pre-draft tiers in 2009 only six other players have been Tier 1 players (including current Wolves players Karl-Anthony Towns and Andrew Wiggins).
More importantly to the Wolves and their fans: eight more players are listed in Tier II, defined as potential all-stars. Ford notes that it is "the largest Tier 2 we've ever had" and adds that "having 10 players in the first two tiers is extraordinary for a draft class."
The eight Tier II players are: De'Aaron Fox, PG, Fr., Kentucky; Jonathan Isaac, F, Fr., Florida State; Josh Jackson, G/F, Fr., Kansas; Lauri Markkanen, PF, Fr., Arizona; Malik Monk, G, Fr., Kentucky; Frank Ntilikina, PG, France; Dennis Smith, PG, Fr., North Carolina State; Jayson Tatum, F, Fr., Duke.
You'll see three or four of those players regularly linked to the Wolves in mock drafts. What really matters is this: the people evaluating this draft think there are 10 players who have the potential to be all-stars (or better), and the Wolves will be able choose from a bunch of them. This doesn't happen every year. Sometimes a draft goes five players deep and the No. 7 pick is nothing more than a wish. That doesn't appear to be the case this year.
Likewise, if the Wolves decide they have enough young talent and want to turn the No. 7 pick into a trade asset, they should find no shortage of teams coveting players available at that spot. That's the kind of leverage you don't always get with that draft slot.
None of this guarantees the Wolves will make the right choice or that all 10 players will, indeed, pan out. What it does mean is that going into the draft, the Wolves should feel good about their options regardless of what happens with the first six picks.