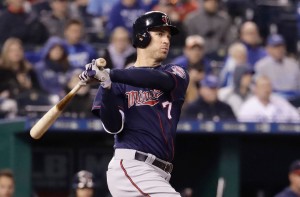 There are plenty of ways to look at Joe Mauer's 2017 numbers one month into the season, and a lot of them lead you to conclude that he's had a bad year even by his recent standards of decline.
Mauer is hitting just .225, and he went more than 50 plate appearances before his first extra-base hit of the season. As it stands now he has four doubles, no homers and a puny .546 OPS. For a player with his past accomplishments, his spot in the batting order and, yes, his salary those are very disappointing numbers.
A deeper look at Mauer's first month, though, adds some interesting context. While it doesn't change the narrative on the results so far, it does lead to the addition of some other adjectives to describe what's happening. The two I would focus on are "strange" and "unlucky" to describe Mauer in 2017 so far.
Under the strange category, we find that Mauer is both walking (5.9 percent of plate appearances) and striking out (7.1 percent) at the lowest rates of any season in his career and certainly well below his career averages of 12.0 and 12.6, respectively.
Most surprising is his strikeout rate, which had climbed to between 16.1 and 18.5 percent in each of the past four seasons. Early in his career, Mauer was tough to strike out. As his overall numbers declined, his strikeout numbers went up. Now as his numbers have gotten even worse, he's harder to strike out. What's up with that?
Well, part of it could be because he's hitting the ball in the air way more than he used to. He's hit line drives in 21.6 percent of his at bats (not far off his career mark of 24.1). But he's only hit ground balls 36.5 percent of the time (compared to 50.6 percent for his career) while hitting fly balls 41.9 percent of the time (compared to 25.4 percent for his career). When you're hitting fly balls that aren't home runs (Mauer has zero) and you're hitting them into defensive shifts (which I'd argue have hurt Mauer quite a bit as they've become more prevalent in recent years, a theory supported by this FiveThirtyEight data on how shifts have caused aging players to fare worse), you're going to make a lot of outs.
But some of it can be traced to that second adjective: unlucky. Per FanGraphs, Mauer is hitting the ball hard 36.5 percent of the time he puts the ball in play — better than his career average of 33.3 percent. But his batting average on balls in play (BABIP) is a dismal .243. Considering Mauer has never finished a season with a BABIP below .300 (and his career BABIP is almost 100 points higher at .339), it stands to reason that even if he's hitting more fly balls and is putting the ball in play way more than he ever has, he has run into some bad luck with balls landing in fielder's gloves.
Again, some of that goes to the predictability of Mauer, which leads defenses to play him to the opposite field and results in hard-hit balls right at well-positioned fielders. He hasn't made teams pay enough for gaping holes — though he did the other night when he pulled a double against Kansas City for the game-winning hit. On the season, 41.9 percent of his balls in play have gone to the opposite field, even higher than his 34.5 percent career average.
Still, the increased numbers of balls in play and the increased number of fly balls would seem to indicate some sort of shift in approach for Mauer. Maybe it's too soon to say that after one month. But it will be interesting to see if some of those "strange" trends continue while some of those "unlucky" factors even out and result in more hits as the season progresses.