One week that shook the world: George Floyd's death ignited protests far beyond Minneapolis
On Memorial Day, a white police officer put his knee on the neck of a black man, who died less than an hour later. In the following days, protesters both peaceful and angry took to the streets by the thousands. Businesses burned. A community grieved.
On Memorial Day, a white police officer knelt on the neck of George Floyd, a black man who died less than an hour later.
In the following days, thousands of people — some peaceful, some violent — took to the streets.
Businesses burned.
A community grieved.
One week in Minneapolis
It started on a street corner in south Minneapolis.
The death of George Floyd at the hands of the Minneapolis Police Department ignited protests against racism and police brutality across the globe. Peaceful marches in the Twin Cities grew into the thousands by day. After dark, violence flared.
This project contains graphic language and audio.
Monday, May 25
About 8 p.m. on Memorial Day, two police officers respond to a call about an alleged forgery at Cup Foods, a local grocery store at 38th and Chicago in south Minneapolis, according to the criminal complaint against Derek Chauvin. The following sequence of events is taken from that complaint:
Minneapolis police officers Thomas Lane and J Alexander Kueng arrive at Cup Foods after the owner calls 911 and says someone used a counterfeit $20 bill when buying merchandise. Lane and Kueng approach Floyd, who is in a car with two other people.
Lane points his gun at Floyd, who places his hands on the steering wheel. After holstering his gun, Lane pulls him out of the car and handcuffs him.
When the officers try to put Floyd in the squad car, he stiffens and falls to the ground and says he is claustrophobic.
Officer Chauvin arrives with his partner, Tou Thao, and the four officers struggle as they put Floyd in the squad car.
Chauvin pulls Floyd from the car. With Floyd lying on his stomach on the street, Chauvin puts his knee on Floyd's neck.
Floyd cries out for help.
"Mama."
"Please."
"I can't breathe."
For 2 minutes and 53 seconds, Floyd appears unconscious. When an ambulance arrives, Chauvin removes his knee from Floyd's neck, 8 minutes and 46 seconds after he first put it there.
Floyd is pronounced dead at 9:25 p.m. after first responders work for nearly an hour to resuscitate him.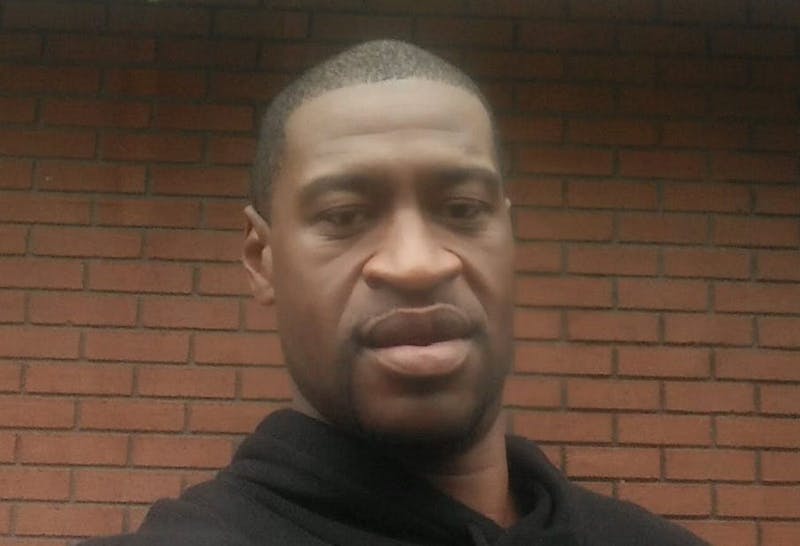 About an hour after midnight, a 10-minute video is uploaded to Facebook by one of the bystanders, Darnella Frazier, showing Floyd on the ground with Chauvin's knee on his neck. Civilians on the scene repeat what Floyd is saying, that he can't breathe.
"It was like a natural instinct, honestly" to start recording, said Frazier, who lives in the neighborhood. "The world needed to see what I was seeing. Stuff like this happens in silence too many times."
In the video, bystanders beg officers to take his pulse and get off of him.
"Back off."
"He can't breathe!"
"Does he have a pulse? Check for a pulse! Let me see a pulse!"
"He's not [expletive] moving!"
"You really just killed that man."
The video quickly goes viral. Around the same time the video is posted, MPD releases a statement saying police were initially called to investigate a forgery report involving a man who was under the influence. According to the statement, when they arrived, the officers arrested the man, who resisted, and he suffered a medical episode.
The MPD account: The man who died was in his 40s. Police were initially called to investigate a "forgery" report involving a man who was under the influence. When they arrived, the officers arrested the man, who resisted, and he suffered a medical episode. He died at HCMC.

— Libor Jany (@StribJany) May 26, 2020
Tuesday, May 26
Less than 17 hours after Floyd's death, Mayor Jacob Frey announces that all four officers involved have been fired.
"Being Black in America should not be a death sentence … When you hear someone calling for help, you're supposed to help," Frey posts on his Facebook page. "This officer failed in the most basic, human sense."
Friends and employers remembered Floyd as a big man with a heart to match.
That evening, a protest against police violence outside the store where Floyd was arrested.
Thousands of people, most of them wearing masks to slow the spread of coronavirus, march peacefully from the site of the fatal arrest to the Police Department's Third Precinct, where tensions quickly escalate.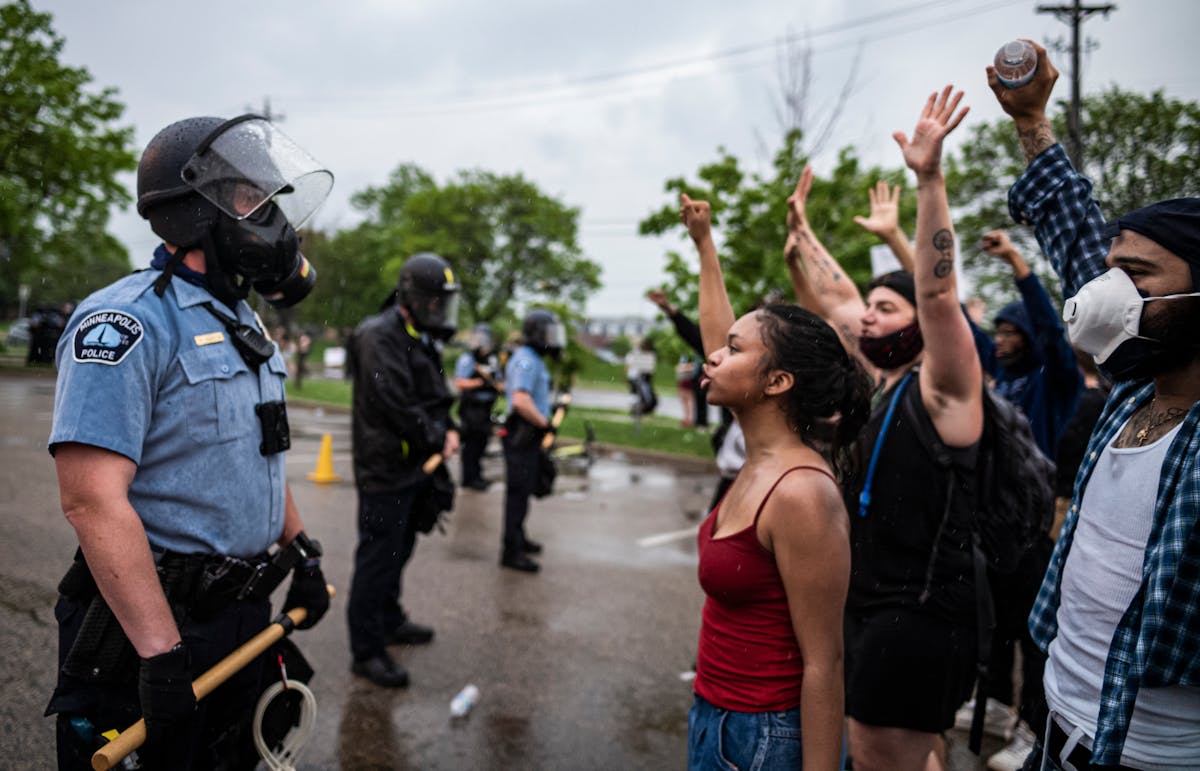 As rain begins to fall, protesters shatter the glass front door of the station and deface the building. Police squads are hit with spray paint.
Some protesters climb on top of the building, while others throw rocks and water bottles at officers in riot gear. Police respond by firing chemical irritants and flash-bang devices, scattering groups to neighboring businesses. Some protesters are seen pouring milk into their stinging eyes.
By 9 p.m., most of the crowds have left.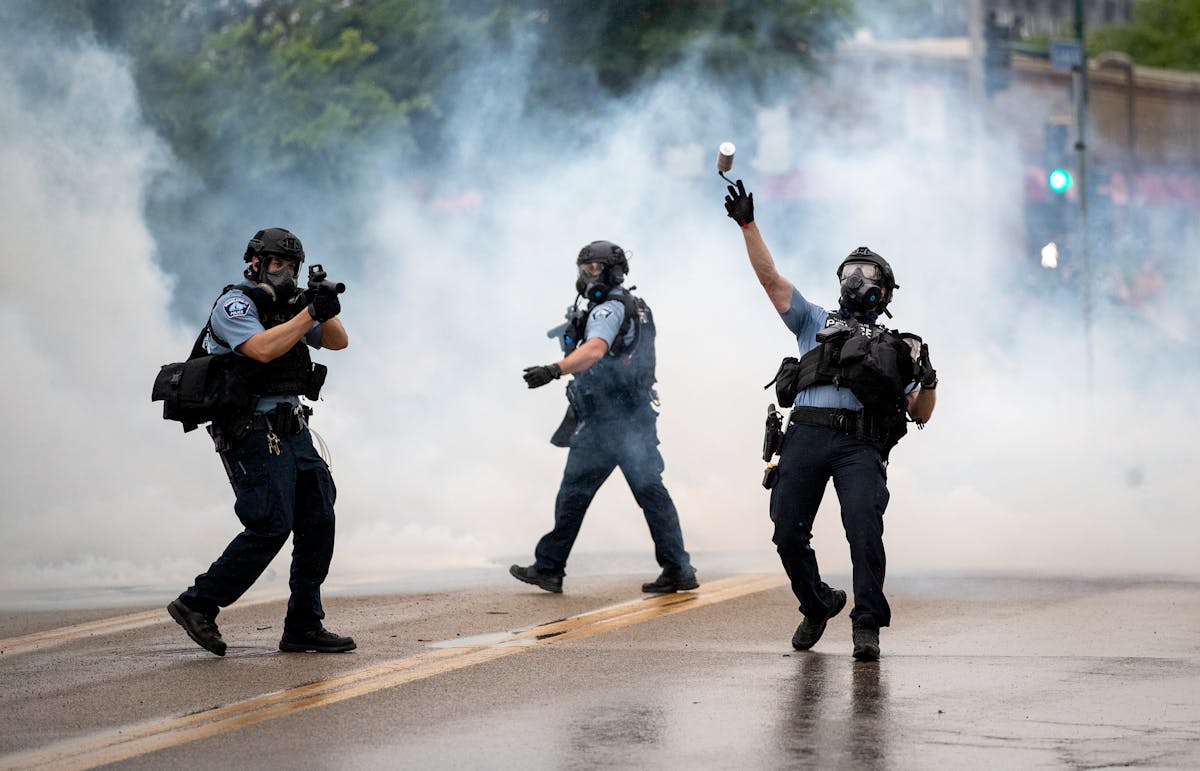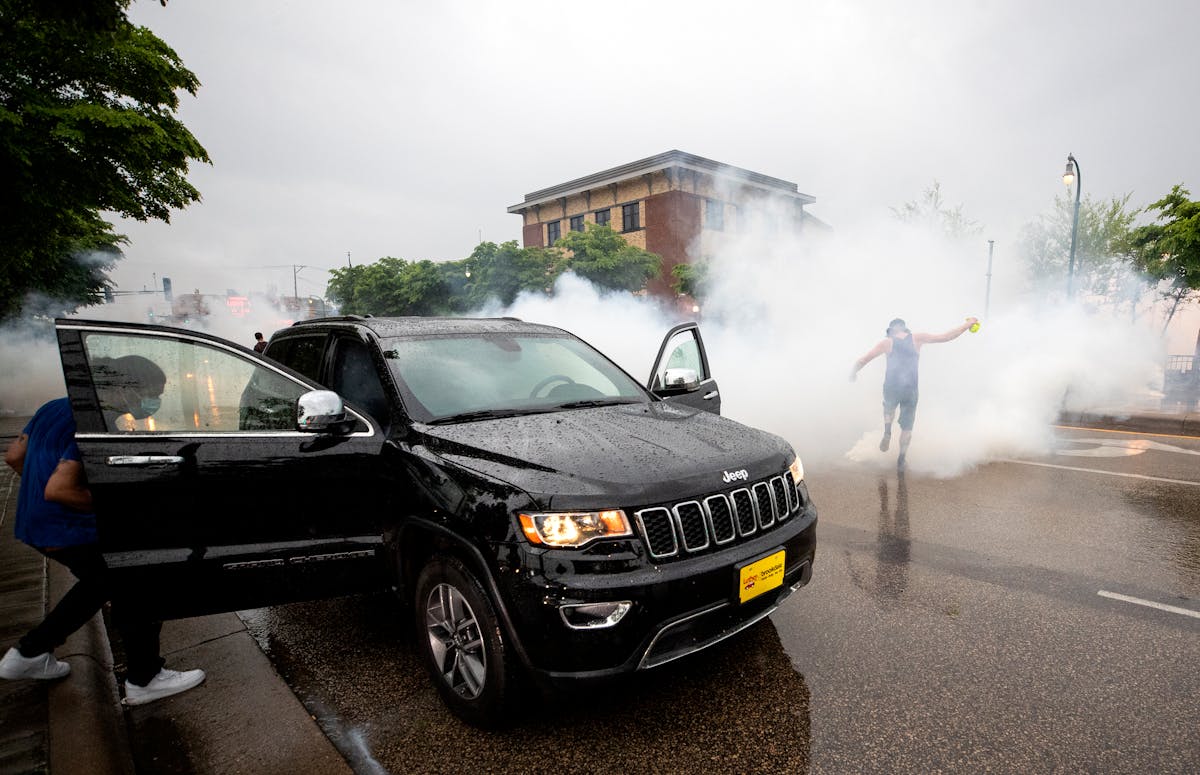 Wednesday, May 27
On national television, George Floyd's sister, Bridgett Floyd, pleads for justice for her brother's death.
"I would like for those officers to be charged with murder because that's exactly what they did," she says on NBC-TV's "Today." "I don't need them to be suspended and able to work in another state or another county. ... Their jobs should be taken, and they should be put in jail for murder."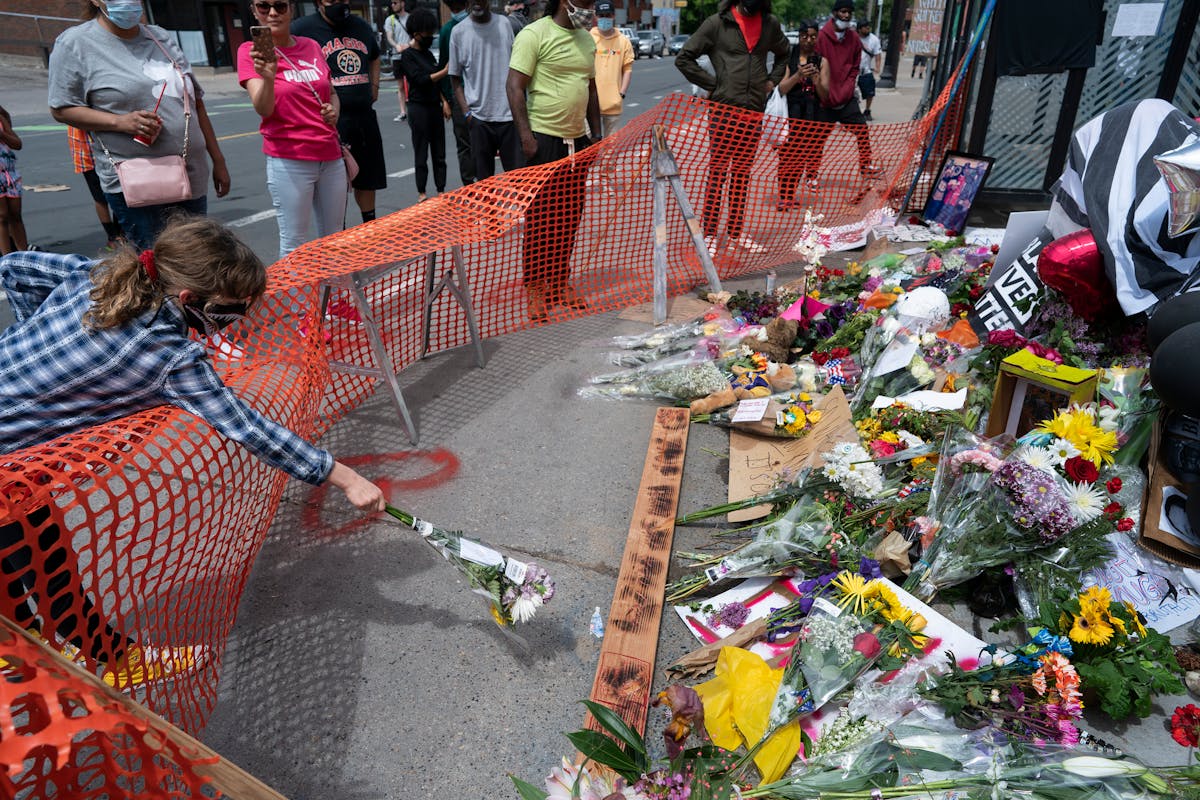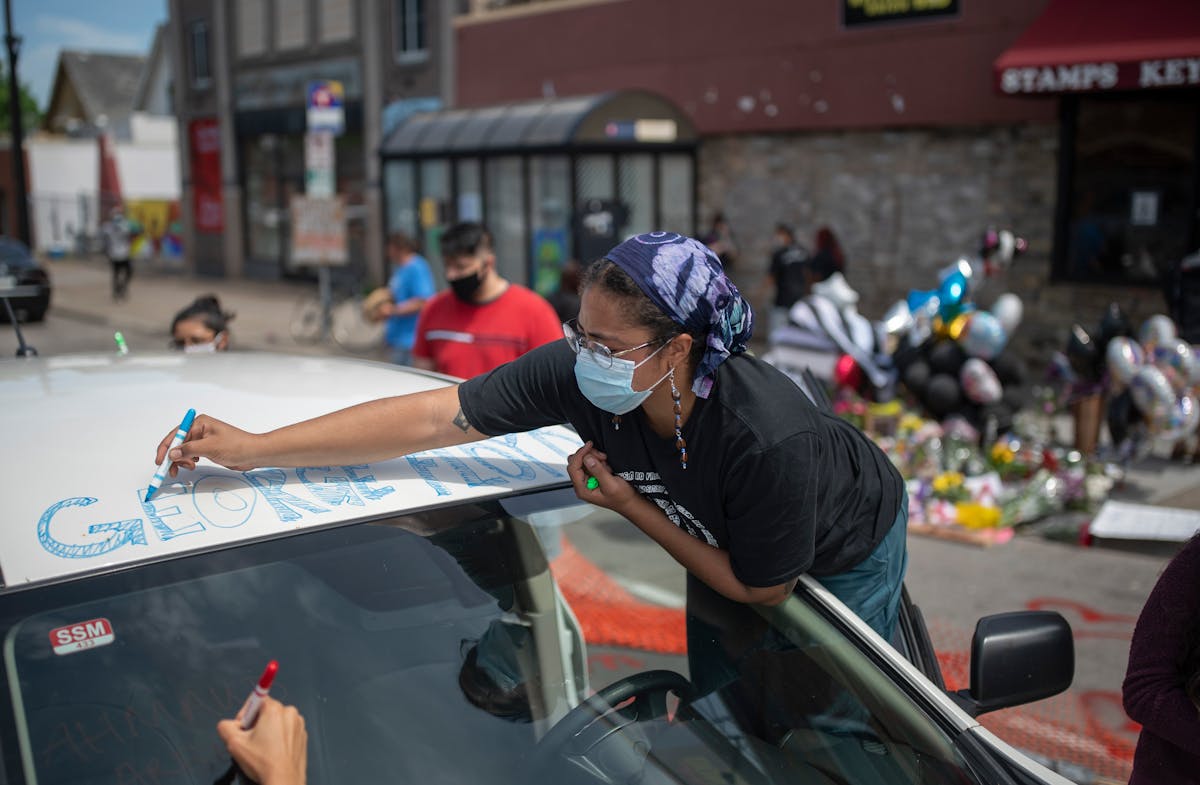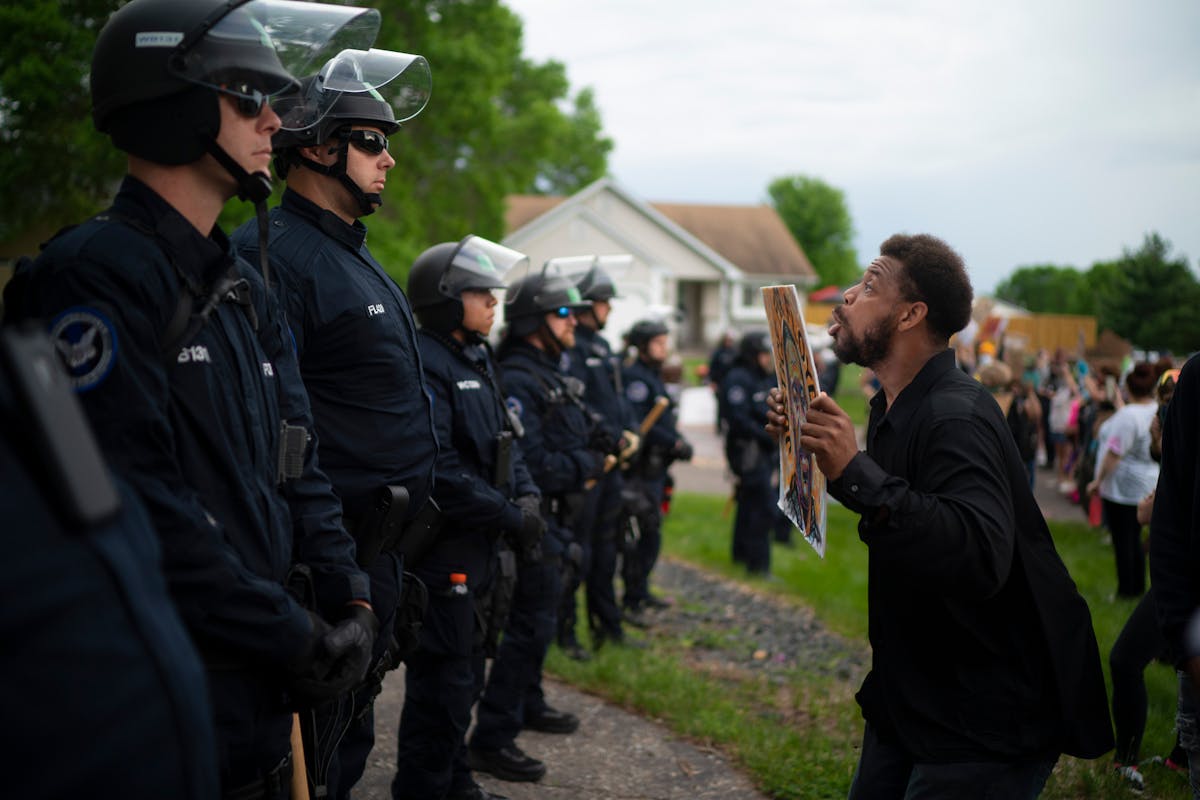 Anger spills into the streets of Minneapolis for a second night, spreading well beyond Tuesday night's unrest, with a shooting death, widespread looting and a fire that shrouds the surrounding neighborhood in smoke.
Our state watched George Floyd's humanity get erased. Our feelings of anger, anguish, and disillusionment are justified.

— Governor Tim Walz (@GovTimWalz) May 28, 2020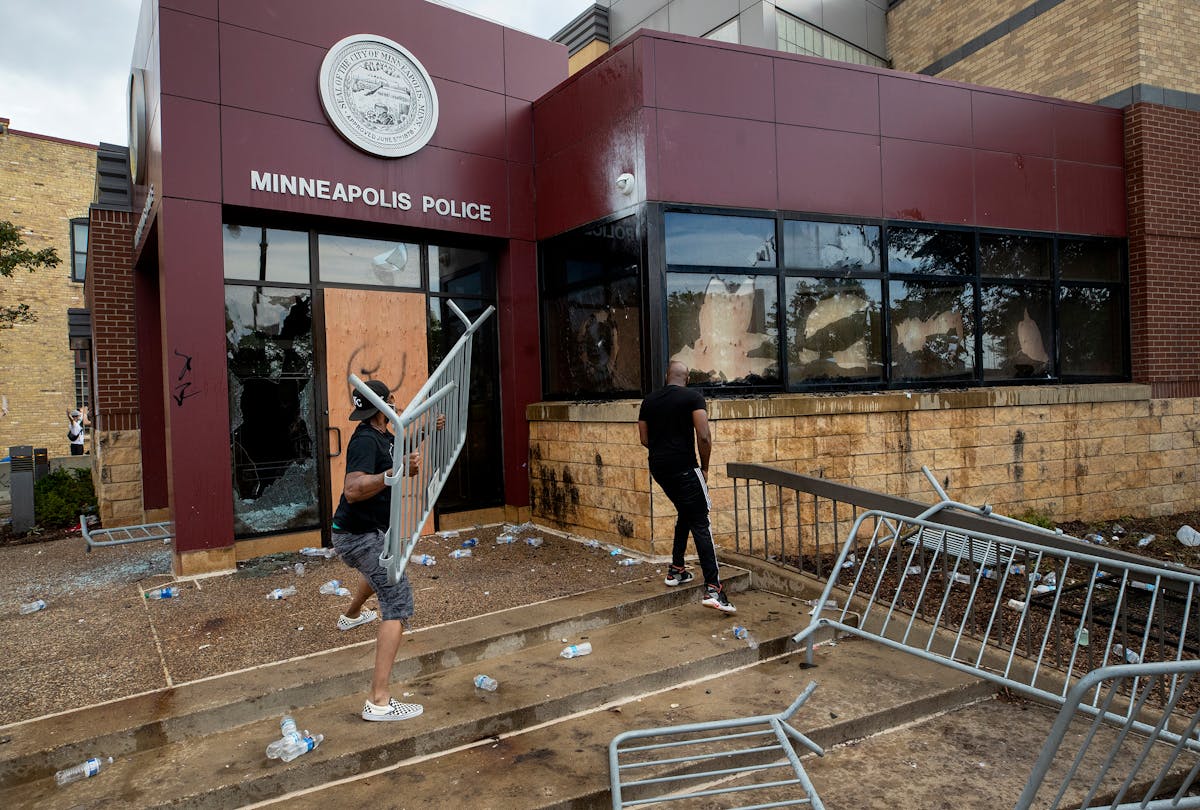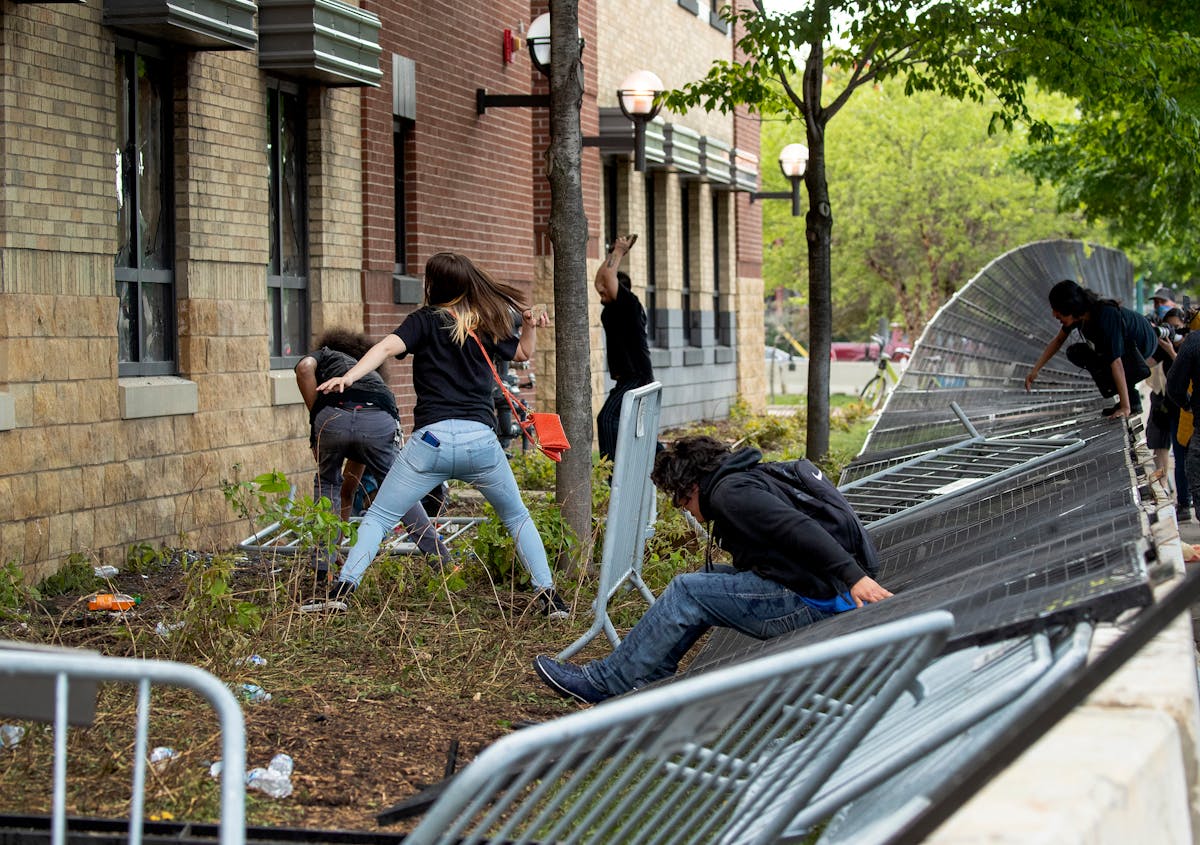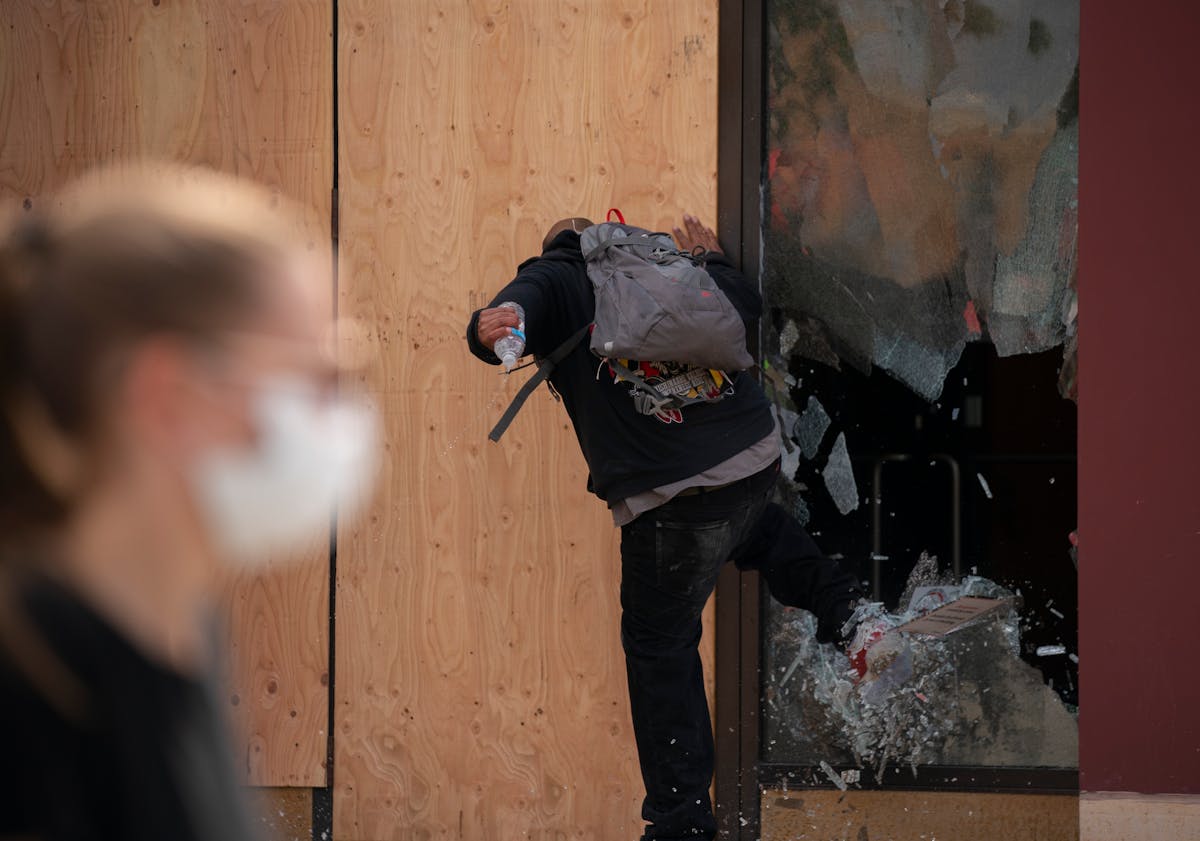 The police radio squawks with call after call, as looting starts at the Target store across the street from the Third Precinct and spreads to stores across the city.
Firefighters race from one blaze to the next, often with police in tow for crowd control. Someone starts a fire at an AutoZone store at Minnehaha and Lake, and firefighters douse most of the blaze. Within hours, the store is on fire again. A half-built affordable housing development next to it is consumed, flames reaching more than a hundred feet into the air. The fire department responds to 16 structure fires throughout the night.
"Please, please Minneapolis. We cannot let tragedy beget more tragedy," the mayor says. "The activity around Lake and Hiawatha is now unsafe. Please, help us keep the peace."
.@MayorFrey is urging people late tonight: "Please, please Minneapolis. We cannot let tragedy beget more tragedy. The activity around Lake and Hiawatha is now unsafe. Please, help us keep the peace. Stay safe and evacuate the area."

— Liz Navratil (@LizNavratil) May 28, 2020
Thursday, May 28
Unrest spills into St. Paul's Midway district as looters ambush stores and pelt police cars with rocks, bricks and liquor bottles.
Officers are called to the Target store on University Avenue around 11:30 a.m. and find 50 to 60 people grabbing merchandise off the shelves without paying, police spokesman Steve Linders said. Many drop the goods and run when authorities arrive.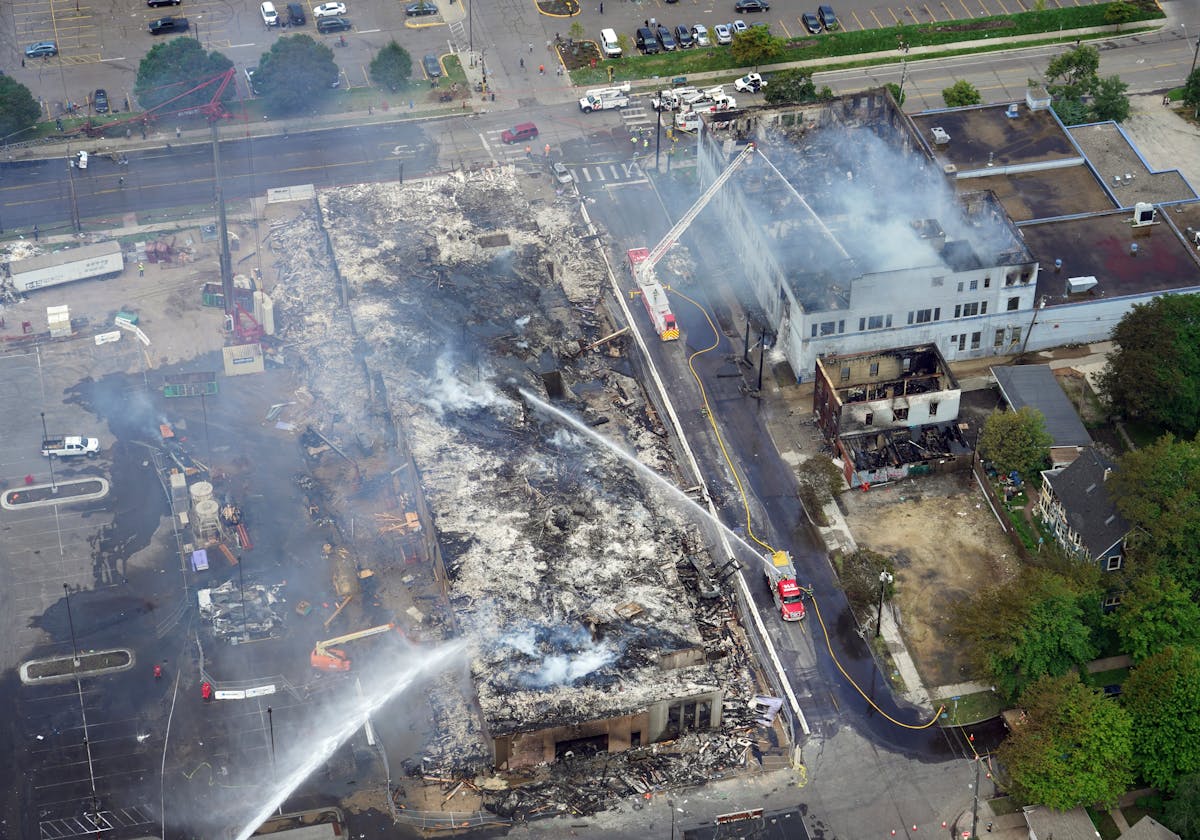 Federal investigators and Hennepin County Attorney Mike Freeman hold a late afternoon press conference promising "robust and meticulous" dual investigations into Floyd's death but say it might take a while. "We are going to investigate it as expeditiously, as thoroughly and completely as justice demands," Freeman says. "Sometimes that takes a little time. And we ask people to be patient."
In downtown Minneapolis, a large, peaceful crowd gathers outside the Hennepin County Government Center in the early evening to demand that prosecutors file charges against the officers involved in Floyd's death.
Thousands of protesters then file down 3rd Avenue with their fists raised in unity.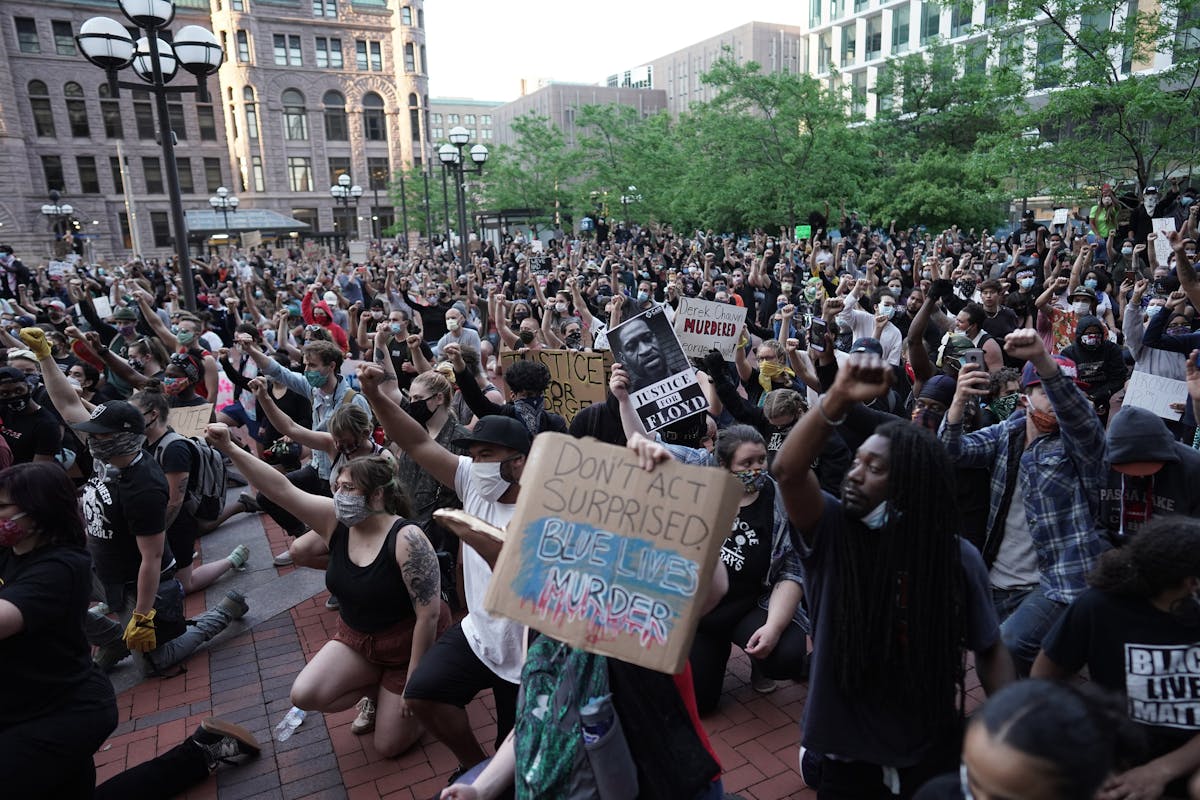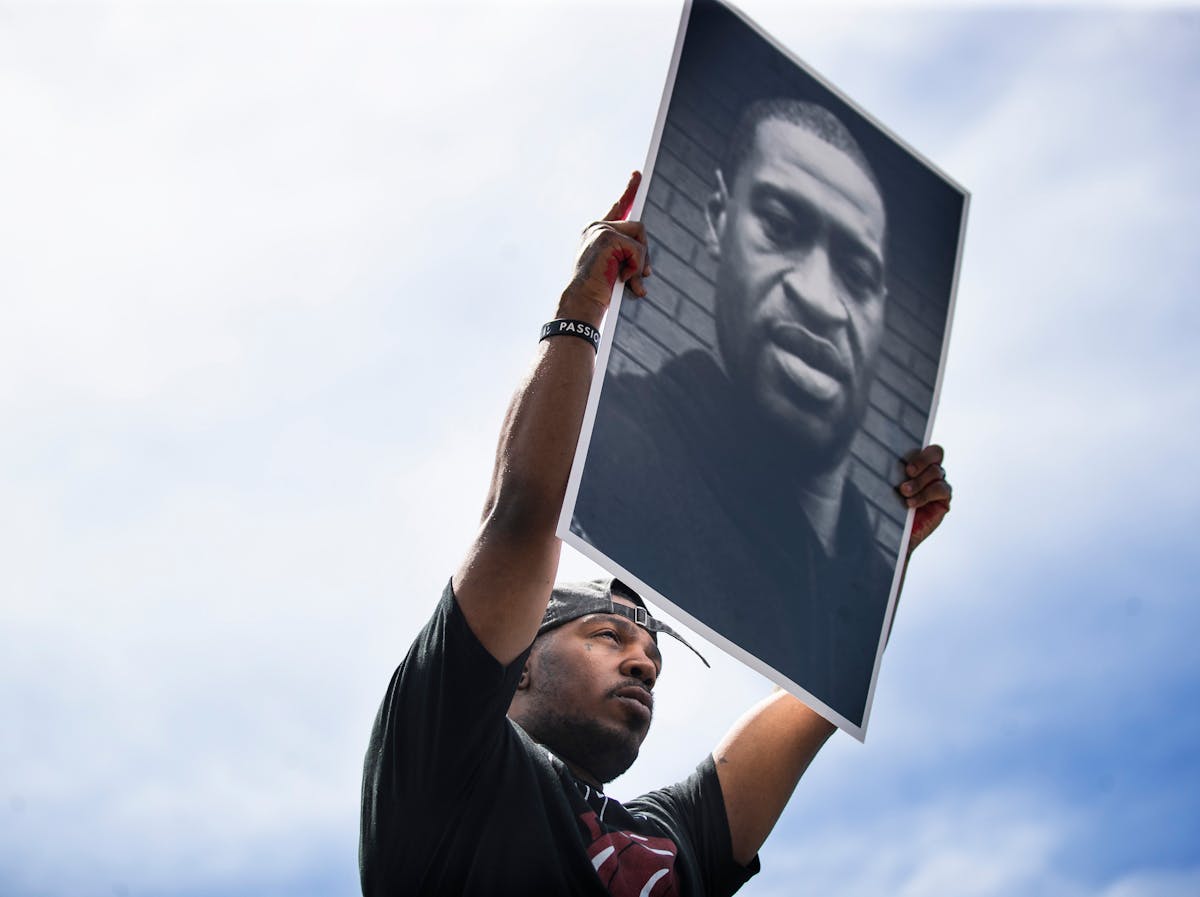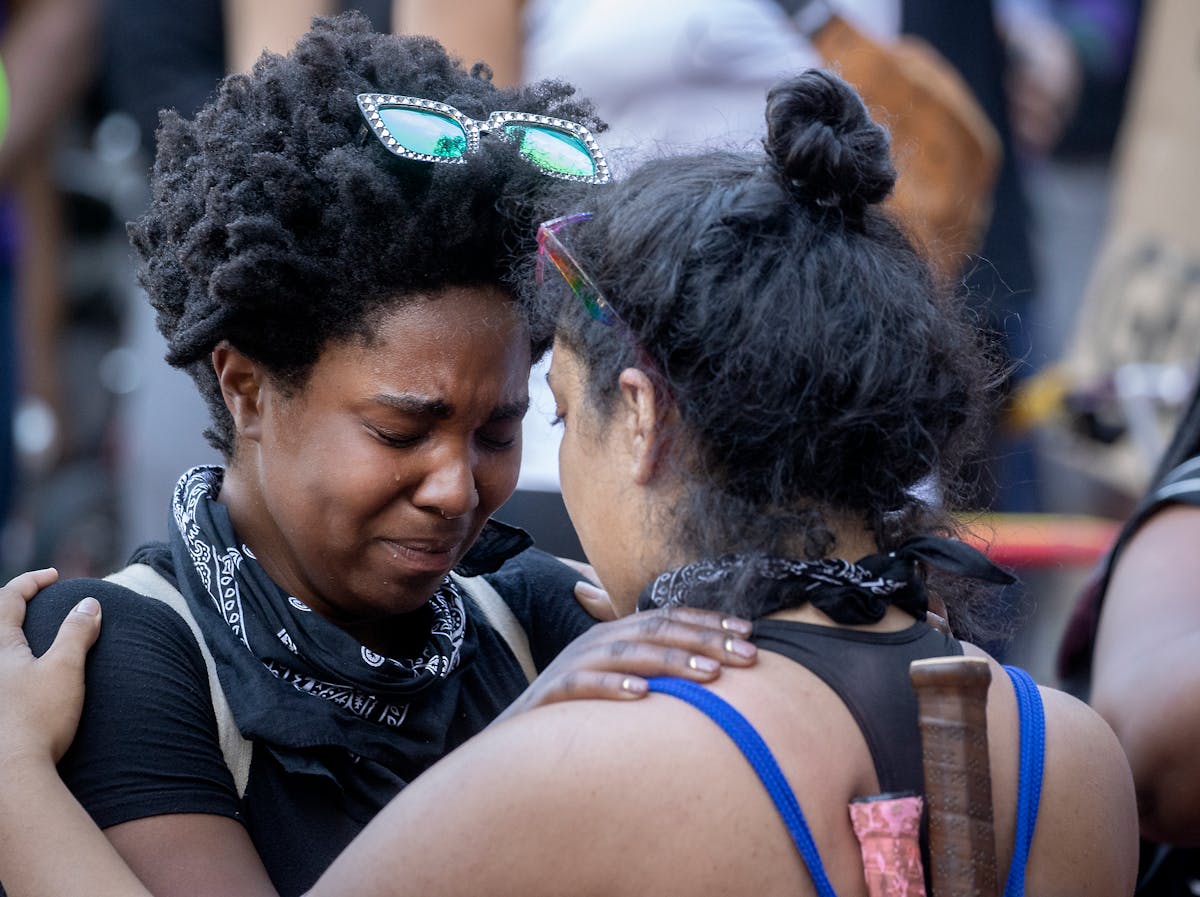 Walz signs an executive order activating the National Guard later that evening.
At the Third Precinct, the epicenter of unrest, an angry crowd breaches a fence, hurling objects at officers before setting fire to the building. The mayor orders the station evacuated. As a line of squad cars pulls away, triumphant protesters cheer and set off fireworks around the burning station.
Across the street, Minnehaha Lake Wine & Spirits, the target of looters the night before, also is set ablaze. Soon, other buildings in the area are set on fire, in a path of destruction.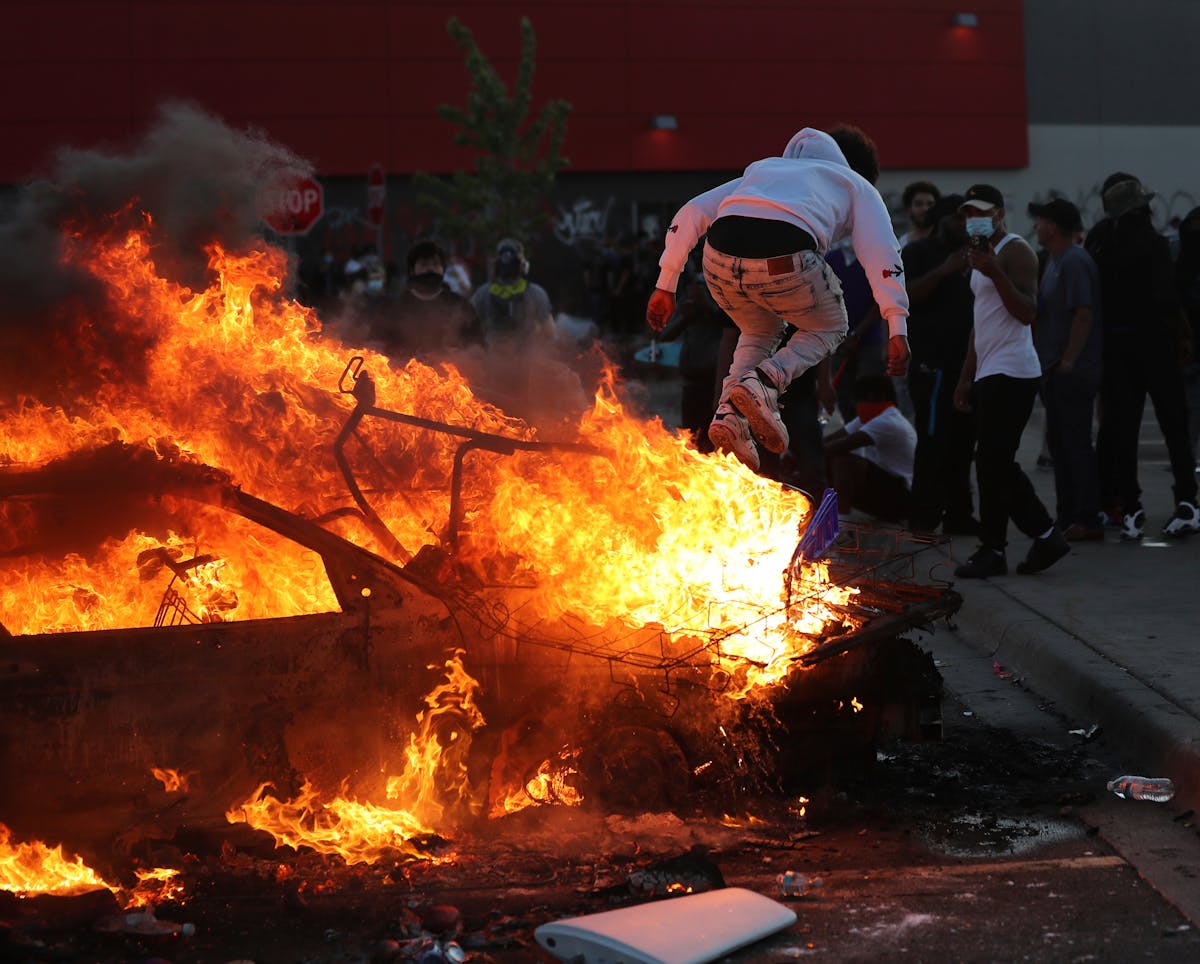 President Trump weighs in on Twitter.
I can't stand back & watch this happen to a great American City, Minneapolis. A total lack of leadership. Either the very weak Radical Left Mayor, Jacob Frey, get his act together and bring the City under control, or I will send in the National Guard & get the job done right.....

— Donald J. Trump (@realDonaldTrump) May 29, 2020
At an overnight media briefing, Frey says he made the decision to have the Third Precinct evacuated because of imminent threats to police and the public. "The symbolism of a building cannot outweigh the importance of life, of our officers or the public. Brick and mortar is not as important as life."
Though acknowledging protesters' "pain and anger," he says, "What we have seen over the past several hours and past couple of nights is unacceptable."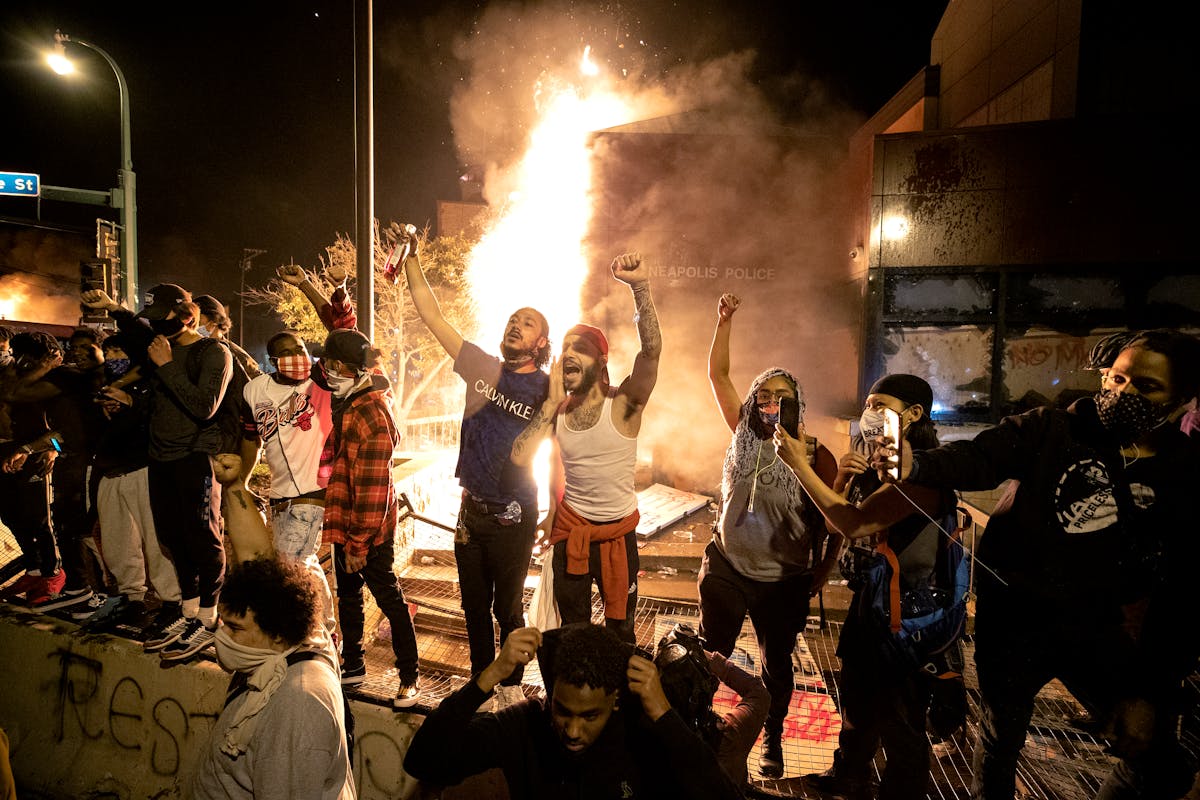 Friday, May 29
After three nights of unrest, former officer Derek Chauvin is charged with third-degree murder and second-degree manslaughter and taken into custody. The other three former officers involved in the fatal arrest remain free.
"This is an essential first step on a much longer road toward justice and healing our city," Frey says on Twitter.
11/ BREAKING: County Attorney Mike Freeman says Derek Chauvin has been charged with murder and manslaughter. https://t.co/0GMOKAus4G

— Star Tribune (@StarTribune) May 29, 2020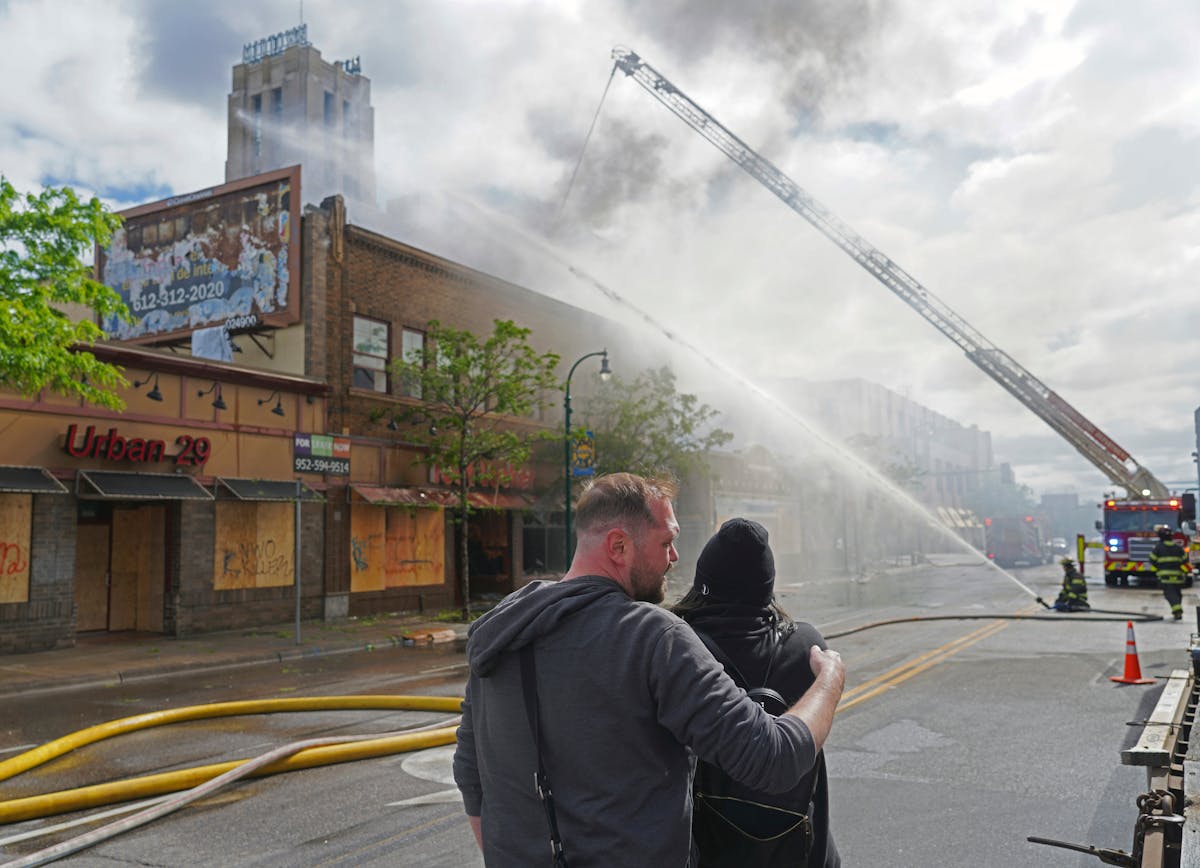 In an effort to restore peace, Frey, St. Paul Mayor Melvin Carter, Walz and leaders of other communities enact curfews Friday through Sunday. Protests and riots continue throughout the evening.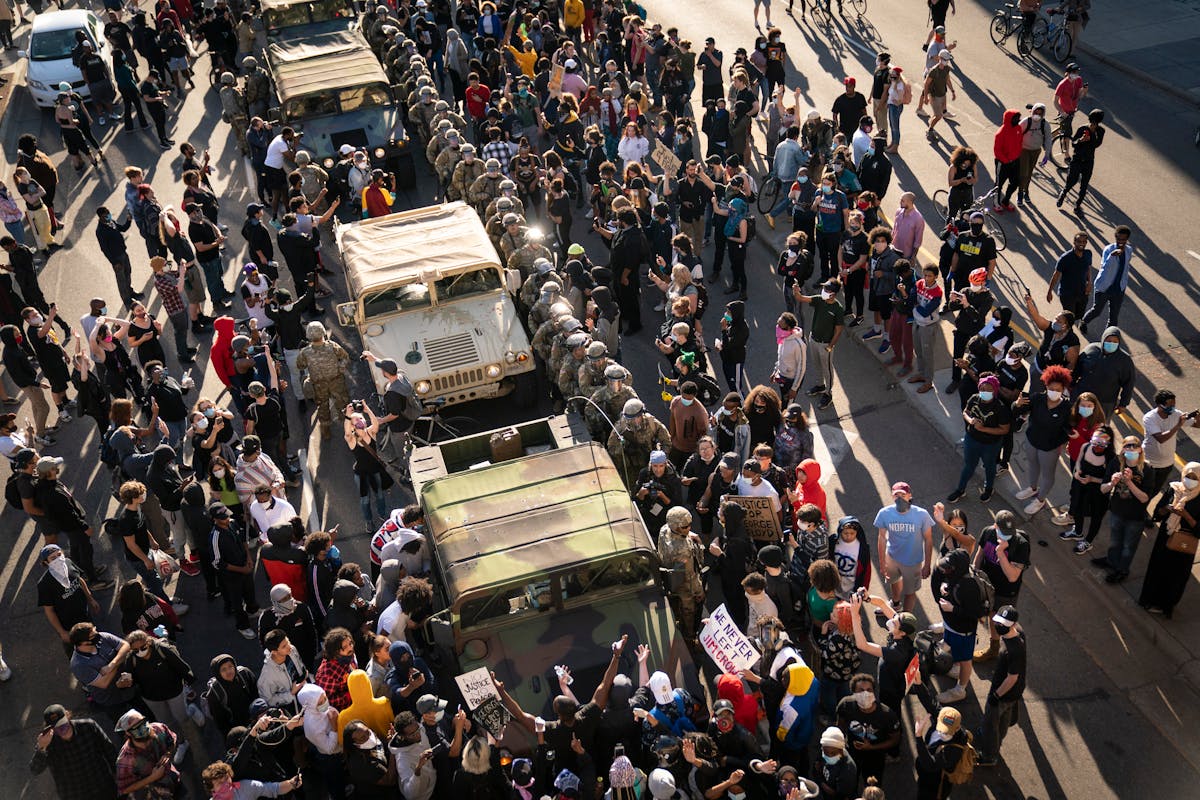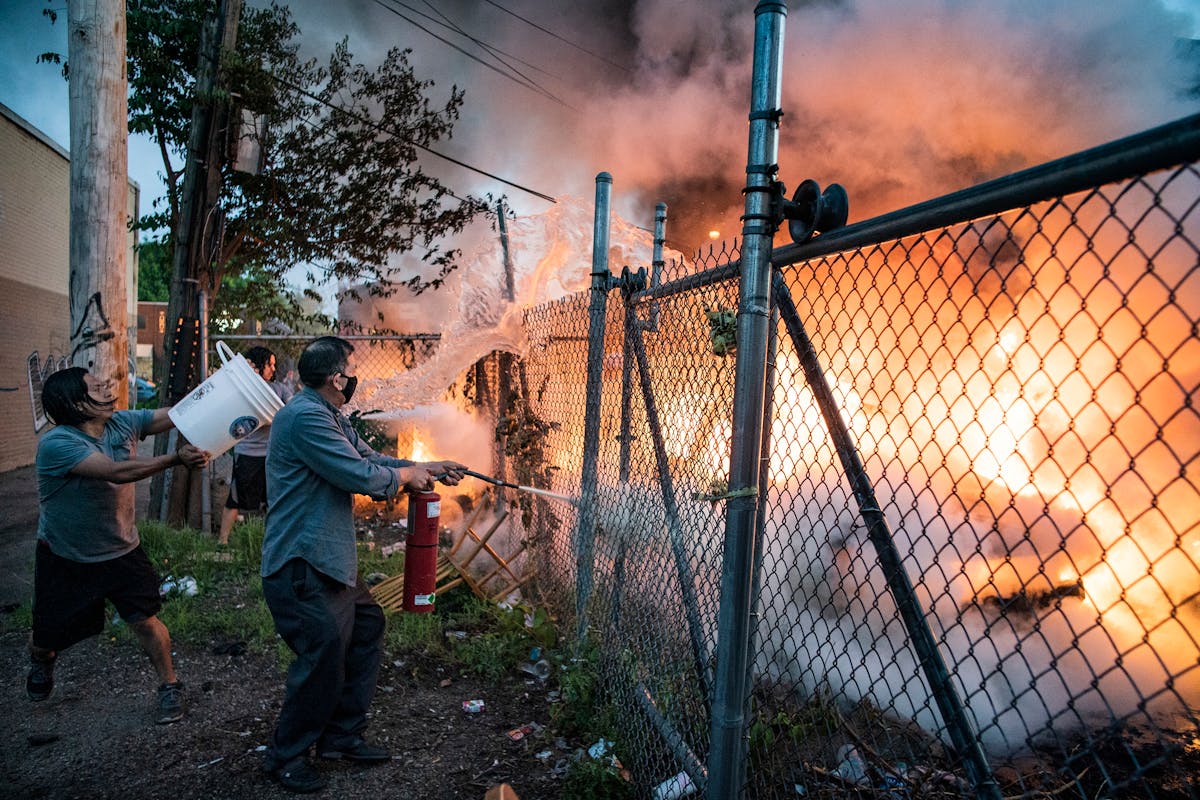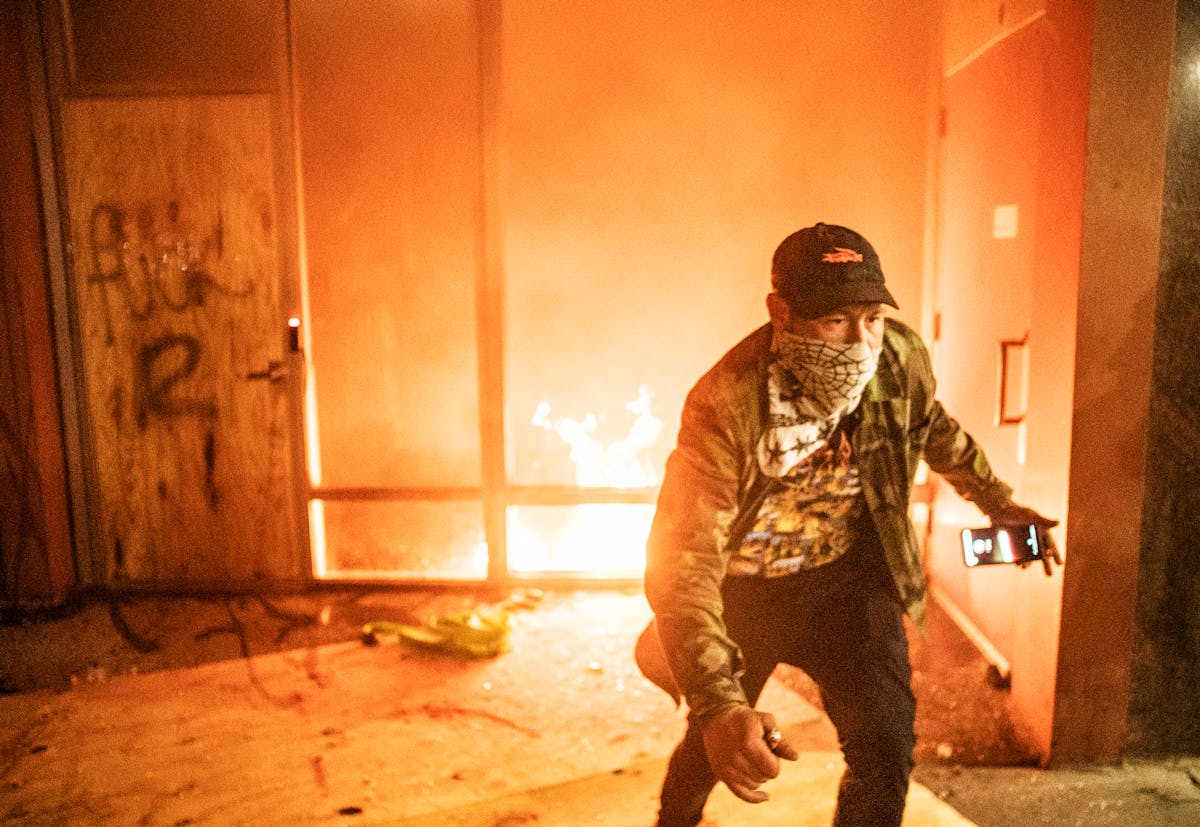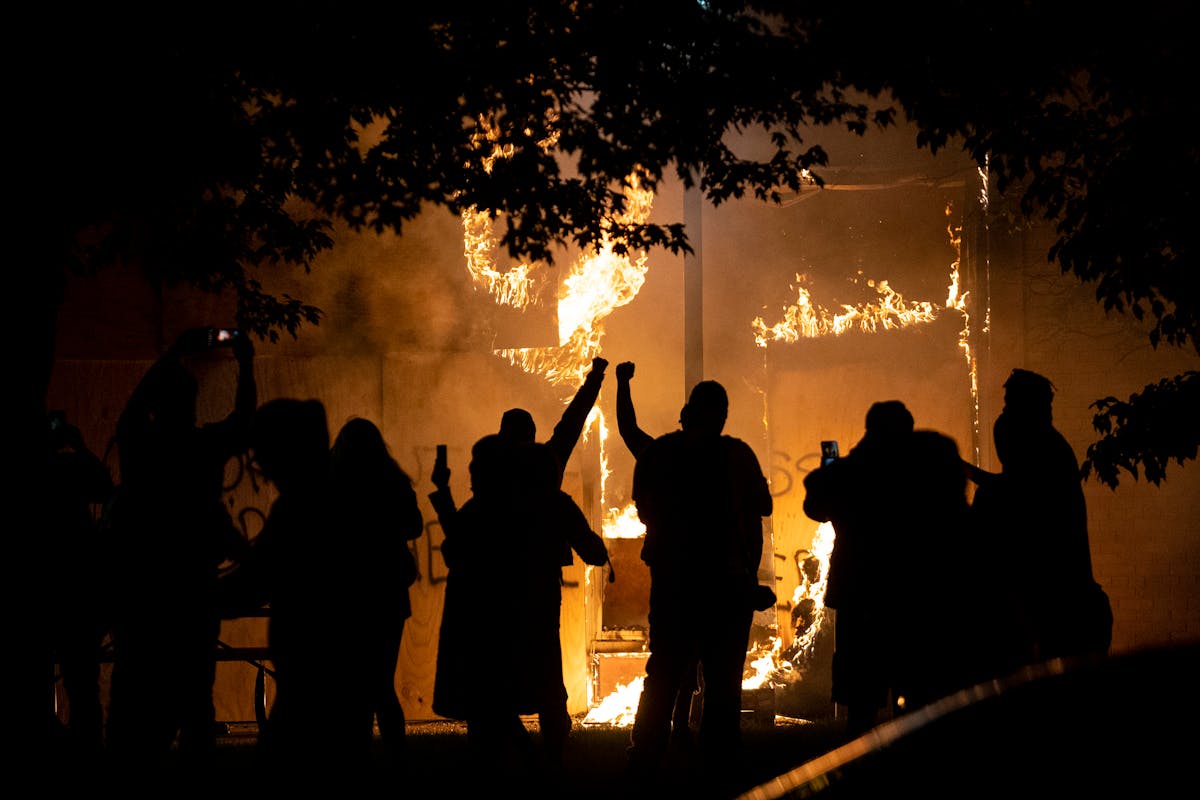 As the night progresses, there's little police presence as the violence rapidly accelerates, until hundreds of police officers, state troopers and National Guard troops fan out into troubled areas, confronting rioters with mass force and tear gas.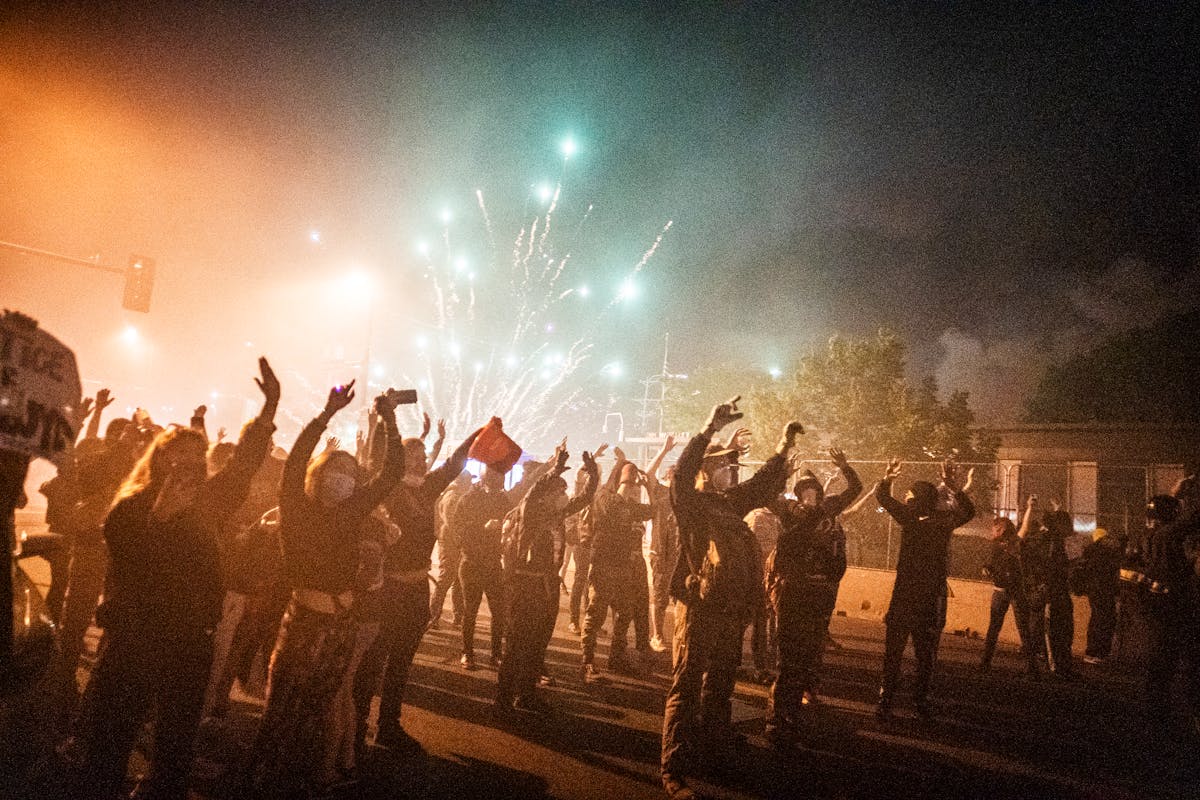 Saturday, May 30
Minneapolis residents wake to another night's worth of destruction. As before, they band together, showing up along Lake Street with shovels and masks to clean up their city. Neighbors use garden hoses to help put out smoldering ruins. Food drives produce an abundance of goods to be given out to residents in need. After four long nights without assistance from first responders, residents decide to take safety into their own hands.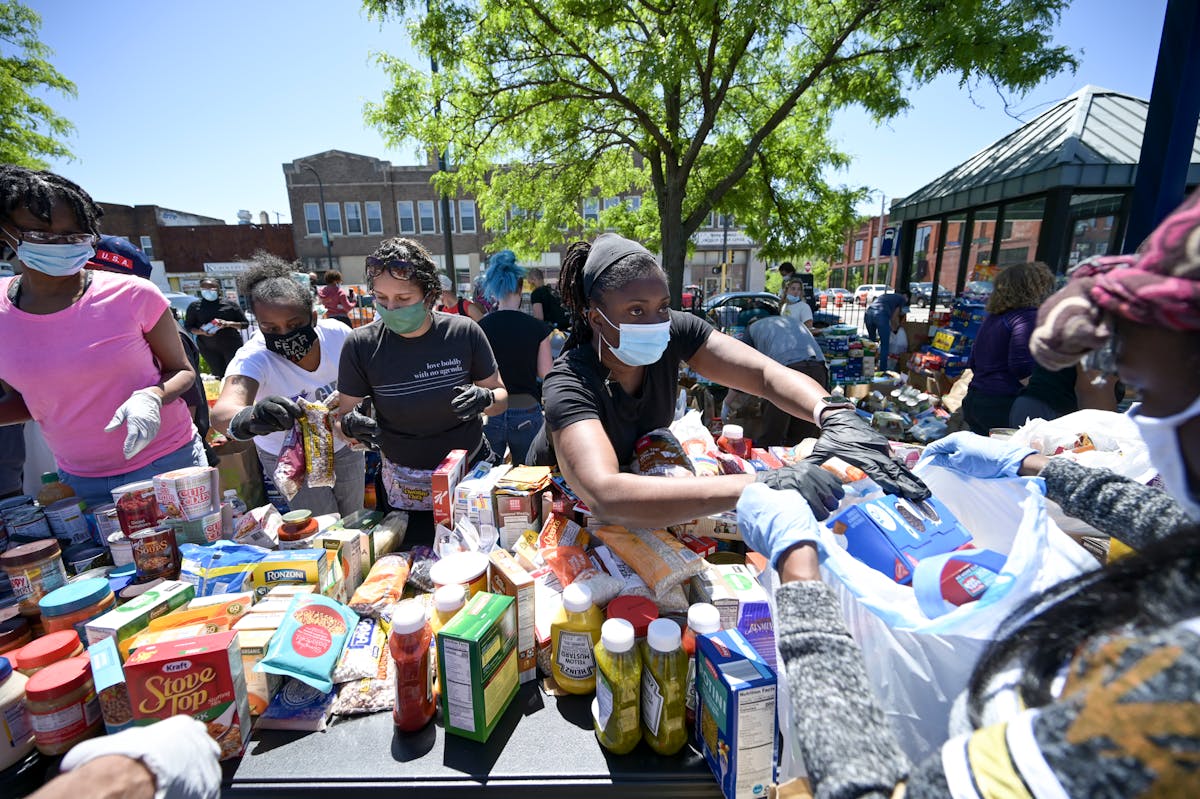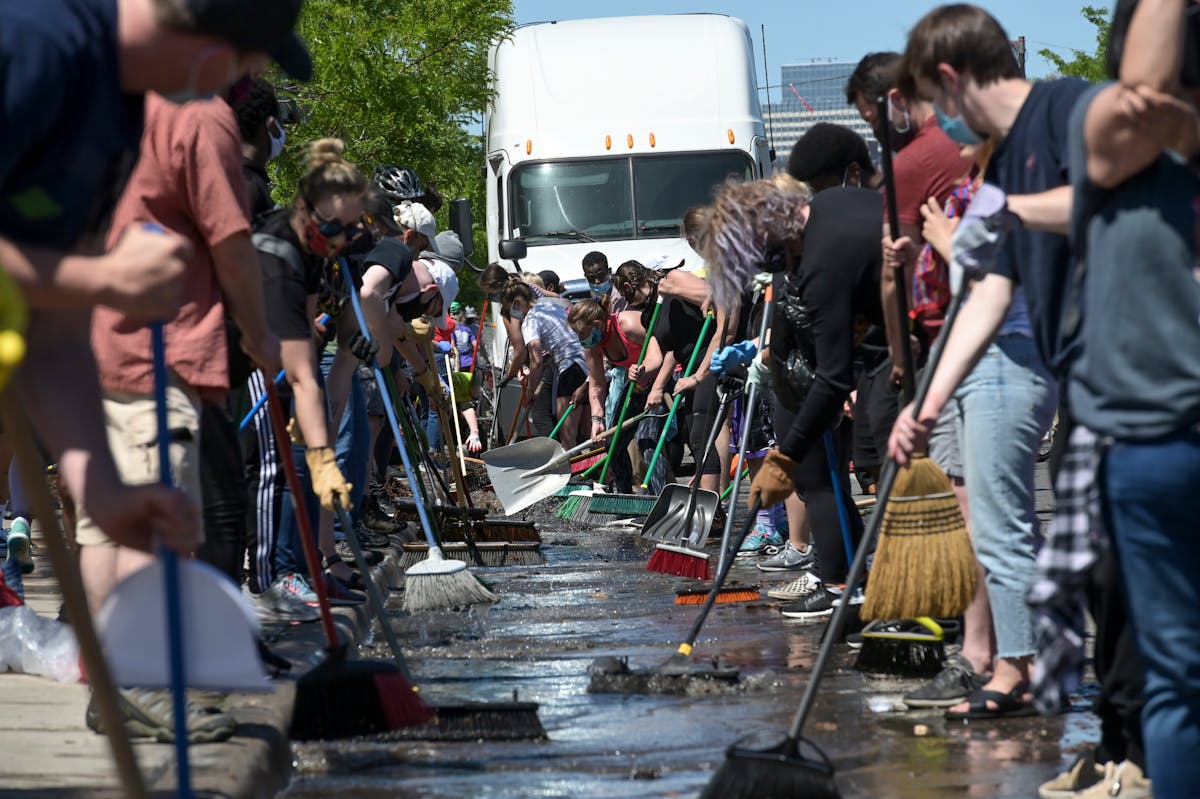 "I will take responsibility for underestimating the wanton destruction and the sheer size of this crowd," the governor says. He says repeatedly that the sheer scope of the crowds and violence have been shocking, and that there was no way for authorities to anticipate or prepare for such an onslaught.
"There are simply more of them than us," Walz says.
Few answers emerge after Walz and top law enforcement leaders suggest that as many as 80% of the looters and vandals came from out of town, maybe even outside the state. But they offer little evidence to back that up.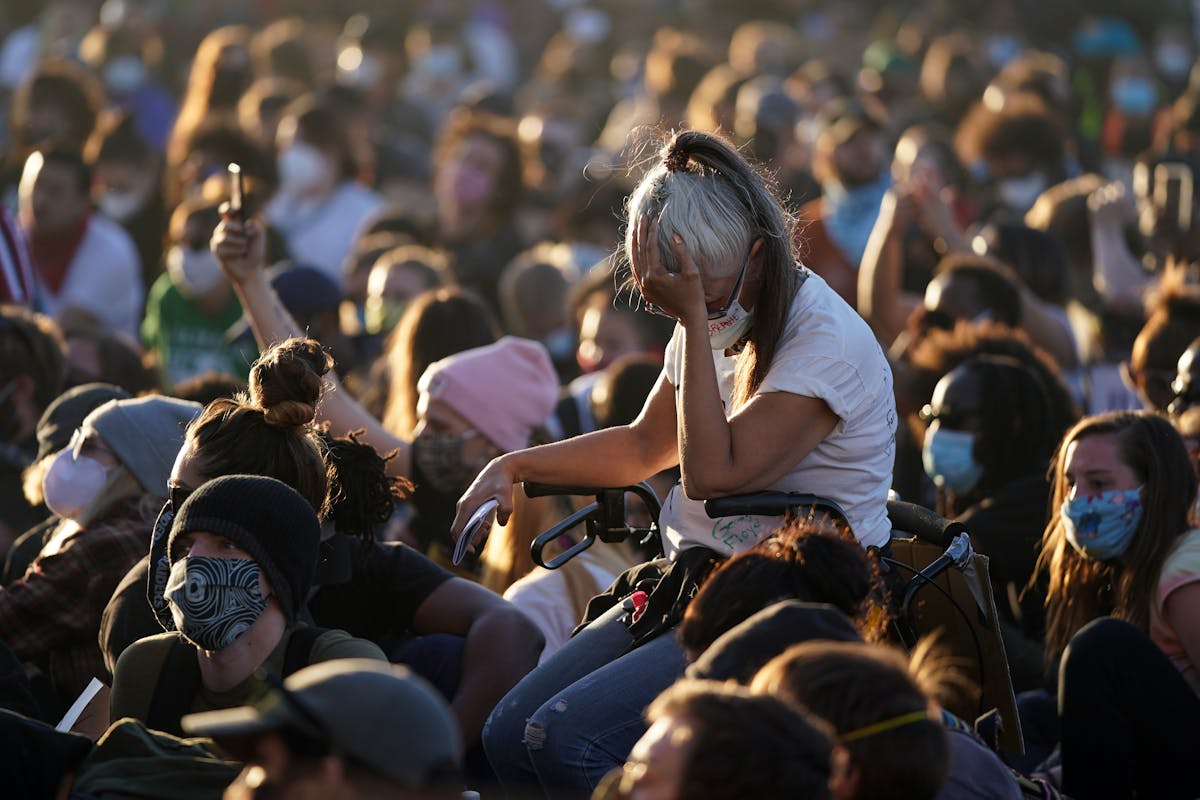 Peaceful protests continue through the evening.
At 8 p.m., police move in aggressively, firing tear gas and less-lethal rounds to disperse all protesters. They fire at, threaten and arrest members of the media, who are exempt from curfew. Highways through the Twin Cities are closed.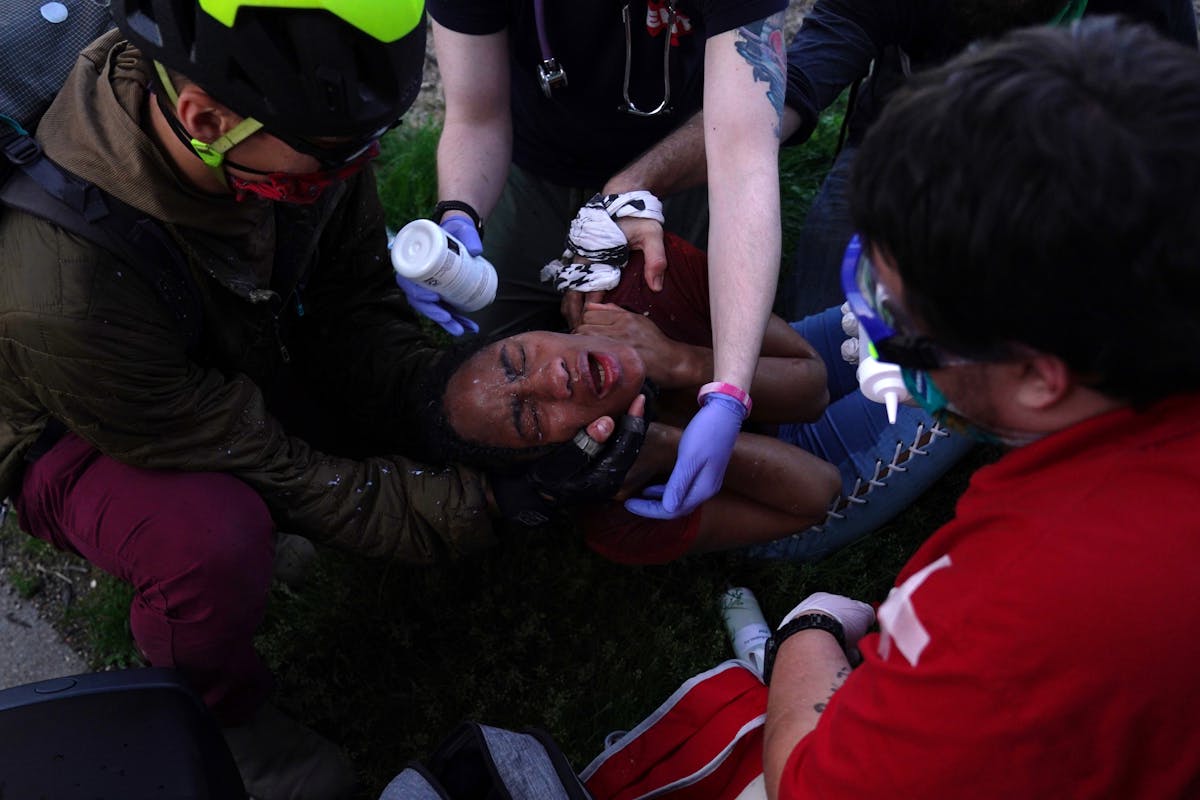 There are few new reports of the fires, looting and property damage that had left much of the city on edge. Officials credit the far larger presence of the Minnesota National Guard, which says its force swelled from 700 deployed on Friday to more than 4,100 on patrol or waiting their turn.
Meanwhile, across the country and across the world, protests against police brutality and racism inspired by George Floyd's death continue in cities across America and in other countries.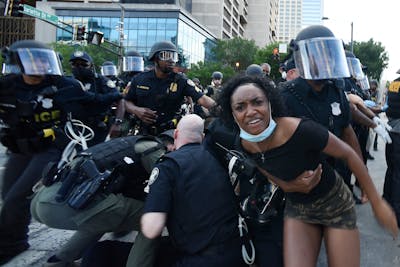 Atlanta, Ga.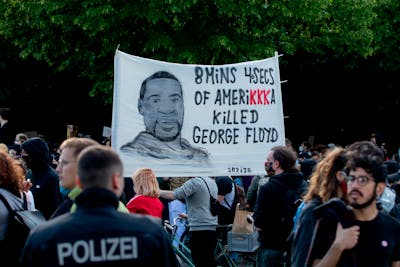 Berlin, Germany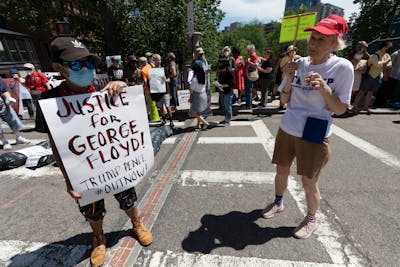 Boston, Mass.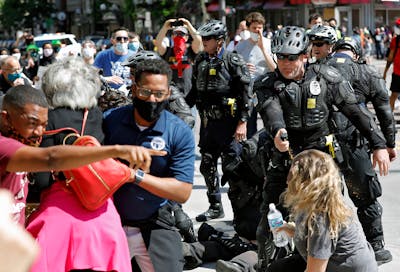 Columbus, Ohio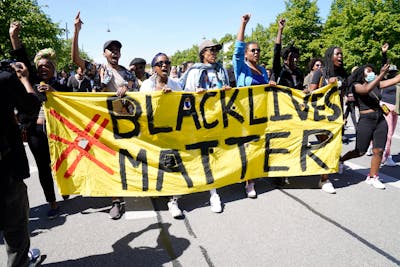 Copenhagen, Denmark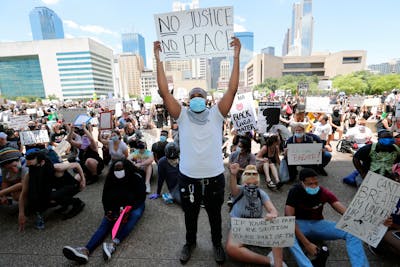 Dallas, Texas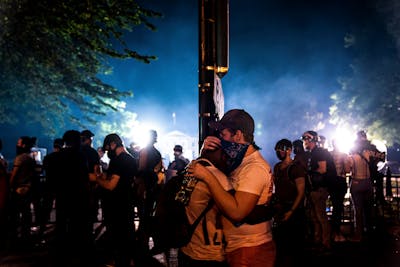 Washington D.C.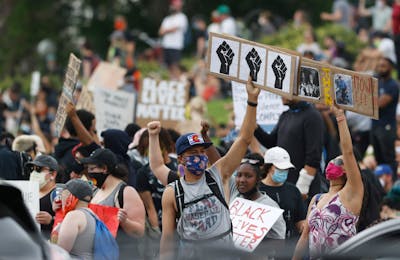 Denver, Colo.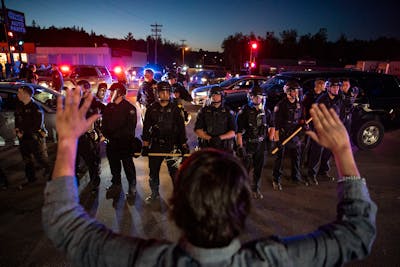 Duluth, Minn.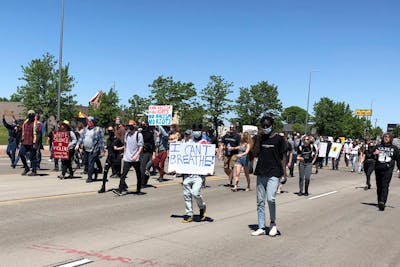 Fargo, N.D.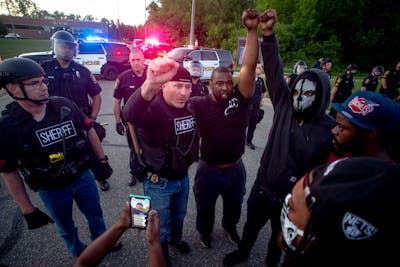 Flint, Mich.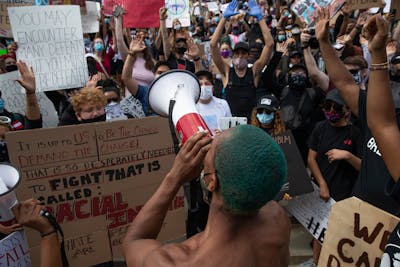 Indianapolis, Ind.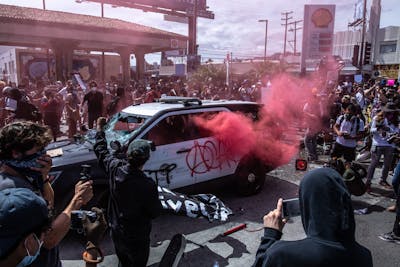 Los Angeles, Calif.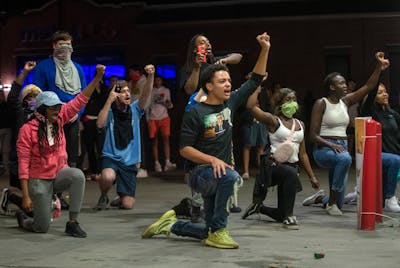 Lincoln, Neb.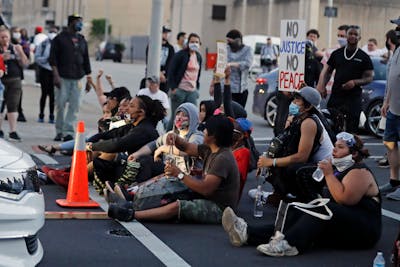 Louisville, Ky.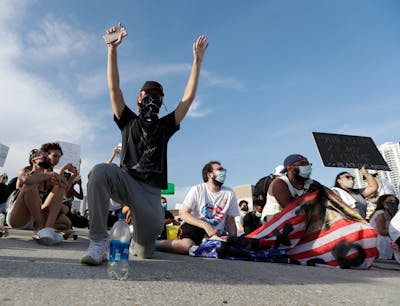 Miami, Fla.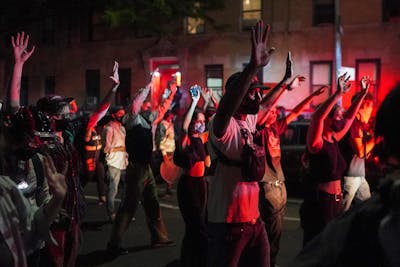 New York City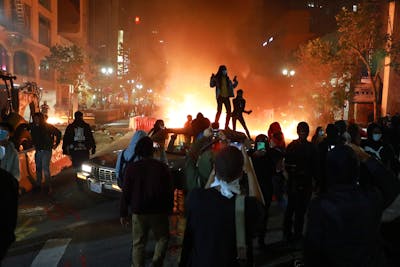 Oakland, Calif.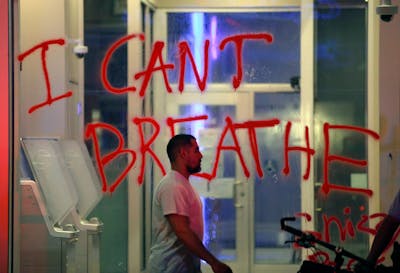 Philadelphia, Penn.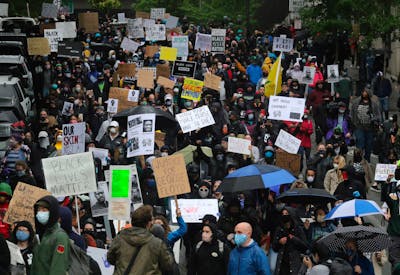 Seattle, Wash.
Sunday, May 31
At the urging of Floyd's family, some City Council members, and community activists, Walz announces that Minnesota Attorney General Keith Ellison will take the lead in the prosecution of Chauvin, instead of Hennepin County Attorney Mike Freeman.
"This decision is one that I feel takes us in that direction and the step to start getting the justice for George Floyd," Walz said.
Having @AGEllison lead this prosecution keeps faith with our commitment to ensure justice for George Floyd. Thank you, Attorney General. I can think of nobody better to do this critical work.https://t.co/WTN61TTb9X

— Governor Tim Walz (@GovTimWalz) June 1, 2020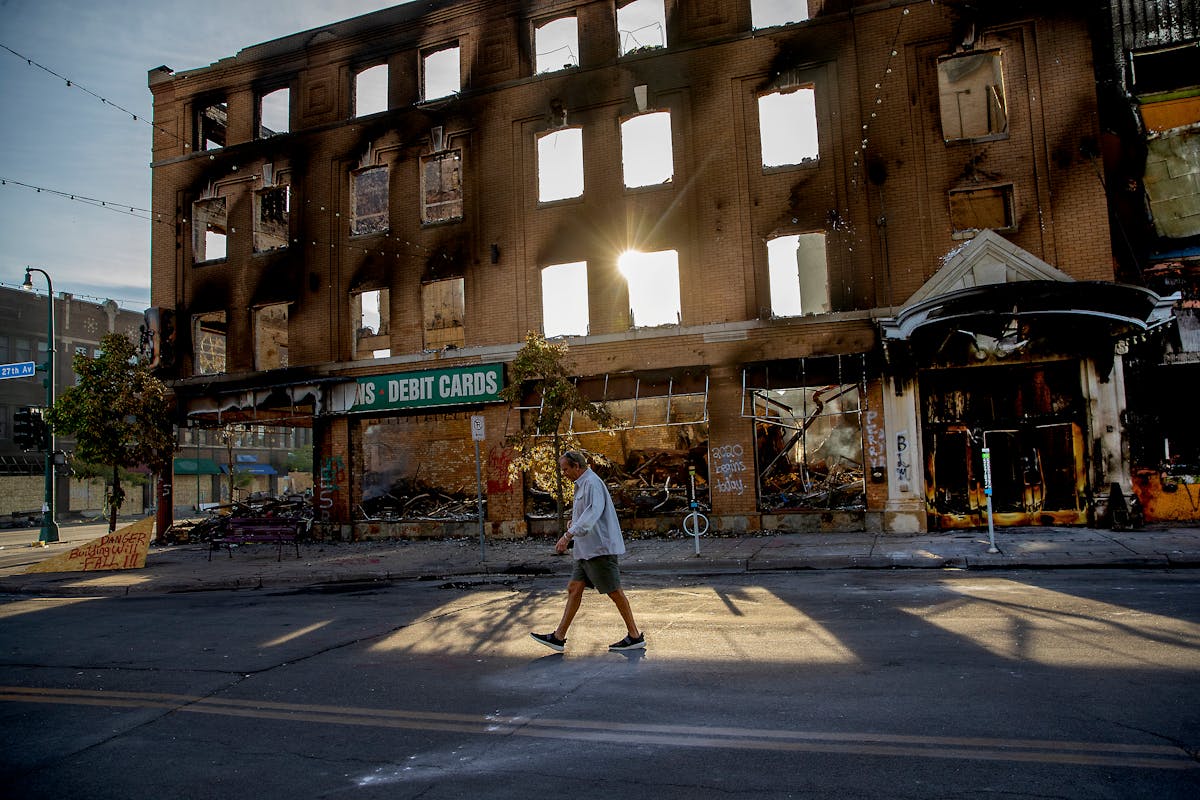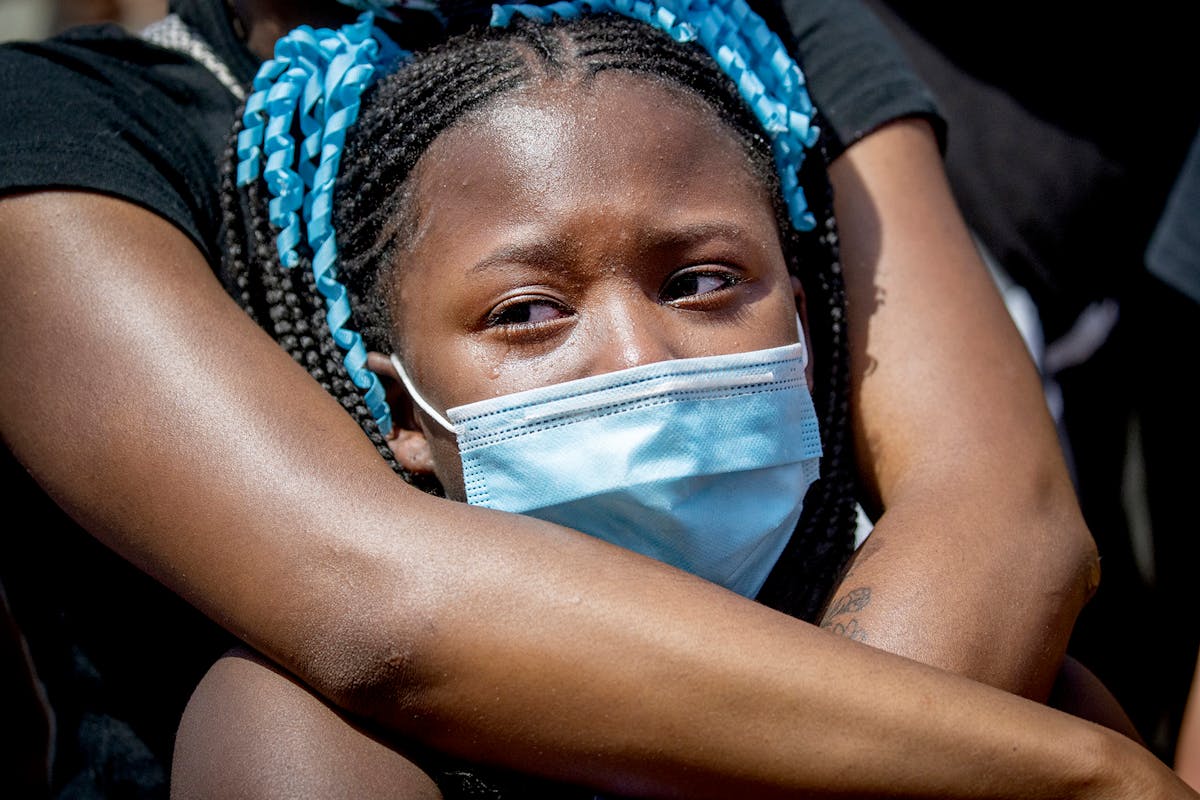 Several caches of flammable materials were found both in neighborhoods where there have already been fires and "in cars we've stopped as recently as this morning," says John Harrington, state public safety commissioner. Some of the caches look like they may have been planted days ago and some only in the last 24 hours or so, he says.
Curfew is extended throughout the Twin Cities from 8 p.m. Sunday through 6 a.m. Monday. Highways close again, and thousands march and gather on the 35W bridge over the Mississippi River in downtown Minneapolis.
Just before 6 p.m., a near-disaster strikes. A tanker truck, on the highway despite the shutdown, barrels toward the protesters and scatters the crowd. State officials say the trucker may not have realized the highways had been closed. Remarkably, no injuries among demonstrators are confirmed.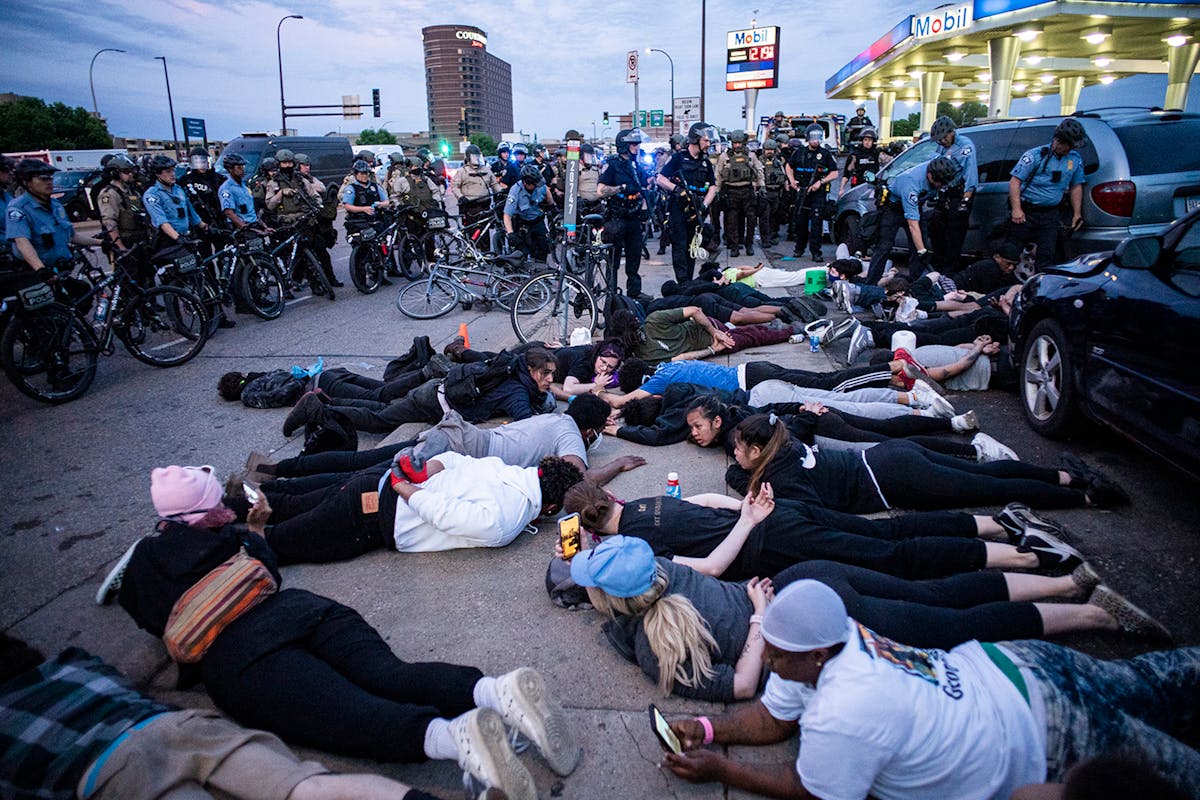 After curfew, 150 protesters are arrested near I-35W and Washington Avenue.
Monday, June 1
In a raw appeal for peace one week after Floyd's death, his brother Terrence stands near the spot where Floyd was held to the ground by police officers, and he urges people to turn away from violence.
"Let's do this another way!" he shouts to hundreds of people who had come to the growing memorial outside Cup Foods.
Attorneys representing George Floyd's family release the results of an autopsy that finds Floyd was asphyxiated while Minneapolis police officers knelt on his back and neck, pinning him to the ground.
The autopsy conflicts with some conclusions of the Hennepin County Medical Examiner's Office about the precise cause of death. Both reports agree that Floyd died because of a homicide.
"We believe truth will help lead to justice and so, despite how painful these autopsy findings are, especially for George Floyd's family, we think it is essential that the truth comes out about the manner and the exact manner and science as to how George Floyd was killed," Benjamin Crump, an attorney for the Floyd family, tells reporters.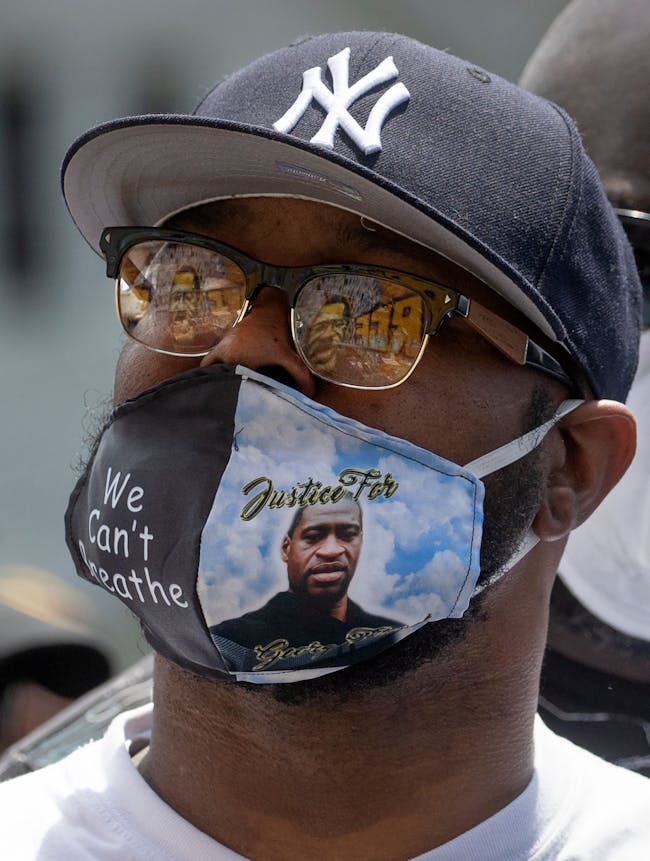 Outside Cup Foods, Terrence speaks to the crowd.
"Let's stop thinking that our voice doesn't matter and vote," he says, drawing cheers. "Educate yourself."
Wearing a face mask with his brother's image, Terrence finishes his remarks, thanks the crowd on behalf of his family, and asks them to keep his brother's name ringing out.
"Now before I go, I just want to hear this again. What's his name?" yells Terrence.
The crowd roars back: "George Floyd!"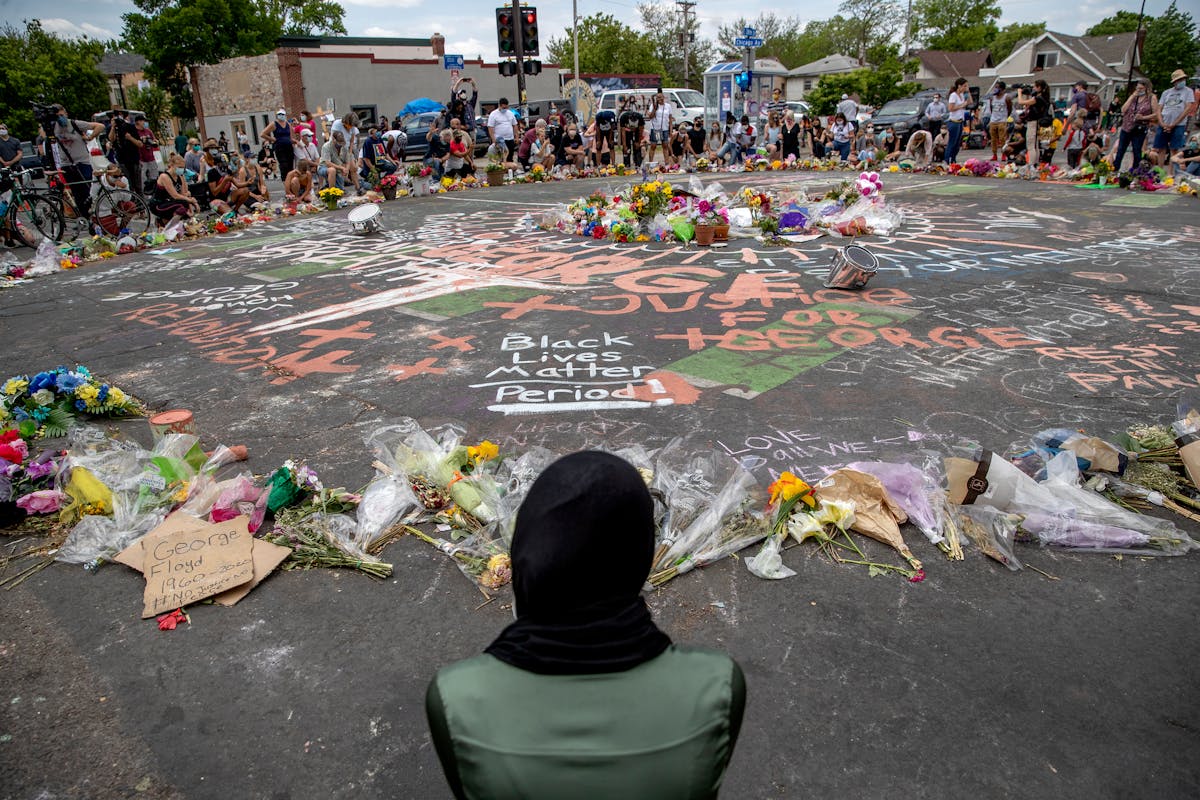 Our staff-produced coverage of Floyd's death and the unrest is available for free to non-subscribers as a public service. Please consider subscribing to the Star Tribune to help us continue this vital work.
Credits
Editing Catherine Preus, James Shiffer, Karen Lundegaard, Suki Dardarian, Hannah Sayle
Reporting Libor Jany, Liz Sawyer, Ryan Faircloth, Miguel Otárola, Chao Xiong, Paul Walsh, Patrick Condon, Kavita Kumar, Stephen Montemayor, Mary Lynn Smith, Michael Corey, Andy Mannix, Briana Bierschbach, John Reinan, Pam Louwagie, Torey Van Oot, Maya Rao, Jennifer Brooks
Photography Aaron Lavinsky, Alex Kormann, Mark Vancleave, Renée Jones Schneider, David Joles, Richard Tsong-Taatarii, Anthony Soufflé, Glen Stubbe, Elizabeth Flores, Carlos Gonzalez, Leila Navidi, Matt Gillmer, Brian Peterson, Jerry Holt, Jeff Wheeler, Shari Gross
Photo editing Deb Pastner
Video editing Jenni Pinkley, Matt Gillmer, Mark Vancleave, Shari Gross
Design Anna Boone, Jamie Hutt, Josh Penrod
Development Anna Boone, Jamie Hutt