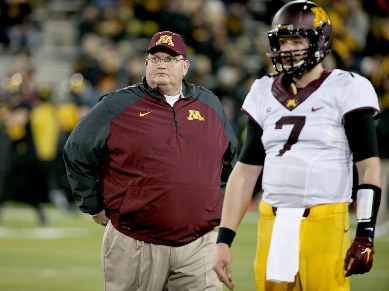 After Jerry Kill retired for health reasons on Oct. 28, this sentiment lingered in the air: Tracy Claeys was taking over as head coach, but really he was just occupying the seat in the program Kill was trying to build. That dissipated a little when Claeys was made the permanent head coach a couple weeks ago, but it still felt like there wasn't much Claeys could do to shake the perception — if he wanted to shake the perception — that this was still Kill's team and not his.
Limited in his options, Claeys on Sunday took the boldest and surest route to carving out his own identity. In a move that he had previously hinted at but still felt almost Shakespearean in nature, Claeys fired offensive coordinator Matt Limegrover and quarterbacks coach Jim Zebrowski.
There was a definite texture to Kill's method, and aside from the philosophies of building around defense and a running game, continuity was the thing that was always trumpeted. Claeys and Limegrover had been together on Kill's staff since 1999, following him from job to job. You couldn't mention one without mentioning the other, which is exceedingly rare for coordinators because in the reality of tunnel vision coaching, the paths of the offense and defense on the same team rarely cross each other.
Had Claeys retained Limegrover, excusing this season as a one-year blip in what had otherwise been gradual offensive improvement with the Gophers, the two would still be intertwined and seen by many as near-equals. Claeys had the defense. Limegrover had the offense. On game day, Claeys wore the headset and did the head coach things, but outside of those three hours what was different than it had been for almost all of 1999-Oct. 28, 2015?
Claeys explained the rationale Monday as wanting a new coordinator who will be the sole play caller — a duty previously shared in a collaboration between the two fired coaches. That's fine. It's a good explanation. But he also could have told Limegrover: "You're calling the plays now. Just you. This is what I want."
Instead, he got rid of the guy who was his equal for 16 years. He might not have done it for power, but this was a power move. Claeys made it very clear in one of the only ways available to him that this is his team, not Kill's.