For the next 30 days, we'll spend 30 minutes a day outside to reduce stress, improve our immune systems and see Minnesota's "other" season in a whole new light.
Growing up in southern India, Alarmathi Sankaran thought that 60 degrees was cold.
Then she moved to Woodbury.
"The whole concept of Minnesota winter was a great challenge to me," Sankaran said.
After five years of avoidance and mishap (going tubing in jeans was a low point), Sankaran and her husband have come to embrace the season, with help from their two snow-loving sons.
For 2021, the family's ambitious goal is to spend 1,000 hours outside. Of course, they'll go camping in summer and take hikes in fall. But they're getting outdoors this winter, too, maintaining their connection to nature — even when it's under a layer of snow.
They're onto something.
Time spent in nature is linked to a range of physical and mental benefits, including reduced stress, increased concentration and improved immune function.
Embrace Winter
30 day Challenge
For the Embrace Winter Challenge, our goal is to spend at least 30 minutes outside each day. On the coldest days, feel free to break your time into several short forays. And if the temperature and windchill are stuck in dangerous lows, consider it a free day. Start tracking your time, using whatever's handy — a calendar, a journal or your phone's Notes app. You also can print out a free tracking poster from 1,000 Hours Outside.
The cold itself — while something to respect, prepare for and avoid at its most extreme — is a bonus. When you're active in the cold, it's easier to burn calories, exercise more efficiently and boost your mood, according to Dr. Chad Asplund, a sports medicine doctor at Mayo Clinic Square in Minneapolis.
True winter weather — with ample snow for cross-country and downhill skiing, snowball fights and sledding, thick ice for skating, ice fishing and even ice climbing — offers lots of opportunities to find an outdoor activity to love.
That's why the Star Tribune is inviting readers to take part in our Embrace Winter Challenge. Over the next 30 days, our goal is to spend at least 30 minutes outside every single day. (On the coldest days, feel free to break up your time outside into several shorter forays. And if the combined temperature and windchill reaches minus 18 degrees, Asplund suggests avoiding going out at all. Give yourself a pass.)
Each week, we'll have a story about the benefits of being outdoors and we'll issue a new fun challenge. Along the way, we'll invite you to share photos of your winter experiences on Instagram using our #StribMinnesota hashtag, or send by e-mail to erica.pearson@startribune.com.
I'm going to be taking part in this challenge, too, because I need to give winter a second chance.
Born and raised in Wisconsin, I've loved cross-country skiing and ice skating ever since I was a little girl. But getting out in winter has gotten tougher now that I have to get snowpants on two young daughters. We manage to send them out to play every day. But all too often, winter's short days pass by without me leaving the house.
At a time when indoor activities pose much greater COVID-19 risks, getting outdoors is certainly worth a try.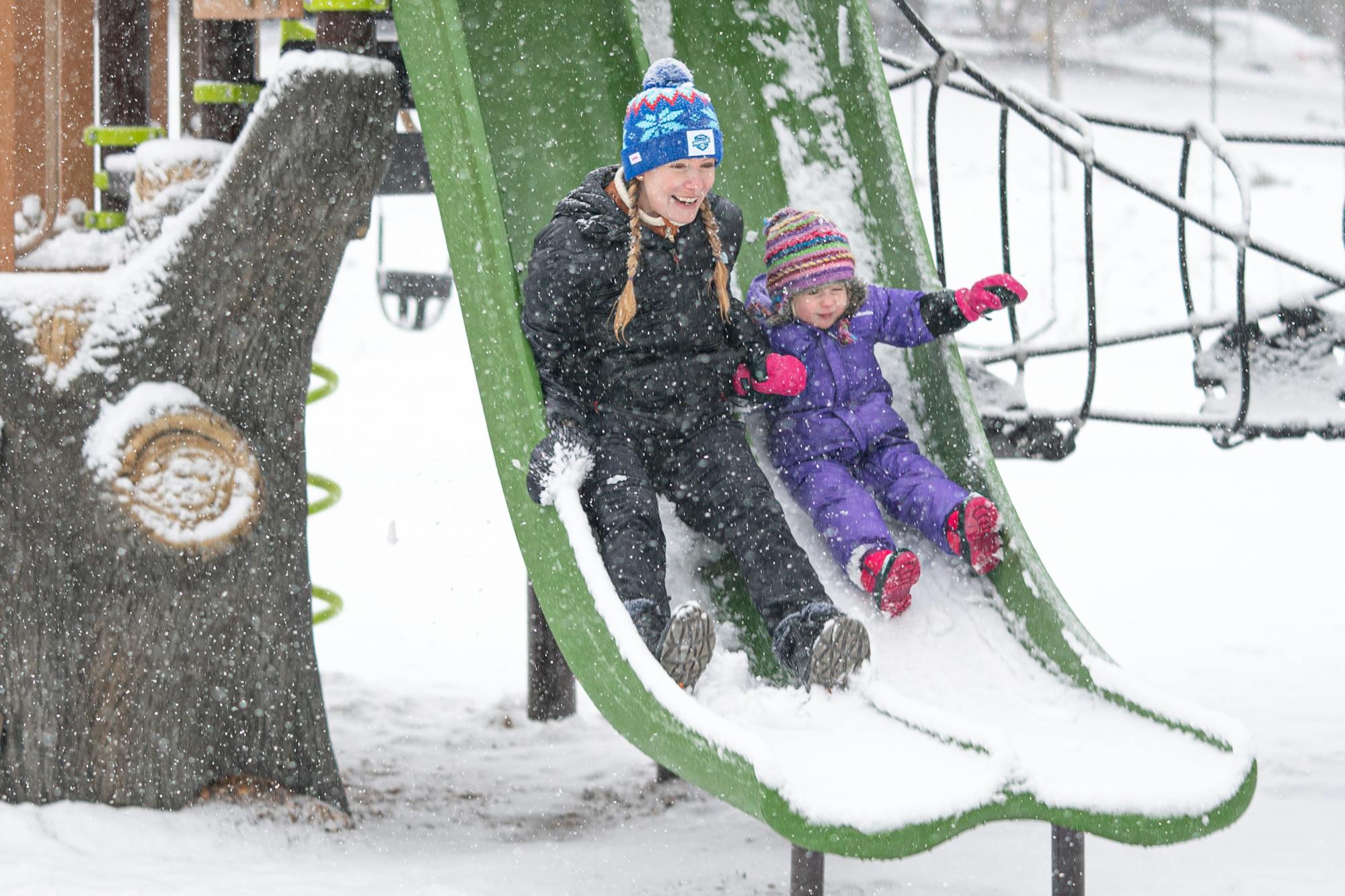 Rx for nature
Dr. Brent Bauer sees being outdoors as a medical imperative. In fact, patients often leave his office with a prescription that can't be fulfilled at any pharmacy.
Instead of pills, Bauer, an internal medicine doctor at Rochester's Mayo Clinic, recommends that many of his patients spend a specific amount of time outdoors each week.
Bauer is part of a national program called Park Rx America, which encourages people suffering from certain conditions (ranging from low energy, stress or depression to diabetes, sleep problems or high blood pressure) to spend time in nature.
"Almost every patient can benefit from spending more time in nature," said Bauer. "But I find the prescription is really helpful for patients who are very stressed and are too overwhelmed to start a yoga class or to try meditation.
"For these people, a nature prescription helps them prioritize taking time for themselves. It's nonthreatening and there is almost no way to do it incorrectly." The prescriptions also encourage patients to take his advice seriously.
Bauer's approach springs from his belief in biophilia, the idea that because humans are wired to experience and be connected with nature, spending time outside is an important part of maintaining our health.
For many, this connection is difficult to maintain. The average American spends 93% of their life inside a building or in a vehicle, according to an Environmental Protection Agency survey.
A life lived indoors can be harmful in many ways, said Bauer. Indoor air quality is often poor, and a lack of exposure to sunlight can affect our mood, our bones and vitamin D levels. In addition, when we're indoors we're often sitting, which is linked to obesity, diabetes and other ills.
Time outdoors, however, brings "improvement in stress, improvement in blood pressure, better learning for students, improved quality of life," he said.
How much time outdoors is enough? Bauer said that around 120 minutes in nature every week seems to have an "optimal effect," a number he derived from a 2019 University of Exeter study.
During our Embrace Winter Challenge, we're asking for a little more: 30 minutes a day, or 210 minutes a week, is our goal.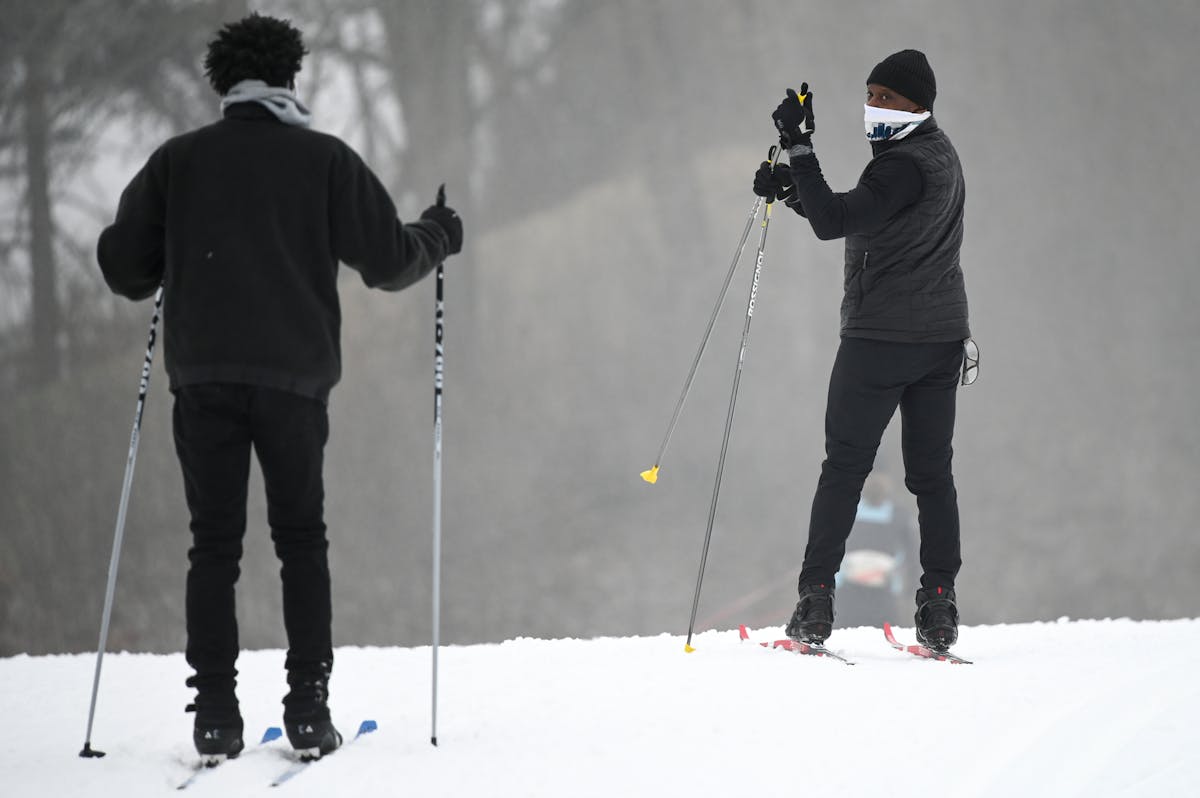 'Nature-deficit disorder'
For many, the pandemic has increased stress, anxiety and the tendency to ruminate or focus on sad or dark thoughts.
Being in nature can counteract that by "giving your mind a mental massage," said Jean Larson, who developed the University of Minnesota's Nature-Based Therapeutic Services, a partnership between the Bakken Center for Spirituality & Healing and the Minnesota Landscape Arboretum.
"When you are out in nature, your brain is able to shut down from the focus of the computer or the doom scrolling," she said. "The bird flits by, the hoarfrost trickles off the branch — these are little, light ways in which it kind of massages our brain and gives us that restoration, so that we can reboot and get back into whatever we're doing. To take that moment, and step away — it's like a diversion. It is a mental break."
Nature's ability to heal has recently become a popular topic for researchers. More than 1,000 scientific studies have found that being outdoors helps adults and children improve "cognitive function, physical and mental health and social welfare," said Richard Louv, author and co-founder of the St. Paul-based Children & Nature Network.
The network has collected scientific findings in a searchable online library, including studies that show spending time outdoors is associated with less nearsightedness in children, that seeing nature through a virtual reality headset can reduce pain, anxiety and nausea in kids recovering from surgery, and that having plants in a home during the COVID-19 confinement improved the sense of well-being in adults.
"Personally, I think spending time outdoors for people of all ages is vital to a full life," Louv said. "Ironically, COVID has increased public awareness of the connection between nature experience and health, especially mental health."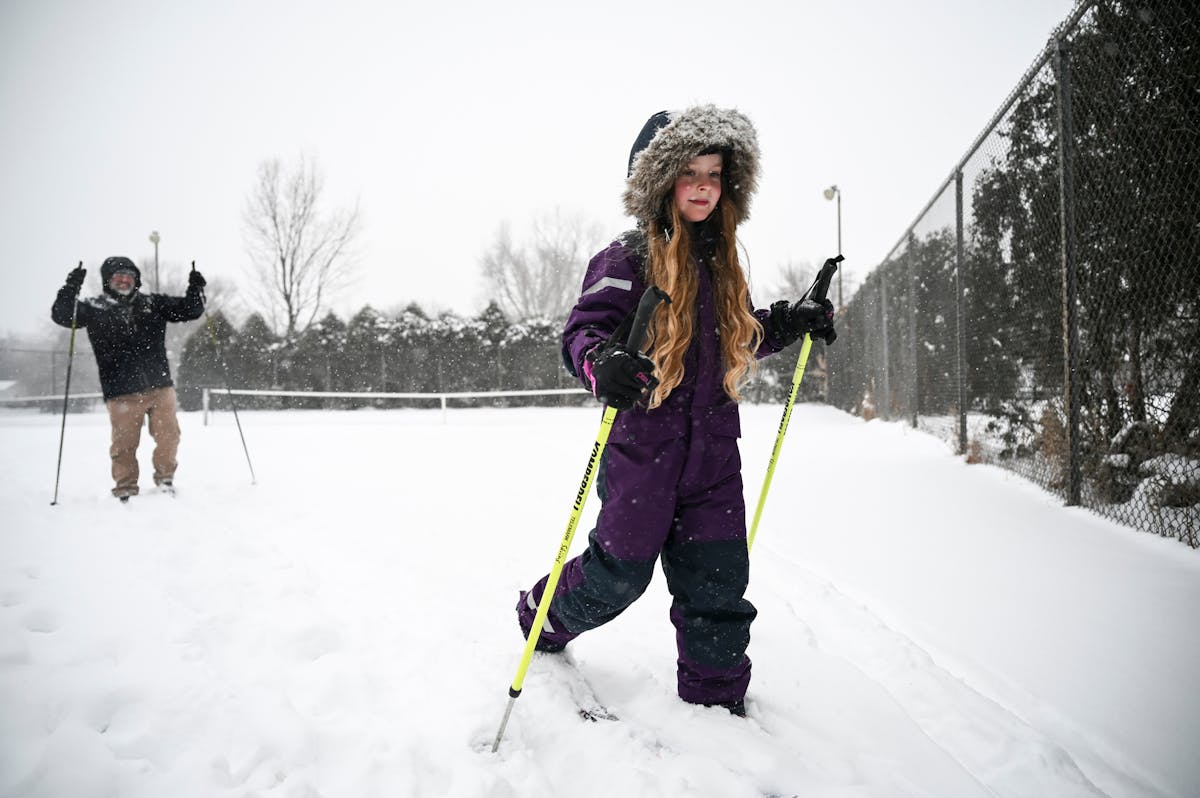 Winter's teachings
That connection is especially important in winter, according to Cathy Jordan, a pediatric neuropsychologist, director of research for the Children & Nature Network and an associate director at the University of Minnesota's Institute on the Environment.
Winter can prepare us to face personal challenges and build resilience.
"The challenges that nature presents are important life lessons, and winter presents really important challenges," said Jordan. "If we can tackle them, we actually build some resilience and figure out some things that we didn't know that we could do, or didn't know that we could withstand."
Jordan said that pushing past the reluctance to go out in the cold can carry through to other parts of our lives.
"The benefit of being able to say to yourself, 'Come on, you can do this! Put on the boots, get out there. You'll love it once you get out there.' How many times, in other realms of our lives, do we need to give ourselves that pep talk?" she said.
Winter also offers rich rewards for those who play close attention — to the glitter of new-fallen snow, a leaf trapped in the ice, branches wrapped in spiky frost.
"I think winter offers opportunities to experience the outdoors and the natural world from an aesthetic point of view in different ways than the other seasons do and I think that's great," she said. "It exercises different muscles, so to speak, in our perception and interpretation of beauty."
Like the Sankaran family, Rockford, Minn., mom Hannah Bahe has also pledged to spend 1,000 hours outdoors with her child this year. They are both part of an international movement called 1,000 Hours Outside.
For Bahe, embracing winter comes with an extra hurdle. Her toddler Marceline has a condition called cold urticaria, which can cause her to break out in hives from the cold.
Bahe is able to keep her daughter safe and comfortable by dressing her in the right layers and bringing along backup cold-weather gear. Marceline loves being out in the snow so much that Bahe sometimes has trouble persuading her to come back inside.
"Once we get outside everything is easier. Because she is outside moving her body, she naps better, she eats better, and her mood is better," said Bahe.
If Marceline can do it, so can we.
Here's to embracing winter, one day at a time.
Embrace Winter Challenge one
Have a winter picnic
Picnicking isn't just for the summertime. This week, your Embrace Winter challenge is to go on a winter picnic. Pack up your picnic basket, slip on your snowpants and don't forget a thermos full of hot chocolate or warm cocktails. Head to the nearest park, take a quick hike in the woods or find a spot in the middle of a frozen lake to enjoy peace, quiet and fresh air along with your meal. Share photos and tell us about your alfresco experience by using our #StribMinnesota hashtag on Instagram. (If you can, follow the forecast and plan to picnic later in the week, when the temperatures are set to rise.)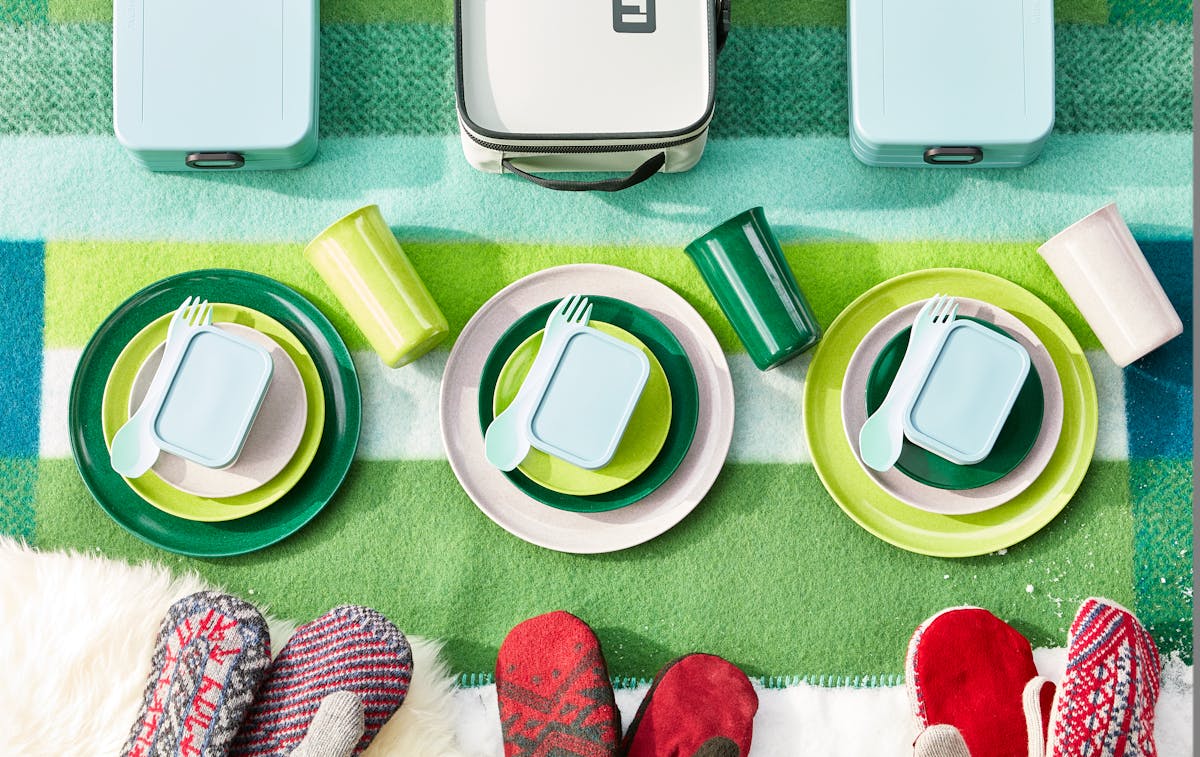 Mitten-friendly foods
Sure, you can stop at KFC on the way to the park. But with a little bit of prep you can elevate your winter picnic fare:
• Corn dogs, meatballs, chicken satays with peanut sauce or pizza rolls are perfect for casual and kids. Fun sides include baked squash wedges, corn fritters, broccoli and cauliflower satays with a warm cheese sauce. (Pour individual servings of sauce from a thermos.)
• Chili, soup or stew, served from a wide-mouth thermos. Pair with breadsticks or, for fun, cube bread and use fondue forks to dip into your soup.
• Cheese or chocolate fondue. All you need is a can of Sterno or a single-burner camp stove to keep it warm.
• For the gourmet, serve grilled lamb lollipops and roasted potato wedges. (Be sure to wrap the lamb bones in foil so the pops are easier to eat.)
Favorite finds for winter picnicking
Staying dry and keeping your food, beverages and yourself warm is essential when eating outdoors in winter. It's easy to do all of the above — and in style — with a few select items.
• The insulated Happy Picnic Backpack (Amazon, $58.95) includes place settings for four and a blanket. Even better, its large side compartments can hold wine bottles or a Corkcicle thermos (Amazon, $28.85).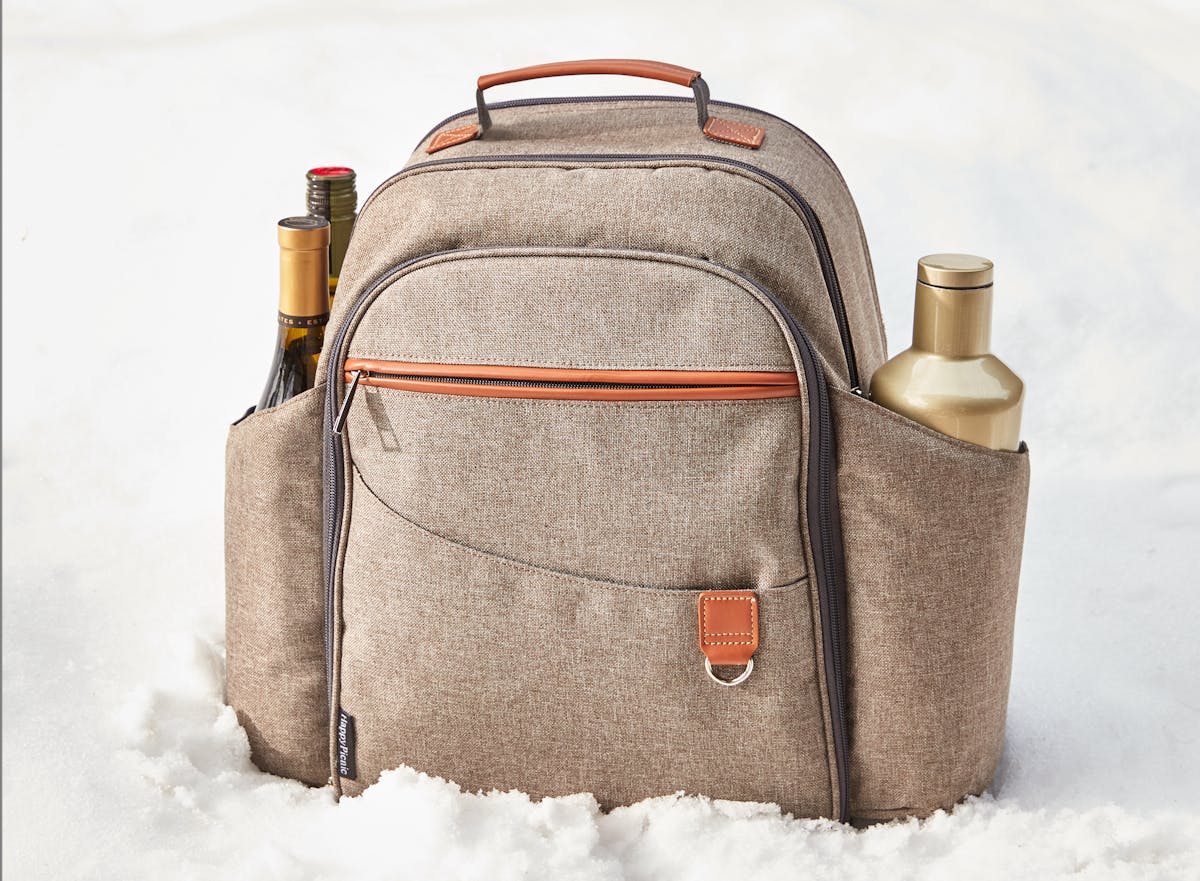 • This Norwegian-made blanket from local kunaucollections.com ($275) sets a warm tone when used on top of a tarp or waterproof liner .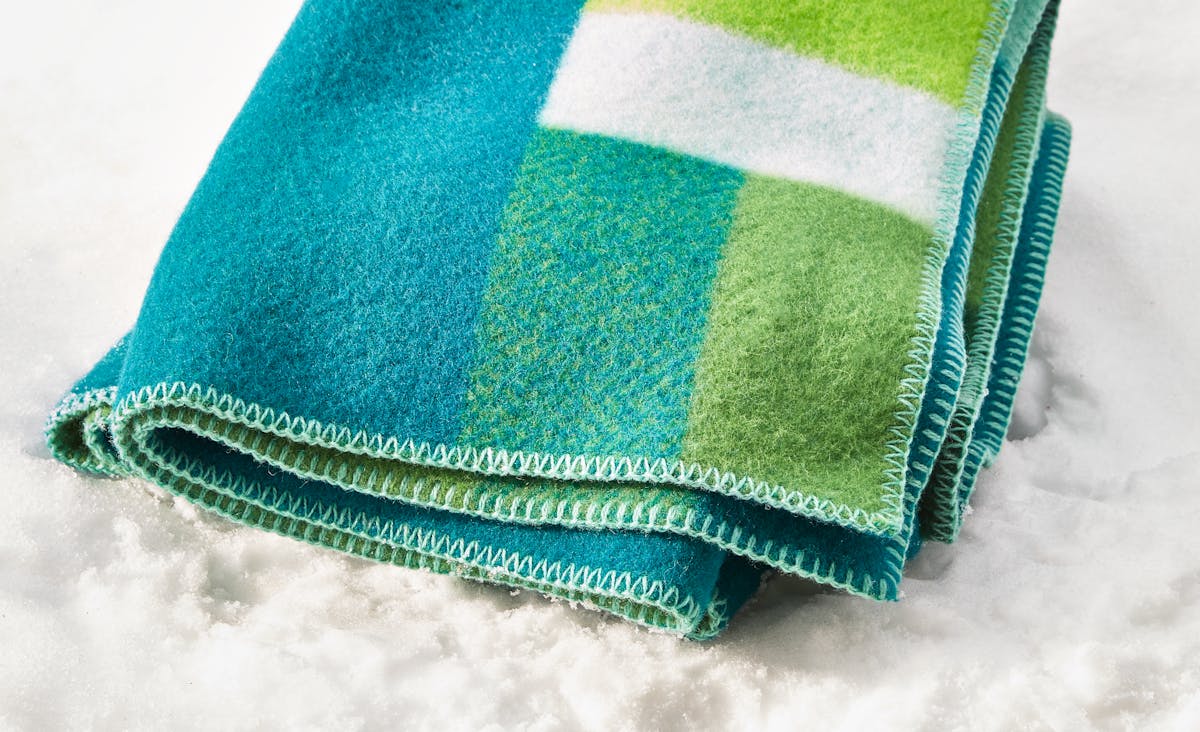 • Tough but lightweight, Melmacdishes are picnic-perfect (20-piece set of Branchell Color Flyte Melmac, @etsy, $100). No need to fuss with flatware when you can pick up GoBites Uno Sporks (@rei.com, $2.95).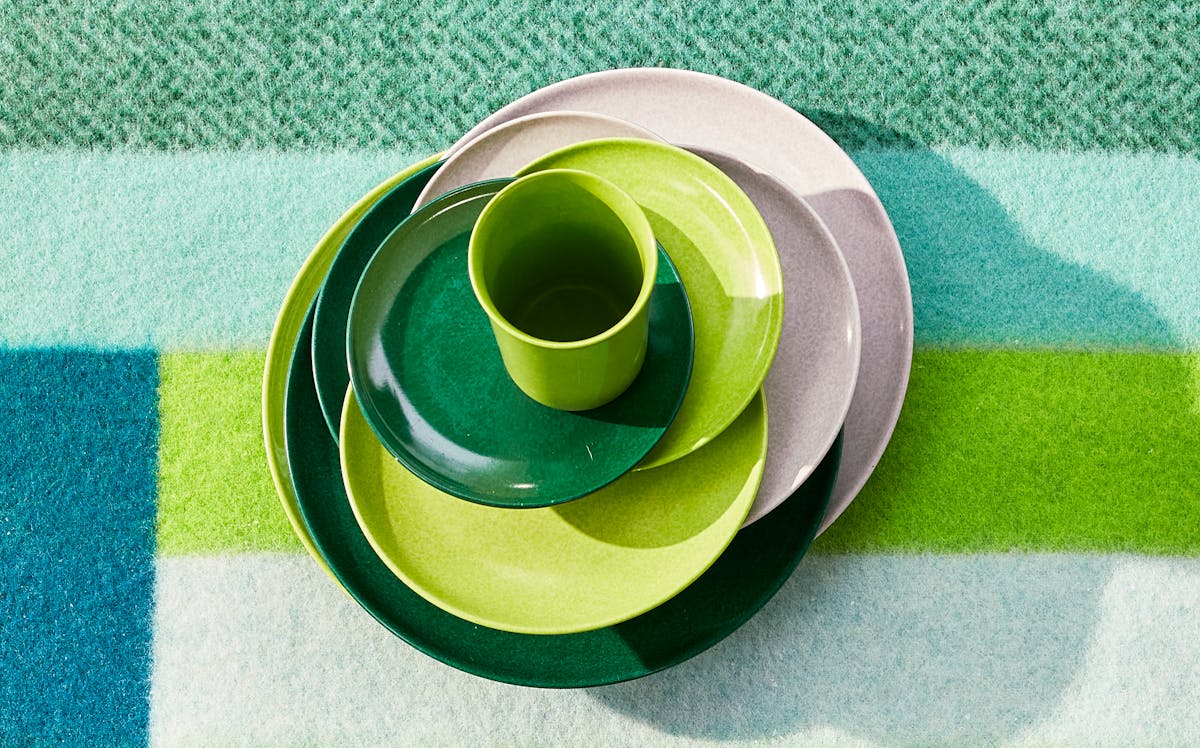 • For added warmth, consider sheepskins for you and your guests (@ikea, $29.99).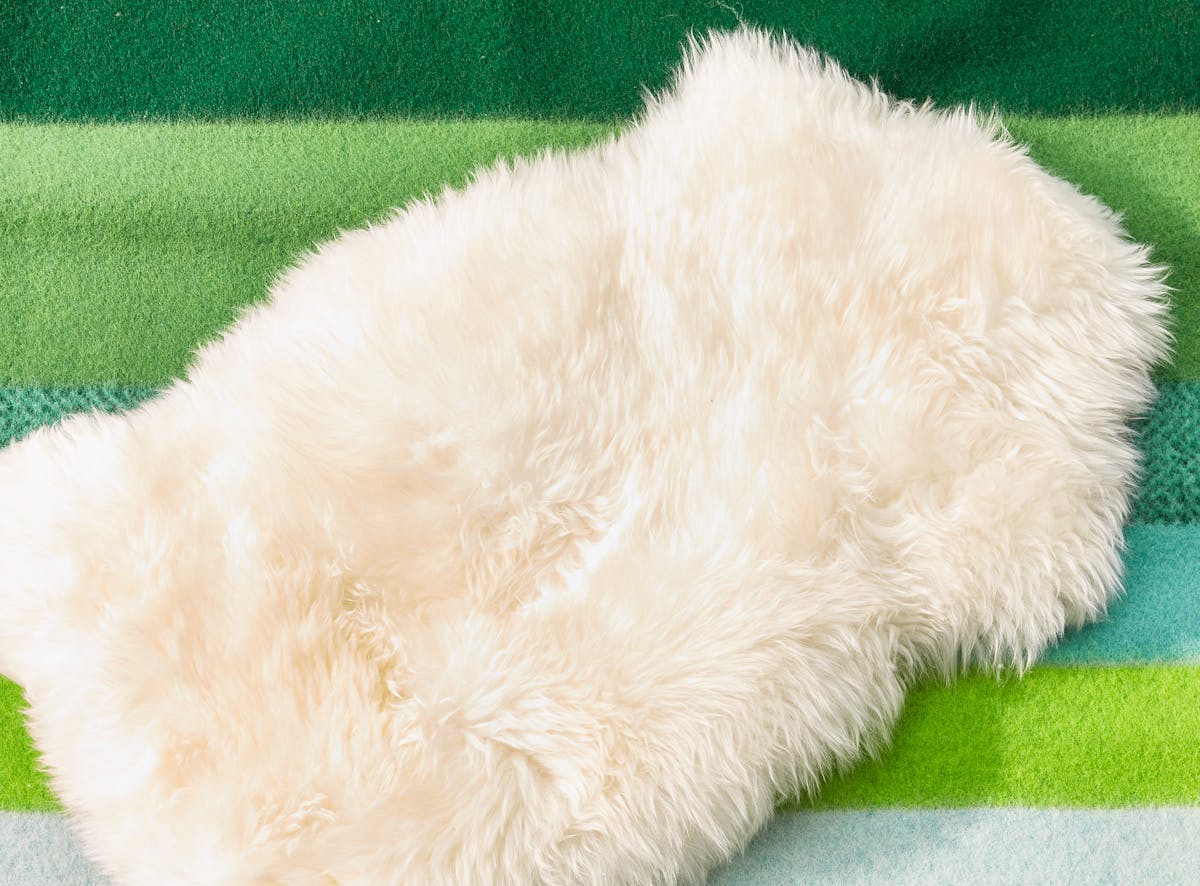 • Pack individual servings in a plastic bento box (@worldmarket.com). Keep food warm in a thermal Yeti lunch box ($79.99) and beverages hot in a Yeti 20 oz. tumbler ($29.99, @acehardware.com).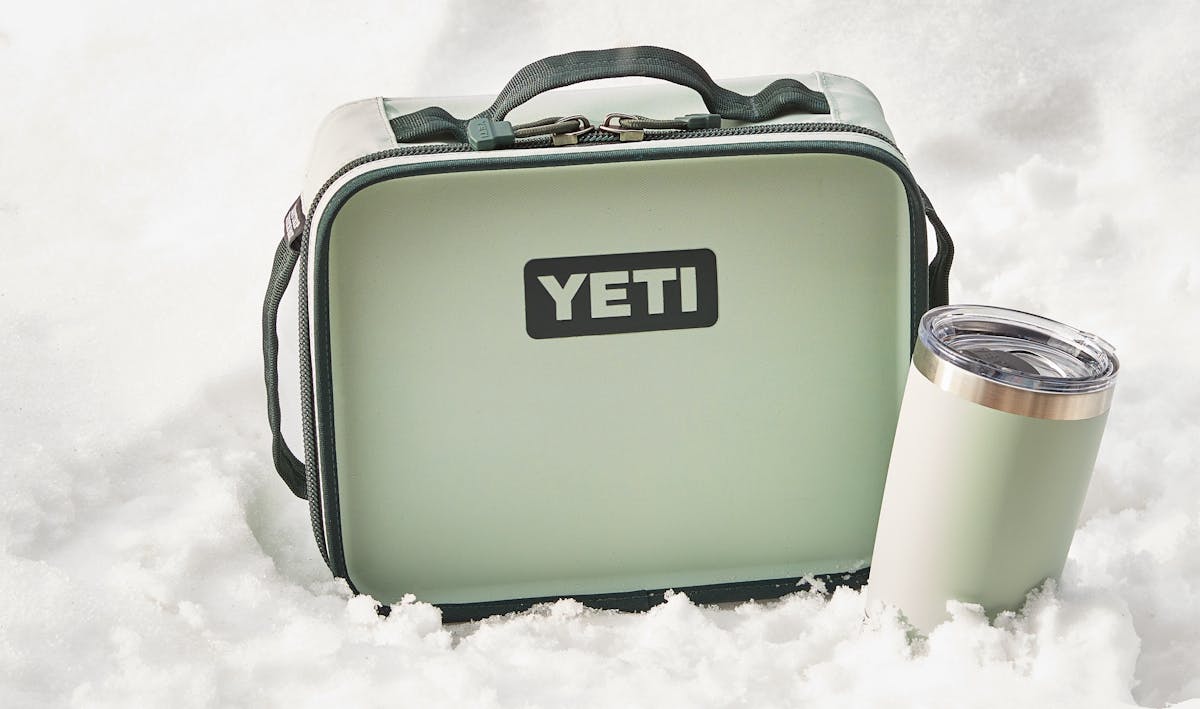 • Finger foods, soups and wrapped sandwiches allow you to keep your mittens on while dining. rite mittens (Wool mittens from @ingebretsens.com).