Groupon, Kgb Deals and Living Social all have teeth whitening specials today. Is it national teeth whitening week or something?
The deals are $49, $79 and $149. Here's how they're different.
Kgb Deals is $49 from the site www.mylifemysmile.com, not a local dentist. The kit (reg. $125) inludes upper and lower trays that are not customized to fit your mouth, one 10 cc syringe of 35% carbamide peroxide bleach, desensitizing gel, a carrying case and a mini-blue LED light.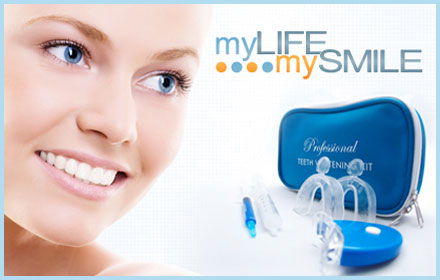 Groupon's deal is $79 (reg. $159) for an appointment at Bright Smile Teeth Whitening at 3551 Chicago Ave. S. in Minneapolis (612-767-9900). Bright Smile is not a dentist's office. Rather, people who are not hygienists are trained in whitening procedures. A 44% carbamide peroxide gel is applied with non-custom teeth trays and activated with an LED blue light. You will need an appointment in advance. Appts. take about 30 minutes. The procedure is self-administered. Bright Smile fills the tray with gel and the customer put the tray in and adjusts the blue light. 
Living Social's deal is $149 at All Family Dental in Oakdale (1075 Hadley Av. N., 651-731-2141). It includes a Zoom teeth whitening treatment OR an exam, cleaning and X-Rays.  Zoom is a more aggressive system than the over-the-counter products or Bright Smile. It is administered by a dentist.  The reason it's pricey is that it works faster than home treatments and it's done in one sitting.
I have not yet seen the Zoom treatment for a price this low. Normally it's a $600 treatment. A $350 special is fairly common, but $149 is an excellent value.
The Zoom appointment is for two hours. You might be done is as little as 45 minutes if your teeth whiten quickly. 
If you want faster teeth whitening results without paying $149 to $600 for Zoom, ask your dentist about Crest Whitestrips with a higher bleach concentration that you can get over the counter.