Wet Week Ahead
After a VERY summer-like weekend and start to our 3rd full week of September. Cool and damp conditions will take us through the rest of the week. Waves of heaiver rain will be possible across the southern half of the state, where some 2" to 4" tallies can't be ruled out. I predict that widespread puddles will be with us as we head into the middle part of the week. 
_________________________________________________________________________________
Wet Weather Ahead
"Rounds of showers and thunderstorms are expected through Thursday. 2 to 4 inches are likely area wide, with 5 or more inches possible locally. Flash flooding is possible across southern MN today through Tuesday night, and area wide Wednesday."
________________________________________________________________________________
Hints of Fall Up North
Thanks to Elias Anoszko for the picture below who submitted this photo to the MN DNR Fall Color Report. Elias snapped this picture at the Franz Jevne State Park (located in the NW parts of the state) a few days ago where fall color is now at 25%-50%.
MN DNR Fall Color Update
Hey - check this out! The MN DNR has now officially started updating their fall color report for the 2018 fall season. Interestingly, parts of northwestern Minnesota are already at 25% - 50%! Note that fall colors will start ripen over the next several weeks with the peak typically in late September through mid October in the Twin Cities.
Typical dates for peak fall colors in Minnesota
According to the MN DNR, the typical peak for fall color starts in mid/late September across far northern Minnesota, while folks in the Twin Cities enjoy it around late September to mid October.

____________________________________________________________________________
"The Best Fall Foliage Train Trips to Take This Year"
"Living in a world of pristine beaches and towering castles, it's easy to forget that people from halfway around the world travel to our backyard to see the views we often take for granted. Some of the best foliage is right here in the U.S., and the autumnal scenery that photographers capture for postcards is something we can see on a leisurely drive just a few hours outside the city. Taking a weekend trip to see the fall leaves can yield some of the best sights you'll see all year. If you'd like to actually enjoy the views, instead of squinting at Google Maps in the driver's seat, taking a foliage train trip could be the perfect solution. Whether you're on a solo leaf-peeping excursion or have your children in tow, the train does all the work for you. The train is your chauffeur, your tour guide, and your GPS. You don't have to plan a route, keep your eyes on the road, or even remember to pack snacks. All you have to do is sip on your to-go cup of steaming hot cider or pumpkin spice coffee, sit back, and enjoy the ride."
See more from Travel and Leisure HERE:

___________________________________________________________________________
"How does the weather affect our mental health?"
"There's a difference between SAD and simply feeling 'groggy' when summer ends. After temperatures in the late 30s were reached around the UK in July and August, the beginning of September has seen greyer skies, rain and conditions resuming to the cooler high teens and early 20s. But can the end of summer cause a change in mood? Below, we explore the relationship between the weather and how it makes us feel. The link between extreme weather, stress and mental health. According to Dr Paul McLaren, the medical director at the Priory's Hayes Grove Hospital, collective melancholy is not an isolated phenomenon. Some patients with existing mental health conditions sometimes report their symptoms either worsening or improving because of the climate. This is likely to be because extremes of weather can be very stressful and "stress can trigger mental illness", Dr McLaren explains. "It is much more stressful travelling home from work in an underground train when the temperature is 36 degrees than 16 degrees," for example. Stress is also understood to exacerbate a whole host of existing mental health conditions including depression, anxiety and obsessive compulsive disorder."
See more from Country Living HERE:
_____________________________________________________________________________
Seasonal Allergies... SNIFF SNIFF
Seasonal allergy sufferers are still battling waves of pollen that have been running at High to Medium/Medium-High over the last few weeks. The upcoming forecast suggests that we will have slightly better allergy conditions with wetter weather ahead. Regardless, keep the allergy meds flowing... Hopefully we'll all get through this together - AAACHOOOO!
______________________________________________________________________
"How Are Fall Allergies Different From Spring Allergies? Season Changes Can Bring New Symptoms"
"When temperatures drop and summer weather fades into autumn chill, there are certain things we all love: snuggly sweaters, hot cocoa, the smell of indoor fires. And there are others that, well, a lot of us could live without. Fall, like spring, is a prime season for allergies, and it can be hellish for people who are sensitive to hayfever. But fall and spring allergies are different in certain ways, and knowing how those differences play out can mean you're fully armed to deal when the sniffles begin. Dr. Purvi Parikh, an allergist/immunologist with the Allergy & Asthma Network, tells Bustle, "Fall and spring allergies are very similar in terms of symptoms. They both cause coughing, wheezing, nasal congestion, runny nose, sneezing, and itchy watery eyes. The main difference is the type of pollen." If you get hay fever, you're part of the 40 percent of allergy-havers with a pollen sensitivity. The big distinction between the seasons, Dr. Parikh says, is in the pollen allergens themselves, the elements that become airborne and irritate the airways of people with sensitivities."
__________________________________________________________________________
US Drought Monitor - Minnesota
According to the US Drought Monitor, parts of northwestern Minnesota are still considered to be moderate to now severe drought. However, note that only a little more than 8% of the region is considered to be in a moderate drought, which is up from nearly 7% last week. Also, the amount of severe drought is only 0.27%, which is pretty low. Abnormally dry conditions have expanded from 27% last week to 33% this week. The good news is that the next several days will likely see decent rainfall chances, so this could hlep mitigate some of the dry weather there.
___________________________________________________________________
High Temps Tuesday
High temps on Tuesday will be quite a bit cooler than it was this weekend. Readings will be in the 60s and 70s, which will be closer to average for this time of the year.

Weather Outlook
The weather loop below shows fairly active weather conditions as we head through the 3rd full week of September. Spotty showers & T-storms late Monday into Tuesday look to give way to more widespread rain & thunder on Wednesday & Thursday. 
Rainfall Potential Through AM Saturday
According to NOAA's WPC, the rainfall potential through the week ahead looks very wet! Waves of showers and storms could produce widespread 1" to 3" tallies with some isolated 4"+ tallies possible as well. This could be a very puddley last few days of summer. 
_________________________________________________________________________________
Extended Temperature Outlook
The extended forecast as we head through the end of September shows temps MUCH cooler through the rest of the month.Highs in the 60s and 70s are looking more likely. Keep in mind that the average high in the Twin Cities by the end of the month is in the mid 60s!
_________________________________________________________________________
Your Drip Dries Will Be Drooping This Week
By Paul Douglas
Welcome to "June-tember". The kids are back in school. Sugar maples are starting to ripen. Footballs are flying faster than political attack ads. And it's raining like there's no tomorrow.
ECMWF (European) guidance prints out a whopping 2-5 inches of additional rain by Thursday night as a frontal boundary stalls overhead. We may get a brief break this morning, but a hard rain and T-storms are likely from this afternoon into Thursday night. It will look and feel like early June out there.
Skies clear Friday as Canada flushes cool, clean air south of the border, but another wave of heavy rain and embedded storms return Sunday into Tuesday of next week. Unusually active for the latter half of September.
If you're keeping score, MSP experienced 20 days above 90F this year. Average is 13 days. This has been the 5th warmest start to September on record in the Twin Cities.
I'm keeping my soggy disappointment in check. I have friends near Wilmington, North Carolina who still don't know if they have a home to come back to. Florence dumped up to 34 inches of rain on the Carolinas.
_____________________________________________
Extended Forecast
TUESDAY: Cooler. More showers. Winds: NNE 7-12. High: 71.
TUESDAY NIGHT: Chance of showers and storms. Winds: ENE 5. Low: 59
WEDNESDAY: Rain, heavy at times. Winds: E 8-13. High: 66.
THURSDAY: Heavy showers and T-storms. Winds: S 10-20. Wake-up: 62. High: 75.
FRIDAY: Clear and cool. Feels like Fall. Winds: NW 10-15. Wake-up: 54. High: 65.
SATURDAY: Sunny start. Storms possible late. Winds: S 10-20. Wake-up: 52. High: 73.
SUNDAY: Showers adn storms linger. Winds: W 10-15. Wake-up: 58. High: 70.
MONDAY: Another round of showers and storms. Winds: SE 10-15. Wake-up: 59. High: 78.
______________________________________________________
This Day in Weather History
September 18th
1997: An F3 tornado destroys several buildings and damages numerous others. Hundreds of trees are knocked down. A number of cattle are also killed in a collapsed barn. One man is injured when the tornado engulfs his car and throws it into a nearby woods. A second man is critically injured when his garage collapses, then dies several weeks later. The total path length of the tornado from 1 NE of Lastrup to Onamia is 17 miles. Total property damage is estimated at $1.7 million. In total, 6 tornadoes touch down in Morrison, Mille Lacs, and Kanabec.
1991: Duluth gets 2.5 inches of snow five days before the beginning of Fall.
1971: A brush fire at Lake Alexander in Morrison County spawns a 10-foot wide, 50-foot high 'fire whirl.' It moved out over the lake, overturned a 1,800 pound pontoon boat, and then dissipated as it moved back to shore.
1903: 3.75 inches of rain falls in the Minneapolis area.
_______________________________________________________
Average High/Low for Minneapolis
September 18th
Average High: 71F (Record: 93F set in 1891)
Average Low: 51F (Record: 32F set in 1929)
Record Rainfall: 3.75" set in 1905
Record Snowfall: NONE
_________________________________________________________
Sunrise/Sunset Times for Minneapolis
September 18th
Sunrise: 6:55am
Sunset: 7:18pm
Hours of Daylight: ~12 hours & 23 minutes
Daylight LOST since yesterday: ~3 minutes & 6 seconds
Daylight LOST since summer solstice (June 21st): 3 hours and 14 Minutes
__________________________________________________________
Moon Phase for September 18th at Midnight
2.3 Days Since First Quarter Moon
_________________________
What's in the Night Sky?
According to EarthSky.org this is what will be visible in the night sky over the next several nights: 
"On September 17, 18 and 19, 2018, use the waxing gibbous moon to locate the planets Saturn and Mars. These two worlds look like bright stars, and they are easy to see with the eye alone. Mars is the brighter of the two, its ruddy color contrasting beautifully with the golden hue of Saturn. If you have a telescope, use it to enjoy Saturn's glorious rings. The moon, Saturn and Mars shine highest up for the night at or around nightfall. They slowly sink westward throughout the evening and wee morning hours. As viewed from northerly latitudes, all three worlds appear rather low in the southern sky at nightfall; from the Southern Hemisphere, on the other hand, the moon, Saturn and Mars shine way up high as darkness falls."
 _____________________________________________________________________
Praedictix Briefing: Monday, September 17th, 2018
The extreme rain that has fallen due to Florence across parts of the Mid-Atlantic continues to pose issues this morning - and will do so for at least the next week across the region.
Dams and levees have been threatened. Residents downstream of the Headwaters Dam were told to evacuate last night as the county emergency manager reported the dams immediate failure.
There is no access to Wilmington, NC, as flooding has closed roads and the airport and Port of Wilmington remain closed. At least 450 people have been rescued from floodwaters in Wilmington. Officials are planning on airlifting food and water in.
At least 900 people have been rescued across the state of North Carolina in swift-water rescues. Meanwhile, at least 100 rescues were conducted in Marion and Mullins, SC, yesterday.
New mandatory evacuations have been ordered in areas across the Carolinas as water continues to rise on rivers. Parts of Fayetteville, NC, have been evacuated as authorities ordered those living within a mile along parts of the Cape Fear River and the Little River to leave. Florence County, SC, issued evacuation orders for those near Black Creek 

Sunday

, and other evacuations occurred in Bennettsville, SC.
Sadly, 18 people have died due to impacts from Florence - 12 in North Carolina and 6 in South Carolina.
New tropical system rainfall records have likely been set in both North and South Carolina. Rainfall totals have topped 30" in parts of North Carolina since rain began last week.
Tropical Depression Florence, sitting near the Virginia/Kentucky/West Virginia border this morning will move in a northeasterly direction today before turning to the east 

tomorrow

, picking up forward speed as it does so.
Heavy rain will continue to be the main threat, with the potential of 2-6" along the path of the system over the next couple days. Numerous Flash Flood Watches from the Carolinas into New England are in effect.
Florence As Of Monday Morning. As of the 5 AM ET update from the Weather Prediction Center, what is left of Tropical Depression Florence is sitting 125 miles west-southwest of Roanoke, VA, or 145 miles west-northwest of Greensboro, NC, moving to the north-northeast at 13 mph. Tropical Depression Florence had sustained winds of 30 mph.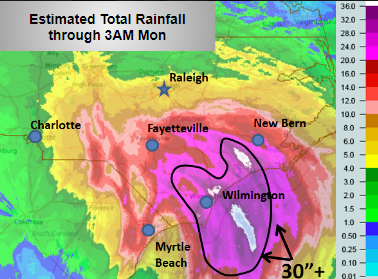 Feet Of Rain. Rain continued to fall across parts of the Mid-Atlantic on Sunday, and some areas of North Carolina have received over two and a half feet of rain since last week in association with Florence.
...NORTH CAROLINA...
SWANSBORO 1.4 N 33.89
HOFMANN FOREST RAWS 29.48
SUNNY POINT RAWS 27.44 
NATURE CONSERVANCY RAWS 27.12 
NEWPORT/MOREHEAD CITY NWS WFO 25.20 
EMERALD ISLE 0.2 ENE 23.66 
WILMINGTON INTL AP 23.59 
SUPPLY 4 NNW 21.92 
CEDAR POINT 0.9 WSW 21.73 
CROATAN RAWS 21.70 
BOLIVIA 7.8 SW 21.59 
LUMBERTON 21.51 
MOREHEAD CITY .6 NW 21.20 
MT. OLIVE 0.4 NW 20.82 
ELIZABETHTOWN 6.2 NW 20.17 

...SOUTH CAROLINA...
MARION 3 E RAWS 18.13 
CAROLINA SAND HILLS RAWS 16.44 
JEFFERSON 6 E 16.19 
CHESTERFIELD (MAIN ST) 16.06 
LORIS 1.4 ENE 12.18 
LORIS 2.9 WSW 11.95 
PEE DEE RIVER 11.29 
CONWAY HADS  10.10 
PAWLEYS ISLAND 2.6 N 10.08 
HORRY RAWS 10.06
...VIRGINIA...
DANVILLE AIRPORT 3.81 
HILLSVILLE 3.44 
BUFFALO RIDGE 4 WSW 3.09 
MEADOWS OF DAN 4.5 SW 2.69 
COPPER HILL 6.2 S 2.44 
DISPUTANTA 6.3 NE 2.19 
HORSE PASTURE 2 E 2.09 
WILLIS 2.7 SE    2.08 
ROANOKE AIRPORT 1.34 
If any of the top five rainfall reports from North Carolina verify, Florence would hold the record for most rainfall from a tropical system for the state. That currently is held by Hurricane Floyd in 1999 which brought 24.06" near Southport. Meanwhile, if the 18.13" report from Marion, SC, verifies, Florence would hold the record for most rainfall from a tropical system in South Carolina currently held by Tropical Storm Beryl in 1994 (17.45" near Jocassee).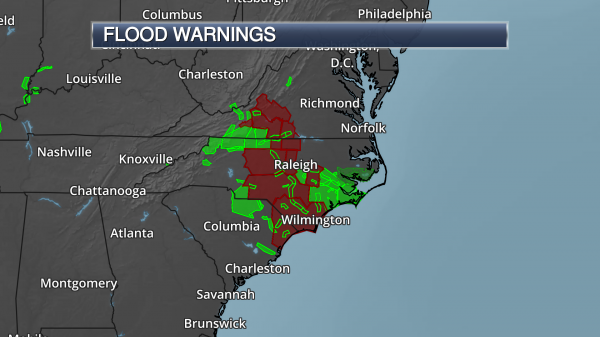 Ongoing Flood Alerts. Due to the extreme rain from Florence, numerous Flash Flood and River Flood Warnings continue to be in place across parts of the Carolinas and Virginia this morning.
Ongoing River Flooding. As of Monday morning, 17 rivers across North and South Carolina are in major flood stage with numerous other ones in minor or moderate stage. These rivers will continue to be elevated for an extended period of time as all the water from Florence rushes into them. You can view local river data at https://water.weather.gov/ahps/.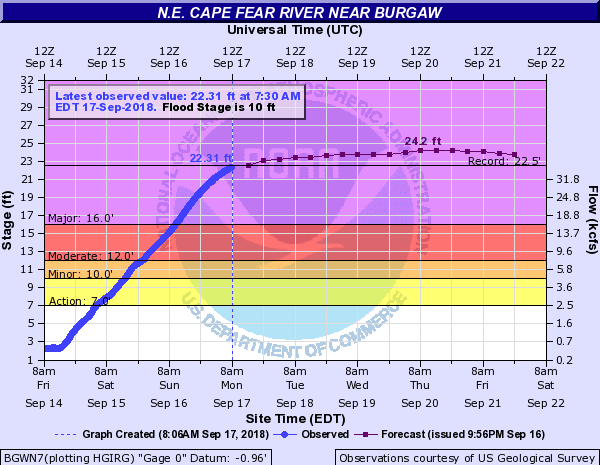 N.E. Cape Fear River Near Burgaw. The N.E. Cape Fear River near Burgaw was sitting near record flood stage Monday morning – a record that was set due to Hurricane Floyd back in 1999. It is expected to cross that historic crest later today and remain above the previous record through at least the end of the week. It is currently expected to crest around 24.2 feet on Thursday. According to the NWS at 22.4 feet, "12 miles of Highway 53 are underwater, in some cases 7 feet deep, between the Northeast Cape Fear bridge and Maple Hill. All homes including 60 in River Bend, 20 to 25 in River Birch and 12 in the Alligator Lake subdivision are flooded. 20 to 30 homes in Holly Shelter estates are underwater. In the Sandy Bend subdivision, off Shaw Highway, 40 to 50 homes, which is half of the homes in the subdivision sustain flooding. Portions of Croomsbridge, Island Creek and White Stocking Roads are underwater."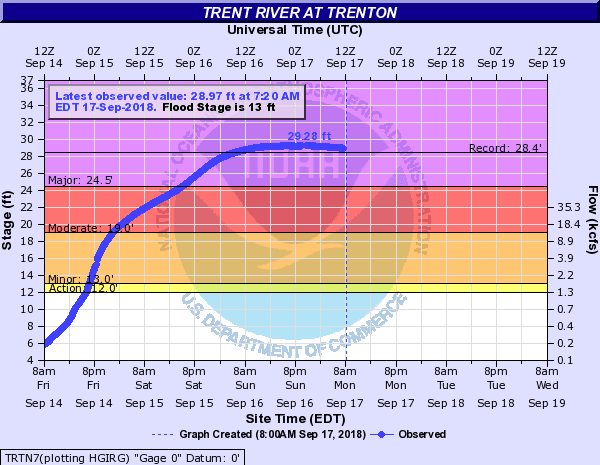 Trent River At Trenton. The Trent River at Trenton set a new record crest Sunday, reaching 29.28 feet, which broke the previous record of 28.4 feet set during Hurricane Floyd. The Trent River continues to sit above its previous record this morning. When the river reaches 28 feet, the entire town of Trenton is flooded.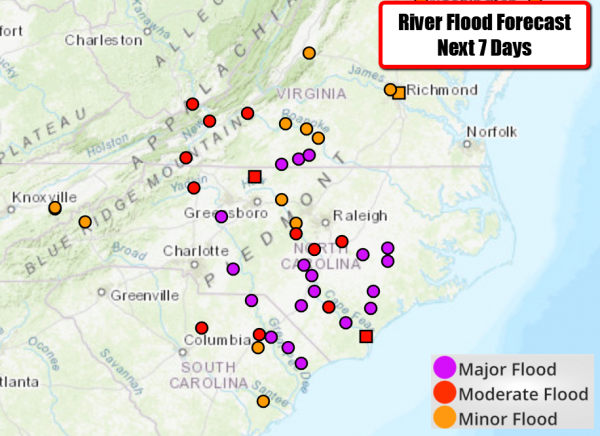 Forecast River Flooding. Due to the extreme rainfall across the Carolinas and into parts of Virginia, major to extreme river flooding will continue to be possible over the next several days. Once again, in some areas, this river flooding could rival Hurricane Matthew from 2016 or Hurricane Floyd from 1999.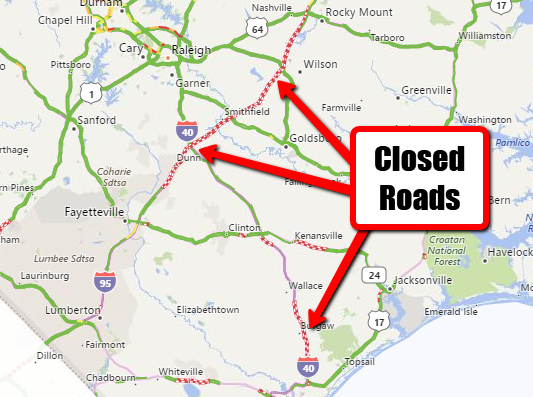 Road Closures. Due to the ongoing flooding across the region, many roads have had to be closed. North Carolina continues to tell residents to stay off the roads unless evacuating and that out-of-state drivers should travel around North Carolina. As of 4:30 PM Sunday, NCDOT said there were almost 700 road closures across the state, which included several sections of I-95 and I-40. They also say that travel should be completely avoided south of US 64 and east of I-73/I-74. In South Carolina, I-95 between mile markers 181-190 near the North/South Carolina border was also closed due to flooding, and as of 4 PMSunday, there were 125 road closures statewide.
Local DOT offices have the latest on road closures:
Forecast Track. Florence will move in a more northeasterly direction today before turning to the east tomorrow, picking up forward speed as it does so. While the greatest threat from what is left of Florence will be heavy rain, a few tornadoes can't be ruled out.
Rain Forecast. Rainfall amounts of at least 2-4" will be possible over the next couple days along the forecast track of Florence from parts of the Mid-Atlantic into the Northeast. Some isolated 6" amounts will also be possible. Further south across already hard-hit areas from Florence, an additional 1-2" of rain is possible in spots across the Carolinas, only adding to the ongoing flooding issues.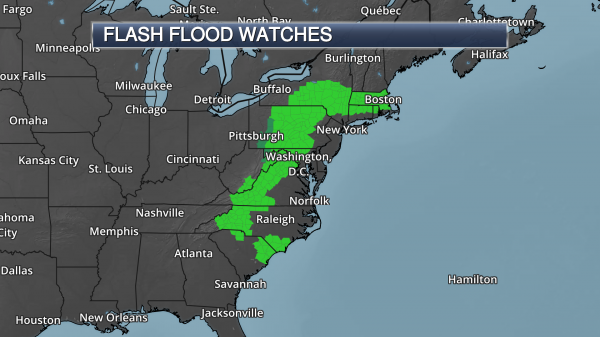 Flash Flood Watches. Due to the heavy rain potential, Flash Flood Watches continue along the path of Florence. These stretch back into the Carolinas (for the potential of additional rain on top of what has already been received) northward along the forecast path of this system across the Mid-Atlantic and Northeast.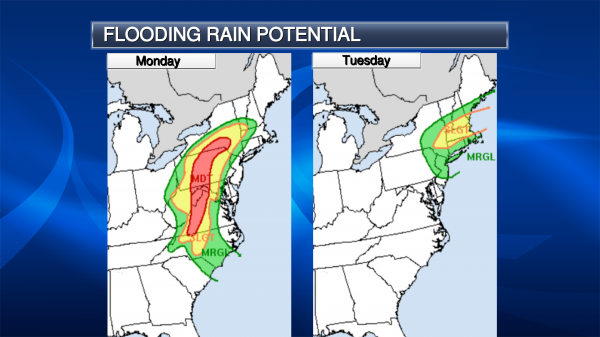 Excessive Rain Outlook. The heaviest of the rain today - rain that could lead to flash flooding at times - will occur over the Virginia Blue Ridge to the crest of the Appalachians through the Catskills. In these areas, rainfall amounts of 1-3" will be common, with up to 5" in localized spots. Due to the heavy rain threat, a Moderate Risk of excessive rainfall leading to flash flooding is in place today across these areas. Tomorrow the heaviest rain moves into parts of New England with a Slight excessive rain risk in place.
D.J. Kayser, Meteorologist, Praedictix
____________________________________________________________________
 Tropical Climatology
This is neat map from NOAA's NHC, which shows where we typically see tropical cyclones develop during the middle part of September. Keep in mind that September 10th is the average peak of the Atlantic Hurricane Season, so this is typically the most active time for the Atlantic.
 ______________________________________________________________________
Average Peak of Atlantic Hurricane Season

According to NOAA, the average peak of the Atlantic Hurricane Season is on September 10th. Note that on average, things are still pretty active through the 2nd half of September into October.
_____________________________________________________________________________
2018 Lightning Fatalities - EIGHTEEN
Did you know that lightning ranks as one of the top weather related killers in the U.S.? An average of nearly 50 people are killed each year in the United States and so far this year, 18 people have died from lightning; 14 have been males and only 4 have been females. Interestingly, from 2008-2017, 234 males have died, while only 65 females have died.
See Lightning Safety Tips From NOAA HERE:
__________________________________________________________________________
PRELIMINARY Tornado Count This Year
According to NOAAs SPC, the PRELIMINARY tornado count across the US this year stands at 820 (through September 16th). Note that this is less than the last couple of years, but more than what we had in 2013. Keep in mind that the short-term average (2005-2015) suggests an average of more than 1,216 tornadoes.

_________________________________________________________________________
Average Tornadoes in September By State
Here's the average number of tornadoes during the month of September by state. Florida sees the most with 8, while Minnesota averages only 2 tornadoes.
_____________________________________________________________
3-7 Day Hazard Forecast
1.) Heavy rain across portions of the Central Plains, the Middle Mississippi Valley, and the Southern Plains, Thu-Fri, Sep 20-21.
2.) Heavy rain across portions of the Central Plains, the Middle Mississippi Valley, the Great Lakes, the Ohio Valley, and the Upper Mississippi Valley, Sat-Sun, Sep 22-23.
3.) Heavy rain across portions of the Great Lakes, Thu, Sep 20.
4.) Flooding possible across portions of the Northeast, the Central Appalachians, the Tennessee Valley, the Mid-Atlantic, the Southern Appalachians, and the Southeast.
5.) Flooding occurring or imminent across portions of the Great Lakes, the Middle Mississippi Valley, the Mid-Atlantic, and the Southern Plains.
6.) Flooding likely across portions of the Southeast, the Southern Appalachians, the Mid-Atlantic, and the Central Appalachians.
7.) Enhanced wildfire risk across portions of southern Wyoming, Thu, Sep 20.
Slight risk of heavy precipitation for portions of the Middle Mississippi Valley, the Great Lakes, and the Upper Mississippi Valley, Tue-Thu, Sep 25-27.
8.) Slight risk of heavy precipitation for portions of the Alaska Panhandle and mainland Alaska, Sat-Mon, Sep 29-Oct 1.
9.) Severe Drought across the Central Plains, the Central Rockies, the Lower Mississippi Valley, the Central Great Basin, the Northern Plains, the Southern Plains, Hawaii, the Northern Great Basin, the Southern Rockies, the Middle Mississippi Valley, the Northeast, California, the Northern Rockies, the Upper Mississippi Valley, the Pacific Northwest, and the Southwest.
_______________________________________________________________________
 Temperature Anomaly on Monday
The temperature anomaly across North America on Monday showed well above average temps across much of the nation and especially across the northern tier of the nation. However, cooler than average temps were found across the West Coast and much of Canada.
Temperature Trend
Here's the temperature anomaly as we into the 3rd week of September suggests much warmer than average temps hanging on across the Central US. However, cooler than average temps will start sliding into the High Plains.
8 to 14 Day Temperature Outlook
According to NOAA's CPC, September 25th - October 1st will be warmer than average across much of the nation, while, slightly cooler than average temps will be found in the Northern tier of the nation and the West Coast.
________________________________________________________________
Weather Outlook Ahead
The weather loop below shows heavy rain finally ending in the Eastern US as the remnants of Hurricane Florence move out to sea. Flooding will still remain a major issue over the next several days. Meanwhile, another batch of heavier rain will develop over the Upper Midwest midweek, where some 2" to 4" rainfall tallies will be possible.
___________________________________________________________________
7 Day Precipitation Outlook
According to NOAA's WPC, the 7-day precipitation outlook suggests areas of very heavy rain continuing across the Midwest and in the Northeast. Several inches of rainfall will be possible there, which could lead to isolated flood concerns.
_______________________________________________________________________________
US Drought Outlook
Here is the national drought map from September 4th, which shows extreme and exceptional drought conditions across much of the Four-Corners region and for a few areas in the Central and Southern Plains. The good news is that several locations in the Central and Southern US have had some fairly good rains over the recent days/week and there is more on the way so some improvement is being seen there.
_______________________________________________________________________
"FUTURE EL NIÑO EVENTS COULD SPARK HIGH WILDFIRE RISK"
"As temperatures rise, wildfires may get worse in areas that already experience them and become more prevalent in areas where they're not yet a big risk, a new study warns. At roughly 415,000 acres, Northern California's Mendocino Complex Fire is now the state's largest recorded wildfire, surpassing the record held by Santa Barbara and Ventura counties' Thomas Fire, which occurred less than a year before. The trend of growing intensity and extremity of recent wildfires triggered scientists wondering how a warming Earth might affect El Niño/Southern Oscillation (ENSO) and how, in turn, that pattern might affect the likelihood and intensity of future wildfires to examine the issue in their new work. Their findings could have implications on land use and on wildfire fighting and prevention strategies at urban/wildland interfaces, the researchers say. RIPPLE EFFECT "This paper is really saying that in fire-prone places like California and Australia, we can expect future El Niño and La Niña events to have a bigger impact on fire risk in a given year," says coauthor Samantha Stevenson, a faculty member at the Bren School of Environmental Science & Management at the University of California, Santa Barbara. "That's because the sensitivity of land temperature and precipitation to changes in tropical Pacific Ocean temperature is increasing due to climate change." Like many climate-based events, which take place over long timescales, tracking the ripple effects of a climate pattern can be difficult, given the many individual processes that can affect the result."
"How a Category 6 hurricane could soon become reality"
"For now, Category 5 hurricanes are the baddest on the Saffir-Simpson scale — but experts warn that even more destructive storms may soon unleash their fury. Meteorologists never anticipated the need for a rating higher than 5, which generate winds of 157 mph and greater, but scientists believe warmer oceans and more water in the atmosphere could create Category 6 superstorms, according to a Guardian article adapted from the upcoming book "This Is The Way The World Ends." Right now, there's anywhere from 5 to 8 percent more water vapor circulating throughout the atmosphere than there was a generation ago. This water vapor combined with warmer temperatures and oceans has created the potential for storms with violent winds exceeding 200 mph."
______________________________________________________________________________
"Are states, cities and companies taking the lead on climate action?"
"California hosted the Global Climate Action Summit in San Francisco last week in an effort to galvanize stronger commitments to address climate change in advance of this fall's critical climate negotiations in Poland. With President Trump's 2017 announcement of the intended departure of the United States from the 2015 Paris agreement and news that countries are underperforming on their Paris commitments, the summit was intended to recharge the climate community. Cities, regions and companies would move forward with ambitious commitments to reduce emissions, and then national governments would follow suit. Nonstate actors can lead, but they need the support of national governments. What are the prospects for nonstate climate action? Troubled by the slow progress in global climate negotiations, political scientists are studying this in depth. The research shows that nonstate action has promise but cannot replace ambitious national policy as the cornerstone of climate mitigation."
___________________________________________________________________________
"As Indiana towns grapple with climate change a new tool could save them money"
"Less than two years after a once-in-1,000-year storm flooded South Bend, the city was hit with another devastating storm — this one a 500-year event. It was a similar story in the small town of Huntingburg. The mayor told people not to worry after a 1,000-year flood. It was one-time event. Then two more 1,000-year floods slammed the town in fewer than 18 months. "Either we have run some extraordinary odds these last few years, or something is changing," South Bend Mayor Pete Buttigieg would later say in his state of the city remarks. The growing frequency of weather events once thought to be extremely rare is causing officials in big and small cities across the state and nation to seek information on how their communities can weather the effects of global warming. It's not to bolster a political position, they say, but to deal with the problems they are confronting on the job. As Huntingburg Mayor Dennis Spinner put it: "I don't know what I can immediately do to affect climate change, but I know that, as a city, we can do better at planning and responding to the events that are going to happen."
_________________________________________________________________________________
"UK heatwave caused hundreds of extra deaths this summer, figures suggest"
"Total of 625 extra deaths recorded during two periods of higher-than-normal temperatures in spring and early summer. Hundreds of extra deaths were recorded in England as a result of a heatwave during spring and early summer, official statistics show. In the last week of June, when temperatures rose above 30C, 382 more deaths occurred than the average. During an earlier period of unseasonably warm spring temperatures in April, 243 more deaths were observed than the five-year average. Experts said many of the deaths could have been prevented if the public had been made aware "about the increasing risks of heatwaves due to climate change". The Office for National Statistics' quarterly mortality report only deals with the months from April to June, meaning the effect of the hot weather that continued throughout July is not accounted for. The report revealed "specific instances of increased mortality that coincided with periods of increased temperature in England".
"How to Track Hurricanes Like a True Weather Geek"
"Hurricane season is in full swing, and the Atlantic is raging. If you live on the coast, you owe it to yourself to pay attention to what storms are out there, where they're headed, and what the impacts could be. Whether you're new to hurricane watching or a weather geek, Earther has you covered. These are the definitive sources and handy tools to have at your disposal to know what's going on when the tropics get roaring, as well as where to find the most jaw-dropping images of nature's cyclonic terrors. National Hurricane Center The National Hurricane Center is the gold standard one-stop shop for information on specific storms, from when they have a chance of forming up to where they'll come ashore. There are maps, there are words, there are technical discussions, there are lay people discussions. There is A Lot, but it's all relevant if you're in the path of a hurricane or tropical storm, so bookmark it."
__________________________________________________________________________
"How meteorologists predict the next big hurricane"
"Hurricane Florence is heading toward the U.S. coast, right at the height of hurricane season. Hurricanes can cause immense damage due to the winds, waves and rain, not to mention the chaos as the general population prepares for severe weather. The latter is getting more relevant, as the monetary damage from disasters is trending up. The growing coastal population and infrastructure, as well as rising sea level, likely contribute to this increase in costs of damage. This makes it all the more imperative to get early and accurate forecasts out to the public, something researchers like us are actively contributing to. Making predictions Hurricane forecasts have traditionally focused on predicting a storm's track and intensity. The track and size of the storm determine which areas may be hit. To do so, forecasters use models – essentially software programs, often run on large computers."
See more from The Conversation HERE:

_________________________________________________________________________
"Why hurricanes are doing more damage: It's not the storms. It's us."
"Three catastrophic hurricanes made U.S. landfall within 30 days of each other last year, causing more than $250 billion in losses.  By the time the winds died down and the floodwaters receded, Harvey, Irma and Maria were three of the five most destructive hurricanes in U.S. history – and 2017 was the costliest hurricane season ever. But despite that exceptional cluster of storms, it's not that hurricanes are getting stronger or more frequent that's making them more expensive. It's that there's more in the way for the storms to destroy. As Hurricane Florence takes aim at the Carolinas this week, emergency management officials, meteorologists and insurance companies are looking as much at what's in its path as they are the strength of the storm itself. "The damage trend is obviously through-the-roof up, but most of that trend is due to population growth along the coastline," said Phil Klotzbach, a meteorologist at Colorado State University. "There's just more people in harm's way, unfortunately. And not only are there more people, but we're more affluent than our parents were."
_______________________________________________________________________
"Why some people never evacuate during a hurricane, according to a psychologist"
"The dire forecast for Hurricane Florence has prompted mandatory evacuation orders for more than a million people. Yet some will ignore the orders. Hurricane Florence is a powerful storm that's expected to lash the Carolinas for days, bringing coastal flooding, high winds, and, most concerning of all, an extraordinary amount of rain. "It cannot be emphasized enough that the most serious hazard associated with slow-moving Florence is extremely heavy rainfall, which will cause disastrous flooding that will be spreading inland through the weekend," the National Hurricane Center warned Friday morning. Floodwaters are already rising throughout the region, and as more rain comes, they'll only get higher. Due to the severity of the forecast, more than 1.4 million people were told they must evacuate from the shorelines of North and South Carolina, as well as parts of Virginia. "This is not a storm that you need to try to ride out," North Carolina Gov. Roy Cooper told reporters Tuesday. "It's historic and maybe once in a lifetime." But it was inevitable: Some people have refused to leave, even people who have been issued mandatory evacuation orders. Though the evacuations are "mandatory," it doesn't mean police will be going door to door forcing people out."
_____________________________________________________________________________
"Here's Why You Should Always Close the Interior Doors in Your Home Before a Hurricane"
"This tip could ensure that your roof stays intact. There's no such thing as being overly prepared when you know a natural disaster is headed your way. Especially when a hurricane is quickly approaching, preparedness is key to staying safe. Whether you evacuate or decide to wait it out at home, there's an important way to protect your home from damage during a hurricane that you may not know about. After rigorous wind testing, the Insurance Institute for Business & Home Safety is recommending that homeowners make sure to close all interior doors, as well as all windows and exterior doors. This may sound like simple advice, but when a storm like Hurricane Irma brings strong winds, homes are under extreme pressure. When wind enters through any open door or window, it can create even more pressure on the roof. Essentially, the pressure in your home builds like the air in a balloon, which can eventually cause your roof to cave in and allow water into your house, according to IBHS."
See more from Town & Country Mag HERE:
__________________________________________________________________________
Thanks for checking in and don't forget to follow me on Twitter @TNelsonWX