Vikings Curse? Snow Curse? It's All The Same

I'm seriously concerned about the universe imploding sometime Monday. The prospect of a Vikings Super Bowl, coupled with a foot of snow, is just too much to fathom. Which gets back to The Curse.

Whether it's playoff games or the tantalizing prospect of a REAL STORM in the Twin Cities, can we shake a sense of dread? Will this be a Gary Anderson Snow Event; another near-miss? I can't bear to watch.
We like it when weather models agree; our confidence levels rise. NOAA models are in alignment, showing the axis of heaviest snow setting up over central and southern Minnesota. We should see plowable snow amounts, even in the MSP metro, and a few lucky towns could pick up a cool foot of snow by Monday night, depending on where the heaviest snow axis sets up.
No travel problems today with highs 40F. A light mix Sunday changes over to snow Sunday night and Monday. Travel conditions gradually worsen in heavy, wet snow.
Wait, European (ECMWF) guidance hints at a southern track, with 3 inches in the metro. Uh oh, here we go. Blair Walsh on line 1. What can possibly go wrong this time around?
---
ECMWF: Significant Snow South Metro and Southern Minnesota. Here is the 00z European run, which continues the trend of shifting the axis of heaviest snow southward - but keeps much of the Twin Cities in a 5-10" band with over a foot for much of southern Minnesota. Map: WeatherBell. Let's see if the 12z run from today is consistent.
---
---
Here's Why Confidence Levels Are Low. 6-24" Uh huh. That's nice. When you see a model spread like this it's best to refrain from trying to predict snow down to the inch, even a reasonable range. The storm may track too far south for heavy snow over central Minnesota and even the northern metro of the Twin Cities. Too early for specificity.
---
Pass the Smelling Salts. Could it happen? Absolutely. NOAA models have been fairly consistent the  last 36 hours, showing an axis of heavy snow over southern and central Minnesota. In line with the ECMWF model I suspect this band of heavy snow will wind up farther south than advertised. NAM guidance above.
---
Holy MnDOT Overtime! No, not buying it. But the 12km NAM is fun to stare at - if you like snow you may quickly become hypnotized. This system will tap moisture from the Gulf of Mexico, but 20" of snow? The odds are slim. Graphic credit: pivotalweather.com.
---
---
---
---
---
Nothing Too Arctic Into Early February. We'll see more cold fronts (there's shocking news) but nothing of the magnitude we enjoyed in late December and early January. Another thaw is likely late next week before we cool off roughly one week out. Twin Cities ECMWF numbers: WeatherBell.
---
Modified Pacific Flow First Week of February. The month of February will probably start out on a chilly note, but GFS guidance shows a Pacific influence, suggesting some warming in time for that football game that's being played locally on February 4.
---
Out on a Limb: February 4. Do NOT take this to the bank; it's more for your amusement. Because there's a 110% probability this will change, shift and mutate over the next 2 weeks. GFS guidance shows a smudge of wet snow pushing across Minnesota the morning of February 4. Circle your calendar.
---
GFS Guidance: 30s on Super Bowl Sunday? That seems reasonable based on the models I'm looking at. We have a higher confidence level for temperatures than precipitation, but if it does snow it may be a wet, slushy snow. Stay tuned.
---
Midwest Snow Potential Increases. Praedictix Briefing: Issued Friday, January 19th, 2018:
* A snowstorm is looking likely from the Plains to the upper Midwest this weekend into early next week. Winter Storm Watches have been issued from Wyoming into western Wisconsin across areas that have the best chance of receiving at least 4-6"+ of snow at the moment.
* Before the snow begins across the region, a wintry mix with freezing rain is possible across the upper Midwest Sunday and Sunday night.
* Windy conditions will also have the potential to create whiteout conditions across the region Sunday into Monday.
* The system is moving ashore across the west coast today, which means we are still likely to see shifts in the overall path of this system over the next couple days. Those shifts in path will determine where the heaviest snow is likely to fall.
---
Winter Storm Watches. National Weather Service offices have issued Winter Storm Watches from Wyoming to western Wisconsin over the past 6-12 hours ahead of a potential snowstorm expected this weekend into early next week. Starting times on these watches vary from Saturday across Wyoming to Sunday evening across parts of southern Minnesota and western Wisconsin as the system involved with this heavy snow potential moves east. Places that are under this Winter Storm Watch include Casper and Cheyenne (WY), North Platte and Norfolk (NE), Sioux Falls (SD), Sioux City (IA) and the Twin Cities of Minneapolis and St. Paul (MN). The area under the Winter Storm Watch has the best potential of seeing heavy snow of at least 4-6" into early next week.
---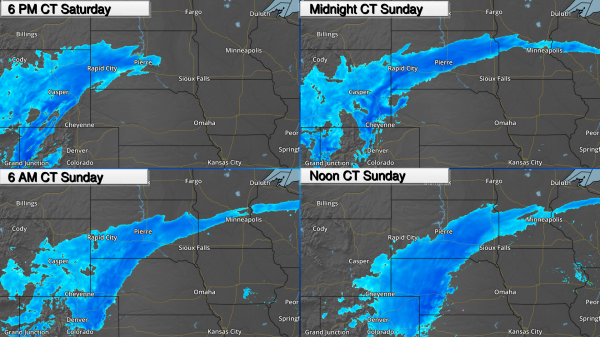 Snow Spreads East. As we head into Saturday evening, snow will already be falling across parts of Wyoming, Colorado and into South Dakota, spreading into Cheyenne and Denver during the evening and overnight hours. Snow will move across western Nebraska Saturday Night and into central Nebraska by Sunday afternoon. Rain and snow (even a period of freezing rain) will begin across Minnesota Sunday, with a changeover to all snow (with heavy snow rates at times) into Sunday night.
---
Snow Forecast. The greatest chances of at least 6" of snow are from parts of Nebraska across northwest Iowa, southeast South Dakota, southern Minnesota and into western Wisconsin. This heavy snow will be accompanied by strong winds which would be able to cause whiteout conditions. Snow totals of 6"+ will also be possible across parts of Wyoming, including Casper and Cheyenne.
---
Heavy Snow Depends On Path. We are going to be keeping a close eye over the next couple days to see the exact path of this low, as that will determine where the heaviest snow will fall. That typically occurs approximately 100-200 miles to the left of the track of low pressure. Any shift in the overall path of the system would affect how much (and how little) snow some cities receive. The system responsible for this low will make landfall on the west coast in the next 12-24 hours, after which better data will be fed into weather models, helping to pinpoint these fine details throughout the weekend.
Summary: Heavy snow will be likely this weekend into early next week from Wyoming to the upper Midwest as a center of low pressure moves off the Rockies. Winter Storm Watches have been issued for areas most likely to receive 4-6"+ of snow into early next week, including Casper and Cheyenne (WY), North Platte and Norfolk (NE), Sioux Falls (SD), Sioux City (IA) and the Twin Cities of Minneapolis and St. Paul (MN). Whiteout conditions, especially in open areas, will also be possible as we are expecting strong wind gusts to accompany the snow.
D.J. Kayser, Meteorologist, Praedictix
---
Billion Dollar Weather and Climate Disasters in 2017. Here's a summary from NOAA: "In 2017, there were 16 weather and climate disaster events with losses exceeding $1 billion each across the United States. These events included 1 drought event, 2 flooding events, 1 freeze event, 8 severe storm events, 3 tropical cyclone events, and 1 wildfire event. Overall, these events resulted in the deaths of 362 people and had significant economic effects on the areas impacted. The 1980–2017 annual average is 5.8 events (CPI-adjusted); the annual average for the most recent 5 years (2013–2017) is 11.6 events (CPI-adjusted).During 2017, the U.S. experienced a historic year of weather and climate disasters. In total, the U.S. was impacted by 16 separate billion-dollar disaster events tying 2011 for the record number of billion-dollar disasters for an entire calendar year. In fact, 2017 arguably has more events than 2011 given that our analysis traditionally counts all U.S. billion-dollar wildfires, as regional-scale, seasonal events, not as multiple isolated events.
More notable than the high frequency of these events is the cumulative cost, which exceeds $300 billion in 2017 — a new U.S. annual record. The cumulative damage of these 16 U.S. events during 2017 is $306.2 billion, which shatters the previous U.S. annual record cost of $214.8 billion (CPI-adjusted), established in 2005 due to the impacts of Hurricanes Dennis, Katrina, Rita and Wilma.
The U.S. has sustained 219 weather and climate disasters since 1980 where overall damages/costs reached or exceeded $1 billion (including CPI adjustment to 2017). The total cost of these 219 events exceeds $1.5 trillion. This total now includes the initial cost estimates for Hurricanes Harvey, Irma and Maria..."
---
Lilium Receives $90 Million to Build Electric Flying Taxi. Is this how our kids will be commuting? Here's an excerpt from The Verge: "German start-up Lilium has secured $90 million in funding to build a five-seat, all-electric flying taxi. The funding will be used to develop the company's five-seat commercial Lilium Jet, as well as to grow the company's team of more than 70 people. As envisioned, a fully charged Lilium Jet would be able to stay aloft for about an hour and travel at speeds in excess of 180 mph. It will also have an on-demand feature where users can order the air taxi to a nearby landing pad..."
---
Police in Montreal Try to Issue Ticket to Car Made of Snow. How do you say duh in French? 93.1 Fresh Radio has the amusing post: "Police in Montreal tried to give a ticket to a car parked in a snow removal zone, only to realize the car was fake and made out of snow.33-year-old Simon Laprise, had a lot of time on his hands so he decided to make a fake car made entirely out of snow to prank snow removal crews.To make the car look even more real, he used an old windshield wiper that he found as he was sculpting this snow car. Simon wasn't able to prank snow removal crews because the POLICE got to the car first and tried to issue a ticket. That's when they realized they were trying to give a ticket to a fake car made out of snow..."
Photo credit: @L.S.D Laprise Simon Designs
---
44 F. maximum temperature yesterday in the Twin Cities.
24 F. average high on January 19.
37 F. high on January 19, 2017.
January 20, 1982: Just over 17 inches of snow falls in the Twin Cities. Amazingly, it was to be outdone two days later.
January 20, 1917: 16 inches of snow falls in the Twin Cities.
---
SATURDAY: Gray but mild. Winds: W 3-8. High: near 40
SATURDAY NIGHT: Clouds and fog. Low: 29

SUNDAY: Winter Storm Watch. Light snow-rain mix. A little slush over west central MN. Winds NE 5-10. High: 34
SUNDAY NIGHT: Changeover to all snow. Low: 28

MONDAY: Winter Storm Watch. Period of snow, heavy at times. Plowable amounts and treacherous travel. Winds: NE 10-15. High: 30

TUESDAY: Sunny peeks, better travel conditions. Winds: NW 5-10. Wake-up: 16. High: 24

WEDNESDAY: More clouds than sun, dry. Winds: SE 5-10. Wake-up: 13. High: 28

THURSDAY: Mostly cloudy, another thaw. Winds: SE 8-13. Wake-up: 23. High: 34

FRIDAY: Chance of wet snow or a mix. Winds: SE 10-20. Wake-up: 28. High: 37
---
Climate Stories...
The Great Crack-Up. It's the cover story at TIME.com: "...While the disappearance of Arctic sea ice is enough of an environmental calamity, it's the ice that covers Antarctica that is a bigger real menace. As it melts and sloughs off the land, it raises sea levels worldwide. According to one 2017 study, if greenhouse-gas emissions continue at their current rate, low-lying areas around the world could by deluged by up to 4 ft. of sea-level increase before the end of the century. A more-recent study suggests that increased snowfall on the eastern end of Antarctica—another result of climate change—may offset that a bit, restoring some of what's lost, but the snow is likely only to slow sea-level rise, not stop it. NASA has long employed satellites to monitor weather and climate from space; from 2003 to 2010, the ICESat satellite circled the Earth in a north-south orbit, keeping an eye on the poles..."
---
Trump and the Military Are At Odds on Climate Change. Pacific Standard explains: "...When Trump's national security strategy—announced in January—erased climate change as a threat to U.S. security, that decision drew the ire of a bipartisan group of congressional legislators. As a result of this dichotomy, the DOD has emerged as an unlikely champion of climate action in the Trump government, with the Pentagon declaring emphatically that a rapidly warming world is bringing with it alarming security risks ranging from rising sea level (which threatens naval bases such as Norfolk, Virginia, the largest in the world), to the "mother of all risks"—unpredictable and worsening political instability around the globe brought by climate chaos..."
---
Concern Over Climate Change Linked to Depression, Anxiety: Study. Reuters has the story: "Depression and anxiety afflict Americans who are concerned with the fate of the environment, according to a study of the mental health effects of climate change. Most hard-hit are women and people with low incomes who worry about the planet's long-term health, said the study published this week in the journal Global Environmental Change. Symptoms include restless nights, feelings of loneliness and lethargy. "Climate change is a persistent global stressor," said Sabrina Helm, lead author of the paper and professor of family and consumer sciences at the University of Arizona. Risks to mental health from climate change are a "creeping development," she told the Thomson Reuters Foundation..."
File image: NASA.
---
2017 Was Among the Planet's Hottest Years on Record, NASA and NOAA Scientists Report. Chris Mooney reports for The Washington Post: "2017 was among the hottest years ever recorded, government scientists reported Thursday. The year was the second-hottest in recorded history, NASA said, while scientists from the National Oceanic and Atmospheric Administration reported 2017 was the third-warmest they've ever recorded. "The planet is warming remarkably uniformly," said Gavin Schmidt, director of NASA's Goddard Institute for Space Studies, on a press call to share the results with reporters. The two government agencies use different methodologies to calculate global temperatures, but by either standard, the 2017 results make the past four years the hottest period in their 138-year archive..."
---
NOAA: 2017 wasa 3rd Warmest Year on Record for the Globe. NOAA has the details: "Earth's globally averaged temperature for 2017 made it the third warmest year in NOAA's 138-year climate record, behind 2016 (warmest) and 2015 (second warmest).   However, unlike the past two years, Earth's average temperature in 2017 was not influenced by the warming effect of an El Nino, say scientists from NOAA's National Centers for Environmental Information (NCEI). The average temperature across the globe in 2017 was 1.51 degrees F above the 20th century average of 57 degrees F. 2017 marks the 41st consecutive year (since 1977) with global land and ocean temperatures at least nominally above the 20th-century average. The six warmest years on record for the planet have all occurred since 2010..."
The month of December: Despite the cooling influence of a weak La Nina in the latter part of the year, December ended up as the fourth warmest December on record for the globe, with an average temperature 1.44 degrees F above the 20th century average.

The globally averaged sea surface temperature was the third highest on record, 1.21 degrees F above average.

The globally averaged land surface temperature was the third highest on record, 2.36 degrees F above average. 

Continental warmth: South America had its second warmest year on record; Asia, its third; Africa, its fourth; Europe, its fifth; and North America and Oceania, their sixth.

The average Arctic sea ice extent for the year was 4.01 million square miles, the second smallest annual average since record-keeping began in 1979. 

The average Antarctic sea ice extent for the year was 4.11 million square miles, the smallest annual average since record-keeping began in 1979.
---
Animals Are Shrinking and Freezing to Death in a Changing Arctic. Here's the intro to a National Geographic story: "Muskoxen, the plant-chomping, long-haired mammals that huddle on the Arctic tundra, are being born smaller in parts of the far north, as pregnant mothers struggle to find food. One reason, according to new research published Thursday in Scientific Reports: Muskoxen eat most of the year by pawing through snow with their hooves. But rising temperatures mean precipitation increasingly falls as rain, only to then freeze on the surface, encasing plant life in inaccessible ice. Meanwhile, in a type of freak weather event likely to become more common, more than 50 muskoxen died swamped in ice, as gusts of howling winds drove ice and freezing waters from a tidal surge so far inland that fish were found a half-mile from shore..."
Photo credit: "Muskoxen don't migrate long distances, the way caribou do, so they are susceptible to dramatic weather changes." Credit: Joel Berger, WCS.