Dear Confused: Late September or Mid-July?

Media maven Tim Post said it (tweeted it) best: "Who's ready for bonfires, cozy sweaters, chili, hot chocolate, college football, pumpkin spice OH NEVER MIND."
The autumnal equinox hits at 3:02 pm today, as the heat index approaches 100 degrees. On the 22nd day of September. Huh? Model data suggests 3 nights/row with nighttime lows of 70F or milder at MSP. According to NOAA, this would be a record for the latest consecutive 70F low temperatures this late in the year. Freaky warm.
Dress light today; low 90s coupled with a dew point in the low 70s will create oppressive conditions. You will swear it's mid-July out there.
Expect steamy sun and 80s from the Twin Cities on south and east this weekend; the best chance of T-storms northwest of St. Cloud. A few inches of rain may douse western and northern Minnesota.
By late next week highs hold in the 50s and 60s (there will be no doubt in your mind that autumn is here) but 70s may return for the last Saturday in September.
If you like warmth you'll appreciate NOAA's forecast: a mild bias in Minnesota through the end of 2017.
---
---
---
---
---
July Weather Rewind - Cooling Off Next Week. I suspect ECMWF (European) numbers above are a little light for today's high in the Twin Cities, which should top 90F. Temperatures cool off 30 degrees by the middle of next week. Graphic: WeatherBell.
---
7-Day Rainfall. A slow-moving frontal boundary temporarily stalls over the nation's midsection, focusing multiple waves of heavy showers and T-storms, resulting in 3-5" rains from Minnesota and the central Plains southward to Texas, where amounts may go as high as 7-8" over the next week.
---
Fall Color Update. Colors are peaking from near Bemidji to Warroad and Roseau. The Brainerd Lakes and North Shore are still 1-2 weeks away from peak color. Map courtesy of the Minnesota DNR.
---
Anatomy of a Disaster. Wednesday morning Category 4 Hurricane Maria tracked over Puerto Rico, knocking out the NOAA NEXRAD Doppler radar on the island, in fact all radars went down as winds reached 150 mph in some locations. But the weather satellites (including non-operational GOES-16 above) kept on working, a reminder of how reliant, how dependent we are on satellites. They provide much of the "initialization data", the raw fuel, that goes into the weather models. Before the first weather satellites was launched (TIROS-1 in 1960) we had to rely on ship reports in the Atlantic, Caribbean and Gulf of Mexico to have any clue where tropical systems were. Ships! Now we take for granted that we can instantly call up Doppler radar images or satellite pictures, 24 hours a day.
But it costs money to maintain these weather systems, so (in my humble opinion) now might not be the very best time to cut NOAA's budget. We all pay $3/year for the privilege of having the best weather service on the planet. Considering America experiences more extreme weather than any other country on Earth, we deserve nothing less. Back to Maria and Puerto Rico, which may be without power for a couple of months, according to local officials. The grid is down across the entire island. Food will spoil rapidly; emergency supplies will need to be airlifted and shipped to San Juan to feed this nation of 3.5 million people, now experiencing the worst storm-related disaster since 1932. I don't want to minimize the scale of this tragedy. Many Caribbean island nations are down for the count - with little chance of tourist dollars returning for years, so they won't have the cash flow to be able to quickly rebuild.
Maria was the third most intense hurricane to hit the USA on record - I fear we're going to see a slow-motion tragedy unfold in Puerto Rico in the coming weeks and months. Many people who survived the storm may not survive the aftermath. I hope I'm wrong.
---
A Memorable 2017 Atlantic Hurricane Season So Far - Not Over Yet.
We are just past the midpoint of the traditional hurricane season (the date a hurricane is most likely to make landfall in the USA is September 10).
Praedictix meteorologist
Todd Nelson takes a look at what is turning into the busiest hurricane season since 2005: "...
Maria became the 2nd category 5 storm of the 2017 season, which is the first season to have produced two category 5 storms since 2007 another incredible storm of what has been a remarkable season so far. In terms of pressure, Maria was stronger than Irma was and actually recorded to 908mb, which becomes the 10th most intense hurricane on record in the Atlantic Basin. Maria became the first category 5 storm on record to make landfall with Dominica! Severe damage was reported their as it continued on a northwesterly track toward Puerto Rico. One day later it made landfall there as a category 4 storm and became the strongest hurricane to hit the island since the 1928 San Felipe Hurricane. Severe damage was reported their with 100% of the island without power the day after landfall
..."
---
Hurricane Maria Live Updates: in Puerto Rico, the Storm "Destroyed Us"
. The New York Times has
continuous updates
.
---
Why Hurricane Maria Was Such a Nightmare for Puerto Rico
.
Vox
explains what a Category 4 hurricane is really like: "...
Puerto Rico had no such luck with Hurricane Maria. On Thursday, it seemed that forecasters' dire scenario played out with the storm's direct hit of the island, home to 3.4 million US citizens. When it made landfall, Maria took a course that bisected the island from the Southeast to the Northwest. "It was as if a 50- to 60-mile-wide tornado raged across Puerto Rico, like a buzz saw," Jeff Weber, a meteorologist with the National Center for Atmospheric Research, says. "It's almost as strong as a hurricane can get in a direct hit." By the record books, it was the fifth-strongest storm ever to hit the US. Communications to and from Puerto Rico are strained, but the situation on the ground sounds very grim. There is no electricity on the entire island — and it could remain that way for months. Whole communities are likely destroyed. It's probable the island saw near-record levels of rain and flooding
..."
Image credit: "
---
---
---
Praedictix Briefing: Issued Thursday, September 21st, 2017:
* Puerto Rico paralyzed by Maria - still a major hurricane - Jose churns off northeast coast of USA.
* Puerto Rican emergency officials report that 100 percent of the island is still without power as of Thursday morning. The mayor of San Juan said it could take four to six months until electricity is restored to the entire island.
* Widespread damage is also being reported across the island with 80 percent of the homes damaged in the Juana Matos neighborhood of San Juan suburb of Catano.
* At least one fatality has been reported so far on the island as a man was struck by flying debris.
* Flash Flood Warnings are still in effect across much of the island with Flash Flood Emergencies continuing for much of northwest, western interior and central portions of Puerto Rico including Mayaguez and Aguadilla. Several rivers are running high due to the heavy rain that has fallen and the threat for mud slides continues near steep terrain as an additional 4" to 8" of rain are still possible in the warned areas, bringing isolated maximum storm totals to 35".
* As of 8:00 AM AST, the eye of Maria was sitting 95 miles north-northwest of Punta Cana Dominican Republic or 190 miles southeast of Grand Turk Island with 115 mph winds making it a major category 3 hurricane.
* Maria is moving northwest at 9 mph and will continue to move northwest over the next 24 to 48 hours, before turning north into the weekend. Maria is expected to strengthen slightly on Thursday as it is now back over warm ocean water, but will likely weaken into the weekend due to slightly unfavorable atmospheric conditions. Models continue to keep Maria away from the East Coast into next week.
* We're also still tracking Tropical Storm Jose, which is sitting off the Northeast coast with 60 mph winds. Tropical Storm Warnings continue in southeastern Massachusetts, including Cape Cod as gusty winds, dangerous surf, rip currents, beach erosion and coastal flooding continues.
---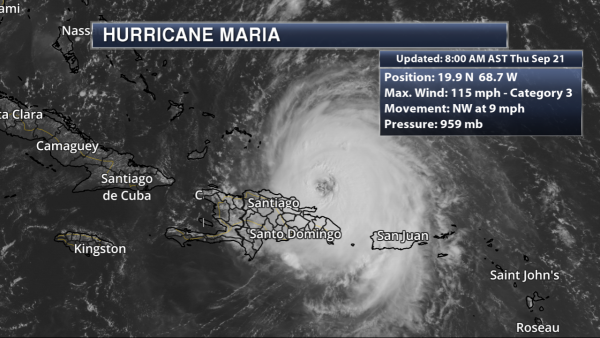 Maria East of Dominican Republic. Heavy rainfall continues as well as catastrophic, life-threatening flash flooding in Puerto Rico, especially in areas of mountainous terrain. Strong gusty winds are also still occurring over portions of Puerto Rico, but should continue to gradually subside this morning. Hurricane warnings continue in the Dominican Republic, the Turks and Caicos Islands, and the southeastern Bahamas where dangerous wind, storm surge, and heavy rainfall are expected. Tropical storm and hurricane conditions are currently ongoing across portions of warned areas in the Dominican Republic. Hurricane conditions are expected to begin in portions of the Turks and Caicos Islands and the southeastern Bahamas tonight, with tropical storm conditions beginning in these areas later tonight. Tropical storm conditions are possible in the central Bahamas beginning late Friday(Satellitedata: AerisWeather)
---
Maria Official Track. Maria will continue to move northwest along the northern coast of the Dominican Republic today with tropical storm and hurricane force winds, 4 to 6 feet surge and additional rainfall amounts of 2" to 4", which could lead to life-threatening flash floods and mudslides. The Turks and Caicos and southeastern Bahamas could see a storm surge of 9 to 12 feet and rainfall tallies of 8" to 16" with isolated 20" amounts! Maria will still be a powerful system, but the worst of the winds and waves will likely stay just offshore.
---
Forecast Strom Surge. The threat of storm surge continues across the northern coast of the Dominican Republic and for the Southeastern Bahamas over the coming days. The forecast calls for water levels to rise as much as 4 to 6 feet for the Dominican Republic and possibly as much as 9 to 12 feet for the southeastern Bahamas.
A dangerous storm surge accompanied by large and destructive waves will raise water levels by as much as 4 to 6 feet above normal tide levels in the hurricane warning area in the Dominican Republic, and 1 to 3 feet elsewhere along the northern coasts of the Dominican Republic and Haiti.
A dangerous storm surge accompanied by large and destructive waves will raise water levels by as much as 9 to 12 feet above normal tide levels within the hurricane warning area of southeastern Bahamas and the Turks and Caicos Islands.
---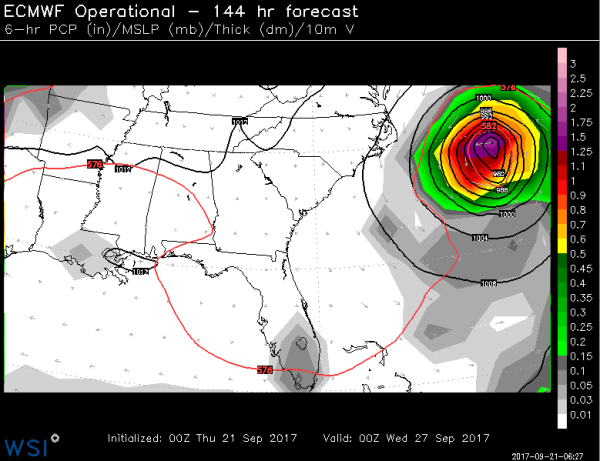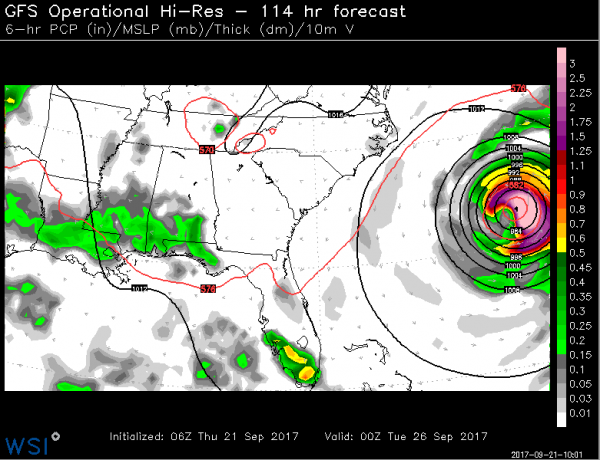 Maria Early Next Week. The good news is that both the European ECMWF (top) and American GFS (bottom) continue to show that Maria should stay offshore as we head into the early week time frame. However, the European ECMWF (left) suggests that Maria could track a little closer to the East Coast, which would likely then bring higher surf and rip current potential to beaches there. Map credit: WSI.
---
Maria By Thursday. Latest model runs continue to suggest a similar path to what we've seen with Jose as it tracks north along the East Coast and eventually brushes the Northeast Coast by Thursday.  My hope is that we will continue to see this trend continue in model runs to come, but will have to monitor Maria to see what types of impacts this system could bring to any facilities located along the East Coast next week.
---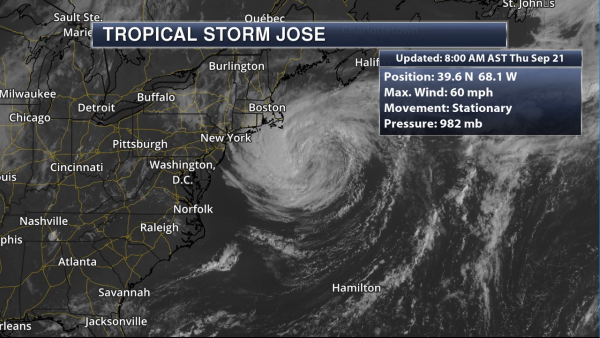 Jose Still Churns Off The Northeast Coast. Jose is being stubborn and doesn't seem to want to move much, which unfortunately is keeping gusty winds, high surf, rip currents, beach erosion, and coast flooding in place along the Northeast and New England Coast. As of 8 AM ET, Jose was a Tropical Storm with 60 mph winds, located 150 miles southeast of Nantucket Massachusetts. A gust to 48 mph was reported earlier today at the Nantucket Airport and an unofficial observing site at Vineyard Haven on Martha's Vineyard reported a wind gust of 52 mph. (Satellite data: AerisWeather)
---
Jose Official Track. Tropical Storm Warnings continue in southeastern Massachusetts, including Cape Cod, Block Island, Martha's Vineyard, and Nantucket where tropical storm force winds, high surf, rip currents, beach erosion, and coastal flooding continues. Due to Jose remaining stationary, similar weather conditions can be expected over the next few days. Latest weather models suggest that the storm may finally weaken and begin to drift farther east by the end of the weekend and early next week.
A Tropical Storm Warning is in effect for…
*Woods Hole to Sagamore Beach, including Cape Cod
*Block Island
*Martha's Vineyard
*Nantucket
Summary: The center of Maria is located northwest of Puerto Rico today, but strong winds, catastrophic and life-threatening flooding continues across the island. As Maria slides northwest along the northern coast of the Dominican Republic today, tropical storm and hurricane force winds will continue along with heavy, flooding rainfall and significant storm surge. The Turks and Caicos along with southeastern Bahamas will also get brushed by Maria, which will likely be a major hurricane over the next few days. These areas will also experience tropical storm and hurricane force wind gusts along with heavy, flooding rains and significant storm surge through the weekend. Meanwhile, Jose will be problematic along the Northeast and New England coast as it sits stationary 150 miles southeast of  Nantucket. Tropical storm force winds, high surf, rip currents, beach erosion and areas of heavy rainfall can still be expected in areas under warnings and advisories over the next few days.
Meteorologist Todd Nelson, Praedictix
---
Harvey, Irma, Maria: This is the Hurricane Season Scientists Expected...and Feared. Eric Holthaus reports for Grist: "...There is evidence that we are emerging from an era of messy meteorological data, where we were blind to warming seas strengthening hurricanes because the really damaging ones were rare. If that's true, weather historians may look to this year as the beginning of a frightening new phase of superstorms. About 85 percent of all damage done by hurricanes is attributable to "major" storms — those stronger than Category 3, so roughly one-quarter of all storms. While relatively infrequent, they are by far the most destructive — a Category-5 cyclone has 500 times the power of a Category 1. Globally, major hurricanes have become slightly more common in recent decades, even as overall numbers have held steady. Further, there's nothing in recorded history that resembles what Irma and Maria have inflicted on Caribbean islands in recent days..."
Photo image of Hurricane Maria from NASA astronaut Randy Bresnik aboard the ISS, the International Space Station.
---
---
---
---
The Scariest Thing About 2017's Hurricanes: They Keep Getting Really Strong, Really Fast. Chris Mooney takes a look at rapid intensification in the Atlantic Ocean at The Washington Post: "...It's not a common event. Typically, that occurs in maybe 5 percent of our forecasts," said Mark DeMaria, acting deputy director of the National Hurricane Center. But DeMaria said that this season is seeing more rapid intensification events than usual and that Maria, in particular, appears to have set a key record for hurricane rapid intensification in the Atlantic. "Looking back through the records, Maria went from a tropical depression to a Category 5 hurricane in just two and a half days," he said. "I couldn't find any other tropical cyclones in our historical record that went that quickly from a depression to a Category 5 hurricane." That's a big problem, because rapid intensification sets the stage for worst-case scenarios. Sadly, that's what happened to the Caribbean island of Dominica on Monday night, hit by Maria at full Category 5 strength. There's little chance to warn people or for them to prepare if rapid intensification occurs, so forecasters naturally want to be able to have a handle on it — but it's a struggle..."
---
What Can Accumulated Cyclone Energy (ACE) Show Us About Atlantic Hurricane Risk. Here's an excerpt of a post at Artemis.bm: "Accumulated cyclone energy (ACE) is just one of the measures used to identify how active or severe a tropical cyclone or hurricane season has been. It's a measure used by the National Oceanic and Atmospheric Administration (NOAA) to express the activity of individual tropical storms and entire seasons, using an approximation of the energy used by a tropical storm over its lifetime. The NOAA uses the ACE of a whole season, which is the sum of the ACE for every storm, to help understand how active it was. Accumulated cyclone energy ACE is often discussed in the forecasts that we publish prior to the Atlantic hurricane season, it's just one of the figures used in forecasts, alongside the number of tropical storms and hurricanes that are expected to form. What's interesting about the ACE numbers is that they are easily translated into a cumulative index showing the severity of a season..."
---
Hurricane Imagery. Check out GOES-16 imagery, along with new 2-minute radar loops that incorporate NEXRAD Doppler, FAA radar, and even select commercial radar stations to provide more coverage and resolution. YouTube link via AerisWeather.
---
---
One Lesson of Harvey: Read the Fine Print. Read this story from Dallas News and try not to shake your head in wonder: "They sat tucked away in a Fort Bend county clerk's file for the past two decades: 25 words on a public document that could have spared thousands of homeowners from losing everything. If only the homeowners had seen them. In the finest of fine print, the county warned in 1997: "This subdivision is adjacent to the Barker Reservoir and is subject to extended controlled inundation under the management of the U.S. Army Corps of Engineers." In other words, during a major storm, the corps could choose to flood the subdivision in an effort to protect greater Houston. Which is exactly what happened during Hurricane Harvey. Now, as Houston begins a massive recovery effort projected to cost as much as $180 billion, it is increasingly clear that government officials at every level did little to warn residents in some of the hardest-hit areas that they were buying into risk — living in areas designed to flood..."
Photo credit: "Floodwaters rose into the Lakes on Eldridge North neighborhood near the Addicks Reservoir in West Houston shortly after the storm hit." (Tom Fox/Staff Photographer)
---
What if an Irma-Like Hurricane Hit the New York City Area? As the Atlantic continues to warm the idea isn't quite as far-fetched as it might sound. Here's an excerpt from Bloomberg: "It sounds like a Hollywood disaster movie. A Category 5 hurricane churning in the mid-Atlantic suddenly veers northwest -- and heads straight for New York City. The good news is that, for now, experts agree a Cat 5-sized deluge appears to be a meteorological impossibility in the U.S. Northeast, given today's sea temperatures and weather patterns. The bad news: A storm doesn't need to pack the wallop of a Harvey or an Irma to knock out the region. Superstorm Sandy, whose wind speed was a relatively tame 80 miles per hour when it reached New Jersey, did $70 billion of damage in October 2012. Irma made landfall in Puerto Rico at 185 mph. But if there's anything we know about climate change, it's that the boundaries of what's possible keep shifting. As yet another hurricane, Jose, grinds up the Eastern Seaboard, the black-swan scenarios offer alarming perspective..."
File image: AerisWeather.
---
Despite Rising Seas and Bigger Storms, Florida's Land Rush Endures. It's a tropical paradise, until it's not. Here's an excerpt from The New York Times: "Florida was built on the seductive delusion that a swamp is a fine place for paradise. The state's allure - peddled first by visionaries and hucksters, most famously in the Great Florida Land Boom of the 1920s - is no less potent today. Only, now there is a twist: Florida is no longer the swampy backwater it once was. It is the nation's third most populous state, with 21 million people, jutting out precariously into the heart of hurricane alley, amid rising seas,  at a time when warming waters have the potential to bring ever stronger storms. And compared with the 1920s, when soggy land was sold by mail, the risks of building here are far better known today. Yet newcomers still flock in and buildings still rise, with everyone seemingly content to double down on a dubious hand..."
Photo credit: "A beachfront house in Ponte Vedra Beach, Fla., that was damaged by Hurricane Irma." Luke Sharrett for The New York Times.
---
The Stunning Price Tags for Hurricanes Harvey and Irma, Explained. Good for the economy (new construction!) Depends on who you ask - certainly not a positive for those starting over. Here's an excerpt from Vox: "Estimates for the cost of Hurricane Harvey's damage have come in at $65 billion, $180 billion, and as high as $190 billion — the last of which would make it the costliest disaster in US history. The numbers from the second record-breaking storm that hit the US this summer, Hurricane Irma, meanwhile, are still rolling in. But totals range from $50 billion to $100 billion. To appreciate how staggering these figures are, consider that they could be enough to make the $18.57 trillion US economy lose a step, knocking between 0.6 percent and 0.8 percent off of US GDP growth this quarter, according to projections from investment banks..."
Infographic above: National Geographic.
---
How to Avoid Cars With Flood Damage. CNET has some timely advice: "...Here's a quick checklist for avoiding soggy vehicles: 
Examine the car's title. Any reputable dealer or seller will let you know the car has a Salvage or Flood branded title from water incursion. That's establish on the car's state record once an insurance company has made that declaration. Note that this entire scenario has a big loophole:
Cars that never saw an insurance adjuster, either because they weren't insured or the owner knew what would happen when a claim was made on a flooded car, may end up on the private market after being dried out and cleaned up.  This non-insurance loophole is one of the most troublesome.
Check the National Motor Vehicle Title Information System, NMVTIS, which is a free online database run by the DOJ..."
---
---
10 Costliest Hurricanes in U.S. History? NOLA.com in New Orleans takes a look; number one on the list is Katrina: "The 10 costliest hurricanes in U.S. history, even when damage estimates are adjusted for inflation, all occurred in the past 30 years. All but two of them struck in the 21st century. The storms hit Florida (6), Louisiana (4) and Texas (2), as well as Alabama, Mississippi, New Jersey, North Carolina and South Carolina (1 each). Most of the big ones struck more than one coastal state. But it's not just coastal states where costs mount. Once a hurricane comes ashore and weakens, cut off from the warm seawater that fuels it, it still carries immense amounts of moisture. As it moves hundreds of miles inland and breaks up, it continues to dump that moisture in the form of phenomenal rain that floods creeks and rivers, causing even more damage..."
---
Feature: Extreme Heat - an "Unseen Threat" - Burns U.S. Urban Poor. Reuters explains: "...Jenkins-Smith is among the growing number of city dwellers whose health is at risk from increasingly hotter summers - a threat that has prompted cities nationwide to look for innovative ways to keep their most vulnerable residents safe and cool. Rife with asphalt and concrete that absorb and radiate heat, many U.S. cities amount to giant heat traps, scientists say. The phenomenon is known as the urban heat island effect. It can add as much as 5 degrees Fahrenheit (3 degrees Celsius) to daytime temperatures in cities, according to the U.S. Environmental Protection Agency. The problem is even worse at night, when city temperatures can be as much as a whopping 22 degrees Fahrenheit (12 degrees Celsius) warmer than green rural areas, where heat is more effectively released back into the atmosphere, the agency said..."
---
Earth Sweltered to 3rd Hottest August, Summer on Record. The AP has details: "Earth just sweated through the third hottest August and summer on record. The National Oceanic and Atmospheric Administration said Monday the globe last month averaged 61.5 degrees (16.43 Celsius), which was a degree-and-a-half higher than the 20th century average, but behind 2016 and 2015. The average temperature for June through August was 61.47 degrees (16.41 Celsius). So far the year to date has edged out 2015 and is the second hottest January through August, averaging 58.88 degrees (14.88 Celsius), behind 2016. Records go back to 1880..."
File image: Climate Nexus.
---
---
Trending Milder Rest of 2017. With the exception of North Dakota and part of Montana, just about the entire USA is forecast to be milder than average the rest of the year. What a shock. Forecasts above courtesy of NOAA CPC.
---
AP Exclusive: Evidence of Spills at Toxic Site During Floods. Details via the Associated Press and Washington Post: "The U.S. government received reports of three spills at one of Houston's dirtiest Superfund toxic waste sites in the days after the drenching rains from Hurricane Harvey finally stopped. Aerial photos reviewed by The Associated Press show dark-colored water surrounding the site as the floods receded, flowing through Vince Bayou and into the city's ship channel. The reported spills, which have been not publicly detailed, occurred at U.S. Oil Recovery, a former petroleum industry waste processing plant contaminated with a dangerous brew of cancer-causing chemicals. On Aug. 29, the day Harvey's remnants cleared out, a county pollution control team sent photos to the Environmental Protection Agency of three large concrete tanks flooded with water. That led PRP Group, the company overseeing the ongoing cleanup, to call a federal emergency hotline to report a spill affecting nearby Vince Bayou..."
Photo credit: "A gate at the U.S. Oil Recovery Superfund site is shown Thursday, Sept. 14, 2017, in Pasadena, Texas, where three tanks once used to store toxic waste were flooded during Hurricane Harvey. The Environmental Protection Agency says it has found no evidence that toxins washed off the site, but is still assessing damage." (Associated Press).
---
Wind Powered Electricity is Competitive, Even Without Subsidies. Here's an excerpt of a post at Scientific American: "...But it's important to note that the price of wind energy offered through a PPA is an all-in price that includes the effect of subsidies such as the federal wind production tax credit, which provides a tax subsidy of 18 to 23 dollars per megawatt hour of energy produced. When you exclude the production tax credit and look at the levelized cost of energy (LCOE) from interior wind, it still comes in at an extremely competitive cost of less than 50 dollars per megawatt-hour (5 cents per kilowatt-hour). For comparison, the Energy Information Administration estimates a best-in-class combined cycle natural gas power plant has an LCOE of about 54 dollars per megawatt-hour (5.4 cents per kilowatt-hour). So even when you account for the effect of the federal wind production tax credit, wind energy remains an extremely competitive generating resource..."
File image: Star Tribune.
---
10 Giant Companies Commit to Electric Vehicles, Sending Auto Industry a Message. InsideClimate News has the story: "A coalition of global corporations, including Unilever, Ikea and shipping giant DHL, launched a global campaign today to accelerate the shift to electric vehicles and away from gas- and diesel-powered transportation—which generates almost a quarter of energy-related greenhouse gas emissions worldwide and has been the fastest growing emissions source. Since more than half of the cars on the road belong to companies, the new EV100 coalition could have a major impact. It aims to do for EVs and electric car charging infrastructure what coalitions such as the RE100 are already doing to encourage corporate purchasing of clean energy (and thus motivating development of new solar and wind power). EV100's goal is to send a signal to automakers that there is mass demand for electric vehicles before 2030, when current forecasts suggest global uptake will start to really ramp up..." (File image: Shutterstock).
---
Utilities Line Up to Profit from "Slowest Trainwreck" in History. Bloomberg reports: "...Renewable energy technologies are upending the century-old, centralized business model that that utilities have used to grow. The cost of electricity from offshore wind farms, once one of the most expensive forms of green energy, is expected to slide by 71 percent over the next two decades, according to BNEF. Solar, once so costly it only made sense in spaceships, now competes with coal and even natural-gas plants on cost. "I do think we're experiencing the slowest trainwreck in history," Steven Martin, chief digital officer at General Electric Co.'s energy connections unit, said at the conference. "We're going to reach some point where the marginal cost of energy is zero." Earlier this year, Germany shocked the renewable energy industry by handing out contracts to developers willing build offshore wind farms without subsidy. Spain has also seen zero subsidy tenders, according to Starace, who said he expects the trend to go global after beginning in Europe..."
---
The Science Behind the 15 Most Common "Smart Drugs". Can we (safely) hack our brains? Quartz explains: "Not all drug users are searching for a chemical escape hatch. A newer and increasingly normalized drug culture is all about heightening one's current relationship to reality—whether at work or school—by boosting the brain's ability to think under stress, stay alert and productive for long hours, and keep track of large amounts of information. In the name of becoming sharper traders, medical interns, or coders, people are taking pills typically prescribed for conditions including ADHD, narcolepsy, and Alzheimer's. Others down "stacks" of special "nootropic" supplements. For obvious reasons, it's difficult for researchers to know just how common the "smart drug" or "neuro-enhancing" lifestyle is. However, a few recent studies suggest cognition hacking is appealing to a growing number of people..."
Photo credit: "A smart habit?" (Unsplash/Hal Gatewood)
---
Are You Emotional on Airline Flights? There May Be a Scientific Reason. BBC reports: "...One major airline has gone as far as issuing "emotional health warnings" before inflight entertainment that might upset its customers. There are many theories about why flying might leave passengers more vulnerable to crying – sadness at leaving loved ones, excitement about the trip ahead, homesickness. But there is also some evidence that flying itself may also be responsible. An emerging body of research is suggesting that soaring 35,000ft (10km) above the ground inside a sealed metal tube can do strange things to our minds, altering our mood, changing how our senses work and even making us itch more...The reduced air pressure on airline flights can reduce the amount of oxygen in passengers' blood between 6 and 25%, a drop that in hospital would lead many doctors to administer supplementary oxygen...There are some studies, however, that show even relatively mild levels of hypoxia (deficiency in oxygen) can alter our ability to think clearly..."
---
Standing at Work Is Just as Unhealthy as Smoking Cigarettes Daily, Study Says. I know, I was a little dubious when I saw this Newsweek headline too: "Sitting at a desk all day will slowly eat away at one's health—countless studies over the years have reaffirmed this common assumption. Standing desks have become a popular solution to the sedentary lifestyle global workforces have created, but unless they have an option for sitting, they may not be a much healthier option. In fact, those who typically stand at work for prolonged periods are more likely to face cardiovascular and other health risk factors, according to a study published in the September issue of the American Journal of Epidemiology. Researchers tracking more than 7,000 study participants in Ontario, Canada, within a 12-year period found that people who often stood at work were nearly twice as likely to develop heart disease, compared to those who typically sat throughout their shifts..."
---
When It Comes to Sex, Dating and Drinking, Teens Are Doing Much Less Of It. Quartz has the surprising details: "Being a teen isn't what it used to be. According to a huge new study, adolescents in the 2010s were less likely date, drink alcohol, go out without their parents, and have sex than teens in every generation since the 1970s. Fewer of them have paying jobs or drive. The research, published in Child Development, says the cause is not kids having more homework, or more extracurricular activities. (They are actually doing less homework and about the same in terms of extracurriculars.) What's changed is the context in which teens are growing up. Parents are more invested in teens' lives. They have smaller families, which means more attention and money to spend on each kid..."
---
The Impossible Burger: Inside the Strange Science of the Fake Meet that "Bleeds". I love a burger or steak as much as the next guy or gal - I'm trying to keep an open mind. Here's a clip from WIRED.com: "The cook, complete with hair net, lays the red patty down on the grill and gives it a press with a spatula. And there, that unmistakable sizzle and smell. She flips the patty and gives it another press, lets it sit, presses it, and pulls it off the grill and onto a bun. This is no diner, and this is no ordinary cook. She's wearing not an apron, but a lab coat and safety goggles, standing in a lab-kitchen hybrid in a Silicon Valley office park. Here a company called Impossible Foods has over the last six years done something not quite impossible, but definitely unlikely: Engineering a plant-based burger that smells, tastes, looks, and even feels like ground beef..."
---
The Bizarre Case of New Zealand's Exploding Pants. Only Atlas Obscura could bring us this story: "...The problem was that in order to apply the sodium chlorate, the chemical was mixed with water to create a solution, which was then sprayed and spread, getting all over the pants of the farmers using it. As the clothing dried, the water was removed, leaving nothing but volatile sodium chlorate crystals bonded to the fibers. In essence, it created explosive cloth that could be set off by flames, heat, or even just a strong impact. Luckily New Zealand's exploding pants epidemic didn't last long, quickly becoming an odd historical footnote after use of the dangerous chemical slowed..."
File photo: "These overalls might look harmless, but what if they exploded?" LOC/LC-USF33- 001805-M5 [P&P]/Public Domain
---
84 F. maximum temperature on September 21.
70 F. average high on September 21.
73 F. high on September 21, 2016.
26 F. record low in the Twin Cities on September 22, 1974
12 hours, 12 minutes of daylight today, down from 15 hours and 37 minutes of daylight on June 21.
September 22, 1996: A brief cold air funnel touchdown results in roof damage in Washington County.
September 22, 1936: Summer-like heat continues with 101 at Ada, Beardsley and Moorhead.
---
TODAY: Hello fall! Sunny and stinking hot. Winds: S 10-20, gusty. High: 92
FRIDAY NIGHT: Mostly clear, unusually mild. Low: 72

SATURDAY: Warm & steamy, T-storms north/west of the Twin Cities. Winds: S 10-15. High: 86

SUNDAY: Still sticky, few T-storms nearby. Winds: S 8-13. Wake-up: 71. High: 85

MONDAY: More numerous showers and T-storms likely. Winds: SW 7-12. Wake-up: 67. High: 75

TUESDAY: Cooling off, showers taper off. Winds: NW 8-13. Wake-up: 60. High: 69

WEDNESDAY: Mix of clouds and sun, fresh breeze. Winds: W 7-12. Wake-up: 55. High: 68

THURSDAY: Clipper, few PM showers may pop up. Winds: NW 10-15. Wake-up: 51. High: 63
---
Climate Stories...
Hurricane Harvey - a Climate Angle? Climate Signals provides perspective: "...Climate change raises or amplifies the three primary hazards associated with hurricanes: storm surge, rainfall, and the power ceiling, aka potential speed limit, for hurricane winds. Sea level rise has elevated and dramatically extended the storm surge driven by hurricanes - the main driver of damage for coastal regions. Climate change has been found to have significantly increased the rainfall in hurricanes.[6][7] A warmer atmosphere holds more water vapor, feeding more precipitation into all storms including hurricanes, significantly amplifying extreme rainfall and increasing the risk of flooding. Hurricanes are fueled by ocean heat. As climate change warms sea surfaces, the heat available to power hurricanes has increased, raising the limit for potential hurricane wind speed and with that an exponential increase in potential wind damage. Harvey intensified rapidly amid sea surface temperatures in the Gulf of Mexico up to 2.7 - 7.2°F (1.5 - 4°C) above average, relative to a 1961-1990 baseline..."[8]
Map credit: Praedictix and AerisWeather.
---
California Cities Step Up Fossil Fuel Suits: San Francisco and Oakland brought a legal challenge Wednesday against five major oil companies, arguing that the fossil fuel companies should be forced to pay for infrastructure protecting the cities from sea level rise. The cities' parallel suits, filed in the state Superior Court, allege that ExxonMobil, BP, Chevron, ConocoPhillips and Royal Dutch Shell knew about the risks of burning fossil fuels and engaged in deceptive public campaigns around the science behind climate change. The cities' legal challenges join a separate effort brought earlier this summer by Marin and San Mateo counties and the city of Imperial Beach against 37 of the world's major fossil fuel companies. (WSJ $, AP, Buzzfeed, Reuters, InsideClimate News, LA Times $, KQED, The Hill, ThinkProgress, KALW, East Bay Times)
---
Republican Senator Endorses "Price on Carbon" to Fight Climate Change. TIME has the details: "Sen. Lindsey Graham endorsed a "price on carbon" to fight climate change, breaking with much of the Republican Establishment. Speaking at a climate change conference held by former Secretary of State John Kerry at Yale University, the South Carolina Republican called for a "price on carbon," saying he would take the idea to the White House for consideration. "I'm a Republican. I believe that the greenhouse effect is real, that CO2 emissions generated by man is creating our greenhouse gas effect that traps heat, and the planet is warming," said Graham. "A price on carbon—that's the way to go in my view..."
File image: Wikipedia.
---
I'm a TV Weatherman. Here's What Happened When I discussed Climate Change on the Air. Sean Sublette reports for Vox: "...In 2014, after nearly 20 years as a broadcast meteorologist, I saw a change in both the climate and the broadcast meteorology landscape. On the climate front, I knew evidence of climate change would only become stronger. On the broadcasting front, it seemed more meteorologists wanted to approach climate change on air, although some struggled with how to go about it. In both cases, my gut was right. The planet has set a record for its warmest year for three years running. Intense heat waves and rising seas have taken a toll around the world as atmospheric carbon dioxide continues to rise to levels unseen in the history of human civilization. Evidence of a shift in attitudes became clear in surveys of broadcast meteorologists. In 2010, a George Mason University survey indicated that 53 percent of broadcast meteorologists say global warming is indeed happening. A similar 2017 survey indicated that number had jumped to 95 percent. However, that same 2017 survey only indicated 49 percent were convinced it has been mostly or entirely due to human activity, so there is still work to be done to bring the science home..."
Photo credit: "A photo of Tropical Storm Harvey taken by astronaut Randy Bresnik from the International Space Station on August 28, 2017." Credits: NASA.
---
Deniers Dismiss Link Between Climate Change, Super-Hurricanes as "Idle Chatter". It's Anything But. Joe Romm explains at ThinkProgress: "...A 2015 study on the impact of sea-surface temperatures on the intensity of hurricanes in the North Atlantic found "intensification increases by 16 percent for every 1°C increase in mean SST." And a 2016 study warned that "the vast majority (79 percent) of major storms" are rapid intensification storms," and "the most intense storms" are those that undergo rapid intensification. So it's no surprise that Harvey spun up from a tropical depression to a Category 4 superstorm in two days. Or that Irma saw a "rapid intensification burst," as meteorologist Jeff Masters described it. It's also no surprise that the most prominent climate science deniers would like scientists to stop talking about the link between human-caused climate change and more intense hurricanes..."
Graphic credit: "Climate models predicted human-caused global warming will boost the proportions in the highest hurricanes (4-5) compared to the lowest (1-2). The ACCI is a measure of human-caused warming." CREDIT: NCAR 2013.
---
Climate Change Brings Melting Ice, and Cruise Passengers, to Canada. USA TODAY has the details: "When a massive luxury cruise ship docked outside the tiny Inuit town of Cambridge Bay this summer, it doubled the population of the town for a day. "It was just jaw-dropping to think that the same amount of people that are in Cambridge Bay could fit onto that ship," said Mia Otokiak, 21, a lifelong resident of the small, largely Inuit town in the Canadian province of Nunavut. The Crystal Serenity, a 13-deck cruise ship carrying more than 1,700 passengers and crew, stopped there this August for the second time during a repeat of its historic 2016 voyage through the Northwest Passage. The Serenity is by far the largest passenger ship ever to ply the waters of the Northwest Passage, from Alaska through the Canadian Arctic Archipelago and on toward Greenland..."
Photo credit: "The Crystal Serenity docked at the Boston cruise terminal near the end of its 32-day Norhtwest Passage journey." (Photo: Marco Werman/The World).
---
Arctic Sea Ice Reaches 8th Lowest Annual Minimum. Arctic Now has details: "Arctic sea ice extent reached an annual minimum of 4.64 million square kilometers (1.79 million square miles) on Sept. 13, according to the National Snow and Ice Data Center in Boulder, Colorado. This represents the eighth lowest extent in the 38-year satellite observation era and a slight increase over 2016 which recorded a low of 4.14 million km2. However, it continues the trend of substantially reduced ice coverage in comparison to the 1970-1990s, when summertime minimums were in excess of seven million km2..."
---
---
It Takes Just 4 Years to Detect Human Warming of the Oceans. 92% of the additional warmth from heat-trapping greenhouse gases is going into the world's oceans. St. Thomas scientist John Abraham authors an article at The Guardian: "...According to our analysis, the top 10 warmest years of ocean heat content are all in the most recent decade (following 2006) with last two years being the hottest. The heat storage in the ocean corresponds to 3×1023 Joules (a 3 with twenty-three zeroes after it) since 1960. Prior to the 1980s, values are not as well known, and the global record is unreliable prior to about 1960. In the most recent 25 years, the Earth has gained approximately 0.7 Watts for every square meter of surface area. That may not sound like much but think about how many square meters are required to cover the surface of the Earth. To put these numbers in perspective, the heat increase in the oceans since 1992 is about 2000 times the total net generation of electricity in the USA in the past decade..."
Graphic credit: "Increases in ocean heat content since 1950s. Illustration: Cheng, L., K. E. Trenberth, J. Fasullo, J. Abraham, T. P. Boyer, K. von Schuckmann, and J. Zhu (2017), Taking the pulse of the planet, Eos, Vol. 98."