Lilapsophobia
After nearly getting electrocuted a dozen times I installed lightning rods on our last home. I'm pretty sure I'm an astraphobiac, with a healthy respect/fear of lightning.
People who fear that storms will become severe, including tornadoes and hurricanes, suffer from lilapsophobia. If you constantly check the forecast (or Doppler radar) and have an urge to hide when storm clouds build - you may be a closet lilapsophobiac.
TV, radio and social media often exaggerate the threat, making it seem like deadly weather is lurking around every corner. "Media coverage can easily lead to a skewed belief that serious storms are much more common than they actually are" reports about.com. It's a fine line between respecting the weather and irrational fear.
An unusually strong storm over Canada pushes cooler air into Minnesota by midweek. A chilly whirlpool of air aloft sparks a few storms over southern Minnesota today, showery rains Tuesday and rare early July sweatshirt weather up north by Wednesday. Expect a comfortable 4th of July; highs warming into the 80s next weekend.
Ping your favorite lilapsophobiac on the East Coast. "Arthur" is about to spin up; details on my weather blog below.
---
Second Wettest June on Record. There's still a slight chance we could see enough rain from pop-up showers or T-showers to break the record, but odds are against it at this point. As it stands 2014 will most likely wind up as the second wettest June, the wettest since 1874. Details from the Twin Cities National Weather Service: "You have to go all the way back to 1874 to have experienced a June as wet as 2014 in the Twin Cities.  With the month almost over, 2014 currently ranks as the 2nd wettest June on record.  See the table below for the top ten wettest Junes of all time.  We'd need another 0.32" of precipitation before the end of June to at least tie 1874."
---
7-Day Rainfall Projection. NOAA guidance prints out some 3-5" rainfall amounts over Florida, as much as 3" from near Des Moines to Kansas City. A plume of moisture from a possible tropical system skirting the East Coast may drop some 2"+ amounts from near Richmond and D.C. to New York City. I suspect the Outer Banks of North Carolina will see considerably more than that.
---
Tropical Twist. You can see the system spinning up east of Florida over the next 84 hours; with a good chance this disturbance will strengthen into Tropical Storm Arthur later this week. NOAA NAM guidance shows a pinwheel of showers pushing into Minnesota and the Upper Midwest Tuesday, skies drying out Wednesday into the 4th of July. Future Radar animation: HAMweather.
---
MSP Meteogram. An instability shower or T-storm is still possible this afternoon, more widespread showers Tuesday as an upper air disturbance, a relatively cold pool aloft, drifts southward over Minnesota, sparking lot's of clouds and a few hours of rain. Skies begin to dry out Wednesday (when temperatures may hold in the 60s across much of Minnesota). Thursday looks pretty spectacular, and right now low dew points linger into much of Friday, the 4th, with 80s returning next weekend, along with tropical humidity levels. Graph: Weatherspark.
---
Alerts Broadcaster Briefing: Issued Sunday afternoon, July 29, 2014.
* Some of the models we trust with tropical initiation and development suggest a significant (and growing) potential for a tropical storm forming off the Carolina coast by late week and next weekend. Although the track is expected to take any tropical system out to sea, coastal communities from the Outer Banks to New Jersey, Long Island and coastal New England may be brushed by rain, strong winds and some level of coastal flooding and beach erosion from Friday, July 4th to Sunday, July 6th.
---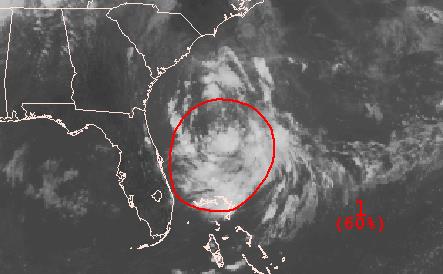 Embryo For Tropical Development. Satellite imagery shows a tropical depression east of Florida, forecast to drift slowly northward this week, passing over warm Gulf Stream water with winds aloft light and favorable for intensification by the latter half of this week. Tropical Cyclone risk from NOAA NHC:
 * Formation chance through 48 hours...high...60 percent.
 * Formation chance through 5 days...high...80 percent.
---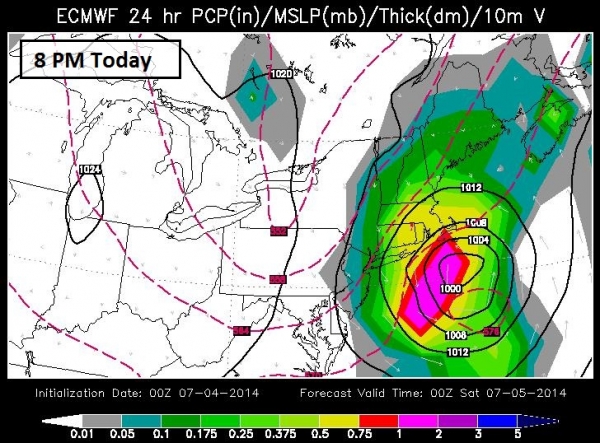 Friday Evening, 4th of July. The biggest summer holiday, what can possibly go wrong? Plenty, at least along the Carolina coast, including the Outer Banks. We've now had 2 days/row of the ECMWF (European) model spinning up a tropical system east of Florida, with enough warm Gulf Stream water and light winds aloft for intensification off the Carolina coast by late week. Although precise intensity levels and tracks are still (very) premature, there's enough meteorological writing on the wall for us to issue another briefing for tropical development. Confidence Levels have gone from a 2 (yesterday) to a 4 today, although it's still much too early for specifics. Staff and facilities from Wilmington, North Carolina to the Outer Banks, Norfolk and Ocean City, Maryland should consider a heightened state of alert and readiness. It's not premature to review company-specific action plans for this system, although right now odds favor tropical storm-force winds and tides for the Carolinas by Friday and Saturday of this week. Map source: WSI.
---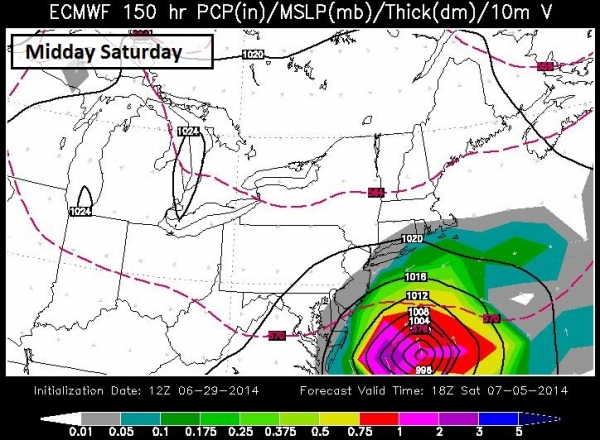 Midday Saturday: System Intensifies. If the tropical wave impacting Florida does, in fact, strengthen into "Arthur", the storm may be approaching hurricane status by midday Saturday, the center of the storm still well offshore based on latest ECMWF guidance (which did the best job, overally, predicting Sandy's track in 2012). So we are leaning toward this solution vs. GFS, GEMS and UKMET models. But even if the brunt of the storm remains offshore swells generated by any tropical storm or minimal hurricane may enhance storm tides, especially at high tide from the Delmarva Peninsula and coastal New Jersey to Long Island and Cape Cod by the weekend. Some low-level flooding and beach erosion may result, even if the track is a few hundred miles offshore. Map source: WSI.
---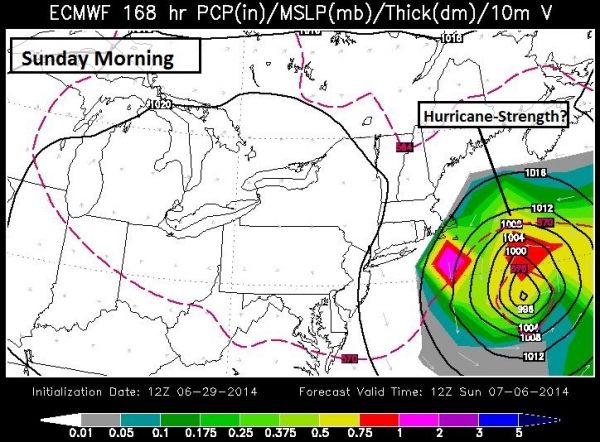 Sunday Morning: Veering Into the Atlantic? Upper level steering winds should turn any tropical storm or hurricane out to sea by Sunday and Monday, with additional beach erosion and coastal flooding Sunday for Cape Cod (especially at local astronomical high tide). A difference of 100 miles in the storm track could make a big difference in coastal flooding. Right now a Sandy-like scenario is very small (although not zero), but low-lying communities that often flood during major Nor-easters and winter blizzards may experience moderate flooding by the weekend.
Summary: The long-term threat is tropical in nature, and may not materialize until the latter half of this week, as model guidance increasingly points to a possible tropical storm impacting the Carolinas by Friday, the 4th and Saturday, the 5th of July. The timing is not good, with hundreds of thousands of additional vacationers heading to the Outer Banks and other coastal barrier islands, which are most at-risk of storm surge flooding generated by any tropical storm or minimal hurricane. We'll be watching this carefully, looking for model continuity and consistency from run to run (and model to model). But there's enough evidence (today) to plan for possible East Coast lowland flooding and beach erosion, with the greatest potential impacts to the Outer Banks of North Carolina. We'll keep you posted.
Paul Douglas - Senior Meteorologist - Alerts Broadcaster
---
Weather Officials Reject Claim That Radar Technology Makes Storm Chasers, Spotters Obsolete. Because as good as Doppler is, there's no way to confirm a storm is spawning an actual funnel or tornado, or 2.5" diameter hail unless you have a (trained) spotter or chaser in the vicinity to provide ground truth and verification. That, and the curvature of the Earth makes it impossible to know if a rapidly rotating supercell T-storm is actually spawning severe weather more than 75 miles from the radar site. Here's an excerpt of a story at kansas.com: " Weather officials in Tornado Alley are offering firm rebuttals to a national magazine article's claim that new radar technology makes storm chasers "obsolete" and storm spotters virtually unnecessary. In a Slate.com article titled "Why This Former Storm Chaser Now Thinks Stalking Tornadoes Is Unethical," meteorologist Eric Holthaus writes..."
---
Nebraska's Twin Tornadoes Scarred The Earth. Here's a clip from an interesting story via Capital Weather Gang: "...The pair of violent tornadoes that ripped through Pilger, Nebraska June 16 did more than loft a house into the air and damage half the town. The twisters left a mark on the terrain visible 443 miles above the Earth from space. NASA's Advanced Spaceborne Thermal Emission and Reflection Radiometer (ASTER) instrument aboard its Terra satellite attained the image below (from June 21, 2014) revealing the paths of the destructive tornado tandem..." (Image credit above: NASA).
---
85 F. high in the Twin Cities Sunday.
83 F. average high on June 29.
77 F. high on June 29, 2013.
.01" rain fell at MSP International yesterday.
11.36" rain so far this month in the Twin Cities.
4.11" normal June rainfall as of June 29.
---
June 29 in Minnesota Weather History. Source: Twin Cities NWS:
1982: Frost hits St. Louis County. Kulger Township falls to 27 degrees and Meadowlands bottoms out at 32.
1871: Large hail fell in Meeker County. Some of the stones were 6 inches in circumference. Many windows were broken on the north sides of houses.
1863: Note written on 1863 meteorological form at Ft. Ripley: Drought is very severe. The grass upon the prairie is nearly or quite dried up. The Mississippi River at this point is lower than was ever known before. The amount of moisture which fell during the last 6 months ending June 30, 1863 was 4.27 inches.
---
TODAY: Some sun, windy, and warm. A stray T-shower can't be ruled out. Winds: SW 20. High: 82
MONDAY NIGHT: Isolated evening shower, then partial clearing and a bit cooler. Low: 60
TUESDAY: Cool and damp with showers likely, especially PM hours. High: near 70
WEDNESDAY: More clouds than sun, still cool for early July. Dew point: 52. Wake-up: 52. High: 71
THURSDAY: Brisk start. Spectacularly sunny. Dew point: 47. Wake-up: 49. High: 77
4th of JULY: Partly sunny, breezy and warmer. Still comfortable. Dew point: 51. Wake-up: 49. High: 79
SATURDAY: Warm sun, probably lake-worthy. Wake-up: 59. High: 83
SUNDAY: Sticky sun, isolated storm. DP: 65. Wake-up: 62. High: 86
---
Climate Stories...
NASA Preps Climate Change Satellite For Launch. Here's a video and story excerpt from KXAN.com: "...According to the Intergovernmental Panel on Climate Change, CO2 is the most important driver of global warming. At approximately 400 parts per million, atmospheric carbon dioxide is now at its highest level in at least the past 800,000 years. The burning of fossil fuels and other human activities are currently adding nearly 40 billion tons of carbon dioxide to the atmosphere each year, producing an unprecedented buildup. NASA is about to launch a spacecraft to keep track of this greenhouse gas. The Orbiting Carbon Observatory-2 is in final preparations for a July 1st launch from Vandenberg Air Force Base in California..."
---
As Global Warming Melts the Arctic, Who Will Built Canada's $50 Billion New Navy? Here's a clip from an interesting story from The Motley Fool, focusing on a military response to melting polar ice from our neighbor to the north: "...Down here south of the border, we don't ordinarily think of the Canucks as a particularly militaristic nation. But $48 billion is a sizable chunk of change to spend on defense, even from the perspective of the U.S. defense market. As such, Canada's plan to build 28 warships, and 116 smaller seagoing vessels, over the next 20 years is raising some eyebrows in America..."
Photo credit above: "Canada's Iroquois-class destroyers help to keep the Arctic sea lanes safe -- but with only three of them in the fleet, they're getting a bit stretched." Photo: Wikimedia Commons.
---
Climate Change Goes Underwater. In addition to compressional warming causing sea levels to rise, wordwide, much of the extra carbon is going into the water, making oceans more acidic. Here's an excerpt from Bloomberg View: "...Here's the problem in a seashell: As the oceans absorb about a quarter of the carbon dioxide released by fossil-fuel burning, the pH level in the underwater world is falling, creating the marine version of climate change. Ocean acidification is rising at its fastest pace in 300 million years, according to scientists. The most obvious effects have been on oysters, clams, coral and other sea-dwelling creatures with hard parts, because more acidic water contains less of the calcium carbonate essential for shell- and skeleton-building. But there are also implications for the land-based creatures known as humans..."
---
KSTP Denies Report Stanley Hubbard Is Sponsoring Climate Change Denial Conference. City Pages has the story - here's an excerpt: "In a report, Media Matters dings Stanley Hubbard for "co-sponsoring a Heartland Institute conference promoting climate denial" and alleges Hubbard's skepticism has "seeped into [his] stations' reporting." Hubbard's flagship station, of course, is KSTP. But KSTP News Director Lindsay Radford tells us Media Matters has it wrong about the upcoming conference and overstates Hubbard's influence on her newsroom..."