Flash Flood Watch as Weather Pattern Stalls Again

Implications of a warming atmosphere over Minnesota are fairly obvious by now: a longer growing season, milder, more erratic winters, more historic flash floods and a tendency for weather to become "stuck" for extended periods of time, with more blocking patterns in the atmosphere.
One such block is guiding "Hermine" westward, closer to the New Jersey coastline today, roughing up southern New England with tropical storm force conditions.
Ripples of low pressure rippling along a stalled frontal boundary will squeeze out more heavy rain for southern and eastern Minnesota and western Wisconsin into Wednesday night. NOAA has issued a Flash Flood Watch for 2-3 inches of additional rain falling on saturated soil. A squishy, lime-green landscape?
More June than September, and we are still very much on track for one of the wettest years on record for many Minnesota towns.
A ration of dry weather Thursday gives way to showers Friday, before a shot of cooler air arrives by Saturday. We'll see 80s the next few weeks. In fact I don't think we've enjoyed the last 90-degree day of 2016 yet, either.
---
4 Junes In A Row? At some point we have to break out of this jungle-like pattern of high humidity and flooding rains, right? I think I said that back in late July. NOAA WPC guidance hints at 1-2" of rain for central Minnesota, as much as 2-4" just south and east of MSP. Are you absolutely sure it's September? Map: WeatherBell.
---
---
---
Waves of Showers and T-storms. NOAA's 4km NAM model shows a frontal boundary draped close to the Twin Cities, as many as 3 or 4 separate ripples of showers and heavy T-storms along this front, each one capable of half an inch of rain or more. Perfectly normal, for early June. Future Radar: AerisWeather.
---
1-3" Additional Rain by Thursday Morning? Models predict anywhere from 1.36" (GEFS ensemble) to 2.02" (NDFD) to 2.16" (4km NAM) to a whopping 2.68" (GFS) as a frontal boundary stalls to our south. Graphic: Aeris Enterprise.
---
Warm Blips - Cool Surges. Temperatures cool off by late week, ECMWF guidance hinting at 60s to low 70s Saturday before another warming trend early next week. Shorts and sweatshirts - typical for September. MSP Meteogram: WeatherBell.
---
Hermine Provides Another Rough Ride for Anthem of the Seas. Note to self: think twice about cruises in September, peak season for tropical storms and hurricanes. Here's an excerpt from NJ.com: "Although a cruise ship that left from Bayonne on Saturday steered far clear of Hermine, the tropical storm still affected the trip. Royal's Caribbean's Anthem of the Seas experienced "higher winds and gusts for a 2-3 hour period" as it sailed toward Bermuda on Sunday, the cruise line said in a statement sent to CBS New York.As a result, numerous passengers reported feeling motion sickness. Passenger Robert McHugh of Point Pleasant said winds were 90 knots..."
* More details at Mashable.
---
---
Aeris Weather Briefings: Issued Monday, September 5th, 2016
* Post-tropical cyclone Hermine will continue to sit off the Mid-Atlantic coast over the next couple days, slowly drifting while interacting with another upper-level low that will nudge the system back to the north and west before finally being pushed out into the Atlantic and dissipating later this week.
* The largest threat from Hermine over the next couple days will continue to be storm surge/coastal flooding with lowland inundation near high tide. Life-threatening surf and rip currents will also occur.
* The heaviest rain will stay offshore, but 1-2" of rain is possible across parts of Massachusetts through Wednesday. The strongest winds will also remain offshore; however, some tropical storm force wind gusts will be possible across parts of Long Island, Connecticut, Rhode Island and Massachusetts.
---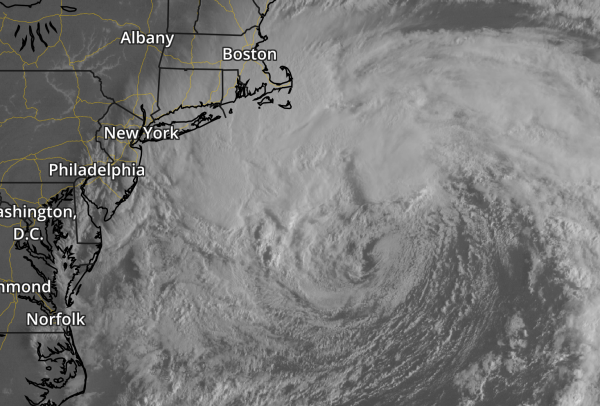 Monday Morning Satellite. Hermine continues to sit off the Mid-Atlantic coast this morning, approximately 295 miles southeast of the eastern tip of Long Island. It is moving to the north at only 3 mph. Graphic: Aeris Maps Platform (AMP).
---
Hermine Track. Hermine will stay strong over the next 12-24 hours, with winds around 65-70 mph as the system slowly meanders north and northwest due to another low pressure center to the south. After that point, some quick weakening will occur as the system moves into cooler waters. As we head into Wednesday, the system will finally see the nudge that is needed to start pushing the storm away from the U.S. mainland.
---
Tropical Storm Warnings Remain. Parts of the Northeast continue to remain under Tropical Storm Warnings, mainly for strong winds and storm surge.
---
Storm Surge: Atlantic City. We continue to watch the likelihood of storm surge flooding over the next 24-48 hours across parts of the East Coast. This is the surge and tide forecast for Atlantic City, NJ. The gold line represents the forecast storm surge – expected to be 1-2 feet above the astronomical tide as we head throughout the day today.
High tide both this morning and evening on the New Jersey oceanfront is between 10:30 and 11:30. The storm surge in combination with high tide could lead to some localized road flooding. We will also keep our eye on the potential of more storm surge/coastal flooding heading into tomorrow as Hermine continues to slowly meander back to the west and northwest.
---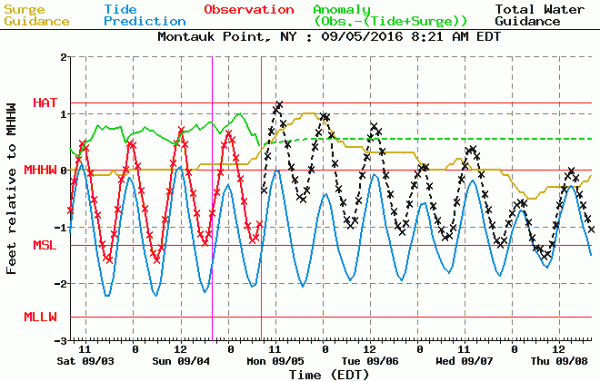 Storm Surge: Montauk Point. High tide later today and into tomorrow could bring a storm surge of about a foot above astronomical tides along Montauk Point, NY.
---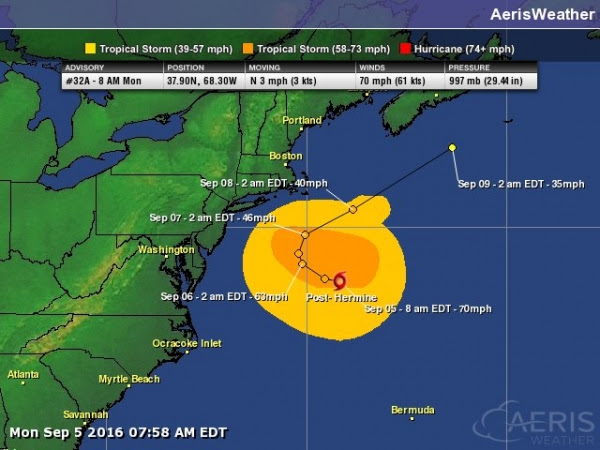 Wind Threat. The main wind threat associated with post tropical cyclone Hermine should remain offshore, but some tropical storm force gusts (39 mph or greater) will be possible across parts of the Tropical Storm Warning area. These winds may be strong enough to down some trees and large branches.
Summary: Hermine will continue to sit off the Mid-Atlantic coast as we head through the next 24-48 hours with 65-70 mph winds before eventually moving over colder waters and weakening. While the system remains offshore, we will continue to see impacts along the Mid-Atlantic and Northeast coasts with higher waves, storm surge/coastal flooding and beach erosion. Storm surge heights are likely to be between 1-2 feet above astronomical tides, bringing the potential of coastal and localized road flooding. Strong winds are also possible along and near the coast which could bring down some trees.
Meteorologist D.J. Kayser, AerisWeather
---
The Storm That Wouldn't Go Away. 15 minutes of fame, or is it 15 days of fame? Here's a great image from NOAA's Environmental Visualization Laboratory - Hurricane "Hermine" on September 1.
---
Intensification of Landfalling Typhoons Over the Northwest Pacific Since the Late 1970s. Why? Warming oceans, according to a new paper at Nature Geoscience; here's an excerpt of the abstract: "...We find that the increased intensity of landfalling typhoons is due to strengthened intensification rates, which in turn are tied to locally enhanced ocean surface warming on the rim of East and Southeast Asia. The projected ocean surface warming pattern under increasing greenhouse gas forcing suggests that typhoons striking eastern mainland China, Taiwan, Korea and Japan will intensify further. Given disproportionate damages by intense typhoons, this represents a heightened threat to people and properties in the region."
File image: Super Typhoon Haiyan, shortly before devastating the Philippines on November 8, 2013.
---
This Is What The First Shopping Mall in the United States Looked Like. Of course every Minnesotan knows that honor belongs to Southdale in Edina. I do miss Dayton's, come to think of it. Recently new video footage emerged which is worth a look, courtesy of MeTV: "Alas, the glory days of the American shopping mall are long gone. But we can now relive the experiences we had as children, if only for 11 minutes. Recently, footage surfaced of the Southdale Center outside Minneapolis during the 1950s, and it's a dead ringer for every mall across the country. Southdale Center was the country's first indoor shopping mall when it opened in 1956. It was developed by the department store Dayton's, which also served as one of its main anchor stores along with Donaldson's, Walgreens and Woolworth..."
---
The Curse of a Phoenix Weatherman: Finding New Ways to Say "It's Hot". Matt, I feel your pain. Here's a clip from a tragically funny story at The New York Times: "There are certain unspoken talents required of television meteorologists in Phoenix, where the sun shines 296 days of the year and temperatures exceeding 100 degrees faze no one. One such skill is the ability to make the weather sound new each day. As a meteorologist for 12 News, Phoenix's NBC affiliate, Matt Pace aims to make the recurring sunshine interesting, which is no easy task. I've watched Mr. Pace on the air as he searches for just the right words, from a limited list of options, to convey the very straightforward fact that it is so darn hot outside..."
---
78 F. high on Labor Day.
76 F. average high on September 5 in the Twin Cities.
89 F. high on September 5, 2015.
.51" rain fell at KMSP Monday.
September 6, 1977: An early morning thunderstorm drops 2 inch hail in McLeod County.
September 6, 1922: A heat wave over Minnesota brings highs over 100 to southwest Minnesota. One of the hot spots is New Ulm with 105.
---
TODAY: Flash Flood Watch. Showers and T-storms likely. Winds: N 5-10. High: 77
TUESDAY NIGHT: Flash Flood Watch. T-storms, locally heavy rain. Low: 66

WEDNESDAY: Flash Flood Watch. More rain, heavy at times. Winds: NE 7-12. High: 75

THURSDAY: Squirts and spurts of mild sunshine. Winds: W 10-15. Wake-up: 62. High: 77

FRIDAY: Early showers, then cooler. Winds: NW 10-20. Wake-up: 60. high: 76

SATURDAY: Partly sunny, comfortable breeze. Feels more like fall. Winds: NW 10-15. Wake-up: 56. High:
SUNDAY: Sunny & warmer. Better lake day. Winds: S 10-20. Wake-up: 57. High: near 80

MONDAY: Sticky sun, PM T-storms rumble in. Winds: S 10-15. Wake-up: 63. High: 81
---
Climate Stories...
Where Will The Animals Go as Climate Change. Northward and uphill, according to research highlighted at Scientific American: "The natural world is under siege by climate change. Rising temperatures are pushing plants and animals outside their current range. To keep pace with climate change, species will need a path to follow northward or up in elevation, minimally interrupted by human development. This map shows that path (well, paths actually) in the most beautiful way possible. It uses the dreamy Earth wind map for inspiration. But rather than using temperature, wind and sea level pressure data, Dan Majka, a web developer at The Nature Conservancy, used data from two studies to show all the feasible paths that mammals, birds and amphibians can use to find their way to a more suitable climate as their habitat becomes too hot..."
Animation credit: "A map showing the different pathways wildlife could use to migrate northward or higher in elevation as the climate warms (red=mammals, blue=birds, yellow=amphibians)". Credit: The Nature Conservancy
---
Climate Change Cynics: How to Effectively Communicate With A Denier. Here's an excerpt of a post at desmogblog.com: "...One of largest barriers to convincing deniers and the apathetic alike is the belief that climate change just isn't something they will have to deal with. In fall 2015, the Yale Climate Change Communication project found that just 42 percent of people believe that climate change will harm them personally. Even sadder, that's 6 percentage points higher than during the spring—a promising trend but disappointing total reach. The more you can make climate change an urgent, personal issue and show examples of how it's already harming health, wealth and communities, the better. You may notice that when you receive emails from your favorite nonprofits, they're full of deadlines and short-lived opportunities. That's not an accident: creating a sense of urgency is an effective way to get people to take action. The same applies when talking to doubters about climate change. If you're talking about health impacts, point to a child you know who suffers from respiratory illness. If you're using extreme weather events to make your point, highlight the coming fire or hurricane season..."