Spring is Coming. Ask the Red-Winged Blackbirds

Spring is coming, but confirmation is arriving from sources other than Doppler radar or weather models. According to the Minnesota DNR songs of the first red-winged blackbirds of the season were heard in north Maplewood on Thursday, March 8 - six days earlier than the median date of March 14. My hunch: that's a reaction to previous early springs, not necessarily a prediction that spring will come early in 2018. Because it won't.<p>I see a slight cool bias into at least early April. This may be one of those years when we go from a shoe full of slush to flip-flops in a week or two.
Boston is still clawing out from under 1-2 feet of snow, and the 4th nor'easter in 2 weeks is brewing for the middle of next week. No shovel-worthy storms close to home, but a light rain-snow mix is possible Monday into Tuesday.
Until then we get to savor vague, subtle hints of spring. ECMWF guidance suggests 50F near the metro Saturday. If the sun stays out and there's no fog we might just have a shot.<p>With clear skies and a new moon, you may get a peek at the Northern Lights the next few nights. 
---
Signs of Spring from Minnesota DNR. If there was any doubt in your mind that spring is coming, details and dates from the MN DNR: "One of the first signs of spring have arrived in 2018. The songs of the first red-winged blackbirds of the season were heard in north Maplewood on Thursday, March 8, six days earlier than the median date of March 14…According to the National Phenology Network, spring is about a week ahead of average for 2018 so far, nationwide…. "
Photo credit: Star Tribune, Audubon Society.
---
A Shot at the Northern Lights? There's no way to predict, in advance, with a high level of confidence, but the Aurora Borealis will be visible across much of Canada, and with clear skies and a new moon Minnesota has a better than average shot at seeing a display this week. Details via the University of Alaska, Fairbanks: "Auroral activity will be active. Weather permitting, active auroral displays will be visible overhead from Inuvik, Yellowknife, Rankin and Iqaluit to Juneau, Edmonton, Winnipeg and Sept-Iles, and visible low on the horizon from Vancouver, Great Falls, Pierre, Madison, Lansing, Ottawa, Portland and St. Johns."
---
Quiet Pattern Into the Weekend. New England is digging out from the 3rd blizzard in 10 days, while a sloppy storm pushes into California, dropping much-needed rain and snow. A lingering ridge of high pressure keeps Minnesota dry into Sunday; a weak system fizzling and passing south of the state  Friday and early Saturday. 84-hour NAM Future Radar: NOAA and tropicaltidbits.com.
---
Flirting with 50F This Weekend? At least in the metro area, where the urban heat island may be good for a couple of extra degrees. We cool off a bit next week but daytime highs are fairly consistently in the 40s looking out roughly 2 weeks. ECMWF guidance: WeatherBell.
---
Grading the March 5, 2018 Winter Storm. I think it's pretty cool that the local National Weather Service is evaluating and grading their performance, on a storm-by-storm basis. Here's an excerpt from the last big storm: "This was a tough system to forecast.  A potent area of low pressure occluded over the Missouri Valley and then slowly dropped southeast away from the area.  Rain, snow, and sleet showers, and even a few thunderstorms pushed across the area during the evening of March 4th and during the early morning hours of March 5th.  As the event closed in, it became more apparent the system was going to occlude a little further west than previously anticipated, which resulted in a delay in the heavy snow across eastern Minnesota into western Wisconsin.  This also meant temperatures were colder further south and west, allowing the expected rain across southern and western Minnesota to turn over to snow many hours sooner than predicted..."
---
Snow Water Equivalent. There's still about 1-2" of water locked into the snow pack over much of Minnesota, according to NOAA - closer to 5-6" over the North Shore.
---
America's Safest State is....Maine? You could make an argument for New England, based on NOAA NCEI mapping out the number of billion-dollar weather and climate disasters since 1980. Maine has experienced 13 events, 14 in Vermont and 15 in New Hampshire, compared to 31 in Minnesota and 95 in Texas: "From 1980–2017, there were 25 drought events, 28 flooding events, 8 freeze events, 91 severe storm events, 38 tropical cyclone events, 15 wildfire events, and 14 winter storm events with losses exceeding $1 billion (CPI-Adjusted) each across the United States..."
Drought and flooding has resulted in the greatest dollar losses for Minnesota. A list of the disasters from 1980 is here.
---
Warm Arctic? Expect Northeast Blizzards. What 7 Decades of Weather Records Show. InsideClimate News has a summary of recent research attempting to connect the dots: "The warmer the Arctic, the more likely the Northeast will be clobbered by blizzards, says a team of researchers who analyzed winter weather patterns going back to 1950. Citing disruptive storms like Snowzilla (2016), Snowmaggedon (2010) and Snowpocalypse (2009), the climate scientists wrote that "heavy snowfalls are generally more frequent since 1990, and in many cities the most extreme snowfalls have occurred primarily during recent decades." Their study, published in the journal Nature Communications, links the increased frequency of extreme winter storms with the rapid and persistent warming of the Arctic since around 1990. When temperatures over the Arctic spike, especially high in the atmosphere, extreme winter weather is two to four times more likely in Boston and New York, while the U.S. West tends to see warmer and drier conditions, they conclude..."
---
Research Paper. The study referenced above can be found here, courtesy of nature.com: "...As the Arctic transitions from a relatively cold state to a warmer one, the frequency of severe winter weather in mid-latitudes increases through the transition. However, this relationship is strongest in the eastern US and mixed to even opposite along the western US. We also show that during mid-winter to late-winter of recent decades, when the Arctic warming trend is greatest and extends into the upper troposphere and lower stratosphere, severe winter weather—including both cold spells and heavy snows—became more frequent in the eastern United States."
---
Intense Winter Storms & a Warming Arctic: From Climate Nexus: "Extreme winter weather in the eastern United States could be linked to a warming Arctic, a new study has found. Research published Tuesday in the journal Nature Communications analyzed winter weather patterns from 1950 onwards, finding that extreme winter weather in the East and Midwest states is up to four times more likely in years with warmer Arctic temperatures since 1990. "There's a remarkably strong correlation between a warm Arctic and cold winter weather further south," co-author Judah Cohen told the Guardian. "It's a complex story – global warming is contributing to milder temperatures but is also having unforeseen consequences such as this." (The Guardian, CNN, USA Today, The Verge, InsideClimate News, LA Times $, Popular Science, Ars Technica, Wired)
---
Praedictix Briefing: Issued Wednesday, March 14th, 2018:
* Over two feet of snow has fallen in at least four different states over the past 24-36 hours due to the third coastal storm in a two week span moving through the region. Both Boston and Worcester (MA) saw their all-time greatest one day March snowfall on record yesterday. Almost 140,000 are without power this morning in Massachusetts, with over 18,000 without power in Maine.
* Snow will continue to fall across parts of the Northeast today in associated with this system. An additional 6-12" of snow could fall over the next 24 hours from parts of New York State to Maine. Winter Storm Warnings and Winter Weather Advisories continue to be in effect.
---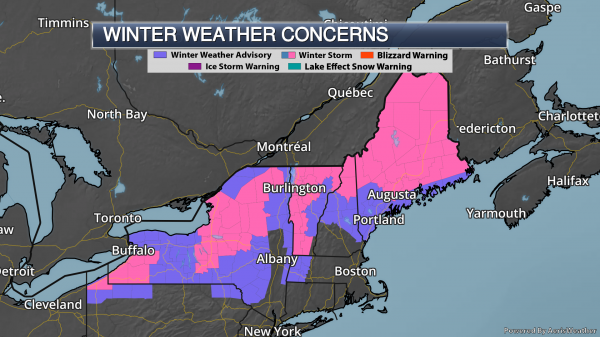 Winter Weather Concerns. Some Winter Storm Warnings and Winter Weather Advisories remain in effect this morning across the Northeast for the potential of more snow today into Thursday, not only in associated with the departing Nor'easter but some lake enhanced snow as well. For the larger cities under winter alerts this morning:
Portland, ME is under a Winter Weather Advisory until

2 PM

today for an additional 2-4" of snow.
Caribou, ME is under a Winter Storm Warning until

6 AM

Thursday

for an additional 5-9" of snow.
Burlington, VT is under a Winter Weather Advisory until

8 PM

tonight

for an additional 3-6" of snow.
Buffalo, NY is under a Winter Weather Advisory until

2 AM

Thursday

for an additional 2-5" of snow.
Syracuse, NY is under a Winter Storm Warning until

5 AM

Thursday

for an additional 6-12" of snow.
---
Additional Snow Expected. The heaviest snow totals over the next 24 hours are expected from Maine into parts of New York State, where an additional 6-12" can be expected in areas. Some snow squalls will be possible later today into tonight across the New York City and Boston areas, leading to some quick snow accumulation.
---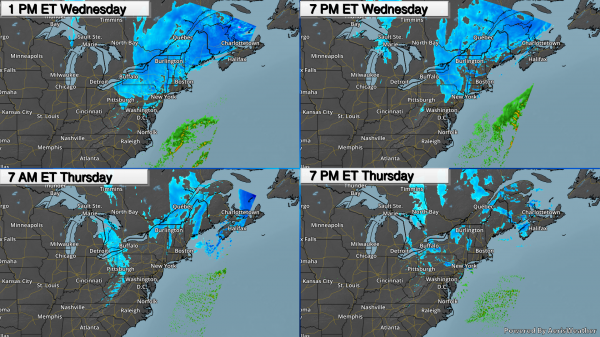 Timing The Precipitation. Snow will continue to linger across portions of the Northeast today in association with both the departing Nor'easter and some lake effect snow. Most of the snow across the region should begin to taper off as we head into Thursday.
Summary. The coastal storm we've been tracking is continuing to track away from the Northeast; however additional snow associated with this system is expected today across the region. The heaviest snowfall totals will fall from parts of New York State to Maine, where an additional 6-12" of snow will be possible in spots over the next 12-24 hours. This will continue to cause travel issues across the region.
D.J. Kayser, Meteorologist, Praedictix
---
---
Arctic Has Warmest Winter with Sea Ice at Record Lows. Here's an excerpt of a post at Insurance Journal: "...Scientists say what's happening is unprecedented, part of a global warming-driven vicious cycle that likely plays a role in strong, icy storms in Europe and the U.S. Northeast. "It's just crazy, crazy stuff," said Mark Serreze, director of the National Snow and Ice Data Center in Boulder, Colorado, who has been studying the Arctic since 1982. "These heat waves, I've never seen anything like this." It's been so unusually warm that the land weather station closest to the North Pole – at the tip of Greenland – spent more than 60 hours above freezing in February. Before this year, scientists had seen the temperature there rise above freezing in February only twice before, and only ever so briefly. Last month's record-hot temperatures at Cape Morris Jesup have been more like those in May, said Ruth Mottram, a climate scientist at the Danish Meteorological Institute..."
---
Please Stop Building Houses Exactly Where Wildfires Start. Who doesn't want to live near a forest, right? Except in the west that desire can prove dangerous, even deadly, as WIRED.com reports: "...According to a new analysis of housing in the WUI, the trend goes up and to the right. According to Census data, between 1990 and 2010 in the continental US, the WUI grew from 224,325 square miles to 297,299 square miles. The number of new houses grew there, too—by 12.6 million. The big quote from the paper: "Even though the WUI occupies less than one tenth of the land area of the conterminous United States, 43 percent of all new houses were built there..."
Map credit: "The Wildland-Urban Interface got smaller in the western US, but the number of houses and people in it went up." Radeloff et al./SILVIS Lab/University of Wisconsin-Madison.
---
Wildfire Risk Rises with 43 Million U.S. Homes Near Vulnerable Areas. A story at USA TODAY provides more perspective: "...Overall, as of 2010, some 43 million homes were located in what scientists call the "wildland-urban interface," defined as the area where residential homes are built on or near wildland vegetation, such as trees and shrubs. Twenty years earlier, 31 million homes were located in those areas for a whopping increase of 41%. Last year was a particularly destructive and costly year for wildfires, with 10 million acres burned and a record $2 billion to fight the blazes. Five of California's 20 worst wildfires on record scorched the state in 2017. When combined with the threat of global warming, Americans choosing to live near forests is expected to lead to more severe wildfire seasons..."
Photo credit: "Flames from a wildfire consume a residence near Oroville, Calif., on July 9, 2017." (Photo: Noah Berger, AP)
---
The Toughest Places to Forecast Weather in the U.S.? Every meteorologists (sincerely) believes that his or her hometown is toughest in the nation. Really. John Erdman makes the case for a few specific regions in a post at Weather Underground; here's a clip: "...Nothing can be more pressure-packed than the potential for a high-impact snowstorm in the heavily populated Northeast Megalopolis, home to more than 50 million. "Meteorologically, the I-95 corridor will always be a winter weather challenge as it is almost always the battleground between snow, ice, rain," said Gary Szatkowski, retired former meteorologist-in-charge of the National Weather Service office in Mount Holly, New Jersey, near Philadelphia. Szatkowski issued an apology after an expected heavy snowstorm, Winter Storm Juno, missed Philadelphia but clobbered other parts of the Northeast, in particular, New England, in late January 2015. "The meteorologist has to draw those lines somewhere, and they won't be perfect," Szatkowski said. "Small changes in timing and location of weather events can have huge changes in the impacts. That's the nature of the beast, here..."
---
How Caribbean Cruise Ports are Focusing on Hurricane Preparedness. Cruise Critic takes a look at some of the ports hit hardest by Irma and Maria in 2017: "...The Caribbean is open; steadfast relief efforts brought the islands back to their feet in merely a few months, and in some cases, weeks. Countless cruise lines -- including Royal Caribbean, Norwegian Cruise Line, Carnival Cruise Line and MSC Cruises -- delivered supplies to those in need, in addition to making financial contributions. While these islands are still in the process of recovering in many ways, they are stronger than ever; already making preparations in the event that another major storm -- like the pair from last September -- takes aim at the region. "As we look at the next year, the next two years... some of our properties had significant devastation, but we're looking at, 'How do we make this property better? How can we build stronger?,'" Beverly Nicholson-Doty, U.S. Virgin Islands' commissioner of tourism, told Cruise Critic in an exclusive interview..."
---
What is Cloud Seeding, and Does It Really Work? Here's an excerpt of an informative post at Mother Nature Network: "Controlling the weather is a popular bit of science fiction. Be it Storm's powers in the X-Men franchises, or high-tech satellites in movies like "Geostorm" or the 1998 film "The Avengers," in which Sean Connery plays a mad scientist bent on holding the world hostage by selling countries their weather. In reality, controlling the weather is impossible. We can, however, influence it, and we've been attempting to do it for some time. Various efforts, from hail cannons to stopping hurricanes, have been tried or proposed over the years, to say nothing of the incidental effect of our use of fossil fuels. Perhaps the most popular attempt at geo-engineering, however, is cloud seeding..."
Photo credit: "Cloud seeding is a process of aiming chemicals into clouds to induce more rain and snow to fall." (Photo: Eugene Shwab/Shutterstock).
---
How Thundersnow Actually Happens. Dr. Greg Forbes explains in a post at Weather Underground: "...When the air above the initial cloud layer is relatively cool and dry, and when the added cooling and lifting is strong, a shallow layer just above the original flat cloud can become unstable. This makes it favorable for "elevated convection" – showers or thunderstorms. The rising turret is the result, containing vigorous upward and also some downward motions. There is usually more than one turret that forms in these conditions. There can be bands or a checkerboard pattern of turrets present. When the unstable layer develops where the temperature is about -10 to -20 degrees Celsius (+14 to -4 degrees Fahrenheit), conditions are favorable for both snowflakes and small hailstones (called graupel) to form..."
---
Minnesota is in the Midst of a Massive and Historic Energy Transformation. Here's a clip from a story at MinnPost: "...It is important to note that these trends and economic benefits are expanding throughout the state – especially to our rural communities. According to the 2017 Clean Jobs Midwest report, Greater Minnesota is home to more than 17,000 clean energy jobs, representing 30 percent of the state's total clean energy workforce. Energy efficiency improvements, along with investments into wind and solar, are spurring rural economic development, reducing energy costs, and providing important tax revenue to communities across the state. In the last year alone, Minnesota added 467 megawatts (MW) of solar capacity — enough to power 53,000 homes and nearly tripling the capacity added in 2016. This growth was also accompanied by an exceptional 48 percent increase in solar industry jobs as found in The Solar Foundation's latest Solar Jobs Census..."
File image: AP.
---
Elon Musk: SpaceX Will Do Short Trips to Mars by 2018
. Here's an excerpt from
Big Think
: "
Elon Musk told a crowd at South by Southwest on Sunday that SpaceX could be embarking on its first mission to Mars by as early as next year.

"We are building the first Mars, or interplanetary ship, and I think we'll be able to do short trips, flights by first half of next year," Musk said during his surprise talk in Austin, before cautioning: "Although sometimes, my timelines are a little, you know…"

In September 2017, SpaceX announced plans to send a cargo mission to the Red Planet by 2022, which would confirm water sources and

install

"initial power, mining, and life support infrastructure." The company eventually wants to set up a long-term colony on Mars
...."
Animation credit
: "
Artist's rendering of Mars colony for SpaceX
."
---
The Quest to Bring 3-D Printed Homes to the Developing World. WIRED.com has the remarkable story; here's a snippet: "...About a year ago, the company wondered if there was a better way to build. In the three years since it launched, New Story had gathered the funding to construct 1,300 homes and had completed 850 of them—but that felt like a drop in a bucket. "There are over 100 million people living in slum conditions in what we call survival mode," says Alexandria Lafci, New Story's cofounder and COO. "How can we make a big dent in this instead of just solving incrementally?" The idea they landed on: 3-D printing..."
Image credit: New Story.
---
Menu of the Future: Insects, Weeds and Bleeding Veggie Burgers. I predict I may lose weight - finally - and against my will. National Geographic reports: "Peer into the future of what we eat, and you will encounter many questions about what will happen to our meals. As the world's population climbs above 9 billion by mid-century, our food needs will grow by 70 percent. How do we meet them without mowing down every forest or without resorting to industrial agriculture, which the United Nations Food and Agriculture Organization has cited as the most significant contributor to climate change? How do we maintain soil health, and keep it from washing away, so that crops can thrive? These questions get into murky territory. But here's one thing that's clear: Dinner in 50 years won't look much like dinner today..."
---
Bose is Working on Smart Sunglasses – Augmented Reality For Your Ears. Quartz has the details on promising new tech: "The audio company, once known for the ubiquitous Wave Radios seen on countless infomercials, and now for high-quality headphones, is moving into augmented reality. But its interpretation of the technology—which we've seen in rudimentary forms in things like Pokémon Go and Apple's ARKit—is wildly different. Instead of using mobile devices to overlay visual information in front of our eyes, Bose is exploring how sound can be used to augment our lives…The glasses can also provide directions to the wearer, using stereo sound: If you're turning left, the voice chimes in on the left ear, and on the right if you're turning that way. Bose said it's looking at using this technology in other form factors, like embedding it in a bike helmet to keep riders aware of the world around them as they bike, but provide them with useful information, like directions…"
Image credit: "Bose's prototype glasses." (Bose).
---
46 F. maximum temperature in the Twin Cities on Wednesday.
40 F. average high on March 14.
29 F. high on March 14, 2017.
March 15, 1941: The 'Ides of March Blizzard' occurs. Winds reached hurricane force at Twin Cities. 32 people died.
---
---
THURSDAY: Sunny and pleasant. Winds: NE 7-12. High: near 40
THURSDAY NIGHT: Mostly clear. Low: 18

FRIDAY: Plenty of sun, milder. Winds: E 8-13. High: 43

SATURDAY: Partly sunny, whiff of spring fever. Winds: E 7-12. Wake-up: 25. High: 49

SUNDAY: Fading sun, still quiet out there. Winds: E 5-10. Wake-up: 31. High: 48

MONDAY: Light rain-snow mix possible. Winds: NE 7-12. Wake-up: 33. High: near 40

TUESDAY: Light snow or flurries. Wet roads. Winds: N 8-13. Wake-up: 26. High: 38

WEDNESDAY: Peeks of sun, hints of spring. Winds: NW 8-13. Wake-up: 23. High: 44
---
Climate Stories...
Why I Am a 16-Year-Old Climate Activist. Check out the post at Refinery29; here's the intro: "I am a 16-year-old climate activist. Our movement is unstoppable. Young people have had enough. Students dominating the news cycles right now have had enough of living with gun violence. We are tired of waiting for adults to take action on the problems that are threatening our lives: The end of gun violence, racism, and climate denial are far past due. So now the young people like me are stepping up to make sure adults stop wasting precious time and start actually working to resolve these persistent challenges. I started taking action in my home state, joining 12 other young people in Washington filing a constitutional climate action lawsuit against the state, Gov. Jay Inslee, and several state agencies in King County Court for their refusal to take sufficient climate action..."
Photo courtesy of Jamie Margolin.
---
World's Great Forests Could Lose Half of All Wildlife as Planet Warms. The Guardian reports: "The world's greatest forests could lose more than half of their plant species by the end of the century unless nations ramp up efforts to tackle climate change, according to a new report on the impacts of global warming on biodiversity hotspots. Mammals, amphibians, reptiles and birds are also likely to disappear on a catastrophic scale in the Amazon and other naturally rich ecosysterms in Africa, Asia, North America and Australia if temperatures rise by more than 1.5C, concludes the study by WWF, the University of East Anglia and the James Cook University..."
Photo credit: "Wildlife is likely to disappear on a catastrophic scale in the Amazon if temperatures rise by more than 1.5C, the report warns." Photograph: Daniel Beltra/Daniel Beltra for Greenpeace.
---
With the EPA AWOL, Minnesota Cities Prepare for Climate Change Alone. Here's an excerpt from City Pages: "...Across the state, cities are readying themselves for the dangers of climate change and working to  shrink their carbon footprints. But making a city more resilient is costly, and efforts to reduce emissions can seem paltry compared to the scale of the problem they're trying to solve. Climate change is expected to increase the frequency and intensity of rainfall in Minnesota, bringing with it a greater risk of flash flooding that threatens cities whose current infrastructure has never weathered a 100- or 500-year flood. Since 2000, the state has had eight "mega-rain events," when at least six inches of rain fell in an area greater than 1,000 square miles, according to the Minnesota Department of Natural Resources. There were only three in the 30 years between 1970 and 1999..."
File photo credit: "Duluth's 2012 flooding at least helped teach the city what it wasn't prepared for." Associated Press.
---
Why TV Meteorologists are Talking About Beer, Chocolate, Peaches and Poison Ivy. More TV meteorologists are connecting the dots when it comes to climate volatility and weather disruption. Ensia reports: "...For years, TV meteorologists were hesitant to talk about climate change. Climatological views — the long-term trends and patterns that influence weather — were not part of their education. Their time on air is limited. Some stations may discourage climate change talk. Many meteorologists simply feel it isn't their responsibility. And some are concerned about how it might affect their ratings and job security. "Audiences trust their local meteorologists," says Mike Nelson, chief meteorologist at Denver7, an ABC affiliate in Colorado. "Our jobs depend on that trust. Meteorologists understand this, and some tend to stay away from controversial subjects." But that won't do anymore, says Nelson. "We are as close to a scientist as most Americans will ever get. People invite us into their living rooms. We have a responsibility to educate them on the facts..."
File image: Climate Central.
---
Melting Glaciers Do More Than Raise Sea Levels. Some interesting perspective from Hakai Magazine: "...Glaciers, like many venerable objects, can act as time capsules. Like a dusty vinyl record holds an era's songs, ice holds very old molecules—not just the H2O of snow, but traces of airborne particles like dust, ash, and chemicals that hitched a ride on falling flakes. In the Antarctic, Adélie penguins harbor consistent levels of the pesticide DDT even though it's been widely banned since the 1970s. The source: glacier meltwater that trickles past the penguins on its way to the sea, eventually making its way into the penguins' food webs. That means at least some of the ice now melting inland was once snow that fell before DDT was restricted in the 1970s. Many other once-airborne and now-banned pollutants are reappearing in glacier meltwater, such as PCBs and CFCs, the latter of which were a component of hairspray and other aerosols until they were phased out in the 1980s..."
Image credit: Boulder Glacier, Montana, from 1932 to 2005. Source: USGS.
---
As Urgency Mounts, Worry Among Climate Scientists Gets Personal. Here's an excerpt from Reuters: "When marchers took to the streets of Washington in a pro-science demonstration after U.S. President Donald Trump's election, it was the first time climate scientist Cynthia Rosenzweig put on an activist hat. Rosenzweig, who works for the National Aeronautics and Space Administration, has spent decades researching and warning about the dangers of global warming, from punishing floods to drought. But fears that policy-makers may ignore science and cut funding for research has had her and many like her struggling to balance scientific detachment with the urgency of their findings. They say they worry that scepticism about climate change is diluting the gravity of their discoveries and losing the attention of the next generation of researchers. Tens of thousands of people, including Rosenzweig and other scientists swapped lab coats for protest signs, joined the March for Science last April..."
---
Burning Coal May Have Caused Earth's Worst Mass Extinction. Here's an excerpt from a story at The Guardian: "...Previous research has shown that the Permian mass extinction event didn't coincide with the start of the Siberian volcanic eruptions and lava flows, but rather 300,000 years later. That's when the lava began to inject as sheets of magma underground, where Burger's data suggests it ignited coal deposits. The coal ignition triggered the series of events that led to Earth's worst mass extinction. Its sulfur emissions created the acid rain that killed forests. Its carbon emissions acidified the oceans and warmed the planet, killing most marine life. The dead bodies fed bacteria that produced toxic hydrogen sulfide gas, which in turn killed off more species. The warming of the oceans produced a large methane release, which accelerated global warming faster yet..."