Cool, Showery Weekend - Hurricane Risk Gulf Coast

What keeps meteorologists up at night? Predicting flurries and waking up to 2 feet of snow. Missing a tornado. That, and "hurricane amnesia": people forgetting what a hurricane can do - or thinking technology will save them.
In 1995 Hurricane Opal strengthened from a Category 1 to a Category 4 storm overnight. All those people on Florida's barrier islands who thought they could easily ride out a Category 1 storm woke up to a monster. Suddenly you had hundreds of thousands of people, all trying to evacuate to the mainland at once. Traffic jams, people getting out of stalled cars and RUNNING to higher ground? It was a chaotic mess - and a major catastrophe was only narrowly averted as Opal weakened suddenly as it approached the Florida Panhandle.
Keep an eye on "Harvey". The track is uncertain, but my hunch is parts of Texas and Louisiana may see catastrophic amounts of rain as this system stalls along the Gulf Coast.
We see an early shower but the sun should be out for people heading to the fair later on. More showers pop up Friday into Sunday with highs in the 60s and 70s.
Summer appears to be on life-support, but Septembers in Minnesota are pure magic: lukewarm, with much lower humidity; always hurricane-free.
---
File image of Hurricane Opal on October 4, 1995 courtesy of University of Wisconsin CIMSS.
---
Tracking Harvey. Latest guidance now suggests that Harvey will become a hurricane before reaching landfall somewhere near Corpus Christi, Texas sometime on Friday. The storm is expected to stall over Texas for several days, pouring out some 15-30" rainfall amounts, resulting in serious, perhaps historic flooding for parts of the Lonestar State. Details below. 84-hour NAM model: Tropicaltidbits.com.
---
Official NHC Track. This promises to be a long weekend for much of southern and southeastern Texas as Harvey comes ashore and then proceeds to stall, prolonging extreme rains. Today officials will accelerate the evacuation of many barrier islands between Brownsville, Corpus Christi and Victoria. Will Houston and Galveston be spared the worst of the storm? Possible - still too early to make a forecast with high confidence.
---
Spaghetti Plot. Here are all the various hurricane models, converging on a projected landfall near Corpus Christi. Remember, the most damaging storm surge, the battering ram of water shoved inland ahead of the eye, will come to the right (east) of where the eye comes ashore on Friday.
---
Greatest Concern with Harvey: Flooding. Inland flooding is going to be the biggest issue with Harvey. NOAA model ensembles show a bullseye over 13" near Houston, but that may be conservative. With the soggy remains of Harvey hovering over southern and southeastern Texas for the better part of 3-4 days I could see some 20-30" rainfall amounts.
---
Praedictix Briefing: Issued Wednesday morning, August 23rd, 2017
* The remnants of Harvey have reformed in the Gulf of Mexico this morning, and now Tropical Depression Harvey is expected to move toward the northwest Gulf Coast over the next several days.
* The system will strengthen over the next couple days before making landfall along the Texas coast Friday as a hurricane, bringing heavy rain and strong winds. Hurricane Watches are now in effect from north of Port Mansfield to San Luis Pass.
* Harvey will be slow to move – and even potentially stall out – as we head through the weekend due to light winds aloft that help steer systems. That means a long-duration heavy rain event is likely for areas like Texas and Louisiana, with some models indicating 10-15"+ of rain. This would cause a major flood risk to the region.
* Life-threatening storm surge will also be possible from Port Mansfield to High Island, TX, where a Storm Surge Watch has been issued.
* Facilities along the northwest Gulf Coast should begin preparing for tropical storm or hurricane conditions now, as well as the threat of heavy rain and flooding.
---
* 3-D image of "Harvey" taken midday Wednesday, courtesy of Aeris AMP.
---
Morning Satellite. Air Force Reserve Hurricane Hunters found a center of circulation this morning with the remnants of Harvey in the Gulf of Mexico, therefore reclassifying the system as a tropical depression. As of 10 AM CT, Harvey was located 470 miles southeast of Port Mansfield, TX with winds of 35 mph.
---
Official Forecast Track. The official track of Harvey brings the system slowly to the northwest over the next day or so, with a little faster motion as we head into Thursday. As the system reaches the Texas coast Friday, the system will slow down, meaning there is uncertainty at how fast Harvey will eventually move east into the weekend. The intensity forecast shows the system slowly gaining strength today, followed by quicker intensification Thursday. The National Hurricane Center makes note that they expect Harvey to be a hurricane at landfall, which is expected Friday, even if it isn't currently shown in the 12-hour forecast dots.
---
Tropical Storm/Hurricane Watches In Effect. As Harvey is expected to approach the northwest Gulf Coast later this week, Tropical Storm and Hurricane Watches have been issued for parts of Texas and Mexico. Here is a summary of watches in effect from the National Hurricane Center as of 10 AM CT:
A Storm Surge Watch has been issued for the coast of Texas from Port Mansfield to High Island.
A Hurricane Watch has been issued for the coast of Texas from north of Port Mansfield to San Luis Pass.
A Tropical Storm Watch has been issued for the coast of Texas from the Mouth of the Rio Grande to Port Mansfield and from north of San Luis Pass to High Island.
The government of Mexico has issued a Tropical Storm Watch for the coast of Mexico from Boca De Catan to the Mouth of the Rio Grande.
---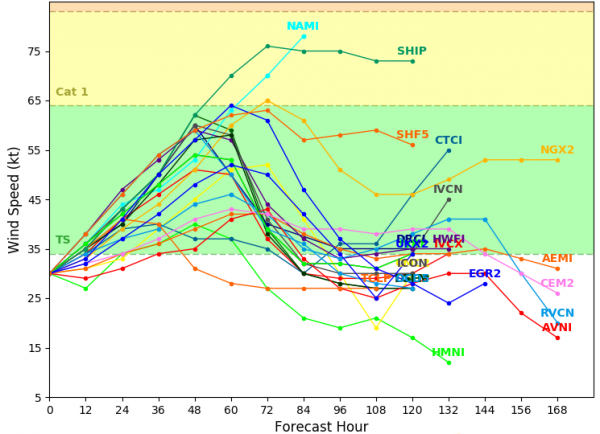 Predicted Intensity. Most models are expecting Harvey to become either a strong tropical storm or a weak hurricane before landfall Friday along the Texas coast, with quick weakening of the winds after that.
---
Extreme Heavy Rain Potential. If Harvey does slow down or stall out like is expected, very heavy rainfall is likely to fall across portions of Texas and Louisiana. While it is too early to exactly pin down where the heaviest will fall, models are indicating the potential of at least 10-15" of rain through the weekend across the region. This amount of rain could be capable of major flash flooding across the region, especially since the soil is already saturated from heavy rains earlier this month.
---
Tropical Storm Wind Threat. The earliest tropical storm force winds (39+ mph) would reach parts of southern Texas are during the daytime hours Thursday, reaching areas like Corpus Christi and Houston Thursday Night.
---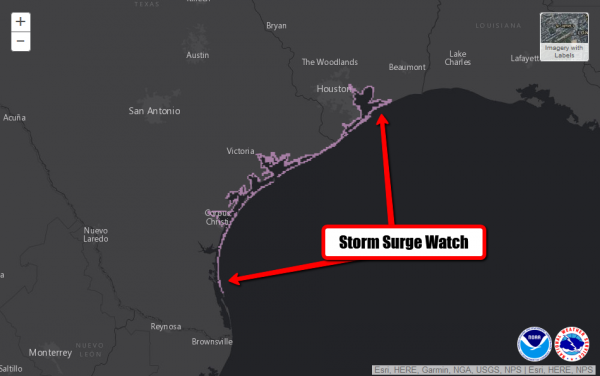 Storm Surge Potential. Life-threatening storm surge – where rising water moves inland – is also a possibility as this system makes landfall. As mentioned above, a Storm Surge Watch has been issued for the coast of Texas from Port Mansfield to High Island.
Summary: Harvey has reformed in the Gulf of Mexico this morning, and is expected to quickly strengthen over the next few days due to warm Gulf waters as the system moves toward the northwest Gulf Coast. Current guidance shows that Harvey will make landfall Friday as a hurricane along the Texas coast, bringing the threat of strong winds and storm surge. The system is then expected to either move slowly or literally stall out across the region, enhancing the threat of very heavy rainfall (potentially on the scale of 10-15"+) and major flooding across the region. Facilities across this region should prepare now for strong winds and the potential of flooding from this system as we head into the weekend.
Meteorologist D.J. Kayser, Praedictix
---
Mild End to August. Proving that it's impossible keeping all of the people happy all of the time, many are just fine with 70s for highs in late August - others complaining that it's too cool for their favorite lake. Consider taking a sweatshirt or light jacket north with you this weekend. Twin Cities ECMWF numbers: WeatherBell.
---
Summer Warmth: The Sequel. The hottest days are behind us now, little question about that. Although August will wind up cooler than average, overall, temperatures may try to bounce back in September. GFS guidance shows a string of 80s the first week of September. Don't write sweaty weather off just yet.
---
Hell and High Water. It's worth another look at a special story from ProPublica and The Texas Tribune, talking about Houston's vulnerability to hurricane rainfall and storm surge: "Houston is the fourth-largest city in the country. It's home to the nation's largest refining and petrochemical complex, where billions of gallons of oil and dangerous chemicals are stored. And it's a sitting duck for the next big hurricane. Learn why Texas isn't ready..."
---
5 Most Vulnerable U.S. Cities to Hurricanes. Here's an excerpt from a timely and relevant 2012 article at Climate Central: "The sprawling Houston metropolitan area, with a population of 6.1 million and vital oil and gas infrastructure located on low-lying land, is vulnerable to hurricanes that traverse the Gulf of Mexico. Hurricane Ike heavily impacted Houston and the nearby city of Galveston in 2008, causing $27.8 billion in damage, and killing 20. The communities of Crystal Beach, Gilchrest, and High Island experienced "near total destruction of property," according to the Weather Service. Typically, hurricanes will strike the Texas coast once every nine to 16 years, while tropical storms are more common than that. While Ike was a powerful Category 2 storm at landfall, it was a large storm, and it drove a storm surge onshore that was more typical of a Category 4 storm. Parts of Jefferson County, Texas, and Cameron Parish, La., experienced a storm surge of up to 17 feet. The highest storm surge as measured by a National Ocean Service tide gauge was 12.79 feet at Sabine Pass North, Texas, as Ike was coming ashore at Galveston..."
Photo credit: "One of the few homes left standing after Ike's storm surge swept across the Texas community of Gilchrest. Click on image for a larger version." Credit: FEMA
---
In Booming South Florida, Another Hurricane Andrew Could Be a $300 Billion Catastrophe. USA TODAY makes the case: "...Florida has improved standards for new construction to prevent the level of damage wrought by hurricanes, but an Andrew-like storm hitting downtown Miami and its ever-growing collection of sparkling skyscrapers could exact a hefty price: $300 billion, according to one insurance underwriter. "And that number doesn't include loss of taxes or tourism," said Monica Ningen, chief property underwriter for the U.S. and Canada for Swiss Re, one of the largest reinsurance companies in the world. In the 25 years since Andrew made landfall on Aug. 24, 1992, nearly 1 in 10 homes built in the United States were built in Florida, according to an analysis of building permits conducted for USA TODAY by the real estate web site Trulia. That's second only to Texas..."
File photo: Trip Advisor.
---
25 Years After Hurricane Andrew: Are We Prepared for Another Category 5 Storm? The short answer is no. Here's an excerpt with more perspective from AccuWeather: "...One of the biggest remaining issues is the lack of concern among those who haven't experienced a major hurricane in years, or ever. Ignoring evacuation orders, lack of proper preparation and throwing "hurricane parties" are all potentially dangerous forms of complacency. "People really need to understand that we as meteorologists don't think we have all the answers," said Bill Kirk, CEO of Weather Trends International. "We have great technology, but these beasts have a mind of their own, and we need to take them seriously." Rise in coastal development also places more lives at risk in the event of another major storm. "The challenge is to make sure people heed the advice and prepare, because those forecasts aren't perfect," said Brown. "The risk is too great."
File image: NASA.
---
The Camera That Will Transform Our Understanding of the Universe. Atlas Obscura explains: "...Account for dark energy, and certain theories of physics start to click. It helps explain the rate that galaxies rotate and reveals a more sensible age of the universe—without dark energy, scientists were finding that some stars were supposedly older than the universe as a whole. But almost 20 years after this discovery, physicists still know only a little bit about it. In order to learn more, scientists from dozens of institutions in 23 countries have been working together to create the Large Synoptic Survey Telescope, a giant, digital camera that has the power to capture the light of several billion faint galaxies, millions of light years away..."
Photo credit: "One of the LSST's mirror cells." LSST Project/NSF/AURA
---
Transport's Coming Upheaval. TechCrunch does a very good job breaking down the new (disruptive) trends in transportation that will be impacting our lives: "...The biggest question mark outside of government regulation currently hanging over autonomous cars concerns safety and reliability. There is a worry that they're unable to follow traffic laws, unreliable in bad weather and generally unpredictable. And the recent string of accidents involving driverless cars has only exacerbated these concerns. Let's be clear that driverless cars have a far better driving record than we do – Tesla autonomous cars alone have driven over 222 million miles with just one fatality. Compare this to the fact that human-driven vehicles result in one fatality per 94 million miles, and it's easy to see why so many experts are suggesting that the advent of driverless cars will bring with it safer roads and fewer accidents. According to a survey by the US Department of Transportation, 94 percent of road accidents are caused by human error, and in tests the safety of autonomous vehicles has met and surpassed all standards..."
---
Trolls Across America. Which state has the highest concentration of online trolls? You may be surprised by a story at WIRED.com: "Never read the comments. People are not always their best selves there. To find out exactly how bad the bad behavior is, we partnered with Disqus, an online commenting platform (disclosure: WIRED.com uses it) to quantify the problem. Cofounder Daniel Ha says toxic posts have been an issue from day one, and he sees it as a human problem, not a technological one: "It's never really going to go away." The company analyzed 92 million comments over a 16-month period, written by almost 2 million authors on more than 7,000 forums that use the software. (So sites like Infowars and the Wirecutter are included, but Facebook and Twitter are not.) The numbers reveal everything from the trolliest time of day to the nastiest state in the union..." (Map credit: StoryTK).
---
Elon Musk Leads 116 Experts Calling for Outright Ban of Killer Robots. Call me crazy but this sounds like a pretty good idea to me. Here's a clip from The Guardian: "...In their letter, the founders warn the review conference of the convention on conventional weapons that this arms race threatens to usher in the "third revolution in warfare" after gunpowder and nuclear arms. The founders wrote: "Once developed, lethal autonomous weapons will permit armed conflict to be fought at a scale greater than ever, and at timescales faster than humans can comprehend. These can be weapons of terror, weapons that despots and terrorists use against innocent populations, and weapons hacked to behave in undesirable ways. "We do not have long to act. Once this Pandora's box is opened, it will be hard to close..."
Image credit: "The T-800 from the Terminator film franchise." Photograph: Melinda Sue Gordon/Allstar/Paramount Pictures.
---
People Start Hating Their Jobs at Age 35. Bloomberg has news of a recent study: "...Older workers tend to be more unhappy in their jobs than their younger colleagues, according to a survey of more than 2,000 U.K. employees by human resource firm Robert Half U.K. One in six British workers over age 35 said they were unhappy—more than double the number for those under 35. Nearly a third of people over 55 said they didn't feel appreciated, while 16 percent said they didn't have friends at work. There's the stress of being in a high-ranking position—or the disappointment of not making it far enough up the career ladder. True, salaries are higher, but life starts to get more expensive. "Work-life balance" starts to mean taking care of children, rather than just personal stress management..."
---
Your Credit Score Could Make or Break Your Love Life. Great. Bloomberg explains: "She's a 793? Swipe right! It turns out credit scores are statistical shorthand for a whole lot more than the likelihood you'll repay a loan, according to a number of consumer surveys and academic studies. One study, released two years ago, looked at consumer credit data over 15 years and found that the higher the year-end credit score, the likelier the person was to form a romantic relationship over the next year. Now comes a survey from Discover Financial Services and Match Media Group, parent of Tinder and other dating sites, that shows just how appealing a good credit score can be. Financial responsibility was ranked as a very or extremely important quality in a potential mate by 69 percent of the 2,000 online daters surveyed. That placed it ahead of sense of humor (67 percent), attractiveness (51 percent), ambition (50 percent), courage (42 percent), and modesty (39 percent). A good credit score was associated with being responsible, trustworthy, and smart..."
Illustration credit: Simon Landrein.
---
Tips to Prevent Serious, Common Injuries in Child Athletes. All The Moms has a story with good advice: "...Children sports medicine experts urge parents to play a role in preventing injuries. For example, if your student athlete can avoid training on concrete, he or she is less likely to suffer shin splints. According to Centers for Disease Control and Prevention figures, roughly 2.6 million children end up in an emergency room every year from sports-related injuries. The actual number of injuries is higher, since many children are treated at home. The injuries are divided in terms of "traumatic" or "non-traumatic."  Non-traumatic includes overused injuries developed over time, but are no less problematic than traumatic injuries...The six most common sports injuries he said can be partially prevented are:
Concussion.
Shoulder dislocations.
Knee sprains.
Ankle sprains.
Muscle strains.
Shin splints..."
---
How Therapy Can Cure Overeating. A story at The Atlantic caught my eye: "...One out of every 35 adults suffers from binge eating disorder, almost twice the combined rate for anorexia and bulimia. It is characterized by repeated episodes of eating large quantities of food quickly and to the point of discomfort; a feeling of a loss of control during the binge; and guilt following the binge, but without any consistent purging behavior. Up to 40 percent of people trying to lose weight suffer from BED and up to 70 percent of patients with BED are medically obese. The good news is that BED is highly treatable, particularly with the help of cognitive behavioral therapy: Nearly 80 percent of patients abstain from bingeing after 20 sessions. And, unlike most calorie-restricting diets, the success of CBT holds for many patients over time. However, a 2013 study in Biological Psychiatry found that less than half of lifetime bingers receive treatment..."
---
If You Missed This Year's Eclipse, Chase Another. There's always next time. Atlas Obscura explains: "Eclipse chasers may seem a little intense—they often go to great lengths to see total solar eclipses around the world, booking hotels and flights years in advance. If you didn't plan years ahead for totality on August 21, or if you find yourself addicted after experiencing it, you're in luck. The next eclipse is just less than two years out, and another chance comes to the United States in just seven years. Here's a list of notable upcoming total solar eclipses, and some of the stunning places you can view them..."
Map credit: Canada's CBC.
---
The Most Insane Restaurants. Check out the list at foodandwine.com: "...Cut into the side of a mountain, almost like a superhero's hideout, and overlooking the Adriatic Sea, is a restaurant with one of the most striking views you'll find anywhere in the world. The Grotta Palazzese hotel restaurant sits 74 feet above sea level, built directly into a jagged cliff in Polignano a Mare in southern Italy's Puglia region. The romantic lighting (much of which comes from reflections off the water) and stunning scenery have been in use for fine dining for centuries; the region's nobility hosted banquets there dating back to the 1700s. The restaurant is only open from May to October and books up quick, so if you're looking to grab a cliffside table, you'll have to plan ahead..."
Photo credit: LOOK Die Bildagentur der Fotografen GmbH / Alamy Stock Photo.
---
Scientists Are Collecting Poop from Elite Athletes to Try to Put Their Endurance Into a Pill. Hope you aren't eating - sorry. Here's a clip from Quartz: "What if the difference between ultramarathoners and the rest of us is just the tiny things living in their guts? Jonathan Scheiman, a microbiologist at Harvard Medical School, has been studying the bacteria in the digestive tracts of elite long-distance runners and rowers. He thinks that if he can identify micro-organisms that help elite athletes reach the finish line faster, their powers could one day be harnessed into a probiotic pill. Scheiman spends a lot of time sifting through athletes' poop. Much of our fecal matter is bacteria that lives happily with us, and under the microscope, it can paint a pretty clear picture of our lives. Our guts become microbial homes for different groups of bacteria depending on what we eat, where we live, and even who we hang out with..."
File photo credit: "Bodies and bacteria working hard." (AP Photo/Michael Dwyer)
---
77 F. maximum temperature yesterday in the Twin Cities.
80 F. average high on August 23.
84 F. high on August 23, 2016.
August 24, 2006: Tornadoes and large hail strike southern Minnesota. One person died and 37 were injured when a strong tornado began 4 miles west-southwest of Nicollet in Nicollet County, and moved almost due east for 33 miles to near Waterville in Le Sueur County. Many storm chasers captured the tornado on video. The largest hail reported was grapefruit-sized at New Prague in Scott County.
August 24, 1934: Early cool air invades southern Minnesota. Rochester and Fairmont have lows of 34 degrees.
---
"Flatter me and I might not believe you.
Criticize and I might not like you
Ignore me and I might not forgive you
Encourage me and I will not forget you." – William Arthur Ward
---
---
TODAY: AM shower, some PM sun. Winds: SE 7-12. High: 72
THURSDAY NIGHT: Partly cloudy and cool. Low: 58

FRIDAY: Unsettled, risk of a few showers. Winds: SE 10-15. High: near 70

SATURDAY: Showers and T-storms likely. Winds: SE 10-15. Wake-up: 59. High: 71

SUNDAY: Cool and damp, lingering showers. Winds: NW 8-13. Wake-up: 57. High: 69

MONDAY: Make it stop. Couple more showers. Winds: NE 5-10. Wake-up: 58. High: 70

TUESDAY: Drier, mix of clouds and some sun. Winds: N 5-10. Wake-up: 56. High: 74

WEDNESDAY: Warm sun, shorts at the State Fair? Winds: W 7-12. Wake-up: 60. High: 80
---
Climate Stories...
Climate Change Could Shrink Fish By As Much as 30 Percent, New Study Claims. CNBC.com has details: "Warmer waters as a result of climate change could shrink the size of fish by 20 to 30 percent, a new study by researchers at the University of British Columbia (UBC) has claimed. In a statement on Monday, co-author William Cheung said that fish, as cold blooded animals, were not able to regulate their body temperatures. When the waters they are in become warmer their metabolism accelerates, and they require more oxygen to sustain their body functions. "There is a point where the gills cannot supply enough oxygen for a larger body, so the fish just stops growing larger," Cheung added..."
---
Study Finds ExxonMobile Knew About Climate Change, Raised Doubts About Dangers. The San Diego Union-Tribune has the latest: "A new study by Harvard researchers has found that decades of scientific research by ExxonMobil contradicted a public messaging campaign by the fossil fuel giant that raised doubts about climate change and its hazards. The study, to be published Wednesday in the journal Environmental Research Letters, validated investigations in 2015 by the Los Angeles Times and the nonprofit agency InsideClimate News. That reporting concluded that top executives at ExxonMobil were warned by their own scientists about the dangers of greenhouse gases, including potential threats to the company's operations. At the same time, the oil corporation invested millions in advertising campaigns that would call into question whether climate change was a threat to humans. ExxonMobil called the media coverage misleading, and created a website featuring an archive of its peer-reviewed research and internal communications..."
Image credit: "Geoffrey Supran and Naomi Oreskes published the first ever peer-reviewed, academic analysis of Exxon's 40-year history of climate change communications."
---
The New York Times has more perspective here.
---
Alaska's Permafrost is Starting to Thaw. Which is a positive feedback. Warmer weather causes more thawing, which releases more methane, a greenhouse gas far more potent than CO2. Which causes more warming, etc etc. Here's an excerpt from The New York Times: "...There is plenty of debate among scientists abouut when and how much of Alaska's permafrost will thaw. And there is no doubt that thawing of the full depth of permafrost would take millenniums. But Dr. Romanovsky said that his and others' work shows that permafrost "is not as stable as people thought." In addition to greenhouse gas emissions, thawing wreaks havoc on infrastructure, causing slumping of lannd when ice loses volume as it turns to  water..."
---
Warming Arctic Spurs Battles for Riches, Shipping Routes. When in doubt, follow the money. Here's an excerpt from The Washington Post: "...The geography also opens up new opportunities. Sailing through the Northwest Passage could potentially cut the distance from East Asia to Western Europe by more than 10,000 kilometers (6,200 miles), compared with the traditional route through the Panama Canal, offering huge fuel savings. The battle for the Arctic is being fought by geologists and legions of lawyers. Greenland has staked its claim to the Lomonosov Ridge beneath the Arctic Sea, which would greatly extend its rights to the sea bed for possible mining. Russia contests the claim. Russia boldly planted an underwater flag at the North Pole 10 years ago, and has been expanding infrastructure along its northern coast..."
---
Midwestern Agriculture Stands to Lose With Climate Skeptics in Charge. Here's an excerpt of an Op-Ed at The St. Louis Post-Dispatch: "...The Catholic tradition to which I belong celebrates faith and reason, and sees both as ways to inform how to promote human flourishing and the common good. St. John Paul II, Pope Benedict XVI, and Pope Francis relied on the scientific evidence that humans are the driving force behind climate change, and they recognized that it could have severe and negative impacts on all life, especially human life. With many other faith traditions, the Catholic Church regards climate change, which threatens human life and exacerbates the burdens borne especially by the poor, as an urgent moral issue..."
File image: iStock.
---
How Deeply Will Rising Temperatures Cut into Crop Yields? A story at InsideClimate News reviews new research into the potential impacts of rising temperatures: "A sweeping study examining decades of research says that yields of the globe's most important crops—providing two-thirds of the world's calories—will plummet as temperatures rise. For every degree Celsius that the Earth warms, corn yields will go down an average of 7.4 percent, according to the study, which focused on the effects of rising temperatures and did not directly examine other influences related to climate change. Wheat yields similarly will drop by 6 percent on average for every degree Celsius that temperatures rise, rice yields by 3.2 percent, and soybean yields by 3.1 percent, according to the study....Twenty-nine researchers from across the globe conducted the analysis of more than 70 studies—covering various types of models, approaches and locations across the world—and found that existing research all led, consistently, in one direction..."
---
Agriculture a Culprit in Global Warming, Says U.S. Research. Reuters explains: "Agriculture has contributed nearly as much to climate change as deforestation by intensifying global warming, according to U.S. research that has quantified the amount of carbon taken from the soil by farming. Some 133 billion tons of carbon have been removed from the top two meters of the earth's soil over the last two centuries by agriculture at a rate that is increasing, said the study in PNAS, a journal published by the National Academy of Sciences. Global warming is largely due to the accumulation of carbon dioxide in the atmosphere from such activities as burning fossil fuels and cutting down trees that otherwise would absorb greenhouse gases such as carbon dioxide..."
File photo: Nati Harnik, AP.
---
How Can We Slow the Heat-Trapping Flood of Nitrogen on Farms? The issue is fertilizer, and the release of nitrous oxide, according to a story at NPR: "...Down on the farm, the most important greenhouse source is something that doesn't normally get a lot of attention. It's the fertilizer — mainly nitrogen — that farmers spread on their fields to feed their crops. Nitrogen is the most important nutrient for plants. It's the fuel that drives modern food production. Every year, American farmers spread millions of tons of it on corn fields alone. Manufacturing nitrogen fertilizer is energy-intensive, burning lots of fossil fuels and releasing carbon dioxide. What's just as damaging, and perhaps even more so, is what happens when it's spread on a field. Bacteria feed on it and release a super-powerful greenhouse gas called nitrous oxide..."
File photo: Tim McCabe, USDA.
---
Trump Administration Scraps Climate Change Advisory Panel. CNN Politics has the story: "The Trump administration has fired another shot at the scientific community, this time dismantling a federal advisory committee on climate change. Members on the 15-person committee tell CNN they learned the news by email Friday. CNN has obtained a copy of the email sent from acting National Oceanic and Atmospheric Administration head Benjamin Friedman. "On behalf of the Department of Commerce and the National Oceanic and Atmospheric Administration (NOAA), I am writing to inform you that per the terms of the charter the Federal Advisory Committee for the Sustained National Climate Assessment (Committee) will expire on August 20, 2017," the email read. "The Department of Commerce and NOAA appreciate the efforts of the Committee and offer sincere thanks to each of the Committee members for their service..."
---
Are the Floating Houses of the Netherlands a Solution Against the Rising Seas? Pacific Standard looks at one way to deal with rising sea levels: "...The technology used to build houses on water is not really new. Whatever can be built on land can also be built on water. The only difference between a house on land and a floating house is that the houses on water have concrete "tubs" on the bottom, which are submerged by half a story and act as counter-weight. To prevent them from floating out to sea, they are anchored to the lakebed by mooring poles. As sea levels are rising globally, many cities around the world are under threat from water. Some areas are projected to disappear completely in the next few decades. Therefore, designing houses to float may, in some instances, be safer than building on land and risking frequent floods. "In a country that's threatened by water, I'd rather be in a floating house; when the water comes, [it] moves up with the flood and floats," Olthuis says..."
Photo credit: "Floating homes in IJburg, Amsterdam." (Photo: Wojtek Gurak/Flickr).