Twin Cities Snow Depth
Notice the lack of snow pack across the region recently? Here's a look at snow depth across winter since the beginning of the Twin Cities record, courtesy of the the Iowa Environmental Mesonet. 85% of years on record have had a snow depth of at least 1" on February 12th, and this year we definitely fall in the 15% of years that have less.
It's here in the first couple weeks of February when we expect to see the highest probability of snow on the ground in the Twin Cities, and even the highest probability of the winter to see a foot or more of snow pack. This year we're lucky to even have a trace across many areas of southern Minnesota. Image: MN DNR State Climatology Office.
Snow cover this time of year the past couple of years has been... well, wimpy. In mid February of 2016 and 2015 we only had about 1-2" of snow on the ground. You have to go back to mid February of 2014 to find the last time we had over a foot of snow (13") on the ground.
The latest snow depth update for the state from the MN DNR State Climatology Office shows that a good portion of central and southern Minnesota have an inch or less on the ground (the most snow on the ground in this portion of the state being in southeast Minnesota). If you want snow cover, you need to head north! The Arrowhead and far northwest Minnesota currently has the most snow depth int he state, but even that (for the most part) is only in the 80-95% ranking range for this time of year.
Meanwhile, the average amount of North America that has had snow coverage each year has been on the decline according to Climate Central. More on the chart above: "As the world warms, the overall area of North America covered by snow is decreasing. One reason is that an increasing percentage of winter precipitation is falling as rain instead of snow in many locations. A Climate Central report found that between sea level and 5,000 feet in elevation, a smaller percentage of winter precipitation is falling as snow in the western U.S. The subsequent decline in snowpack affects reservoir levels and irrigation, as the melting snow provides water for the Westin the dry summer months."
_______________________________________________
Warm, Quiet Week As A Lack Of Snow Pack Continues
By DJ Kayser, filling in for Douglas
There's been one big question that has been running through my mind recently: where is all the snow? Now, I am not the biggest winter outdoors person in the world, but the lack of snow is bothering me a little bit.
On average, this is the time of year that we typically see the most snow on the ground according to the Minnesota Climatology Office. About 85% of winters on record have at least one inch of snow on the ground on February 12 in the Twin Cities, with just under half having at least six inches. This year? You're lucky to find a trace of snow on the ground.
Recently we have lacked snow depth as we went into mid-February, though, with only one to two inches on the ground at this time the past two winters. The winter of 2013-14 was the last time with over a foot of snow on the ground at this time of year.
There aren't many chances in the next seven days to start building any snow pack. Temperatures will be in the 30s and 40s this week, with no big precipitation chances. At least those giant snow piles will be melting.
_______________________________________________
Extended Forecast for Minneapolis
SUNDAY: Sunny with wind gusts up to 30 mph. High 37. Low 23. Chance of precipitation 0%. Winds NW 10-20 mph.
MONDAY: More sunshine. Highs back above 40. High 43. Low 27. Chance of precipitation 0%. Winds SW 5-10 mph.
TUESDAY: A few clouds and a little cooler. High 38. Low 19. Chance of precipitation 5%. Winds NW 5-10 mph.
WEDNESDAY: Coolest day of the next seven. High 30. Low 19. Chance of precipitation 0%. Winds NW 3-5 mph.
THURSDAY: Slowly warming with mostly sunny skies. High 36. Low 26. Chance of precipitation 0%. Winds S 3-5 mph.
FRIDAY: Partly sunny with 40s returning. High 45. Low 29. Chance of precipitation 5%. Winds SW 5-10 mph.
SATURDAY: Decreasing clouds and warm. High 47. Low 30. Chance of precipitation 5%. Winds S 5-10 mph.
_______________________________________________
This Day in Weather History
February 12th
1988: For warm weather...head west! Duluth had a temperature of 31 below zero, while Rapid City was sitting at 59.
1872: A severe blizzard hits central Minnesota. The temperature at Litchfield was 34 degrees on the afternoon of the 12th, and fell to -20 by the morning of the 13th. At least 6 people died in Meeker County alone.
_______________________________________________
Average Temperatures & Precipitation for Minneapolis
February 12th
Average High: 28F (Record: 59F set in 1990)
Average Low: 12F (Record: -30F set in 1875)
Average Precipitation: 0.03" (Record: 0.42" set in 1984)
Average Snow: 0.3" (Record: 3.2" in 1965)
________________________________________________
Sunrise/Sunset Times for Minneapolis
February 12th
Sunrise: 7:18 AM
Sunset: 5:37 PM
*Length Of Day: 10 hours, 19 minutes and 23 seconds
*Daylight Lost Since Yesterday: ~2 minutes and 52 seconds

*Next Sunrise At/Before 7 AM: February 24th (6:59 AM)

*Next Sunset At/After 6 PM: February 28th (5:00 PM)
________________________________________________
Minnesota Weather Outlook
After a day of mainly cloudy skies and some light chances of precipitation Saturday, sunnier skies will break out across the state as we head through the day Sunday, with temperatures approaching 40 in the south. Across the north, temperatures will likely stay in the upper 20s to around 30.
These temperatures will still be above average for this time of year by a good 5-15 degrees - allowing for more snow melt (especially with those large snow piles) as we go through the day Sunday.
Sunday will also be a blustery day across the state, with strong winds out of the northwest. We could see gusts in the 30 mph range across a good portion of the state, with gusts approaching 40 mph (or higher) along the North Shore.
In the Twin Cities, highs will top off in the mid to upper 30s, about nine degrees above average for this time of year. The winds will also be high at times, out of the northwest on average between 10-15 mph, with gusts up to 30 mph possible.
Temperature will stay warm as we head through the next several days, with the majority of highs in the 30s and 40s as we head into early next week. It appears the coolest day of the next seven will be Wednesday, as temperatures may struggle to make it into the 30s in the Twin Cities. Long term models are hinting at a cool down as we head into the last weekend of the month with a storm system moving through.
Looking into the future for precipitation... don't expect too much over at least the next week as the storm track stays to our north and south. The ECMWF (not pictured here) shows the potential of a system impacting the upper Midwest in the time frame of the 20th-21st, but that is still a good 9-10 days out, so many details could change before then... however both the GFS and GEFS are showing some hints of precipitation across the region later that week as well. Until then, enjoy the drier weather.
________________________________________________
National Weather Outlook
84 Hour Forecast
Another snowstorm is taking aim on the Northeast Sunday and Monday, bringing the potential for very heavy snow for areas like Boston and Portland (ME) along with winds that could gust up to 60 mph near the coast. Another low could develop along the Northeast coast as we head toward the middle of the week, bringing another round of snow for snow-lovers across the region. Early next week a low pressure system across the south will bring rain (and even snow) to portions of the southern Plains, slowly moving east along the Gulf Coast during the middle of the week. The western U.S. is getting a needed break to end the weekend and begin next week, however by the middle of the week rain will once again return to the Pacific Northwest with another system moving in.
Snow Potential Through Tuesday
A new coastal storm will be spinning up and undergoing bombogenesis (deep and quick strengthening) Sunday into Monday, bringing the potential of 1-2 feet of snow to portions of New England into the early week time frame. You can read more on that system further in this blog post. Meanwhile, mixed precipitation to some snow will be possible across portions of the Texas and Oklahoma panhandles Monday into Tuesday.
Five Day Precipitation Outlook
The heaviest precipitation over the next five days will be across portions of New England (associated with a couple winter storms expected - one Sunday into Monday, and another midweek) as well as in the Northwest with another storm system moving in toward the middle of the week. Rainfall of 1-3" will be possible over a good portion of Texas over the next several days, with a widespread 0.5-1" in the Southeast.
Record Highs Possible In The Mid-Atlantic Sunday
After record heat across the Southern Plains Saturday, the heat will move east to end the weekend, with numerous record highs possible Sunday across the Mid-Atlantic states. This includes cities like Charlotte (NC) and Columbia (SC), which will see highs in the mid to upper 70s, breaking their previous records for the day by a few degrees.
________________________________________________
More on the next system to impact the Northeast Sunday into Monday:
AerisWeather Briefing: Issued Saturday Morning, February 11th, 2017
* Another winter storm is taking aim on parts of New England Sunday into Monday.
* Boston will pick up on another half a foot of snow as we head into next week. There may be a period of rain and snow Sunday into Sunday Night in the city which will help limit snow totals a little bit.
* Parts of Maine, however, will receive up to two feet of snow from this system as it moves through the region.
* Blizzard conditions with wind gusts up to 60 mph will be possible as the storm strengthens once again along parts of the Northeast coast.
Another Winter Storm. As we head into the day Sunday and into early next week we'll be watching another low off the Northeast coast quickly strengthens, bringing the potential of heavy snow accumulations to parts of New England and high winds as well, particularly on the back side of the system heading into Monday. Snowfall rates will once again approach 2-4" per hour across portions of the region, which will help lead to over a foot of snow for parts of New England through Monday.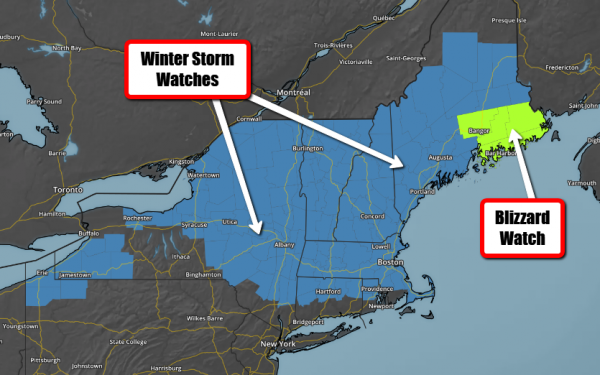 Winter Storm And Blizzard Concerns.  (Note: These were as of Saturday morning). Due to the potential of heavy snowfall with this upcoming system, Winter Storm Watches have been issued from New York state into Maine, including in Boston. Blizzard Watches are in effect for parts of Maine, including Bangor, where the highest probability currently exists for blizzard conditions with wind gusts to 60 possible late Sunday into Monday. Map credit: Aeris AMP
Potential Snow Totals. While snow totals are expected to be around 6" in Boston from this system, totals will quickly increase as you head north and west of the metro. We will easily see over a foot of snow across portions of northern Massachusetts into New Hampshire and Maine from Sunday into Monday. Up to two feet of snow will be possible along coastal areas of Maine, and with wind gusts up to 60 mph blowing and drifting snow will be a major issue. Map credit: Aeris AMP
Breaking Down Expected Snowfall Totals Locally:
Boston, MA:
Portland, ME: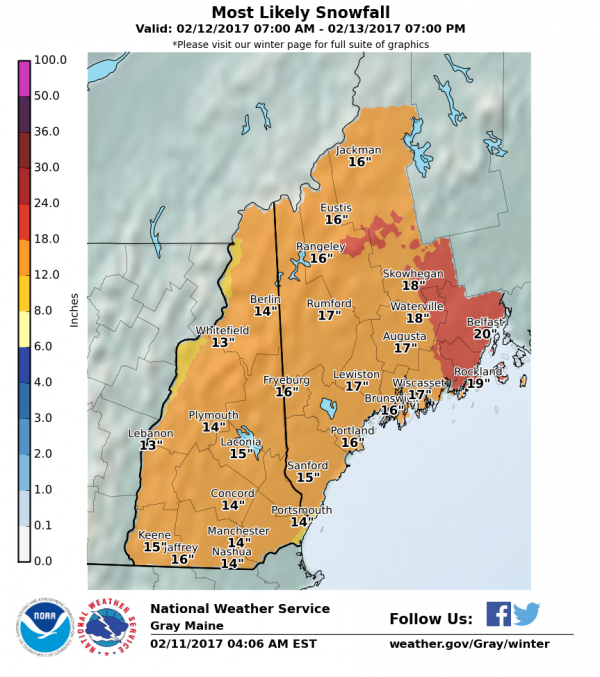 Caribou, ME: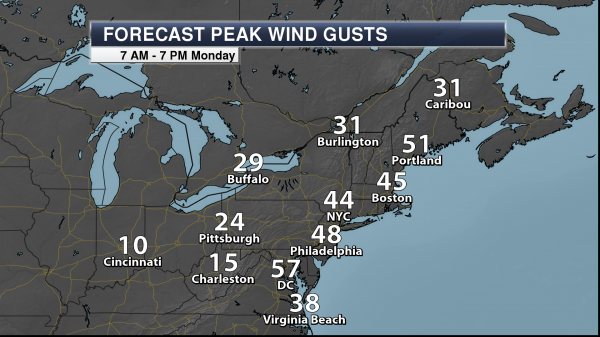 Wind Gusts Of 40-60 MPH. As the system quickly strengthens into the day Monday, wind gusts will be on the increase across the Northeast. Blizzard conditions will be likely from Boston into Maine due to the heavily falling snow and wind gusts that will be between 40-60 mph during the day. However, winds will be strong even south of where the majority of the snow falls, with very strong winds gusts in D.C., Philadelphia and New York City. These winds will have the potential to cause power outages during the day Monday.
Summary: Another winter storm will impact portions of New England Sunday into Monday with heavy snow and high winds. Snow will start across the region as we head into Sunday, lasting through a good portion of the day Monday. While Boston will end up with about another half foot of snow, you won't have to go too far outside the metro to the north and west to find totals that will approach a foot. Across coastal parts of Maine, snow totals could approach two feet, and with wind gusts that are expected to be near 60 mph we will see blizzard conditions and significant blowing and drifting snow.
D.J. Kayser, Meteorologist, AerisWeather
________________________________________________
Almost 100 in February!
Record heat gripped the southern Plains during the day Saturday, with highs pushing over 90 in numerous spots. In parts of southwest Oklahoma, the temperature even threatened the century mark!
Lubbock: 90 In February For The First Time
A Record Breaking Winter In Miami
 
It's hard to believe that we are already talking about the end of (meteorological) winter coming in a few short weeks, but already at least one record has been broken in Miami, FL. They have seen 20 days with a high of 85+ since December 1st, shattering the previous record of 13 set in the winters of 1898-90 and 1941-42.

Life On Europa?
A new report from NASA shows that they want to explore Jupiter's moon of Europa for the potential of alien life - and they want to do it as soon as 2031.
Popular Science has more
: "
While the lander mission isn't officially on the books yet, Congress wants it it happen. The new report is preliminary, meaning the goals and instruments may be subject to change. But if all goes according to plan, the mission's primary goal would be to search for evidence of life on this frigid world.
" (Image credit: NASA/Goddard Space Flight Center)  
Decreasing Drought Out West
We have been monitoring something good on our maps the past few weeks - decreasing drought out west. However, things are always as simple as they should be.
The Beyond Data blog at
climate.gov
has more: "
While things are definitely better than they were three months ago, lots of drought remains in the West. The water situation, especially the groundwater situation, is still pretty tough... The good news is that there is a very healthy snowpack on the western mountains right now, especially compared to recent years. However, there are still groundwater wells that are moving in the wrong direction in parts of California, particularly southern California. The latest rains literally have not had time to filter down to replenish aquifers. And even when they do, they will be but a blip against the big picture. It's a point worth dwelling on: weeks of rain will relieve wildfire and agricultural impacts, but we need seasons to years of rain to restore groundwater.
"
Low Great Lakes Ice Cover
As of the latest update from the Great Lakes Environmental Research Lab, only 13.4% of the Great Lakes have ice cover as of Friday. That is actually up from where we were at at this time last year, when only 7.8% of the lakes were covered. However, it can be a completely different story - back in 2015, 57.8% of the Great Lakes were covered. The Great Lake that has the most ice cover at the moment is Lake Huron, which is 25.2% covered.
And the lack of ice on the Great Lakes likely will mean bad news for anyone that would want to get out and see the ice caves in the Apostle Islands. This webcam image from Friday shows very little ice on the lake in the area of the ice caves, and the overall upcoming weather pattern likely will mean it won't happen this year.
You can see this facebook post by clicking here
.
________________________________________________
Thanks for checking in and have a great Sunday! Don't forget to follow me on Twitter (@dkayserwx) and like me on Facebook (Meteorologist D.J. Kayser)!
 - D.J. Kayser