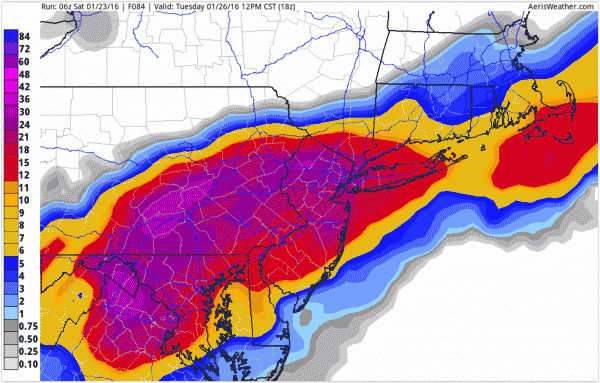 Snowfall total prediction: AerisWeather.
Aeris Weather SitRep: Saturday, January 23, 2016.
* As expected, the storm is turning out to be even more formidable than models were hinting a few days ago: more snow, more wind, more coastal storm surge flooding and subsequent damage and displacement.
* State of Emergency for New York City. Buses stop at noon, sporadic subway service.
* Snow falls at the rate of 1-3"/hour with thunder and lightning possible - making it impossible for road crews to keep even interstates clear.
* Transit shut-downs in New Jersey, Philadelphia and Baltimore.
* 150,000 without power in North Carolina.
* Storm surge flooding may rival "Sandy" for portions of the New Jersey shore, where record flooding has been reported in some communities.
* Heaviest snow bands taper by 6-7 PM this evening from D.C. to Philadephia to New York City; by then an additional 6-10" may have fallen.
* Boston on the northern fringe of the storm; 2-4" expected with relatively minor impacts.
---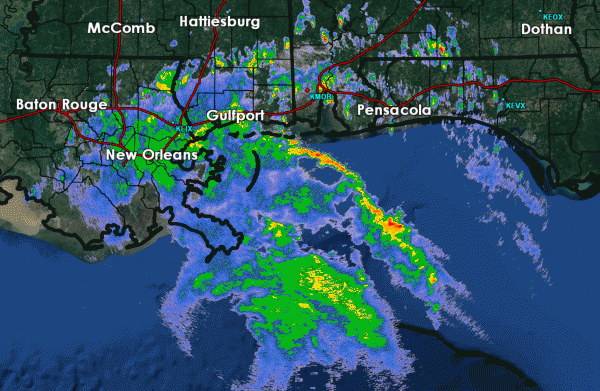 Tracking a Monster. Doppler radar shows a swath of heavy snow continuing to fall from central Virginia into D.C. and Baltimore, Philadelphia and metro New York City. I expect another 8 hours of moderate snow before the heaviest bands push out to see after 6-8 PM this evening. Map: AerisWeather.
---
Road Conditions. Our internal models monitor real-time road conditions. Stating the obvious: roads are virtually impassable from northern Virginia into Maryland, the southeast half of Pennsylvania, central and northern New Jersey, the NYC metro area and southern Connecticut. Map: Aeris Enterprise.
---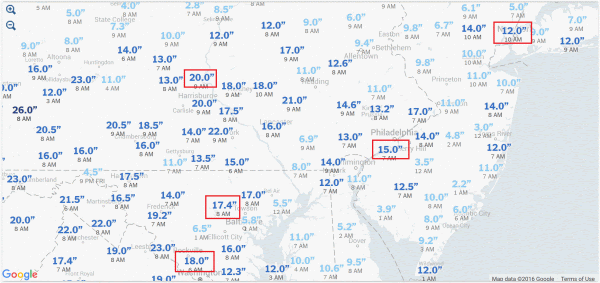 Real-Time Snow Amounts. NYC has picked up a foot, with snow falling at the rate of 2"/hour. Philadelphia reports 15" with 17-20" already reported in the D.C. and Baltimore area. Harrisburg has 20" with close to 3 feet already on the ground across southern PA. Latest snowfall amounts are here. Source: New York Times and NOAA.
---
Echoes of Sandy. Based on some of the reports I'm seeing coastal flooding may rival Sandy along some stretches of the Delaware and New Jersey coastline. The storm surge was even greater than NOAA models predicted, in the 5-10 foot range for some communities. The damage and displacement is going to be considerable.
---
Record Storm Surge at Cape May. 9.4 feet marks a new record for Cape May. Extensive tidal flooding is being reported from Cape May, Wildwood and Ocean City northward to Sea Isle City.
---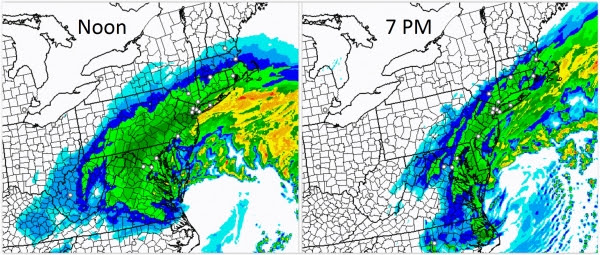 Heaviest Snow Bands Push East by 7 PM. High-resolution models seem to all confirm that the most intense snow bands will begin to move east of D.C., Philadelphia and New York City. Between now and then another 6-10" or more may fall, with totals in the 2-3 foot range for some communities. Map: NOAA.
---
Gradual Improvement Sunday. Heavy snow is still falling from Long Island to Nanntucket and Cape Cod at midnight, but the storm finally pulls out to sea Sunday morning. Source: NOAA.
---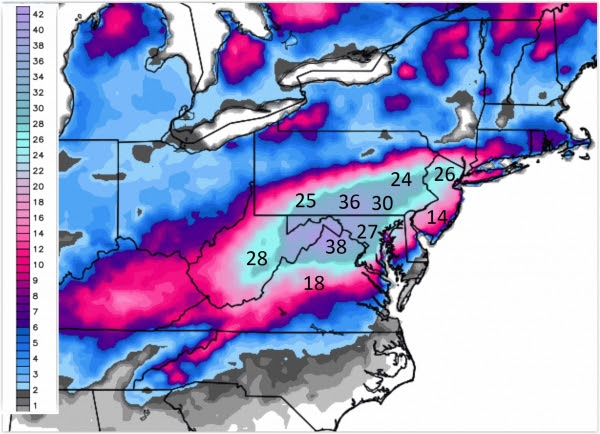 Jaw-Dropping Snow Totals. I have a hunch D.C. and New York will easily top 2 feet of snow, with 4-8 foot drifts in some areas. As much as 3 feet of snow may fall from Harrisburg and York to Johnstown, PA, up to 40" in the hills near Hagerstown and Charloettesville. Some towns will see a winter's worth of snow from this single system. Map: WeatherBell.
Summary: The good news: it's coming on a weekend, and highs topping 40F next week will help with snow removal and clean-up efforts. But that doesn't eliminate today's white-out conditions, impassable highways and closed airports and the dislocation involved. The coastal flooding, especially New Jersey, will emerge as perhaps the biggest longer-term impact from this blizzard, which resembles a tropical storm (with snow). Conditions slowly improve Sunday but many secondary roads won't be entirely passable until Tuesday of next week. 
Paul Douglas,  Senior Meteorologist, AerisWeather