November 11th, 1940 Armistice Day Blizzard
Did you know that the November 11th, 1940 Armistice Day Blizzard ranks as the #2 most significant Minnesota weather event of the 20th centry? It was voted on by members of Minnesota's climate community. These voters were provided with a list of candidate events and were encouraged to offer their own nominations. Here's what the came up with:
Here's a blurb from the MN Climate page regarding the #2 most significant Minnesota weather event of the 20th century - The November 11th, 1940 Armistice Day Blizzard:
"The Armistice Day Blizzard Ranks #2 on the Minnesota State Climatology Office Top five weather events of the 20th century. Ask any Minnesotan born before 1940 and they can tell you where they were during the Armistice Day Blizzard. The weather was relatively benign the morning of the November 11, 1940. Many people were outdoors, taking advantage of the mild holiday weather. The weather forecast that morning was for colder temperatures and a few flurries. Few people were prepared for what was to come. The storm started with rain, however the rain quickly turned to snow. By the time the blizzard tapered off on the 12th, the Twin Cities had received 16.7 inches of snow, Collegeville 26.6 inches, and 20-foot drifts were reported near Willmar. In all 49 Minnesotans lost their lives in this storm, many of them hunters trapped by the sudden turn of events."
_________________________________________________________________________
A January Surprise
GULP! Who wasn't ready for the bone-chilling temps this week? Oh my! The temperature on Saturday morning dropped to 11F at the MSP Airport, which was the coldest temperature we've seen since April 4th when the mercury dropped to 8F. Temps over the next few days will remain quite a bit below average, but the good news (for folks that aren't ready for the cold just yet), we are getting indications of a decent warmup as we head into the 2nd half of the month. Temps around Thanksgiving *could* be in the 40s... stay tuned!
Record Cold Across The Country on Saturday Morning
Thanks to coolwx.com for the image below, which shows all the locations that surpassed or where near record low temperatures on Saturday, November 10th. Note that a number of locations were in the Central US, where temps were nearly -15F to -25F below average! BRR!!
 ____________________________________________________________________________
Recent Cold Weather Making Ice on Area Lakes and Ponds
Ok folks - I know there A LOT of eager anglers excited that the recent cold blast has been making ice on area lakes and ponds, BUT please make sure you aren't putting yourself in danger on newly formed ice! The MN DNR has some basic guidelines on how thick the ice should be before you even think about stepping out onto the ice! Also remember that ice is NEVER 100% SAFE!
 _____________________________________________________________________________
The Sinking of the SS Edmund Fitzgerald - November 10, 1975
"On November 10, 1975 the SS Edmund Fitzgerald sank in Lake Superior. All 29 crew members died. At the time, it was the worst shipping disaster on the Great Lakes in 11 years. Other shipping disasters on the Great Lakes, in which weather played a role include:
Nov. 11, 1913: eighteen ships were lost killing 254 people.
Nov. 11-13, 1940: 57 men died when three freighters sank in Lake Michigan.
Nov. 18 1958: 33 men died on Lake Michigan with the sinking of the Carl D. Bradley.
Nov. 29, 1966: Daniel J. Morrell sank in Lake Huron killing the 28 crew members."
"..The lake it is said never gives up her dead
when the skies of November turn gloomy
With a load of iron ore 26,000 tons more
than the Edmund Fitzgerald weighed empty...."
See more from CIMSS at the University of Wisconsin for more Info:

__________________________________________________________________________
Weather Outlook Sunday - November 11th, 2018
High temps on Sunday will be VERY chilly for the early/middle part of November. In fact, these temps are more typical of early/mid December! High temps will range from the mid to upper 20s in southeastern MN, while highs in the northern part of the state will only top out in the lower 20s. These readings will be -10F to -20F below average.
______________________________________________________________________________
Temperature Outlook
Temperatures in the metro have been running nearly -5F below average so far this month and the next few days will continue to run significantly below average. In fact, temps through the middle part of next week look to continue to be more December-like. However, some of the extended forecast models are suggesting that temps will once again warm to at or even above average levels as we head into the 2nd half of the month. Note that temps around Thanksgiving could be around 40F if not in the low/mid 40s! Stay tuned...
_________________________________________________________________________
Weather Outlook Ahead

After a little weekend snow, things will be relatively quiet now through the much of the week ahead. Other than being cooler than average, much of the week looks to stay precipitation free with the exception of folks along the international border later this week.
Snowfall Potential
According to NOAA's NDFD, minor snow accumulations across the northern half of the state will wrap up early Sunday. Thanks to a quick moving clipper late Saturday into early Sunday, some 1" to 2" tallies have fallen up north, while the Twin Cities only had a minor coating. Note that winds are expected to increase on Sunday, so the fresh snow will blow around causing to reduced visibilities at times, again mainly up north.
 ________________________________________________________________________________
The November 11th, 1940 Armistice Day Blizzard
By Todd Nelson, filling in for Douglas
I wish I was better at remembering important dates and family birthdays. Unfortunately, I'm not. Must have been all the paint chips I ate as a kid? Other than my own birthday and when my own kids were born, I tend to forget just about everything else - Uffda! I do however, remember my grandma's birthday as it falls on a very memorable MN weather event.
The November 11th, 1940 Armistice Day blizzard ranks as the #2 most significant Minnesota weather event of the 20th century! She turned 8 years old that year and lived in Brainerd. No one showed up to her party and recalls her mom having to go to the Chicken coop to take care of the chickens before they froze. If she didn't return, she was directed to not go looking for her! The following day, 1 to 2 feet of snow had fallen across the state with 20 foot drifts near Willmar. Nearly 50 people died including hunters that were caught unaware of the foul weather that suddenly moved in - unreal!
Other than lingering cold and flurries today, it'll be a good party day! Happy Birthday Grandma!
_____________________________________________
Extended Forecast
SUNDAY: Veterans Day Flurries. Winds: WNW 10-15. High: 29.
SUNDAY NIGHT: Scattered flurries early. Mostly cloudy and cold. Winds: WNW 5-10. Low: 16.
MONDAY: December-like. More peeks of PM sun. Winds: NW 5-10. High: 22.
TUESDAY: Chilled sunshine. Winds: WNW 5-10. Wake-up: 10. High: 23.
WEDNESDAY: November thaw. Above freezing again. Winds: SSW 10-15. Wake-up: 13. High: 38.
THURSDAY: Sunny start. Clouds thicken late. Winds: WSW 5-10. Wake-up: 30. High: 43.
FRIDAY: Chilly again. A few lingering flakes. Winds: NW 10-15. Wake-up: 26. High: 36.
SATURDAY: Looking dry. Some sunshine. Winds: SSE 5-10. Wake-up: 23 High: 35.
______________________________________________________
This Day in Weather History
November 11th
1940: The Great Armistice Day Blizzard kills 49 people in Minnesota. Food dropped by Pilot Max Conrad saved stranded hunters. The barometer fell to 28.66 inches at Duluth. Some roads were so badly blocked with snow they weren't opened until Nov. 22.
_______________________________________________________
Average High/Low for Minneapolis
November 11th
Average High: 44F (Record: 64F set in 2005)
Average Low: 29F (Record: -1F set in 1986)
Record Rainfall: 2.52" set in 1940
Record Snowfall: 8.2" set in 1940
_________________________________________________________
Sunrise/Sunset Times for Minneapolis
November 11th
Sunrise: 7:05am
Sunset: 4:48pm
Hours of Daylight: ~9 hours & 43 minutes
Daylight LOST since yesterday: ~2 minutes & 30 seconds
Daylight LOST since summer solstice (June 21st): 5 hours and 48 Minutes
__________________________________________________________
Moon Phase for November 11th at Midnight
3.3 Days Before First Quarter Moon
_________________________
What's in the Night Sky?
According to EarthSky.org this is what will be visible in the night sky over the next several nights: 
"This weekend – Saturday, November 10, and Sunday, November 11, 2018 – you'll find the moon and Saturn at early evening. More about the pair below. Also, the North Taurid meteors at their best at and around the midnight hour. For the fun of it, on our chart at top, we also show you the whereabout of the dwarf planet Pluto. You won't see Pluto with the eye; it's about 2,000 times fainter than the dimmest visible star. The 2019 lunar calendars are here! Order yours before they're gone. Makes a great gift. About the North Taurids … A crescent moon in the west in the evening is a setting moon. So moonlight will not obstruct this year's North Taurid meteor shower. The moon (along with the planet Saturn) will set by early to mid-evening, while the North Taurids will fly most abundantly for several hours, centered around 12:30 a.m. local time (the time on your clock no matter where you are on the globe). This shower offers perhaps five or so meteors per hour, but it's known for producing fireballs. Click here for tips on watching the Taurids."
See more about the meteor shower HERE:
 _______________________________________________________________________
"Weather Model For Predicting Severe Storms Is Helping Fight California Wildfires"
"The wildfires in California have been utterly remarkable and equally destructive. Cal Fire reported on November 9th that the Camp Fire had surpassed 90,000 acres but was only 5 percent contained. At the time of writing, nine people were confirmed dead in the Northern California fire. Tragically, some of the bodies were found inside their cars, according to officials.  For the first time in a decade, Sacramento County put restrictions on burning from fireplaces and wood stoves because of a wildfire. Unhealthy air is a significant problem in fire-impacted regions. Further down the California coast, the Woolsey Fire, powered by Santa Ana Winds (see article by my colleague Trevor Name) and dry conditions, has forced over 250,000 evacuations as it spreads to the coast. Courageous firefighters and officials are risking their lives to battle the blazes, but so is an interesting blend of weather satellite data and the popular HRRR weather forecast model."
 _____________________________________________________________________________
California Wildfires Continue to Rage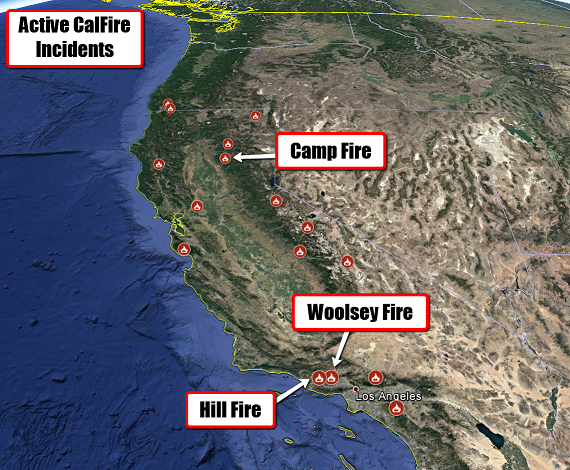 Fires Burning Across California. Three major wildfires broke out in California Thursday – the Camp Fire in northern California, as well as the Woolsey and Hill fires in southern California. These fires quickly spread Thursday and Thursday night across the region due to high winds and low humidity values. This fire has consumed nearly 100,000 acres as of Saturday morning and was only 20% contained. 9 people have died and nearly 7,000 structures have been destroyed, making it the most destructive wildfire in California state history! Thousands of residents still remain under evacuation orders.
Camp Fire. The Camp Fire has been quickly spreading across parts of Butte County after being ignited around 6:30 AM Thursday. At times this fire has been burning at a rate of approximately 80 football fields per minute. Cal Fire says that much of the community of Paradise has been destroyed, with at least several hundred buildings gone and an additional 15,000 structures in the region threatened. Butte County officials have said at least 9 people have died and the exact number is unknown. Numerous evacuation orders are in place for areas including Paradise, Magalia, Concow, Butte Creek Canyon, Butte Valley, Stirling City, Inskip, and Chico. This fire has burned at least 20,000 acres as of last night and is 0% contained.
More information is available from:
Woolsey And Hill Fires. The Woolsey Fire across parts of Los Angeles and Ventura Counties continue to rage, burning approximately 35,000 acres as of AM Saturday. The fire is 0% contained. This fire continues to spread rapidly and nearly 75,000 homes in Los Angeles and Ventura Counties are under either mandatory or voluntary evacuation orders, including a voluntary evacuation in parts of the city of Los Angeles.
More information is available from:
Also burning in southern California is the Hill Fire, which started Thursday afternoon in Ventura County and jumped the 101 Freeway within 12 minutes of starting. As of AM Saturday, 4,50 acres have burned with over 1,200 homes evacuated. It is expected to burn all the way to the ocean. Camarillo Springs and Cal State Channel Islands have been evacuated. This fire is burning in the footprint of the Springs fire from a few years ago.
More information is available from:
Fire Danger Continues Sunday and Monday. Extreme and critical fire danger will continue Sunday and Monday across parts of California in association with a strong Santa Ana wind event across parts of Ventura and Los Angeles Counties down into the southern California valleys, coastal foothills, mountains, and Orange County. Across these areas, wind gusts of 40-70 mph will be possible. These winds, along with low humidity values, will allow any fires that either ignite or are ongoing to quickly spread. Across northern California, elevated fire conditions will continue through early next week.
_________________________________________________________________________
3-7 Day Hazard Forecast
1.) Heavy rain from the eastern Gulf coast northeastward across the Southeast, mid-Atlantic, and Northeast, Mon-Tue, Nov 12-13.
2.) Heavy snow across portions of the Great Lakes and interior Northeast, Tue-Wed, Nov 13-14.
3.) Periods of heavy precipitation for south-central and southeastern (including the Panhandle) portions of Alaska, Mon-Fri, Nov 12-16.
4.) Much below normal temperatures shift eastward with time from the Great Plains to the Appalachians, Mon-Tue, Nov 12-13.
5.) Much below normal temperatures for most areas east of a line stretching from the central Great Lakes to the Middle Mississippi Valley to the southern Plains, Wed-Thu, Nov 14-15.
7.) Critical wildfire risk for southern coastal California, Mon, Nov 12.
8.)High Winds for south-central and southeastern (including the Panhandle) portions of Alaska, Mon, Nov 12, and Thu-Fri, Nov 15-16.
9.) High significant wave heights for south-central and southeastern (including the Panhandle) portions of the Alaska coast, Mon, Nov 12, and Thu-Fri, Nov 15-16.
10.) Flooding possible, and occurring/imminent across portions of the Lower Mississippi Valley, the Southern Plains, and the northern mid-Atlantic.
11.) Slight risk of much below normal temperatures for most of the eastern third of the CONUS, the Lower Mississippi Valley, and portions of Texas, Sat-Mon, Nov 17-19.
12.) Moderate risk of much below normal temperatures for the Northeast, Sat-Mon, Nov 17-19.
13.) Severe Drought across the Central Plains, the Central Rockies, the Northeast, the Central Great Basin, the Northern Plains, the Southern Plains, the Northern Great Basin, the Southern Rockies, California, the Northern Rockies, the Alaska Panhandle, the Pacific Northwest, and the Southwest.

____________________________________________________________________________
 Temperature Outlook Sunday - November 11th
High temps on Sunday will still be VERY chilly across much of the nation with high temps running well below average. Note that many from the Rockies to the Eastern Coast will be nearly -10F to -20F below average. The only warm spots will be in Florida and California where readings will be above avearge.
 ________________________________________________________________________
Temperature Trend
Here's the temperature outlook over the next few days. Note the very chilly blues and purples showing up across much of the nation through the first half of the week. These temps will certainly be more winter-like, but there is a warmup on the way across the West Coast and the Upper Midwest late next week. Extended models suggest a fairly decent stretch of warmer weather around Thanksgiving too!
8 to 14 Day Temperature Outlook
According to NOAA's CPC, November 17th - 23rd will be warmer than average across much of the western two-thirds of the nation. The only cooler than average spots will be in the Northeast and Alaska.
________________________________________________________________
Weather Outlook Ahead
Snow will continue to linger across the Great Lakes and Northeast on Sunday, while another clipper scoots across the international border. Another larger storm system looks to develop in the Southern US late weekend and early next week, which will bring areas of heavy rain and snow to the Southern US and eventually into the Eastern US through the early week time frame. 
___________________________________________________________________
7 Day Precipitation Outlook
According to NOAA's WPC, the 7-day precipitation outlook suggests heavy rains continuing across the Eastern US. Some locations could see upwards of 2" to 4"+ through the end of next week. Folks in the Western half of the country will stay mainly dry expect for folks in the Pacific Northwest.
Snow Potential
A developing storm system looks to bring areas of heavy snow along the Front Range of the Rockies to the Oklahoma/Texas Panhandle to the Northern New England states over the next few days. Some in the Northeast could see shovelable snow by the early/middle part of the week.
_______________________________________________________________________________
US Drought Outlook
Extreme and exceptional drought conditions continue across the western half of the country and especially the Desert Southwest. Much of the eastern two-thirds of the nation remains drought-free with the exception of a few areas.
_______________________________________________________________________
"NASA's 'quiet' sonic boom tests kick off in Texas, and could change air travel forever"
"Modern air travel is fast, but it could be a lot faster. As the Concorde demonstrated, supersonic air travel is totally doable but comes with a lot of compromises. One of those compromises has always been sound. When a jet passes the sound barrier it creates a deafening blast that shakes the ground beneath, but NASA is working hard to fix that. NASA believes it has the technology to create what it calls "quiet sonic booms" that allow aircraft to break the sound barrier without producing the intense clap that normally follows. The administration chose Texas as its testing grounds and just began performing test flights this week. NASA isn't quite ready to test its own actual quiet sonic booms yet, so this first round of testing will actually be performed by an F/A-18 research jet that will dive towards land and produce a boom that will be pretty quiet once it arrives. This "unique maneuver," as NASA describes it, is only meant to test how people and ground sensors hear the blast from above, which will help in determining how quiet a sonic boom as to be in order to be acceptable."
 ____________________________________________________________________________
"UN report reveals ozone layer on track for full recovery by 2060"
"Around 30 years ago, the world came together to attempt to mend a widening hole in the Earth's ozone layer, which plays a very important role in shielding us from the Sun's ultraviolet rays. A new report compiled by leading environmental agencies has revealed that this long-term healing strategy is continuing to pay dividends, though evidence is emerging that harmful compounds are still slipping through the cracks. It was in 1989 that the Montreal protocol on Substances that Deplete the Ozone layer was enacted, aiming to put a stop to the release of chemical compounds found in fridges, aerosols and dry cleaning products called CFCs. Some modeling suggests that if these compounds were simply left to eat away at the ozone layer, there could now be as many as two million extra skin cancer cases around the world each year."
___________________________________________________________________________
"Blasts from the past: how massive solar eruptions 'probably' detonated dozens of US sea mines"
"An extraordinary account of the impact space weather had on military operations in Vietnam in 1972 was found buried in the US Navy archives, according to a newly published article in Space Weather. On August 4, 1972, the crew of a US Task Force 77 aircraft flying near a naval minefield in the waters off Hon La observed 20 to 25 explosions over about 30 seconds. They also witnessed an additional 25 to 30 mud spots in the waters nearby. Destructor sea mines had been deployed here during Operation Pocket Money, a mining campaign launched in 1972 against principal North Vietnamese ports. There was no obvious reason why the mines should have detonated. But it has now emerged the US Navy soon turned its attention to extreme solar activity at the time as a probable cause. The more we can understand the impact of such space weather on technology then the better we can be prepared for any future extreme solar activity."
 _____________________________________________________________________________
"El Nino is Strengthening"
"We have known for a while that the tropical Pacific was transitioning from a neutral situation (near normal surface and subsurface temperatures in the tropical central/eastern Pacific) to an El Nino (above normal tropical ocean temperatures).  But during the past month, the warming has revved up and we will be officially in an El Nino very soon. And we care about this, because El Ninos tend to make it warmer than normal in the NW with less snow, with the effect stronger as the sea surface temperature warms. Lets  start by looking at the sea surface temperatures for some "official" areas of the tropical Pacific."
 ___________________________________________________________________________
"The worst storms on Earth are nothing compared to the weather on other planets"
"Sulfuric acid raining from the sky. Epic dust storms raging for months on end. And giant hurricanes that could swallow Earth whole. If you think Earth has some bad weather, think again. Now Mercury has little to no atmosphere, and therefore, no real weather to speak of. But you would feel the full brunt from the most powerful storms in our solar system called coronal mass ejections. These explosive storms form on the Sun and bathe Mercury's surface in high-energy radiation. So if the lack of oxygen and extreme temperatures don't kill you, the radiation certainly will. This isn't as much of a problem on Venus, however. After all, the entire planet is covered with clouds. Bad news is, they're toxic. These clouds rain sulfuric acid that's so corrosive it would eat through your skin on contact. On Mars the surface is rocky and desert-like. So wind can stir up loose soil, creating giant dust devils twice the height of Mt. Everest. But that's nothing compared to the dust storms that sometimes engulf the entire planet for months at a time."
 ____________________________________________________________________________

"Data From a Dead Satellite Reveals Lost Continents Under Antarctica"
"These gravity images are revolutionizing our ability to study the least understood continent on Earth—Antarctica. The new research, published in Scientific Reports, sheds light on the murky geological history of Antarctica over the past 200 million years, and condenses it in this 24-second animation. The video reconstructs the tectonic fallout of Antarctica splitting from the bygone landmass of Gondwana, which was one subsection of the supercontinent Pangaea. Beginning around 180 million years ago, the core landmasses of Antarctica, India, and Australia broke off from Gondwana, and slowly shifted to their current locations."
 _____________________________________________________________________________
Thanks for checking in and don't forget to follow me on Twitter @TNelsonWX