March Madness? The Northeast Is Getting Socked Again

"It's snowing on the first day of spring, Paul. How does that make you feel?" a friend inquired. Like a Minnesotan, I answered. March is a fickle month. Blizzards and 80s and everything in-between.

In spite of yesterday's icy coating of snow we are Club Med, compared to the northeastern USA. The 4th Nor'easter in 3 weeks may drop a cool foot of snow from Philly to New York and Boston, with power  outages and coastal flooding. Our weather travesties are relatively minor-league.
A higher sun angle kept most roads wet during the daylight hours yesterday, in spite of freezing temperatures. One more sign of a reluctant spring ramping up.
The sun makes a cameo appearance today and Thursday before the next smear of rain arrives late Friday. A changeover to wet snow is possible Saturday before tapering - Sunday looks like the drier day of the weekend. I see 40s and a few 50s as we end March and sail into April.
The first severe thunderstorms are less than a month away. April should bring 60s and the first touch of greenery but there is precious little need for shorts or T-shirts close to home anytime soon.
---
Staggering Into Spring. Limping, creeping? Not sure, but I'm happy to see more 40s than 30s from ECMWF looking out into early April. Not exactly a warm front, more of a not-as-cold front. Twin Cities numbers: WeatherBell.
---
Zonal Start to April. GFS guidance is not terribly consistent (hardly shocking for a 2-week outlook at 500mb) but the latest iteration suggests a seasonably mild, Pacific flow for much of the USA as we head into April.
---
La Nina Forecast to Fade During Spring. A cool phase of Pacific Ocean water was probably one of many factors keeping the northern tier of the USA colder than average in recent months. That signal is forecast to fade, according to NOAA's Climate.gov: "La Niña is loosening its grip on the tropics. Sea surface temperatures in the central and eastern tropical Pacific remain cooler than average, but the typical La Niña wind and rainfall anomalies have faded. Conditions are likely (55% chance) to return to neutral by the March-May season. The next update will be on April 12."
---
Praedictix Briefing: Issued Tuesday, March 20th, 2018:
The fourth coastal storm in the past three weeks will impact the Northeast and Mid-Atlantic

tonight

through

Thursday

.
The main impacts with this Nor'easter will be heavy snow and minor to moderate coastal flooding. Gusty winds are also expected.
Weather guidance has come into better agreement over the past day on the potential of heavy snow of at least 5-12" from parts of the Appalachians into the Northeast, including some of the major cities along the I-95 corridor like Washington D.C., Philadelphia, New York City, and Boston.
Minor to moderate coastal flooding can be expected from Maryland to Massachusetts at high tide

tonight

through

Thursday

.
Strong winds are also expected during this system, especially near the coast. High Wind Watches are in effect for parts of coastal Massachusetts and Rhode Island.
We're also tracking heavy rain moving into California through the middle of the week. Parts of Southern California are under a Flash Flood Watch due to the potential of flash flooding and mud slides in burn scar areas.
Additional severe weather is expected across the Southeast today, where an Enhanced Risk of severe weather is in place from central Florida to southeastern North Carolina.
---
Another Nor'easter. Here we go again – another coastal storm will impact the Northeast as we head through the middle of the week with heavy snow, strong winds and coastal flooding. By this evening snow will already be impacting areas from the Ohio Valley into the Mid-Atlantic as this system forms off the Mid-Atlantic coast. Snow will fall in areas like Washington D.C., Baltimore and Philadelphia overnight, arriving in New York City around the Wednesday morning commute. Snow will fall heavily throughout Wednesday along the I-95 corridor from D.C. to Boston, and finally start to taper off in D.C. and New York City Wednesday Night. Snow will start to end in Boston early Thursday morning.
---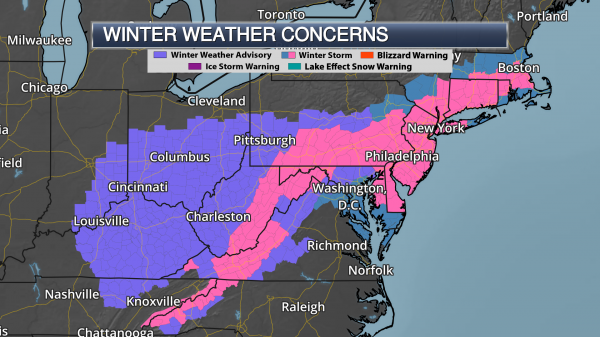 Winter Weather Concerns. Numerous Winter Storm Watches and Warnings and Winter Weather Advisories are in effect from the Ohio Valley and Appalachian Mountains into southern New England in association with this system. The heaviest snow will fall where Winter Storm Warnings are in effect, with snowfall totals of at least 5-6" expected. In some of these warning areas, snowfall totals could end up being over a foot by the time the snow ends. Here's a breakdown of alerts in place for some of the larger cities in the Northeast this morning:
Washington D.C. and Baltimore are under a Winter Storm Watch from

Midnight

tonight

to

8 PM

Wednesday

. Total snow accumulations of 5"+ are possible.
Philadelphia is under a Winter Storm Warning from

6 PM

this evening to

2 AM

Thursday

. Total snow accumulations of 8-13" are expected.
New York City is under a Winter Storm Warning from

Midnight

tonight

to

8 AM

Thursday

. Total snow accumulations of 12-16" are expected.
Boston is under a Winter Storm Warning from

8 AM

Wednesday

to

8 AM

Thursday

. Total snow accumulations of 10-14" are expected.
---
Expected Snowfall. The heaviest snow is expected to fall from Philadelphia to New York City to Boston, where snow totals could approach – if not exceed – one foot through Thursday. Difficult to impossible travel conditions can be expected across the region Wednesday into at least early Thursday, with reduced visibilities and snow covered roads. Map credit: AerisWeather and Praedictix.
---
Coastal Flood Concerns. This coastal storm will also produce flooding along the coast at high tide once again. Inundations of 1-4 feet can be expected starting tonight going into Thursday morning, which will cause flooding of roads and low lying property near the coast. Some Coastal Flood Watches, Warnings and Advisories have been issued from coastal Maryland to Massachusetts.
---
Minor To Moderate Coastal Flooding. A wide area of minor to moderate flooding is possible at high tide through the middle of the week at coastal flood gauges, as is shown here in this graphic from NOAA and the USGS.
---
Gusty Winds Expected. Even though wind gusts aren't expected to be as strong along the coast as they have been in recent coastal storms, we could still see the potential of power outages and tree damage. Some of the strongest winds are expected Wednesday into Wednesday Night.
---
High Wind Watches. The strongest winds are expected in coastal areas of Massachusetts and Rhode Island Wednesday into Wednesday Night, with winds up to 60 mph possible. Due to the high wind potential, High Wind Watches have been issued. This could cause damage to trees, powerlines and property in the region.
---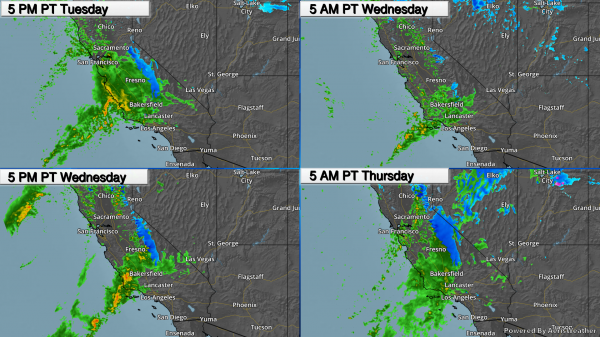 Tracking Heavy California Rain. An atmospheric river event is expected to set up across California, especially in southern portions of the state, through the middle of the week before a cold front moves through. This will bring the heaviest rain event to Southern California so far this winter. The heaviest rain across the region is expected Wednesday Night into Thursday.
---
Burn Scar Concerns. This heavy rain will impact recent burn scar areas across Southern California, including around the Thomas Fire burn scar. Other rain events so far this winter have already caused mud slides in some of these burn scars, so we can expect the same this time around. (Graphic: National Weather Service Los Angeles).
Mandatory Evacuations for parts of southern California. Details from CBS Los Angeles.
---
Flash Flood Watches. In the Los Angeles area, Flash Flood Watches have been issued for recent burn scar areas due to the potential of very heavy rain that could lead to flooding and mud slides. Flash Flood Watches in these areas may be extended to include non-burn scar areas. Across central California, these watches are in effect Wednesday to Thursday as heavy rain with additional snow melt could cause flash flooding as well as debris flows (mainly in burn scar areas).
---
Expected California Rain. Rainfall amounts of a half an inch to an inch per hour are possible, especially during the heaviest period of rain Wednesday Night into Thursday. This long-duration rain event will bring the potential of up to 10" of rain, especially in foothills and mountains in and around the Los Angeles area. Due to this heavy rain, flash flooding and debris flows – especially in recent burn scar areas – are likely.
---
Expected Rain Around Los Angeles. A widespread 1-4" of rain is expected across the Los Angeles area through Thursday evening, with the potential of up to 5" in coastal and valley areas. Again we will be watching the potential of flash flooding through the middle of the week.
---
Severe Threat Today. Another day of severe weather is likely today across portions of the Southeast. An Enhanced Risk of severe weather is in place from central Florida to southeastern North Carolina, including the cities of Jacksonville, Tampa, and Orlando (FL), as well as Savannah (GA) and Charleston (SC). Damaging winds, large hail, and a few tornadoes will be possible with storms throughout the day across this region.
Summary. A plethora of impactful weather will occur though the middle of the week across the country. The fourth coastal storm in three weeks will bring parts of the Northeast, including major cities from D.C. to Boston, heavy snow of 5-12"+ through Thursday. Gusty winds and minor to moderate coastal flooding is also expected. Heavy rain across parts of California, including in the Los Angeles area, will lead to the potential of flooding and mud slides, especially in recent burn scar areas. We are also tracking the potential of severe weather from Florida to North Carolina today, including damaging winds, large hail, and a few tornadoes.
D.J. Kayser, Meteorologist, Praedictix
---
What is a PDS Tornado Watch? Late yesterday NOAA SPC issued the first moderate threat of the season, and that was quickly followed by the issuance of a PDS Tornado Watch. Here's an excerpt of a good explanation from Forbes: "...Watches are common. PDS watches are rare. The expert forecasters in charge of issuing these watches don't have a set criteria to add this kind of wording to a tornado watch or severe thunderstorm watch. The issuance of one of these watches "is subjective with no hard criteria," according to the Storm Prediction Center. Unfortunately, these forecasts don't bust very often. When there's a PDS watch, you know that someone somewhere is about to see some of the most dangerous weather nature can produce. A PDS Tornado Watch is issued when multiple strong, long-track tornadoes are expected to develop in or around the watch area. Some of the worst tornadoes in American history developed within watches with this enhanced wording attached to them..."
---
The Message Could be Better. The words forecasters choose mayy be just as important as timely, accurate warnings, according to a post at WIBC.com in Indianapolis: "...McLain spoke about the importance of research into how the National Weather Service communicates warnings to people, and how changes in wording could help. "I think we need to try to get in their shoes, understand their lives and their livelihoods and the kinds of vulnerabilities they experience." She said her research shows that people who die in tornadoes are disproportionately poor. The year 2011 was one of the deadliest in decades. She said that people who live in manufactured housing, or trailers, are more vulnerable for several reasons..."
File image: 2011 in Concord, Alabama. National Weather Service.
---
Why 2 Tornadoes 70 Years Ago This Week Are the Most Important in U.S. History. The Weather Channel explains: "...Before then, public tornado alerts were banned for fear of causing unneeded panic. When analyzing surface and upper-air data from other outbreaks, Fawbush and Miller noticed large-scale weather patterns common to each event. A few days later, on the morning of March 25, the pair noticed that a similar weather pattern was setting up that day and concluded that a tornado threat existed again in central Oklahoma that afternoon. Then it was a question of confidence. After consulting Fred Borum, commanding general of the Oklahoma City Air Material Area, a forecast for "heavy thunderstorms between 5 and 6 p.m." was issued for the base. "You are about to set a precedent," Gen. Borum told the men..."
File photo credit: "A large airplane destroyed by the second Tinker Air Force Base tornado on March 25, 1948, just five days after the first. This tornado was preceded by the first tornado warning ever issued." (NOAA Photo Library)
---
How the Mighty Mississippi Became a Flooding Nightmare for Millions. The Washington Post reports: "...In the past seven years, the Mississippi River Valley has been hit with 100-, 200- and 500-year floods — ones that had a 1 percent or less chance of happening in each timespan — that caused damages of more than $50 billion. Disasters along the river "have become persistent and systemic," noted a group representing 75 cities from 10 states in a report last year. The White House response sketched out in Trump's infrastructure plan is inadequate, said the group, the Mississippi River Cities and Towns Initiative. It actually makes it harder to fund new flood protections by slashing the federal government's project cost-sharing from the current 50 to 80 percent down to 20 percent, said Colin Wellenkamp, the group's executive director. So for every $1 in federal funds, local and state governments would need to chip in $4..."
---
Six Freaky and Terrifying Kinds of Severe Weather. MSN.com has an interesting post, including news of volcanic lightning: "...Contrary to what you might imagine, the incandescent shot below is not part of a Swedish Viking metal album, although we would forgive you if that was your original assumption. It was shot by photographer Oliver Spaltin 1995, at a safe distance from Indonesia's Mt. Rinjani, one of the archipelago nation's many, many volcanoes. Volcanic eruptions are catastrophic and awe-inspiring enough, so the addition of a few bolts of lightning kind of seems like overkill, but they do happen, although the process that creates them is not 100 per cent understood. They could be a by-product of what meteorologists call 'dirty thunderstorms.'..."
Photo credit: The Weather Network: News.
---
Losing Access to Weather Data Means the Next Storm Could Be a Lot More Deadly. Careful with the spectrum that may be auctioned - losing it may have unintended and potentially tragic consequences. Here's an excerpt of an Op-Ed at TheHill: "...Nestled in the FCC's budget proposal for fiscal years 2018 and 2019 is a plan to auction a portion of spectrum, between 1675 and 1680 MHz, which is currently allocated for weather satellites. An auction would void the government's exclusive use of the frequencies, requiring sharing and causing interference with a mobile network operating on stronger signals. Currently, data from GOES-R is delivered to users almost instantly, because seconds matter when dealing with hazardous weather. The advanced imagers on GOES-R and GOES-S can capture evolving storms up to every 30 seconds. This succession of images is critical because volcanoes can erupt, tornadoes can form, and wildfires can spread in an instant..."
---
Big Improvement in Predicting Drought-Busting Atmospheric Rivers. A story at Water Deeply caught my eye; here's a snippet: "...New research in the last few years has uncovered some of the mystery behind atmospheric river storms, helping to predict storm timing and intensity. Now a new study by scientists at Colorado State University in Fort Collins has revealed a way to predict atmospheric river storms as much as five weeks in advance. That's well beyond what current tools allow, and it could provide enough lead time to make important decisions about water management. The method describes a new way to interpret two other large-scale weather phenomena – the Madden-Julian oscillation (MJO) and quasi-biennial oscillation (QBO) – as a signal for atmospheric river events..."
---
---
Bomb Cyclones, Nor'easters, and the Messy Relationship Between Weather and Climate. Amen to that. The New Yorker attempts (and succeeds) in connecting the dots; here's an excerpt: "...Francis had already noted, in 2009, that the jet stream was weakening, especially after summers when Arctic sea ice was at record lows. She proposed that Arctic warming was the culprit, positing that higher temperatures decreased the pressure gradient between the North Pole and the midlatitudes, sapping the jet stream of its energy. Building on that research, Francis and Vavrus found that, in the previous three decades, as the Arctic heated up, the jet stream's amplitude—the distance it strayed north and south in its journey around the globe—had grown in the fall and winter by about ninety miles. This increased waviness, they suggested, meant that the eastward progression of weather patterns embedded in the jet stream could also be slowing down, causing, among other things, frigid blobs of polar air to linger over the East Coast and heat spells to persist in the West...."
* Click here to see a YouTube interview with Dr. Jennifer Francis, examining the possible link between rapid arctic warming and changes in the configuration of the jet stream over time.
---
Taps Run Dry in Water Summit City in World's Wettest Nation. Bloomberg reports: "Delegates to the World Water Forum that kicked off in Brasilia on Monday are unlikely to suffer from water shortages during their stay, unlike many of the city's residents who've endured rationing for up to 2 days a week for over a year. And the rationing isn't restricted to the nation's capital. Last year at least a quarter of Brazilian municipalities faced water shortages. Even in Belem, a city nestled on the greater Amazon river system, water service is frequently interrupted, due in part to poor infrastructure. Brazil has the largest fresh water reserves in the world, including the massive underground Guarani aquifer it shares with Paraguay and Argentina. Yet a combination of droughts, population growth, and mismanagement have drained water reservoirs more frequently in recent years. In Sao Paulo in 2014 those reservoirs dwindled to little more than pools of mud. Brazil's situation, which mirrors crises such as that in Cape Town only on a much bigger scale, is a warning to other countries that putting off water resource management means a massive bill down the line..."
Photo credit: "Jaguari Dam in Sao Paulo in 2014." Photographer: Paulo Fridman/Bloomberg.
---
Weather Behind Headaches, Sufferers Say. Weather may be just one of multiple factors that affect the onset and intensity of migraines, according to a story at MedicineNet.com: "...About 28 million Americans suffer from migraine headaches, with 25% of women and 8% of men experiencing one or more migraines over the course of a lifetime. In the survey of nearly 200 frequent headache sufferers, about one out of three reported limited travel because of headaches. Seventy-four percent said their ability to participate in outdoor activities had been restricted because of changes in weather, altitude, high winds, or bright lights. Atlanta-based neurologist Leslie Kelman, MD, tells WebMD that it is not clear how weather changes might trigger headaches, but some research suggests that they do. In one study reported in 2004, researchers compared headache calendars kept by patients who believed weather played a major role in their headaches to weather data from the National Weather Service..."
---
A Super-Sized Allergy Season? CBS News reports on new research showing that a longer growing season is leaving more Americans sneezing and wheezing: "...According to the Centers for Disease Control and Prevention, more than 50 million Americans suffer from allergies each year. While allergies are more common in children, they can occur for the first time at any age. With allergy seasons growing longer and more intense, experts say many people are developing seasonal allergies for the first time well into their adulthood. Shapiro said many of his patients' symptoms are more severe than in the past, and he expects the trend to continue, as well..."
---
RENEWABLES: From Climate Nexus: "Solar power capacity in Texas expected to double, making life tougher for power companies (Houston Chronicle), Minnesota company to build wind farm in central Montana (AP), solar project targets struggling households (Detroit News), nearly 1,000 solar panels installed on Winnebago reservation (Lincoln Journal-Star), global energy giants forced to adapt to rise of renewables (The Guardian), solar-panel makers have just hours left to avoid Trump's tariffs (Bloomberg), Lynn Jurich's company has become a giant in the residential solar industry (LA Times $), the biggest solar parks in the world are now being built in India." (LA Times $)
File image: TechCrunch.
---
Can You 3-D Print a Car? And keep the cost under 10K? One company seems to think so, according to South China Morning Post: "
X Electrical Vehicle, from Italy, says it is edging closer to mass production in China of its low-speed 3D-printed cars, which could now be hitting the streets by the second quarter of 2019...The company claims it is the world's first mass-produced 3D-printed electric vehicle, and that it has received 7,000 orders from companies including postal service providers. Nearly all its visible parts are 3D-printed except for its windows, tyres and chassis. 3D printing is a manufacturing process where materials are joined or solidified under computer control to create three-dimensional objects
..."
---
New IBM Report Predicts 5 New Technologies That Will Change the World in the Next 5 Years. Here's a clip from a story at BGR.com: "...AI-powered robot microscopes — networked in the cloud and deployed worldwide — will be robust enough to monitor in real time the health of water sources like oceans around the globe. Though artificial intelligence systems are only as good as the data they're trained on, we'll see an explosion in "biased" AI. Quantum computing is going mainstream. In five years' time, it will be a critical piece, for example, of a computer engineering degree. It will move beyond the research lab and new categories of professionals, developers and students will emerge. So-called lattice cryptography will be used to fight cyberattackers. That cryptography method, according to IBM, is built on an underlying architecture "that hides data inside complex algebraic structures called lattices..."
File image credit: Future of Life Institute.
---
What Kills Americans? Heart disease and cancer, by a country mile. Morbidly fascinating; here's an excerpt of a breakdown of the raw data from Our World in Data: "What do people in the United States die from? In the chart below we see its breakdown of deaths in 2016. Compared with the global data, a larger share of deaths is caused by non-communicable diseases (NCDs) — accounting for almost 90 percent of mortality — and much lower occurrence of preventable deaths such as diarrheal disease, undernutrition, and neonatal deaths. This is a common pattern across high-income countries: prosperity, high living standards, good healthcare systems (although there are large inequalities in healthcare access in the US when compared with other rich countries) have seen a successful decline in largely preventable mortality risks. The majority of deaths in high-income countries therefore relate to to so-called 'lifestyle diseases', including NCDs, kidney, liver, and digestive diseases, or those which typically occur in older age (such as Alzheimer's and other dementias)..."
---
Europe's New Privacy Law Will Change the Web, and More. The Europeans are way ahead of the USA when it comes to online privacy. Here's a clip from a story at WIRED.com: "...Instead, companies must be clear and concise about their collection and use of personal data like full name, home address, location data, IP address, or the identifier that tracks web and app use on smartphones. Companies have to spell out why the data is being collected and whether it will be used to create profiles of people's actions and habits. Moreover, consumers will gain the right to access data companies store about them, the right to correct inaccurate information, and the right to limit the use of decisions made by algorithms, among others. The law protects individuals in the 28 member countries of the European Union, even if the data is processed elsewhere..." (File image: LinkedIn).
---
Minneapolis: 3rd Most Expensive City in North America? Huh? I beg to differ, having spent time in Chicago and Seattle. Here's a clip from Star Tribune: "...Minneapolis has been ranked the third most expensive city in North America, according to a study by the Economist magazine. It was ranked the 26th most expensive in the world, the study said. The City of Lakes was topped only by New York (first place) and Los Angeles (second), with Washington, D.C., San Francisco, Chicago and Vancouver trailing behind. While those rankings might not seem right to many Minneapolis residents, the real estate website Zillow said the median home value in Minneapolis is more than $244,000. Home values have gone up 5.8 percent over the past year, Zillow said, and are expected to rise 3.9 percent within the next year..."
Photo credit: "The Minneapolis City skyline including City Hall seen from the back of the U.S. District Court." Glen Stubbe, Star Tribune.
---
What's Up With "Steve"? A New Kind of Aurora Demystifed by Scientists. Aurora-chasing? Who knew? Here's an excerpt of a very good explainer at ZME Science: "...A band of dedicated Canadian aurora chasers was among the first who took pictures of Steve. The aurora feature was first posted on the Facebook group Alberta Aurora Chasers in 2016 and, initially, most thought they were looking at a 'proton arc' — another rare type of aurora, which isn't caused by electrons hitting Earth's magnetic field but by more massive protons following a solar flare. Eric Donovan from the University of Calgary was one of the first scientists who probed Steve, a 25 to 30 kilometer (15 to 18 miles) wide arc that aligns east-west and can extend over hundreds of miles. He recognized that this wasn't a proton arc for a number of reasons, including the fact that a proton aurora is hardly visible..."
Photo credit: NASA Goddard Space Flight Center.
---
4/10ths of an inch of snow fell at MSP International Airport on Tuesday.
33 F. maximum temperature yesterday in the Twin Cities.
43 F. average high on March 20.
56 F. high on March 20, 2017.
March 21, 1953: A tornado hits the northern St. Cloud area. High winds from thunderstorms are experienced from Martin to Stearns County.
---
WEDNESDAY: Peeks of sun. Winds: S 3-8. High: 41
WEDNESDAY NIGHT: Partly cloudy. Low: 27

THURSDAY: Mix of clouds and sun. Winds: E 5-10. High: 46

FRIDAY: Clouds increase, rain arrives late. Winds: E 10-15. Wake-up: 30. High: 47

SATURDAY: Rain ends as a period of snow. Winds: E 10-15. Wake-up: 35. High: 39

SUNDAY: Skies brighten. Drier day of weekend. Winds: SE 7-12. Wake-up: 30. High: 48

MONDAY: Unsettled, rain showers likely. Winds: SE 10-15. Wake-up: 34. High: 45

TUESDAY: Clouds linger, another shower or 2. Winds: E 5-10. Wake-up: 35. High: 47
---
Climate Stories...
The Arctic's Carbon Bomb Might Be Even More Potent Than We Thought. Chris Mooney reports for The Washington Post; here's an excerpt: "For some time, scientists fearing the mass release of greenhouse gases from the carbon-rich, frozen soils of the Arctic have had at least one morsel of good news in their forecasts: They predicted most of the gas released would be carbon dioxide, which, though a greenhouse gas, drives warming more slowly than some other gases. Scientists obviously weren't excited about more carbon dioxide emissions, but it was better than the alternative: methane, a shorter-lived but far harder-hitting gas that could cause faster bursts of warming. Now even that silver lining is in doubt. Research released Monday suggests that methane releases could be considerably more prevalent as Arctic permafrost thaws. The research finds that in waterlogged wetland soils, where oxygen is not prevalent, tiny microorganisms will produce a considerable volume of methane, a gas that doesn't last in the air much more than a decade but has a warming effect many times that of carbon dioxide over a period of 100 years..."
Photo credit: "In this 2009 photo, a hill of permafrost "slumps" from global warming near the remote, boggy fringe of North America in Canada's Northwest Territories, 1,400 miles from the North Pole." (Rick Bowmer/AP).
---
The Future May Hold Twice as Many Heat Waves. Miami Herald has a summary of new research: "...In 1995, a heat wave killed more than 1,000 people in Chicago. In 2010, more than 55,000 died when a heat wave sparked devastating wildfires in Russia. New research led by scientists at the University of Miami Rosenstiel School of Marine and Atmospheric Science and NOAA shows that the future holds more heat waves in the U.S., thanks to human-caused climate change. Without humans and their fossil-fuel-burning habits, the future would hold half as many heat waves, the research shows. And certain parts of the country could start seeing heat waves largely caused by human climate change as soon as 2027..."
File image: Climate Nexus.
---
A New Era of Extreme Heat Waves May Be Just a Few Years Away. With more perspective on the research referenced above here's an excerpt from a story at Forbes: "...The research used climate models to look at four U.S. regions and assess when we can likely say that climate change will become the leading driver of heat waves over the natural variability of the climate. In other words, when we will be able to say "humans caused this heat wave" and have a better than fifty percent chance of that being an accurate statement. For much of California, Nevada and the arid parts of Oregon, Utah, Arizona and Idaho, that will be the case in just a few years, according to the study. The same could be true for the Great Lakes region in the 2030s, while the Great Plains have 30-50 years before they're hit as hard with human-caused heat..."
Image credit: AFP.
---
Climate Change Could Displace 140+ Million: From Climate Nexus: "Climate change could cause as many as 143 million people in three regions of the world to be displaced by 2050, according to the World Bank. In a new report, the World Bank estimates that 2.8 percent of the population of Sub-Saharan Africa, South Asia, and Latin America could be forced to move if emissions continue unchecked. However, researchers stress that curbing emissions now could help migration stay in check, estimating that keeping limits set by Paris Agreement targets could lower the number of migrants in these three regions to 40 million people in the same timeframe. The report comes as Donald Trump's nominee to head the UN migration agency defended past controversial social media posts, including posts denying climate change, to reporters Monday." (World Bank: The Guardian, Reuters, Time, Mashable. Trump nominee: AP).
File image: U.S. Army.
---
Can Climate Litigation Save the World? Yes, the lawyers will be paid. Here's an excerpt from The Guardian: "Global moves to tackle climate change through lawsuits are poised to break new ground this week, as groups and individuals seek to hold governments and companies accountable for the damage they are causing. On Tuesday, action by 12 UK citizens reaches the high court for the first time, while on Wednesday in San Francisco, the science of climate change will effectively be on trial at a key moment in a lawsuit. The litigation represents a new front of climate action, with citizens aiming to force stronger moves to cut carbon emissions, and win damages to pay the costs of dealing with the impacts of warming..."
Photo credit: "Those bringing climate litigation hope to force governments to act and companies to pay damages for their role in causing global warming." Photograph: Oliver Berg/EPA.
---
India Most Vulnerable Country to Climate Change - HSBC Report. Here's an excerpt of an explainer at Reuters: "India is the most vulnerable country to climate change, followed by Pakistan, the Philippines and Bangladesh, a ranking by HSBC showed on Monday. The bank assessed 67 developed, emerging and frontier markets on vulnerability to the physical impacts of climate change, sensitivity to extreme weather events, exposure to energy transition risks and ability to respond to climate change. The 67 nations represent almost a third of the world's nation states, 80 percent of the global population and 94 percent of global gross domestic product..."
File photo credit: "A man walks through a dried-up Sarkhej lake on a hot summer day in Ahmedabad, India, April 21, 2016." REUTERS/Amit Dave/File Photo
---
Billion-Dollar Polar Engineering "Needed to Slow Melting Glaciers." The Guardian explains: "...Scientists have outlined plans to build a series of mammoth engineering projects in Greenland and Antarctica to help slow down the disintegration of the planet's main glaciers. The controversial proposals include underwater walls, artificial islands and huge pumping stations that would channel cold water into the bases of glaciers to stop them from melting and sliding into the sea. The researchers say the work – costing tens of billions of dollars a time – is urgently needed to prevent polar glaciers melting and raising sea levels. That would lead to major inundations of low-lying, densely populated areas, such as parts of Bangladesh, Japan and the Netherlands..."
Photo credit: "The Jakobshavn fjord in western Greenland. One proposal is to build a 100-metre high wall across the fjord's entrance." Photograph: Bob Strong/REUTERS.
---
Want to Stop Climate Change? Take 'Em to Court! An article at Bloomberg View explains the strategy: "...Energy experts predict that we'll go on using fossil fuels for decades, with atmospheric carbon dioxide levels more than doubling compared with pre-industrial times. In 50 years or so, we should expect a rash of effects: falling productivity in fisheries and farming, rising sea levels, and drought-driven migrations fueling political instability. It's easy to see how this can be construed as a crime against children. So three years ago a group of them, along with Our Children's Trust and the youth-centered environmental group Earth Guardians, sued the U.S. government. They argued that its energy policies violated their constitutional rights to life, liberty and property, while also failing to protect essential public resources. They have a plausible case: In earlier proceedings, the U.S. District Court in Oregon ruled that the due process clause of the Constitution guarantees citizens an "unenumerated fundamental right" to "a climate system capable of sustaining human life..."
File image: Evan Vucci, AP.
When Congress Finally Takes Action on Climate Change, This Senator Will Deserve a Lot of the Credit. Here's a clip from a story at Mashable: "The fact that stands out for me, here at number 200, is the persistent failure of Congress to even take up the issue of climate change," Whitehouse said. "One party won't even talk about it!  One party is gagging America's scientists and civil servants, and striking even the term 'climate change' off government websites..."
Image credit: "Senator Sheldon Whitehouse refuses to let his colleagues forget about climate change. He's given 200 speeches, and counting." Image: Mashable/Vicky Leta.
---
Climate Scientist Battles "Trickle-Down Ignorance". The Mercury News reports on Ben Santer's ongoing efforts to set the record straight: "... If you were to go to a medical doctor and ask for a diagnosis, wouldn't you want them to talk about what he or she found? Not tiptoeing around, but giving you the facts and honest science?" His doubled-down and fact-checked scientific conclusion: The planet is indeed warming — and unless we do something, will continue to warm. "These were testable claims," Santer said. "It seemed necessary to do the science to determine whether the claims had merits or not. That's what scientists do." Now he's moving on to his next big project: Are humans changing the seasonal cycles? Are both summer and winter warming? If so, the implications are profound. Problem-solving is a skill acquired over a lifetime for Santer, who lives in San Ramon..."
Photo credit: "Ben Santer, a climate researcher at Lawrence Livermore National Laboratory poses for a photograph at the laboratory in Livermore, Calif., on Thursday, Feb. 15, 2018." (Anda Chu/Bay Area News Group).