Good News for the Corn Crop - Tracking Jose
"My parents didn't want to move to Florida, but they turned sixty and that's the law" joked Jerry Seinfeld.
When your kids are young, you teach them. When you get older, they teach you. "Only pay for what you actually USE" my oldest son preaches. Uber. VRBO. Airbnb.
I love the idea of having a place in the Sunshine State, but I honestly don't want to watch that much of "The Weather Channel" or "WeatherNation". Hurricanes freak me out. So we rent a place on the Panhandle & pray for mercy and redemption, along with full-time Florida residents. Suddenly our severe thunderstorms seem tolerable.
Some of the computer models bring Hurricane Jose perilously close to New England in 3 days. Good grief. This will wind up being the most destructive & expensive hurricane season since 2005.
A run of 80s has helped with crop maturation, according to Mark Seeley. Expect 80s and a few strong/severe T-storms later today, but a cooler front dries us out on Sunday. Warmer air returns next week, and September should wind up milder than average.
Another super-sized autumn for Minnesota? Probably.
---
* NOAA NAM forecast map valid midday Tuesday courtesy of Tropicaltidbits.com.
---
Twin Cities 15-Day. Look at the larger trends: cooling off Sunday and Monday, then another shot at 80F the latter half of next week before another (inevitable) cooling trend as we end the month of September. ECMWF data: WeatherBell.
---
84-Hour Rainfall Outlook. You can see the swath of heavy rain predicted for Jose at it churns northward; a secondary bulls-eye of heavy rain over the Midwest and Upper Midwest, where some 1-2" rains are forecast between now and midday Tuesday.
---
Praedictix Briefing: Saturday morning, September 16, 2017:
* Two distinct risks of hurricane landfall over the continental USA over the next 10 days.
* Odds favor that "Jose" will brush Cape Cod and southern New England with tropical storm-force winds and high surf by Wednesday, but the brunt of the storm will remain offshore.
* Second risk of landfall September 24-26 from a system still strengthening 700 miles east of the Windward islands. This second storm has a better chance of making a direct landfall on the USA and needs to be monitored carefully in the coming days.
* We are just past the midway point of hurricane season. The threats to the USA are not over yet.  The same unusually warm water that helped to spin up Harvey and Irma will spawn additional storms in the coming weeks.
---

No Way Jose. Here are model solutions valid next Wednesday morning, September 20. Both GFS (upper left) and ECMWF (upper right) show a strong tropical storm or Category 1-2 hurricane off the coast of New England. Even though models aren't bringing the eyewall inland, tropical-storm-force winds and moderate storm surge flooding is possible over Cape Cod, Nantucket and Martha's Vineyard by Tuesday/Wednesday of next week. Model credit: WSI.
---
NOAA NHC Track. Here is NOAA's official track for Jose, keeping the core/center of the storm just offshore - but coming a little close for comfort from Long Island to Cape Cod the middle of next week.
---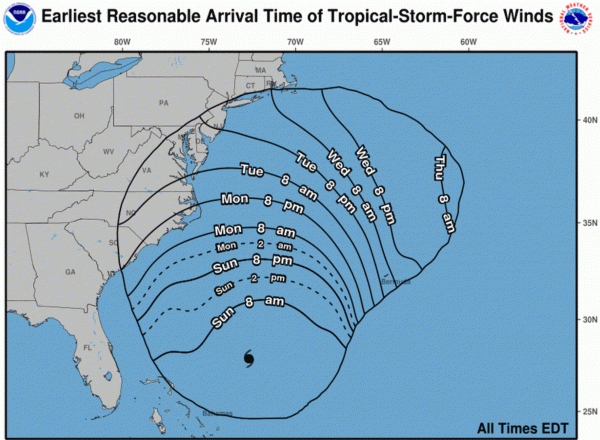 Timing Tropical Storm-Force Winds. Here is NOAA's experimental product focused on timing of sustained winds in excess of 39 mph. High winds and rough surf capable of beach erosion and flooding (especially close to high tide) is expected from the Carolinas (Sunday) to southern New England (Tuesday morning).
---

Second Storm to Watch. Jose makes me nervous, but I'm more concerned about a second storm forecast to approach or even strike the United States around September 25-26. Both major models (NOAA GFS and European ECMWF) suggest strong hurricanes approaching the southeast coast of the USA. Confidence levels are low, but the fact that both models show similar solutions this far out means we should all pay attention.
---
Gentle Reminder: This Is Midpoint of Hurricane Season. As the nation recovers from Harvey and Irma it's important to remember that September 10 marked the official midpoint of tropical season, the date landfall is most likely somewhere in the United Statest (corresponding to when ocean water temperatures usually peak). Hurricane frequency trails off rapidly in October, on average, but it's important not to let our guard down anytime soon. As it is, this will almost certainly be the most destructive and expensive hurricane season since 2005, the year Katrina, Rita and Wilma struck. Graphic credit: CNN.
Summary: Odds favor Jose taking a track out to sea next week, but it may be a close call, with significant coastal flooding and beach erosion from the Outer Banks to Cape Cod. A second storm may approach or even strike the USA around September 25-26, with the greatest potential risk over southeastern states. Saying anything more than that would be irresponsible this far out, but we want to give our clients as much lead time as possible for preparation, risk mitigation and business continuity. Stay tuned for additional updates.
Paul Douglas, Senior Meteorologist, Praedictix

---
Warm-up Boosts Crop Maturation. After a cool August farmers are getting some relief from the recent warm spell, according to Dr. Mark Seeley at Minnesota WeatherTalk: "With the cold start to the month of September many farmers were concerned about corn and soybeans not reaching maturity before the first frost. The dramatic warm-up in temperatures this week (5 consecutive days with temperatures running from 6-12 degrees F warmer than normal) this concern has been mostly alleviated. Corn has matured rapidly this week, as have soybeans. In fact the degree of warm temperatures has been so persistent statewide that it has offset the cold start to the month, and now most climate stations are reporting mean September temperatures that are warmer than normal at mid-month. In addition warmer than normal temperatures are expected to prevail across Minnesota until near the end of the month. This may not only help with crop maturation, but accelerated dry-down before harvest season begins..."
---
---
Fall Color Update. According to the Minnesota DNR about 25-50% of the leaves have ripened west of Duluth and up in the Red River Valley. Peak color is still a few weeks away.
---
La Nina Watch Issued. A cooling trend in the equatorial Pacific could tilt the odds in favor a colder winter for much of the USA, certainly colder than last winter. NOAA's Climate Prediction Center says there's a 55-60% probability of a La Nina during the Northern Hemisphere fall and winter months. Stay tuned.
---
---
2-Minute Doppler Radar Loops. The loops above use radar data from multiple sources, including NOAA Nexrad, FAA and commercial and mobile radars. Standard (commodity) Doppler radar loops are 6-minute intervals for precipitation. Check out the mega-loops from Irma and Harvey, courtesy of AerisWeather.
---
"For the First Time in 300 Years, There's Not a Single Living Person on the Island of Barbuda." USA TODAY has the harrowing details: "Barbuda has been left completely devastated by Hurricane Irma. An estimated 95% of Barbuda's structures are damaged, and the entire island of around 1,800 people has been evacuated. "The damage is complete," says Ambassador Ronald Sanders, who has served as Antigua and Barbuda's ambassador to the U.S. since 2015. "For the first time in 300 years, there's not a single living person on the island of Barbuda — a civilization that has existed on that island for over 300 years has now been extinguished." According to Sanders, Irma was "the most ferocious, cruel and merciless storm" in the island's history. The hurricane was 378 miles wide when it descended on Barbuda, which is just 62 square miles. "This was a huge monster," he says. "The island and the people on the island had absolutely no chance..."
---
Eastern Tennessee Air Patrol Photographer Saw "Total Devastation" of Hurricane Irma. A story at Knoxville News Sentinel put the damage into stark perspective: "...Although more than a million people lost power and many structures were destroyed, Puerto Rico was spared from much worse damage as the massive hurricane just missed the island on Sept. 7. Smaller islands like St. Thomas and St. John a little to the east weren't as fortunate. "They took the brunt of the hurricane," he said. "Totally devastated. "Taking pictures from 1,000 feet, there would be a street with 10 houses and seven or eight would have their roof gone and be down to the foundation; one or two might look fine. The older homes there were not built to handle this..."
Photo credit: "Some houses were shattered, others untouched when Hurricane Irma hit St. Thomas Island." (Photo: FEMA)
---
Irma: A Storm Like No Other. Check out some of the records broken by Hurricane Irma, courtesy of Philip Klotzbach, a tropical meteorologist at Colorado State University. You can follow him on Twitter.
---
How Powerful Can a Hurricane Get? Is there an upper speed limit? Turns out it's a function of water temperature, and the depth of that warm layer of water. Here's an excerpt from IFLScience: "...Based on this mechanism then, it's reasonable to assume that the warmer the surface water is, the stronger the peak winds will be. Although there are plenty of complicating factors, and the datasets before 1970 are somewhat unreliable, it appears that the scientific basis for windier hurricanes is there. There is a link between sea surface temperatures and wind speeds, but the exact numbers have yet to be nailed down. Theoretically though, as long as the oceans warm, then there is once again no upper limit on the peak wind strength of hurricanes. Hurricanes have already pointed this out to us: Although not sustained wind, a single gust generated by 1996's Tropical Cyclone Olivia clocked in at 407 km/h (253 mph), almost the same as those at the fringes of Jupiter's Great Red Spot..."
Image credit: "The eye of Hurricane Jose from space." Copernicus/Antti Lipponen.
---
The Top American Weather Model Struggled to Forecast Hurricane Irma. Overall ECMWF still did a better job. I'm rooting for the home team, but we need more research/funding and a new approach to catch up and exceed the model accuracy of the "Euro" Here's an excerpt from Andrew Freedman at Mashable: "...But in general, the European model,  which is run by the European Center for Medium-range Weather Forecasting (ECMWF), performed far better than the premiere U.S. model, known as the Global Forecast System (GFS). Hurricane Irma is one more in a long line of storms to shine a spotlight on problems with the GFS, particularly at intermediate to longer timescales. The issue gained prominence after Hurricane Sandy struck New Jersey in October 2012, which the European model hinted at at least a week in advance. The GFS model, however, didn't catch on to the storm's unusual track until about 5 days in advance..."
---
You May Not Live in Florida or Texas, But Your Insurance Rates Could Spike Because of Hurricanes. Here are a couple of snippets from a USA TODAY article: "You may not live in one of the areas hit by Hurricanes Harvey and Irma, but that doesn't mean your insurance rates will go unscathed. Motorists and homeowners throughout Texas and Florida as well as those who live anywhere from Alabama to Wyoming could see their premiums rise, as insurance companies pay out billions of dollars to customers whose properties were destroyed or damaged...People living in the areas slammed by the hurricanes are most at risk for auto and homeowners rate increases. But because insurance is handled by each state individually, people elsewhere in Texas and Florida could see a bump, too. Drivers in states adjacent to those Harvey and Irma hammered also may face rate hikes, because some insurers calculate car insurance rates regionally..."
Image credit: "When Kyle Parry returned to his home in Lumberton, Texas, after Hurricane Harvey hit, it was a complete loss. Everything was under water, except one very special thing." Wochit
---
Raiders of the Storm: The Data Science Behind Weather Prediction. ZDNet has an interesting article: "...Atmospheric science relies on a combination of data, but Capps explains that today the primary source is satellite imagery. That does not mean pretty pictures though. Satellite imagery comes in different sizes and shapes: some satellites operate in the black and white spectrum, others in infrared, some imagery can be useful to identify and measure clouds, others to measure winds over the oceans or convection. And what about sensor data; are they used as well? It depends. Capps says they are mostly used when doing predictions at a local, granular level to ground truth weather models, when using reliable equipment. Ingesting live data into weather models is another use case, but for Capps this has not proven to be that useful..."
---
Rebuilding the Gulf Coast, Preparing For The Next Hurricane. An Op-Ed at The Philadelphia Tribune caught my eye: "...Texas needs a 2.0 strategy; a reset, for lack of a better term. This means addressing the immediate crisis, something that should be a "national" priority. There should be no embarrassment about the federal government playing the leading role. That is one of the central purposes of government. Yet, more is needed. Any rebuilding plan needs to consider the existing environment and consider the possibility of future environmental disasters. How can a metropolitan area constructed on the least permeable clay-based soil ignore the need for efficient rainwater removal systems? How can multiple oil, gas and chemical plants be constructed with so few safeguards? How can so little consideration of public transportation systems be given to the fourth-largest city and metropolitan area in the U.S.? What does this mean for the population in the immediate area? What about the impact on the land? These are all questions that must be factored into the rebuilding of the eastern part of the state..."
---
Abandon Florida? Not Quite. But It's Time for a Retreat From Flood Zones. Asked a different way, how long do you want to keep subsidizing people to keep rebuilding in perpetual flood zones? Vox reports: "...But the potential of strategic retreat remains largely untapped, even though sea level rise threatens to inundate 4 million to 13 million Americans this century. Florida alone is home to 1,601 "severe repetitive loss properties" — properties that, on average, flood every two to three years and have been rebuilt five times with the help of taxpayer money. Harris County, Texas, which includes Houston, has close to 2,000 such properties. Analysts have already called for the government to purchase homes flooded by Harvey and Irma and restore those properties to open space. Moving to safer ground will be just one strategy among many: We'll need sea walls in some places, stricter building codes in others, and a change in where new subdivisions, highways, and hospitals are built. Attacking global warming must be part of the solution: Continued emissions of heat-trapping gases drive up the risk of rising seas..."
File photo: NOAA.
---
Real Estate Industry Blocks Sea-Level Warnings That Could Crimp Profits on Coastal Properties. The State has a timely article on the state regulators and realtors with their fingers in the dike: "...These studies warn that Florida, the Carolinas and other southeastern states face the nation's fastest-growing rates of sea level rise and coastal erosion — as much as 3 feet by the year 2100, depending on how quickly Antarctic ice sheets melt. In a recent report, researchers for Zillow estimated that nearly 2 million U.S. homes could be literally underwater by 2100, if worst-case projections become reality. This is not good news for people who market and build waterfront houses. But real estate lobbyists aren't going down without a fight. Some are teaming up with climate change skeptics and small government advocates to block public release of sea-level rise predictions and ensure that coastal planning is not based on them..."
Photo credit: "Hurricane Irene hammered the Outer Banks of North Carolina in August of 2011, eroding beaches and leaving several waterfront homes, including these in Nags Head, exposed to the waves. Authorities later condemned these homes, and they have since been removed. Scientists say sea-level rise is accelerating in North Carolina and other Southeast states, putting thousands of waterfront homes at risk." John D. Simmons Charlotte Observer.
---
The Race Against Heat. The Verge asks an important question: how do you cool a warming planet of 7.5 billion people without making the warming worse? Here's an excerpt: "...The world is on track to add 700 million new ACs by 2030, and 1.6 billion by 2050, largely in hot, developing countries like India and Indonesia. But the AC boom threatens to worsen the crisis it's responding to, and widen the divide between those who can afford to stay cool and those left out in the heat. Air conditioners use refrigerants, and some of the most common types — hydrofluorocarbons, or HFCs — are powerful greenhouse gases, with thousands of times the warming potential of carbon dioxide. If HFC use continues to grow at its current pace, these chemicals could make up as much as 19 percent of emissions by 2050. International initiatives are set to phase down the worst offenders, but air conditioners contribute to climate change in a second way: they consume a tremendous amount of electricity. Handling the growing load will require adding thousands of new power plants to the grid..."
---
The Suburb of the Future, Almost Here. We can do a better job with suburban development, right? Here's an excerpt from The New York Times: "...In sustainable new suburbs, house and lot sizes are smaller - in part because driveways and garages are eliminated - paving is reduced up to 50 percent and landscapes are more flexible. The plant-to-pavement ratio of today's suburb is much higher than that of cities, but the next generation of suburbs can be even better at absorbing water. House and open community spaces are set among teardrop-shaped one-way roads, which encourage predictable, safe separation of pedestrians and moving vehicles. New suburban developments will utilize technology like autonomous electric cars (parked at solar-powered remote lots) and smart street lighting, which minimize energy use and harmful environmental impact..."
Image credit: Jun Cen.
---
All Roads Paved with Asphalt Trap 90% of the Sun's Heat - That's a Problem. The solution? Paint it white, according to Big Think: "...For cities the problem is even bigger. On top of the rising temperatures, the urban heat island effect results in an additional 1.8 to 5.4°F burden for urban dwellers during the day and up to 22°F in the evenings. Concrete buildings, asphalt paved roads radiating accumulated heat throughout the night, and lack of trees contribute to the making of scorching cities. Active measures will be needed to reduce the risk of heat-related health problems. It is no surprise that LA is one of the first cities to take such measures. The urban heat island effect makes LA almost six degrees hotter than the surrounding desert, and the heat causes 60 to 70 deaths every summer. Mayor Eric Garcetti has an ambitious plan to reduce the city's average temperature by 3 degrees Fahrenheit over the next 20 years..."
Graphic credit: "On a sunny summer afternoon, urban air can be 1-3C (2-5F) warmer than nearby rural air."  Berkeley Lab
---
There's Blood in the Water in Silicon Valley. Are the Googles, Apples and Facebooks of the world getting too big and dominant - are they monopolies that need to be broken up? Here's an excerpt from BuzzFeed News: "...The new spotlight on these companies doesn't come out of nowhere. They sit, substantively, at the heart of the biggest and most pressing issues facing the United States, and often stand on the less popular side of those: automation and inequality, trust in public life, privacy and security. They make the case that growth and transformation are public goods — but the public may not agree. The tech industry has also benefited for years from its enemies, who it cast — often accurately — as Luddites who genuinely didn't understand the series of tubes they were ranting about, or protectionist industries that didn't want the best for consumers. That, too, is over. Opportunists and ideologues have assembled the beginnings of a real coalition against these companies, with a policy core consisting of refugees from Google boss Eric Schmidt's least favorite think tank unit..." (Image: Business Insider).
---
Elvis Karate Fight Plaque. Did you know that Elvis Presley once broke up a street brawl in Madison, Wisconsin? Atlas Obscura fills us in: "On June 24, 1977, Elvis Presley, while riding to Madison from the airport, noticed a street fight in progress at what was then a Skyland service station. While his limo was stopped at the nearby red light, the King ran from the car and threatened the combatants with a classic karate stance. The young men recognized Elvis and stopped fighting in favor of shaking hands with the star. Elvis reportedly left after ensuring that everything was settled and taking time to shake hands with several onlookers. Elvis died 52 days later. The incident was reported by Thomas Still for The State Journal, who called it Presley's biggest brawl since Jailhouse Rock..."
Photo credit here.
---
84 F. maximum temperature yesterday in the Twin Cities.
72 F. average high on September 15.
76 F. high on September 15, 2016.
September 16, 2006: A rapidly forming tornado hits Rogers just before 10pm, causing one fatality.
September 16, 1992: New Market receives nearly a foot of rain. A bridge collapses during a flood in northern Le Sueur County.
September 16, 1955: An F1 tornado touches down in Mille Lacs and Kanabec Counties, causing 1 fatality and $500,000 in damages.
---
TODAY: Sticky sun, a few strong to severe T-storms. Winds: S 8-13. High: 84
SATURDAY NIGHT: T-storms likely, locally heavy rain. Low: 56

SUNDAY: Partly sunny, drier - more pleasant. Winds: NW 8-13. High: 72

MONDAY: Patchy clouds, isolated shower. Winds: SE 7-12. Wake-up: 55. High: 71

TUESDAY: More clouds than sun, cool. Winds: SE 8-13. Wake-up: 59. High: 73

WEDNESDAY: Warm and sticky, few T-storms.Winds: SE 8-13. Wake-up: 64. High: 84

THURSDAY: Partly sunny, feels like August. Winds: SE 10-15. Wake-up: 66. High: 86

FRIDAY: Showers and T-storms likely. Winds: S 10-20. Wake-up: 70. High: 81
---
Climate Stories...
McCain Resumes His Quest for Climate Change Action. High Country News explains: "...Still, even as he defied his own party, McCain lashed out at his likeliest allies in any climate deal. In his remarks on CNN, he criticized environmentalists for dismissing nuclear power as an important part of the solution. Confidants say McCain never stopped supporting action to reduce greenhouse gas emissions. But as a legislator with a lot of priorities, he gave his time to issues that seemed more likely to benefit from his attention. "Going all the way back to when he ran for president, he's always been an advocate for action concerning climate change," says Grant Woods, a former Arizona attorney general who has long advised McCain and co-authored his 2010 campaign. "He did that even in Republican primaries when it wasn't that popular. I think it's just a matter of: He's got a lot of things on his plate. He's never changed his position..."
---
The Entrepreneurs Turning Carbon Dioxide Into Fuels. The Guardian has an encouraging article: "...The facility, designed by Zurich-based start-up Climeworks, pumps the gas into greenhouses to boost the plants' photosynthesis and increase their yield, it hopes, by up to 20%. Climeworks says it will extract around 900 tonnes of CO2 a year from the air. The company's end game is not plumper tomatoes but something far more ambitious – proving that carbon dioxide can be recycled from the atmosphere and turned into something useful. If this installation is a success, Climeworks wants to sell its concentrated carbon dioxide to companies producing carbon-neutral hydrocarbon fuels..."
Photo credit: "Climeworks, the world's first direct air capture plant, opened in June. It hopes to sell its concentrated CO2 to companies producing fuels." Photograph: Julia Dunlop.
---
Monster Storms Change Coastlines, Not Minds on Climate Change. Here's an excerpt of a particularly insightful story at Bloomberg: "...Research shows monster storms may only harden people's position, underscoring already entrenched beliefs about the role humans play in warming the planet. "The climate movement can't depend on the weather to make its political case," said Robert Brulle, a sociologist at Drexel University who studies environmental activism.  "We have a window of opportunity to draw attention to the issue -- and then three weeks from now we'll be talking about something else." Environmental disasters, including an oil spill off the California coast, toxic pollution emanating from New York's Love Canal and Ohio's Cuyahoga River bursting into flames, helped catalyze the modern-day ecological movement, shifting public views. But unlike climate change, the causes were clearer; there was no need for scientists to interpret data or model scenarios..."
Photo credit: "A resident outside his flooded home in Bonita Springs, Florida, on Sept. 12." Photographer: Daniel Acker/Bloomberg.
---
Harvey, Irma Show the Skyrocketing Costs of Climate Change. Here's an excerpt from TheHill: "...Harvey and Irma are just glimpses of the massive extra costs climate change is already extracting from U.S. taxpayers, a price tag that will only grow exponentially in coming years.  In December, the Office of Management and Budget released a report warning of tens of billions in additional costs from wildfires, crop insurance, flood insurance, health-care spending and other impacts related to climate change. As much as "15 percent of total federal discretionary spending by late-century," could be caused by climate change, the OMB said. Yet, tens of billions in taxpayer costs from climate change are already evident now..."
---
The Great Nutrient Collapse. CO2 is "plant-food", but are we trading increased quantity for reduced quality - is nutrition suffering? Here's an excerpt of a must-read story at POLITICO: "...For the next 17 years, as he pursued his math career, Loladze scoured the scientific literature for any studies and data he could find. The results, as he collected them, all seemed to point in the same direction: The junk-food effect he had learned about in that Arizona lab also appeared to be occurring in fields and forests around the world. "Every leaf and every grass blade on earth makes more and more sugars as CO2 levels keep rising," Loladze said. "We are witnessing the greatest injection of carbohydrates into the biosphere in human history―[an] injection that dilutes other nutrients in our food supply."He published those findings just a few years ago, adding to the concerns of a small but increasingly worried group of researchers who are raising unsettling questions about the future of our food supply. Could carbon dioxide have an effect on human health we haven't accounted for yet?..."
Photo credit: Geoff Johnson for POLITICO.
---
How Climate Change Can Hit Your Small Business. A post at USA TODAY resonated: "...Here's how disasters caused or exacerbated by climate change are likely to hit your own small business:
1. Higher insurance rates. Wherever you live, you may now find yourself in a disaster-prone area with higher insurance rates. As I write this, tropical storms are now hitting inland areas never before hit by such weather.  
2. Loss of business. When a disaster hits, even if your business is thousands of miles away, your suppliers or customers may suffer. Your cash flow and credit will take a hit. 
3. Loss of tourist dollars. Tourist areas, such as coastal areas, mountains (think ski areas), forests, are all particularly susceptible to climate-related events. If your business depends on tourists, you're very vulnerable.
4. Fewer resources. Americans pull together after natural disasters, providing both government and private relief. But dollars spent on disaster recovery aren't available to you for small business loans, economic development in your community, purchases in your business..."
Photo credit: NOAA.