4th of 5th Longest January Thaw on Record for MSP

"March-uary"?
I seriously overslept. I went to bed in mid-January - woke up in late March, complete with pond-size puddles and a few dreary piles of dirty snow. March-like mud and mush in my sloppy yard.
Most years we enjoy a January Thaw, but this one has been super-sized. We may go 11 days in a row with highs above freezing; the 4th longest stretch since 1872, according to Dr. Mark Seeley.

To say it's been an odd winter would be an understatement: we flip-flop between subzero outbreaks and freakish, midwinter rains. Where's the snow?
The next system tracks from Denver to Milwaukee, brushing us with a few inches of slushy snow late Tuesday into Wednesday morning. Freeways may stay wet and slushy, but a little ice may return later in the week as temperatures finally drop into the 20s. No bitter blasts brewing until (maybe) the second week of February.
Our weather is a 2 on the Whine-O-Meter. Killer tornadoes hit the south over the weekend; a parade of massive storms pummeling California with flooding and mudslides. We have precious little to complain about.
It looks like Seattle outside my window. Yes, January has mellowed - but don't let your guard down just yet.
---
Super-Sized January Thaw. Here's more perspective on this current of temperatures above 32F, courtesy of Dr. Mark Seeley and Minnesota WeatherTalk: "...The proverbial "January Thaw" (two or more consecutive days with daily high temperatures greater than freezing) for the Twin Cities has historically about an 80 percent probability of occurrence (about a 91 percent probability since 1980 with a pronounced urban heat island effect). This January it is happening to us with an exclamation mark! We may have up to 10 consecutive days with daily high temperatures above freezing if the forecast through January 26th verifies. In this context it would be the 5th longest such streak in the Twin Cities climate records surpassed only by 18 days in January 1944, 15 days in January 1942, 13 days in January 1919, and 11 days in January 1880 and 1909. (thanks to NOAA's Michelle Margraf and DNR-SCO's Pete Boulay for pointing this out). Over 50 Minnesota climate stations have already reported daytime highs in the 40s F this week, including 48°F at both Grand Rapids and Forest Lake on the 18th..."
---
Rainy Nor'easter - More Storms for California. The 84-hour 12 KM NAM shows the southeast drying out, after a weekend of severe storms and large, April-like tornadoes. A powerful storm pushes up the east coast with a cold rain for major cities from Washington D.C. to New York and Boston; ice and heavy wet snow well inland. Meanwhile California sees more rain (not as heavy or violent as Sunday's storm) and a storm tracking from near Denver to Milwaukee will push a few inches of wet, slushy snow across the Midwest and Upper Mississippi Valley Tuesday into Wednesday. Loop: Tropicaltidbits.com.
---
84-Hour Snowfall Potential. It's a model, not reality, but looking at NOAA's NAM guidance from the 00z run you get a pretty good idea who may see plowable amounts of snow into Thursday morning: Poconos into much of interior New England - South Dakota into central and southern Minnesota and Wisconsin and the heavy snow continues to pile up across the Rockies. What a winter for skiers out west, about as good as it gets.
---
Twin Cities Snowfall: Potentially Plowable. Models print out 2-4" of snow from late Tuesday into Wednesday afternoon; most freeways will stay wet and slushy with temperatures at or just above 32F, but a few inches may accumulate on side streets and driveways by Wednesday morning. Screen shot: Aeris Weather Pulse app.
---
Above Average Into Early February. The 15-Day numbers from the ECMWF (European) show temperatures in the Twin Cities consistently above average into the first week of February. Source: WeatherBell.
---
Brief Cold Correction Middle of Next Week? NOAA models, specifically the GFS model ensembles, show single digit wake-up temperatures a week from Wednesday, followed by a fairly speedy recovery. With a higher sun angle in February it gets increasingly difficult for (sustained) subzero days and nights. Not impossible, but the negative numbers usually don't last as long as they do in January. Graphic: Aeris Enterprise.
---
Premature to Retire the Parkas. Long-range GFS guidance pulls another subzero lobe of air across the Upper Mississippi Valley and Great Lakes after February 6; maybe a few days of minor pain before a milder Pacific flow resumes. 
---
February? Flip a Coin. NOAA's long-range CFSv2 (Climate Forecast System) continues to flip-flop between warm and cold solutions, so confidence levels are exceedingly low, but the latest model runs hint at a warm/east and cold/west solution. 10-15F warmer than average for the Mid Atlantic next month? I have my doubts - we'll see. February temperature anomalies: WeatherBell.
---
Putting High Risk Severe Outbreaks Into Perspective. An average of 51 to 62 tornadoes? I learned something at ustornadoes.com; Ian Livingston takes a look at the average number of tornadoes during high-risk severe days since 2000, as defined by NOAA SPC: "Looking at the averages from these events, the numbers are fairly stark. Since any small sample that includes April 27, 2011 is going to be skewed more than normal, I'll share the figures with and without it included (these are 15 and 14 event averages respectively):
With 4/27/2011: Average high risk has 62 tornadoes, 16 of which are strong (EF2+), and two are violent (EF4-5). Four killer tornadoes occur on average, causing 31 deaths. The deadliest averages 10 killed. The longest track tornado averages 58.0 miles.
Without 4/27/2011: Average high risk has 51 tornadoes, 13 of which are strong, and one is violent. Two killer tornadoes occur on average, causing 11 deaths. The deadliest averages six killed. The longest track tornado averages 52.7 miles..."
---
More April than January. The forecast of a major tornado outbreak for the southeast on Sunday verified. There was plenty of advance warning from NOAA, trusted sources on social media and both local and national media. Here's an excerpt of a corporate briefing we sent to our clients yesterday morning:
---
AerisWeather Briefing: Issued Sunday, January 22nd, 2017:
A significant tornado outbreak, with multiple strong, long-tracked tornadoes is likely across northern Florida and southern Georgia today.
A HIGH RISK of severe weather is in place for parts of Alabama, Georgia and Florida due to this threat. The cities at highest threat include Jacksonville, Tallahassee, Gainesville (FL) as well as Savannah and Albany (GA).
However, the threat for tornadoes, hail and wind extend from southern Alabama into the Carolinas and across the entire Florida panhandle into the evening hours.
---
Significant Severe Weather Event. For only the 19th time since 2010, and the first time since June of 2014, the Storm Prediction Center has issued a HIGH RISK of severe weather for today. The threat exists across portions of extreme southeast Alabama, southern Georgia and northern Florida. This is out mainly for the threat of numerous tornadoes as we head through the day today, some of which could be strong and long-tracked. The area where the highest risk of severe weather is expected today includes Jacksonville, Tallahassee, Gainesville (FL) as well as Savannah and Albany (GA). However, significant severe weather, including tornadoes, wind and hail are possible throughout the Florida panhandle and into the Carolinas into the evening hours as well.
---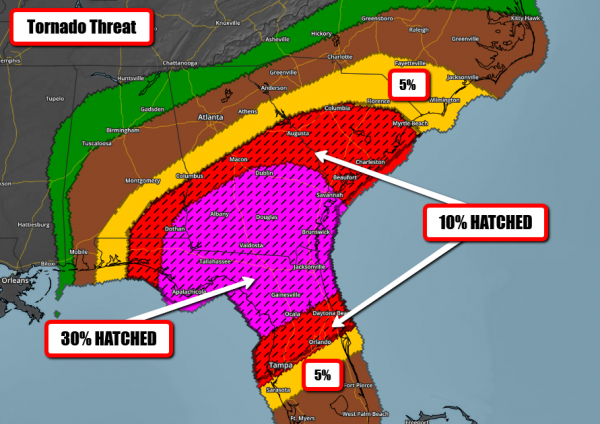 Tornado Threat. It is not often that there is a 30% probability of tornadoes in a 25 mile radius of a point in the tornado threat map. This is indicative of an environment ripe for multiple tornadoes as we head through the day today, even with tornado warnings in place this morning across parts of the region. The black hatched marks indicate the greatest potential of strong (EF-2 strength or higher), long-tracked tornadoes as we go through the day today and even into the evening that could cause significant damage across the region.
---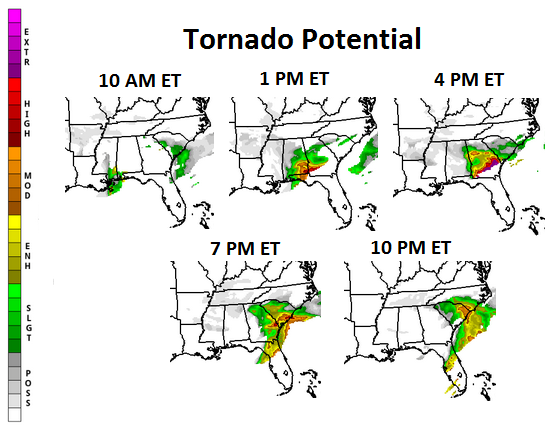 Tornado Potential. Our Tornado Potential Index continues to show a heightened risk of tornadoes starting this morning across parts of the Gulf Coast, moving into southern Georgia and northern Florida into the afternoon. This threat continues into the Carolinas and across parts of the Florida peninsula into the evening. This shows that conditions will be more than favorable for rotating, tornado-producing storms.
Map credit: AerisWeather.
---
Timing The Storms. Besides ongoing strong to severe weather this morning across parts of Georgia, another round of storms has started up this morning across portions of Alabama and the panhandle of Florida. These storms will move across the severe weather threatened areas as we head through the day today. These storms will have the potential for strong, long-tracked tornadoes as well as damaging winds and hail. The threat for tornadoes will continue into the evening hours across the Carolinas, with the threat of overnight tornadoes. At the same time this evening/overnight, a line of storms will be moving across the Florida Peninsula, capable of damaging winds and a few tornadoes. Timeline: AerisWeather.
The other big weather story: More heavy rains pushing into California:
---
Flooding California Rains. The flood threat continues across California as we head through the day today and into the early week, as round three of precipitation hits the west coast. Another 1-4" of rain for areas like San Francisco, Los Angeles, and San Diego will result in urban flooding and potentially significant stream and river flooding over the next couple days.
---
Flash Flood Watches. Due to the heavy rain threat on top of already saturated soil, numerous flash flood watches are in effect into the early week across portions of the Southwest. Map: AerisWeather.
Summary. Significant severe weather - especially strong, long-tracked tornadoes - is expected today across portions of the Southeast, including Jacksonville, Tallahassee, Gainesville (FL) as well as Savannah and Albany (GA). This is where an uncommon HIGH RISK of severe weather is in place. Stay alert for potentially life-threatening conditions throughout the day today, and be ready to take action. Out west, heavy rain continues across California today, and another 1-4"+ of rain will continue to lead to flood issues into the early week.
D.J. Kayser, Meteorologist, AerisWeather
---
---
Even Alaskans Are Complaining About the Cold. Here's an excerpt from USA TODAY: "...It's just miserable," Erickson added. "I hate everybody who lives in a warm place." Fairbanks dropped to 50 below zero for the first time in five years Wednesday, Anchorage climatologist Brian Brettschnider said, triggering spooky ice fog across the city. Ice fog occurs when tiny ice particles are suspended in the air when temperatures fall lower than about 22 degrees below zero. It was so cold that schoolkids in Fairbanks this week were forced indoors for recess, he said. When the temperature is colder than 20 degrees below zero in Fairbanks, outdoor recess is canceled, according to the local school district..."
---
Oymyakon: Coldest Inhabited Town On Earth? I think Oymyakdon is Russian for "Oh my God..." Atlas Obscura has a post that will make you feel a little better about the winter you're experiencing; here's an excerpt: "...With a day that varies from 3 hours in the winter to 21 hours in the summer and permanently frozen ground due to the extreme subarctic climate, the roughly 500 residents of Oymyakon are mostly unable to grow crops, therefore their diet basically consists of reindeer and horse meat. While spoiled kids to the south get out of school for snow days, the children of Oymyakon are stuck in class unless the temperature falls below –52C. If you were to go outside naked on an average day, it would take approximately one minute for you to freeze to death. Besides the obvious issues of remoteness, the cold itself forces this village to be a simple place with few conveniences. Cars are hard to start with frozen axle grease and fuel tanks, unused pipes can freeze within 5 hours, batteries lose life at an alarming speed. Pen ink freezes, anything less than fur fails at keeping the chill off, and electronics are all but useless..."
---
GOES 16: True Color Makes a Comeback. Seeing Earth as it really appears? Sounds like a good idea to me - very much looking forward to the new data coming from GOES-R, now known as GOES 16. Here's an excerpt from SSEC at the University of Wisconsin-Madison: "...A familiar yet often overlooked channel, visible light, has made its comeback as part of GOES-16's Earth-focused instrument, the Advanced Baseline Imager (ABI). Visible light comprises the range of wavelengths that can be seen with the naked eye. A true color image of Earth, which uses that visible light, depicts features like blue oceans, white clouds, and green vegetation, similar to a film camera. "It's great to see true color come back into the mix," says Tim Schmit, NOAA satellite research scientist working with researchers at the University of Wisconsin-Madison Cooperative Institute for Meteorological Satellite Studies (CIMSS). "Not only does it help round out the toolkit available on the ABI, but the true color images have long had an impact on how we see our Earth and its weather," adds Schmit..."
Image credit: "A true color image of 2016 Hurricane Matthew making landfall over the U.S. eastern coast. True color imagers have historically been a part of many polar-orbiting satellites, unlike their geostationary cousins." Image credit: SSEC.
---
Click here for some of the first test imagery from GOES-16 today, courtesy of NOAA NESDIS.
---
Solar Employs More Workers Than Coal, Natural Gas and Oil Combined. Here's a clip from EcoWatch: "U.S. solar employs more workers than any other energy industry, including coal, oil and natural gas combined, according to the U.S. Department of Energy's second annual U.S. Energy and Employment Report. 6.4 million Americans now work in the traditional energy and the energy efficiency sector, which added more than 300,000 net new jobs in 2016, or 14 percent of the nation's job growth..."
Photo credit: Walmart, Flickr.
---
Airbus CEO Sees "Flying Car" Prototype By The End of Year. Reuters has the story: "Airbus Group plans to test a prototype for a self-piloted flying car as a way of avoiding gridlock on city roads by the end of the year, the aerospace group's chief executive said on Monday. Airbus last year formed a division called Urban Air Mobility that is exploring concepts such as a vehicle to transport individuals or a helicopter-style vehicle that can carry multiple riders. The aim would be for people to book the vehicle using an app, similar to car-sharing schemes.  "One hundred years ago, urban transport went underground, now we have the technological wherewithal to go above ground," Airbus CEO Tom Enders told the DLD digital tech conference in Munich, adding he hoped the Airbus could fly a demonstration vehicle for single-person transport by the end of the year..."
Photo credit: Slate, which is skeptical about the whole flying car thing.
---
Medium, And The Reason You Can't Stand the News Anymore. Turns out the Internet has been anything but a unifying force, for our nation or those engaged in explaining the news of the day, and yet we all seem to live in our curated, "safe" information bubbles every day. Here's an excerpt of a thoughtful piece at Medium: "...Companies from Medium to The Washington Post to Mashable to Buzzfeed all eventually run into the same unthinkable truth: The methods used to fund modern journalism simultaneously undermine trust in the news outlets. Editors, writers, and executives at today's news outlets are all in a no-win situation where they are forced to contribute to the causes of their own demise to survive. In any other business, companies would try, fail, and another would take its place. This is good and needed. But for news, the failures are happening at a glacial pace and bad actors are profiting as the trustworthiness of our news outlets are breaking down in slow motion. The result is the worst kind of feedback loop, where well-meaning people try to "fix" the news. But instead, those methods erode trust in all news outlets leading to a total breakdown in discourse..."
---
Journalism That Stands Apart. Here's a Report of the 2020 Group at The New York Times.
---
The Highest Places in America. Just in case you were wondering Atlas Obscura has details: "...Each of the 50 states, as well as D.C., has its own such geographic marker, sought out by a particular niche of explorers known as highpointers, which Atlas Obscura writer Thomas Harper described in his account of this elevated subculture.  Scaling each of the state high points means spanning the whole spectrum of the country's diverse landscape. These markers can be found in deserts and dense forests, from the remote wilderness to urban areas and everything in between. Here are 51 places to get high in the United States..."
---
+ 1.5 F. Metro temperatures in January are running 1.5 F. above average, to date.
40 F. high in the Twin Cities Sunday, average for March 13.
24 F. average high on January 22.
25 F. high on January 22, 2016.
January 23, 1963: A record low of -31 is set at the Minneapolis-St. Paul International Airport.
---
---
---
TODAY: Clouds and fog, 9th consecutive day of the January Thaw. Winds: W 5-10. High: 37
MONDAY NIGHT: Damp and overcast. Low: 30

TUESDAY: Wet snow develops, possibly mixed with rain. Heavier snow Tuesday night. Winds: E 8-13. High: 37

WEDNESDAY: Total of 2-4" of slushy snow? Wet snow tapers to flurries. Winds: NW 10-20. Wake-up: 31. High: 34

THURSDAY: Mostly cloudy, cooler breeze. Winds: NW 10-15. Wake-up: 25. High: 30

FRIDAY: More clouds than sun, pretty quiet. Winds: W 10-15. Wake-up: 19. High: 29

SATURDAY: Peeks of sun, still above average. Winds: NW 8-13. Wake-up: 18. High: 31

SUNDAY: More sun, turning milder again. Winds: W 7-12. Wake-up: 19. High: 34
---
Climate Stories...
Earth Sets a Temperature Record for the Third Straight Year. Just in case you missed Justin Gillis's report at the New York Times: "...In 2015 and 2016, the planetary warming was intensified by the weather pattern known as El Niño, in which the Pacific Ocean released a huge burst of energy and water vapor into the atmosphere. But the bigger factor in setting the records was the long-term trend of rising temperatures, which scientists say is being driven by increasing levels of carbon dioxide and other greenhouse gases. "A single warm year is something of a curiosity," said Deke Arndt, chief of global climate monitoring for the National Oceanic and Atmospheric Administration. "It's really the trend, and the fact that we're punching at the ceiling every year now, that is the real indicator that we're undergoing big changes..."
Photo credit: "Ice in the Arctic Ocean's Chukchi Sea region. "What's going on in the Arctic is really very impressive; this year was ridiculously off the chart," said Gavin A. Schmidt, the head of NASA's Goddard Institute for Space Studies." Credit: Esther Horvath.
---
---
---
Fearing White House Purse of Climate Science, Scientists Frantically Copying Data. Here's an excerpt from a story at Forbes: "...After the election in November, a bipartisan group of defense experts and former military leaders urged the President-Elect, through the Trump Transition Team, to consider climate change as a grave threat to our national security. In 2014, the Military Advisory Board came out with a report, called National Security and the Accelerating Risks of Climate Change, that discusses what the military sees as the threats of climate change and the actions to be taken to mitigate them: "The potential security ramifications of global climate change should be serving as catalysts for cooperation and change. Instead, climate change impacts are already accelerating instability in vulnerable areas of the world and are serving as catalysts for conflict..."
Photo credit: "A U.S. Navy Carrier Strike Group in the South China Sea. The U.S. military is worried that climate change is a significant threat multiplier for future conflicts. And the Navy may bear the brunt of these effects. Unfortunately, the new Administration is purging this type of thinking from all branches of government, including our military." Source: U.S. Navy photo by Mass Communication Specialist 1st Class David Mercil/Released.
---