Extreme Whiplash: Wild Extremes Reported Worldwide
Mother Nature needs to be medicated. Looking around the world it's a tale of wild weather extremes.
The official thermometer at International Falls registered 34F Thursday morning. Frosty patches in early August? Meanwhile an extreme heat wave is gripping Europe - air temperatures in parts of Spain and Portugal are forecast to nudge 120F.
More than 13,000 firefighters are battling 16 fires raging across California, coming months before peak fire season. While parts of Japan are cleaning up from 70 inch rains that sparked historic flooding back in in June. I'm just happy when Minnesota weather isn't Breaking News!
Today will feel more like August, with mid to upper 80s and a whiff of humidity. Swarms of thunderstorms prowl the state Saturday with Sunday probably the sunnier, drier day of the weekend. That said, a stray late-PM pop-up storm may still chase some people off lakes and golf courses late Sunday.
After a cool interlude it looks like a streak of 80s the next couple of weeks and I still don't think we've seen the last of the 90s. Stay tuned and think cool thoughts. 
---
---
84-Hour Rainfall Potential. NOAA 12KM NAM data suggests the best chance of heavier rain wiill be over far northern Minnesota, with a few 1"+ amounts possible - lesser amounts closer to the MSP metro. Map credit:": pivotalweather.com.
---
Lurching Back into Summer. Nothing stinking hot - not yet, but ECMWF predicts a streak of 80s next week. Source: WeatherBell.
---
Not Too Hot. The 500mb wind configuration for mid-August suggests blazing heat for most of the USA, with the possible exception of the Upper Midwest and Great Lakes, beneficiaries of a series of weak cool frontal passages, meaning 80s instead of 90s.
---
Summer of Extremes. Graphic credit: Paul Horn at InsideClimate News.
---
---
Heatwave Turns Europe Brown. You can see the effects of extreme heat and drought from satellite imagery, according to NASA's Earth Observatory: "A persistent heatwave has been lingering over parts of Europe, setting record high temperatures and turning typically green landscapes to brown. The images above show browning in north-central Europe on July 24, 2018. For comparison, the second image shows the same area one year ago. Both images were acquired by the Visible Infrared Imaging Radiometer Suite (VIIRS) on the Suomi NPP satellite. According to the European Space Agency, these regions turned brown in just a month, during which several countries experienced record high temperatures and low precipitation. Much of Germany has experienced drought conditions since May. The United Kingdom experienced its driest first half of summer (June 1 to July 16) on record..."
---
California's Fires Are Creating Lightning-Filled Clouds. A story at Quartz caught my eye: "...Pyrocumulus clouds, also known as "fire clouds," are extremely rare cloud formations caused by rising heat and smoke from volcanoes, or as in the case in California right now, by raging wildfires. These fire clouds extremely fast-forming, can host their own lightning storms, and cause devastating wind. In other words, the wildfire can create its own weather system..."
---
California Fires Scorch 320,000 Acres - An Area Larger Than City of Los Angeles.
Praedictix Briefing: Issued Thursday, August 2nd, 2018:
16 of the largest wildfires burning in California right now have burned nearly 320,000 acres - an area larger than the entire city of Los Angeles.
The Carr Fire near Redding, California has burned more than 121,000 acres and is 35% contained. It is now the 6th most destructive fire in the state's history burning more than 1,800 structures. Roughly 15,000 residents have been evacuated and more than 1,600 structures are threatened.
The Mendocino Complex Fire near Ukiah, California, consisting of 2 separate fires - Ranch Fire and River Fire - have burned a combined total of nearly 95,000 acres and both are 24% contained. Nearly 15,000 people have been evacuated and more than 12,000 structures are threatened.
The Ferguson Fire near Yosemite National Park has consumed nearly 64,000 acres and is 39% contained.
The Cranston Fire near Idyllwild, California has burned more than 13,000 acres and is 92% contained.
6 of California's most destructive wildfires have happened in the past 10 months - since October 2017.
---
California Wildfires. 16 of the largest wildfires burning in California right now have burned nearly 320,000 acres - an area larger than the entire city of Los Angeles. Unfortunately, hot, very dry and windy weather conditions are in the forecast for the rest of the week, which continue to fuel these blazes. Experts are describing these wildfires as more destructive and burning at rates that haven't historically been seen before. A total of 8 people have died, but everyone that was reported missing in Shasta County have been found. The Carr Fire is currently the largest active wildfire in the state and has now become the 6th most destructive wildfire in the state's history. Nearly 4,300 fire personnel are working on that blaze, while thousands of other firefighters are battling other blazes across the state. Progress is being made on some of the bigger fires, but is slow due to extremely difficult conditions, including steep and rugged terrain. The Mendocino Complex Fire near Ukiah, consisting of 2 separate fires, has grown to 95,000 acres and is threatening more than 12,000 structures. California has also spent a quarter of its yearly firefighting budget during the month of July alone. According to CalFire, 6 of California's most destructive wildfires have happened in the past 10 months - since October 2017.
---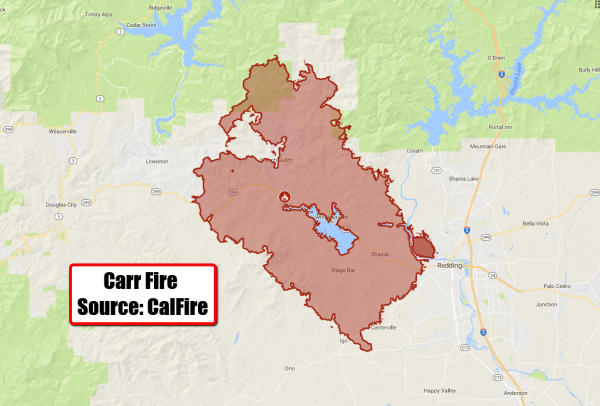 Carr Fire. The Carr Fire burning near Redding, California has burned nearly 121,000 acres and is 35% contained. It has now become the 6th most destructive wildfire in the state's history burning more than 1,800* structures. This deadly fire is also responsible for killing 6 people, including 2 firefighters since the blaze began on July 23rd due to a vehicle mechanical failure. Nearly 4,000 fire personnel are still working on the fire, while roughly 15,000 residents have been evacuated and more than 1,600 structures remain threatened. CalFire has more on the incident, including the latest on mandatory evacuation orders and road closures.
---
Mendocino Complex. The Mendocino Complex consists of 2 separate fires - the River Fire and the Ranch Fire east of Ukiah, CA. Combined, these 2 fires have consumed more than 95,000 acres and are 24% contained. More than 15,000 people have been evacuated and nearly 12,000 structures remain threatened. More than 3,000 fire personnel are working on these fires, but weather conditions remain unfavorable for any significant containment progress. CalFire has more on the Ranch Fire and River Fire, including more on the mandatory evacuations and road closures.
---
Ferguson Fire. According to Inciweb, the Ferguson Fire burning near Yosemite National Park has consumed nearly 69,000 acres and is still 39% contained. Little improvement was made since yesterday, but steep and rugged terrain is making it very difficult for the 3,300 fire personnel to work effectively. An Arrowhead hotshot - firefighter - was killed in the Ferguson Fire Sunday morning battling the massive blaze raising the death toll to 8 fire related deaths since the wildfires started in California. Inciweb has more on the incident, including mandatory evacuations and road closures.
---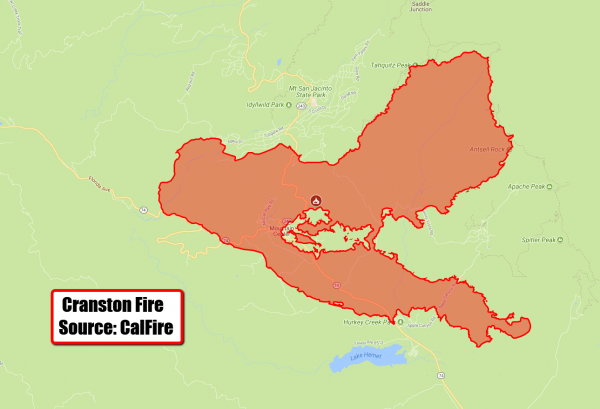 Cranston Fire. The Cranston fire - burning nearly Idyllwild - has consumed more than 13,000 acres and is now 92% contained. The good news is that firefighters are making good progress on this fire and estimated containment date is expected by August 9th. With that said, there are still a number of mandatory evacuations and road closures still in place. Inciweb has more on the fire.
---
Critical Fire Weather Concerns. Critical and elevated fire weather concerns are in place again today, where hot, dry and windy weather could create dangerous conditions for rapid fire growth.
---


Air Quality Concern. A by-product of wildfires is smoke and dangerous air quality, which is covering a wide area across the Western US. The most dangerous air quality is in closer proximity to the fires, where air quality alerts have been issued. Keep in mind that exposure to particle pollution can cause burning eyes, a runny nose, aggravated lung disease, asthma attacks, acute bronchitis and an increase risk of respiratory infections. Limit outdoor activities and follow medical advice if you have a heart or lung conditions.
Todd Nelson, Meteorologist, Praedictix.
---
The Science Behind California's "Fire Tornado". Smithsonian has a good explainer: "...But fire whirls are created by the same process that creates dust devils, the much smaller columns of rotating air that appear in hot weather. Marc Lallanilla at LiveScience explains fire whirls form when high ambient temperatures and hot air from a fire combine, creating a column of superheated air. That air begins to rotate and as is rises, though researchers aren't sure exactly what sets the air spinning. The rotating column flips into the vertical position, with the force of the rising air pulling ash, embers and flames up into the sky with it. Angular momentum, the same process that causes a figure skater to spin faster and faster as they pull their arms in, causes the chimney to concentrate and spin faster, creating the apocalyptic spectacle. Josie Rhodes Cook at Inverse reports that the spinning air also feeds fresh oxygen to the burning core sometimes found at the center of the whirl..."
---
Fiery Coincidence?
If you look at the Top 20 Most Destructive CA Fires list from
Cal Fire
, 6 of the Top 20 most destructive fires have happened in the last 10 months (since October 2017).
#1.) Tubbs Fire - October 2017 (5,636 structures burned)
#6.) Carr Fire - July/Aug 2018 (1,546 & still counting)**
#7.) Nuns Fire - October 2017 (1,355)
#8.) Thomas Fire - December 2017 (1,063)
#12.) Atlas Fire - October 2017 (783)
#18.) Redwood Valley Fire - October 2017 (546)
---
The Only Thing Fire Scientists Are Sure Of: This Will Get Worse
.
WIRED.com
provides some perspective: "...
Fire researchers have been hollering about the potential consequences for fires of climate change combined with land use for at least as long as hurricane and flood researchers have been doing the same. It hasn't kept people from building houses on the Houston floodplain and constructing poorly-planned levees along the Mississippi, and it hasn't kept people from building houses up next to forest and letting undergrowth and small trees clump together—all while temperatures rise. "Some of the fires are unusual, but the reason it seems more unusual is that there are people around to see it—fire whorls, large vortices, there are plenty of examples of those," says Mark Finney, a research forester with the US Forest Service. "But some things are changing." Drought and temperature are worse. Sprawl is worse
..."
---
Summer Camp for the Ultra-Wealthy Teaches Kids How to Stay Rich
.
Bloomberg
has an unlikely story: "...
Welcome to Camp Rich. Here, not far from Wall Street, Swiss banking giant UBS Group AG has convened its annual Young Successors Program (YSP), a three-day workshop for people who were born loaded. Part tutorial and part self-actualization exercise, the event is designed to stamp the UBS brand on the minds of the next generation of the ultra-wealthy—in essence, to hook them while they're young. With an average age of 27, attendees at the June YSP and other Next Gen functions hosted by the likes of UBS, Citi Private Bank, Morgan Stanley and Credit Suisse will one day rank among the world's most sought-after clients. Or, at least, that's the hope
..."
Illustration credit: Ariel Davis.
---
Survival of the Richest
. Are the wealthiest people on the planet plotting to leave us behind? A recent story at
Medium
caught my eye: "...
The Event. That was their euphemism for the environmental collapse, social unrest, nuclear explosion, unstoppable virus, or Mr. Robot hack that takes everything down. This single question occupied us for the rest of the hour. They knew armed guards would be required to protect their compounds from the angry mobs. But how would they pay the guards once money was worthless? What would stop the guards from choosing their own leader? The billionaires considered using special combination locks on the food supply that only they knew. Or making guards wear disciplinary collars of some kind in return for their survival. Or maybe building robots to serve as guards and workers — if that technology could be developed in time
..."
Image credit:
---
. 's Not the Problem. He's a Symbol of 4 Bigger Issues
Big Think
parses this out - here's an excerpt: "...
A lot of this is anti-immigration. Demographics have changed an awful lot in the United States, in Canada and in Europe over the past decades and a lot of people feel – people that have come before say "Wait a second! You're not taking care of me, but you're going to bring in these new people and these new people who I don't necessarily like or understand or trust? These new people who are getting benefits—but what about my benefits?! It's going to cost a lot of money to bring them in. Are they going to steal my jobs? Are they going to cause crime?!" —Even though in the United States we know that first generation immigrants don't actually cause more crime than those that have lived here. Nonetheless the willingness to believe that those "other people are bad and a problem" goes up a lot when you feel like your government's not taking care of you. So that's been a big piece of it
..."
---
Town Dusts Off Typewriters After Malware Attack.  I can't tell you the number of times I've been tempted to drag out my old typewriter after reading these stories. The BBC reports: "Government workers in a borough of Alaska have turned to typewriters to do their jobs, after ransomware infected their computer systems. A spokeswoman for Matanuska-Susitna said the malware had encrypted its email server, internal systems and disaster recovery servers. She said staff had "resourcefully" dusted off typewriters and were writing receipts by hand. The borough is in the process of rebuilding its systems. Ransomware is malicious computer software that encrypts or scrambles data and demands a fee for it to be restored. The borough said "nearly all" of its 500 desktop computers running Windows 7 and 10 had been infected and 120 computer servers were also affected..."
---
---
---
FRIDAY: Sticky sun, stray T-storm. Winds: SE 8-13. High: 87
SATURDAY: Humid with a few heavy T-storms likely. Winds: S 10-15. High: 82
SUNDAY: Partly sunny, risk of a PM T-shower. Winds: SW 8-13. Wake-up: 68. High: 86
MONDAY: Still muggy, a round of storms late? Winds: SW 5-10. Wake-up: 69. High: 85
TUESDAY: Mix of clouds and sun, not as sweaty. Winds: N 7-12. Wake-up: 65. High: 82
WEDNESDAY: Warm sun, isolated rumbles of thunder. Winds: W 7-12. Wake-up: 67. High: 87
THURSDAY: Plenty of sun, a bit less humid. Winds: N 7-12. Wake-up: 65. High: 85
---
Climate Stories....
When the Weather is Extreme, is Climate Change to Blame? NPR tackles the emerging science of "attribution", connecting the dots between a warming climate and more extreme weather events: "...Wildfires are part of the ecosystem of the American West, and scientists expect a certain number of them under normal average conditions. But what global warming does, says Balch, is change the backdrop against which they happen. "Fire season is about three months longer than it was just a few decades ago," she says. "We've seen a 2-degree Fahrenheit increase across the Western U.S. Snowpack is melting earlier, and what that's doing is essentially opening up the window for fires to happen over a much longer period of time." Last year was the costliest fire season ever, with damages exceeding $18 billion dollars. Overall, weather and climate disasters in the U.S. caused more than $300 billion in damages in 2017, shattering previous records. Though that's not all climate — those increased costs are partly the result of development and sprawl..."
---
Climate Experts Now Cite Global Warming During Extreme Weather Disasters. We've always experienced weather disasters - but the tempo and ferocity of these unusual weather events is on the rise. Here's an excerpt from NBC News: "...Experts previously have been hesitant to attribute specific extreme weather events, or wildfires, to climate change. But there is now a developing consensus that scientists can be more precise and forceful in connecting some extreme weather events to a warming planet. A feature article in the journal Nature Monday suggested that "attribution" research is allowing scientists to connect more weather anomalies — particularly heat waves, droughts and wildfires — to global warming. The article said that scientists had completed "attribution" studies on 190 extreme weather events between 2004 and the middle of 2018. In about two thirds of those cases, the researchers concluded the events had been made more likely, or more severe, because of humanity's role in warming the Earth..."
---
---
Wildfire Trends. Graphics above courtesy of Climate Signals, which has more background here.
---
---
Oil Industry and Climate Activists Agree on One Thing: Carbon Tax. Here's a snippet of an Op-Ed at TheHill: "...Several facts jumped out at us. First, a carbon tax remains an extraordinarily cost-effective way to cut emissions. Emissions reductions can drive down greenhouse gas emissions well below U.S. commitments to the international community, with vanishingly small effects on the economy. Economists like carbon taxes because they are efficient. They incentivize emissions reductions wherever and however they can be achieved at the lowest possible cost. Our analysis suggests that over the next decade, those low-cost opportunities are overwhelmingly found in a shift away from coal-fired power plants, which still produce over a quarter of our electricity. In fact, the combination of the shale revolution and the remarkable progress of solar and wind means that a large-scale shift away from coal would be cheaper than ever..."
Image credit: Star Tribune.
---
Why Some Republicans Are Rethinking Climate Change. TIME.com has the article; here's a clip: "...But the dueling GOP takes on a carbon tax highlight the growing likelihood of a clash within the party. Climate change isn't going anywhere as a political issue, as intense heat waves and storms become more frequent and voters and businesses increasingly demand solutions. As a result, some conservatives say, Republicans may soon face a choice: propose realistic conservative solutions to the problem, or lose relevance. "The pendulum will swing," says former South Carolina congressman Bob Inglis, a Republican who runs RepublicEn, a non-profit advocating for conservative solutions to environmental issues. "And when that pendulum swings…it may just be the solution you don't want on climate..."
Photo credit: Bill Clark, CQ Roll Call.
---
The Media's Failure to Connect the Dots on Climate Change. Here's an excerpt from The New Republic: "...The science is clear: Heat-trapping greenhouse gases have artificially increased the average temperature across the globe, making extreme heat events more likely. This has also increased the risk of frequent and more devastating wildfires, as prolonged heat dries soil and turns vegetation into tinder. And yet, despite these facts, there's no climate connection to be found in much news coverage of extreme weather events across the globe—even in historically climate-conscious outlets like NPR and The New York Times. These omissions, critics say, can affect how Americans view global warming and its impact on their lives. Major broadcast TV networks are the most glaring offenders..."
---
Connecting the Dots. The full report from Public Citizen is here.
---
Surrendering to Rising Seas.Our lakes in Minnesota keep looking better and better. Scientific American has the story: "...No one disagrees that undeveloping certain areas of the coastline will be messy and expensive. But as the science of coastal resilience becomes more collaborative, the how-to of retreat may become less daunting. Retreat, after all, will not mean drawing a line some distance inland from Maine to Florida and removing everything to the east, explains Bryan Jones, a geographer who models climate-induced human migration. Modeling combined with artificial intelligence is now producing tools that allow planners to play out what-if scenarios in their towns. If, say, you buy out 40 houses from one location, restore groundwater storage and run the 100-year flood of the future, would that significantly reduce damage to adjacent houses? What are the social and economic trade-offs of undeveloping one neighborhood to protect another? Can land be designated as a safe relocation spot?..."
Photo credit: "On New Jersey's Delaware Bay, the remains of a house await demolition. The land will be converted into open space." Credit: Grant Delin
---
As the Seas Have Been Rising Home Values Have Been Shrinking. Here's an excerpt from a press release at First Street Foundation:
---
Losing Earth: The Decade We Almost Stopped Climate Change. The climate scientists I know and respect disagree with the thrust of Nathaniel Rich's article at The New York Times Magazine. What do you think?
Image credit: NASA.
---
Scientists Aren't Impressed with New York Times' New Story on Climate Change. Here's a clip from ThinkProgress: "...As physicist Ben Franta, who studies the history of climate politics, put it, "Rich's exoneration of fossil fuel producers as well as the Republican party seem based on logical non sequiturs." Bob Brulle, a Drexel University sociologist and author of numerous studies on climate politics and lobbying, said in a media statement, "This article strikes me as a highly selective historical account that omits key facts that run counter to its overall narrative." In particular, "its treatment of industry actors is limited to their official statements, and neglect their political actions," Brulle said. Those political actions have always been to oppose action on climate change and spread disinformation..."
---
Next-Gen Nuclear is Coming - If Society Wants It. Should nuclear (which releases no greenhouse gases) be part of the energy equation going forward? Here's a clip from a story at WIRED.com: "...Dozens of nuclear startups are popping up around the country, aiming to solve the well-known problems with nuclear power — radioactive waste, meltdowns, weapons proliferation, and high costs. There are reactors that burn nuclear waste. There are reactors designed to destroy isotopes that could be made into weapons. There are small reactors that could be built inexpensively in factories. So many ideas! To former Secretary of Energy Ernest Moniz, an advisor to Terrestrial, it feels as if something new is underway. "I have never seen this kind of innovation in the sector," he said. "It's really exciting." Other reactors, like Terrestrial's molten-salt-cooled design, automatically cool down if they get too hot..."
Graphic credit: "Arctic communities like this one are beginning to explore advanced nuclear reactors as a solution to their unique energy challenges." Third Way/Gensler.