What Makes America Great? Just Ask Residents of Houston

All of us are here on borrowed time. All of us want the same thing in life: to love, to be loved and to make a difference. Amid the unspeakable catastrophe unfolding in Houston there are stories of selfless compassion and heroism.
The "Cajun Navy" came to the rescue - thousands of people towing boats; all making a beeline for Houston without ever being asked. Countless people were rescued by total strangers.
First Responders have stepped up big time; many of them working around the clock, even though their own homes were flooded out too.
Disasters tend to bring out the best in human nature. And here is what makes America great: strangers helping strangers - expecting nothing in return. Faint silver linings in the midst of heartbreaking tragedy.
A stray T-storm may blossom later today; a dry Thursday giving way to widely scattered T-storms Friday and Saturday. But most of the weekend looks dry with temperatures warm enough for a dip in the lake.
Storms on Labor Day mark the leading edge of (much) cooler air: 50s & 60s by the middle of next week? Slow things down, please!
---
Photo credit above: "Rescue boats fill a Houston street from flooded from superstorm Harvey. August 28." CREDIT: AP/David J. Phillip
---
Super Storm. Here's an image from (non-operational) GOES-16 taken early Tuesday morning, showing the cyclonic swirl, the massive comma cloud of tropical moisture associated with Tropical Storm Harvey.
---
Harvey is Houston's Third 500-Year Flood in 3 Years. I'm no math major, but something doesn't add up here. Details via The Washington Post: "...Hurricane Harvey has brought "500-year" rainfall and flood conditions to the Houston area, according to officials at the Harris County Flood Control District. By the time the storm finally leaves the Houston area the true magnitude may be even greater than that, surpassing 1,000-year thresholds -- potentially even more. But 500-year floods, as it turns out, happen more frequently than you might expect. The Houston area alone has seen no fewer than three such events in the past three years, according to local officials: Memorial Day floods in 2015 and 2016, followed by Hurricane Harvey's torrential rains this year..."
Image credit: "This drone video taken Aug. 27 shows the historic flooding in Houston caused by Hurricane Harvey." (ahmed.gul/Instagram).
---
25 Separate 500-Year Floods Across the USA Since 2010. Wow. That's from the National Weather Service, by the way, not prone to conspiracy theories. A 1 in 500 year flood risk means a flood of that magnitude has a 1 in 500 chance of happening in that place - that year. The Washington Post has more details.
---
Rains from Harvey Obliterate Records, Flood Disaster to Expand. We're going to need new colors on our rainfall maps. The Washington Post highlights the awe-inspiring rainfall amounts with this storm; unlike anything I've seen tracking weather over the USA for 45 years: "...The Weather Service office serving Houston described the rain amounts so far "unfathomable." The 16.07 inches that fell on Houston's George Bush Airport on Sunday marks the single wettest day in Houston history, making up nearly a third of the 49.77 inches the city sees in an average year. More than two feet fell over the weekend, a record two-day amount. Over the Houston metro area, so much rain would be expected to happen between just one time every 500 to 1,000 years. The August rainfall in Houston, largely from Harvey, shattered its record for any month by a whopping 13.47 inches..."
Map credit: "Rainfall totals through Monday evening from Harvey." (Jordan Tessler)
---
Tracking Remains of Harvey. NOAA's 3 KM NAM takes the tropical swirl of convective showers and T-storms from Harvey toward Memphis, Louisville and the northeastern USA by Saturday. Meanwhile dry weather lingers out west - dry enough for wildfires across the Pacific Northwest. 60-hour Future Radar product: NOAA and Tropicaltidbits.com.
---
Many Harvey-Damaged Houston Homes and Businesses Do Not Have Flood Insurance
. A story at
Fortune
made me do a double-take: "
A report from data provider CoreLogic says 52% of the properties in Houston that are at a high or moderate risk of flooding from Hurricane Harvey and its resulting rains are not in federally-designated flood zones. That means the homes and businesses in those areas may not have flood insurance, as it's not a requirement for buildings outside of "special flood hazard area" zones. And that could be especially disastrous for Houstonians, who learn the hard way that their homeowners policy doesn't cover some losses from the storm. Flood damage isn't typically covered under homeowners policies. But a little water can result in tremendous damage. Just one inch of water in a home can run up costs of $20,000, according to the National Flood Insurance Program.
.."
---
---
The Agony of Deciding to Evacuate a City. WIRED.com walks us through the nightmare of trying to move millions of people: "...Evacuation decisions begin with the weather forecast. This is, in theory, the simplest part of the equation—the movement of a storm depends on laws of physics. Where and when will the storm hit? How much water will it dump and what kind of wind speeds will it threaten? Historically, cities have been more willing to trigger evacuations in coastal areas directly in the path of a large and windy hurricane and less likely when a storm simply threatens to flood.Evacuation plans also depend on highly detailed population data. How many people live in your city and in how many units? How many people have access to cars? How many speak English? How many have pets? How many need help with transportation because they are senior citizens or because they have a disability that makes it harder to get around? Demographics of a city can change rapidly, so officials need the most recent numbers available..."
---
---
Texas Governor Warns of a Long, Slow Recovery. The New York Times has the story; here's an excerpt: "...Across a region that is home to millions of people and includes Houston, the nation's fourth-largest city, no one has a clear idea how many people are missing, how many evacuated, how many hunkered down or were trapped in their waterlogged homes, or how many inundated houses and vehicles are beyond saving. It is "one of the largest disasters America has ever faced," Gov. Greg Abbott said, warning against expecting anything resembling recovery any time soon, or a return to the way things were. "We need to recognize it will be a new normal, a new and different normal for this entire region..."
Photo credit: "An off ramp of Beltway 8 in Houston became a boat launch for rescuers searching for people stranded in floodwaters." Tamir Kalifa for The New York Times.
---
As Harvey Rains Down Devastation, Houston Stands Together. The New York Times reports.
---


Another Example of Stalled Weather Sparking Disaster. There's an angle to the Hurricane Harvey story that has been under-reported. The only way you can get 50 inches of rain crippling a major U.S. city is if a storm stalls for an extended period of time. Most hurricanes move at 15-30 mph, all hell breaks loose for 12-18 hours, and then skies clear and it dries up. Not with Harvey, which will wobble over the same waterlogged counties for nearly a WEEK. I've said it before, I'll say it again: when weather patterns stall, bad things happen. A blocking pattern forced "Sandy" into New Jersey in October, 2012. Weather holding patterns are blamed for California drought, Russian fires and deadly European heat. And 30" of snow here! (Halloween Super-storm of 1991). A symptom of climate change? More research is required, but there may be a link.
Photo credit above: DoubleHorn Photography.
---
Staggering Amounts of Water. From Phil Newell at Climate Signals: "Parts of Houston saw over two feet of rain in 24 hours, as the entire metropolitan Houston region is flooding. At least five people have died, and on Sunday there was a two and a half hour wait for 911 assistance. At least nine trillion gallons of water have fallen on Texas, with an additional five to 10 trillion gallons to come over the week - up to 50 inches of rain, meaning some areas will get a year's worth of rain in a week. According to the National Weather Service, "This event is unprecedented & all impacts are unknown & beyond anything experienced..."
* Check out the entire (amazing) 1:06 minute loop of Harvey; the persistence of feeder bands pumping a firehose of moisture into the Houston area is staggering. 2-minute MRMS radar data (which includes FAA, mobile and even commercial television station radar data) is included in this loop of Harvey, courtesy of AerisWeather.
---
As Harvey Raged, Meteorologists Grasped for Words to Describe It. Harvey is beyond anything we've ever experienced, which makes it challenging to communicate this new level of risk. The New York Times explains.
---
Harvey's Toll on Energy Industry Shows a Texas Vulnerability. The New York Times reports.
---
---
Praedictix Briefing: Issued Tuesday, August 29th, 2017
* Additional rounds of heavy rain have continued to impact the upper Texas coast, including Houston, and into Louisiana over the past 12-24 hours. This is continuing to bring catastrophic flooding across the region. Overall rain totals have now topped 40" in spots.
* An additional 7-15"+ of rain will be possible this week along the upper Texas coast and into southwestern Louisiana. The bright spot for areas like Houston is that the rain will finally start to end late Wednesday into Thursday as Harvey gets pushed off to the northeast. The flood threat for some, though, could last for weeks or months.
* Rainfall amounts of 5-15" will be possible along the northern Gulf Coast from south-central Louisiana to Alabama through the end of the week.
* We're also tracking a tropical disturbance sitting near the North and South Carolina border this morning. Potential Tropical Cyclone Ten will bring gusty winds and heavy rain to the region today before quickly moving out into the Atlantic.
---
Heavy Rain Continues This Morning. More heavy rain from Harvey is falling from Houston eastward into parts of Louisiana early this morning. This is only exacerbating the catastrophic flooding across the region.
---
Rainfall Totals Of 40"+. Since last Thursday evening, parts of Texas have received over 40" of rain, which would approach the amount of rain they would typically receive in a year in spots.
---
Harris County One Of The Hardest Hit. Harris County - which includes Houston - has received some of the heaviest rain from Harvey as rain bands continue to form and move/sit across the region. This is a look at seven day rain totals across the county, with some areas of southern Harris County now approaching 50 inches of rain. That includes Mary's Creek at Winding Road, where the seven day rain total was at 49.20" as of early Tuesday morning.
---
Flood Alerts. Flash Flood Warnings are in effect this morning across parts of eastern Texas and southwestern Louisiana due to the recent heavy rains. There is even a Flash Flood Emergency for parts of Jefferson and Hardin Counties in Texas through the mid-morning hours due to significant heavy rain that fell during the overnight hours. We continue to see numerous Flash Flood Watches from the Houston metro east into Alabama due to additional rain expected.
---
Numerous Road Closures/Flooded Roads. Travel remains impossible as many roads around the Houston metro are water covered.
Houston TranStar is keeping a list of high water locations: http://traffic.houstontranstar.org/roadclosures/#highwater
The city of Houston emergency information website at http://www.houstonemergency.org/has the latest with updates from the city and other partners.
View the above map of road closures and flooded roads in Houston from Houston TranStar: https://traffic.houstontranstar.org/layers/layers.aspx
View an interactive map for the state of Texas showing road closures from TXDOT: https://drivetexas.org/#/7/28.832/-95.479?future=false
There are also closed roads due to flooding in southwestern Louisiana. View an interactive map for the state of Louisiana showing these road closures from the Louisiana DOTD: https://hb.511la.org/#floodingHome?layers=flooding&timeFrame=TODAY
---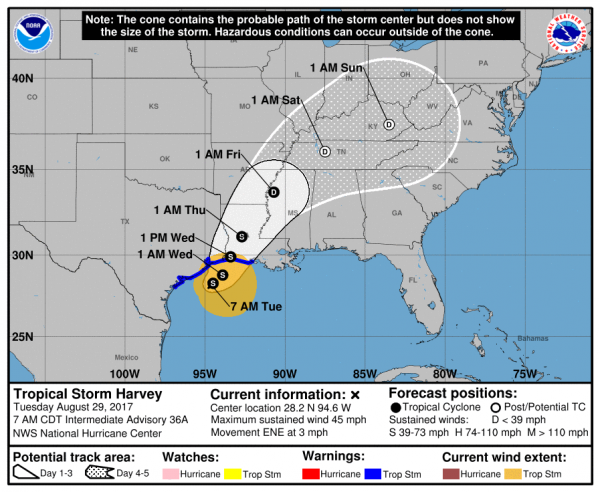 Harvey Sitting In The Gulf. Harvey has moved back into the Gulf of Mexico over the past 24 hours, with the center sitting 90 miles east-southeast of Port O'Connor, TX, as of 7 AM CT. The system will continue to sit off the coast today as it slowly starts to turn to the northeast, making landfall once again Wednesday near the Texas/Louisiana border. Harvey will continue to move northeast into the weekend, becoming a post-tropical system Friday while over the Tennessee Valley. 
---
Additional Heavy Rain. Heavy rain will continue to impact the upper Texas Gulf Coast and into southwestern Louisiana over the next several days, with additional rain amounts of 7-15"+ likely. Overall, going back to last week, that means some areas could wind up receiving 50" of rain, including in and around the Houston metro. This will continue to bring catastrophic and unprecedented flooding to this region. Further east along the Gulf Coast, overall rainfall amounts of up to 10-15" will be possible from south-central Louisiana to coastal Alabama.
---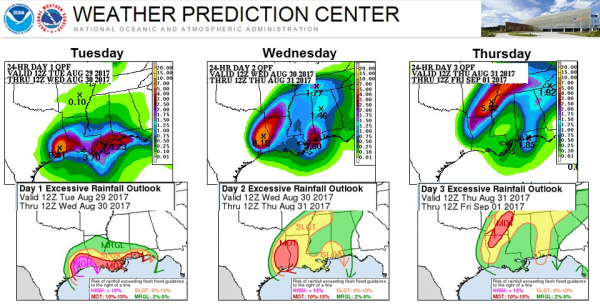 Houston Rain Continues Through Wednesday. Breaking down potential rainfall by day, the Houston metro will continue to see rain through Wednesday. After that, Harvey will finally lift off to the northeast, bringing an end to the deluge for the metro. There is still a high probability of flooding rain across part of Texas and Louisiana today.
---
Historic River Flooding Continues. River and bayou flooding will continue to be an issue far after the rain finally ends across Texas and Louisiana. Many areas are already either in major or historic flood stage as of this morning. The water will be slow to recede as water from upstream steams and tributaries continue to flow into the main rivers.
---
A Second Tropical System. We've been keeping an eye on Potential Tropical Cyclone Ten impacting parts of the Mid-Atlantic as well. This system was sitting 15 miles southeast of Wilmington, NC at 8 AM ET. While this system is quickly losing time to become the next named tropical storm, the impacts are the same across the region: gusty winds and heavy rain. A Tropical Storm Warning is in effect from north of Surf City to Duck including Albemarle and Pamlico Sounds. 
---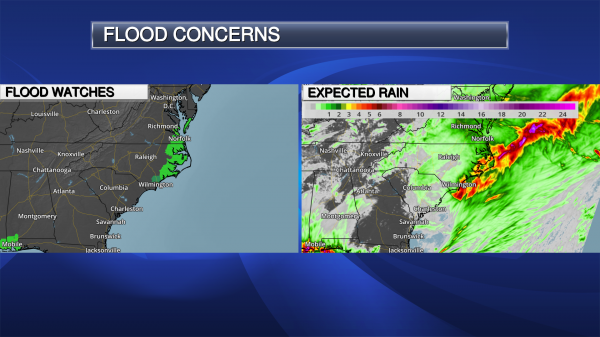 Heavy Rain Threat. This system will bring the potential of 3-6" of rain with it to parts of the coastal Carolinas mainly through the morning hours today. Flash Flood Watches are in effect.
---
Gusty Winds. Even though the system isn't classified as a tropical storm, it could still bring some tropical storm force winds (39+ mph) throughout Tuesday to the region as the storm continues to strengthen.
Summary: Catastrophic rain and flooding will continue along parts of the northern Gulf Coast, including in Houston, through the middle of the week. Already rainfall totals are topping 40" in parts of Harris County, and there is the potential for an additional 7-15" of rain across parts of the upper Texas Coast and southwestern Louisiana over the next couple days before the system finally moves out of the region. It appears, however, that additional rain will be possible in the Houston metro through Wednesday, with the rain finally ending late Wednesday into Thursday. We're also tracking Potential Tropical Cyclone Ten, off the Carolina coast this morning. This system will bring heavy rain and gusty winds to the eastern Mid-Atlantic today before the system quickly races off into the Atlantic.
Meteorologist D.J. Kayser, Praedictix
---
Houston's Explosive Growth Amid Disregard of Flood Preparedness. NPR takes a look at a convergence of factors that made flooding in Houston worse: "...Number one is unchecked development. As you mentioned kind of at the top, we - a lot of this pasture land, prairie land that used to absorb these floodwaters when they came over Houston has been paved over. And that has caused some of this flooding to get a lot worse. And, of course, development also means you've got more in harm's way. You got more people living in Houston than you did 10 years ago. You've got more pavement and more of structures in Houston than you did 10 years ago. So that's, obviously, going to put more in harm's way when you have these kinds of torrential rain storms. And then the next factor is climate change. It's seeming increasingly clear, according to scientists, that because of climate change, these storms are going to get more frequent and they're going to get more severe. So you put those two things together, and you've got a big problem..."
---
---
Hell and High Water. Read the ProPublica and Texas Tribune background piece about Houston's vulnerability to major flooding, released on March 3, 2016. In 20/20 hindsight it was prescient: "...If a storm hits the region in the right spot, "it's going to kill America's economy," said Pete Olson, a Republican congressman from Sugar Land, a Houston suburb. Such a storm would devastate the Houston Ship Channel, shuttering one of the world's busiest shipping lanes. Flanked by 10 major refineries — including the nation's largest — and dozens of chemical manufacturing plants, the Ship Channel is a crucial transportation route for crude oil and other key products, such as plastics and pesticides. A shutdown could lead to a spike in gasoline prices and many consumer goods — everything from car tires to cell phone parts to prescription pills. "It would affect supply chains across the U.S., it would probably affect factories and plants in every major metropolitan area in the U.S.," said Patrick Jankowski, vice president for research at the Greater Houston Partnership, Houston's chamber of commerce..."
---
From Politico Playbook: FEMA Director Says Harvey is Probably the Worst Disaster in Texas History by WaPo's Joel Achenbach and Lisa Rein: "The disaster Hurricane Harvey - now a tropical storm - has created is immense in scale, encompassing thousands of square miles of Southeast Texas. It has brought epic flooding that will affect millions of people. Rivers are still rising, the rain still falling. 'This will be a devastating disaster, probably the worst disaster the state's seen,' William 'Brock' Long, administrator of the Federal Emergency Management Agency, told The Washington Post on Sunday. 'The recovery to this event is going to last many years to be able to help Texas and the people impacted by this event achieve a new normal.'" http://wapo.st/2xFfizz
Photo credit: NASA, International Space Station.
---
Adding Atmospheric Insult to Meteorological Injury. As if a Category 4 hurricane wasn't bad enough, Harvey has stalled for the better part of 4 days, sandwiched between two high pressure bubbles that are nearly stationary. The storm has nowhere to go, so it creeps along, all the time funneling moisture from the Gulf of Mexico into southeastern Texas. Map credit: Los Angeles Times.
---
Fatalities in the United States from Atlantic Tropical Cyclones. Edward Rappaport studied tropical systems in the Atlantic basin from 1963 to 2012 and discovered that 3 out of 4 deaths were related to storm surge and inland flooding. Check out his paper at the American Meteorological Society.
---
Trumps Rollback of Flood Protections Risks Further Houston-Style Calamity. Is this the right time to be relaxing building codes in hurricane alley? Here's an excerpt from The Guardian: "...Houston already has some of the laxest building regulations for structures in potential flood zones and the president wants to spread that policy across the US. "It makes no sense," Steve Ellis, vice-president of Taxpayers for Common Sense, said. "Taxpayers deserve to have the assurance that if they provide assistance to a community to build or rebuild, it's done in a way that isn't going to cost taxpayers money in the future." Storms and flooding are generally becoming costlier and more frequent and data suggests climate change is a leading culprit. Many towns are located in coastal areas and riverine floodplains, where the National Oceanic and Atmospheric Administration (NOAA) says "building codes are often insufficient in reducing damage from extreme events". The number of "billion-dollar events" – natural disasters ranging from flooding to wildfires that incur more than $1bn in damage – has risen over the past few decades, increasing in cost from a roughly $10bn five-year average in 1985 to more than $50bn in 2015..."
Photo credit: "Margie David and her husband David Emswiler are rescued by volunteers on a boat from their flooded house in north-west Houston." Photograph: Jay Janner/AP
---
---
Lukewarm Into the Weekend - Hints of Autumn Middle of Next Week. ECWMF guidance for the Twin Cities shows the best chance of 80 degrees on Sunday, followed by a fairly sharp cool frontal passage on Labor  Day, maybe a sweatshirt or light jacket by next Wednesday? No fear - it will  warm up by the second weekend of September. Graphic: WeatherBell.
---
Warming Up Mid-August. In spite of an early slap of cool air next week from the Upper Midwest into the Great Lakes and New England it would be premature to write summer off just yet. Although the hottest days are behind us now, GFS guidance at 500mb looking out 2 weeks shows a zonal flow, with summer warmth across the Plains and much of the western USA.
---
Stanford Scientists: Switch to Renewables Would Save 7 Million Lives Per Year, Create 24 Million Jobs. Here's the intro to a story at Climate News Network and EcoWatch: "Californian scientists said a fossil fuel phase-out is achievable that would contain climate change, deliver energy entirely from wind, water and sunlight to 139 nations, and save up to 7 million lives each year. They said it would also create a net gain of 24 million long-term jobs, all by 2050, and at the same time limit global warming to 1.5°C or less. The roadmap is entirely theoretical, and depends entirely on the political determination within each country to make the switch work. But, the researchers argued, they have provided a guide towards an economic and social shift that could save economies each year around $20 trillion in health and climate costs..."
---
New App Uses Smartphone Selfies to Screen for Pancreatic Cancer. Science Magazine has the details: "Pancreatic cancer has one of the worst prognoses — with a five-year survival rate of 9 percent — in part because there are no telltale symptoms or non-invasive screening tools to catch a tumor before it spreads. Now, University of Washington researchers have developed an app that could allow people to easily screen for pancreatic cancer and other diseases — by snapping a smartphone selfie. BiliScreen uses a smartphone camera, computer vision algorithms and machine learning tools to detect increased bilirubin levels in a person's sclera, or the white part of the eye...One of the earliest symptoms of pancreatic cancer, as well as other diseases, is jaundice, a yellow discoloration of the skin and eyes caused by a buildup of bilirubin in the blood. The ability to detect signs of jaundice when bilirubin levels are minimally elevated — but before they're visible to the naked eye — could enable an entirely new screening program for at-risk individuals..."
---
Postpartum Depression Can Affect Dads. Scientific American has the story: "...Despite the skepticism, postpartum depression in fathers is very real, with estimates that around 10 percent of men report symptoms of depression following the birth of a child, about double the typical rate of depression in males. Postpartum depression in women has been linked with hormonal shifts, but the role of hormones in men's postpartum depression has been unknown..."
---
A Father's Age at Conception Influences a Child's Social Behavior Later On. An article at Big Think made me do a double-take: "...Many studies have focused on the impact an older mother has on a child's development. For a woman, having a child later in life increase the risk of miscarriage, a difficult pregnancy, and the child having a developmental disorder. One plus side though, older women might parent better.  Now, studies are turning toward older fathers. New research has shown that children born to a father over age 35 have a higher risk of autism, schizophrenia, or a birth defect. One study found that children born to dads over age 40 may even risk lower scholastic achievement..."
---
Anheuser-Busch Halts Beer Production to Send Drinking Water to Harvey Victims. Syracuse.com has the story: "Budweiser's parent company is switching from beer to water at one factory in the wake of devastating floods in Texas. Anheuser-Busch announced its brewery in Cartersville, Georgia, has halted beer production to help send emergency drinking water to those affected by Hurricane Harvey. More than 100,000 cans of water will be delivered to Arlington, Texas, in addition to a shipment that arrived in Baton Rouge, Louisiana, on Monday...A spokesperson said Anheuser-Busch has worked with the Red Cross for more than 100 years to help in times of need, and has donated more than 76 million cans of clean drinking water since 1988."
Photo credit: "Cases of water donated by Anheuser-Busch in St. Louis, Friday, July 21, 2006, amid a heat wave during the worst power outage in St. Louis history." (The Associated Press).
---
---
Naked Man on Hiking Trail Says He's Sunbathing, Gets Summons. I was just trying to get some vitamin D! Here's a clip from AP: "A naked man who startled a mother and her children on a nature trail in Maine has been issued a summons by police. Officers say 67-year-old Ricky Thompson told them he was sunbathing when the family spotted him in Waterville on Thursday. The woman described to police a "naked elderly man" with a walker. So police went to the scene assuming there was a medical issue. Deputy Chief Bill Bonney tells the Morning Sentinel that Thompson was still naked when officers caught up with him. Bonney says police had received similar complaints in the past but were unable to substantiate them..."
---
80 F. maximum temperature in the Twin Cities yesterday.
78 F. average high on August 29.
86 F. high on August 29, 2016.
August 30, 1977: Flooding occurs on the southwest side of the Twin Cities, with MSP Airport getting 7.28 inches of rain in 4 1/2 hours.
---
---
TODAY: Warm sun, late T-storm risk. Winds: W 5-10. High: 81
WEDNESDAY NIGHT: Lingering shower this evening. Low: 58

THURSDAY: Partly sunny and cooler. Winds: E 8-13. High: 73

FRIDAY: Intervals of sun, risk of a T-storm late. Winds: SE 7-12. Wake-up: 55. High: 76

SATURDAY: Partly sunny, isolated T-shower risk. Winds: NW 7-12. Wake-up: 58. High: near 80

SUNDAY: Partly sunny, soak up the warmth. Winds: W 7-12. Wake-up: 61. High: 83

LABOR DAY: Cloudier, cooler. Few showers and T-storms. Winds: N 8-13. Wake-up: 62. High: 76

TUESDAY: Mostly cloudy, early touch of autumn. Winds: NW 10-20. Wake-up: 55. High: 65
---
Climate Stories...
Harvey is What Climate Change Looks Like. Meteorologist Eric Holthaus explains at Politico Magazine: "...Harvey is the third 500-year flood to hit the Houston area in the past three years, but Harvey is in a class by itself. By the time the storm leaves the region on Wednesday, an estimated 40 to 60 inches of rain will have fallen on parts of Houston. So much rain has fallen already that the National Weather Service had to add additional colors to its maps to account for the extreme totals. Harvey is infusing new meaning into meteorologists' favorite superlatives: There are simply no words to describe what has happened in the past few days. In just the first three days since landfall, Harvey has already doubled Houston's previous record for the wettest month in city history, set during the previous benchmark flood, Tropical Storm Allison in June 2001. For most of the Houston area, in a stable climate, a rainstorm like Harvey is not expected to happen more than once in a millennium..."
Photo credit: David J. Phillip/AP Photo.
---
Is Climate Change Making Hurricanes Worse? Here's a clip from an analysis at PRI: "...Still, some climate scientists are doing so-called climate attribution studies on hurricanes using more recent historical data. Following 2013's devastating Typhoon Haiyan, MIT atmospheric scientist Kerry Emanuel used a wind forecasting model and plugged in the thermodynamic conditions of both 30 years ago and present day. "And when we do that," Emanuel told The World in 2013, "we find that the wind speeds are about 10 percent larger now." Emanuel said the destruction wrought by windstorms goes up quickly with wind speed, "so that really corresponds to something like 30 to 40 percent more damage than the same exact event might've done had it occurred in the thermal environment of the 1980s." More recently, Emanuel has shown that hurricanes that intensify just before landfall, giving local residents less time to prepare, should increase due to global warming..."
Photo credit: "Waves break over the sea wall ahead of Hurricane Franklin in Veracruz, Mexico, Aug. 9, 2017." Credit: Victor Yanez/Reuters.
---
---
What You Can and Can't Say About Climate Change and Hurricane Harvey. Here's a snippet from a Washington Post story: "...The storm is a bit more intense, bigger and longer lasting than it otherwise would be," added Kevin Trenberth, a climate researcher with the National Center for Atmospheric Research in Boulder, Colo. And then there's sea level — it's higher along the Texas coast than it was 100 years ago or more. At least part of that is because of climate change and its melting of ice and swelling of ocean water — though there are other factors in the mix, too, such as the subsidence of land. Sea level matters for storm surge, one key destructive aspect of any hurricane. "New York, when Sandy hit, the sea level was already about a foot higher than it was 100 years earlier," Emanuel said. "So if Sandy had hit in 1912, it probably would not have flooded Lower Manhattan..."
---
CO2 is Changing the Jet Stream In Ways That Will Create More Harveys. Here's an excerpt from a story at ThinkProgress: "...Earlier this year, Mann co-authored a study explaining how human-caused warming is changing our atmosphere's circulation, including the jet stream, in a way that leads to "increase in persistent weather extremes" during the summer. "I agree with Mike [Mann] that the weak steering currents over the south-central US coincident with Harvey are consistent with our expectations for a warmer world, which of course includes effects of a very warm Arctic," Jennifer Francis, a climate scientist at Rutgers University, told ThinkProgress. Francis is a leading expert on how global warming and the related Arctic amplification affect the jet stream and extreme weather. A study she co-authored that appeared in the Journal of Climate in June, concludes, "Over the central United States during summer, the weaker and wavier flow" of the jet stream favors "more intense summer weather..."
---
Storm Harvey: Impacts Likely Worsened Due To Global Warming. Here's an excerpt from the Pottsdam Institute for Climate Impact Research: "...More tentative, yet quite possibly also relevant, is a general slowdown of atmospheric summer circulation in the mid-latitudes (Coumou et al, 2015). This is a consequence of the disproportionally strong warming in the Arctic; it can make weather systems move less and stay longer in a given location – which can significantly enhance the impacts of rainfall extremes, just like we're sadly witnessing in Houston. We do not expect a change of the overall frequency of tropical storms, and so far we do not observe a significant change in this regard. In contrast, we expect from theory and models a change in intensity – the strongest tropical storms could become even stronger due to increasing sea surface temperatures, because this is where these storms get their energy from. That's the reason they develop only above water being at least 26 degrees Celsius warm..."
---
Climate Scientists Connect the Dots. The field of "attribution" tries to tie a warming climate with specific extreme weather events. Vox reports on how much of Harvey is natural variability vs. weather spiked by a warmer, wetter climate: "...In conclusion, while we cannot say climate change 'caused' hurricane Harvey (that is an ill-posed question), we can say that it exacerbate several characteristics of the storm in a way that greatly increased the risk of damage and loss of life," Mann wrote. "Climate change worsened the impact of Hurricane Harvey." Other climatologists agree with Mann. Kevin Trenberth, a senior scientist at the US National Center for Atmospheric Research, told the Atlantic, "The human contribution can be up to 30 percent or so up to the total rainfall coming out of the storm. … It may have been a strong storm, and it may have caused a lot of problems anyway — but [human-caused climate change] amplifies the damage considerably..."
---
Harvey, The Hurricane That Humans Helped Cause. The hurricane would have probably formed either way, but a warmer, wetter background environment made the storm worse. Here's an excerpt from The New York Times: "...We don't display the same fussiness in other important areas. No individual case of lung cancer can be definitely linked to smoking, as Heidi Cullen, the chief scientist at Climate Central, notes. Few vehicle accidents can be definitly linked to alcohol, and few saved lives can be definitely linked to seatbelts. Yet smoking, drunken driving and seatbeltless riding each created a public health crisis. Once the link became clear and widely understood, people changed their behavior and prevented a whole lot of suffering. Climate change is on its way to becoming a far worse public health crisis than any of those other problems. Already, it has aggravated droughts, famines and deadly heat waves..."
---
It's a Fact: Climate Change Made Hurricane Harvey More Deadly. Climate scientist Michael Mann reports for The Guardian: "What can we say about the role of climate change in the unprecedented disaster that is unfolding in Houston with Hurricane Harvey? There are certain climate change-related factors that we can, with great confidence, say worsened the flooding. Sea level rise attributable to climate change – some of which is due to coastal subsidence caused by human disturbance such as oil drilling – is more than half a foot (15cm) over the past few decades (see here for a decent discussion). That means the storm surge was half a foot higher than it would have been just decades ago, meaning far more flooding and destruction. In addition to that, sea surface temperatures in the region have risen about 0.5C (close to 1F) over the past few decades from roughly 30C (86F) to 30.5C (87F), which contributed to the very warm sea surface temperatures (30.5-31C, or 87-88F)..."
---
The Jon Snow of Climate Change is Emerging in Congress. Here's a clip from a story at TheHill: "...So, who emerges as the Jon Snow of Congress, the heroic figure who battles against great odds to forge an alliance against a threat not yet viewed with the urgency it demands?  That would have to be Rep. Carlos Curbelo, the Florida Republican and chairman of the bipartisan House Climate Solutions Caucus. Like Jon Snow, he has seen firsthand the greater enemy that must be defeated. Instead of White Walkers, however, Curbelo has seen the ankle-deep sea water that floods his district in Miami during certain high tides. For him, it isn't winter that's coming — it's the ocean..."
---
---
Tree-Killing Beetles Spread Into Northern U.S. Forests as Temperatures Rise. Because it's just not getting as cold as it did in the past. Here's an excerpt from InsideClimate News: "Southern pine beetles are among the most destructive insects invading North America's pine forests today, and they're spreading farther north as global temperatures rise, putting entire ecosystems at risk and creating fuel for wildfires as they kill the trees they infest. A new study shows the insects' range could reach Nova Scotia by 2020 and cover more than 270,000 square miles of forest from the upper Midwest to Maine and into Canada by 2080. Winter cold snaps that once killed the beetles in their larval stage are becoming less frequent at the northern edge of the beetles' current range, which will allow them to multiply and spread into new territory quickly, the study's authors say..."
Photo credit: "Southern pine beetles lay their eggs under the bark of trees, eventually killing them as they cut off water flow and nutrients." Credit: Erich Vallery/USDA.
---
Did Climate Change Intensify Hurricane Harvey? A warmer climate didn't trigger the formation of Harvey, but did it "juice" the storm, increasing rainfall amounts? Here's an excerpt from The Atlantic: "...All of this said, a storm like Harvey could have happened even if there was no climate change. Planning experts have long fretted over the possibility of a major hurricane striking Houston. Harvey is also a powerful hurricane forming in one of the most hurricane-friendly regions of the world at the peak of hurricane season. Storms similar to it would form in any climate. But Trenberth says that the extra heat could make the storm more costly and more powerful, overpowering and eventually breaking local drainage systems. "The human contribution can be up to 30 percent or so up to the total rainfall coming out of the storm," he said. "It may have been a strong storm, and it may have caused a lot of problems anyway—but [human-caused climate change] amplifies the damage considerably..."
---
Climate Connection. Here are a few quotes regarding Hurricane Harvey's impacts made worse by a warmer, wetter background climate, courtesy of Climate Signals:
---
The Military Can Fight Climate Change. Here's an excerpt of an Op-Ed at News & Observer: "...Perhaps Cheney's most compelling point is that long-term changes in the weather lead to changes in economies and living patterns that can trigger military conflicts. He noted that the carnage in Syria had its roots in climate change as much as much as in politics. A drought over several years – the worst in modern Syrian history – dried up farmland and forced as many as 1.5 million rural people to move into Syria's cities. That displaced population – including many young men who without work – helped fuel the rise of ISIS..."
Photo credit: "Some of the 35 T-45 jets arrive at Naval Air Station Fort Worth in Fort Worth, Texas on Aug. 24, 2017. Thirty-five Navy and Marines T-45s arrived at Naval Air Station Fort Worth from Kingsville as part of an evacuation in advance of Hurricane Harvey." Max Faulkner - TNS.
---
Russian Tanker Just Set Arctic Speed Record. Which doesn't bode terribly well for arctic ice. Here's a clip from Popular Mechanics: "A Russian tanker just set two Arctic records. The ship not only traveled through the Arctic in record time, but has done so without the use of an icebreaker escort. The Christophe de Margerie, owned by the Russian shipping company Sovcomflot, carried a cargo of liquefied natural gas (LNG) from Norway to South Korea in 19 days, 30 percent faster than traditional southern shipping routes through the Suez Canal. It traveled the Northern Sea Route, Russian Arctic coast from the Kara Sea, along Siberia, to the Bering Strait in just 6 days, 12 hours, and 15 minutes..."
Photo credit: Sovcomflot.
---
Study: Katharine Hayhoe is Successfully Convincing Doubtful Evangelicals About Climate Change. Here's an excerpt from The Guardian: "...There are also evangelicals who have tried to convince their peer group about the reality of human-caused climate change and our moral obligation to address it. These include the Evangelical Environmental Network, the Evangelical Climate Initiative, the Young Evangelicals for Climate Action, and evangelical climate scientists like Sir John Houghton and Doug Hayhoe's daughter Katharine Hayhoe (one of TIME magazine's 100 most influential people). However, a majority of evangelicals continue to reject the reality of human-caused climate change, and there hasn't been research quantifying the effectiveness of these evangelical climate leadership efforts..."