Sunday Snow Potential but Springy Next Weekend

Our oldest son moved to Seattle with his new bride, taking a job at Cray, the supercomputer company that powers weather models at NOAA and ECMWF . He was hoping to take a badly-needed break from the merciless cold and snow of a Minnesota winter. Looked good on paper.
Seattle is enduring the coldest winter since 1985 - the city saw over 7 inches of snow in February, compared with .3 inches at MSP. "It's been fairly mild and quiet" I explained. "Just a couple of tornadoes".
New England is shivering through record cold; the biggest snowstorm of the winter season may hit the northeast on Tuesday with 1-2 foot amounts and blizzard conditions just inland. So much for the early bloom of cherry blossoms in Washington D.C.
Today is the better travel day in Minnesota with mid-20s and a generous smear of clouds. Sunday's clipper looks more impressive, probably "plowable". A band of 2-5 inches of snow may set up close to the metro Sunday PM into Monday AM. A Winter Storm Watch is posted for Sunday. Don't write off winter just yet.
40s return late next week - 50s to near 60F again next weekend as spring regains its bounce!
---
84-hour 12 KM NAM Future Radar product: NOAA and Tropicaltidbits.com.
---
Significant Clipping. This won't just be a minor trim, but a full-frontal Alberta Clipping capable of plowable snowfall amounts Sunday into early Monday. Clippers are notoriously fickle (all storms are, come to think of it) and a zig or zag of 50 miles in the storm track will make a big difference in final snowfall totals. But 2-5" in the Twin Cities isn't out of the question by Monday morning, maybe a couple inches for Des Moines, Madison and Milwaukee.
---
Winter Storm Watch Issued. Much of central and southern Minnesota is in the watch area, including much of the Twin Cities metro, which may wind up on the edge of plowable (3"+) amounts. If you're looking for hassle-free driving consider getting out today, because with temperatures stuck in the 20s travel tomorrow may be tricky by afternoon and evening. Map: AerisWeather.
---
Wide Divergence in Snowfall Predictions. Duluth will see little snow from this clipper; maybe a couple inches for Brainerd, but more significant amounts from the Twin Cities, St. Cloud and Willmar toward Mankato and Rochester - where a band of up to 6" may accumulate Sunday PM into Monday morning. Model guidance: NOAA and AerisWeather.
---
Meanwhile: Blizzard Potential Northeastern USA Next Week. Sunday's Upper Midwest clipper will be small potatoes compared to what may unfold Tuesday into Wednesday from the Mid Atlantic into New England. Although a mix of ice and rain may keep amounts down near the Atlantic coast as much as 1-2 feet of snow is forecast to pile up from near Washington D.C. to Lancaster, Philadelphia the Poconos and north Jersey into interior New England. Plowable snows are likely for New York City and Boston, but GFS guidance (above) hints at the axis of heaviest snow setting up west of I-95. Stay tuned.
---
Spring On The Horizon. Don't get too bummed out about snow Sunday. The sun is as high in the sky today as it was on September 31, which means whatever snow falls won't be long for this world - most of it will be gone by the middle of next week. ECMWF guidance shows 40s late next week; a shot at 50 F. by Sunday. Twin Cities meteogram: WeatherBell.
---
GFS Agrees. It's nice to see agreement between the "Euro" and NOAA models, which also show a steady warming trend next week. Once snow cover melts the sun's energy can go into heating the air vs. melting snow, and that increases the odds of 50s by next Sunday. Graphic: AerisWeather.
---
Potential Snowstorm Next Week. While this system is still four to five days out, and details can change, we have been watching a strong signal in our forecast models that a system will deepen off the Mid-Atlantic coast early next week. This would have the potential move along the New England coast Tuesday (depending what a secondary system moving through the Ohio Valley does), bringing the potential of heavy snow with it Monday through Wednesday across the region.
---
Wide Spread In Potential Snowfall Totals. With this system still being four to five days out, there is still a considerable spread in the snowfall potential. Regardless of this spread, confidence is increasing in the likelihood of accumulating snow across the Northeast early next week, and the potential is there for significant snowfall along with potentially damaging winds which could cause white-out conditions.
---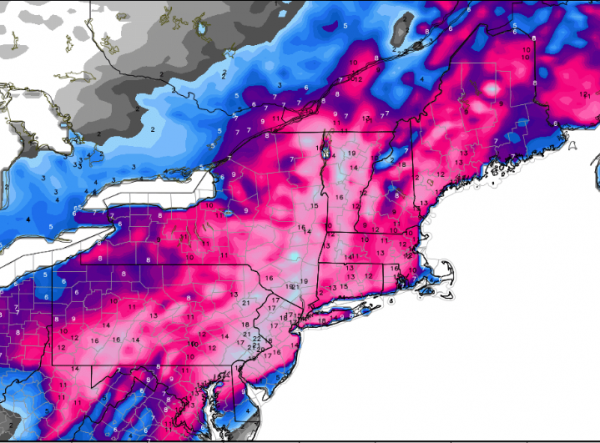 Forecast Snow – American Model. Here's a look at how tricky this forecast is this far in advance of the system. The American GFS model is showing some of the heavier snow amounts falling from Philadelphia to New York City, with over a foot of snow possible through Wednesday. Map credit: WeatherBell.
---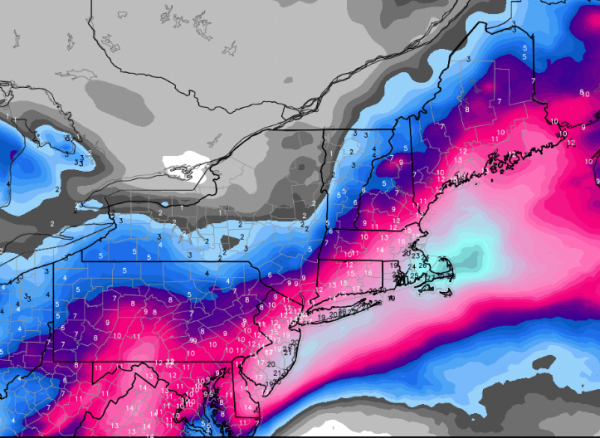 Forecast Snow – European Model. Meanwhile, the European solution brings the heaviest snow further east across portions of the coast. It's these differences in how the models are handling the environment around the system that will have to be watched closely over the next few days, as it will determine where the heaviest snow will fall.
---
Probability Of 6" Of Snow. While this includes the few inches of snow expected to fall today across the region, we do see at least a 50% probability of at least six inches of snow through next Wednesday across the Northeast in some of our models. This continues to point toward the potential of at least plowable snow early next week across the region.
Summary. While snowfall accumulations of 2-5"+ can be expected across parts of the Northeast today, including New York City and Boston, we have our eyes on the potential of a major snowstorm as we head into early next week. We'll have an eye on a deepening low off the coast that could then move along New England, which could bring the likelihood of heavy snow from Washington D.C. to Boston. This system is still four to five days out, and as we get closer we'll have a better idea where the heaviest snow will likely fall, but the pattern is in place for the potential of heavy snow in New England next week.
D.J. Kayser, Meteorologist, AerisWeather
---
When is a Drought Over? A Wet California Wants to Know. Here's a clip from The New York Times: "...In Northern California, snow could be seen on top of Mount Diablo outside San Francisco last weekend. Across the state, dams are under siege and reservoirs are overflowing. The snowpack in the Sierra Nevada — a source of water once winter ends and the dry months settle in — was nearly twice its normal level last week. (And that was before even more snow arrived.) Yet for all that, California is, at least officially, still in a drought state of emergency. That has been the case since Jan. 17, 2014, when Gov. Jerry Brown issued the order after one of the driest years in California history. Why hasn't the drought been declared over? Here are some answers for Californians — and everyone else who has watched this story unfold — about what is going on..."
Photo credit: "A flooded orchard in Glenn, Calif. Much of the state is officially out of the drought, but some parts, such as Santa Barbara, remain alarmingly dry." Credit Jim Wilson/The New York Times.
---
46 Confirmed Tornadoes in March 6-7 Outbreak. U.S. Tornadoes confirms 63 reports, 90 warnings and 6 watches. Here's an excerpt from a post detailing the biggest tornado outbreaks of 2017, nationally, to date: "...Another in a late-winter and early-spring volley of storm systems, this one was the farthest west outbreak so far this year. While many of the tornadoes were QLCS-type, spinning up within lines and broken lines, several supercells dropped tornadoes as well. The Kansas City area was particularly hard hit as an EF3 struck east of town. Fortunately, no one was killed despite relatively high impact..."
---
Tornado Count. These numbers are from the Minnesota State Climate Office, not NOAA SPC. For the record "average" number of tornadoes, statewide, since 1950 is 36.
---
"Weather Microphones" Could Prevent More Deaths from Severe Storms. I had no idea there was such a thing as a tornado-detecting microphone. WRCB-TV in Chattanooga set me straight: "After the April 2011 severe weather outbreak, we learned that tornadoes behave differently in the South than in the plains. Researchers at the University of Mississippi's National Center for Physical Acoustics have developed low-cost, high-fidelity technology that could help better detect tornadoes by using special microphones. "These are microphones designed primarily for very low frequency sound, frequencies below what humans can hear," explains Senior Research Scientist Dr. Roger Waxler. Most of us can't hear sounds below 20 Hertz. But studies have proven that tornadoes emit frequencies much below this level from as far away as 20 miles because they're less prone to interference than high frequencies. These sound waves have been picked up by the microphones in western states. "There's a focus now to look at the Southeast both because of the tornado damage that's been done and also because it's hilly," adds Waxler. "It's a different environment..."
---
Tech Tornado Researchers Return to Southeast for VORTEX-SE. Another round of in-the-field research is scheduled for mid-May. Here's an excerpt from Plainview Daily Herald: "...Associate professors Chris Weiss and Eric Bruning and graduate research assistants Aaron Hill and Vanna Chmielewski – all from the atmospheric science group within the Department of Geosciences – arrived in Alabama early last week to deploy equipment for the second year of the Verification of the Origins of Rotation in Tornadoes Experiment-Southeast (VORTEX-SE), which runs March 8 through May 8. Team members are now stationed in Huntsville to await signs of potentially dangerous storms. Their equipment includes lightning mapping array sensors that will be deployed ahead of storms to map characteristics of lightning strikes, including size and channel length; dozens of weather balloons to measure changes in temperature, wind and moisture content at different heights; and 24 StickNet platforms that measure temperature, pressure, humidity and wind to understand how atmospheric states change around developing tornadoes. Sixteen StickNets are already in place to gather long-range data while the other eight will be deployed directly in the path of oncoming storms..."
More information on VORTEX - SOUTHEAST is available here.
---
GOES-16 (Combined Vis/IR) Imagery of Monday's Tornado Outbreak. Here's what the squall line over Iowa and Missouri looked like from 22,300 miles above the equator; additional detail provided by Satellite Liason Blog: "...Severe convection developed quickly across the western edge of the SPC risk zone. (Above) is an animation of an image combination known as a "sandwich product". This is simply transparent 10.4 um IR channel overlaid on 0.64 um visible channel. With this combination, one is getting the benefit of the higher resolution in the visible imagery, and the benefit of the temperature information from the IR imagery. One can clearly see the evolution of overshooting tops, and the rapid expansion of the storm anvils..."
---
A Note to the Weather Community About Using GOES-16 Data. It's still in beta, so buyer beware. But damn, the imagery is spectacular! Here's an excerpt from NOAA NESDIS: "NOAA's National Environmental Satellite, Data, and Information Service appreciates the enthusiasm in the weather community and support for our newest on-orbit satellite, GOES-16, which will enhance the weather forecasts that save lives and protect property nationwide. At this time, data from GOES-16 are considered preliminary and are undergoing validation testing. NOAA is therefore requesting that any organizations that redistribute GOES-16 data -- before it is declared operational -- include the following disclaimer with the data:
"NOAA's GOES-16 satellite has not been declared operational and its data are preliminary and undergoing testing."
---
Update on National Hurricane Center Products and Services for 2017. Here's a link to a PDF from NOAA NHC showing what has changed for the upcoming hurricane center, along with new (operational) Storm Surge watches and warnings.
---
Floods and Hurricanes Predicted with Social Media. Predicted may be a strong word, but there is little doubt that social media has become a mirror, reflecting what's on our minds - and what we're talking about. Confirmation from new research highlighted at Science Daily: "...The researchers tracked photos and videos with tags such as river, water and landscape on the social media platform Flickr between 2004 and 2014. Whilst these words can be used to generally describe natural scenery, researchers found that in certain time periods before the peak of extreme weather events -- and in the locations where they occurred -- these words took on a distinct meaning of forecast and warning, showing the weather worsening. These risk-signalling words can act as 'social sensors', which when used alongside physical meteorological sensors can help to improve the prediction and monitoring of the behaviour and severity of an evolving weather event in multiple areas..."
---
A Land of 10,000 Lakes For Sure. But How About Springs? I had no idea. Here's an excerpt from The Star Tribune: "The Land of 10,000 Lakes also may be the Land of 15,000 Springs. Or many more. Minnesota stands to gain that distinction as the Department of Natural Resources works to build an online inventory of the state's estimated 15,000 to 22,000 springs. A spring is a natural flow of water from an aquifer — an underground layer of rock — to the earth's surface, in the definition of DNR research analyst Greg Brick, who began work last year on the spring inventory project. Springs are critical resources even if they go overlooked compared to the state's beloved lakes, rivers, streams and wetlands..."
Photo credit: Todd Nelson, Special to the Star Tribune.
---
Texas City One of the First to be Powered by Wind and Solar Energy. The Star-Telegram reports on the amazing success of renewables in Georgetown, Texas: "...But it's all about the Benjamins, Georgetown Mayor Dale Ross told NPR. "It's our love of green — green rectangles and green energy," he said, the rectangles signifying dollars. "First and foremost it was a business decision." There was never any talk of global warming or climate change during the city's deliberations in 2012 about its power source going forward. "I don't think they're ever going to accuse Georgetown of being the next Berkeley," Ross told NPR's Ari Shapiro. The city realized that there was enough wind and solar power available, that it was fairly predictable and that the prices wouldn't fluctuate as much as oil and gas prices..."
Photo credit: "Wind turbines north of Roscoe, Texas, are part of one of the largest wind farms in North America." David Kent Star-Telegram.
---
Solar-Powered Everything. Charging up your cell phone with a solar-powered jacket? Why not. Here's an excerpt from NexusMedia: "...Touhey and his partners have collaborated with Tommy Hilfiger to make solar-powered jackets, and now they're working on a line of bags with built-in solar panels. While coats can't generate nearly as much power as larger arrays, every person with a smartphone is a potential customer. "It's really cool to plug in your phone and charge it with the sun," says Touhey. Researchers are developing woven solar fabrics that have photoactive dyes coating individual threads, so each fiber is a miniature solar panel. But for now, flexible solar panels must be laminated on top of fabrics..."
Photo credit: "The Tommy Hilfiger Solar Powered Jacket." Source: Pvilion
---
U.S. Solar Soared in 2016, but Investors Still Leery. Reuters reports: "New U.S. solar installations nearly doubled last year, but slowing demand for both residential and large-scale systems, falling panel prices and concerns about looming federal tax reform are still dampening investor appetite for the sector. Solar installations soared 97 percent to 14.8 gigawatts in 2016, according to a report released on Thursday by Wood Mackenzie and the Solar Energy Industries Association. The technology is cheaper than ever, with panel prices dropping 40 percent last year, and many utilities procuring solar on the basis of cost alone. But the dramatic drop in panel prices has hampered solar manufacturers' profits and ramped up competition for utility-scale contracts among developers, companies said in recent weeks while reporting fourth-quarter results..." (File photo credit: Apple).
---
Solar Energy Employs a Higher Percentage of Veterans Than The Rest of the Work Force. There's no reason why coal miners can't be manufacturing solar panels and wind turbines here in the USA. Climate Reality has the story: "...Let's be clear: environmental regulations and clean energy aren't the main factors behind declining coal jobs (you have to look at increasing automation in the industry and cheap natural gas for those).  But many Americans who've spent their careers working in coal have incredibly valuable skills that – with the right policies and training initiatives – can be put to use in well-paying solar and wind jobs with a future. A recent study found that solar's rapid and projected continuing expansion offers workers in shrinking fossil fuel industries real career opportunities – and we're already seeing the proof. Just look at the success of Solar Ready Colorado, which is working to retrain hundreds of laid-off coal miners and veterans in Colorado's Delta County – a region that's lost over 1,000 coal mining jobs in just the past three years – for long careers in the solar industry..."
---
Even If Symbolic, Chicago Fossil Fuel Divestment Could Send "Powerful Signal". Here's a clip from Midwest Energy News: "...Chicago is often touted as a leader on this front thanks to its solar, energy efficiency and other programs, along with the 2012 closure of two urban power plants and city officials' action against petroleum coke storage. Now a majority of City Council members and the Chicago chapter of 350.org want the city to make a statement against the fossil fuel industry by pledging to divest the city's pension funds and stocks and bonds. A divestment resolution was introduced in December, and backers are hoping it will be heard by the full council this spring. The measure would be largely symbolic, since a resolution is non-binding and the state government is in charge of pension investments. But supporters say that the resolution would send a powerful message and could be followed by a city ordinance that might mandate some divestments..."
---
How Delta Landed on the 100 Best Companies To Work For List. Treat employees as owners (profit sharing, stock options) and amazing things happen. Kudos to Delta to restoring my faith in American air carriers; here's an excerpt at Fortune: "The next time you have a bad day at work, imagine you're instead in an airport surrounded by hundreds of frustrated customers demanding to know when they'll get home. Or try ­explaining an unexpected layover to a plane full of grumpy passengers. That sort of pressure is why the airline industry is among the most stressful of work environments. But in the case of Delta Air Lines (dal, +0.08%), many employees don't just tolerate their jobs. They love them.Among the companies that made the cut for Fortune's 100 Best Companies to Work For list, the most surprising may well be Delta, which is on the list this year for the first time; it's also the first airline to make the cut in a dozen years..."
---
With Claims of CIA Hacking, How to Protect Your Devices. Here's a clip from The New York Times: "...Many iPhone owners are far more up-to-date with their mobile software than Android device owners. So only a minority of iPhone users have devices with the versions of the Apple iOS operating system that the WikiLeaks documents mention. Specifically, the WikiLeaks documents referred to exploits working on versions of iOS up to 8.2. About 79 percent of Apple users are running iOS 10, the latest version of the system, and only 5 percent are running a version older than iOS 9, according to Apple. In raw numbers, with more than one billion iOS devices sold worldwide, that amounts to at least 50 million people running the outdated software..."
---
Where Residents are Happiest - and Not so Cheery. The happiest people in America live in Naples, Florida? CNN.com has details: "...The Naples-Immokalee-Marco Island metro area was tops in contentment for the second year in a row, according to the Gallup-Healthways 2016 well-being rankings. The survey says residents there feel safer than residents in any other community in the nation. The Town of Barnstable, Massachusetts, and Santa Cruz-Watsonville, California, took second and third place overall in the composite index. The border city of Fort Smith, Arkansas, on the other hand, ranked lowest of 189 communities measured. Gallup measures the well-being of a community based on interviews gauging resident's feelings about their financial position, community, health and safety..."
Photo credit: Greater Naples Chamber of Commerce.
---
How to Clear a Path Through 60 Feet of Snow, Japanese Style. I can't help but feel a little jealous, although some of the ski resorts in the Sierra Nevada range in California may be telling similar snowy tales. Here's an excerpt from Atlas Obscura: "...The height of the canyon's snow walls can reach a staggering 66 feet. Using another New York City analogy, that would leave your average five-story East Village walkup apartment building buried head to toe in snow. "The amount of snow that falls here is just exceptional," says Yoshihide Tanikawa, Vice President of the Toyama Prefectural Road Public Corporation, which is in charge of snow plowing across many parts of  Toyama Prefecture, including the Snow Canyon. The reason behind the tremendous snowfall is a confluence of geography and meteorology. "Toyama is on the coast with an elevation of zero," explains Tanikawa, and just 20 miles from the ocean is Mt. Tateyama. "So the altitude rises from sea-level to 3,000 meters [9,843 feet] in a very short distance..."
Photo credit: "The towering snow walls of Tateyama." Pietro Zanarini/CC BY 2.0
---
Hot Story: Miami Lawyer's Pants Erupt in Flames During Arson Trial in Court. You just can't make this stuff up. The Miami Herald reports: "...A Miami defense lawyer's pants burst into flames Wednesday afternoon as he began his closing arguments in front of a jury — in an arson case. Stephen Gutierrez, who was arguing that his client's car spontaneously combusted and was not intentionally set on fire, had been fiddling in his pocket as he was about to address jurors when smoke began billowing out his right pocket, witnesses told the Miami Herald. He rushed out of the Miami courtroom, leaving spectators stunned. After jurors were ushered out, Gutierrez returned unharmed, with a singed pocket, and insisted it wasn't a staged defense demonstration gone wrong, observers said..."
---
Daddy's Working! Best. Interview. Ever. Check out details of a very funny (and authentic!) BBC interview, courtesy of Daily Mail Online: "Live television always leaves room for hilarious gaffes - which is exactly what happened when a BBC debate on South Korea was interrupted by the interviewee's children.  The hilarious footage shows expert Robert Kelly, an associate professor of Political Science at Pusan National University in Busan, handling serious questions on the country's president, Park Geun-hye, being ousted from power. But suddenly, a toddler bursts into the room in a bright yellow top and performs a comical dance behind the Cleveland, Ohio, native..."
---
18 F. maximum temperature yesterday at MSP.
38 F. average high on March 10 in the Twin Cities.
49 F. high on March 10, 2016.
March 11, 2009: Cold conditions arrive, with a new record for the lowest maximum temperature in St. Cloud for this date. The high temperature in St. Cloud was only 4 degrees, which broke the previous record lowest maximum temperature of 5 degrees that was set in 1948.
March 11, 1878: Lake Minnetonka becomes ice-free due to one of the warmest winters on record.
---
TODAY: Mostly cloudy, dry. Winds: N 5-10. High: 25
SATURDAY NIGHT: Patchy clouds, no problems on the highways. Low: 13

SUNDAY: Winter Storm Watch. PM snow likely; 2-5" possible (more south/west of the metro). Late-day travel may be difficult. Winds: E 8-13. High: 28

MONDAY: Slushy/icy start. Flurries taper, clouds linger. Winds: N 8-13. Wake-up: 21. High: 29

TUESDAY: Sun comes out, rapid snow melt. Wake-up: 15. High: 29

WEDNESDAY: Bright sun, feels like March again. Winds: S 5-10. Wake-up: 13. High: 34

THURSDAY: Partly sunny, milder breeze. Winds: S 10-15. Wake-up: 26. High: 46

FRIDAY: Unsettled, few rain showers. Gusty winds. Winds: NW 15-25. Wake-up: 33. High: 45
---
Climate Stories....
Carbon Dioxide Levels Rose at Record Pace for Second Straight Year. Here's an excerpt of an update from NOAA: "Carbon dioxide levels measured at NOAA's Mauna Loa Baseline Atmospheric Observatory rose by 3 parts per million to 405.1 parts per million (ppm) in 2016, an increase that matched the record jump observed in 2015. The two-year, 6-ppm surge in the greenhouse gas between 2015 and 2017 is unprecedented in the observatory's 59-year record. And, it was a record fifth consecutive year that carbon dioxide (CO2) rose by 2 ppm or greater, said Pieter Tans, lead scientist of NOAA's Global Greenhouse Gas Reference Network. "The rate of CO2 growth over the last decade is 100 to 200 times faster than what the Earth experienced during the transition from the last Ice Age," Tans said. "This is a real shock to the atmosphere..."
---
Earth's Oceans are Warming 13% Faster Than Thought, and Accelerating. Climate scientist and University of St. Thomas professor John Abraham writes for The Guardian; here are a couple of excepts from a recent post: "...Fortunately, a paper just published today in Science Advances uses a new strategy to improve upon our understanding of ocean heating to estimate the total global warming from 1960 to 2015. I was fortunate to co-author the study, which uses several innovative steps to make improvements...We were able to extend our techniques back to the late1950s and show that the rate of global warming has changed significantly in the past 60 years. One main outcome of the study is that it shows we are warming about 13% faster than we previously thought. Not only that but the warming has accelerated. The warming rate from 1992 is almost twice as great as the warming rate from 1960. Moreover, it is only since about 1990 that the warming has penetrated to depths below about 700 meters..."
Photo credit: "An Argo float is deployed into the ocean Photograph." CSIRO
---
How We Know that Climate Change is Happening - and that Humans are Causing It. Popular Science has a post worthy of your time; here's an excerpt that caught my eye: "...Arndt and his colleagues spend their days poring over data, comparing the incoming numbers to the baseline they call "normal." Using daily, weekly, monthly, and annual rhythms, they coordinate data collection and sharing, keeping an eye on the quality of the numbers and how they stack up compared to yesterday, last week, and longer. For Arndt, climate is all about scale—and the information that passes through his office tells a story that's become all too familiar. "The upper atmosphere is cooling while the lower atmosphere is warming," he says. "You don't get that without changing the composition of the atmosphere. We're seeing changes you would theoretically see in a warming world. More big rain—that's an expectation. More big heat—that's an expectation. The frozen stuff is generally melting or going away, based on the time of year and the location on the planet." He pauses for a moment, then continues. "I think the basics are more than settled..." 
File photo: Barry Wilmore, NASA ISS.
---
What Slashing the EPA's Budget by One-Quarter Would Really Mean. InsideClimate News takes a closer look: "...With cuts on that scale, EPA would have to function with resources comparable to its earliest years, shortly after its founding under Richard Nixon. That was before the rise of the Superfund toxic dump cleanup program in 1980, the revisions to the Clean Air Act that in 1990 created economy-wide pollution permitting, the changes to the Safe Drinking Water Act that passed Congress overwhelmingly in 1986, and the growing complexity of dealing with pollution from pesticides, dioxins and other chemicals. "I believe EPA has been run on a shoestring for a long time," said Bruce Buckheit, a former EPA lawyer who worked on pollution enforcement, a central task for the agency. "You're past the point where you have fat to cut..."
---
---
EPA Head Scott Pruitt Says Carbon Dioxide is not a "Primary Contributor" to Global Warming. Amazed that basic science is still being misunderstoon and misrepresented in 2017; here's an excerpt from PolitiFact: "...The normal environment of the earth is that several types of gas stick in the atmosphere and trap excess heat, including carbon dioxide, water vapor, methane and nitrous oxide, making a natural "greenhouse." Since the Industrial Revolution in the early 1800s, humans have changed the composition of the greenhouse — leading to climate change — by releasing significant amounts of carbon dioxide into the air primarily through burning fossil fuels. "Pruitt is incorrect. CO2 is a primary contributor to global warming. That fact is not in dispute among climate scientists," said Anne Slinn, executive director for research of the Center for Global Change Science at the Massachusetts Institute of Technology. This chart from the National Oceanic and Atmospheric Administration shows that even though the earth has experienced fluctuations in carbon dioxide levels throughout its history, there's more carbon dioxide now than there has been in at least 400,000 years..."
---
Tweet Storm! NASA's Gavin Schmidt vs. Scott Adams. Yes, you still have the freedom to be willfully ignorant. Here's an excerpt of a fairly amazing tweet string as Schmidt tries to argue that the climate is, in fact, changing and we are responsible, via Twitter - courtesy of Storify: "So Gavin Schmidt wrote 42 tweets to Scott Adams about the state of climate research. I made it into a Storify because it's a nice summary of where "we" are. I wonder about the signicance of the number 42..."
---
Chevron Says Climate Risks Pose Minimal Risk to Operations. The Wall Street Journal reports: "Chevron Corp. said in a new report that a global transition to lower-carbon energy sources poses a minimal risk to its operations, a response that follows growing shareholder demand for more disclosure on climate risks. Dramatic global action to limit the effects of warming temperatures wouldn't harm Chevron's assets because the oil giant is investing in lower-cost opportunities, according to the report, which was quietly posted on the company's website Wednesday evening. Such a scenario could render costlier projects uncompetitive, the company said..."
---
"We Thought We Would Hit Your Sweet Spot." Don't underestimate the power of entrenched monopolies and their ability to sway politicians and media. Change is always hard, and the fossil fuel industry does not want to be disrupted anytime soon. Here's an excerpt from a recent Wall Street Journal Op-Ed: "...It's hard to believe that the editorial board of The Wall Street Journal would oppose a conservative, free-market, revenue-neutral, limited-government, internationally competitive approach to the potential threat of climate change that would eliminate the heavy hand of government regulation by the EPA—and is supported by many of America's major oil- and gas-producing companies. But that's exactly what the board did in its Feb. 25 editorial "The Carbon Tax Chimera." The Journal, whose sage editorial writing we have admired over the decades, lists several problems with our proposal for a levy on carbon that would not grow government, but instead would be returned to all Americans in the form of a dividend of the revenues raised. Some of the Journal's concerns are speculative while others are just flat wrong. But more important, the editorial criticizes an approach supported by some of the very industries that would pay the proposed levy..."
---
February's Warmth, Brought To You by Climate Change. How much of the recent, freakish, warmth is natural vs. attributed to background warming? Here's an excerpt from Climate Central: "A bonanza of heat records fell throughout February in almost all quarters of the U.S. and research released on Wednesday shows that this pervasive spring-like warmth was made possible by climate change. The rise in planetary heat made the freakishly warm February at least three times more likely than it was around 120 years ago, according to the analysis by scientists working on the World Weather Attribution team. While it was a month to remember, by mid-century that type of heat could occur every three years unless carbon pollution is curtailed. The warm spell is just the latest piece in a growing body of evidence that climate change is playing a role in almost all extreme heat events. Winter is the fastest warming season in the U.S. and February is no exception. February temperatures in particular have risen by 3°F since 1895, which is roughly twice as fast as the global average..."
Map credit: "February temperature anomalies over North America. ECMWF analysis compared to ERA-interim 1981-2010."
---
What Keeps Global Security Academics Awake at Night? Here's an excerpt from The Interpreter: "...By a factor of three, the key threat to global security identified was climate change. For many, climate change constituted the most fundamental existential threat, especially if our focus is the global rather than the national. As one respondent put it, 'the globe can survive most other things'. At second place was poverty and inequality. Respondents noted the ongoing devastating effects of poverty and the effects of growing inequality on both life choices and the surge of destructive ideologies. On this score, nationalism finished a close third, with respondents pointing to the dangers of a world of states turning inward even while global action to address global problems (like climate change) seems more necessary than ever..."
File photo: AFP.
---
Chronology of Military and Intelligence Concerns About Climate Change. Here's an excerpt of a story at The Center for Climate & Security: "...This concern didn't happen overnight, or under a single administration. Rather, it's the culmination of decades of assessments stretching back to the end of the Cold War. In popular discourse, it's often assumed that climate change is a brand new issue for the national security world – an interloping latecomer. The truth is that it's not. The U.S. military has been concerned about climate change since the George W. Bush Administration, at the latest, but military institutions such as the Naval War College have been warning policy-makers since 1990, during the first Bush Administration. The intelligence community has also been in the game since the early 1990s, with the establishment of the MEDEA program – a structured collaboration between climate scientists and U.S. intelligence agencies – and has been releasing intelligence estimates on the national security implications of climate change since 2008, under the direction of then Chairman of the National Intelligence Council, Dr. Thomas Fingar..."
---
---
These are the 158 Key Federal Science Data Sets Rogue Programmers Have Duplicated So Far. Quartz has the story: "...These "data rescue" events have managed to archive tens of thousands of government website pages they fear may be edited or removed under an administration that has expressed hostility towards climate and environmental science. Copies of those web pages now live within the Internet Archive, best known for its Wayback Machine platform. But the Internet Archive can't scrape more elaborate databases—so in addition to simple web pages, the groups pull down intricate and often large data sets from science agencies like NASA, the US Environmental Protection Agency, and the US National Oceanic and Atmospheric Administration, all three of which have been singled out by the Trump administration for budget and staffing cuts to their earth and climate science programs. Since January, 158 complete data sets have been downloaded, labeled, and re-uploaded to DataRefuge.org, a growing repository of scraped government science..."
Image credit: "Scientist-hackers are saving data from NASA, NOAA, and EPA. (MIT Lincoln Laboratory)."
---
Addressing Climate Change is Prudent. Here's an excerpt of an Op-Ed at Cincinnati.com that resonated: "...Mr. Kleine is correct in stating that science is never completely settled; it is the nature of inquiry to constantly keep exploring and asking questions. There does reach a point, however, where the major pieces of the puzzle emerge. Such is the case with climate change resulting from global warming. There is high confidence that the earth is warming and that human consumption of fossil fuels is a major contributor. While the science is not 100 percent certain, the level of confidence in these conclusions is about the same as the confidence needed for a prescription drug to be judged effective for use. Said differently, the level of confidence in climate change is high enough to do something about it. The challenge with global warming is that it takes broad political agreements to induce the kind of societal changes needed to address the problem. Wanting to act is not a liberal or radical idea; it is simply prudent..."
---
Only Sci-Fi Can Drown Manhattan and Make You Want to Live There. Bloomberg Businessweek takes a look at Kim Stanley Robinson's upcoming book, "New York 2140": "...Robinson's baseline scenario might be too aggressive. Benjamin Strauss, vice president for sea level and climate impacts at Climate Central, a nonpartisan, nonprofit environmental group, says a 15-foot rise, not a 50-foot one, is more likely by 2140. That would still mean standing water in Manhattan's Lower East Side, Chelsea, and the Financial District. John F. Kennedy International and LaGuardia airports would be submerged. At 50 feet, Strauss says, "you certainly would have enough water for Venice," but he's more optimistic that the city will prevent flooding than is Robinson. "The geography of the area allows the building of a barrier," Strauss says. "My guess is that we will build a wall and sit tight" before the water reaches Times Square. 2140 arose from Robinson's conviction that the free market sets prices incorrectly. "The system set up now is a system of laws, and it's an artificial system," he says. "The laws could be rewritten to prioritize the survival of the species..."
Illustration credit: Yann Kebbi.