More Weather Superlatives - A Local Tornado Alley?

There is one guy even lonelier than a Maytag Repairman. Yes, I'm talking about the forlorn tornado chaser with a rusted pickup, passing time up in Grand Marais, Minnesota.
You see Cook County has the distinction as the safest county in the state for tornadoes: only 2 since 1950. That compares with 9 in Ramsey County, 31 in Hennepin County (which is still larger at last report) and 73 in Otter Tail County.
There are rumors of a "local tornado alley" running from Lake Minnetonka to Fridley, but looking at a longer data set it's hard to make the case. But despite rumors to the contrary twisters CAN hit downtowns, cross lakes and rivers, and strike late at night. Take the inevitable warnings seriously.
An Omega blocking pattern keeps us mild and dry into most of next week, while T-storms rumble to our west and Denver gets socked with 6-8 inches of snow. A moment of silence for our dear friends in Denver. The pattern won't favor severe storms here for at least another 2 weeks.
Why so few tornadoes along the North Shore? Chilly winds off Superior inhibit rotating thunderstorms. Who knew?
---
---
In a House With a Basement
Avoid windows. Get in the basement and under some kind of sturdy protection (heavy table or work bench), or cover yourself with a mattress or sleeping bag. Know where very heavy objects rest on the floor above (pianos, refrigerators, waterbeds, etc.) and do not go under them. They may fall down through a weakened floor and crush you.
In a House With No Basement 
Avoid windows. Go to the lowest floor, small center room (like a bathroom or closet), under a stairwell, or in an interior hallway with no windows. Crouch as low as possible to the floor, facing down; and cover your head with your hands. A bath tub may offer a shell of partial protection. Even in an interior room, you should cover yourself with some sort of thick padding (mattress, blankets, etc.), to protect against falling debris in case the roof and ceiling fail.
In an Apartment, Dorm or Condo
If you live in an apartment that is on an upper floor, get to the lowest level of the building that you can immediately. This could be an underground parking garage or a neighbor's first floor apartment. Then move to the most interior area possible, away from windows.
If you live in a high-rise apartment building, you may not have enough time to get to a lower level, so picking a place in the hallway in the center of your building is the best idea such as a stairwell.  If that is not available then a closet, bathroom or interior hall without windows is the safest spot in your apartment during a tornado.  Power loss during a tornado storm is common, so avoid elevators and keep a flashlight handy.
File photo credit above: April 9, 2015 Rochelle, Illinois tornado, courtesy of Walker Ashley and AP.
---
First Pop of Color at Minnesota Landscape Arboretum
. I came across this nugget at
Facebook
, another welcome sign of spring: "
There it IS! The first pop of color in the Arb's 30,000+ tulips and other blooms display for the season: 9 a.m., Thursday, April 14, 2016. It won't be long now - especially with temps forecast in the 70's."
---
What April? It felt more like late June out there Thursday afternoon (minus the humidity and bugs) with highs near 80F across much of central and western Minnesota; warmer here than Miami, Houston and Los Angeles. Map: Oklahoma Mesonet.
---
Omega Block. With a jet stream temporarily "stuck" in the rough configuration of the Greek letter "omega" the weather is characterized by a holding pattern - in this case we are close enough to the bubble of warm high pressure for temperatures nearly 20F warmer than average, with the heaviest rains staying just west of Minnesota into the weekend. Graphic: Weather Underground.
---
Flooding Rains Dakotas to Houston. 10-Day GFS rainfall predictions are rather extreme; as much as 6" for central South Dakota - 8" for Nebraska with as much as 10-15" for portions of coastal Texas as an Omega Block focuses a nearly stationary firehose of moisture on the Plains. A few showers and T-showers may brush western Minnesota and the Red River Valley - no excessive rains expected nearby anytime soon.
---
April Snowstorm for Denver. GFS guidance hints at some 6-10" amounts for the Denver area - skier will be thrilled, commuters, not so much. I'm happy to report that no snow is expected in Minnesota or Wisconsin until further notice. Map: NOAA and AerisWeather.
---
Wetter Pattern Next Weekend? Models print out 1"+ rains a week from Sunday and Monday as we slide into a soggier pattern. A little moisture and things will green up rapidly. Until spring green-up we'll see an elevated risk of brushfires, especially over western Minnesota. Chart: Aeris Enterprise.
---
No Winter Relapses in Sight. In fact NOAA's GFS model hints at 80F again a week from Saturday, after "cooling" into the 60s next week. Hey, it can snow into May (in theory) so let's just take it one week at a time.
---
Growing Severe Risk by Late April. Models show a deep trough of low pressure approaching from the Rockies with strong wind shear and an abundance of Gulf moisture within 2 weeks. We may have the ingredients necessary for strong to severe T-storms by the end of April with summer warmth over the eastern half of the USA and lingering snows over the northern Rockies.
---
Alerts Broadcaster Briefing: Issued April 14th, 2016:
A system making landfall in the Pacific Northwest will be the catalyst for a multitude of heavy weather events as the system eventually stalls out across the western United States.
Heavy snow - six inches or more - is expected for parts of the Rockies, including Denver, as we head through the weekend.
On the warm side, heavy rain will be likely across the High Plains from

Friday

into early next week. In some areas, rainfall totals will be over a half a foot, likely leading to flooding.
---
Satellite View Thursday Morning. The upper level low associated with a system making landfall later today in the Pacific Northwest will be the culprit for a multitude of weather events across the Rockies and Plains as we head into the weekend. This system will quickly dig south into the Four Corners region tomorrow, then very slowly take its time continuing eastward through the weekend and into early next week. This will allow for a prolonged period of snow across parts of the Rockies, including in the Denver area, and heavy rain across the High Plains.
---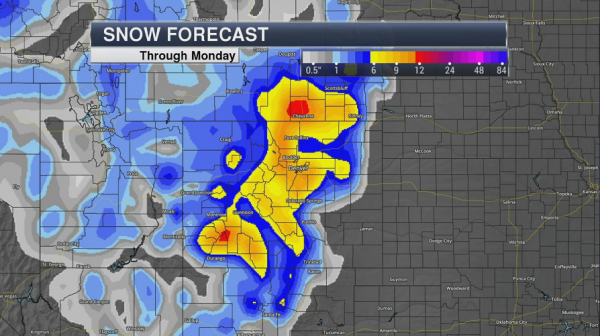 Feet Of Snow In Places. Starting with the cold side of the system, snow is expected to start over parts of the Rockies on Friday. Rain will transition to snow Friday Night in Denver, and continue through Sunday before temperatures warm enough to potentially change it back into a rain/snow mix for the metro late in the day. There is a heightened chance that at least six inches of snow will fall in the Denver metro Saturday and Sunday, and snow totals will be up to four feet in parts of the Rockies. This will be a heavy, wet snow which will have the potential to bring down tree limbs and make travel difficult.
---
Heavy Rain To Fall As Well. On the warm side of the system, heavy rain is likely across the High Plains starting Friday and lasting into early next week. A wide swath of at least 4" of rain will fall from South Dakota south through Texas, with pockets of 8"+ possible across parts of Nebraska/Kansas and in Texas.
---
Flooding Likely. The Weather Prediction Center has already outlined areas from South Dakota into Texas where there will be the potential of heavy enough rain to cause flash flooding at times Friday and Saturday.
Summary. A blocking pattern is setting up across the United States as we head into the weekend, and a center of low pressure will get stuck out west. As this system lingers in one spot for several days, snow will accumulate across the Rockies, with the potential for at least six inches of snow in Denver and feet of snow at higher elevations. We will also see heavy rain across the High Plains, with 8"+ of rain for some locations from Nebraska southward into Texas. Facilities across the High Plains that normally experience problems during flash flood scenarios should continue to be on alert the next few days and prepared to take action if flooding occurs in their area.
D.J. Kayser, Meteorologist, AerisWeather
---
---
Near-Average Atlantic Hurricane Activity This Year? A swing back to La Nina may increase the potential for more numerous Atlantic hurricanes than we've tracked in recent years. There is (still) no room for complacency. Here's an excerpt from The Weather Channel: "The 2016 Atlantic hurricane season forecast released Thursday from Colorado State University calls for the number of named storms and hurricanes to be near historical averages. A total of 12 named storms, five hurricanes and two major hurricane are expected this season, according to the forecast prepared by CSU, which is headed by Dr. Phil Klotzbach in consultation with long-time hurricane expert Dr. William Gray. This is close to the 30-year average of 12 named storms, six hurricanes and three major hurricanes. A major hurricane is one that is Category 3 or stronger on the Saffir-Simpson Hurricane Wind Scale..."
---
Texas' Monster Hail Could Be on the Rise with Warming. Here's one theory, courtesy of WxShift: "...The heating of the atmosphere also means that the freezing level is expected to rise, Allen said, which means hailstones have a deeper pocket of warm air to fall through before reaching the ground. Studies have suggested this could mean that smaller hail — below about 2 inches in diameter — will fall less often in the future because they are more likely to melt. Larger hail, like that that smashed through windows in Dallas, though, is better able to survive because it takes much more heat to melt it. So with a higher freezing level affecting it less — but increased instability giving it a boost — large hail is expected to happen more often, Allen said. There are other factors that affect hail formation, Allen said, and research into how warming might impact severe weather is still in its infancy..."
---
Extreme Heat is Hitting India Earlier Than Usual and Dozens Are Dying. TIME reports; here's a snippet: "A heat wave sweeping India over the past two weeks has resulted in fatalities across the country for the second consecutive year, with uncharacteristically high temperatures hastening the onslaught of summer. Dozens of people have been reported dead in the neighboring southern states of Telangana and Andhra Pradesh, the BBC reports..." (2-meter temperature anomaly: WeatherBell).
---
Chatting About the Weather With Vineeta Sawkar. Over the lunch hour I had a chance to talk about the weather, technology,  El Nino and La Nina and other meteorological matters in front of a friendly crowd with Vineeta Sawkar at Star Tribune headquarters in Minneapolis. Here's a video summary of the event, and one more chance to wish Vineeta well as she takes on a new role as Director of Communications for HealthPartners.
---
Chicago Clean Energy Competition Highlights Innovation, and Challenges. Here's a story excerpt at Midwest Energy News that got my attention: "...When you look back over the last 27 years, what you see is significant erosion of that monopoly. From a generation standpoint, 19 states now have a competitive market – generation is no longer regulated in those states. When you look at transmission, two-thirds of states have a regional transmission organization so the utility no longer operates it. On distribution, which you would think is a natural monopoly, you have storage on the rooftop, home management systems, and you see the erosion of the monopoly." Rogers urged utility companies to embrace this change and be more flexible, innovative and responsive to customers, including modernizing their grids and being more welcoming to distributed generation..."
---
Wind Energy Construction Rebounds Across U.S., Texas. Here's the intro to a summary at the Houston Chronicle's FuelFix: "Wind turbine construction in the United States has rebounded to its highest level in three years, according to a report Tuesday by the American Wind Energy Association. More than 8,500 megawatts of wind power capacity was built last year, almost double the 2014 tally. More than 3,600 megawatts of that construction was in Texas, which now counts almost a quarter of the country's wind energy supply..."
Photo credit: "A cluster of wind turbines in West Texas." (James Durbin/Reporter-Telegram).
---
76 F. high in the Twin Cities Thursday.
80 F. high at St. Cloud yesterday; 82 F. at Alexandria.
57 F. average high on April 14.
72 F. high on April 14, 2015.
April 15, 2002: An early heat wave overtakes Minnesota. Faribault hits 93 degrees, and the Twin Cities would experience their earliest recorded 90 degree temperature with a high of 91.
---
TODAY: Warm and windy with generous sunshine. Winds: S 15-30. High: 77
FRIDAY NIGHT: Feels like late May, still breezy. Low: 58

SATURDAY: Warm sun, few T-storms western MN. Winds: S 10-20. High: 79

SUNDAY: Still mild, stray shower possible. Wake-up: 59. High: 73. Winds: S 8-13, shifting NW late

MONDAY: Cooler, better chance of showers. Winds: NE 10-15. Wake-up: 56. High: 64

TUESDAY: Partly sunny and pleasant. Winds: E 5-10. Wake-up: 45. High: 67

WEDNESDAY: Mix of clouds and sun, quiet. Winds: SE 8-13. Wake-up: 50. High: 68

THURSDAY: Clouds increase, late showers? Winds: W 5-10. Wake-up: 49. High: 66
---
Climate Stories....
Scientists Are Stunned by What Just Happened in Greenland. Chris Mooney reports at The Washington Post; here's an excerpt: "Emerging from a winter that has had staggeringly warm Arctic temperatures, scientists monitoring the vast Greenland ice sheet announced Tuesday that it is experiencing a record-breaking level of melt for so early in the season. The Danish Meteorological Institute reported that although it's only April, nearly 12 percent of the ice sheet's surface is covered with a layer of meltwater of a depth of at least a millimeter. "The former top 3 earliest dates for a melt area larger than 10% were previously all in May (5th May 2010, 8th May 1990, 8th May 2006)," the institute noted on the website Polar Portal..."
Photo credit: "This NASA handout photo obtained March 29, 2016 shows a stunning perspective of the northeast coastline of Greenland, one of the worlds two great ice sheets (the other is Antarctica), captured by the Oceans Melting Greenland (OMG) field campaign team." (AFP PHOTO / NASA / Handout).
---
Scientific Consensus on Climate Change Still "Overwhelmingly High". Climate Home has the latest study (of studies); here's the intro: "Over nine out of ten relevant scientists believe human activity is warming the planet, a new review of multiple studies confirmed on Tuesday. The findings reach the same conclusion as a widely-cited 97% figure from a 2013 study compiled by the University of Queensland's John Cook, who was involved in the new study. "We have shown that the scientific consensus on [anthropogenic global warming] is robust, with a range of 90–100%  depending on the exact question, timing and sampling methodology," say the authors in the journal Environmental Research Letters..."
Photo credit: Flickr/ Billy Wilson.
---
---
CO2's Role in Global Warming Has Been on The Oil Industry's Radar Since the 1960s. Here's the intro to a story at InsideClimate News: "The oil industry's leading pollution-control consultants advised the American Petroleum Institute in 1968 that carbon dioxide from burning fossil fuels deserved as much concern as the smog and soot that had commanded attention for decades. Carbon dioxide was "the only air pollutant which has been proven to be of global importance to man's environment on the basis of a long period of scientific investigation," two scientists from the Stanford Research Institute (SRI) told the API..."
Photo credit above: "Documents reveal that the risks of climate change were being discussed in the inner circles of the oil industry in the 1960s, earlier than previously documented. Credit: Photo of Exxon's Bayway oil refinery in New Jersey by the Environmental Protection Agency."
---
Pressure on Exxon Over Climate Change Intensifies With New Documents. Here's a clip from a New York Times article: "Pressure on Exxon Mobil and the energy industry increased on Wednesday with the release of a new cache of decades-old industry documents about climate change, even as Exxon pushed back against efforts to investigate the company over its climate claims through the years. The new documents were released by an activist research organization, the Center for International Environmental Law, which published the project on its website. The documents, according to the environmental law center's director, Carroll Muffett, suggest that the industry had the underlying knowledge of climate change even 60 years ago..."
Photo credit: "An aerial view of Exxon Mobil's refineries in Torrance, Calif. State attorneys general are inquiring the company over its climate claims." Credit Jeffrey Milstein/REX, via Associated Press.
---
Rep. David Jolly Says He's "Sick and Tired" of GOP Position on Climate Change. Another GOP voice in the CO2 wilderness arises! Thank you, Representative Jolly - for being on the right side of data, evidence and history. Here's an excerpt from The Tampa Bay Times: "...I'm going to tell you something you rarely hear a member of Congress say: I think the climate's changing. I think man's had an impact, and we need to stop arguing about the science," U.S. Rep. David Jolly said on February 27 at the University of South Florida. "I have a confession to make," the Pinellas County lawmaker added, "I'm a Republican. "I truly do not understand why members of Congress argue over science. I don't understand it. I understand the healthy argument and constructive dialogue over the solutions because we all have different solutions..."
Photo credit: DIRK SHADD | Times. "U.S. Rep. David Jolly addresses the audience at an April 5 ceremony commemorating the 50th anniversary of the Vietnam War."
---
Scientists Are Watching in Horror as Ice Collapses. Here's an excerpt from National Geographic: "...Scattered melt ponds already appear on some of the ice shelves that surround the Antarctic mainland, much farther south than any that have collapsed so far. The amount of ice lost each year from all of Antarctica's ice shelves has increased 12-fold between 1994 and 2012. Aside from warm air, the fringes of Antarctica's ice are under assault from another source—warming ocean currents that melt the undersides of ice shelves. (Read more about research on what climate change will mean for whales.)..."
---
Climate Change is Melting Everest. Outside reports; here's the intro: "As a colorful circus of tents pops up at Everest Base Camp this spring, a pair of Ph.D. students will set up camp 1,000 feet downvalley, on the Khumbu Glacier, resuming a research project they started last year. Their goal: to determine just how quickly the world's highest glacier is melting. From the Alps to the Andes, ice at high elevations is disappearing rapidly. On Everest, the effects of a warming planet are likely to manifest in two ways that affect climbers. First, the Khumbu Glacier will shrink, and parts of it could possibly become impassable for climbers. Someday, even Base Camp may have to be moved from its current location on the glacier to another spot nearby..."
Photo credit above: "Glacial melt at Everest base camp."  Photo: Kent Harvey/TandemStock.
More From Paul Douglas on Weather