Full-Blown Blizzard Out East - A Few (Minor) Clippers Here

"A lot of people like snow. I find it to be an unnecessary freezing of water" quipped comedian Carl Reiner. Folks living near Washington D.C. may soon agree. Media spin is in overdrive and the hype may be warranted this time.
Washington is a city of "southern efficiency and northern charm", said John F. Kennedy. It's a city where a FORECAST of 1-3" of snow can empty out supermarket shelves and trigger snow days.
The blizzard charging up the east coast will dump close to 2 feet on DC, with 5-8 foot drifts. New York City will see less (6-10 inches) but coastal flooding from 50 mph onshore winds will be severe.
While we tune in The Weather Channel to remind us what an epic snowstorm looks like Minnesota will experience a parade of minor clippers next Monday, Wednesday and Friday - each one capable of a snowy burst. No school-closing snows in sight.
No more cold waves either, in fact we may hit freezing 4 days next week.
We've picked up 38 minutes of daylight since December 21. Thank (or blame) El Nino for a southerly detour in the storm track. Maybe next winter.
---
* NAM snowfall potential animation courtesy of NOAA and AerisWeather.
Aeris Weather Intermediate Update: Issued Thursday night, January 21, 2016.
 
Here's what's new and what has changed:  
*
Washington D.C
. still on track for nearly 2 feet of snow; even more west of I-95. That's a problem (obviously) - plowing in D.C. becomes far less effective when totals go over 15". The good news: highs top 40F next week so there will be some melting, unlike the Feb. 4-6, 2010 "Snowmageddon" event, where frigid cold followed 2-3 feet of snow, which had to be pushed into the Potomac River.  
* Snow starts up Friday afternoon in D.C. - peak of the storm is Friday night, when snow falls at the rate  of 1-2"/hour.
*
New York City
is expecting blizzard conditions during the day Saturday; the situation looks more impressive with a potential  for 12-18" in the city, maybe some 2 foot amounts over the northwest suburbs. The worst weather in NYC come during the day Saturday with white-out conditions expected.  
* Latest models suggest
a northward shift in the storm track
, which means
Boston
could wind up with 15". Snow starts up in Boston Saturday afternoon with the heaviest amounts coming Saturday night, slowly tapering on Sunday afternoon.  
* Expect much of the I-95 corridor from D.C. to New York and Boston to be effectively
shut down to air and land travel for the better part of 72 hours
.
* Winds gust to 50 mph, coupled with heavy snow accumulations the risk of spotty power outages will be moderate to high.
*
I can't stress enough how significant the coastal flood threat is
from the Delmarva Peninsula to coastal New Jersey, Long Island and southern New England to Boston, where tides may run 4-6 feet above average. A full moon is complicating matters: expect the worst flooding and beach erosion close to high tide Saturday afternoon and Sunday morning.
* This is a dangerous storm, probably the biggest winter event in 6 years for the Mid Atlantic and coastal New England. Plan accordingly
---
Latest Predictions
. The axis of heaviest snow is still expected to fall west of I-95, where some 2-3 foot amounts are likely by Sunday. NAM guidance from NOAA displayed. Map: AerisWeather.
---
Storm Track Shifts North
. Latest guidance suggests a northward "wobble" in the track, pushing the heavy snow band into Hartford, Providence and Boston. Some ice may mix in near the coast, but temperatures in the lowest mile of the atmosphere are still cold enough for primarily snow. Map: WeatherBell.
---
Latest Warnings. Blizzard Warnings are in effect for Washington D.C. and Baltimore; I have a hunch the Blizzard Watch for New York City will be upgraded to a Blizzard Warning, based on the latest guidance. Winter Storm Watches/Warnings may be pushed farther north into New England, including Boston.
---
​
Coastal Flood Threat
. NOAA has issued Coastal Flood Watches from the Virginia Tidewater north to Long Island Sound. The greatest risk of flooding comes close to high tide Saturday and Sunday. Although this won't rival "Sandy" for storm surge, this system is not your typical Nor'easter - water damage may be extensive, comparable to a strong tropical storm going up the coast. Map: AerisWeather.
---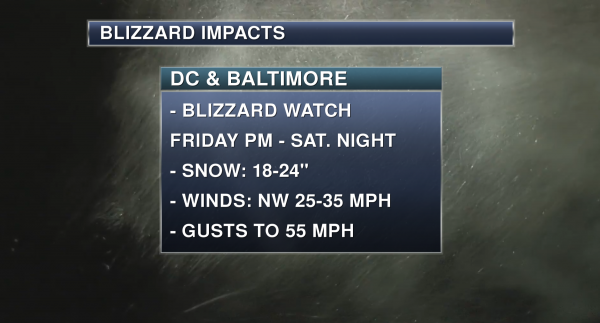 Washington D.C. Headlines. The height of the blizzard in D.C. comes Friday evening into Saturday afternoon, when travel conditions will range from treacherous to impassable. I expect DCA, BWI and IAD to close. I expect the worst storm conditions to come in the Washington D.C. - Baltimore metro area.
---
BPI: Blizzard Potential Index. Our internal models show the greatest probability of blizzard criteria (sustained winds over 35 mph and visibility under 1/4 mile) Friday night in the D.C. and Baltimore area. Map above valid midnight Friday night.
---
BPI: 3 PM Saturday. By Saturday afternoon the most extreme conditions spread into New Jersey, New York City and coastal Massachusetts You won't want to even consider driving (or flying) Saturday and Saturday night in New York; I suspect mass transit will also be massively impacted.
---
BPI: Sunday 3 AM. I expect blizzard or near-blizzard conditons from Cape Cod into Boston Saturday night into Sunday morning with white-out conditions possible.
---
Timing the Storm.  The heaviest snows are shaded in purple, blue is ligher snow and green denotes rain. You can watch the evolution of heavy snow bands  as the Nor'easter pushes up the coast late Friday into Sunday: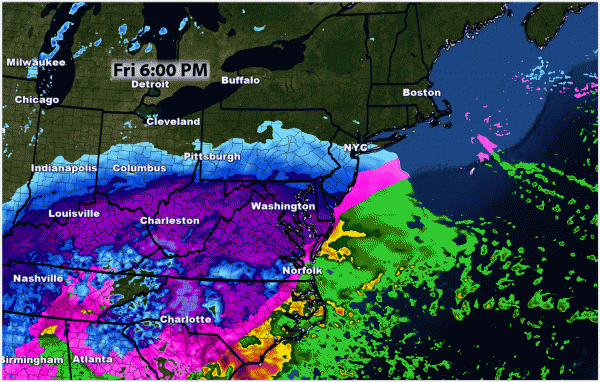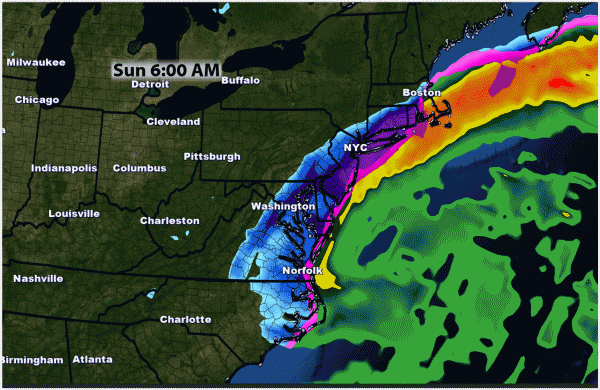 ---
---
East Coast "Snowmageddon": Random Fluke or Trend? According to climate researcher Hunter Cutting: "11 of the top 30 snowfall events since 1880 in the DC/Balt area have occurred in just the last 15 years. 18 of the top 30 since 1880 have occurred in the last 35 years. Only 12 of the top 30 events occurred in the 80 years between 1880 and 1960."
---
Blizzard Storm Surge Could Rival an East Coast Hurricane Landfall. Due to a confluence of factors, including a full moon and a strong and sustained fetch of wind, magnified at high tide. Here's an excerpt fromm Eric Holthaus at Slate: "...Before Hurricane Sandy, the second-highest water level ever measured in New York City (after 1960's Hurricane Donna) was from a December 1992 winter storm that produced more than 3 feet of snow in Maryland with drifts up to 20 feet high, hurricane force winds at the New Jersey shore, power outages to hundreds of thousands of people, $2 billion of damage, 25-foot waves offshore, and flooded thoroughfares in Manhattan. Along with several other infamous winter storms of the past few decades, the 1992 storm is now one of the leading historical analogues for this week's blizzard. Like the 1992 storm, this week's blizzard will arrive during a full moon, when hide tide levels are highest..."
---
Good and Boring. A few clippers are on the way, a light accumulation possible as early as Monday, by late next week it may be warm enough aloft for a sloppy mix. Temperatures run above average for the next week to 10 days. Thank God it's quiet. I don't think my broken ankle or palpitating heart could take big weather in Minnesota right now. Graphic: WeatherSpark.
---
Atlantic, Caribbean Storms More Destructive as Temperatures Rise. More fuel for hurricanes and Nor'easters like the one threatening the East Coast, according to a story at Thomson Reuters Foundation: "Hurricanes in the Atlantic and Caribbean oceans will grow more than twice as powerful and damaging as ocean temperatures rise from global warming, a new study says. Warming seas could produce more rainfall and far more destructive storm surges of water along the ocean shorelines in the next 50 to 100 years, said the study by U.S. scientists published this week in the journal Geophysical Research Letters..."
Image credit above: "Hurricane Joaquin is seen over the Bahamas in the Atlantic Ocean in an image from the NOAA GOES West satellite, Oct. 1, 2015." REUTERS/NOAA/Handout via Reuters.
---
Analysis: How 2015 Became the Hottest Year on Record. Carbon Brief takes a look at how global temperatures and trends are measured; here's an excerpt: "...As well as being a symptom of the long term warming trend, scientists are interested in 2015 global temperature because of what it tells us about how natural fluctuations in the climate can act to amplify or dampen the warming signal, Osborn explains. A huge El Niño in the Pacific – among the biggest on record – contributed to the record warmth in 2015, say scientists. In total, 10 out of the 12 months in 2015 either tied with or broke previous records, according to NASA and NOAA's joint analysis. Since the El Niño only recently reached peak strength, scientists expect its impact to be even larger in 2016..."
Graphic credit above: "Global average surface temperatures in the three major global datasets, all relative to the 1961-1990 average: Met Office/University of East Anglia (blue), NASA (orange) and NOAA (red)." Credit: Rosamund Pearce, Carbon Brief.
---
Bloomberg has effective graphics that show temperature trends over 136 years here.
---
We Just Lived in the Hottest Year on Record. Here's more perspective from ThinkProgress: "NOAA and NASA have announced that 2015 was by far the hottest year on record globally. In fact, NOAA reports that "2015 is Earth's warmest year by widest margin on record." 2015 set the record for setting records! While global temperature records are normally measured in hundredths of degrees Fahrenheit, NOAA reports 2015 crushed the previous record just set in 2014 by nearly three tenths of a degree, or 0.29°F (0.16°C) above the previous record, which was set in 2014..."
---
2015: Hottest Worldwide, Second Hottest in the USA on Record. Details via The New York Times.
---
Earth's Temperature Depends on Where You Put the Thermometer.  Here's the intro to a story from AP: "When it comes to measuring global warming, it's all about altitude. Temperature readings taken close to Earth's surface — about 6 feet off the ground — show a slightly warmer planet than measurements taken from on high by satellites in orbit. And that discrepancy has given ammunition to climate-change doubters. Government agencies and most scientists rely primarily on ground measurements, and they show that 2015 was the warmest year on record. The National Oceanic Atmospheric Administration, NASA, the Japanese and British meteorological agencies and the World Meteorological Organization all use ground data. It's a matter of better accuracy and relevance, scientists say..."
---
What Did The Hottest Year on Record Mean for The Midwest. Here's a link and excerpt from a timely story at Pacific Standard: "...So far, what Kluck, and Michael Timlin, a climatologist with the Midwestern Regional Climate Center, have been able to parse out are longer-term trends, namely winters with less severe and shorter cold snaps (just like 2015's). They're also seeing bigger rain events with longer dry spells in between and have noted that minimum annual temperatures throughout the region have gradually gone up over the past 120 years or so. In the northern tier of the Midwest, like Minnesota, those increases have occurred faster, a change that jibes with what climate models predict will happen as more carbon dioxide is introduced into the atmosphere..."
Animation credit: "A comparison of NASA satellite images of the Mississippi River on January 3, 2016, and January 10, 2015". (Photo: NASA)
---
15 Before-And-After Images That Show How We're Transforming the Planet. Vox has a terrific photo-essay; here's an excerpt: "...One of the most dramatic ways we're transforming the planet is through global warming. And a great place to see its effects is through the melting of glaciers and ice sheets around the world. The images above show the Columbia Glacier in Alaska, which flows directly into the sea. The glacier had stayed more or less fixed in place between its discovery in 1794 and 1980, but then suddenly began shrinking. Between 1986 and 2014, its nose had retreated 12 miles north, making it one of the fastest-receding glaciers in the world..."
Image credit above: "Alaska's Columbia Glacier, seen on July 28, 1986 and July 2, 2014." (NASA, Images of Change)
---
Amidst Drop in Oil Prices, U.S. Navy Deploys "Great Green Fleet". Reuters reports: "The U.S. Navy will formally deploy its so-called "Great Green Fleet" on Wednesday, sending warships to sea on biofuels even though oil prices have dropped 70 percent since congressional Republicans first criticized the high cost of alternative fuels. Navy Secretary Ray Mabus told Reuters the deployment is the next step in a fleet-wide effort that has seen the Navy cut its oil consumption by 15 percent since he took charge in 2009 and the Marine Corps curb its use by 60 percent. A focus on energy and energy-saving technology gives the U.S. Navy a military advantage, Mabus said..."
---
How Big Cities Are Finding Innovative Ways to Nudge People to Ditch Cars. The Guardian takes a look at novel approaches: "Home to more than half of the planet's 7 billion people and a large portion of its 1.2bn cars, cities face a huge challenge as the world strives to meet the Paris climate goal of limiting global warming to 1.5C above pre-industrial levels. Cutting emissions in cities is critical: they make up only 2% of the world's total land area, but produce up to 70% of its climate emissions from human activity, according to a 2011 United Nations report..."
Photo credit above: "A cyclist rides his bicycle during "No Car Day" in Bogota, 2015. The event was organized to encourage residents to use other modes of public transportation to help reduce the amount of pollution." Photograph: Jose Gomez/Reuters.
---
24 F. high in the Twin Cities Thursday.
24 F. average high on January 21.
30 F. high on January 21, 2015.
January 22, 1982: The Twin Cities receive 21.1 inches of snow, with a total of nearly 40 inches on the ground.
January 22, 1936: Perhaps the coldest wind chill the Twin Cities has ever seen occurs on this day; it hits -67 with the new wind chill formula (-87 with the old formula). The temperature was -34 with a wind speed of 20mph. All traffic in the Twin Cities was severely hampered and a number of fatalities were caused by the cold.
---
TODAY: Partly sunny, brisk. Winds: N 5-10. High: near 20
FRIDAY NIGHT: Partly cloudy. Low: 10

SATURDAY: Fading sun, stiff breeze. Winds: S 10-20. High: 26

SUNDAY: Mostly gray, risk of a thaw. Winds: SE 7-12. Wake-up: 20. High: 32

MONDAY:  Couple inches of snow possible. Wake-up: 26. High: 30

TUESDAY: Mostly cloudy, better travel day. Wake-up: 19. High: 23

WEDNESDAY: Dry start, burst of light snow late? Wake-up: 17. High: 27

THURSDAY: Mostly cloudy, milder than average. Wake-up: 21. High: 31
---
Climate Stories...
Global Warming in 2015 Made Weather More Extreme and It's Likely To Get Worse. Jason Samenow has an Op-Ed at The Washington Post; here's an excerpt: "...On Wednesday, the National Oceanic and Atmospheric Administration and NASA jointly announced that 2015 was the warmest year on record for the planet. The previous record, set just 12 months ago in 2014, wasn't merely broken, it was smashed. There's a saying that numbers numb and stories sell, but the latest climate numbers tell a story that is stunning. Including 2015, 15 of the 16 warmest years in NOAA's 136-year climate record have occurred since 2000. And 2015 marks the 39th consecutive year, dating to 1977, in which global temperatures have been above the 20th-century average..."
---
Oceanic Heat Content Spikes. Check out the graph from NOAA's National Oceanographic Data Center,  which displays heat content in the top 2000 meters of the world's oceans. No sign of a "hiatus".
---
Just How Much Does Koch Industries Pollute? Here's the intro to a story at Bloomberg Business:  "Charles and David Koch spent the past several years and millions of dollars building a conservative movement in American politics. A new book out this week, Dark Money by Jane Mayer, chronicles the rise of their influence during the Obama era.  A big part of their focus, and that of their peers, has been to shrink the impact of tax, fiscal, and especially environmental regulation. That position, Mayer points out, happens to work to the benefit Koch Industries, whose operations span oil refining, paper making, and synthetic fiber. "They said they were driven by principle," Mayer writes, "but their positions dovetailed seamlessly with their personal financial interests..."
Photo credit above: Sue Ogrocki/AP Photo.
---
AP Fact Check: Ted Cruz Misstates Science of Climate Change. Why the double-speak? Follow the money, specifically the source of campaign contributions. Here's an excerpt from AP:"...CRUZ: "The satellites that actually measure the temperature, that we've launched into the air to measure the temperature, they have recorded no significant warming whatsoever for the last 18 years."
THE FACTS: Scientists, including those who work with the very satellite measuring system that Cruz refers to, say he's misusing the satellite data. They do show warming, albeit relatively little over the period Cruz cites, says Carl Mears, senior scientist for Remote Sensing Systems, which produces the data that Cruz refers to. But by starting his comparison period in 1997, Cruz has selected a time when temperatures spiked because of an El Nino weather pattern. Starting at an artificially high point minimizes the rate of increase since then, Mears said, adding, "If you start riding your bike at the top of a big hill, you always go downhill, at least for a while..."
---
A Striking Resemblance Between Testimony for Peabody Coal and for Ted Cruz
. Climate scientist John Abraham at the University of St. Thomas has the story at
The Guardian
; here's an excerpt: "...
Why does this Peabody Coal case in Minnesota matter? Well, the same arguments were made by Ted Cruz and his contrarian witnesses in December in Washington DC. You can watch the video here. You can read John Christy's testimony here. You can read Judith Curry's written testimony here. The similarity between this group of contrarian documents is shocking. It is almost as if portions of their testimony were cut and paste. I am not really surprised the Ted Cruz would question climate science. And I am not surprised the well-known contrarians Judith Curry, John Christy, William Happer, Roy Spencer, and Richard Lindzen continue to question the mainstream expert consensus. I am not really surprised that some of these scientists are representing fossil fuel companies in litigation or hearings. What I am surprised about is that they are being so selective in presenting data and not telling the full story.
.."
Photo credit above: "Peabody Energy headquarters in St. Louis". Photograph: Jeff Roberson/AP
Climate Change Could Cost Jobs in South Florida, Says White House Advisor. Here's an excerpt from The Miami Herald: "....There's probably no place in the country where you can have less of an argument about climate change than South Florida," said Robert Simon, an adviser in the White House's Office of Science and Technology Policy. "You see it everyday in Miami Beach." Flooding and coastal erosion could threaten Miami's tourism and real estate sectors, he said. And climate change-caused disruption around the world could disrupt the global supply chain, killing the region's ability to import and export valuable goods..."
---
Walmart CEO in Davos: Ignore Climate Skeptics. Climate Home has the story; here's the intro: "America's largest private employer is "leading by example," Doug McMillon claimed in Davos on Wednesday, slashing electricity use in stores and excess packaging. Speaking at the World Economic Forum, he advised business leaders to ignore those who dismissed the science of climate change. "At Walmart, we are very familiar with scepticism," McMillon said. "It's got to a point where we just ignore it. Doing the right thing is good for business. Where the population is not like-minded it doesn't matter. The decisions behind the scenes improve the products we're making..."
---
In Global Warming Bets, Record 2015 Heat Buoys Mainstream Science. Reuters has the details; here's a clip: "For British climate expert Chris Hope, new data showing that 2015 was the hottest year ever recorded is not just confirmation he's been right all along that the planet is getting warmer. It also won the Cambridge University researcher a 2,000 pound sterling ($2,830) wager made five years ago against a pair of scientists who reject man-made global warming and bet Hope that the Earth would be cooling by now. NASA, the U.S. National Oceanic and Atmospheric Administration (NOAA) and the British Met Office said on Wednesday that 2015 was the warmest year recorded since 1880, boosted by a long-term build-up of greenhouse gases and a natural El Nino event warming the Pacific Ocean..."
---
The Hottest Year on Record Signals that Global Warming is Alive and Well. NCAR climate scientist Kevin Trenberth has a summary at The Conversation; here's an excerpt: "...The year 2015 stands out because of the unusually strong El Niño that has been under way, only the third El Niño categorized as "very strong" going back as far as records allow (into the late 1800s). In fact, the higher temperatures from El Niño could account for most of the difference from 2014, which had been the warmest year on record until last year. El Niño plays a major role regionally in affecting where the hot and dry spots are and where the torrential rains and hurricanes occur. Global warming makes all of those effects more brutal..."
 
Photo credit above: "Wildfires devastated large parts of California and the West, which has been suffering from a historic drought." Max Whittaker/Reuters.
---
California to Investigate Whether Exxon Mobil Lied About Climate Change Risks. Here's the intro to a Los Angeles Times story: "California Atty. Gen. Kamala D. Harris is investigating whether Exxon Mobil Corp. repeatedly lied to the public and its shareholders about the risk to its business from climate change — and whether such actions could amount to securities fraud and violations of environmental laws. Harris' office is reviewing what Exxon Mobil knew about global warming and what the company told investors, a person close to the investigation said..."
Photo credit above: "Exxon Mobil, which operates a refinery in Torrance, above, has issued statements denying news reports that it suppressed climate-change research." (Christina House / For The Times).
---
Pentagon Ordered to Address Climate Change. Here's the intro to story at The Washington Free Beacon: "A new directive issued by Pentagon leaders mandates that the agency work to "assess and manage risks associated with the impacts of climate change," according to a copy of the Jan. 14 directive issued by Deputy Secretary of Defense Robert Work. As the Obama administration focuses on a larger effort to push its climate change agenda, the Pentagon will now "address the impacts of climate change." This includes engaging in "deliberate preparation, close cooperation, and coordinated planning" to "improve climate preparedness and resilience," according to the directive..." (File photo: Wikipedia).
---
Climate Change and Minnesota Agribusiness: a Reason for Hope. I've personally witnessed much more attention being paid to climate volatility from General Mills, Cargill and other Minnesota-based companies. Here's another perspective in an Op-Ed at Minnpost: "Too often big business is written off as an environmental problem, without exploring its potential as a tool for progress. Agribusiness must be part of the solution for climate-change adaptation, especially for smallholder farmers in the global south. Right now, the fields in Minnesota may be covered with snow, but according to social responsibility reports, corporations like Cargill and General Mills are helping farmers in developing countries improve their livelihoods. Conscious consumers should demand more information about these programs to determine if they are creating the social impact they claim to generate..."
Photo credit above: CC/Flickr/David Wright. "Agribusiness is a leading contributor to climate change. The industry and lawmakers should do more to address this issue and support the farmers most affected by our carbon-intensive lifestyles."
---
Why Climate Change is a Moral Concern for the Religious Community. Here's an excerpt of an Op-Ed at NJ.com: "...We have a national self-interest in addressing climate change, protecting our economy and security for the next generation, but we also have a moral obligation. The poor and vulnerable suffer most from the impacts of climate change, though they often contribute least to the problem. Loving others should be a primary focus for faith communities, but this is rarely instilled in dialogue or action in the context of climate change. If we are to love our neighbors, then we have no choice but to take action against the injustices associated with environmental changes. To quote an often referenced piece of biblical wisdom, "For of those to whom much is given, much is required." We cannot and should not ignore those who are fighting to survive..."