Snow on Friday in Southern Minnesota
"We're still on track for a few inches of snow Friday across southwest and southern Minnesota. A winter weather advisory is in effect. The snow will begin Friday morning, and end late Friday evening. Expect slippery roads and slow travel."
________________________________________________________________________ 
Weather Outlook for Friday
A storm system moving through the Central US on Friday will skirt the MN/IA/SD border with areas of snow as far north as the Twin Cities, but accumulations should be confined to far southern MN and especially near the MN/IA/SD border.
Snowfall Potential
Here's the snowfall potential through 6PM Saturday, which suggests a few inches of snow possible across the southern part of the state with shovelable amounts south of the Minnesota River Valley and closer to the MN/SD/IA border.

_____________________________________________________________________________
More Snow Early Next Week?
According to the GFS, there is another storm system that could take a similar track to Friday's system, but could track a little farther north, which could mean more snow for us closer to home. Stay tuned! 
_________________________________________________________________________
Snowfall Potential Through Wednesday
It is definitely way too early to tell what may happen as we slide into the early part of next week, however, extended model runs continue to keep an active weather pattern across the region. Here's a look at the GFS (American model) snowfall potential through Wednesday of next week, which suggests areas of heavier snow possible across the southern part of Minnesota once again. Stay tuned!
___________________________________________________________________________
10th Warmest Start to Meteorological Winter on Record
Meteorological Winter is described as the coldest 3 months on average for the northern hemisphere and emcompasses the months of December, January and February. Looking at the data from MSP, the first half of Meteorological Winter (December 1st - January 15th) was the 10th warmest such periond on record with an average temp of +25.8F.
 _______________________________________________________________________
Latest First Sub-Zero Temp at MSP on Record
If you can believe it, we're on pace to set a new record here in the Twin Cities for the latest first sub-zero temperature on record. The record at MSP is January 18th, which occurred 3 times in 1889, 2002 and more recently in 2012. The forecast now calls for our first potential sub-zero temperature of the season this weekend.
______________________________________________________________________
Cold For Hockey Day Minnesota 2019 - Bemidji, MN
Hockey Day in Minnesota is one of my favorite days of the year... All day hockey, what's not to like about that? This year, Bemidji is the host city and the current forecast calls for character buidling cold with wind chills in the -20s and -30s much of the day! Bundle up if you plan on spending anytime outside watching the games
__________________________________________________________________________
Weather Outlook Friday
High temps on Friday will be quite a bit colder across the region , especially across northern MN where high temps will only warm into the single digits below 0F (nearly -20F to -25F below average). The Twin Cities will only warm into the low/mid teen, which will be nearly -10F below average.
________________________________________________________________________
Ice Safety Reminder
Recent mild December weather has made for fairly unsafe ice condtions across parts of the state. The MN DNR has some basic guidelines on how thick the ice should be before you even think about stepping out onto the ice! Also remember that ice is NEVER 100% SAFE!
_________________________________________________________________________
Cold Air Settles In For A While
Hey look at this. According to NOAA's CPC, there appears to an extended period of below average temperatures across much of the nation as we head January 25th - 31st. The colder air looks especially consistent along and east of the Mississippi River Valley.
Temperature Trend
Here's a look at the temperature trend from Thursday to Sunday, which shows an Arctic front blasting through late week with very cold temps moving in behind it. In fact, it looks like the coldest will slide in this weekend with sub-zero temps and dangerous wind chills like through early next week!
Extended Temperature Outlook
Take a look at the extended temperature outlook as we head through the end of the month and it looks like we could be in it for the long haul. The first wave of cold air arrives late week/weekend ahead and should be with us through early next week. Temps may recover a bit next week, but at this point, we could be looking at another surge of even colder air late month. Stay tuned!
Upcoming Snow Chances?
Here's the ECMWF (European Model) forecast, which shows a couple of snow chances in the Twin Cities next week. Stay tuned...
_____________________________________________________________________
 Snow So Far This Season
Note that the Twin Cities has only seen 11" of snow so far this season, which is nearly 17" below average! Interestingly, Rochester has seen more than 15" of snow this season, International Falls has seen nearly 25" of snow this season and Duluth has seen nearly 35" of snow this season. Also note that there is only one climate locations that are reporting above average snowfall for the season (Marquette, MI). Other than that, every location is reporting below average snowfall for the season.
 
Current Snow Depth
The current snow depth across the region shows pretty minimal amounts across the Twin Cities and into the southeastern part of the state. However, locations across the northern half of Minnesota shows a decent snow pack, especially along the MN North Shore, where more than a foot is being reported.
___________________________________________________________________________
Increasing Snow And Ice Potential This Weekend From The Northern Plains To The Northeast
Praedictix Briefing
: Thursday, January 17
th
, 2019
An upper-level system - currently responsible for heavy rain and snow in the western United States - will help develop a new area of low pressure in the Plains late this week.
This system will bring the potential of heavy snow and ice from the Plains into the Ohio Valley and into the Northeast from late in the week into the weekend.
Already Winter Storm Watches have been issued across parts of the Northeast - including Boston - for the heavy snow and ice potential.
Active Weather Out West. Heavy rain and snow – as well as blizzard conditions – have been occurring out in the western United States with a landfalling storm system. Blizzard Warnings are in effect across parts of the Sierra through the morning hours with Winter Storm Warnings continuing into early Friday due to total snowfall of 3-7 feet and wind gusts up to 100 mph. Numerous Flood Watches are also in effect, especially across burn scar areas as flash floods and debris flows will be possible due to heavy rain of at least 1-2" in spots.
Storm Moves East Late This Week. The same system responsible for the active weather out west will move east over the next few days with an area of low pressure developing in the Plains Friday. This will bring snow to parts of the Plains to end the week and begin the weekend, with snow and ice spreading into the Mid-Atlantic and Northeast this weekend. The snow on Friday across parts of the Northeast is with a different, weaker system impacting the region.
Winter Storm Concerns. Due to the potential of snow across parts of the Plains by the end of the week, some Winter Weather Advisories and Winter Storm Watches have been issued. Meanwhile, with the threat of heavy snow and ice increasing this weekend across the Northeast, Winter Storm Watches have already been put in place across parts of the region. Some of the cities under alerts this morning for this late week/weekend system include:
Pierre, SD: Winter Storm Watch in effect from Midnight tonight to 6 PM Friday for 4-6" of snow.
Sioux Falls, SD: Winter Weather Advisory in effect from 3 AM Friday to Midnight Friday night for 3-6" of snow.
Omaha, NE: Winter Weather Advisory in effect from Noon Friday to 6 AM Saturday for 2-5" of snow.
Des Moines, IA: Winter Weather Advisory in effect from Noon Friday to 6 AM Saturday for 4-6" of snow.
Buffalo, NY: Winter Storm Watch in effect from 1 PM Saturday to 6 PM Monday for the potential of at least 7" of snow in combination with this upcoming storm system Saturday into Sunday as well as lake effect snow behind the system Sunday afternoon into Monday.
Syracuse, NY: Winter Storm Watch in effect from 1 PM Saturday through 4 PM Sunday for the potential of 12-20" of snow.
Albany, NY: Winter Storm Watch in effect from 4 PM Saturday through 7 PM Sunday for the potential of at least 9" of snow.
Boston, MA: Winter Storm Watch in effect from 4 PM Saturday through 7 PM Sunday for the potential of at least 6" of snow along with ice accumulations of up to fourth-tenths of an inch.
Portland, ME: Winter Storm Watch in effect from 7 PM Saturday through 7 PM Sunday for the potential of at least 6" of snow.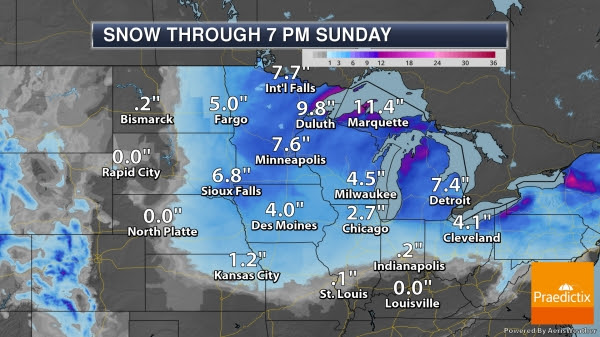 Snow Potential. While an inch or two of snow will be possible over the next 24-48 hours across parts of the Ohio Valley into the Northeast with a different system moving through the region, a bulk of the snow shown on the Northeast snowfall maps will fall with the larger system expected to move through the region this weekend. In the central United States up to a half a foot or more of snow will be possible in some locations as this system moves through. In the Northeast, some parts of the region could see over a foot of snow through the weekend. Note that as typical with these types of systems small changes in the path could change expected impacts for some areas. There is also uncertainty as to how far south the heaviest snow will fall due to differences in the models with regards to the extent of warm air and how fast the system moves through the region. All of this will help determine snowfall totals, especially in areas like New York City and Boston, and are issues that we will have to keep a close eye on the next few days.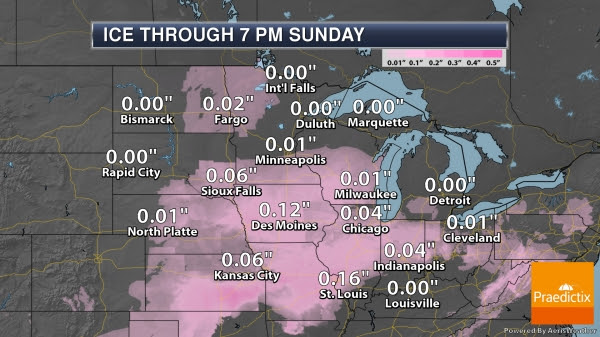 Ice Potential. Another major impact with this system will be ice. While there is also uncertainty as to the where the greatest ice potential will be, it does appear likely that parts of the Northeast could see between at least a tenth and a quarter inch of ice from this system. Further back to the west, parts of the Ohio Valley could see up to about a tenth of an inch of ice through Saturday evening.
D.J. Kayser, Meteorologist, Praedictix
_________________________________________________________________________
Snowy Southern MN - Cold Weekend Ahead
By Todd Nelson, filling in for Douglas
Happy Friday and happy National Winnie the Pooh Day! Yes, there's a day for that... Today I am reminded by one of his famous quotes and especially this soon after the holiday season: "I am short, fat and proud of that."
Sure, I probably had one too many cookies in December and my bewitching 5 foot 5 inch frame will still never be able to slam dunk a basketball over Larry Bird or Kevin Garnett, but that's ok!
A strong Pacific storm recently dumped 5 to 8 feet snow across parts of California's Sierra Nevada range - unreal! A piece of that system will track across far southern Minnesota today with some shovelable amounts along the South Dakota and Iowa border, but the Twin Cities will get missed again!
If you're keeping track, MSP is nearly 17 inches below average for the season. Last year at this time, we were nearly 16 inches below average for the season and we all know what happened in April - GULP!
The weekend will be cold, especially up north. Hockey Day Minnesota fans in Bemidji will need extra layers Saturday - BRR!
_____________________________________________
Extended Forecast
FRIDAY: Light PM snow, heavier south. Winds: NE 5-10. High: 13.
FRIDAY NIGHT: Light snow, then mostly cloudy. Winds: NNE 5-10. Low: 3.
SATURDAY: Bright & cold for Hockey Day Minnesota. Feels like -10F early. Winds: NNW 5-10. High: 11.
SUNDAY: Quick clipper. Minor coating possible. Winds: SE 5-10. Wake-up: 2. High: 12.
MONDAY: Snow accumulations overnight. Winds: ESE 5-10. Wake-up: 8. High: 22.
TUESDAY: AM flurries. Cold wind. Winds: NW 10-15. Wake-up: 14. High: 20.
WEDNESDAY: Sub-zero wind chills. Few flurries. Winds: WNW 5-10. Wake-up: 0. High: 10.
THURSDAY: Another cold one. Extra layers needed. Winds: N 5-10. Wake-up: -2. High: 10.
______________________________________________________
This Day in Weather History
January 18th
1996: A blizzard begins across the upper midwest. The Twin Cities Airport was spared the heavy snow, but received nearly one inch of rain. Heavy ice coating in the northwest metro area caused thousands of power outages. Wind chills were as low as -88 (on the old windchill scale) at Crookston. Snow totals were 18 inches at Ely and 12 inches at St. Cloud. Mail delivery was stopped for the day in Duluth and I-94 was closed all day from Rothsay and Moorhead. Flooding problems were caused in the Twin Cities due to backed up water.
1994: Governor Arne Carlson orders all Minnesota public schools closed due to the extreme cold and severe winter weather. Morning readings were in the 30-below-zero range. The biggest problem was from high winds that came with the cold.
_______________________________________________________
Average High/Low for Minneapolis
January 18th
Average High: 23F (Record: 48F set in 1891)
Average Low: 7F (Record: -36F set in 1887)
Record Rainfall: 0.31" set in 1895
Record Snowfall: 4.5" set in 2014
_________________________________________________________
Sunrise/Sunset Times for Minneapolis
January 18th
Sunrise: 7:45am
Sunset: 5:02pm
Hours of Daylight: ~9 hours & 16 minutes
Daylight GAINED since yesterday: ~ 1 minute & 57 seconds
Daylight GAINED since winter solstice (December 21st): ~ 30 minutes
__________________________________________________________
Moon Phase for January 18th at Midnight
1.9 Days Until Full "Wolf" Moon
"Jan. 20: Full Wolf Moon 11:16 p.m. CST  - Amid the frigid cold and deep snows of midwinter, the wolf packs howled hungrily outside Indian villages. The Full Wolf Moon was also known as the Old Moon or the Moon after Yule in other cultures. In some tribes this was the Full Snow Moon; most applied that name to the next moon. This year, there will be also be a total lunar eclipse that will be visible across the entire Western Hemisphere as well as Europe and a swath of western Africa. Totality will last 1 hour and 2 minutes."
_________________________
"A lunar eclipse and a 'super blood wolf moon': how to watch this cosmic event"
"Skygazers are set to be treated to a total lunar eclipse this weekend, on top of a "super blood wolf moon." The cosmic event is the convergence of a few stellar lunar events — an eclipse coinciding with a supermoon turning an eerie blood red. The eclipse will be visible to much of the Western Hemisphere, including Canada, the U.S., Mexico and South America on Sunday, Jan. 20, and finish early Monday, Jan. 21 (ET time). Here's what you need to know. If you're planning to watch the lunar eclipse, you may have to stay up a late. It begins around 9:12 p.m. ET on Jan. 20. However, you probably won't be able to see any movement until the first phase of the eclipse, which is set to happen at 10:34 p.m. This is when the moon starts to get a little darker. Around 11:41 p.m., the full eclipse slowly sets in and then the maximum eclipse is set to take place at 12:12 a.m. Jan. 21. The total eclipse will end at 12:44 a.m. Unlike a solar eclipse, it's completely safe to watch a lunar eclipse with the naked eye."
See more from Global News HERE:

____________________________________________________________________________
What's in the Night Sky?
According to EarthSky.org this is what will be visible in the night sky over the next several nights: 
"Tonight – January 18, 2019 – our chart covers an area of sky wider than we typically show. It's in answer to a reader in Nashville, who wrote: We can do better than that. We can advise you to go outside on this date, and look for the waxing gibbous moon, then notice the stars nearby. The moon is within the Winter Circle stars on this date. All the stars of the Winter Circle (sometimes called the Winter Hexagon) are first-magnitude stars, so they should be able to withstand tonight's drenching moonlight. The Winter Circle stars don't form a perfect circle … is anything ever perfect? Try starting at Capella and moving clockwise to Aldebaran, Rigel, Sirius, Procyon, Pollux, and Castor. This pattern of stars is not a constellation. It's a lot of separate stars in different constellations. In other words, it's what's called an asterism. From our Northern Hemisphere locations, these same bright stars can be seen before dawn every late summer and early fall. And they can be seen in the evening every winter. Hence the name Winter Circle. I wonder what these same stars are called in the Southern Hemisphere? They're visible from there, but of course it's summer there now. I don't know if this particular collection of bright stars has some special name as seen from that part of the globe. If any of you do know … tell us in the comments!"
 _______________________________________________________________________
National High Temps - Friday, Janaury 18th
High temps across the country on Friday will still be warmer than average across muhc of the nation with the exception of the Upper Midwest and those along the Front Range of the Rockies.
_________________________________________________________
Weather Outlook
Weather conditions over the next 2 to 3 days will be quite active across the country as a series of Pacific storms work across the country. Areas of heavy rain and snow will be possible as they slide east.
7 Day Precipitation Potential
According to NOAA's WPC, the 7 day precipitation potential suggests areas of heavy moisture continuing in the Western US with several inches of liquid likely, which could cause flooding at the lower elevations and heavy snow in the higher elevations. Also note the heavy precipitation potential in the Eastern US. Areas of heavy rain will be possible from the Tennessee Valley and south, while areas of heavy snow could be possible in the Northeast
_________________________________________________________________________
"Polar vortex split means Winter is Coming"
"In the last week of 2018 on into the first of 2019, the polar vortex above the Arctic split, from one whirling beast into three. As a result of this disruption, this year's cold season may be one of the coldest we've seen in many a year. According to meteorologists watching the system, persistent and acute cold is likely to begin at around the end of this month, January of 2019. The polar vortex spins around our north and south poles, creating somewhat of a wall of wind around arctic, chilly air. This January, the polar vortex split, and air that'd normally be trapped in this area at our North Pole kind of, sort of spilled out. That's the simplest way to explain it."
_____________________________________________________________________________
"SO YOU WANT TO HARNESS EVAPORATION FROM A MANMADE LAKE"
"SOMETIMES YOU COME across crazy stuff on the internet. Just check out the Qattara Depression Project; the basic idea is to create a channel to let water from the Mediterranean Sea flow into the Qattara Depression, a giant low-lying area in Egypt. This would create an enormous artificial lake that would change the local climate. It's a prime example of a massive geoengineering project. The project never got underway, probably because it would be too expensive. But I don't want to talk about the financial or environmental impacts of this project. I want to focus on another aspect of the plan: to use this lake as a method for generating electrical power. Here's how it works. The water from the lake will evaporate and cause a continuous flow of new water from the sea. The moving water in the channel can then be used to turn a turbine and generate electricity. Although someone has already estimated the amount of energy, I want to do this myself. You know ... for fun."
____________________________________________________________________________
"Are We Living Through Climate Change's Worst-Case Scenario?"
"We're a lot closer than we should be," one Stanford scientist warned.. The year 2018 was not an easy one for planet Earth. Sure, wind and solar energy kept getting cheaper, and an electric car became America's best-selling luxury vehicle. But the most important metric of climatic health—the amount of heat-trapping gas entering the atmosphere—got suddenly and shockingly worse. In the United States, carbon emissions leapt back up, making their largest year-over-year increase since the end of the Great Recession. This matched the trend across the globe. According to two major studies, greenhouse-gas emissions worldwide shot up in 2018—accelerating like a "speeding freight train," as one scientist put it."
See more from The Atlantic HERE:
______________________________________________________________________________
"This One-Year Time Lapse Of The Weather In 2018 Is Breathtaking"
Do you a spare 9:45 minutes? Take a look at the weather across the country for all of 2018, it's pretty neat!
_____________________________________________________________________________
"A CLEVER NEW MAP SHOWS WHICH CHICAGO NEIGHBORHOODS ARE MOST AT RISK FROM POLLUTION"
"The NRDC hopes its new research into municipal pollution can help organizers push for sound, equitable policy. Chicago suffers from inequality in many forms, including uneven exposures to pollution and toxins throughout its many neighborhoods. Now, a sophisticated new map of the Windy City shows how, even among the dirtiest streets, not all pollution is created equal. That's because some neighborhoods are better equipped to handle these environmental risks than others—perhaps because they're wealthier, or have more time, or enjoy closer access to their political representatives. Meanwhile, residents of low-income or high-minority neighborhoods can sometimes be all but forgotten by their representatives. It's a distinction of which policymakers must be mindful when planning new developments in Chicago. Created by the Natural Resources Defense Council, the new map combines both the environmental and socio-demographic characteristics of each Chicago neighborhood. It considers factors such as cancer and respiratory risks from air toxins, lead paint exposure, and proximity to Superfund sites; on the socio-demographic side, it incorporates poverty, minorities, linguistic isolation, and the percentage of young and old people."
_____________________________________________________________________________
"Nielsen Sees 'Resurgence' In OTA Households"
The number of households receiving their television via over the air antenna now represents 14 percent of all U.S. television households, nearly double what it was eight years ago, according to a new report from Nielsen. With the television industry being upended by the emergence of multiple streaming options, the result has been declining pay-TV subscriptions and the increasing use of alternate methods of distribution, including the old-fashioned TV antenna. "As of May 2018, more than 14% of all TV households—or 16 million homes—have OTA status, and that number is on the rise," said Justin Laporte, vice president of Local Insights for Nielsen, in its latest "Local Watch Report." "As consumers look for more on-demand and cost-effective options, there has been a resurgence in this type of television household." In its report, which analyzes the evolving habits of viewers, Nielsen divided these OTA households into two categories: "Plus SVOD," those households that supplement their viewing options with streaming services such as Hulu (not Hulu Live), Amazon Prime and Netflix; and "No SVOD," households that get their television strictly via antenna. There are distinct differences in the demographics and behavior of the two types of households, according to Nielsen.
______________________________________________________________________________ 
Thanks for checking in and don't forget to follow me on Twitter @TNelsonWX