A Little Meteorological Perspective on February 9

This will probably wind up being the coldest Minnesota winter in 4 years, since the "Polar Vortex" outbreak of 2013-2014. That was the winter subzero air stalled for week after week, month after month. 53 nights below 0F at MSP. Even old-timers were complaining.
To be fair, during autumn of 2017 meteorologists were predicting a colder than normal winter, based on a La Nina cooling phase in the Pacific. NOAA data shows meteorological winter running 4.1F colder than average since December 1. Twin Cities snowfall is 5 inches below average, but 10" below average at St. Cloud. There's still a lot of brown out there over central Minnesota.
A band of 6 to 12 inches of snow will set up from Chicago to Detroit today, but no headline-worthy, newscast-leading storms are brewing close to home.
A quiet, chilly weekend gives way to 20s and a few 30s next week. With a sun angle as high in the sky as it was on November 2 it gets harder to sustain subzero weather by late February. The worst of winter's sting is behind us now, but that doesn't mean spring is right around the corner. Nope.
---
---
Total Winter Snowfall as of February 8. Note the 6" of snow from west central Minnesota into parts of the Dakotas. Over 4 feet of snow has piled up over parts of the Minnesota Arrowhead. Source: NOAA.
---
Wild Friday Chicago to Detroit. Yes, it's too cold to snow (much); the storm track too far south for a significant accumulation close to home anytime soon. But travelers over the Great Lakes will not be happy today. 12km NAM accumulated snowfall over the next 48 hours: NOAA and tropicaltidbits.com.
---
Trending Milder. If I showed this graphic in late September or early October there would be shrieks of disbelief. But in early February? This looks downright agreeable Teens for highs over the weekend give way to 20s next week, maybe a few days next freezing the weekend of Feb. 17-18. Source: WeatherBell.
---
Some Moderation by Late February. Winds aloft become more zonal the last week of February as the coldest air lifts into eastern Canada. Hardly springlike for Minnesota, but we may end the month on a relatively mild note.
---
---
Praedictix Briefing: Issued Thursday, February 8th, 2018:
* A storm system will bring the potential of heavy snow late today into Friday from eastern Iowa into southern Michigan, including Chicago and Detroit. Snowfall totals in these locations of 5" to 12" are expected through Friday evening.
* This snow, even though it will be falling across a 12 to 24 hours period, will cause reduced visibility, snow covered roads and dangerous travel for both the morning and evening commute across this region Friday.
* As a cold front moves south, some freezing drizzle/rain is expected to form across Missouri Saturday. Ice accumulations of a tenth to two-tenths of an inch are possible.
---
Morning Radar. Snow associated with a system which will bring Chicago and Detroit heavy snow late today into Friday is already falling this morning across parts of Montana and South Dakota. 3.9" of snow had been reported near Whitewood, SD.
---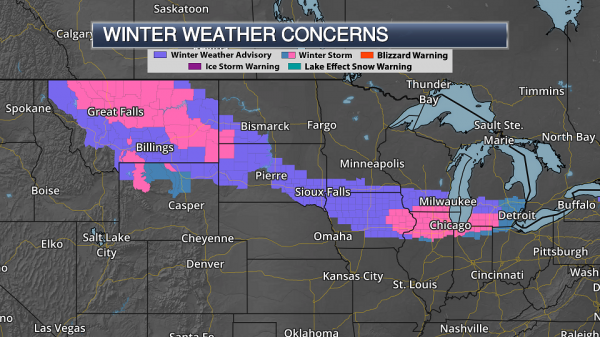 Winter Weather Concerns. Winter Storm Warnings continue across parts of Montana into the western Dakotas today into early Friday for the potential of 6" to 8" of snow (with 10-20" possible at higher elevations). Winter Weather Advisories stretch from the Dakotas to Iowa and Wisconsin for 2-6" of snow today into Friday. Winter Storm Warnings have been issued from eastern Iowa into northern Indiana and southern Michigan – including Chicago – for the potential of 6" to 12" of snow late today into Friday. Winter Storm Watches are in effect in Detroit for late tonight through Friday evening for the potential of 5" to 9" of snow.
---
Heavy Snow Potential. While a band of 2" to 6" of snow is expected from the western Dakotas into central Iowa, amounts are expected to quickly ramp up across eastern Iowa eastward through Chicago and Detroit. This is where a band of 6" to 12" of snow is expected to fall tonight into Friday. This snow will be heavy at times, with snowfall rates of 0.5" to 1"+ per hour possible, which will cause reduced visibility, snow covered roads and dangerous travel.
---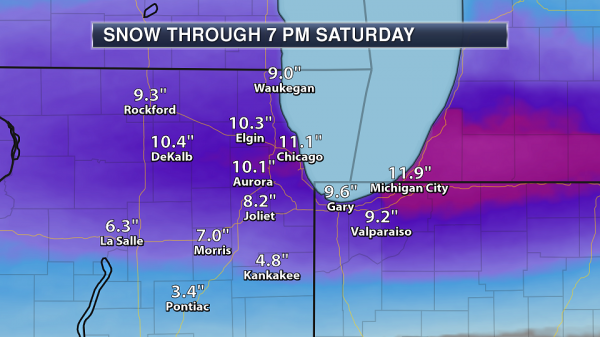 Chicago Snow Expected. Snow will begin across Chicagoland this evening, continuing throughout the day Friday. There is high confidence that a band of at least 6" to 10" of snow - with some isolated totals of a foot or more - will fall between I-80 and I-90 tonight into Friday. There will be a sharp gradient to the south side of the system, meaning that there may only be a 40 to 60 mile difference between who gets a foot of snow and others that receive little to no snow. Winter Storm Warnings are in effect across the Chicagoland area.
---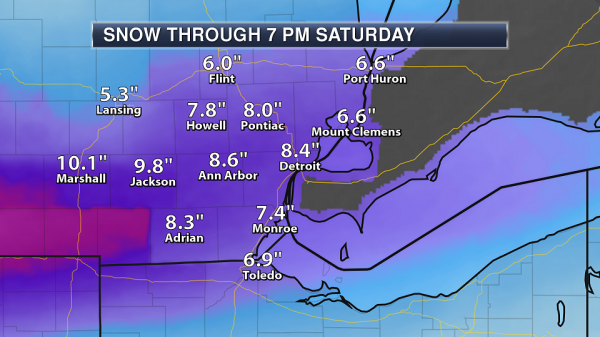 Detroit Snow Expected. Snow will begin late tonight across the Detroit region, continuing throughout the day Friday. Snowfall rates by Friday morning are expected to be about a half an inch per hour. Total snow accumulations of 5" to 9" are expected in and around the Detroit metro through Friday evening.
---
Timing The Snow. Snow will continue to spread east today, making it to Sioux Falls by the midday hours and reaching Chicago this evening. Heavy snow will be underway in both Chicago and Detroit by the morning hours Friday, creating difficult travel conditions. Snow will continue from eastern Iowa through southern Michigan into parts of the Northeast into Friday evening, quickly tapering off into the overnight hours.
---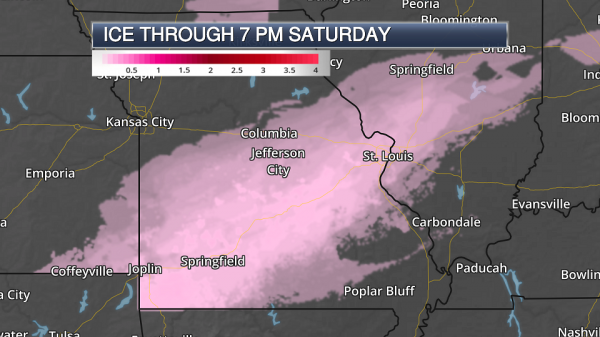 Missouri Ice Saturday. Behind a cold front diving south to end the week, light freezing drizzle/rain is expected to develop into Saturday morning, lasting throughout the day. Overall icing totals through Sunday morning could total between a tenth and two-tenths of an inch of ice from southwest Missouri to St. Louis.
Summary: A storm system will bring heavy snow to parts of the lower Great Lakes late today into Friday, including in Chicago and Detroit. Winter Storm Watches and Warnings have been issued due to the potential of 5" to 12" of snow across these areas over the next 24 to 36 hours. This snow – falling at rates up to an inch per hour – will cause reduced visibility, snow covered roads and dangerous travel for both the morning and evening commute across this region Friday. As a cold front continues to dive south, freezing drizzle/rain will be possible across portions of Missouri Saturday, with the potential of tenth and two-tenths of an inch of ice from southwest Missouri to St. Louis.
D.J. Kayser, Meteorologist, Praedictix
---
The Blizzard of 1978 Will Be Surpassed in New England - Just Not Yet. I remember it like it was yesterday.  Here's an excerpt of a walk down memory lane from NECN: "...So, to some extent, the Blizzard of 1978 may remain untouchable. The intensity and longevity of the event – or at least one of those facets - would be hard to miss from a day or two out with modern technology (though, admittedly, not impossible). I would suggest, however, that the horrific impact of the blizzard – stranding cars for days on Boston area highways, inundating coastal communities with frigid ocean water necessitating rescues, and the epic snowfall totals – certainly could repeat..."
File photo of Boston after the Blizzard of '78 courtesy of Wikipedia, which has a good summary here.
---
US Virgin Islands Facing Daunting Recovery: From Climate Nexus: "A lackluster disaster relief response from Congress could decimate a developing middle class in the hurricane-ravaged US Virgin Islands, the Washington Post reported Tuesday. Virgin Islands residents, many of whom profited from a tourism boom beginning in the '90s, say that Hurricanes Maria and Irma wiped out their homes and livelihoods, while a slow recovery and largely underinsured assets have made it nearly impossible to rebuild their lives over four months later. The Post reports that the territory's lack of voting representation in Congress "[reinforces] disconnect from the mainland" during recovery and worries officials who say the island needs $7.5 billion in aid from the federal government. NPR reported last week that even as tourists begin to return, hospitals and health services on the islands remain in a "critical state." (Rebuilding: Washington Post $. Healthcare: NPR)
---
HURRICANES: From Climate Nexus: "FEMA contract called for 30 million meals for Puerto Ricans--50,000 were delivered (New York Times $, CNN), how decades of Houston development add up to rising flood risk (PBS NewsHour), Trump applies Obama-era flood aid rules he axed six months ago (Bloomberg), Puerto Rico likely to win in budget deal with Medicaid, block grant funds." (Politico Pro $).
September 5, 2017 file image of Hurricane Irma: NOAA and AerisWeather.
---
Inland Flooding More Prevalent Than Coastal Flooding? At least in terms of Presidential Disaster Declarations. Flooding is the most common natural disaster in the USA, according to The Pew Charitable Trusts: "...Last year tied the record for the most billion-dollar natural disasters in the U.S. While no one knows what extreme weather will bring in 2018, Americans across the country should be ready for flooding, based on the frequency and magnitude of such events over the past decade. A look at the Federal Emergency Management Agency database of Disaster Declarations over that span reveals two particularly telling themes..."
---
Why Cape Town is Running Out of Water, and Who's Next. A story at National Geographic made me do a double-take: "...The situation seems to be worsening by the day. The city is prepping 200 emergency water stations outside groceries and other gathering spots. Each would have to serve almost 20,000 residents. Cape Town officials are making plans to store emergency water at military installations, and say using taps to fill pools, water gardens, or wash cars is now illegal. Just this week, authorities stepped up water-theft patrols at natural springs where fights broke out, according to local press reports. They're being asked to crack down on "unscrupulous traders" who have driven up the price of bottled water..."
---
Here's What Happens When a Plane is Struck by Lightning. Here's a snippet from an interesting article at TIME.com: "...Newer airliners like the Boeing 787 and the Airbus A350 are made with a higher proportion of composite materials like carbon fibers, resulting in a reduced electrical conductivity of the fuselage and wings, says Hansman. Manufacturers have also developed a workaround by adding more metal wiring into the composite material to ensure good conductivity on the aircraft's exterior. In short, lightning strikes are "not a severe problem from a safety standpoint," says Hansman. When air operators route around stormy areas, it is to prevent turbulence or possible external damage caused by things like hail rather than to avoid lightning..."
---
Light Pillars. Here's a good explanation from NOAA: "Long pillars of multicolored light streaking the sky seem like the perfect backdrop for impending alien invasion, but in reality, light pillars are a common effect that can be found all over the world. They do come from above — not extraterrestrials, but tiny crystals of ice hanging in the atmosphere. Ice is very thin, shaped like plates with hexagonal faces. When ice drifts down through the air, it falls close to horizontally. At the top and bottom are the faces with more area. Ice is very reflective, so when light hits those wider faces, it bounces around and reflects off more ice crystals. That means we get these vertically stacked mirrors floating in the atmosphere. The light hitting it gets reflected up and up (or down and down, depending on the source), and becomes a radiant column in the sky. Light can come from the sun, moon, cities, street lights — any strong light source."
---
Is 100% Renewable Energy Realistic? Here's What We Know. Dave Roberts writes for Vox: "...The sources of carbon-free electricity with the most potential, sun and wind, are variable. They come and go on their own schedule. They are not "dispatchable," i.e., grid operators can't turn them on and off as needed. To balance out variations in sun and wind (both short-term and long-term), grid operators need dispatchable carbon-free resources. Deep decarbonization of the electricity sector, then, is a dual challenge: rapidly ramping up the amount of variable renewable energy (VRE) on the system, while also ramping up carbon-free dispatchable resources that can balance out that VRE and ensure reliability. Two potentially large sources of dispatchable carbon-free power are nuclear and fossil fuels with carbon capture and sequestration (CCS). Suffice it to say, a variety of people oppose one or both of those sources, for a variety of reasons..." (Image credit: Energy.gov).
---
What the Heck is a "Waterrotor"? Energy from flowing streams? Why now. Check out the details: "Accessible and affordable electricity is a major global issue. 1.3 billion people are without electricity, and over 800 million people depend on high cost, polluting fossil fuel generators for their power. However, over 71% of the planet is covered with slowly moving water in rivers, canals, and ocean currents. A huge, untouched global market exists to provide electricity where it is unavailable, and also to replace the millions of fuel-burning generators currently supplying power at very high cost..."
YouTube has a video of how the Waterrotor works here.
---
Job Automation Will Hurt Women First But Will Ultimately Hurt Men More. The long-range forecast calls for disruption, according to a story at Quartz: "...Across all age groups, women could be displaced first due to the larger numbers of women in clerical positions in different industries. But at a broader level, women are more concentrated in sectors such as education and health, which require more personal and social skills that are less easily automated (for now). All this being said, PwC's estimates are based on the technical feasibility of automation. In reality, economic, legal, regulatory, or organizational constraints could limit the true impact. Because public policy will likely be needed to offset the inequitable impact of automation, with less-educated people hurt the most, this could also slow the technological progress..."
Photo credit: "Looks innocent." (Reuters/Jason Lee)
---
LA Has World's Worst Traffic Conditions. The Twin Cities did not show up on the list! USA TODAY has more details: "U.S. cities dominate the world's top 10 most-traffic-congested urban areas, with Los Angeles leading in mind-numbing and costly gridlock, according to a new report issued Tuesday. La La Land, with its jam-packed freeways and driving culture despite billions being poured into rail transit, emerged from the 1,360 other cities in 38 countries to claim the worst-congestion title for the sixth consecutive year in the 2017 traffic scorecard by INRIX, a leader in transportation analytics and connected car services..."
---
The Olympics Are a Mass Propaganda Tool for Countries to Assimilate Their Citizens. I don't necessarily agree with this post at Quartz, but in the spirit of equal time, here's an excerpt: "...Let's not forget about Russia—the country that hosted the 2014 Winter Olympics, despite its long and continual history of human rights violations. Russia, just one cycle removed from hosting the games in Sochi, has been banned from the Winter Olympics because of its doping cover-up—but not because of its prolific problems with human rights violations. The Olympics allow participating nations to stand on a world stage, despite some of them being repressive authoritarian states that keep their citizens in check with fear and unchecked power. This year, for example, the Olympics allowed North Korea to again put forward athletes to compete..."
Photo credit: "Smoke and mirrors." (Reuters/Alkis Konstantinidis)
---
Rocket Bike Man Skis Off His Roof in Willmar, Hits a Fence. The Duluth News Tribune fills us in: "A 40-year-old man is recovering this week after being injured after attempting to jump a homemade rocket bike off of his home's roof in southeast Willmar. According to a police report, the rocket bike consisted of a pair of skis, a bicycle frame and motorcycle exhaust pipe and was being fueled with Heet, an antifreeze product...When rescue personnel arrived in the Friday, Feb. 2, incident, he was on his back on a sled, pushing himself around on the driveway with his feet. He was reportedly swearing and yelling about the pain, according to the report..."
Photo credit: "Remnants of a Willmar man's "rocket bike" was visible near his home. According to a police report, a man tried to jump the bike off a roof and was injured after landing on a fence. Attempts to contact the individual were not successful." Carolyn Lange / Forum News Service.
---
17 F. maximum temperature in the Twin Cities Thursday.
27 F. average high on February 9.
14 F. high on February 9, 2017.
February 9, 1899: The mercury plummets to -59 at Leech Lake Dam.
---
---
---
FRIDAY: Getting sunnier. Feels like -10 early. Winds: N 7-12. High: 11
FRIDAY NIGHT: Partly cloudy. Low: -5

SATURDAY: Plenty of sunshine, rather cool. Winds: W 5-10. High: 15

SUNDAY: More clouds, few flakes around. Winds: W 5-10. Wake-up: -1. High: 19

MONDAY: Mix of clouds and sunshine. Winds: E 5-10. Wake-up: 4. High: near 20

TUESDAY: Some sun, temperatures near normal. Winds: SE 5-10. Wake-up: 9. High: 26

WEDNESDAY: Welcome thaw, a bit drippy. Winds: SW 10-15. Wake-up: 13. High: 33

THURSDAY: Windy and cooler, few flurries. Winds: NW 10-20. Wake-up: 18. High: 22
---
Climate Stories...
EPA's Scott Pruitt Asks Whether Global Warming "Necessarily is a Bad Thing". Not an unreasonable question to ask. But most experts believe the negatives will far outweigh the positives of a warming planet, especially in the developing world. Here's a clip from The Washington Post: "As head of the Environmental Protection Agency, Scott Pruitt has repeatedly questioned the scientific consensus that rising levels of carbon dioxide from human-fueled activity are warming the planet. He's now taking a different tack: Even if climate change is occurring, as the vast majority of scientists say it is, a warmer atmosphere might not be so awful for humans, according to Pruitt. "We know humans have most flourished during times of what, warming trends," Pruitt said Tuesday during an interview on KSNV, an NBC affiliate in Las Vegas. "So I think there's assumptions made that because the climate is warming, that that necessarily is a bad thing. Do we really know what the ideal surface temperature should be in the year 2100, in the year 2018? That's fairly arrogant for us to think that we know exactly what it should be in 2100..."
Photo credit: "Environmental Protection Agency Administrator Scott Pruitt testifies before the Senate Environment Committee in January." (Pablo Martinez Monsivais/AP).
---
Troubled by Trump's Climate Denial, Scientists Aim to Set the Record Straight. InsideClimate News has details: "Even for the adamantly apolitical American Meteorological Society, President Donald Trump's fumbling disputations of climate change in a recent television interview were too much. So, on its collegiate, old-school letterhead, the society's executive director, Keith Seitter, wrote the president a polite but pointed message last week. "There is a wealth of comprehensive and accurate information on climate change available to you and your staff within government agencies, as well as from experts in academic institutions and other organizations," Seitter nudged, adding that the society "stands ready" to provide expertise to Trump and his cabinet..."
Image credit: "In a UK television interview, President Trump responded to a question about climate change by saying "there is cooling and there is heating" and talking about "the ice caps" setting records. The American Meteorological Society sent a letter politely reminding him "there is a wealth of comprehensive and accurate information on climate change available" and offering to share its expertise." Credit: ITV
---
How One State Bridged the Cultural Divide on Climate Change to Prepare for a Stormier Future. Here's a clip from Seattlepi.com: "...New Hampshire, however, is an exception. The state has passed legislation and made rule changes designed to better prepare the state for the damage from storm surge and rising seas. And several municipalities in coastal New Hampshire are integrating preparations for rising seas in their long-term master plans. This progress occurred despite divisive political views on climate change in New Hampshire. As one of the scientists involved in reviewing the science related to coastal flooding, I discovered that this seemingly intractable cultural divide over climate change can be bridged – if scientists show up and build relationships with local decision-makers. Some large coastal cities, including Boston, New York, Norfolk and Miami, have decided to act now to build resilience to current and future coastal flooding. Upgrades include installing flood walls, elevating roads, improving stormwater systems, and expanding open space..."
---
My 1975 "Cooling World" Story Doesn't Make Today's Climate Scientists Wrong. InsideClimate Science provides some perspective: ""The central fact is that, after three quarters of a century of extraordinarily mild conditions, the Earth seems to be cooling down. Meteorologists disagree about the cause and extent of the cooling trend, as well as over its specific impact on local weather conditions. But they are almost unanimous in the view that the trend will reduce agricultural productivity for the rest of the century." – Newsweek: April 28, 1975
That's an excerpt from a story I wrote about climate science that appeared almost 40 years ago. Titled "The Cooling World," it was remarkably popular; in fact it might be the only decades-old magazine story about science ever carried onto the set of a late-night TV talk show. Now, as the author of that story, after decades of scientific advances, let me say this: while the hypotheses described in that original story seemed right at the time, climate scientists now know that they were seriously incomplete. Our climate is warming -- not cooling, as the original story suggested..."
Image credits: McCarty Glacier, Alaska. Left: July 30, 1909. Right: August 11, 2004.1909 picture taken by Ulysses Sherman Grant. 2004 picture taken by Bruce F. Molnia. Glacier Photograph Collection, National Snow and Ice Data Center/World Data Center for Glaciology.
---
The Myth of the 1970s Global Cooling Scientific Consensus. Click here for the 13 page PDF from The American Meteorological Society.
---
Climate Change Could Turn Military Bases Into Foreign Policy Problems. Here's a clip from a story at Futurity: "A new study digs into the impact climate change may have on US military bases around the world, using an abandoned Army base located under the ice in Greenland. Greenland's vast ice sheet has long been home to the base, originally used for Project Iceworm, a US Army initiative designed to deploy ballistic missiles with nuclear warheads against the Soviet Union. When the project was shuttered in 1967, military planners expected that any materials left on site would be safely frozen in ice and snow in perpetuity. Now, melting ice in a changing Arctic has remobilized some toxic waste at one Project Iceworm site and threatens to do the same at others..."
---
Floods Are Getting Worse, and 2,500 Chemical Sites Lie in the Water's Path. Here's the intro to a story at The New York Times: "Anchored in flood-prone areas in every American state are more than 2,500 sites that handle toxic chemicals, a New York Times analysis of federal floodplain and industrial data shows. About 1,400 are located in areas at highest risk of flooding. As flood danger grows - the consequence of a warming climate - the risk is that there will be more toxic spills like the one that struck Baytown, Tex., where Hurricane Harvey swamped a chemicals plant, releasing lye. Or like the ones at a Florida fertilizer plant that leaked phosphoric acid and an Ohio refinery that released benzene..."