Dakota Blizzard - Brushed By Slush at MSP

Weather is a metaphor for life. Hard to predict. Up in the air. Frequent storms, but the sun always comes out again. Wait for the rainbows, right?
That said, I'm glad I'm not taking a road trip into North Dakota today, where many roads will be impassable - blizzard conditions west of Fargo and Grand Forks. 20 to 30 inches of snow may fall with some 5-foot drifts by Saturday.
Plowable amounts of snow are likely from west central Minnesota into the Red River Valley; some 3-6 inch amounts from Fergus Falls to Thief River Falls. A cold wind reaches the MSP metro area today, with a wind chill dipping into the 20s. It will feel almost 50 degrees colder than Wednesday did.
Although the heaviest snows remain north and west of the metro area, a coating of slush is possible tonight into Sunday. Daytime highs will be above 32F over the weekend, so I expect wet roads.
The farther north/west you drive, the better the odds of running into slick roads. Enjoy the slush because ECMWF shows 70F one week from today.
---
NOAA NDFD snowfall accumulation forecast above: Praedictix and AerisWeather.
---
---
---
European Guidance. ECMWF predicts a couple inches of slush for St. Cloud (part of that will probably melt on contact with a relatively mild ground). Over 8" for Detroit Lakes and Fergus Falls seems realistic, with over 10" for Fargo/Moorhead and closer to 18" for Grand Forks. Models are fairly consistent with a forecast of under .4" for MSP (a slushy coating). Map: WeatherBell.
---
---
Late October: Pacific Moderation? The 2-week outlook favors a chilly pattern for the eastern USA; Minnesota on the edge of a cool shot, but the last week of October may end on a milder-than-normal note as prevailing winds blow more from the Pacific than the Yukon.
---
A "Category 5 Winter Storm". The map above is being generated by NOAA's experimental WSSI product, or Winter Storm Severity Index. Expect "Extreme Impacts" between the Red River Valley and Bismarck, with "extensive and widespread severe property damage, life savingactionswill be needed. Results in extreme disruptions to daily life". Details here: Feedback from this experimental product will be used to evaluate product development. The WSSI does not depict official warnings and should always be used in context with official NWS forecasts and warnings. Because this product is experimental, it may not update in a timely fashion. Always check the creation and valid times. For more information, please refer to the following links: Product/Service Description Document, WSSI Users Guide, Interactive ESRI Story Map
---
Praedictix Briefing: Issued Thursday, October 10th, 2019:
As of 7AM CDT, Super Typhoon Hagibis continues as an equivalent category 5 hurricane with sustained winds of 150mph and gusts of 184mph.
Hagibis was located about 690 miles south of Yokosuka, Japan and was moving north-northwest at 12mph.
Latest forecasts from the Joint Typhoon Warning Center suggest that Hagibis will impact mainland Japan this weekend as an equivalent category 2 hurricane with winds near 100mph, large waves, storm surge and torrential rainfall of 5" to 10" that could cause life-threatening flooding and mudslides.
All Nippon Airways (ANA) has announced that "flights on October 12 are likely to be cancelled", and also said transit flights to and from the aiports might be affected as well.
The Super Typhoon has caused the cancellation of Rugby World Cup games in Japan, which is the first time in the tournament's 36-year history.
A strong Santa Ana wind event continues across parts of California, which is helping to fuel Extreme Fire weather concerns north of Los Angeles, CA today. Warm, dry and strong winds have prompted power companies to cut power to more than 600,000 customers across parts of California in an attempt to alleviate wildfire development from downed or sparking power lines.
A major winter storm continues to unfold across parts of the High Plains and Upper Midwest, where heavy snow of up to 20" or 30" and near whiteout conditions will be possible.
---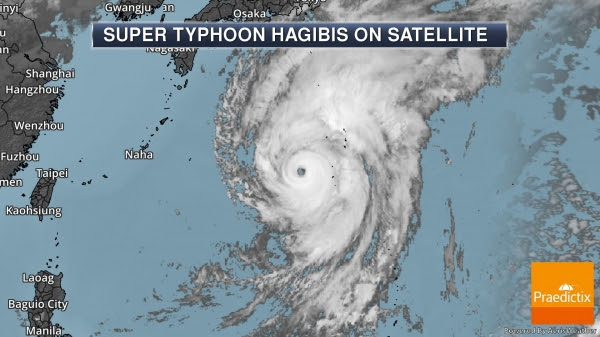 Hagibis on Satellite: The latest updated from the Joint Typhoon Warning Center suggested that Super Typhoon Hagibis was an equivalent category 5 storm with sustained winds of 150mph and gusts of 184mph. Earlier this week, the storm's winds increased by 100mph in just 24 hours, which makes it one of the fastest rates of intensification ever observed on Earth! The storm impacted Guam and the Northern Mariana Islands with strong winds and heavy rainfall earlier this week and has continued to be a very strong storm since then.
---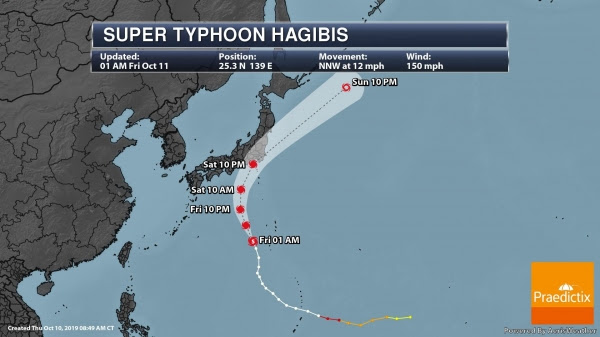 Tracking Hagibis: Hagibis is moving north-northwesterly around 12mph and will continue that track north through Friday. The storm is expected to move north-northeast toward mainland Japan as we approach the weekend and will pass along the east coast of Japan by Saturday evening. The storm is forecast to be an equivalent category 2 storm with sustained winds near 100mph, large waves, storm surge and torrential rainfall that could cause life-threatening flooding and mudslides. All Nippon Airways (ANA) has announced that "flights on October 12 are likely to be cancelled", and also said transit flights to and from the aiports might be affected as well. The Super Typhoon has caused the cancellation of Rugby World Cup games in Japan, which is the first time in the tournament's 36-year history. Facilities in the path of Hagibis should continue to make preparations today as Hagibis nears, but should complete all storm prepartation by Friday as outer bands from Hagibis will likely start impacting the region by Saturday.
---
Rain Threat: Heavy rainfall could be possible across parts of Japan, including Tokyo over the next 5 to 7 days as Hagibis passes over the region. Latest forecasts suggest torrential rainfall of 5" to 10", which could cause life-threatening flash flooding and mudslides. We will continue to update you on the situation as more details become available.
---
Fire Threat Thursday: According to NOAA's SPC, there is an Extreme Fire threat (in pink) today across parts of southern California as a strong Santa Ana wind event continues today. The greatest threat for fires will be north of Los Angeles, CA, where wind gusts could approach 60mph to 75mph in the Mountains. Elsewhere (in red), Critical Fire weather concerns will be possible across parts of southwestern and northern California, where warm dry and windy weather will continue. Wind gusts closer to the coast and in the valleys will range from 45mph to 55mph, which could help fan rapidly growing wildfires if that get started.
---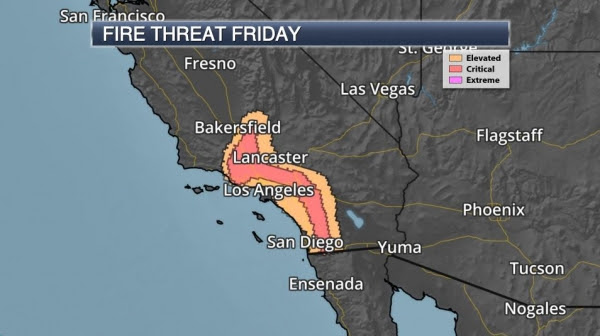 Fire Threat Friday: Weather conditions will still be ripe for rapidly growing wildfires across parts of southwestern California once again on Friday. Wind gusts could still range from 45mph to 55mph along the coast and in the valleys, while the mountains could still see wind gusts of 60mph to 75mph. 
---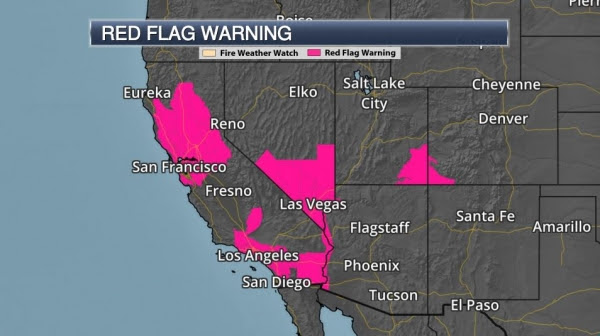 Red Flag Warnings: The National Weather Service has issued a number of Red Flag Warnings (in red) across much of the Southwest as strong Santa Ana winds continue today and tomorrow. Warm, dry and very windy conditions within these areas could cause ongoing and any developing wildfires to spread rapidly. 
---
High Wind Concerns: The National Weather Service has issued a number of High Wind Warnings and Advisories across the Southwest as strong Santa Ana winds continue today and tomorrow. Coastal communities and valleys could see wind gusts up to 45mph or 55mph, while areas in the moutnains could see wind gusts of 60mph to 75mph!
---
Power Outages in California: According to PowerOutages.us, more than 600,000 customers are without power today due to the Extreme and Critical fire threat across parts of California. Power companies started cutting power earlier this week in an attempt to allievate the wildfire threat from downed or sparking power lines due to the strong Santa Ana wind event.
---
Winter Weather Concerns: A major winter storm continues across parts of the Front Range of the Rockies to the Red River Valley, where up to 20" or 30" of heavy snow can't be ruled out. The National Weather Service has issued winter weather headlines from Denver, CO to Devils Lake, ND. There may only be 1" to 2" of snow in the Denver metro, but there could be upwards of 20" to 30" across parts of northern North Dakota by Saturday.
---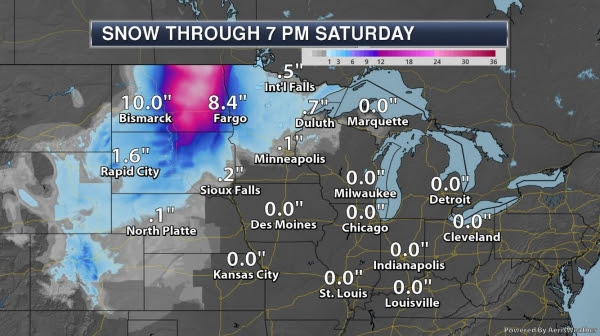 Snowfall Forecast Through 7PM Saturday: Here is the expected snowfall through 7PM Saturday, which shows heavy snow across parts of the Front Range of the Rockies to the Red River Valley. The heaviest snow will likely fall across northern South Dakota into much of central and eastern North Dakota. These particular areas could see as much as 20" to 30" of snow along with strong wind gusts of 40mph to 50mph that could create near whiteout conditions, which would make traveling very difficult if not even impossible.
---
Heaviest Snow in the Dakotas: The European Model (ECMWF) suggests that the heaviest snow will fall across parts of northern South Dakota into much of central and eastern North Dakota. Note that the bullseye appears to be over the eastern part of North Dakota, where widespread 12" tallies will be likely. There even appears to be an area of crippling 20" to 30" tallies across parts of northeastern North Dakota.
---
Winter Storm Severity Index: The overall impacts from the winter storm will be Extreme across a wide area from northeastern parts of South Dakota to much of the eastern half of North Dakota and even into parts of far northwestern Minnesota. The term "Extreme" can be categorized as: "Extensive and widespread severe property damage, life saving actions will be needed. Results in extreme distruption of daily life." Again, this storm will bring significant impacts to the region with areas of very heavy snow and strong winds that could create near whiteout conditions. There will likely be areas of no travel advised as the storm system unfolds over the couple of days.
Todd Neslon, Meteorologist, Praedictix.
---
Local Scientists Help Create First Long-Range Tornado Forecasts. Broad, sweeping generalizations about when upper level winds may be primed for severe weather? Yes. But specifics weeks out? I'm skeptical, but open to new data. Here's an excerpt from WTTW.com: "Tornadoes can be among the most terrifying and destructive of extreme weather events. Earlier this year, for the first time ever a small team of scientists was able to forecast a severe tornado outbreak almost one month in advance. The outbreak hit a vast swath of the U.S., from Texas to Illinois and New York. Victor Gensini, an assistant professor in the Department of Geographic and Atmospheric Sciences at Northern Illinois University is a key member of that team. Gensini, whose research focuses on extreme weather events, was the lead author of a scientific paper that explained how the team made the forecast. He notes that with such a long-range forecast it's impossible to say where exactly the storm-producing tornadoes will strike – but you can determine whether the conditions are right for a tornado outbreak..."
Map credit: "The 757 tornado warnings (red polygons) issued by NOAA's National Weather Service from May 17 to May 30 of this year." (Credit: Northern Illinois University)
---
10 Billion-Dollar U.S. Weather Disasters So Far in 2019, According to NOAA. Weather.com has details: "Ten weather disasters have caused at least $1 billion in damage in the United States so far in 2019, according to a just-released government report. Among the billion-dollar weather disasters in the first nine months of the year were a pair of landfalling tropical cyclones, according to NOAA's findings. Severe weather, drought and river flooding also made the list. In records going back to 1980, the U.S. has endured a total of 254 billion-dollar weather disasters inflicting a combined $1.7 trillion (USD 2019) in damage. Out of those 254 events, 65 have occurred in the last five years. That's more than twice as many per year as the annual average since 1980. Inflation doesn't explain the increase, because the figures are inflation-adjusted..."
---
History of the First Snow of the Season. Just in case you're curious, check out this link at NOAA's Climate.gov: "...These locations are a subset of the complete Global Historical Climatology Network that met various quality controls for reasonableness and completeness of snow cover.  Most stations have at least 20 years of data. A few have a shorter history, but are otherwise of good quality (e.g., little to no missing data). This map should not be interpreted as the "earliest ever" first snow of the season at a given place. It is simply the earliest date of first snow at a given station during its period of operation. As you can see if you explore the map, the length of station histories varies, and to describe the complete history of snowfall at a given place, climate scientists might have to carefully piece together time series from stations at or near the same place that have operated through different periods of history..."
---
Why Lightning Strikes Twice as Much Over Shipping Lanes. WIRED.com (paywall) has an interesting post; another learning experience: "...The official term for this is "aerosol convective invigoration." Thornton also calls it "catalyzing lightning." You just need to know that more particles means more lightning, and burning fossil fuels is a reliable way to make those particles. Ships are especially culpable because they use bunker fuel to get from port to port. Made from the dark, viscous stuff that's left at the bottom of the barrel after the comparatively ethereal gasoline, jet fuel, and kerosene have been distilled off, it contains about 3,500 times as much sulphur as automotive diesel. The world's fleet burns some 3.3 million barrels of it daily. (At least until December 31—more on that in a flash.) For the 2017 study, Thornton and his coauthors pulled data on 1.5 × 109 individual strokes (aka discharges) between 2005 and 2016 from the World Wide Lightning Location Network..."
Graphic credit: American Geophysical Union.
---
Can We Create an Empathic Alternative to the Capitalist System. Will capitalism itself be disrupted in the years to come, like everything else on the planet? Here's an excerpt of a post at The World Economic Forum: "...Promoting shared prosperity means a lot of things. Within the private sector, for instance, there are many companies leading by example and giving shares to their employees, from huge players like Google, to yogurt-makers like Chobani. From a broader perspective, governments could prioritize access to common spaces like parks and culture to bring people together and promote community life. Zygmunt Bauman, the late and respected sociologist, argued in one of his masterpieces, "The Individualized Society", that we are going through a process of fragmentation of human life. Instead of prioritizing the broader well-being of the community, unsustainable consumerism has been only one of the consequences of individualist-driven societies, a process that became more evident with the advent of industrialism and the division of work. The importance of defending more equal societies should be simply based on the reality that the current model concentrates unlimited wealth and generates distortions that are perpetuated, resulting in vicious negative and difficult-to-break circles, such as poverty traps..."
---
Goodyear Blimp Listed on Airbnb. Here's a blip from CNN Travel: "...Goodyear listed one of its blimps on Airbnb for three separate one-night stays October 22 through 24. But aviation lovers, be warned—the blimp will stay grounded during your stay. Somehow, Goodyear squeezed a bed, a couch, two chairs, several tables, a potted plant and plenty of football knicknacks into the tiny blimp gondola, and it looks surprisingly cozy.  The blimp will stay parked in an air hangar minutes from Goodyear's headquarters in Akron, Ohio. Luckily, guests can stretch their legs in a wall-less entertaining space just outside, complete with a TV and open bar (it's a good thing—Goodyear won't allow guests to bring their own alcohol)..."
Image credit: Airbnb.
---
Elon Musk Wants His Cars to Fart and Bleat - In the Name of Safety. I know, it's a lot to take in. Here's an excerpt from The Verge: "Tesla CEO Elon Musk said that he wants his company's cars to offer custom horn and movement sounds in the future, and suggested that these could include the sound of goats, farts, and even coconuts. Teslerati notes that this latter suggestion seems to be a reference to King Arthur in Monty Python and the Holy Grail, who has his assistant Patsy use a pair of coconut halves to imitate the sound of his absent steed. From September next year, electric cars sold in the US will have to emit artificial noise when traveling under 18.6 miles per hour, to make up for the absence of noisy internal combustion engines..."
Photo credit: Sean O'Kane/The Verge.
---
.35" rain at MSP yesterday.
60 F. high on Thursday in the Twin Cities.
61 F. average high on October 10.
51 F. high on October 10, 2018.
October 11, 1909: A snowstorm hits the state, along with temperatures dropping to 7 degrees over northern MN.
---
FRIDAY: Showers taper, a cold wind. Winds: SW 15-25. High: 42 (feels like 20s)
FRIDAY NIGHT: Periods of wet snow, slushy lawns. Low: 33

SATURDAY: Light mix, slushy lawns possible - wet roads around the metro. Winds: SW 15-30. High: 38

SUNDAY: Still raw, leftover flurries around. Winds: NW 10-20. Wake-up: 32. High: 41

MONDAY: Mostly cloudy, probably dry. Winds: W 7-12. Wake-up: 34. High: 47

TUESDAY: Unsettled, few showers. Winds: NW 10-15. Wake-up: 38. High: near 50

WEDNESDAY: Peeks of cool sunshine. Winds: NW 7-12. Wake-up: 36. High: 51

THURSDAY: Partly sunny and milder. Winds: SW 8-13. Wake-up: 34. High: near 60
---
Climate Stories....
Rich Counties Get More Help to Escape Climate Risk, New Data Show. The New York Times (paywall) has a summary of recent research: "Federal programs to help Americans move away from disaster-prone areas are skewed by the income levels of communities seeking help — rather than being based solely on the risk they face — new data shows, blunting an important tool for helping people cope with climate change. Since 1989, the Federal Emergency Management Agency has bought and demolished more than 43,000 homes in flood-prone areas, a strategy meant to make communities less vulnerable to disasters. But which homes get selected for the buyouts depends as much on the wealth of the affected neighborhoods as on the actual level of danger that those areas are exposed to, according to a study published Wednesday in the journal Science Advances. The findings raise concerns that limited federal funding for adapting to climate change isn't helping the areas that need it the most, according to the paper's authors..."
Photo credit: "Homes on Pawleys Island, S.C., some damaged in the aftermath of Hurricane Dorian last month." Credit: Johnny Milano for The New York Times.
---
---
Revealed: the 20 Firms Behind a Third of All Carbon Emissions. The Guardian reports: "The Guardian today reveals the 20 fossil fuel companies whose relentless exploitation of the world's oil, gas and coal reserves can be directly linked to more than one-third of all greenhouse gas emissions in the modern era. New data from world-renowned researchers reveals how this cohort of state-owned and multinational firms are driving the climate emergency that threatens the future of humanity, and details how they have continued to expand their operations despite being aware of the industry's devastating impact on the planet..."
---
How Climate Change and Flash Flooding is Affecting Communities Across the Country. NPR has the story of what is happening in Ellicott City, Maryland; here's an excerpt: "...But it was the third part of the plan that would destroy friendships and pit neighbors against each other and nearly destroyed the entire social fabric of old Ellicott City. The third part of the plan was to tear down 10 buildings on Main Street to make room for the river. And this is where the story of the people of Ellicott City becomes the story of climate change in America. When the climate changes and the future no longer looks like the past, people all over the country are forced to make huge, life-changing decisions. There's no playbook for how to do it, and there's no cavalry coming to help, and if it goes wrong, your town can die..."
---
Earth Just Had It's Hottest September on Record. USA TODAY reports: "The heat goes on. The Earth just had its warmest September on record, tying a mark set in 2016, according to data released Friday by the Copernicus Climate Change Service, a European group that measures the planet's temperatures.   Globally, September 2019 was roughly 1.02 degrees Fahrenheit warmer than the average from 1981-2010, "making it the warmest September in our data record, although virtually on a par with 2016," the group said in a statement.  "Regions with the most markedly above average temperatures included the central and eastern USA, the Mongolian plateau and parts of the Arctic. Much below average temperatures were only recorded in a few regions, including southwestern Russia and parts of Antarctica," the group said..."
Image credit: "Surface air temperature anomaly for September 2019 relative to the September average for the period 1981-2010. Data source: ERA5." Credit: Copernicus Climate Change Service/ECMWF.
---
Investors Are Getting Closer to a Climate Change Tipping Point. CNBC.com explains: "No investor can afford to ignore climate change. It poses a business-critical risk for global companies and a systemic challenge to the financial system. With the consequences of climate change already being felt, it will increasingly impact all economies, asset classes and industries, whether directly or indirectly. Without greater action, we can expect an estimated $23 trillion in global losses over the next 80 years in line with a 4°C rise in global temperatures. This can be avoided, but it requires far bolder and more urgent action in driving forward and adapting to the necessary transition to a clean global economy. As the governors of the Bank of England and Bank of France explain, "If some companies and industries fail to adjust to this new world, they will fail to exist..."
---
Swedish Teen Urges Youth to Demand Climate Change Action. AP reports: "A 16-year-old Swedish environmental activist was joined by another teen activist on a North Dakota Indian reservation to urge young people to demand action on climate change. Greta Thunberg told students at Standing Rock High School Tuesday that "lots of indigenous communities are at the front line, and you are the true warriors." Next to her was Tokata Iron Eyes, who is among Standing Rock youth fighting the Dakota Access Pipeline. The Bismarck Tribune reports she invited Thunberg to visit the reservation after the two struck up a friendship..."
Photo credit: "Swedish climate activist Greta Thunberg, 16, speaks at Standing Rock High School, Tuesday, Oct. 8, 2019, in Fort Yates, N.D.. Thunberg's visit was part of a panel discussion on American Indian opposition to pipeline projects including the Dakota Access and Keystone XL pipelines." (Tom Stromme/The Bismarck Tribune via AP)
---
---
Record Highs vs. Record Lows. In recent decades record daytime highs have greatly outnumbered record lows, at a local and national level. Graphics above: Climate Central.
---
Conservatives Can Lead the Country to Climate Change Solutions. Former GOP congressman Bob Ingliss has an Op-Ed at The Miami Herald; here's an excerpt: "...Increasingly, conservative members of "Gen Z" — post-millennials — join millennials in overwhelmingly accepting the science of climate change and wanting to take action. Mind you, these young adults have never experienced a cooler-than-average month in their lives. To them, climate change isn't just a political wedge; it's a high priority value that demands a solution. And if they're conservative young adults, they want a solution without grandiose economy shifting, government growing initiatives. Rubio counsels against a "regressive overreaction," and surely we want to avoid regression. But vetted economic solutions to climate change — such as the revenue-neutral, border adjustable carbon tax favored by most economists — is completely consistent with bedrock conservative principles and reliance on markets for innovation..."
Photo credit: "Florida Gov. Ron DeSantis made stewardship of the environment a centerpiece of his campaign." Wilfredo Lee, AP.