Statistical Odds Favor a Kinder, Gentler Winter
The upcoming winter is an enigma, wrapped in a riddle. Anything can and will happen. But history shows us that Pacific Ocean water temperatures can nudge our weather in a certain direction
NOAA still predicts a strong chance of an El Nino warm phase developing into the winter, which correlates with milder temperatures and less snow most years.
Disclaimer: it WILL snow, Minnesota WILL enjoy a fleet of cold frontal passages. But  statistically, odds do favor a less severe winter than last year.
The Old Farmer's Almanac is picking up on this trend, saying "We expect to see above-normal temperatures almost everywhere in the United States, except in the Southwest."
Place your bets.
While Hurricane Lane churns toward the Hawaiian Islands, possibly the first direct strike since Iniki in 1992, Minnesota's weather appears relatively tame.
Lukewarm sunshine lingers today and Thursday, but a few waves of T-storms may complicate matters Friday. Plan on 80s this weekend with a few pop-up storms into Monday.
A Spandex Alert is in effect for Monday, with a sweaty high close to 90F. You've been warned.
---
Stop the Presses - New Winter Outlook from Old Farmer's Almanac Is Out. Bring Me The News has a few highlights: "...According to the Old Farmer's Almanac, most of Minnesota is in for a warm and dry winter, although a sliver of southern Minnesota and all of Iowa are looking at a warm and wet winter pattern.  "Our milder-than-normal forecast is due to a decrease in solar activity and the expected arrival of a weak El Niño, which will prevent cold air masses from lingering in the North," the Almanac says.  Other climate experts agree.  In July, climatatologists from NOAA released data suggesting that there is at least a 50 percent chance Minnesota experiences a warmer-than-normal start to winter in December, January and February..."
---
IRI Enso Forecast. The prediction of a milder-than-average winter is consistent with a brewing El Nino warm phase in the Pacific Ocean in the coming months with water temperatures a few degrees (F) warmer than average into the winter months. El Nino correlates with milder winters for most of the USA, although it's worth noting that every El Nino is different. Details via IRI, The International Research Institute for Climate and Society: "The following graph and table show forecasts made by dynamical and statistical models for SST in the Nino 3.4 region for nine overlapping 3-month periods. Note that the expected skills of the models, based on historical performance, are not equal to one another. The skills also generally decrease as the lead time increases. Thirdly, forecasts made at some times of the year generally have higher skill than forecasts made at other times of the year--namely, they are better when made between June and December than when they are made between February and May. Differences among the forecasts of the models reflect both differences in model design, and actual uncertainty in the forecast of the possible future SST scenario."
---
Visible Satellite Loop. Tuesday animation courtesy of NOAA.
---
Wettest Day: Friday. The 00z NAM prints out about a half inch of rain for the MSP metro; most of that coming late Thursday night and Friday from a few waves of showers and T-storms sprouting along the leading edge of hotter, more humid air. Storms should become more widely scattered over the weekend. Map: pivotalweather.com.
---
---
---
Heat Lingers Much of USA. Looking out 2 weeks the GFS model prints out a sprawling ridge of (hot) high pressure for much of the USA, with the exception of the Pacific Northwest. In spite of a few emboldened cool fronts over the northern USA I doubt autumn will be in much hurry this year.
---
Hurricane Lane Threatens Hawaii. Praedictix Briefing: Issued Tuesday, August 21st, 2018:
Major Hurricane Lane - packing winds of 150 mph as of

Tuesday

morning - is expected to weaken later this week. However, it has the potential to move dangerously close to the Hawaiian Islands later this week, bringing the potential of tropical storm and hurricane force winds and heavy rain along with it. Facilities in Hawaii should continue to monitor for potential impacts from this system over the next several days.
In the western Pacific, two typhoons will impact Japan through the end of the week - Soulik and Cimaron. The worst impacts from both systems will be west of Tokyo.
---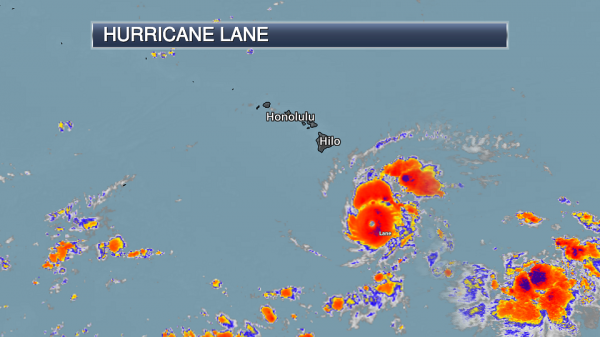 Lane On Satellite. Major Hurricane Lane has continued to gain strength out in the Central Pacific, containing winds of 150 mph as of Tuesday morning. Lane was moving to the west at 12 mph.
---
Forecast Track For Lane. Lane is expected to continue westward throughout the day, slowly losing forward speed. As we head into Wednesday and Thursday, Lane will start to move more northwest and move dangerously close to the Hawaiian Islands. While we do expect this storm to be weakening as it moves past Hawaii, it is expected to remain a hurricane for much of the next five days. By the end of the week, the system will turn back to the west, moving away from Hawaii.
---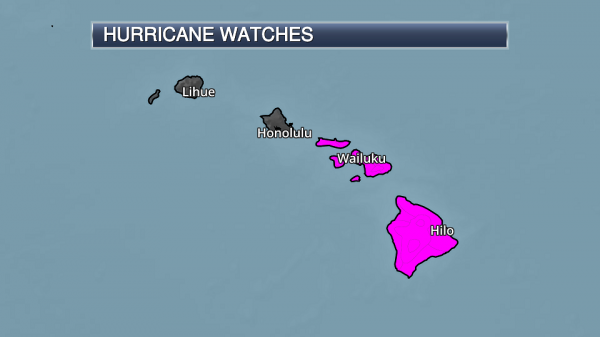 Hurricane Watches. As of the 5 AM HST update, Hurricane Watches have been issued for Hawaii and Maui Counties. This means hurricane conditions will be possible in the watch area, and are typically issued 48 hours before tropical storm force winds are possible across these areas.
---
Tropical Storm Force Wind Potential. By Thursday morning, tropical storm force winds (39+ mph) will likely be impacting parts of the Big Island of Hawaii, spreading across the rest of the state Thursday into early Friday. Many of the islands have at least a 50% chance of seeing tropical storm force winds over the next five days.
---
Hurricane Force Wind Potential. While the National Hurricane Center hurricane force wind potential graphic has low probabilities (mainly 20% or under) of 74+ mph winds across Hawaii, I certainly can't rule out the potential of these types of winds, especially with how close the system could come to the state. With uncertainty in the exact path of Lane, this will be something to watch over the next several days.
---
Rainfall Potential. We will be watching the potential of heavy rain as well across Hawaii as Lane approaches and moves through the region from Wednesday into the weekend. This rain could lead to flash flooding and mudslides.
---
Two Typhoons In The West Pacific. Over in the western Pacific, we are tracking two typhoons which will impact Japan over the next several days. As of Tuesday morning U.S. time, Typhoon Soulik was impacting parts of southern Japan with 115 mph winds (the equivalent of a Category 3 hurricane). Soulik was about 235 miles northeast of Kadena Air Base and was moving to the northwest at 15 mph. Meanwhile, Typhoon Cimaron had winds of 85 mph and was moving to the northwest at 18 mph.
---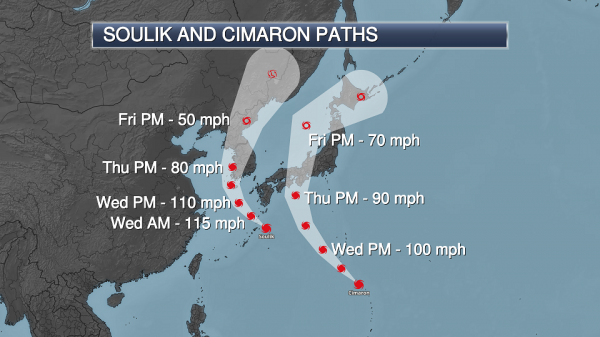 Forecast Path For Soulik And Cimaron. Here's a breakdown of the forecast for these two typhoons:
Soulik will continue to move to the northwest through

Wednesday

local time, slowly starting to weaken. Soulik will continue to impact parts of south Japan through the middle of the week before the system takes more of a turn to the north, bringing it into South Korea

Thursday

. Strong winds and heavy rain are likely across southern Japan into South Korea.
Cimaron will continue to move northwest through

Thursday

local time before take a turn to the north, gaining strength while doing so. Cimaron will make landfall across parts of Japan late

Thursday

or early

Friday

further east than Soulik as the equivalent of a Category 1 or 2 hurricane. Cimaron will bring the potential of strong winds, heavy rain, and storm surge along with it, but at the moment it appears the highest impacts from this system will be west of Tokyo.
---
Forecast Rainfall. Heavy rain will be a threat with these two typhoons, with areas along the path of the systems potentially picking up 3-12"+ of rain. This could lead to flash flooding and mudslides.
D.J. Kayser, Meteorologist, Praedictix.
---
---
5 Things To Know About Hurricane Lane. Dr. Marshall Shepherd has perspective in a post at Forbes: "...According to hurricane forecasters, the weather forecast models have gradually converged to a solution that brings a northwest turn to Lane over the period Tuesday to Thursday (graphic above). By mid-week, Lane will be on the western side of an area of high pressure called a ridge, which will influence its more northwesterly trajectory. Initially this week, one of the more reliable models run by the Europeans was on the left side of the range of forecast tracks but has recently clustered with other models. The American GFS model (graphic below) brings Lane perilously close to the major islands by Thursday evening..."
Image credit: "NOAA Hurricane hunters flying into Hurricane Lane." NOAA
---
F5 Tornado Hit Rochester on August 21, 1883. Wikipedia has details: "...The tornado was one in a series of tornadoes that hit Southeast Minnesota on that day, causing at least 37 deaths and over 200 injuries, The city of Rochester did not have a place to treat the injured from this tornado, as there were only 3 hospitals in the state of Minnesota outside of the Twin Cities at that time; none were near Rochester. After the tornado struck, a dance hall (Rommel Hall) was transformed into a temporary emergency room.[5] Doctors William Mayo and his two sons, William and Charles, took charge of caring for the patients. Mother Mary Alfred Moes of the Sisters of St. Francis helped care for the patients as well. After this disaster, the Mayo family and the Sisters of St. Francis realized the need of a hospital in Rochester. They banded together to form St. Mary's Hospital, which ultimately led to the creation of the Mayo Clinic and the Tornado Guild, a group dedicated to protecting all Minnesotans from the ravages of the swirling winds..."
---
Hard to See, Hard to Breathe. U.S. West Struggles with Smoke. Here's a clip from Star Tribune: "Smoke from wildfires clogged the sky across the U.S. West, blotting out mountains and city skylines from Oregon to Colorado, delaying flights and forcing authorities to tell even healthy adults in the Seattle area to stay indoors. As large cities dealt with unhealthy air for a second summer in a row, experts warned that it could become more common as the American West faces larger and more destructive wildfires because of heat and drought blamed on climate change. Officials also must prioritize resources during the longer firefighting season, so some blazes may be allowed to burn in unpopulated areas. Seattle's Space Needle was swathed in haze, and it was impossible to see nearby mountains..."
---
---
Wildfires Spur Economic Worry--In Short & Long Term: Headlines and links via Climate Nexus: "California and the West are facing economic fallout from the summer's destructive wildfires. The Redding Record Searchlight reports that complaints about housing, fuel and food price gouging in the wake of the intense fires in Shasta County are rising, while the Sacramento Bee reports that a man was arrested last week for scamming fire victims on costs to home repairs. The fires are also causing experts to double down on questioning the long-term calculus involved in rebuilding in fire-prone areas. "Over half the acreage in Lake County has burned over the past five years," Jennifer Wentz, a staff attorney at the Sabin Center for Climate Change Law whose parents' home in Lake County was destroyed last autumn, told Earther. "...Once you have two fires in the area over a couple decades, that's a sign to insurance companies. I think we're on a threshold." (Price gouging: Redding Record Searchlight. Arrest: Sacramento Bee. Long-term rebuilding: Earther)
Geocolor Visible Satellite Image showing cloud cover (and smoke) courtesy of NOAA and AerisWeather.
---
---
What the Hail is Going On Here? Are you getting a little sick of repairing or replacing your roof shingles? Homeowners insurance premiums are trending upward, and one big reason is the frequency of extreme weather events. 2018 is likely to be the eleventh year in a row with $10 billion in claims from hail damage in the USA. Meteorologist D.J. Kayser at Praedictix posted a story listing some of culprits: urban sprawl, home sizes, and the cost of roofing materials. It's too early to know if a warmer, wetter climate is a factor. A study at Nature Climate Change in June 2017 showed that while the number of hailstorms may decrease in a warmer environment, the size of the hail would likely increase. Dr. Mark Seeley has data showing an increase in cases of large, baseball-size (2.75"+)  hail in Minnesota since 1955.
Minnesota Hail Trend graphic courtesy of Dr. Mark Seeley.
---
11th Year in a Row of $10 Billion in U.S. Hail Damage? Praedictix meteorologist D.J. Kayser wrote an eye-opening post about hail trends in Minnesota and the United States; here's an excerpt: "...A recent conference in Boulder, Colorado, focused directly on hailstorms. At this conference, Ian Giammanco, a lead research meteorologist of the Insurance Institute for Business & Home Safety, said that approximately 70% of severe weather insurance claims filed yearly are from hail damage. Experts say that already in 2018 insured severe weather losses are at $8.22 billion (most of that due to hail damage) and that this year is likely to be the eleventh year in a row with $10 billion in claims from hail damage. Meanwhile, according to Bryan Wood, a meteorologist for Assurant, costly hailstorms have been increasing due to three factors: urban sprawl, home sizes, and the cost of roofing materials. He has more details on that over at the Washington Post's Capital Weather Gang. Did you know? A study released in Nature Climate Change in June 2017 showed that while the number of hailstorms may decrease in a warmer environment, the size of the hail would likely increase..."
---
Beer, Drinking Water and Fish: Tiny Plastic is Everywhere. NPR explains: "Plastic trash is littering the land and fouling rivers and oceans. But what we can see is only a small fraction of what's out there. Since modern plastic was first mass-produced, 8 billion tons have been manufactured. And when it's thrown away, it doesn't just disappear. Much of it crumbles into small pieces. Scientists call the tiny pieces "microplastics" and define them as objects smaller than 5 millimeters — about the size of one of the letters on a computer keyboard. Researchers started to pay serious attention to microplastics in the environment about 15 years ago. They're in oceans, rivers and lakes. They're also in soil. Recent research in Germany found that fertilizer made from composted household waste contains microplastics..."
Photo credit: "Ecologist Chelsea Rochman (left) and researcher Kennedy Bucci dig through washed-up debris along Lake Ontario. They're looking for small particles of plastic that make their way into oceans, rivers and lakes." Chris Joyce/NPR.
---
Why Ravaging Heatwaves Matter to the World's Dinner Table. Bloomberg explains: "
To see the impact of record-breaking temperatures around the world, watch wheat. Found in everything from bread to noodles, biscuits to cereals, beer to cakes -- there is no more widely grown staple crop and more than 170 million metric tons trade every year. So when the weather ruins harvests in one spot, it can shock markets and economies that are thousands of miles away. It's a weak global harvest, but not a disaster. The biggest growers -- Russia, Australia and the European Union -- have been hurt by high heat or widespread drought and as a result, the world is heading for the first deficit in six years. While harvests in some places, especially northern Europe, have been terrible and cost farmers billions of dollars, no one is expecting major shortages
..."
Photo credit
:
Shannon VanRaes/Bloomberg.
---
The 2008 Financial Crisis Never Really Ended. So says a book highlighted at Quartz: "...
Crashed tears apart the notion that the 2008 crisis was American, and then, separately, a few years later, there was a European sovereign debt crisis. These crises, Tooze writes, were intrinsically linked in part because European banks had heavily involved themselves in America's financial system. And this also meant Europe was deep into the US subprime-mortgage market—nearly a third of high-risk mortgage-backed securities that weren't backed by Fannie Mae or Freddie Mac were held by European investors. One of the surest signs of the deepening of the crisis was the desperate attempts of banks, particularly European institutions, to access dollars. Interbank lending rates sky rocketed and worsened the crisis. With the wisdom of hindsight, Tooze believes the critical intervention that mitigated the crisis was not the bank bailouts or central bank asset-buying programs but rather "unprecedented transnational action by the American state" to pump dollars into banks all over the world.
.."
---
U.S. Students Lag Far Behind Rest of the World in Learning a Second Language
. Here's Why That Matters.
Big Think
offers food for thought: "...
Americans spend so much time focused on bringing jobs "back," yet we actually have no clue where they "go." It's impossible to compete in a global workforce if you refuse to educate yourself on anywhere beyond your neighborhood. Eight in ten Americans believe outsourcing is a serious problem and seven in ten claims that responsibility is on the individual, yet just over one-third consider that preparation should include learning another language.
.."
---
"Humans Are a Post-Truth Species". The Guardian has a thought-provoking post; here's an excerpt: "...Whichever side you support, it seems that we are indeed living in a terrifying era of post-truth, when not just particular military incidents, but entire histories and nations might be faked. But if this is the era of post-truth, when, exactly, was the halcyon age of truth? In the 1980s? The 1950s? The 1930s? And what triggered our transition to the post-truth era – the internet? Social media? The rise of Putin and Trump? A cursory look at history reveals that propaganda and disinformation are nothing new, and even the habit of denying entire nations and creating fake countries has a long pedigree. In 1931 the Japanese army staged mock attacks on itself to justify its invasion of China, and then created the fake country of Manchukuo to legitimise its conquests. China itself has long denied that Tibet ever existed as an independent country..."
Image credit: "Power, nation and storytelling (clockwise from left)… troops in Ukraine, the story of Christianity, Donald Trump, the atomic bomb, protests against Vladimir Putin."
---
77 F. high yesterday in the Twin Cities.
80 F. average high on August 21.
80 F. high on August 21, 2017.
August 22, 1910: Daylight is dimmed in Duluth due to smoke from Rocky Mountain forest fires.
August 22, 1870: Downpours across southern Minnesota produce 5 inches at Sibley, and 3.49 at Ft. Snelling. Much of the wheat crop is damaged.
---
---
WEDNESDAY: Sunny and pleasant. Winds: W 7-12. High: 81
WEDNESDAY NIGHT: Mostly clear and comfortable. Low: 59
THURSDAY: Warm sun during the day, T-storms arrive at night. Winds: S 10-15. High: near 80
FRIDAY: Wettest day? Heavy T-storms likely. Winds: S 8-13. Wake-up: 63. High: 72
SATURDAY: Warm sun, few T-storms up north. Winds: SW 5-10. Wake-up: 62. High: 83
SUNDAY: Some sticky sun, stray T-storm. Winds: SE 5-10. Wake-up: 68. High: 88
MONDAY: Uncomfortably steamy. Few T-storms. Winds: S 10-15. Wake-up: 70. High: 89
TUESDAY: Still humid, but a bit drier with some sun. Winds: E 5-10. Wake-up: 71. High: 86
---
Climate Stories...
Exclusive: Some Arctic Ground No Longer Freezing - Even in Winter. National Geographic has the story; here's a clip: "...Every winter across the Arctic, the top few inches or feet of soil and rich plant matter freezes up before thawing again in summer. Beneath this active layer of ground extending hundreds of feet deeper sits continuously frozen earth called permafrost, which, in places, has stayed frozen for millennia. But in a region where temperatures can dip to 40 degrees below zero Fahrenheit, the Zimovs say unusually high snowfall this year worked like a blanket, trapping excess heat in the ground. They found sections 30 inches deep—soils that typically freeze before Christmas—that had stayed damp and mushy all winter. For the first time in memory, ground that insulates deep Arctic permafrost simply did not freeze in winter..."
Photo credit: "Ground collapses at Duvanny Yar, a permafrost megaslump along the Kolyma River in northern Siberia. New research suggests that some land in Arctic Alaska and Russia may no longer freeze at all. This constantly moving landslide, driven by erosion and sped up by warming temperatures, is an important research site for scientists, who use it to track what happens as carbon-rich land that has been frozen for centuries begins to thaw." Photograph by Katie Orlinsky, National Geographic.
---
Florida Can't Afford For Its Leaders to Keep Ignoring Climate Change. Here's an excerpt from Sun Sentinel: "...If the national politics on climate change is ever to shift from denial to action — in time to stop the disgorging of carbon dioxide beyond the point of no return — Florida, he says, is the key. Why? Because no other state is under greater immediate threat from the warming planet and rise in sea levels. And no other swing state has so many electoral votes. As Pomerance puts it: "The impacts are extreme and the politics are critical." "This is the largest purple state in the country," says Pomerance, currently a consultant for the nonprofit Rethink Energy Florida. If the state takes a new attitude on climate change, the "national impact can be very powerful." This assessment comes from the original climate-change warrior. Almost nobody had heard of global warming when Pomerance first stumbled upon the concept in 1979..."
Photo credit: "Scientists warn that climate change will increase sea-level rise and bring more extreme flooding to Florida." (Courtesy to Sun Sentinel)
---
The Modern Automobile Must Die. So says an Op-Ed at The New Republic; here's an excerpt: "...In 2010, a NASA study declared that automobiles were officially the largest net contributor of climate change pollution in the world. "Cars, buses, and trucks release pollutants and greenhouse gases that promote warming, while emitting few aerosols that counteract it," the study read. "In contrast, the industrial and power sectors release many of the same gases—with a larger contribution to [warming]—but they also emit sulfates and other aerosols that cause cooling by reflecting light and altering clouds." In other words, the power generation sector may have emitted the most greenhouse gases in total. But it also released so many sulfates and cooling aerosols that the net impact was less than the automobile industry, according to NASA..."
File photo: Glen Stubbe, Star Tribune.
China, World's Biggest Polluter, Hits Carbon Goals - 12 Years Early. Daily Beast has the story: "In a year when climate change is moving from abstract theory to grimly tangible reality, a faint dot of hope may be on the horizon. China, the world's largest source of planet-warming carbon emissions, may have hit the peak it promised in the Paris climate accord well before its 2030 timetable. That's the conclusion reached by scientists who looked at the country's estimated carbon output between 2007 and 2016, as the country's rapid industrialization slowed and its consumption of coal declined. The research is published in the journal Nature Geoscience..."
Photo illustration: Daily Beast.
---
Halfway to Boiling: the City at 50C. A ridiculous premise? It's already happening across much of the planet, according to The Guardian: "...Not long ago, 50C was considered an anomaly, but it is increasingly widespread. Earlier this year, the 1.1 million residents of Nawabshah, Pakistan, endured the hottest April ever recorded on Earth, as temperatures hit 50.2C. In neighbouring India two years earlier, the town of Phalodi sweltered in 51C – the country's hottest ever day. Dev Niyogi, professor at Purdue University, Indiana, and chair of the Urban Environment department at the American Meteorological Society, witnessed how cities were affected by extreme heat on a research trip to New Delhi and Pune during that 2015 heatwave in India, which killed more than 2,000 people. "You could see the physical change. Road surfaces started to melt..."
Photo credit: "Melting asphalt cause road markings to distort in New Delhi."
---
Capitalism Can Crack Climate Change. But Only If It Takes Risks. The Guardian has an Op-Ed that resonated with me; here's an excerpt: "...But normally creative destruction takes time, especially if the old guard can marshall sufficient resistance to change – something the fossil fuel industry has been adept at doing. It is vital that capitalism's Dr Jekyll emerges victorious over its Mr Hyde. More than that, it needs to be an immediate knockout blow. In the past, politicians have only tended to focus on climate change when they think there is nothing else to worry about. Tony Blair, for example, commissioned a report from the economist Nick Stern into climate change during the years before the global financial crisis, when growth was strong and wages were rising. Margaret Thatcher only started to talk publicly about protecting the environment when the economy was booming at the end of the 1980s..."
---
It's So Freaking Hot, Now What? An interview at FiveThirtyEight caught my eye; here's an excerpt: "...My point here isn't that conservatives are bad, bad, bad. My point is that we keep having these debates about climate science … while ignoring that what the debate is actually about is political philosophy.
christie: What happened was that climate change became an identity issue. As Dan Kahan at Yale has documented, "What people 'believe' about global warming doesn't reflect what they know; it expresses who they are."
maggiekb: You can't show people enough charts to make them believe climate change is a real threat if they feel like accepting what they see in the charts is going to hurt them and their family. And I think that's the fundamental political problem here. What the corporations did right (for their purposes, not for the planet) is to turn the science (that you can't argue about) into a proxy for political philosophy (which you can)..."
---
How Can We Address the Effects of Climate Change on People of Color? Here's a clip from an Op-Ed at The Miami Herald: "...The most at-risk population are poor people. They have the least amount of resources to escape the effects of climate change, by buying products or services to make weathering the changes easier. There is also increasing concern about the concept of "climate gentrification" — low-income residents being pushed out of higher elevation zones in South Florida. But in a region booming with redevelopment and market demand that have rapidly turned once struggling neighborhoods into trendy areas, many factors could be at work, including climate concerns..."
Photo credit: "A man bikes through the flooding in the streets of Sweetwater in October." AL DIAZ adiaz@miamiherald.com.