Predicting a Milder, Springier 7-Day Outlook

"It's tough to make predictions, especially about the future" said Yogi Berra. When I was at WCCO-TV I encouraged Mark Rosen to predict final scores for Minnesota's teams; I politely implored Don Shelby to forecast what would lead the newscast tomorrow. "You can dress a monkey in a sport coat to report on what already happened!" I complained, to no avail. Predicting the future is an odd career choice.
And why do meteorologists consistently over-predict snow amounts? Shy of missing a tornado our biggest mortal fear is forecasting flurries, then waking up to a FOOT of flurries. People never forget a bust like that. So we overcompensate, as a profession.
Then again if I predict 2-5 inches people remember 5.
Snow tapers to flurries today; this same Alberta Clipper is about to unleash 1-2 feet of snow on the coastal northeast - a full-blown blizzard by Tuesday.
A higher sun angle melts most of our cosmetic snowfall by midweek as the sun returns. Expect 40s to 50F next weekend; your faith in a Minnesota spring partially restored.
Oh, the future is truly unknowable - but trending milder.
---
---
Updated Snow Totals. As of late last night about 2-4" of snow had fallen across most of the Twin Cities metro, about 1.6" at St. Cloud. Officially 3.4" at the MSP Airport. The Golden Snow Shovel Award winner: Madelia, with 9.5" of snow. Updated snow totals courtesy of the local National Weather Service.
---
---
Classic Nor'easter. The biggest storm of the winter (which isn't saying much - it's been a very tame winter east of the Rockies) is shaping up from the Mid Atlantic into New England. Snow and ice breaks out near D.C. later today; a surge of wind-whipped snow spreading up the coast Tuesday, a 10-12 hour "burst" of heavy snow, ice, thunder and lightning as winds gust over 50 mph - a full blown atmospheric "bomb" spinning up off the coast of Cape Cod by Tuesday evening. Travel will be shut down Tuesday into much of Wednesday with conditions improving by late week. 84-hour Future Radar: NOAA and Tropicaltidbits.com.
---
Blizzard Criteria for Boston. Sustained winds top 35 mph Tuesday midday and afternoon in Boston with gusts over 50 mph, creating white-out conditions. If you can't get into KBOS today you may have to wait until late Wednesday or Thursday. Predicted winds: NOAA and AerisWeather.
---
NAM Guidance. Both NAM and GFS print out 12-20" snowfall totals from Philadelphia to New York and Boston; an icy mix right along the coast and the D.C. area, where 6-12" of slush may pile up. The area forecast to be impacted by a foot or more is impressively large. Beware the Ides of March.
---
Praedictix Severe Weather Briefing: Issued Sunday afternoon, March 12, 2017.
* Clipper to drop 2-4" Twin Cities to Madison, 1-3" for Chicago and Des Moines - the storm that will fuel a big East Coast blizzard.
* Biggest storm of the winter season brewing for Midatlantic, Northeast and New England Monday night into Wednesday.
* 50 million+ Americans under Blizzard Watch or Winter Storm Warning.
* Tuesday will be the worst of the storm with heaviest snow and ice, strongest winds, lowest visibilities and most airline cancellations and treacherous driving conditions Philadelphia and New York to Boston.
* 5-10" Washington D.C., 8-12" Philadelphia, but as much as 1-2 feet from eastern Pennsylvania to New York City, Hartford and Boston by Wednesday.
* Nor'easter forecast to be a "bomb" with very rapid strengthening, capable of 30-60 mph winds. I could see coastal flooding ann power outages at the height of the storm, especially Long Island to Cape Cod.
---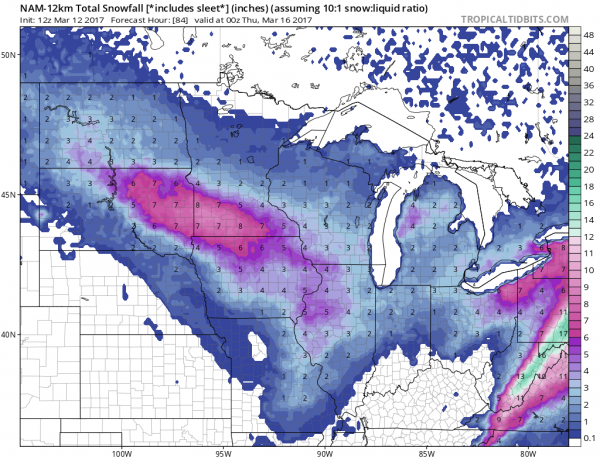 Alberta Clipper Strikes the Match. The same clipper dropping a band of 3-6" snow over southern Minnesota with potentially plowable amounts Des  Moines and Madison to Rockford and Chicago will energize an area of low pressure festering off the Atlantic coast, spinning up an intense Nor'easter.
---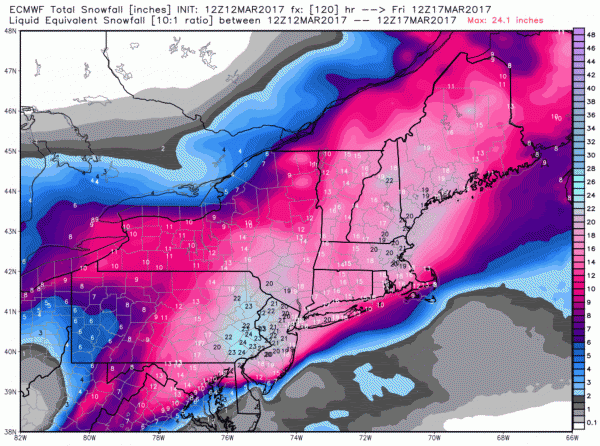 European Solution. We look at as many model solutions as we can, but often assign more weight to ECMWF, the "Euro", which has potentially superior data assimilation (the fuel that goes into the models) and better vertical resolution. It's not perfect but many days it's...better. ECMWF still hints at 2 foot snowfall amounts over much of eastern Pennsylvania and northern New Jersey, with 12-20" from New York City to Boston. Washington D.C. may see less, closer to 6-8", but still probably enough to plow and temporarily shut down the city. Map credit: WeatherBell.
---
GFS Solution. NOAA's GFS model shows the heaviest snow bands (well over 1 foot) from northern  Virginia into  Maryland and south Jersey, with closer to 8-12" from New York City to Boston. To be perfectly honest, at some point the inch-amounts don't matter much. There isn't much difference between a foot of snow and 18" of snow, especially when whipped along by 30-40 mph winds. A white-out is a white-out, and that's what much of coastal New England is facing. Map credit: Tropicaltidbits.com.
---
Most Likely Snowfall Amounts. Based on NOAA guidance here are the most likely snowfall totals:
Washington D.C. Heaviest snows fall Monday night, possibly mixed with sleet, keeping total amounts down somewhat. Many roads in the D.C. and Baltimore area will be impassable Monday night into most of Tuesday. Graphic courtesy of NOAA.
---

Timing. Our internal model ensembles suggest a foot of snow in New York City by 1 PM on Tuesday. Graphic courtesy of Aeris Enterprise.
---
Philadelphia. Up to a foot is possible in the City of Brotherly Love with the worst conditions (heaviest snow/sleet and lowest visibility) coming Tuesday morning.
---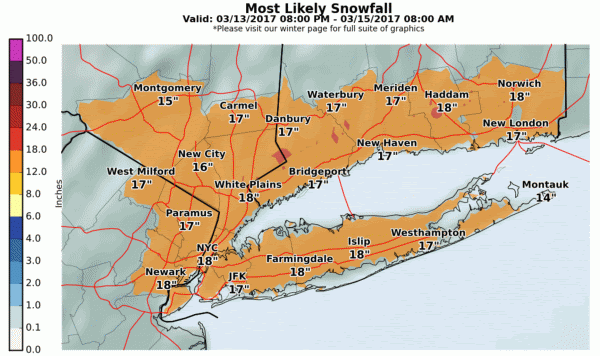 New York City. As much as 18" may still fall in Midtown Manhattan, but I suspect totals will be a lilttle less than that by Tuesday night. Don't be mistaken: this will be a paralyzing snowstorm for the Tri-State Area, with blizzard criteria shutting down travel Tuesday.
---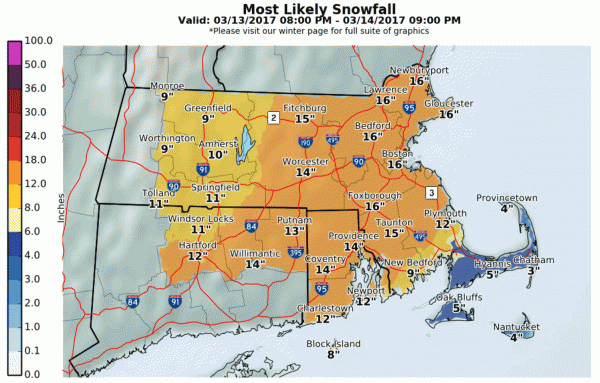 Boston. The Nor'easter intensifies as it approaches Nantucket and Cape Cod Tuesday night; a tight pressure gradient whipping up 30-60 mph winds. In addition to blizzard conditions, minor wind damage and sporadic power outages can't be ruled out with this storm, especially over the Cape.
---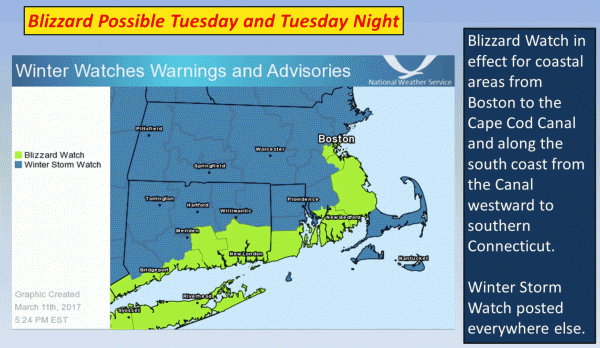 A True Blizzard. With sustained winds over 35 mph falling/blowing snow with visibility forecast to be under 1/4 mile (or closer to zero much of the time) this storm fits the definition of a blizzard, especially for coastal communities. Operations will be impacted Monday night into Wednesday.
Summary: Big snowstorms in March aren't that unusual, but a relatively mild, quiet February lulled many of into thinking winter was over. Not. Quite. Accelerate preparations during the daylight hours Monday, because a surge of heavy snow and ice blossoms over the Mid Atlantic Monday night and surges up the coast late Monday night into Tuesday. Snow will fall at a rate of 1-3"/hour with thunder and lightning possible, due to intense upward motion in this strengthening blizzard. Heaviest snows are over by Tuesday night but travel may not return to normal until Thursday, especially New York to Boston. Good luck out there!
Paul Douglas, Senior Meteorologist, Praedictix

---
As Wintry As It's Going to Get. Winter's last gasp? I think so - I hope so, but all bets are off. It's March. We w arm up into the 40s by late week; ECMWF guidance hinting at low 50s early next week as spring tries to push and shove its way back into Minnesota. Graphic: WeatherBell.
---
Late March: More Storms for California. Just when we thought the west coast might get a break from the  parade of monsoon rains and extreme mountain snows, long range (GFS) guidance shows more stormy weather 1-2 weeks out for California; a fairly mild, zonal wind flow at 500 mb for most of the USA.
---
California Storms: Wettest Water Year, So Far, in 122 Years. The Mercury News has details of a stunning meteorological turnaround: "Fueled by a parade of "Pineapple Express" storms, California is in the midst of its wettest water year in 122 years of record-keeping, according to federal scientists. Between October 2016 and February 2017, California averaged 27.81 inches of precipitation, the highest average since such records began being kept in 1895, according to data released Wednesday by the National Centers for Environmental Information, part of the National Oceanic and Atmospheric Administration..."
---
---
Battered by Winter Storms, Big Sur is Cut Off from California. This is really quite amazing, and I had no idea the extent of disruption. Check out the jaw-dropping details in The Mercury News: "Isolated residents of this breathtaking coastal retreat are surviving through stockpiled food, airlifts and cooperation after this wild winter's storms have cut off Big Sur, buckling a bridge and burying the asphalt along America's most picturesque highway. One key bridge could be out of service for a year. Instead of the rich and famous dropping by for spa treatments at the Post Ranch and Ventana Inn, helicopters are dropping supplies to about 450 remaining residents of this glorious ZIP code. The community has turned to self-governing; there's no law enforcement, elected officials, public services or tourists. For three weeks, Big Sur has not only been cut off from California — it's also been cut in half...."
---
Hurricane Forecasters Sent a Blunt Warning to their Bosses. Andrew Freedman at Mashable has a post detailing growing concerns about the latest upgrade to the GFS, the Global Forecast System, NOAA's premiere (global) weather model. Apparently it doesn't do as well predicting hurricane track and intensity. In this case "upgrading" could mean a step backwards for meteorologists and the public.
Image credit: Hurricane Matthew strikes Florida on Oct. 7, 2016.
---
Facebook is Eating the World. If you don't have a few pangs of concern about the long-term impact of social media you're probably not paying attention. How, in an age of personalizied news bubbles, do we maintain an informed electorate? Here's a clip from Columbia Journalism Review: "...We are seeing huge leaps in technical capability–virtual reality, live video, artificially intelligent news bots, instant messaging, and chat apps. We are seeing massive changes in control, and finance, putting the future of our publishing ecosystem into the hands of a few, who now control the destiny of many. Social media hasn't just swallowed journalism, it has swallowed everything. It has swallowed political campaigns, banking systems, personal histories, the leisure industry, retail, even government and security. The phone in our pocket is our portal to the world. I think in many ways this heralds enormously exciting opportunities for education, information, and connection, but it brings with it a host of contingent existential risks. Journalism is a small subsidiary activity of the main business of social platforms, but one of central interest to citizens..."
---
Best Weather Podcasts. Here's a post to get you started: "If you're interested in learning more about weather and the weather enterprise – especially while driving, exercising or doing anything else when you might listen to music or an audio book – a number of weather-related podcasts might be worth your time. A podcast is basically a radio talk show that you can play on a web browser or download to a portable device like a smartphone or mp3 player for playback at your convenience. Some smartphone apps will automatically download a podcast's new episodes when they become available. Several interesting podcasts are devoted to weather and often cover topics related to severe weather. Below, I list a few I've listened to and found to be worth my time..."
---
Meet the Teen Planting 150 Trees For Every Person on the Planet. One person can change the world - even an ambitious 9-year old. Inhabitat has the inspiring story: "Felix Finkbeiner is on a mission. Ten years ago, when he was just nine years old, he decided to fight climate change by planting one million trees. At the time he felt like adults just talk about the issues facing our planet without taking much action. With his initiative Plant for the Planet, the ambitious teenager surpassed his original goal together with the United Nations' (UN) Billion Tree Campaign, planting over 14 billion trees in over 130 countries. And he is just getting started..."
---
Big Tobacco Has Caught Start-Up Fever. Bloomberg reports that it's no longer "smoking". No, now it's "platform-agnostic nicotene delivery solutions." Here's a clip: "...Mature industries typically have a hard time disrupting themselves, but, flush with cigarette profits, the big competitors have decided to try. Since the rise of e-cigarettes, it's no longer such a stretch to imagine a messianic engineer in a garage somewhere inventing a nicotine-delivery gadget capable of doing to cigarettes what Uber did to taxicabs or Napster did to the compact disc. If your profits hinge on nicotine addicts, you might want that visionary in your employ. Everywhere you look in the industry, companies are pouring money into product development while borrowing liberally from the style of Silicon Valley. They're funding tech incubators, running venture funds, hosting TED-style talks, and developing apps. The new dogma has spread. Cigarettes are the industry's past. Reduced-risk tobacco platforms are the user interface of the future..."
Photo credit: "Finlay MacKay for Bloomberg Businessweek; Prop stylist: Peter Samuels; Groomer: Angela Di Carlo."
---
Harvard Theoriests: How Sailing Aliens Could Have Caused Fast Radio Bursts. Maybe aliens will take our minds off more pressing issues. Here's an excerpt from The Washington Post: "In 2007, a West Virginia University astrophysicist named Duncan Lorimer detected a brief yet intense signal while combing through archival data from the Parkes Observatory telescope in Australia. The signal was quick. The spurt of radio activity, originating from a source other than our galaxy, lasted fewer than 5 milliseconds. And it was furious. To generate such a burst would require 500 million times the power of our solar system's sun. The unknown source of the signal prompted intense speculation. One proposal, to be published in Astrophysical Journal Letters, may be the wildest yet: Sailing aliens. "An artificial origin is worth contemplating and checking," said Avi Loeb, a theorist and author of the paper at the Harvard-Smithsonian Center for Astrophysics, in a statement on Thursday..."
Illustration credit: "An artist's illustration of a light-sail powered by a radio beam (red) generated on the surface of a planet. Come sail away, indeed." (M. Weiss/Center for Astrophysics).
---
The Pursuit of Happiness Is Not The Pursuit of Comfort. The author argues that only when we get out of our comfort zone does real growth and progress take place. Here's a clip from Thrive Global: "...What would happen if we not only embraced discomfort, but also chased it and thrived off of it? Lewis Howes makes it a goal to do something new in his business every year that takes him out of his comfort zone. This keeps him from being complacent, and it keeps him in a state of constant growth. The saying that "growth begins at the end of your comfort zone" is not just some cliché. There is actually a lot of truth in that statement. Serious athletes know this all too well. The real workout doesn't begin until the exercise becomes difficult to complete. It's when we have to dig deep and push through that we become a better version of ourselves..."
Embrace the discomfort. Doing so may just set you up for something amazing. "A smooth sea never made a skilled sailor." — Franklin D. Roosevelt
---
3.4" snow fell at MSP International Airport.
23 F. maximum temperature in the Twin Cities Sunday.
39 F. average high on March 12.
70 F. high on March 12, 2016.
March 13, 2006: A March snowstorm dumps 9.9 inches at the Twin Cities.
March 13, 1851: Before the spring green-up, dry grassy areas are a fire risk. On this date prairie fires blazed in Minnesota.
---
---
---
---
TODAY: Partly sunny - actually looks like winter. Winds: NE 10-15. High: 27
MONDAY NIGHT: Slow clearing, cold. Low: 8

TUESDAY: Icy roads. Chilled sunshine, colder than average. Winds: NE 5-10. High: 27

WEDNESDAY: Sunny, a bit more Marchlike. Winds S 7-12. Wake-up: 13.  High: 34

THURSDAY: Milder, few rain showers nearby. Winds: S 7-12. Wake-up: 20. High: 41

FRIDAY: Mostly cloudy, stiff breeze. Winds: NW 15-25. Wake-up: 29. High: 43

SATURDAY: Sunny and very pleasant. Winds: NW 7-12. Wake-up: 30. High: 48

SUNDAY: Partly sunny, spring fever returns. Winds: S 10-20. Wake-up: 32. High: 54
Climate Stories....
Global Climate Change Battles Increasingly Being Won in Court. Here are a couple of excerpts from a Newsweek article: "The South African government has lost the country's first climate change lawsuit after the hight court ruled against its plans for a coal-fired power station, the latest in a rising tide of international climate litigation. Environmental NGO EarthLife Africa challenged the government's approval of the proposed Thabametsi coal-fired power station on the grounds that it should have been preceded by an evaluation of its climate change impacts....The case comes shortly after a groundbreaking climate case decided last month in Austria. A federal court blocked the expansion of Vienna's international airport because the increase in carbon emissions that a new runway would generate is inconsistent with Austria's commitments to tackle climate change..." (File photo: NASA).
---
For Big Oil, Climate Change Looms Large Even In Trump Era. The clean-fuel/renewable revolution train has already left the station. San Antonio's Express-News has the story: "....But Trump and his advisers may have lost the audience. Throughout the conference known as CERAWeek by IHS Markit, energy ministers, CEOs and other top executives showed that the industry is running ahead of policymakers on climate change, no longer treating it as an inconvenient theory, but rather as a hard reality to which it must adapt and change. Khalid al-Falih, the Saudi Arabian energy minister, called on his colleagues to find ways to "minimize the carbon footprint of fossil fuels." Exxon Mobil chief executive Darren Woods said energy development can only move forward by protecting the environment and climate. Ben van Beurden, CEO of Royal Dutch Shell, said the industry needed to produce more energy with fewer carbon emissions..."
---
---
How We Know that Climate Change is Happening - and that Humans are Causing It. Popular Science has a post worthy of your time; here's an excerpt that caught my eye: "...Arndt and his colleagues spend their days poring over data, comparing the incoming numbers to the baseline they call "normal." Using daily, weekly, monthly, and annual rhythms, they coordinate data collection and sharing, keeping an eye on the quality of the numbers and how they stack up compared to yesterday, last week, and longer. For Arndt, climate is all about scale—and the information that passes through his office tells a story that's become all too familiar. "The upper atmosphere is cooling while the lower atmosphere is warming," he says. "You don't get that without changing the composition of the atmosphere. We're seeing changes you would theoretically see in a warming world. More big rain—that's an expectation. More big heat—that's an expectation. The frozen stuff is generally melting or going away, based on the time of year and the location on the planet." He pauses for a moment, then continues. "I think the basics are more than settled..." 
File photo: Barry Wilmore, NASA ISS.
---
Carbon Dioxide Levels Rose at Record Pace for Second Straight Year. Here's an excerpt of an update from NOAA: "Carbon dioxide levels measured at NOAA's Mauna Loa Baseline Atmospheric Observatory rose by 3 parts per million to 405.1 parts per million (ppm) in 2016, an increase that matched the record jump observed in 2015. The two-year, 6-ppm surge in the greenhouse gas between 2015 and 2017 is unprecedented in the observatory's 59-year record. And, it was a record fifth consecutive year that carbon dioxide (CO2) rose by 2 ppm or greater, said Pieter Tans, lead scientist of NOAA's Global Greenhouse Gas Reference Network. "The rate of CO2 growth over the last decade is 100 to 200 times faster than what the Earth experienced during the transition from the last Ice Age," Tans said. "This is a real shock to the atmosphere..."
---
Earth's Oceans are Warming 13% Faster Than Thought, and Accelerating. Climate scientist and University of St. Thomas professor John Abraham writes for The Guardian; here are a couple of excepts from a recent post: "...Fortunately, a paper just published today in Science Advances uses a new strategy to improve upon our understanding of ocean heating to estimate the total global warming from 1960 to 2015. I was fortunate to co-author the study, which uses several innovative steps to make improvements...We were able to extend our techniques back to the late1950s and show that the rate of global warming has changed significantly in the past 60 years. One main outcome of the study is that it shows we are warming about 13% faster than we previously thought. Not only that but the warming has accelerated. The warming rate from 1992 is almost twice as great as the warming rate from 1960. Moreover, it is only since about 1990 that the warming has penetrated to depths below about 700 meters..."
Photo credit: "An Argo float is deployed into the ocean Photograph." CSIRO.