Cool and Quiet - No Weather Drama Next 2 Weeks

I don't mind people who are different than me. It makes no difference where you're from, who you love, or how you worship. Are you trying to make your hometown, your state, your nation better?
No, what worries me is really smart computers and artificial intelligence. I mean, who needs experts? Who needs teachers when you can click on Wikipedia. Plumbers? I'll just look it up on YouTube. Legal advice? There must be an app for that.
Will meteorologists become irrelevant too? Will we outsource memory, historical perspective, context and intuition to machines? Maybe. But I suspect that people will always be able to add value. We'll have to embrace a career of lifetime learning and retraining, to be ready for what comes next.
I'm babbling because, until further notice, there's no weather. New England gets clubbed by another snowy nor'easter today, but no big tournament storms for Minnesota into next week.
Temperatures return to normal by the weekend, with a streak of 40s, even 50F, by late next week. The sun is now as high in the sky as it was October 2. Let the melting commence! 
---
How Much Fell? NOAA has a couple of links: if you're looking for maps click here, for specific amounts on a town-by-town basis, this site has the information you may be looking for.
---
Upward and Onward. This is about as chilly as it's going to get (probably until October or early November). I may regret putting this in print, but what the heck. Temperatures return to average by the weekend with 40s returning next week; even 50F by Friday of next week. Yes please. ECMWF data: WeatherBell.
---
A Toasty April? My confidence level is low, but I'm including this just in case NOAA's CFSv2 climate model temperature anomaly forecast for April verifies. Place your bets. Map: WeatherBell.
---
Praedictix Briefing: Issued Tuesday, March 6th, 2018:
* A new coastal system – the second in a week – will impact parts of the Northeast Wednesday and Thursday.
* Unlike the last coastal storm, the major story with this one will be heavy, wet snow closer to the coast, including from Philadelphia to Portland (ME). Areas like Philadelphia, New York City and Boston could pick up 3-9" of snow, with the heaviest snow axis (with a foot or more possible) from Mt. Pocono (PA) to Portland (ME).
* The strongest wind gusts will be near the coast, with gusts of 45-60 mph possible across far eastern Massachusetts, especially Wednesday night. Due to damage and weakened trees from the last storm, however, additional tree damage and power outages will be possible.
* Blizzard Warnings continue through at least the midday hours from South Dakota into Nebraska and Iowa as strong winds will continue to cause whiteout conditions due to blowing snow.
---
New Coastal Low. Development of a low pressure center is expected tonight into Wednesday off the Mid-Atlantic coast. This will strengthen as it moves in a northeast direction into the day Thursday, bringing snow and wind concerns to the Northeast through the middle of the week.
---
Winter Storm Watches And Warnings. The biggest concern with this coastal storm appears to be snow. Numerous Winter Storm Warnings and Watches are in effect for the potential of heavy snow from Maryland to Maine. These are the areas that have the best potential of receiving heavy snow – which, in some areas, could be a foot or more. Covering the large metropolitan areas:
Philadelphia is under a Winter Storm Warning from

7 PM

tonight

to

3 AM

Thursday

for the potential of 4-6" of snow.
New York City is under a Winter Storm Warning from

10 PM

tonight

through

4 AM

Thursday

for the potential of 6-12" of snow.
Boston is under a Winter Storm Watch from

Wednesday

morning through

Thursday

morning for the potential of 2-5" of snow, with isolated 8" amounts.
Portland (ME) is under a Winter Storm Warning from

7 PM

Wednesday

to

4 PM

Thursday

for 9-12" of snow with isolated 15" amounts.
---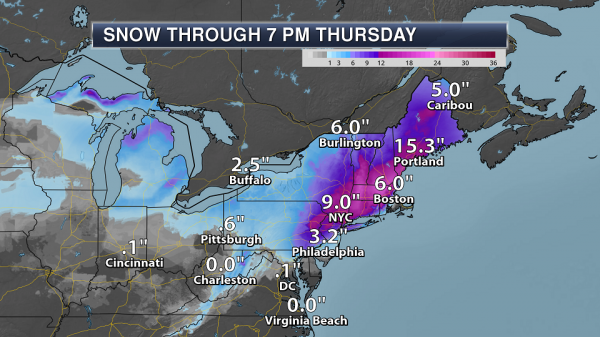 Northeast Snow Forecast. A wide area of 4-12"+ totals are expected across the Northeast through the middle of the week, with some of the heaviest snow falling from eastern Pennsylvania to southern Maine. In this heavy band area, snow totals will have the potential of approaching 20", especially across central and eastern Massachusetts. Snowfall rates of 2-3" per hour will be possible in the heaviest of the snow.
Map credit: AerisWeather and Praedictix.
---
Timing The Precipitation. Snow will start across parts of the Northeast tonight, however the most significant impacts across the region aren't expected until Wednesday and Thursday. Snow will be possible tonight into Wednesday in Washington D.C., with limited snow accumulation expected. For cities like Philadelphia and New York City, precipitation will start tonight as a mix of rain and snow before transitioning over to all snow Wednesday. In Boston, most of the snow will not fall until Wednesday night as it appears temperatures will be too warm for all snow during the daytime hours; however snow amounts in the Boston metro could vary greatly depending on the overall track of the system. If the system tracks closer to the coast, snow totals could be reduced in Boston. In Portland, ME, the heavy snow will not move in until Wednesday night, lingering into Thursday. This system will finally push out of the Northeast completely Thursday night. This snow will significantly impact the Wednesday evening commute, especially where the snow is falling heavily – this could include areas from Philadelphia to Boston.
---
Strong Winds Near The Coast. The strongest winds associated with this system are expected to be near the coast, especially in eastern Massachusetts. In these areas, winds of 45-60 mph will be possible, especially as we head into Wednesday Night. Due to damage and weakened trees from the last storm additional tree damage and power outages will be possible.
---
Blizzard Warnings Continue From South Dakota To Iowa. Strong wind gusts of 40-55 mph are expected to continue along with light snow across parts of the Plains and upper Midwest today. This will continue to cause blizzard conditions through at least the midday hours across parts of South Dakota, Nebraska and Iowa, where Blizzard Warnings are still in effect.
---
Upper Midwest Winds Today. While strong winds gusts of 40-55 mph are likely from South Dakota into Nebraska and Iowa today, those winds will gradually be on the decrease as we head into the second half of the day as the storm system responsible for the snow and wind moves to the east.
---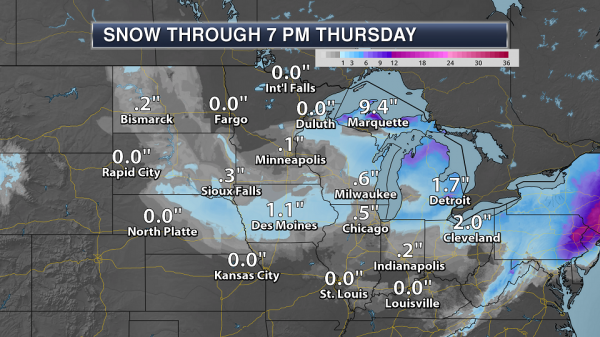 Additional Midwest Snow. Additional snow amounts of 1-3" will be possible from the Dakotas into Iowa and Wisconsin through the day. Especially where gusty winds are present, this could cause reduced visibilities.
Summary: The second coastal storm in less than a week will impact the Northeast through Thursday, with the main story this time around being heavy snow. At least 3-9" of snow could fall from Philadelphia to New York City and Boston, with the heaviest totals (potentially up to 20") possible across western and central Massachusetts. This snow, falling at 2-3" per hour during the height of the system, could have major impacts on the roads, including the Wednesday evening commute. Strong winds gusts are also expected, with the strongest (45-60 mph) occurring near the coast across eastern Massachusetts. In parts of the upper Midwest, blizzard conditions will continue through at least the morning hours, with winds gradually on the decrease into the afternoon. Additional snowfall amounts from the Dakotas into Wisconsin and Iowa of 1-3" are expected.
D.J. Kayser, Meteorologist, Praedictix
Maps powered by AerisWeather
---
Nor'easter Preview of Coastal Future: The damage caused by flooding during high tides during this past weekend's nor'easter are increasing alarm bells for East Coast residents as they prepare for another storm this week. The impacts were felt especially strong in the greater Boston area, as the city experienced its third-highest tide on record Friday and rescuers evacuated over 100 people from flooding in Quincy. NPR reports that an upcoming NOAA study scheduled to be released later this week will flag communities where flooding could be a "weekly event" in the future and shows how tidal flooding is accelerating in about a third of the places surveyed. The report demonstrates how the problem "is going to become chronic rather quickly," NOAA's William Sweet told NPR. "It's not going to be a slow, gradual change." (NOAA report: NPR. Storm impacts: InsideClimate News. Upcoming nor'easter: Earther)
---
41 Million Americans Live in Flood Zones - Three Times the FEMA Estimates. Is your flood insurance premium paid up? A story at Yale E360 made me do a double-take; here's a clip: "...Producing maps the FEMA way essentially misses a lot of flood hazard," Oliver E. J. Wing, a doctoral candidate at the University of Bristol and lead author of the study, told City Lab. "And these maps are what inform risk management decisions in the U.S. at the moment." One of the major problems, Wing said, is that FEMA's methods "tend to ignore smaller streams," which often run through heavily populated areas. The research — done by scientists at the University of Bristol in the U.K., The Nature Conservancy, and the U.S. Environmental Protection Agency — also looked at projected population and housing trends in the U.S. to map future flood risk. More than 13 percent of the U.S. population currently resides in the 100-year flood plain, but that number could rise to 15.8 percent by 2050 and 16.8 percent by 2100, the study found. Communities in South Dakota, Nebraska, and New Mexico could see a five-fold increase in flood exposure by 2100. Florida and Texas's flood risk could triple or quadruple..."
---
---
National Weather Service Forecast: Cloudy With a Chance of Budget Cuts. In case you missed the update from NPR here's an excerpt: "...The Trump administration wants to eliminate 355 jobs, and $75 million from the weather service budget. "The straw is close to breaking the camel's back right now," says Daniel Sobien, president of the National Weather Service Employees Organization. "That will break the camel's back." Sobien says there are vacant positions across the board. "Tsunami warning centers are understaffed; the weather forecast centers are understaffed," he says, and places like the hurricane center and storm predictions center "are having big vacancy problems, too." The employees organization represents some 2,500 weather service workers. And Sobien says right now, 10 percent of the jobs at the service are vacant..."
Photo credit: "Forecasters at the National Weather Service office monitor Hurricane Irma on Sept. 9, 2017, at the hurricane center in Miami." Andy Newman/AP.
---
How a Woman You Never Heard Of Helped Enable Modern Weather Prediction. Dr. Marshall Shepherd explains at Forbes: "...Many people, particularly in meteorological or math circles, are familiar with John von Neumann. However, it is not as widely known that Klara (often called Klari) Dan von Neumann played a role in the pioneering process of weather prediction that we now take for granted. She was a Hungarian-born computer programmer that wrote the code for the machine called MANIAC used by her husband and colleagues at Los Alamos National Laboratory to support nuclear fusion research. MANIAC was an advance over ENIAC because it could store data. The details of the evolution ENIAC and MANIAC are captured in this website but strangely Klara Dan von Neumann is not mentioned. She's hidden just like the outstanding African-American mathematicians from the recent NASA-centered movie, Hidden Figures..."
File image credit: "ENIAC computer." Picture courtesy of U.S. Army website archive.
---
Understanding Tornadoes: 5 Questions Answered. Salon has a good primer on the dynamics that spin up tornadoes; here's an excerpt: "...The second key condition for supercell formation is wind shear — large changes in wind at different levels. Winds at different altitudes blowing at different speeds and/or from different directions is associated with horizontally spinning air, like a rolling pin. As this horizontally spinning air flows into the updraft, the spin is tilted into the vertical, creating a rotating updraft. Tornadoes are especially likely to be spawned by supercell thunderstorms when the lowest altitudes are particularly humid and possess exceptionally strong wind shear. These conditions are more likely to come together in certain locations, such as the U.S. Great Plains and Southeast..."
Measuring Hurricane Wind Speed From Space. Using GPS signals? EOS.org explains: "...With this goal in mind, Foti et al. demonstrate a new satellite remote sensing technique that uses reflected GPS signals to measure ocean wind speeds during hurricanes. The Global Navigation Satellite System–Reflectometry (GNSS-R) technique takes measurements of Earth surface conditions by reading GPS signals after they bounce off Earth's surface. This method can sense many surface properties like ocean roughness, wind speed, soil moisture, and sea ice. A previous study used this technique to record hurricane winds from an aircraft, but the new research shows that the same technique also works from satellite altitudes to sense ocean surface roughness in hurricane wind conditions..."
Hurricane Lee file image: NOAA.
---
Annual Monarch Account Shows Butterfly Still Threatened. Overdevelopment, a changing climate, pollution - a myriad of factors may be contributing to troubling trends highlighted at The Center for Biological Diversity: "...The yearly count of monarch butterflies overwintering in Mexico, released today, shows a decrease from last year's count and confirms the iconic orange and black butterfly is still very much at risk. Today's count of 2.48 hectares of occupied winter habitat is down from 2.91 hectares last winter. Overall monarchs have declined by more than 80 percent over the past two decades. "We could lose the monarch butterfly if we don't take immediate action to rein in pesticide use and curb global climate change," said Tierra Curry, a senior scientist at the Center for Biological Diversity and co-author of the 2014 petition to protect monarchs under the Endangered Species Act. Roughly 99 percent of all North American monarchs migrate each winter to oyamel fir forests on 12 mountaintops in central Mexico..."
---
Tracking Migration Patterns. If you're interested in tracking Monarch Butterflies, or robins, or worms, or Bald Eagles, check out this amazing site, courtesy of Journey North.
---
How NASA Averted the 2060 Apocalypse. A post at Big Think reminded me that the nations of the Earth have come together before for a common cause - and it's a good thing they did: "...While conducting blue sky research—curiosity-driven scientific investigation with no immediate "real-world" applications—that scientists in the 1980s discovered that the ozone layer was being depleted. Realizing the danger this posed to life on Earth, scientists—and NASA's crack team of science communicators—mobilized the public, the U.N., and governments to get the Montreal Protocol signed, and to ban ozone-depleting chemicals for good. "We've since done atmospheric models that show that we would have actually destroyed the ozone layer, had we done nothing, by the year 2060..." says Thaller. "That would have destroyed agriculture. Crops would have failed all over the world. You couldn't have livestock outside. People couldn't have lived outside. We very nearly destroyed civilization, and your grandchildren would have lived through that..."
---
World's Tallest Offshore Wind Turbine Will Tower Over Iconic Buildings. Here's an excerpt from NBC News: "...GE says the Haliade-X will also be the world's most powerful offshore wind turbine, capable of generating 67 gigawatt-hours (GWh) a year under typical wind conditions. That's 45 percent more than any existing offshore turbine and enough energy to provide the needs of 16,000 households. The company says the new turbine will begin shipping in 2021 but gave no details about where they would first be erected. What explains the move to bigger turbines? Efficiency. The longer a turbine's blades — the Haliade X's will be 351 feet — the more wind energy they capture..."
---
2017 Clean Energy By The Numbers. Here's an excerpt from a post at NRDC: "...At the end of 2016, wind became the largest source of renewable power capacity in the nation, overtaking hydropower. In 2017, the U.S. added another 6,250 megawatts (MW) of capacity, which is enough to power 2 million homes. While one may not think of Iowa, Kansas, or Oklahoma as leaders on clean energy, these states actually have some of the cleanest power in the nation. The Midwest has some of the best wind resources in the country, and utilities, policymakers, and U.S. businesses are taking advantage of this low-cost energy resource. Iowa's largest electric utility, MidAmerican, expects to be generating 85 percent of its electricity from wind by 2019. In Kansas, the utilities are on track to supply 50 percent of the state's power with wind by the beginning of 2019..."
---
News in a Disintegrating Reality. We (literally) don't know what we don't know - and much of what we think we do know is...fake. Here's an excerpt from Nieman Journalism Lab: "...It's a huge problem. It's the biggest problem ever, in my opinion, especially for American culture. Maybe it's less of a problem for other countries and cultures, but the way our country works is just really susceptible to this. Those Russian statements about how Americans are impressionable and they're easy to manipulate are largely true. It's not because Americans are stupid, but because there's been no effort to get ahead of the curve in terms of technological policy or privacy laws. There's no protection for Americans or researchers right now. We're fighting everything..."
---
---
34 F. high in the Twin Cities Tuesday.
36 F. average high on March 6.
65 F. maximum temperature on March 6, 2017.
March 7, 1987: A heat wave across Minnesota brings the earliest 70 degree readings on record to the Twin Cities. The record high for the day was 73, breaking the old record by 13 degrees. Shorts were common and people were turning over dirt in their gardens for planting.
March 7, 1950: A snow and ice storm hits Minnesota. The heaviest ice was in northwest and west central Minnesota, especially in Norman County near Twin Valley. 52 electrical poles were down in this area with ice up to 1 ½ inches on wires. All communication lines out of Fargo were out with wind gusts estimated up to 60 mph. In order to provide temporary long distance service to and from isolated communities, short wave radio equipment was used to bridge the gaps. In Pipestone, several plate glass windows were blown in. During the snowstorm that followed later in the day, a Northwest Airlines plane crashed into three homes in Minneapolis killing all 13 on the plane and two on the ground. The left wing of the plane struck a flagpole at Ft. Snelling National Cemetery as it circled to land.
---
WEDNESDAY: Partly sunny, chilly. Winds: NW 8-13. High: near 30
WEDNESDAY NIGHT: Partial clearing. Low: 15

THURSDAY: More sun, still cooler than average. Winds: NW 7-12. High: near 30

FRIDAY: Partly to mostly cloudy. Winds: SE 3-8. Wake-up: 15. High: 32

SATURDAY: Patchy clouds, a few flakes? Winds: SE 5-10. Wake-up: 20. High: 39

SUNDAY: Early flurries possible, then clearing. Winds: NW 8-13. Wake-up: 26. High: 37

MONDAY: Generous amounts of sunshine. Winds: W 5-10. Wake-up: 23. High: 40

TUESDAY: Blue sky, thinking spring. Winds: NE 5-10. Wake-up: 22. High: 42
---
Climate Stories...
At U.N. Summit, an Evangelical Christian Makes the Case for Climate Change. Reuters has the story; here's an excerpt: "...The marital episode and her subsequent engagement with faith groups have firmed up her views that the traditional conservative tenet of small government - not science - usually explains why some resist the issue. "(It's) not because they really have a problem with the science," she said. "It's because they have a problem with the perceived solutions." "Taxes, government legislation, loss of personal liberty ... that's the real problem people have." Hayhoe did not field any questions from climate change skeptics during her talk at the summit in Edmonton. And her message struck particularly close to home in a province that is Canada's main oil producer. "The world energy system is undergoing an energy revolution ... from old dirty energies that we have been using for hundreds of years to clean, endless sources of energy like wind," she said, in an interview after her speech..."
---
How Architecture is Tackling Increasing Floods from Climate Change. Here's an excerpt of a timely post at Forbes: "...The additional heating of the earth in this way is the main cause of global warming, and increasing floods. 93% of the extra heat trapped by manmade global warming pollution goes into the oceans, which make up 71% of the earth's surface. The additional heat increases:
the melting of the polar ice caps releasing more water into the oceans;
the warming of oceans expanding the volume these vast bodies of water occupy; and
the rates of water evaporation generating heavier and longer downpours of rain.
Since 1993 to 2017, global warming has contributed to an average sea level rise of 3.3 inches (84.8 mm), which is still rising at a rate of 0.13 inches (3.20 mm) every year, according to NASA..."
---
Potential for Damage Rises With Powerful Winter Storms Coupled with Rising Seas. InsideClimate News has the story: "...One possible solution now being considered to protect Boston—where the city's latest outlook says sea level rose about 9 inches during the last century and could rise 1.5 feet in the first half of this century—is the construction of a massive barrier across Boston harbor with gates that close to protect the region from storm surges. The project would likely cost billions of dollars to complete, money that Campbell said could be better spent on other solutions. "There isn't a wall that is going to be effective to protect all of the New England coastal areas that are at risk," he said. "We are going to have much more cost-effective solutions by improvements of design, by incorporating the need for sacrificial and buffer areas into design, and by updating standards for storm water management and runoff."
---
---
They're Here to Fix Climate Change! They're College Republicans. A story at The Atlantic filled me with hope for the future: "...I think a lot of young conservatives are frustrated by the false choice between no climate action and a big government regulatory scheme. They feel pressured that those are the only two options, and they're hungry for a conservative pathway forward on climate," he told me. "The other thing that's unique here is that the elder statesmen of the Republican Party are kind of uniting with the younger generation, to press the middle generation to act on climate." The Baker-Shultz plan has four major components. First, it creates a new $40 tax on every ton of carbon dioxide emitted into the atmosphere, which comes to about an extra 36 cents per gallon of gasoline. It also creates a new "border carbon" tax, raising the prices of imported goods from countries that do not impose a carbon tax themselves..."
Photo credit: "An attendee wears a GOP elephant necklace during a California Republican Party convention in Burlingame, California." Stephen Lam / Reuters.
---
---
Should Christians Work to Protect the Environment? Here's an excerpt of an answer from the late Billy Graham: "...For Christians, the issue is much deeper: We know that God created the world, and it belongs to Him, not us. Because of this, we are only stewards or trustees of God's creation, and we aren't to abuse or neglect it. The Bible says, "The earth is the Lord's, and everything in it, the world, and all who live in it" (Psalm 24:1). When we fail to see the world as God's creation, we will end up abusing it. Selfishness and greed take over, and we end up not caring about the environment or the problems we're creating for future generations. It's not surprising that some of the world's worst environmental damage was done by the old atheistic regimes of Eastern Europe..."
---
As Climate Change Intensifies, Here Are the Most - And Least - Resilient Counties in America. Pacific Standard has interesting perspective: "...These findings were contained in a 317-page report that was released without fanfare in October of last year. EPA scientists had set to work on the tool, called the Climate Resilience Screening Index, under the previous administration. By ranking regions, states, and counties across the U.S., they hoped to reveal which areas need to boost their resilience most urgently—and to prompt local and national governments to act accordingly. Still, the EPA resilience report isn't just about extreme weather events, but also about how factors like inequality, ethnicity, and infrastructure affect a community's ability to deal with and recover from such events when they do occur..."
Map credit: "Resilience across the U.S., broken down by county. Darker colors show a higher CRSI score, and therefore greater resilience to climate change. The index excludes eight boroughs in Alaska, owing to a lack of data." (Chart: Environmental Protection Agency)
---
CLIMATE IMPACTS: Headlines and links courtesy of Climate Nexus: "Arctic spring is starting 16 days earlier than a decade ago, study shows (The Guardian), study: snowpack has declined dramatically across US West (AP), in doomed Alaska town, hunters turn to drones and caribou as sea ice melts (The Guardian), how does climate change affect northern communities? Paulatuk, N.W.T. tackles question in new study (CBC), warming trends: Climate change to shorten Mt. Spokane's season." (Spokane Spokesman-Review)
---
More Downpours - Increase in Heaviest Precipitation Events. The rain is falling harder - that's not a climate model, but based on observations. Here's an excerpt from Climate Central: "... A warmer world supercharges the water cycle, leading to heavier precipitation. To start, a warmer atmosphere creates more evaporation — for every 1°F of warming, the saturation level is increased by about four percent. With more water evaporating into the atmosphere, there is more available to condense into precipitation, and it's coming down in bigger downpours. The national map shows where this change has been the most dramatic, indicating that the precipitation in the heaviest one percent of rainfall days is getting heavier. Science has attributed heavy rain to climate change for decades, but now we can analyze the role of climate change in individual extreme rainfall events. An analysis from our World Weather Attribution team indicated the rain from Hurricane Harvey over Texas  was about three times more likely and 15 percent more intense from climate change..."