A Little Snow - Followed by a Shorter Cold Wave

"Objects in mirror are closer than they appear." That would make a nice tattoo on my forehead. Predicting snow is like anticipating a long, restfully-rewarding weekend. Sounds good on a Monday, but by Sunday you're asking "is this all there is?"
Today's snow event looked more impressive a few days ago, but beware when meteorologist toss around inch-amounts more than 36 hours before the onset of snow. Take all those inches and divide by 2.5. That'll probably wind up being closer to reality.
A college professor said it best: "We don't have the technology or confidence to predict snow down to the inch more than a day before the event." He's the same guy that came up with the "nuisance-plowable-crippling scale", which I have used since 1979.
In keeping with the theme of our ongoing snow drought, 1-2 inches may fall today; plowable (3 inches or more) southeast of the Twin Cities. Another cold wave settles in tomorrow into the middle of next week, but this Siberian slap won't last as long, with 6 more subzero nights.
So far the mercury has gone below zero 12 nights. Winter average is 22.5 nights, down from 30 nights a generation ago.
---
Dreaded Dry Tongue. Talk about shrinkage? What happened to the (alleged) snowstorm? I was in Austin, Texas at the 2018 AMS Conference, but I saw some inch-amounts getting thrown around a few days ago, which is both courageous and perilous. An old professor at Penn State reminded all of us to avoid predicting snow down to the inch until 24-36 hours before the onset of snow. Dr. Cahir was right, of course. He's also the guy who devised the nuisance-plowable-crippling scale, which I've been borrowing for 40 years now. Thanks John. The map above tells the tale; a sweep of dry air reducing amounts for the immediate metro, but this may still be plowable from Brainerd to Hibbing and parts of southeastern Minnesota and western Wisconsin. 12km NAM: NOAA and tropicaltidbits.com.
---
Snowy Tease. Snow will be blowing around today as winds gust to 30 mph, creating low visibilities, even white-out conditions at times, especially over far southeastern Minnesota where some 4-6" amounts are still possible. Flurries wind down later today as more cold (dry) Canadian air settles in.
---
Not as Cold as Last Time. Temperatures may be comparable, but it won't stay Nanook as long as it did with this last outbreak (nearly 2 weeks in late December and early January). 5-6 more nights below zero seems likely, with rebounding temperatures the latter half of next week. Twin Cities ECMWF numbers: WeatherBell.
---
Zonal by Late January. We'll probably get to enjoy more subzero slaps into February, but within 2 weeks the prevailing winds aloft are primarily from the Pacific Northwest; glancing blows of numbing air but the Mother Lode should stay north of Minnesota. A pattern more favorable for southern moisture reaching Minnesota? In theory, yes, but I don't see any hype-worthy systems in the next 2 weeks. Nothing new there.
---
An "Average Winter" for the Twin Cities So Far? According to the AWSSI Index, developed by the Midwestern Regional Climate Center, that's the case for the Twin Cities and St. Cloud, although La Crosse is experiencing a Moderate Winter, Duluth, International Falls and Grand Forks a Severe Winter. Here's more information on the Accumulated Winter Season Severity Index: "Winter seasons have significant societal impacts across all sectors ranging from direct human health and mortality to commerce, transportation, and education. The question "How severe was this winter?" does not have a simple answer. At the very least, the severity of a winter is related to the intensity and persistence of cold weather, the frequency and amount of snow, and the amount and persistence of snow on the ground. The Accumulated Winter Season Severity Index (AWSSI) was developed to objectively quantify and describe the relative severity of the winter season."
---
---
Praedictix Briefing: Issued Wednesday, January 10th, 2018:
* A couple rounds of snow are expected across the upper Midwest over the next couple days.
* The first will fall across parts of the Dakotas and northern Minnesota, bringing the potential of 2-5" of snow by Thursday morning. Strong winds will also have the potential to cause near blizzard conditions across this region with the snow.
* The second will ramp up tonight into Thursday from northern Kansas into western Wisconsin, with 2-8" possible. The heaviest snow with this batch (5-7"+) is expected from southern Minnesota into western Wisconsin, but is likely to miss most of the Twin Cities to the south and east at this moment (a change in the forecast since yesterday morning). This batch may start out as some rain during the overnight hours before transitioning to snow, so slippery roads along with blowing snow due to gusty winds are possible.
---
Snow To Spread Across The Upper Midwest. We will be watching two areas of the upper Midwest for the potential of heavy snow as well as blowing snow today into Thursday. The first will be across portions of North and South Dakota as well as northern Minnesota later today into tonight. This will have the potential of bringing 2-5" of snow with it, along with near blizzard conditions at times. The second batch of heavy snow will be possible from northern Kansas to western Wisconsin starting tonight and going into Thursday. This may start out as some rain (as it will be ahead of a cold front moving across the region) before transitioning to snow tonight into early Thursday. Across these areas, 2-8" of snow will be possible, with the heaviest falling across parts of Minnesota and Wisconsin. Since this snow will be falling in areas like Omaha and the Twin Cities during the morning commute Thursday, travel will be slow with slippery roads possible. Maps above: Praedictix and AerisWeather.
---
Watches, Warnings And Advisories. Due to the potential of snow and blowing snow which could lead to near blizzard conditions in spots, winter storm watches and warnings have been issued as well as numerous winter weather advisories. Breaking down the alerts:
A Winter Storm Warning is in effect for areas like Fargo and Grand Forks, ND. Snow amounts of 2-5" along with blowing snow that may cause near blizzard conditions in open areas are expected from this afternoon to

noon

Thursday

.
A Winter Storm Watch is in effect

tonight

through

Thursday

afternoon from southeast Nebraska to western Wisconsin, including Omaha (NE), Mason City (IA), the far southeast side of the Twin Cities (MN), and Eau Claire (WI). Snow totals of 2-8" are possible across this area, along with a light glazing of ice across parts of Iowa.
Winter Weather Advisories are in effect from Kansas to Minnesota for generally less than 4" of snow. Gusty winds will cause areas of blowing snow and low visibility.
---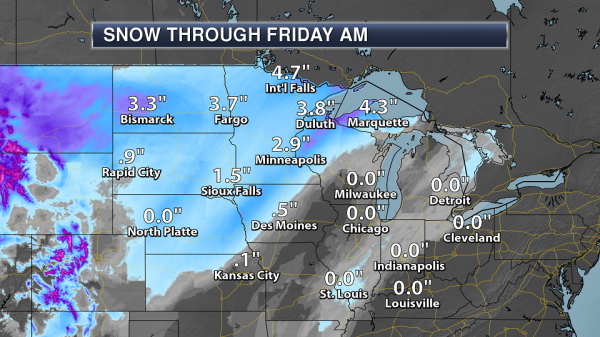 Forecast Snowfall. Today into tonight, snow totals will be heaviest across parts of the Red River Valley, where 2-5" of snow will be possible with the first batch of snow that moves through. The second round of snow - tonight into Thursday - will produce heavy snow of 2-8" across the Winter Storm Watch area, with the heaviest snowfall totals (6"+) expected across southern Minnesota into western Wisconsin.
---
NWS Most Likely Snowfall Totals. Based on NOAA guidance, here are the most likely snowfall totals for more select cities:
Grand Forks/Fargo, ND:
---
Omaha, NE:
---
Sioux Falls, SD: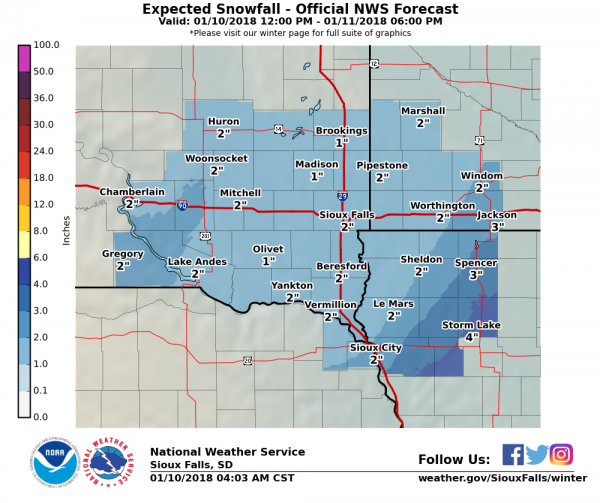 ---
Des Moines, IA:
---
Twin Cities, MN: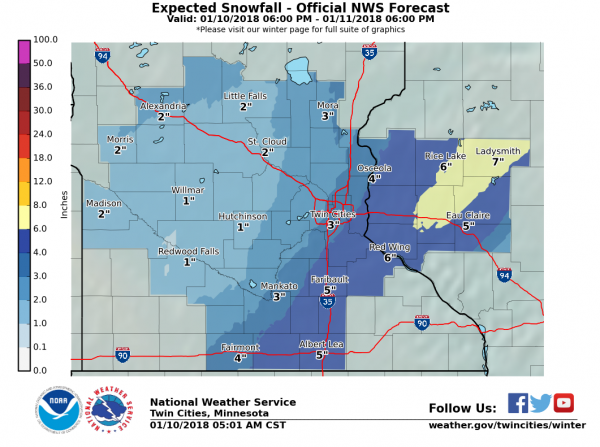 ---

Near-Blizzard Conditions Possible. Due to the falling snow and expected gusty winds expected with this system, we could see low visibilities and near blizzard conditions, especially across open areas of eastern North Dakota and northwestern Minnesota. However, areas of blowing snow will be possible wherever we do receive snow due to wind gusts of 20-40 mph tonight into Thursday. This will help to create difficult travel across the region.
Summary: Winter weather is expected across the upper Midwest over the next couple days, with areas expected to receive 2-8" of snow. The snow will occur in two phases. The first phase, over parts of North Dakota and northern Minnesota, has led to Winter Storm Warning for this afternoon through midday Thursday. That will bring the potential of 2-5" of snow as well as near blizzard conditions. The second will form tonight into early Thursday from Kansas to Wisconsin, potentially starting off as rain before transitioning to snow. The heaviest snow is expected across southern Minnesota (south and east of the Twin Cities) into western Wisconsin, where 3-8" of snow will be possible. Since this snow will be falling in areas like Omaha and the Twin Cities during the morning commute Thursday, travel will be slow with slippery roads possible. Winds will be gusty as well which will lead to reduced visibilities due to blowing snow.
D.J. Kayser, Meteorologist, Praedictix
---
---
Why Do We Put Salt on Icy Sidewalks in the Winter?
A story at
Scientific American
caught my eye: "...
All icy surfaces in fact contain small puddles of water. Because salt is soluble in water, salt applied to such surfaces dissolves. Liquid water has what is known as a high dielectric constant, which allows the ions in the salt (positively charged sodium and negatively charged chlorine) to separate. These ions, in turn, react with water molecules and hydratethat is, form hydrated ions (charged ions joined to water molecules). This process gives off heat, because hydrates are more stable than the individual ions. That energy then melts microscopic parts of the ice surface. Thus a substantial amount of salt spread over a large surface can actually thaw the ice. In addition, if you drive over the ice in your automobile, the pressure helps force the salt into the ice and more of this hydration occurs
..."
---
2017: Third Warmest Year on Record for USA.
Here's an excerpt from
NOAA NCEI
: "
Based on preliminary analysis, the average annual temperature for the contiguous U.S. was 54.6°F, 2.6°F above the 20th century average. This was the third warmest year since record keeping began in 1895, behind 2012 (55.3°F) and 2016 (54.9°F), and the 21st consecutive warmer-than-average year for the U.S. (1997 through 2017). The five warmest years on record for the contiguous U.S. have all occurred since 2006. During the year, the U.S. experienced 16 weather and climate disasters with losses exceeding $1 billion, with total costs of approximately $306 billion – a new U.S. annual record
..."
---
2017's Fires, Hurricanes and Natural Disasters Cost Over $300B
. Here's a clip from
Fortune
: "
The number of meteorological disasters in 2017 was unprecedented. So, too, was the dollar value of the damage they caused. The National Oceanic and Atmospheric Administration (NOAA) estimates the total cumulative damage of last year's floods, fires, and other weather events was $306.2 billion, a new record in the U.S. That tops the $215 billion (CPI adjusted) that came in 2005, the year of Hurricane Katrina (and three other major storms). Hurricanes made up the majority of the 2017 total, with Harvey, Irma, and Maria causing $265 billion in damages.
.."
September 6, 2017 file image of Hurricane Irma: NOAA and AerisWeather.
---
2017's Weather Disasters Broke Insurance Records: From Climate Nexus: "Insurance claims due to natural disasters reached a record $135 billion in 2017, insurance firm Munich Re reported Thursday. The world's largest insurance firm said that the United States, which faced three major hurricanes and multiple wildfires, made up nearly 50 percent of global insured losses, compared to its average rate of 30 percent. The 2017 hurricane season caused $215 billion in damage worldwide, making it the costliest on record. "Even though individual events cannot be directly traced to climate change, our experts expect such extreme weather to occur more often in future," Munich Re board member Torsten Jeworrek said in a statement." (New York Times $, FT $, Reuters, Deutsche Welle. Commentary: ThinkProgress, Joe Romm column)
August 25, 2017 GOES-16 image of Hurricane Harvey courtesy of NOAA.
---
2017 Set a Record for Losses From Natural Disasters. It could Get Worse. The New York Times reports.
---
"Like Thunder in the Ground." Texans Fear Link Between Quakes and Fracking Waste. The Guardian reports: "...Significant new research led by a seismologist at Southern Methodist University in Dallas and published in November indicates that the spate of tremors in north Texas is occurring on faults that were inactive for at least 300m years. Using a different analytical technique to earlier studies, it backs up previous conclusions that the only plausible explanation for the earthquakes is human activity. In Fort Worth there are 2,127 pending and approved gas well drilling permits within the limits of the city, which has a population of more than 850,000. Since 2008, the Fort Worth Basin has changed from experiencing no confirmed recorded earthquakes to hundreds, mostly minor. The likely primary culprit is not hydraulic fracturing (fracking) in itself, but the process of wastewater injection..."
Photo credit: "Road signs in Texas illustrate both sides of the fracking debate. The industry creates jobs but environmentalists and others have voiced concerns." Photograph: Alamy.
---
How You Could Get an Early Warning for the Next Big Earthquake. Here's an excerpt from WIRED.com: "...Using a free app called QuakeAlert, two beta-testers who work at the University of California Berkeley received notifications—though only two and five seconds before feeling the quake. Two others, up near Sacramento but close enough to register intensities over 2.0, received push alerts a full 27 seconds before any noticeable tremors. Developed by Santa Monica-based Early Warning Labs, QuakeAlert is one of the few ways Americans can get advance notice of an impending quake. While nations like Japan and Mexico already have early warning systems that send texts and siren blares out to citizens ahead of an impending quake, the US is still stuck in beta mode..."
---
Xcel Attracts "Unprecedented" Low Prices for Solar and Wind Paired With Storage. Here's the intro to a story from Greentech Media: "An Xcel Energy solicitation set a new solar-plus-storage record after attracting a median price of $36 per megawatt-hour. The rate is 20 percent lower than the cheapest PV-plus-battery power-purchase agreement seen to date, which came in a NextEra Energy Resources contract for Tucson Electric Power signed in May last year, at $45 per megawatt-hour. The NextEra deal, which included 4 hours of lithium-ion battery-based storage, saw flow battery maker ViZn Energy Systems promising to deliver solar-plus-storage at a cost of $40 per megawatt-hour, still 9 percent above the median rate seen in the Xcel bid..."
---
China to Dominate Renewable Energy Development: From Climate Nexus: "China is on track to become the world leader in financing and building renewable energy as it peels away from the United States, a new analysis shows. A report released Tuesday from the Institute for Energy Economics and Financial Analysis shows that China has spent $44 billion on international clean energy projects and investments--a nearly 40 percent increase from investment in 2016--and Chinese solar manufacturers now account for 60 percent of world solar cell production. "The clean energy market is growing at a rapid pace and China is setting itself up as a global technology leader while the US government looks the other way," Tim Buckley, the report's coauthor, said in a statement." (Carbon Brief, The Guardian, Bloomberg)
File photo: TechCrunch.
---
In Search of the Perfect Nap. 20-30 minutes seems about right. A story at PopSugar reminded me that I need a nap: "...A CDC study found that more than 40 million workers get fewer than six hours a night, in spite of a National Sleep Foundation report that indicates that we all need between seven and nine hours a night. Needless to say, coming up that light on your sleep needs makes naps a necessity to just catch up on rest and be able to get through all the tasks we have on our schedules on a daily basis. If you reach for sugar in the afternoon to stave off the Zs, then you're also a person who could use a nap — and better nutrition!..."
---
Improving Ourselves to Death. Is the self-help craze finally hitting a wall? Here's an excerpt from The New Yorker: "...In our current era of non-stop technological innovation, fuzzy wishful thinking has yielded to the hard doctrine of personal optimization. Self-help gurus need not be charlatans peddling snake oil. Many are psychologists with impressive academic pedigrees and a commitment to scientific methodologies, or tech entrepreneurs with enviable records of success in life and business. What they're selling is metrics. It's no longer enough to imagine our way to a better state of body or mind. We must now chart our progress, count our steps, log our sleep rhythms, tweak our diets, record our negative thoughts—then analyze the data, recalibrate, and repeat..."
---
Snuggle Robots and Talking Toilets. CES 2018's Wildest Gadgets. The Washington Post reports: "Are you ready to talk to your toilet? Or cuddle with a robot? Those are just a few of the ideas we've seen at CES 2018, the annual consumer technology confab here at the Las Vegas Convention Center and other venues. Sure, there are tech titans here battling to control our computers, TVs and smart homes. But our favorite part is the thousands of other companies that gather to launch something new. While these ideas sometimes catch on, like fitness trackers and wireless ear buds, many go nowhere. But the eager attempts are always interesting and often say something about where we're headed in our relationships with technology. Here are the most out-there ideas that caught our attention..."
Image credit: "The Kohler Numi toilet." (Image courtesy of Kohler)
---
Japanese Astronaut Sorry for 9cm ISS Growth Mistake. BBC has the baffling story: "A Japanese astronaut has apologised for wrongly stating he has grown 9cm (3.5in) since arriving at the International Space Station (ISS) just over three weeks ago. Norishige Kanai said in fact he grew by 2cm, blaming "a measurement mistake". "I'm very sorry for tweeting out such fake news," he tweeted in Japanese. His original incorrect claim sparked global fascination among social media users. Astronauts grow an average of between 2-5cm in space. This is because of the absence of gravity which allows the vertebrae in their spines to spread apart..."
Photo credit: "Astronaut Norishige Kanai (L) left Earth for the ISS last month on a six-month mission." Reuters.
---
---
THURSDAY: Advisory: 1-2" snow. More southeast. Slick roads. Winds: NW 15-30. High: 20 (falling)
THURSDAY NIGHT: Clearing and bitter again. Low: -6

FRIDAY: At least the sun's out. Feels like -15F. Winds: N 7-12. High: 7

SATURDAY: Boat Show! Bright sun, light winds. Winds: NW 5-10. Wake-up: -11. High: 5

SUNDAY: Clipper. Light snow or flurries. Icy roads. Winds: SW 5-10. Wake-up: -5. High: 12

MONDAY: Just another day on the tundra. Winds: NW 8-13. Wake-up: -3. High: 3

TUESDAY: Bright sunshine, still Nanook. Winds: W 5-10. Wake-up: -12. High: 5

WEDNESDAY: Partly sunny, not as harsh. Winds: S 8-13. Wake-up: -6. High: 19
---
Climate Stories...
The Only Force That Can Beat Climate Change is the U.S. Army. Here's an excerpt from Foreign Policy: "...This is because the most promising avenue to convince conservative American voters and to generate genuinely serious action in the United States against climate change would be to firmly establish the link between global warming and critical issues of national security. The threat should be obvious, but even before Donald Trump took office, the security elites in the United States and other major countries had not yet really integrated it into their thinking. Thus the vast majority of reporting and analysis of security issues in the Persian Gulf relates to classical security threats: the future of the Iran nuclear deal, the geopolitical and religious rivalry between Saudi Arabia and Iran, the Saudi-led boycott of Qatar, and so on. Almost unnoticed by security institutions has been a report from the Massachusetts Institute of Technology, which states that by the last quarter of this century, climate change is likely to make it impossible for people in the Persian Gulf and South Asia to operate in the open for much of the year due to a combination of extreme heat waves and humidity..."
---
A Floating House to Resist the Floods of Climate Change. The New Yorker has an interesting article: "...It was statistics like these that animated the experts who had assembled in Ontario for the International Conference on Amphibious Architecture, Design and Engineering, a three-day event organized by Elizabeth English, an associate professor at the University of Waterloo. Unlike traditional buildings, amphibious structures are not static; they respond to floods like ships to a rising tide, floating on the water's surface. As one of English's colleagues put it, "You can think of these buildings as little animals that have their feet wet and can then lift themselves up as needed." Amphibiation may be an unconventional strategy, but it reflects a growing consensus that, at a time of climatic volatility, people can't simply fight against water; they have to learn to live with it..."
Image credit: "As major storms become more common, could amphibious architecture keep at-risk neighborhoods intact?" Illustration by Seb Agresti.
---
2017 Was Second Hottest Year on Record, After Sizzling 2016. Reuters has details: "Last year was the second hottest worldwide on record, just behind a sweltering 2016, with signs of climate change ranging from wildfires to a thaw of Arctic ice, a European Union monitoring center said on Thursday...Last year was slightly "cooler than the warmest year on record, 2016, and warmer than the previous second warmest year, 2015", it said. Temperature records date back to the late 19th century. "It's striking that 16 of the 17 warmest years have all been this century," Jean-Noel Thepaut, head of Copernicus, told Reuters, adding there was overwhelming scientific consensus that man-made emissions were stoking the warming trend..."
Graphic: NOAA's climate.gov.
---
Weather "Bombs" and the Link Between Severe Winters and Climate Change. What happens in the arctic doesn't stay in the arctic. Public Radio International connects the dots: "...There's debate among scientists about what's causing these abnormally low wintertime temperatures in parts of North America and Eurasia even as global temperatures, on average, rise. One camp attributes the cool temperatures to natural variation in global weather systems. But there's a growing body of evidence suggesting that climate change may be fueling wavy jet streams and contributing to the trend. "We've always had years with wavy or not wavy jet stream winds, but what we are seeing is that the warming Arctic may be loading the dice and reinforcing the wavy patterns, making for extreme cold periods in places like the United States East Coast," says James Overland, an author of the 2016 study and oceanographer at NOAA's Pacific Marine Environmental Lab..."
---
NOAA has more perspective on a possible link between rapid warming of the arctic and changes in jet stream intensity and configuration.
---
A "Perfect Storm". East Coast Bomb Cyclone and Potential Climate Connection? Climate scientist Michael Mann wrote an article for Climate Reality; here's are two excerpts: "...As the oceans continue to warm, cold Arctic air masses collide with increasingly warm Atlantic Ocean waters. That means larger temperature contrasts and potentially stronger storms. But those warmer oceans also mean more moisture in the atmosphere, even more energy to strengthen the storm, and the potential for larger snowfalls.  We might, if you'll forgive the pun, call this a "perfect storm" of factors for intensification. Indeed, climate model simulations indicate that we can expect more intense nor'easters as human-caused climate change continues to warm the oceans...So, to the climate change doubters and deniers out there, the unusual weather we're seeing this winter is in no way evidence against climate change. It is an example of precisely the sort of extreme winter weather we expect because of climate change."
Image obtained using Climate Reanalyzer, Climate Change Institute, University of Maine, USA.
---
---
The Year Climate Change Began to Spin Out of Control. Here's the intro to a story at MIT Technology Review: "For decades, scientists have warned that climate change would make extreme events like droughts, floods, hurricanes, and wildfires more frequent, more devastating, or both. In 2017, we got an up-close look at the raw ferocity of such an altered world as high-category hurricanes battered the East and Gulf coasts, and wind-whipped fires scorched the West (see "Did Climate Change Fuel California's Devastating Fires? Probably"). We're also seeing with greater clarity how these dangers are interlinked, building upon one another toward perilous climate tipping points. And yet for all the growing risks, and the decades we've had to confront them, we have yet to address the problem in a meaningful way (see "Trump's Five Biggest Energy Blunders in 2017")..."