Minnesota's Courageous Pioneers - A Mild Bias

In an age of heated car seats, snowblowers and weather alerts beeping on our smartphones, it's hard to comprehend what Minnesota pioneers endured in the 1800s.
Weather conditions were swapped on postcards via the U.S. mail. There was no Doppler, no satellites, no NOAA. Locals had no idea what was coming - how bad it might be.
Our ancestors feared tornadoes and blizzards, but what really put the fear of God into them was wildfires. Homeowners would soak burlap and hide in their basements, or seek refuge in the nearest lake until the flames blew over.
The fires gripping the Bay Area may be the worst on record. Due to a warmer, drier climate, fire season in California is 2 1/2 months longer than it was 40 years ago.
Today looks dry, but a cold frontal passage squeezes out showers Saturday. Sunday looks jacket-worthy but drier, with peeks of sun.
A touch of September returns next week with 60s likely, even a few days above 70F late next week.
A La Nina Watch is posted. In spite of a long-term warming trend we should, at least in theory, have a colder than normal winter. Confidence levels are (very) low - place your bets.
---
Photo credit above: Temblor.net.
---
Fall Color Update. Colors are peaking from the northern suburbs into the Brainerd and Alexandria Lakes area - peak color may be 7-10 days away for southeastern Minnesota. Map credit: Minnesota DNR.
---
Stick Around for Next Week. The upcoming weekend won't be anything to write home about, but next week should be memorable with a streak of 60s; even some 70s late next week, according to ECMWF guidance for the Twin Cities. Graphic: WeatherBell.
---
Predicted Rainfall Into Sunday Night. Heaviest rains are forecast from the Quad Cities and Madison to Milwaukee, where some 2 to 2.5" amounts are possible. Half an inch of rain may fall on central Minnesota Saturday. 12km NAM guidance: NOAA and Tropicaltidbits.com.
---
2 Weeks Out: High Amplitude Pattern? NOAA's GFS model prints out a cut-off low over New England; a trough of low pressure pushing rain into the Pacific Norrthwest (and possibly northern California - helping fire crews knock down persistent blazes). A ridge of high pressure over the central USA may result in temperatures slight above average for late October.
---
---
---
La Nina Watch Issued for Fall/Winter. Details via NOAA CPC: "For the upcoming Northern Hemisphere fall and winter of 2017-18, a weak La Nina is favored in the dynamical model averages ofthe IRI/CPC plume and North American Multi-Model Ensemble (NMME). Several models indicate a period of near-average Nino-3.4 values in the upcoming weeks, but then predict reinvigorated growth of negative SST anomalies across the equatorial Pacific Ocean. These forecasts are supported by the ongoing easterly wind anomalies across portions of the Pacific Ocean and the reservoir of below-average subsurface temperatures. In summary, La Nina conditions are favored (55-65%) during the Northern Hemisphere fall and winter 2017-18..."
---
---
---
California Authorities Say Wildfires Are Only Getting Worse. Here are a couple of clips from HuffPost: "...It's actually getting worse," Sonoma Sheriff's Office spokesman Sgt. Spencer Crum said on Wednesday afternoon. "The winds have picked up today, and we have more evacuations." Since late Sunday evening, wildfires in Sonoma, Napa and neighboring counties have spread rapidly, killing at least 23 people, injuring more than 100 and leaving hundreds missing, according to the Sonoma Sheriff's Office. Thousands have been forced to flee their homes after mandatory evacuations...For some of the firefighters who have braved the conflagration, the devastation has hit close to home. "I've been in the fire service for over 30 years, and I'm horrified at what I've seen," said Cal Fire public information officer Jerry Fernandez, who grew up in the Sonoma area. He explained that the fire is at "zero percent containment," meaning it is not controlled, is continuing to spread, and that greater winds could make the situation worse in the coming hours and days. "We are at the worst conditions you could have right now," Fernandez said..."
---
Fires Ravage Northern California:
From Climate Nexus:
Fires burning in California's wine country have left 23 dead, nearly 300 missing and over 3,500 homes and businesses destroyed, making this week's fires among the worst on record in the state in terms of lives and property lost. The 22 fires across Northern California have forced thousands to evacuate--including a mandatory evacuation order for the entire city of Calistoga--and the largest of the fires in Napa was only 3 percent contained as of

Wednesday

morning. The combination of a wet winter followed by extreme heat and dryness has fueled record wildfires in many Western states, including California. Climate change compounds the risks of wildfires by extending the length of the fire season and adding to the intensity of droughts and heat waves--a climate signal California Governor Jerry Brown referenced in a press conference on the fires yesterday. (Fires: New York Times $, WSJ $, LA Times $, Washington Post $, AP, NPR, ABC, CNN. Climate change and fires: New York Times $, InsideClimate News. Brown: CBS San Francisco. Background: Climate Signals)
---
If You Had Only 5 Minutes to Evacuate, What Would You Take? An interesting though-experiment none of us hope to ever realize, courtesy of SFGate.com: "...
Medical supplies. It sounds obvious, but it's worth repeating. Pack first aid supplies, ample quantities of any prescription medication you, your family or your pets may require, and useful over-the-counter medicines like pain relievers, anti-diarrhea medication, antacids or laxatives. Glasses and contact lens solution are also critical for those who need them, as well as menstrual supplies, infant formula and diapers as needed. Consider bringing moist towelettes, garbage bags and plastic ties for personal sanitation.
.."
Photo credit:
---
---
Praedictix Briefing: Issued Thursday, October 12th, 2017:
*Fire conditions remained active overnight. Over 8,000 firefighters battled 21 wildfires that have burned 191,437 acres with strong north winds.
*The wildfires ranked as the third deadliest and most destructive in state history.
*Extremely dangerous fire conditions continue today with Red Flag Warnings in effect throughout California--especially in the Bay Area and Wine Country.
*At least 3,500 homes & businesses have been destroyed with 23 confirmed fatalities. More than 400 people are missing in Sonoma county. 21,000 customers without power.
*"Statewide, 30 air tankers, nearly 75 helicopters and 550 fire engines with several thousand firefighters had already been pressed into action. State officials requested more than 300 additional engines from other states and the federal government." Source: LATimes
---
Credit: AerisWeather
---
Critical Fire Conditions Continue. We continue to see critical fire conditions in northern and southern California with Red Flag Warnings in effect. By early evening northerly winds are forecast to increase, especially over the ridges and upper slopes. For the Bay Area & Sacramento Valley, a Red Flag Warning is in effect through 5PM PDT due to wind and low humidity. Gusty north winds continue to hinder firefighting efforts and continue to threaten the area with explosive wildfire growth. Humidity levels will be as low as 8% to 14% with poor overnight recovery. The most critical areas are the western half of the Sacramento Valley and surrounding foothills. Fire Weather Watches are in effect Friday through Saturday, which means that critical fire conditions are forecast. In a nutshell: fire conditions remain critical through the end of the weekend, which will make for incredibly dangerous wildfire behavior.
---
---
Credit: Airnow.gov
Poor Air Quality. Thick smoke is blanketing much of northern California as seen on visible satellite. Little improvement is expected through the end of the week as critical fire conditions are forecast to continue with strong north winds and low humidity. Airnow.gov is reporting "Unhealthy" air quality conditions for much of the Bay Area.
---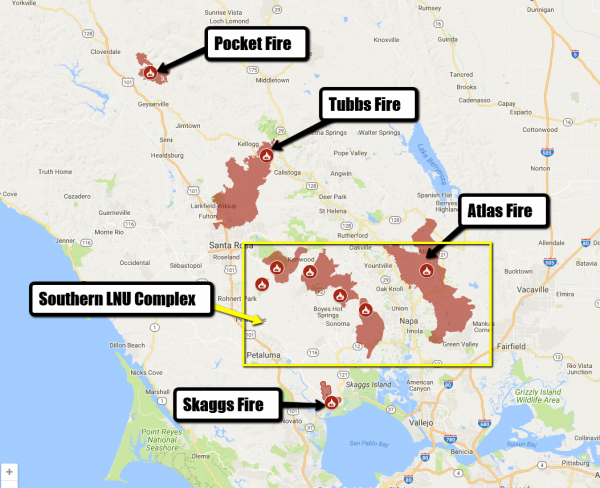 Active Wildfires in northern California. Credit: CAL FIRE
---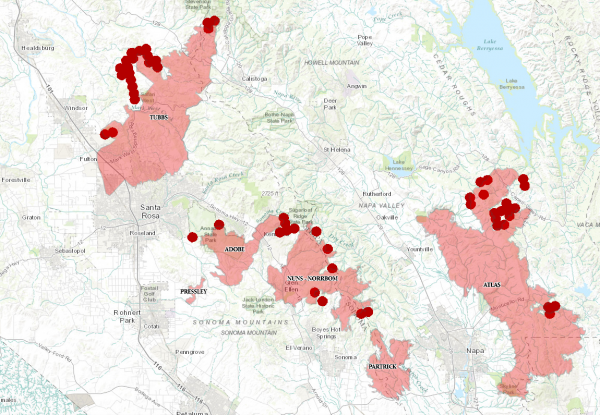 LNU Complex Perimeter Map. Credit: Cal Fire. Interactive map available here.
LNU Complex. This has been the most deadly complex of wildfires so far with this event in California. Explosive fire growth has resulted in little progress for some of these blazes. The following is a summary of the wildfires' sizes and progress made:
SOUTHERN LNU COMPLEX (6 fires)

Atlas Fire, Napa & Solano Counties
South of Lake Berryessa and northeast of Napa
43,762 acres, 3% contained
Significant structures destroyed
Partrick Fire, Napa County
10,817 acres, 2% contained
Nuns / Norrbom Fire, Sonoma County
North of Glen Ellen and east of Boyes Hot Springs
14,698 acres, 3% contained
The Nuns Fire and Norrbom Fire have merged

Pressley Fire, Sonoma County
East of Rohnert Park
473 acres, 1% contained

Adobe Fire, Sonoma County
Near Kenwood
7,955 acres, 1% contained
CENTRAL LNU COMPLEX (2 fires)

Tubbs Fire, Sonoma and Napa Counties
Between Calistoga and Santa Rosa
34,270 acres, 10% contained
Significant number of structures destroyed
Hi-res perimeter map available here.
Pocket Fire, Sonoma County
Pocket Ranch Rd and Ridge Ranch Rd, Geyserville
8,130 acres, 0% contained
---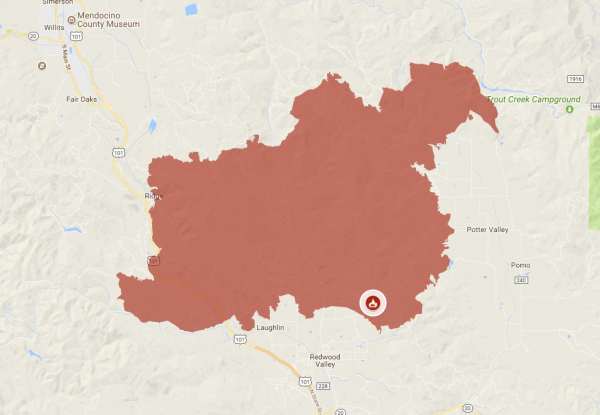 Redwood Fire Perimeter in Medocino County. Credit: CAL FIRE
Mendocino Lake Complex. This wildfire complex continues to burn in multiple directions, threatening numerous commmunities in Medocino County. Steep, inaccessible terrain and critical fire conditions have proven to be challenging for firefighters. The latest incident report shows 32,1000 acres burned in the Redwood Fire and only 5% containment. The Sulphur Fire is now 45% contained with 2500 acres burned. There have been 6 fatalities and 8000 people evacuated.
---
Canyon 2 Fire location. Credit: Cal Fire.
---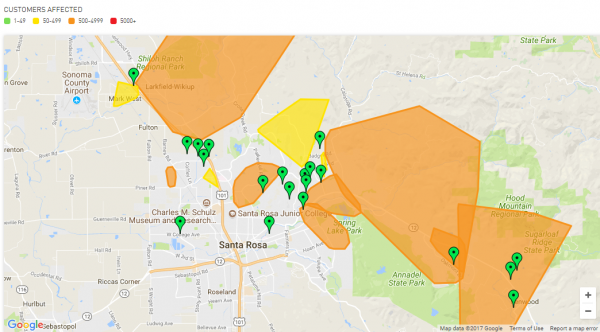 Credit: PG&E. Interactive map available here.
Power Outages. Thousands remain without power with the most outages being reported in the Santa Rosa area due to the Tubbs fire. For the latest on power outages, please visit PG&E's outage site.
Canyon 2 Fire. Good progress is being made with the Canyon 2 Fire. Cal Fire has increased the acreage due to better mapping (not fire growth). The latest incident report is stating that the wildfire is now 60% contained. Cooler temperatures and higher humidity has positively impacted fire behavior, though warmer and drier conditions are expected later this week. We will continue to monitor the situation.
City of Anaheim: http://www.anaheim.net/AlertCenter.aspx?AID=Canyon-Fire-2-3
City of Orange: http://www.cityoforange.org/CivicAlerts.aspx?AID=145
Orange County: https://www.ocgov.com/
 
CAL FIRE has the latest updated information on the California wildfires:
http://www.calfire.ca.gov/
---
---
Trump Nominates AccuWeather CEO to Head U.S. Weather Agency
.
AP
has an explainer: "
President Donald Trump has nominated the CEO of a private weather company to head the government agency that oversees the National Weather Service, an organization the nominee has at times clashed with. Barry Myers, who runs the pioneering weather firm AccuWeather, was chosen as undersecretary of Commerce and head of the National Oceanic and Atmospheric Administration. The weather service is part of NOAA... The union that represents weather service employees has criticized a possible Myers nomination as a conflict of interest. "As NOAA Administrator, he would be in a position to fundamentally alter the nature of weather services that NOAA provides the nation to the benefit of his family-owned business," union attorney Richard Hirn said in a July letter to Congress.
.."
---
Trump taps AccuWeather CEO to Head NOAA, Breaking with Precedent of Nominating Scientists
. Jason Samenow has more perspective at
Capital Weather Gang
: "...
But others are concerned about his potential conflicts of interest and lack of science background. As NOAA administrator, Myers would be in charge of the Weather Service whose data are heavily used by his family business, based in State College, Pa. AccuWeather has, in the past, supported measures to limit the extent to which the Weather Service can release information to the public, so that private companies could generate their own value-added products using this same information. In 2005, for example, Myers and his brother Joel gave money to then-Sen. Rick Santorum (R-Pa.), who introduced legislation aimed at curtailing government competition with private weather services
..."
Photo credit: "
---
5 Things the Weather-Climate Community Needs in the Next NOAA Administrator
. Dr. Marshall Shepherd weighs in at
Forbes
: "...
The National Weather Service is a national treasure. Weather observations and forecasts impact almost every aspect of our daily lives. There has been an obvious tension in the past on the role of the private and public sector. This makes many people nervous about the next NOAA administrator (whomever it is). Will there be an attempt to undermine what I believe is an inherent federal role to provide the foundational weather information for our military, private stakeholders and the public? You would be surprised at how many people say stuff like, "Why do we need a National Weather Service when we have TV stations and private companies?" Ummmm, helloooooo. This statement, in my view, is like saying, "Who needs potato farmers when we have people that make french fries and potato chips?" NOAA models, satellites, radar system and personnel enable the capacity for our vital private sector and media partners. These partners add value to the information so that it can be consumed by people, Apps, businesses, the military and so forth
..."
---
---
Super Bowl of Weather. Hey, what's 175 degrees above friends? From -60F to +115F, Minnesota has just about everything (except hurricanes). Thank God for that. Details via the Minnesota DNR.
---
Tropical Storm for Ireland? By Sunday Ophelia may no longer be a warm-core tropical system, but tropical storm-force winds will sweep across the British Isles, capable of minor damage and power outages.
---
"Katrina Brain": The Invisible Long-Term Toll of Megastorms. A story at Politico summarizes the long-term implications of major natural disasters: "...More than 1,800 people died in Katrina from drowning and other immediate injuries. But public health officials say that, in the aftermath of an extreme weather event like a hurricane, the toll of long-term psychological injuries builds in the months and years that follow, outpacing more immediate injuries and swamping the health care system long after emergency workers go home and shelters shut down. That's the rough reality that will soon confront regions affected by this year's string of destructive hurricanes. As flood waters recede from Hurricanes Harvey, Irma, Maria and Nate, and survivors work to rebuild communities in Texas, Florida and the Caribbean, mental health experts warn that the hidden psychological toll will mount over time, expressed in heightened rates of depression, anxiety, post-traumatic stress disorder, substance abuse, domestic violence, divorce, murder and suicide..."
Katrina file image: FEMA.
---
Hurricane Season Isn't Even Over, But It's Already Secured Its Place in History Books. Here's an excerpt of an insightful post at Capital Weather Gang: "This year's hurricane season isn't over. It still has 50 days left, but it's already one of the most terrible on record, which will be talked about and remembered for generations. Like other famous seasons — 1995, 2004 and 2005 to name a few — 2017 has had many storms and many significant landfalls. Impressive records are falling this year. In an average season, we would typically have seen 10 named storms, five hurricanes and two major hurricanes by Oct. 11. This year — far from average — there have been 15 named storms from Arlene in April through Ophelia in early October. Nine of those storms became hurricanes, and it just happened to be nine consecutive storms from Franklin to Nate. That's only happened three other times that we know of..."
Map credit: "The entire coastline from Texas to North Carolina has experienced tropical-storm-force winds this year." (Laris Karklis/The Washington Post).
---
First 10-Hurricane Streak in Atlantic Since 1886. The New York Times provides perspective on a crazy year in the Atlantic basin.
---
Almost No Puerto Rican Households Had Flood Insurance. Floods They Got. The Miami Herald has the harrowing details: "One of the most eye-opening statistics in the aftermath of Hurricane Maria's roar through here is that there were just 5,675 federal flood insurance policies on an island with nearly 1.57 million housing units. That means less than one-half of 1 percent of the commonwealth's homes were covered. Many will instead try to tap low-interest federal loans to rebuild. The dearth of flood policies in Puerto Rico means the federal program will be required to pay little of the perhaps $85 billion in privately and federally insured losses from Hurricane Maria; the total includes not just homeowners' flood claims, but also, for instance, property damage. most of the losses occurred in Puerto Rico..."
Photo credit: "Homes in the Juana Matos community are surrounded by flood waters in Catano, Puerto Rico, one week after Hurricane Maria came through. Few in the territory were covered by flood insurance." Carlos Giusti AP.
---
84% of Puerto Rico Is Without Power.
The New York Times
reports that 80% of the island's cellphone antennas are down, making communication difficult.
---
The Plan to Launch Giant Wi-Fi Balloons Over Puerto Rico
.
Atlas Obscura
reports on the ambitious idea: "
With disaster relief efforts still

in crisis mode in Puerto Rico, a number of private companies and citizens are doing what they can to help the island's residents. While some are providing food and other necessary materials, Project Loon, a division of Alphabet's X lab (formerly Google X), is trying to set up temporary internet and cell service using giant balloons. As Futurism is reporting, Project Loon has received expedited approval from the FCC to launch wireless data-providing balloons over Puerto Rico and the U.S. Virgin Islands as soon as possible. The goal of Project Loon is to provide internet coverage to inaccessible or less developed parts of the world by floating large balloons in the stratosphere, at about 65,000 feet. The balloons carry signal relay points capable of communicating with service providers on the ground—in a sense they are more or less floating cell towers. According to Project Loon's website, the balloons can stay up for as long as 190 days at a time
..."
---
Help Puerto Rico Recover by Mapping Damaged Area.
Crowd-sourcing mapping details can help residents of Puerto Rico can back up to speed faster, reports
Atlas Obscura
: "...
When you go someplace like Dominica, you simply don't have that," says Tyler Radford, the executive director of Humanitarian OpenStreetMap Team, a nonprofit that does emergency mapping in the wake of disasters. "If you pull up a map, you won't see the outline of each building. You'll only see the major roads." These mapping disparities matter for governmental and humanitarian organizations delivering aid after a hurricane, earthquake, or other disaster. Radford's organization mobilizes volunteers from around the world to try to fill in those gaps, fast. Currently, they have a call out for volunteers to help improve digital maps of Puerto Rico and Dominica, in the wake of Hurricanes Maria and Irma, areas of Mexico City affected by the earthquake, and Bangladesh and Nepal, which experienced extreme flooding in August. Anyone can sign up to help create maps that will aid workers on the ground.
.."
---
Why Do Hurricanes Hit the East Coast of the USA But Not the West Coast? It's all about water temperatures. Upwelling of chilly water on the west coast of the USA keeps temperatures chilly, which prevents (most) hurricanes and tropical storms from coming ashore from Seattle to San Diego. Here's a clip from The Columbus Dispatch: "...There are two main reasons for this disparity. The first is that hurricanes in the northern hemisphere form at tropical and subtropical latitudes and then tend to move toward the west-northwest. In the Atlantic, such a motion often brings the hurricane into the vicinity of the East Coast of the U.S. In the Northeast Pacific, the same west-northwest track carries hurricanes farther offshore, well away from the U.S. West Coast. "The second factor is the difference in water temperatures along the U.S. East and West coasts. Along the East Coast, the Gulf Stream provides a source of warm (above 80 degrees) waters, which helps to maintain the hurricane. Along the West Coast, however, ocean-surface temperatures rarely rise above the lower 70s, even in the middle of summer. Such relatively low temperatures do not provide enough thermal energy to sustain a hurricane's strength..."
---
Interpreting Hurricane Forecast Displays Can Be Difficult for General Public. New research highlighted at ScienceDaily caught my eye: "...This suggests that people may be more likely to evacuate or take precautionary actions if one of the lines in an ensemble overlaps with their own town, but feel relatively safe if not. This type of risk assessment is inaccurate because forecast scientists choose how many lines they want to show -- meaning that ensemble forecasts rarely show all the possible paths the hurricane could take. These findings matter because the visualization technique chosen can change what information people think is most important and affect decision making about mandatory evacuations and allocation of emergency management resources, the researchers said..."
---
---
NOAA Is Running Out of Money for its Hurricane Hunting Planes and Drones. I had no idea. MSN.com has details: "In the aftermath of Hurricane Sandy, the U.S. National Oceanic and Atmospheric Administration (NOAA) began a unique program to more closely study these devastating tropical storms and their impacts using small, expendable drones called Coyotes. But despite the system proving its worth as recently as the monitoring of Hurricane Maria, the project is now effectively dead amid a funding crisis that has begun to threaten the agency's aerial research efforts in general, including leaving one of its research planes, a modified Gulfstream IV-SP business jet, increasingly dangerous to fly..."
File photo credit: TIME Inc. "One of NOAA's Coyotes in 2015."
---
New Orleans Has to Work Fast to Avoid Washing Away by 2050. VICE reports: "...Link agrees: "New Orleans's big threat now is heavy rain." The levees being breached during Katrina were "the more serious source of water," at the time, he told me, but the highest rainfall Katrina dropped anywhere in Louisiana was 15 inches. Compare that to well over 50 from Harvey, and you see the danger. "[If] you're talking about 50 inches of rain over an enclosed bathtub like New Orleans, it's going to be terribly flooded," Link told me. "If Harvey had parked its butt over New Orleans, New Orleans would have had just as much or more flooding as it did during Katrina." Worryingly, New Orleans is seeing an uptick in extreme rain events these days—a 62 percent increase since 1950, according to a 2015 report from Climate Central. That's a change that Barry Keim, Louisiana's state climatologist, recently told the New Orleans Times-Picayune was "consistent with a warming climate..."
---
Could Cyber-Attacks Knock Out Lights in the US? Not So Easily. The Washington Post attempts to put our minds at ease: "...It's easier to hack into emails and a front-end computer system than tap into industrial controls. That's why, in theory, most energy companies isolate their regular workplace networks from high-security control rooms. The nuclear power industry, for good reason, is considered to be the best at such security practices. But some smaller and locally focused electricity providers fall short in creating an impenetrable wall around industrial controls, often referred to as an air gap. "There's always some sort of a bridge, whether it's a human being in their sneakers, or a wireless connection," said Michael Daly, the chief technology officer for cybersecurity and missions at defense contractor Raytheon, based in Waltham, Massachusetts. "There's no such thing as a totally air-gapped system..."
Photo credit: "In this Nov. 12, 2015, file photo, a concrete pole carrying feeder lines stands outside an electric company substation in the U.S. Hackers likely linked to the North Korean government targeted U.S. electricity grid workers in September 2017, according to a security firm that says it detected and stopped the attacks, which didn't threaten any critical infrastructure. But the attempted breaches raise concerns." (Gerald Herbert, File/Associated Press)
---
Wind and Solar's Future Hang on Taxes, Not Clean Power Plan. Bloomberg has the story: "...Clean-energy's fiscal advantage stems in part from two tax credits that Congress extended in 2015. Both measures are scheduled to be phased out in the 2020s, but Environmental Protection Agency administrator Scott Pruitt on Monday called for them to be eliminated. That could upend wind and solar's edge. "Without tax credits, those economics no longer work," said Amy Grace, an analyst at Bloomberg New Energy Finance. Unlike the Clean Power Plan, tax credits cannot be unilaterally scuttled by the White House. But with Republican Congressional leaders pushing to rewrite the tax code, opponents of the wind and solar tax credits, including those in the Trump Administration, are jockeying to torpedo the measures..."
---
Despite Trump, American Companies Are Still Investing in Renewable Energy. Dr. John Abraham at The University of St. Thomas writes for The Guardian: "...New evidence about the unstoppable renewable energy wave recently came out in a report that was released by Apex Clean Energy and the GreenBiz Group. These groups surveyed corporations to determine their future plans on renewable energy installation and adoption. They wanted to know whether these plans had changed in the past few years and what motivated their decisions to implement renewable energy strategies. The outcome of this survey is available here for people who want to read the entire document. The groups surveyed 153 major corporations (both public and private), whose combined revenue was in excess of $250 million. Among these companies, 84% are "actively pursuing or considering purchasing renewable energy over the next 5-10 years." Surprisingly, they found that 43% of the corporations intend to be more aggressive in their pursuit of renewable energy in the next two years. 87% of those actively pursuing renewable energy purchases stated that the election of Trump had no impact on their decision..."
Photo credit: "The Google logo is spelled out in heliostats (mirrors that track the sun and reflect the sunlight onto a central receiving point) during a tour of the Ivanpah Solar Electric Generating System in the Mojave Desert near the California-Nevada border February 13, 2014. The project, a partnership of NRG, BrightSource, Google and Bechtel, is the world's largest solar thermal facility and uses 347,000 sun-facing mirrors to produce 392 Megawatts of electricity, enough energy to power more than 140,000 homes." Photograph: Steve Marcus/Reuters.
---
Why 2017 Will Go Down as the Beginning of the End of the Internal Combustion Engine. Here's a blurb from a Washington Post article: "...The tipping point, experts say, follows three developments, each rippling outward with economic and cultural consequences:
China's flexing: In addition to setting aggressive production quotas for EVs, China plans to scrap internal combustion engines entirely as soon as 2030. By taking a lead role in the shift to plug-ins, the world's largest auto market is forcing the rest of the international community to follow in its footsteps.
The debut of Tesla's Model 3: The company's first mass-market vehicle has ushered in an era of excitement about EVs because of the car's slick design and starting price of around $35,000.
Major automakers announce plans for an "all-electric future." General Motors finished 2016 as the world's third-largest automaker, meaning its decision to create 20 new electric vehicles by 2023 is bound to have an impact on the global marketplace. Volvo, Volkswagen, Mercedes, Audi, BMW and Ford have also announced EV plans in recent months..."
---
Killing Obama's Power Plan Hasn't Stopped the Renewable Boom Yet. Bloomberg explains: "...The investments in solar and wind are a testament to the seemingly unstoppable boom in renewables that has been driven more by economics and state environmental policies than federal regulations. So far this year, U.S. utility giants including Warren Buffett's Berkshire Hathaway Inc., American Electric Power Co. and Xcel Energy Inc. have laid out plans to collectively spend billions on wind farms that'll replace aging coal-plants. "The Clean Power Plan doesn't make a jot of difference," said Amy Grace, an analyst at Bloomberg New Energy Finance. "Utilities are installing wind and solar because it is cheaper than running existing plants, and corporations are procuring wind and solar because it's economic to do so..."
---
There's Enough Wind Energy Over the Oceans to Power Human Civilization. A story at The Washington Post made me do a double-take: "New research published on Monday finds there is so much wind energy potential over oceans that it could theoretically be used to generate "civilization scale power" — assuming, that is, that we are willing to cover enormous stretches of the sea with turbines, and can come up with ways to install and maintain them in often extreme ocean environments. It's very unlikely that we would ever build out open ocean turbines on anything like that scale — indeed, doing so could even alter the planet's climate, the research finds. But the more modest message is that wind energy over the open oceans has large potential — reinforcing the idea that floating wind farms, over very deep waters, could be the next major step for wind energy technology..."
Photo credit: "An offshore wind farm stands in the water near the Danish island of Samso, May 19, 2008." REUTERS/Bob Strong.
---
The Meaning of Life: It Could Just Be a Quirk - Or Quark - Of Consciousness. Big Think had a video that made me (wait for it) think: "In the centuries since Galileo proved heliocentrism, science has gradually come to understand more and more of our universe's natural phenomena: gravity, quantum mechanics, even ripples in space-time. But the final frontier of science isn't out there, says cosmologist and MIT professor Max Tegmark, it's the world inside our heads: consciousness. It's a highly divisive issue—some scientists think it's unimportant or a question for philosophers, while others like Tegmark think that the human experience and the meaning and purpose of life would disappear if the lights of our consciousness were to go out..."
---
Radioactive Pigs Are Wandering Central Europe, 30 Years After the Chernobyl Nuclear Disaster. Well that can't be good. The Verge has details: "Thirty years after a reactor exploded at the Chernobyl nuclear power plant in Ukraine, radiation is still turning up in some unexpected places: for instance, in the wild boars tramping through the mountains of the Czech Republic — almost a thousand miles away. These radioactive boars aren't turning into teenage mutant ninja pigs, but they aren't safe for eating, either. That's a problem in a country where boar meat is mixed into stews and goulash. In fact, the wild boars are being irradiated by their own food: the wild mushrooms they depend on during the cold winter months, Reuters reports..."
Photo credit: Marisa04 (Pixabay)
---
Searching for Gold? Try the Sewers of Switzerland. Or not. CNN reports: "Scientists have struck gold in an unlikely place: Swiss sewage and waste water treatment plants. An estimated 95 pounds of gold is flushed through Swiss sewage systems each year, according to a study by the aquatic science institute Eawag. The lost gold is worth nearly $2 million at current prices. The researchers believe the tiny flecks of gold flow into the waste water system from the country's famed watchmaking industry and gold refineries. The study, commissioned by the Swiss Federal Office for the Environment, involved surveys of 64 waste water treatment plants across the country..."
---
64 F. high in the Twin Cities Thursday.
60 F. average high on October 12.
50 F. maximum temperature on October 12, 2016.
October 13, 1917: Record low temperatures occur across central Minnesota with temperatures ranging from the low to mid teens to the upper teens and lower 20s. St. Cloud records the coldest temperature of 10 degrees, while Mora records a low of 13.
October 13, 1880: An early blizzard strikes parts of southwest and west central Minnesota. Huge drifts exceeding 20 ft in the Canby area would last until the following spring.
October 13, 1820: A snowstorm at Ft. Snelling dumps 11 inches.
---
---
TODAY: Mix of clouds and sun, cool. Winds: N 5-10. High: near 60
FRIDAY NIGHT: Mostly cloudy. Low: 44

SATURDAY: Cool and showery. See a movie. Winds: E 8-13. High: 55

SUNDAY: Partly sunny, feels like October. Winds: NW 8-13. Wake-up: 42. High: 54

MONDAY: Sunny and milder. Winds: SW 7-12. Wake-up: 39. High: 61

TUESDAY: A spectacular blue sky day. Winds: W 5-10. Wake-up: 46. High: 66

WEDNESDAY: Sunny, windy and warmer. Winds: S 10-20. Wake-up: 49. High: near 70.

THURSDAY: Weather winning streak continues, plenty of sun. Winds: S 7-12. Wake-up: 48. High: 67
---
Climate Stories...
First Frost Coming Later. WXshift takes a look at long-term trends, for the Twin Cities and the nation: "According to the EPA, the growing season is now nearly two weeks longer on average across the U.S. compared to the beginning of the 20th century. While this may delight warm-weather lovers, warmer overnight temperatures can reduce productivity and quality of grains and fruits, which might increase their costs at the supermarket. Warmer average temperatures lead to an increase in the frequency of extreme temperatures, which can shift the geographical areas where certain crops have historically grown best, potentially causing problems for farmers. Warmer temperatures could also prevent necessary plant-pollinator interactions from occurring, due to the potential shift in ecological cues, which would affect the delicate balance between species. Going longer without a frost also means that more pests survive into the winter to damage or destroy crops...."
---
EPA Rolls Back Clean Power Plan (CPP) as Country Pushes Back: From Climate Nexus: Reasoning that the Obama administration overstepped legal boundaries in formulating its signature climate regulation, the EPA formally began the process of rescinding the Clean Power Plan Tuesday. The agency took the unusual step of providing a closed-door, pre-announcement briefing to conservative allies only, leaving businesses, reporters, state regulators and environmental groups--who are usually provided briefings ahead of major federal announcements--in the dark. While some red states and industries applauded the move, major companies (including Apple, Amazon, Google and Microsoft) and city and state leaders have condemned the repeal, and more attorneys general have pledged to join legal action against the rollback. The Wall Street Journal reports that many of the country's biggest power companies plan to continue shifts to natural gas and renewables, and policymakers and experts emphasize that the EPA's move could prove to be nothing more than a morale boost for the faltering coal industry.  For more on the legal reasoning behind the CPP rollback, scroll down to the Denier Roundup. (Rollback: Washington Post $, Reuters, Politico, BBC, Bloomberg, Vox, The Hill. Replacement options: New York Times $, Politico Pro $. Pushback: The Guardian, AP (CT), AP (MA), Red state response: Washington Examiner, AP, Great Falls Tribune. Power companies: WSJ $. Coal industry and CPP: NPR. Commentary: New York Times editorial $, NPR, Gina McCarthy interview, New York Times explainer $, Mother Jones, Rebecca Leber analysis, ThinkProgress, Joe Romm column, LA Times editorial $, Miami Herald editorial, Baltimore Sun editorial, Greensboro News & Record editorial, Salisbury Post editorial, Wilmington News Journal editorial, Madison.com, Phil Hands cartoon)
---
---
Florida State Researchers Link Declining Bee Populations With Climate Change. WGCU News has the story: "A Florida State University study links declining bumble bee populations with climate change. The researchers examined three bumble bee species in the Colorado Rocky Mountains and found warmer temperatures are affecting flowers, the animals' food source. Lead investigator Jane Ogilvie considers the findings a warning for other places like Florida, where she says the issue is not as well-studied. "There could be subtle changes in how flowers are distributed in a place like Florida that could have these knock-on effects on pollinators..."
Photo credit: NPR.
---
Mysterious Hole Larger Than Maryland Has Reappeared on Antarctic After 42 Years. Business Insider explains: "A mysterious 'hole' larger than Maryland has reappeared in the middle of Antarctica after 42 years. Scientists aren't sure how it got there. But this isn't the first time it's appeared. The hole is a type of polynya. Polynyas are a region of open water surrounded by sea ice. But the Weddell polynya is unlike any other. While most polynyas form near the shore, this polynya is located hundreds of kilometers from the coast. Scientists first saw it in 1974. Back then, the opening was as large as Oregon. But in 1976, the opening closed up seemingly for good. Then, in 2016, a NASA satellite spotted a small opening. It was the first sighting of the polynya in over 40 years. Since then, the opening has grown considerably larger. Now, it's large enough to fit Maryland..."
---
Amid Wreckage of Hurricane-Devasted Caribbean, Leaders See a Climate Change Opening. The  Los Angeles Times reports: "...We did not choose this opportunity. We did not wish it," he added. "Having had it thrust upon us, we have chosen actively and decisively to be that example to the world." The plan, which began in 2015 after Tropical Storm Erika's floods and mudslides left the island with a $482 million reconstruction bill, calls for more renewable energy and less fossil fuels, hospitals and clinics that won't become paralyzed by power outages, infrastructure built around the environment and crops capable of withstanding today's climate swings. "The intensity of hurricanes are increasing and we need to ensure we can build better, resilient infrastructure," said Skerrit, who arrived in Washington Monday ahead of a World Bank and International Monetary Fund meeting this week to press his case for assistance. "We're going to need significant sums of resources..."
---
Carbon-Sucking Technology Needed by 2030s, Scientists Warn. Reuters has the details: "As efforts to cut planet-warming emissions fall short, large-scale projects to suck carbon dioxide out of the atmosphere will be needed by the 2030s to hold the line against climate change, scientists said on Tuesday. Many new technologies that aim to capture and store carbon emissions, thereby delivering "negative emissions", are costly, controversial and in the early phase of testing. But "if you're really concerned about coral reefs, biodiversity (and) food production in very poor regions, we're going to have to deploy negative emission technology at scale," said Bill Hare of Climate Analytics, a science and policy institute..." Image: NASA.
---
Scientists Say Cost of Capturing CO2 Declining. The Associated Press reports: "Technology now in limited use removes about 90 percent of carbon dioxide from the smokestacks of coal-fired power plants, but energy experts say cost remains the chief obstacle to bringing the "clean coal" touted by President Donald Trump into the mainstream. They cite recent advances in applying the longstanding technology, despite some earlier setbacks, but say the U.S. power sector needs bigger tax credits or other incentives to close the cost gap for using them....The U.S. has successfully cut other smokestack pollutants, including sulfur, nitrogen and mercury. But carbon dioxide is a bigger challenge because there is so much of it. Coal- and gas-fired electrical generators produce about 30 percent of CO2 from human activity. Other industries like cement, steel and fertilizer manufacturing add another 20 to 25 percent. Farming and vehicles are also major contributors..."