Getting Personal

"All weather, like politics, is local." Most of the time people only care about the weather floating above their homes, parks, lakes and commutes. That's pretty obvious. And in a perfect world we would issue hundreds of thousands of forecasts - for every town, village, dale, bog, zip code and GPS location in Minnesota. Everyone would be looking at something different, based on location and a host of other factors. No more one-size-fits-all weather.
That point was driven home on Saturday. Weather in the metro was gray, cool and "meh" but up north skies were glorious; postcard-perfect.

The 7-Day below (and on every local TV station) is weighted for the Twin Cities, where most of us live. But a span of only 5-25 miles can make a huge difference with the forecast. Phone apps will help but I suspect people will always respond to stories. They'll want to know why.
Minnesota dries out from west to east today but heavy showers linger from La Crosse to Eau Claire. We hit 80F later in the week before cooling down and drying out next weekend. Sunscreen should be required both days.
I could see a 90-degree high next week with a few severe storms popping.
The drought is fading fast.
---
Late May Soaking. We are putting a serious dent in the drought - if this keeps up much of Minnesota may be drought-free by mid-June. No guarantees, of course - there never are, but the trends are encouraging for farmers, gardeners, and anyone else who likes water in their lakes and streams. NWS Doppler radar estimates show some 1"+ rainfall amounts from Grand Marais to Wadena and St. Cloud, another streak of heavy rain over central Wisconsin.
---
Deformation Zone. The northern/western edge of Monday's storm set up a smear of steady, moderate to heavy rain over much of central and northern Minnesota, the kind of system that's more likely to flare up in early spring and autumn. Steady, stratiform rain is unusual in late May, but not unprecedented. Dry air became entrained into the storm's circulation, sparking enough sunshine (and subsequent instability) for a few strong T-storms over southern Minnesota by the dinner hour, with severe storm warnings near Mankato and Faribault. Source: WeatherTap.
---
Monsoon Season. May and June are, historically, the wettest months of the year for many cities east of the Rockies, and this year will be no exception. The southern Plains have already experienced historic flooding, and GFS data for the next 192  hours shows another 3-6" rain for Texarkana and northern Iowa by the weekend. At the rate we're going drought may be limited to the western third of the USA this summer. NOAA guidance: AerisWeather.
---
Trending Warmer. Today will be relatively cool and comfortable with readings below average for late May, but we warm into the low 80s Wednesday and Thursday (I think the numbers above are "light" - it should be warmer). The best chance of T-storms comes late Thursday and Friday ahead of the next cool front that should leave us with sunnier weather next weekend. We warm up again next week.
---
Texas Governor Calls Flood Damage "Devastating". About 3 weeks ago most of Texas was still suffering from extreme drought. And then, like turning on a light switch, the rains came, and wouldn't let up. Here's the intro to an NPR story: "Texas Gov. Greg Abbott is calling the flood damage in the central part of his state "absolutely devastating." Abbott flew over parts of the Blanco River today, a day after storms triggered flooding. The hardest-hit communities were Wimberley and San Marcos. Abbott added 24 counties to the disaster declaration he issued earlier this month to help communities overwhelmed with heavy rains and tornado damage..."
Photo credit above: "In this aerial photo a barn with a Texas flag painted on its roof is surrounded by water near Martindale, Texas, after the San Marcos River flooded, Sunday, May 24, 2015. Record rainfall was wreaking havoc across a swath of the U.S. Midwest on Sunday, causing flash floods in normally dry riverbeds, spawning tornadoes and forcing at least 2,000 people to flee." (Rodolfo Gonzalez/Austin American-Statesman via AP).
---
Flash Flood Emergency. Flash flood emergencies are rare, NOAA has been using them for about 7 years, but only when extreme urban flooding is being reported. From NOAA: Flash Flood Emergencies continue for all of Lee, Bastrop, and Williamson counties and far eastern Williamson and Travis counties, including the Austin metro until 12:15 AM Tuesday. Although rain has generally ended in these areas, dangerous flash flooding and river flooding is ongoing across many areas of these counties. Do NOT drive if it can be avoided as multiple roadways are flooded.
Text of (rare) Flash Flood Emergency issued Monday afternoon:
 ...THIS IS A FLASH FLOOD EMERGENCY... ...THE FLASH FLOOD WARNING REMAINS IN EFFECT UNTIL 745 PM CDT FOR HAYS...CALDWELL...TRAVIS...BASTROP...SOUTHEASTERN WILLIAMSON AND LEE COUNTIES... AT 601 PM CDT...DOPPLER RADAR INDICATED THUNDERSTORMS PRODUCING HEAVY RAIN ACROSS THE WARNED AREA. DANGEROUS FLASH FLOODING WILL CONTINUE. MANY ROADWAYS ARE FLOODED. REMAIN AT HOME AND DO NOT ATTEMPT TO TRAVEL. THIS IS A FLASH FLOOD EMERGENCY FOR HAYS...CALDWELL...BASTROP AND LEE COUNTIES. SEEK HIGHER GROUND NOW! SOME LOCATIONS THAT WILL EXPERIENCE FLOODING INCLUDE... AUSTIN...PFLUGERVILLE...SAN MARCOS...TAYLOR...LOCKHART...ELGIN... BASTROP...LULING...GIDDINGS...SMITHVILLE...WIMBERLEY...LEXINGTON... WINDEMERE...TANGLEWOOD FOREST...AUSTIN BERGSTROM INT AP...KYLE... HUTTO...BUDA...MANOR AND WEST LAKE HILLS. ADDITIONAL RAINFALL AMOUNTS OF 2 TO 4 INCHES ARE POSSIBLE IN THE WARNED AREA.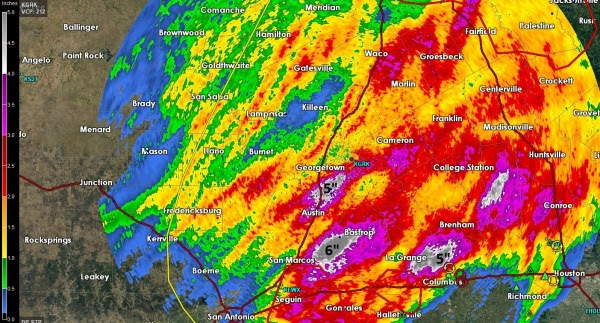 Adding Insult to Injury. Another 4-7" of rain was reported Monday from near Austin and Bastrop to La Grange and College Station, Texas. To put that into perspective that's 6 to 8 week's worth of rain falling in the span of a few hours, on ground already waterlogged by recent heavy rains. NWS Doppler radar rainfall estimates.
---
Tornado Kills 13 in Mexico - State of Emergency Declared for 24 Texas Counties. Australia's ABC Network has additional information on the rash of severe weather, including rare killer tornadoes near the Mexican border with Del Rio and almost biblical flooding for the southern Plains, with Texas hardest hit: "The savage twister roared through the Mexican border town of Ciudad Acuna at dawn, tossing cars and big rig trucks into the air before they smashed into houses and buildings. Images from the aftermath of the tornado showed several crumpled vehicles resting against walls and roofs as shell-shocked inhabitants of the town of 136,000 struggled to make sense of the devastation. The tornado came as ferocious weather battered swathes of Mexico and the southern United States, where rescuers searched for 12 people missing in flash floods across Texas and Oklahoma that left three people dead..."
Photo credit above: Ramiro Gomez, Reuters.
---
Children Injured After Tornado Lifts Bounce House on Beach. A waterspout that mutated into a weak tornado caused quite a stir at a Fort Lauderdale, Florida beach. Here's an excerpt and video link from wpxi.com: "Three children were injured Monday afternoon when a tornado launched a bounce house into the air near a Fort Lauderdale beach, the National Weather Service confirmed. Conditions of the injured children are not yet known. The estimated maximum distance of the tornado was 100 yards, and the estimated maximum width was 10 yards, said Chuck Caracozza, a meteorologist with the weather service. The tornado began as a waterspout off shore..."
---
Decade After Katrina, Pointing Finger More Firmly At Army Corp. As is usually the case in a massive disaster, there was no one smoking gun, but rather a cascade of events, only some of which could have been anticipated in advance. Here's the intro to a story at The New York Times: "Nearly 10 years on, one might assume that the case of Hurricane Katrina is closed. That the catastrophic flooding of this city was caused not merely by a powerful storm but primarily by fatal engineering flaws in the city's flood protection system has been proved by experts, acknowledged by the United States Army Corps of Engineers and underscored by residents here to anyone who might suggest otherwise..." (Image: NOAA).
---
Hurricane Expert: "New England Really Gets It In The Teeth" As Climate Warms. Will warmer ocean and a continued northward shift in weather patterns impact hurricane frequency or intensit over New England? Forbes has an interesting article and interview; here's an excerpt: "...Instead of using weather observations from the field, researchers can substitute conditions predicted by global climate models—wind conditions and thermodynamic conditions of the sea and air in a hypothetical climate warmed by greenhouse gas emissions. And that has empowered Emanuel to predict in some detail how hurricanes may behave in a warmer climate. If the models prove correct—a big if—New England faces a stormy ride as the climate warms this century...." (Image: NASA).
---
Last year was the hottest since 1850, according to the World Meteorological Organisation (WMO), part of what it said is a continuing trend.
According to the US National Oceanic and Atmospheric Administration (NOAA), May 2014 to April 2015 is the joint-warmest 12-month period in 136 years.
Those figures could rise further if the weather phenomenon known as El Nino continues to intensify, as scientists RTCC has spoken to believe it will.
- See more at: http://www.rtcc.org/2015/05/21/el-nino-likely-to-ensure-2015-breaks-warming-records/#sthash.ALmaQ1Uu.dpuf
10 Jaw-Dropping Photos From The 2015 National Geographic Traveler Photo Contest. Here's an excerpt from Huffington Post: "The entries for the 2015 National Geographic Traveler Photo Contest are in, and the photographs are as stunning as ever. The annual contest asks photographers from all around world to submit photos in four categories: Travel portraits, outdoor scenes, sense of place, and spontaneous moments. Photographers are allowed to submit as many photos as they'd like for $15 apiece, with no cap on the number one person can enter. The contest, which ends June 30, is still open for entries..."
Photo credit above: "I was out in the Arches National Park to take night pictures, but the clouds moved in. I waited for about two hours in the car and finally the sky cleared and I got this image." Photograph and caption by Manish Mamtani/National Geographic Traveler Photo Contest.
---
Logging and Commercial Fishing Deadlier Professions Than Police Patrol Officers? The stuff you learn on the interweb. Here's an excerpt from Quartz: "...This weekend, Americans will remember their fallen soldiers, a holiday traditionally observed with barbecues and the Indianapolis 500 car race. The US military isn't the only industry that often asks the ultimate sacrifice of its workers. Some 4,585 American civilians died in the line of duty in 2013, according to data from the Bureau of Labor Statistics (pdf). Certain jobs in particular are alarmingly risky..."
---
69 F. high in the Twin Cities yesterday.
72 F. average high on May 25.
79 F. high on May 25, 2014.
.19" rain fell Monday at KMSP.
May 25, 1862: Hail the size of "hickory nuts" falls on the Dakota Mission in Renville County.
---
TODAY: Showers linger this morning - slowly drying out this afternoon. Winds: NW 5-10. High: 71
TUESDAY NIGHT: Clearing and comfortable. Low: 59

WEDNESDAY: Warm, sticky sunshine - hints of early July. High: 83

THURSDAY: Humid, few PM storms. Dew point: 62. Wake-up: 63. High: 82

FRIDAY: Showers, possible thunder. Wake-up: 64. High: 74

SATURDAY: Slow clearing, breezy and cooler. Wake-up: 56. High: 66

SUNDAY: Sunnier, milder day of weekend. Wake-up: 50. High: 72

MONDAY: Hazy sun, heating up. Wake-up: 55. High: 77
---
Climate Stories....
CryoSat Detects Heavy Antarctic Ice Loss. Gizmag has more details; here's an excerpt: "The ESA CryoSat mission has detected significant ice loss in a usually stable Antarctic region. The data recorded by the satellite revealed how multiple glaciers along the Southern Antarctic Peninsula started shedding ice in the 2009, with no prior warning. The findings were made by researchers from the University of Bristol in the UK. While studying the data captured by the ESA's ice mission, the team found that the glaciers have been losing ice at a rate of around 60 cubic km (14.4 cubic miles) per year..."
---
Oil Companies Look To Join Climate Debate. Amazingly, the path to putting some sort of price on carbon may come from the fossil fuel companies themselves. Here's an excerpt from a story at The Wall Street Journal: "...For years, a number of shareholder activists have urged companies to curb emissions. More recently, some big investors are taking global warming into consideration in their portfolio building. The Church of England and Norway's sovereign-wealth fund, one of the world's biggest institutional investors, have sold off shares in pure-play coal companies. At the same time, some of these companies' own shareholders are pushing them to scale back their dependence on carbon-based fuels, worried about the future financial impact of heightened global-warming regulation..." (AP Photo/Jin Lee, File).