Slight Severe Thunderstorm Risk Western Minnesota

"The sun tires of summer and sighs itself into autumn" wrote Terri Guillemets. I'm a self-confessed September-groupie, enamored of this fleeting glimpse of atmospheric sanity wedged between heat index and first flakes.
Severe storms, floods and tornadoes are rare in September, but a few thunderstorms over far western Minnesota could mutate into severe hail-producers by evening. Tomorrow starts out wet, but skies should quickly dry out as the day goes on.
I refuse to pack away the shorts, T-shirts and flip-flops just yet, and for good reason. A surge of summer returns late in the week with sticky 80s likely on Friday and Saturday, probably the nicer day of the weekend. T-storms will troll northern, central and western counties of Minnesota Saturday, but the MSP metro area may stay on the warm, dry side of the front much of the day. Sunday looks wetter, statewide.
Hurricane Maria should stay out to sea, but Jose is forecast to brush coastal New England with 60 mph winds into Wednesday, then do one big loop and possibly hit New England a second time next week. Surreal.
---
---
---
---
---
---
---
84-Hour Rainfall Potential. You can clearly see the predicted tracks with Jose (brushing Cape Cod with some extreme 3-6"+ rainfall amounts) and Maria pushing past Puerto Rico. 1-2" rains are possible from the Red River Valley to coastal Oregon; dry weather prevailing from much  of California into the central Plains. NAM guidance: NOAA and Tropicaltidbits.com.
---
Praedictix Briefing: Issued Monday, September 18th, 2017:
*Jose is in the slow process of weakening, with sustained winds of 85 mph as of Monday morning.
*While the center of Jose is expected to stay far offshore over the next several days, it will still bring some tropical storm impacts to parts of the eastern Mid-Atlantic and Northeast. This would include gusty winds, heavy rainfall and some minor to moderate coastal flooding.
*We are also keeping an eye on Maria, which will impact the Leeward Islands and Puerto Rico through the middle of the week as a major hurricane. What impacts this system could have on the United States by early next week are still unknown.
* There is also an Enhanced Risk of severe weather across parts of the Dakotas and far western Minnesota Tuesday. Damaging winds will be the greatest threat, but hail and isolated tornadoes can't be ruled out.
---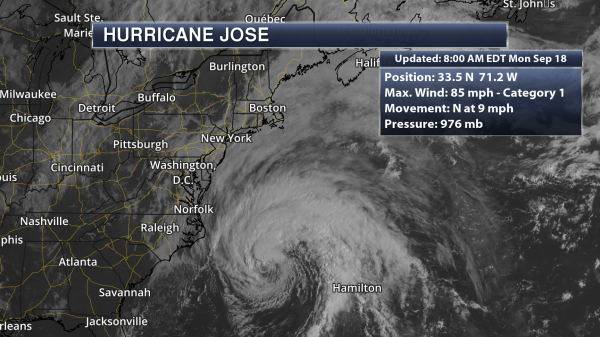 Jose Is Weakening. While Jose remains a hurricane this morning, the system is slowly starting to weaken. As of 8 AM ET, Jose was sitting 270 miles east-southeast of Cape Hatteras, NC with maximum sustained winds of 85 mph. Map credit: AerisWeather.
---
Jose Official Track. While the center of Jose is expected to remain far offshore over the next several days - weakening in the process - impacts will still be felt along parts of the east coast. This includes tropical storm force winds (39+ mph), heightened surf and coastal flooding, as well as heavier rain. Tropical Storm Watches are in effect for the following locations due to the expected winds associated with this system:
* Fenwick Island to Sandy Hook
* Delaware Bay South
* East Rockaway Inlet to Plymouth
* Block Island
* Martha's Vineyard
* Nantucket
---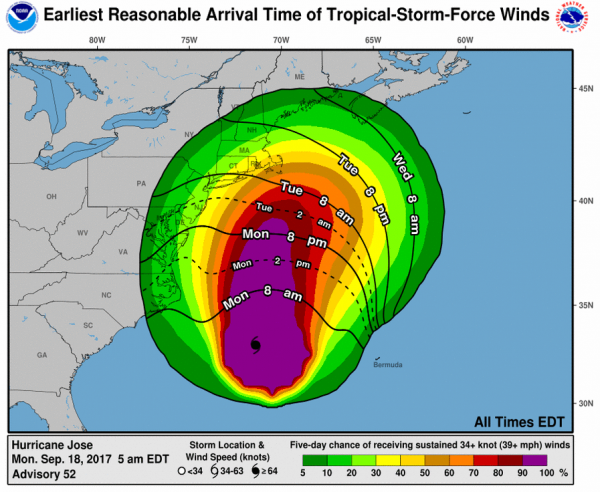 Tropical Storm Force Winds. Tropical storm force winds will be possible along the eastern seaboard through the middle of the week as the wind field currently extends 205 miles from the center of Jose. These tropical storm force winds will be possible in the Outer Banks starting later today, spreading north into the New York City and Boston areas Tuesday.
---

New York City Peak Winds. Winds Tuesday into Wednesday in the New York City area could gust up to 30 mph as Jose passes off to the southeast.
---
Rain Potential. Areas from eastern Long Island to southeastern Massachusetts have the potential to receive up to 6" of rain from Jose, which could cause some flooding issues.
---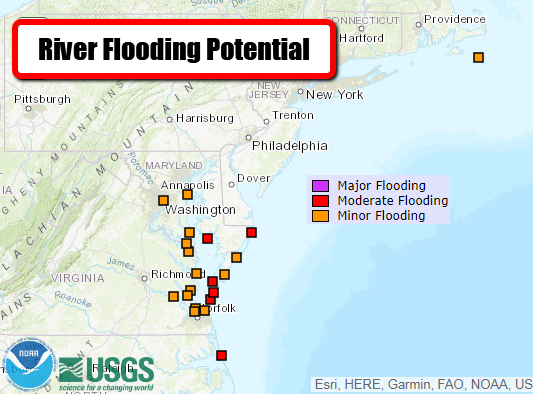 Minor To Moderate Coastal Flooding. Storm surge/coastal flooding of 1-3 feet will be possible with Jose as the system passes offshore, which could flood mainly immediate shorelines and low-lying spots.
---
Maria Gaining Strength. Another tropical system we are tracking - Maria - is quickly gaining strength, and is expected to be a major hurricane in the next 24 hours as the system impacts the Leeward Islands.
---
Maria Official Track. (Update as of late Monday night). Maria strengthened into a Category 5 super-storm last night, with a direct hit on Dominica. I'm very concerned about St. Croix and Puerto Rico as Maria potentially intensifies to extreme levels similar to those witnessed during Irma.
---
Impacts On United States Unknown. With this system being about a week out from approaching the U.S., it is too early to determine what impacts - if any - this system could have. Both the most recent runs of the European ECMWF (left) and American GFS (right) models show Maria making a turn before impacting the lower 48. The American model has the potential of the far east side of the system impacting the Outer Banks by next Wednesday, meanwhile the European has the remnants of Jose turning back and bringing rain to the Mid-Atlantic early next week. We will continue to track the latest on Maria to see if this system will bring any impacts by next week on facilities.
---
Severe Potential Tuesday In The Northern Plains. We're also tracking an Enhanced Risk of severe weather across parts of the eastern Dakotas and far western Minnesota Tuesday. Damaging winds appear to be the greatest threat tomorrow afternoon and evening, but hail and isolated tornadoes will also be possible.
Summary: While Jose will pass far offshore over the next several days, parts of the Northeast and Mid-Atlantic coasts will see tropical storm impacts including strong winds and a 1-3 foot storm surge at high tides. Tropical storm force gusts will be possible in areas like New York City and Boston by Tuesday. Some areas of eastern Long Island to southeastern Massachusetts could receive up to 6" of rain as well, leading to localized flooding. After Jose, we are keeping an eye on Maria, which will impact the Leeward Islands and Puerto Rico through the middle of the week as a major hurricane. It is still too early to determine what impacts Maria could have on the United States into next week. There is also an Enhanced Risk of severe weather across parts of the Dakotas and Minnesota Tuesday, with damaging winds the main threat.
Meteorologist D.J. Kayser, Praedictix
---
What Are "Wireless Emergency Alerts"? The next time your smart phone emits a high-pitched shriek you'll know why. Here's an explainer from NOAA: "...Wireless Emergency Alerts (WEA) are emergency messages sent by authorized government alerting authorities through your mobile carrier. Government partners include local and state public safety agencies, FEMA, the FCC, the Department of Homeland Security, and the National Weather Service. No signup is required! Alerts are sent automatically to WEA-capable phones during an emergency..."
---
A New Study Shows that People Forget About Natural Disasters Really Quickly. Quartz explains: "Recently experiencing severe weather events such as floods, storms, and drought can make people more inclined to support policies aimed at adapting to the effects of climate change, but not by much and not for long. The relationship between exposure to extreme weather and support for climate policies is small, a new study finds. And it fades quickly; a month after an extreme weather event, there was no effect. "People respond to recent weather, whether it's temperature spikes, severe storms, or other events," says David Konisky, an associate professor in the School of Public and Environmental Affairs at Indiana University and an author of the study. "But the effects are small. Extreme weather is much less significant than other factors when it comes to attitudes about climate..."
---
Downtown Charleston is Flooding More, With or Without Hurricanes. Here's a story excerpt from The State: "...Charleston's flood woes are a prime example of how a coastal community is experiencing the first-hand impacts of climate change and sea level rise, say some city officials, conservationists and federal scientists. "It is certainly becoming more of a topic and more obvious to people,'' Nature Conservancy climate specialist Liz Fly said of the increased flooding. "Things are just happening more frequently. This really should be in the conversation about how to live with the water.'' Like other coastal cities, Charleston has flooded for hundreds of years because it lies in a marshy environment. But statistics indicate flooding is worse now than ever. From the late 1950s through 2013, Charleston experienced a 409 percent increase in flooding, much of it from water that pools up periodically during high tides, according to the S.C. Department of Health and Environmental Control and the National Oceanic and Atmospheric Administration..."
Photo credit: "The intersection of Wentworth and Barre streets in Charleston regularly floods. Rising sea levels are blamed for the flooding. Flood waters in this picture rose during high tide on a sunny day. Charleston also has suffered flooding from hurricane driven storms and historic rainfall since 2015." Sammy Fretwell/The State.
---
---
U.S. Coastal Growth Continues Despite Lessons of Past Storms. We continue to flock to the ocean, in spite of rising seas and increasingly damaging storm surges. Here's a clip from The Washington Post: "Rising sea levels and fierce storms have failed to stop relentless population growth along U.S. coasts in recent years, a new Associated Press analysis shows. The latest punishing hurricanes scored bull's-eyes on two of the country's fastest growing regions: coastal Texas around Houston and resort areas of southwest Florida. Nothing seems to curb America's appetite for life near the sea, especially in the warmer climates of the South. Coastal development destroys natural barriers such as islands and wetlands, promotes erosion and flooding, and positions more buildings and people in the path of future destruction, according to researchers and policy advisers who study hurricanes. "History gives us a lesson, but we don't always learn from it," said Graham Tobin, a disaster researcher at the University of South Florida in Tampa..."
Photo credit: "In this Sept. 10, 2017, photo, waves crash over a seawall at the mouth of the Miami River from Biscayne Bay, Fla., as Hurricane Irma passes by in Miami. Rising sea levels and fierce storms have failed to stop relentless population growth along U.S. coasts in recent years, a new Associated Press analysis shows. The latest punishing hurricanes scored bull's-eyes on two of the country's fastest growing regions: coastal Texas around Houston and resort areas of southwest Florida." (Wilfredo Lee/Associated Press)
---
Why the Government Sells Flood Insurance. Here's a snippet of an interesting interview at New Hampshire Public Radio:
"...MIHM: Making insurance mandatory and putting real teeth in evasion of the mandatory requirement would be a great start because that would create what insurance is meant to create - a risk pool where everyone buys it.
SIMON: But let me interject. Wouldn't that make a lot of those homes unaffordable for the people who've been living there?
MIHM: Potentially. Or they would certainly - the value of the homes would be more accurately reflected in the sales price. It depends. If you believe in the wisdom of the free market and that markets should be transparent, then - as many, interestingly, Republicans do in these Gulf states - then it would make sense to have those prices be accurate reflections of the underlying risk of holding the properties..."
---
This Liquid Coating Turns Windows into Solar Panels. Seeker has news of emerging technology with great promise: "A Maryland company has been moving slowly and steadily for 20 years toward a very ambitious goal —  turning windows into transparent solar panels that harvest energy from the sunlight that passes through. SolarWindow Technologies is among the many energy companies looking for ways to harvest solar power on a large scale. But SolarWindow's proposition is to turn windows into solar panels by way of a thin transparent coating applied to standard glass and plastic windowpanes. The coating might not generate much power when slapped on your living room window, but SolarWindow is aiming higher — quite literally. The company hopes to eventually deploy the technology onto office buildings and skyscrapers, generating energy from the acres of glass soaking up the sun..."
Photo credit: SolarWindows Technologies.
---
"Octlantis" is a Just-Discovered Underwater City Engineered by Octopuses. Who knew? Quartz explains: "...In Jervis Bay, off Eastern Australia, researchers recently spotted 15 gloomy octopuses congregating, communicating, dwelling together, and even evicting each other from dens at a site the scientists named "Octlantis." The international team of marine biologists, led by professor David Scheel of Alaska Pacific University, filmed these creatures exhibiting complex social behaviors that contradict the received wisdom that these cephalopods are loners..."
File photo credit: Wikipedia.
---
58 F. maximum temperature yesterday in the Twin Cities.
71 F. average high on September 18.
84 F. high temperature on September 18, 2016.
September 19, 1998: 1 to 1 3/4 inch hail falls in Meeker, Wright, Todd, and Wilkin Counties. Winds were also estimated over 50 knots / 58 miles per hour.
September 19, 1980: Golfball to baseball sized hail hits St. Paul. One company has 75 to 95 percent of the glass in their greenhouses smashed.
---
TODAY: Mild with some sun. Strong to severe T-storms possible late. Winds: SE 10-15. High: 77
TUESDAY NIGHT: Strong T-storms, locally heavy rain. Low: 60

WEDNESDAY: Wet start, then partly sunny skies. Winds: W 7-12. High: 76

THURSDAY: Some sun, isolated T-shower risk. Winds: SE 10-15. Wake-up: 59. High: 79

FRIDAY: Sticky sunshine, plenty warm. Winds: S 10-15. Wake-up: 70. High: 86

SATURDAY: More clouds, few T-storms around. Winds: S 10-15. Wake-up: 71. High: 83

SUNDAY: Front stalls, more showers and T-storms. Winds: SW 8-13. Wake-up: 68. High: 78

MONDAY: Showers linger, turning cooler. Winds: N 7-12. Wake-up: 63. High: 72
---
Climate Stories...
Yes, Climate Change Made Harvey and Irma Worse. A consistenly warmer ocean didn't trigger the storms, but there's a high probability it amped them up, juiced them into stronger hurricanes. That, and higher sea levels magnified the storm surge associated with each storm. CNN reports: "The right time to talk climate change is now.It might seem premature when people in the Caribbean, Florida and Texas are still mucking out their flooded homes. And no, changes in our planet's atmosphere did not cause Hurricanes Harvey or Irma. But the consensus among scientists is that the effects of climate change, such as rising sea levels and warmer oceans, made those storms far more destructive than they would have been in previous decades. "The short version is, climate change makes these very bad storms worse," said Sean Sublette, a meteorologist with Climate Central, a nonprofit group that studies climate change. "It's not the approximate cause of the storm, but it makes these bad storms worse. And in the case of a really bad storm, climate change can make it totally disastrous or catastrophic..."
Image credit: "This photo made available by NASA shows Hurricane Harvey over Texas on Saturday, Aug. 26, 2017, seen from the International Space Station. Experts say a combination of unusual factors turned Harvey into a deadly monster. The storm intensified just before it hit land, parked itself over one unfortunate area and dumped a record amount of rain." (Randy Bresnik/NASA via AP)
---
The Idea That Climate Scientists are In It For the Cash Has Deep Ideological Roots. Here's a clip from a Guardian article: "...Suggesting that climate scientists are pushing a line about global warming because their salaries depend on it is a popular talking point that deniers love to throw around. But why do so many "sceptics", particularly those who form part of the organised machinery of climate science denial, feel comfortable in accusing climate scientists of only being in it for the money? Duke University history professor Nancy MacLean suggests some answers in her new book Democracy in Chains: the Deep History of the Radical Right's Stealth Plan for America. The book documents how wealthy conservatives, in particular petrochemical billionaire Charles Koch, teamed up with neoliberal academics with the objective, MacLean says, of undermining the functions of government in the United States..."
---
Op-Ed: Why the Wiring of Our Brains Makes It Hard to Stop Climate Change. The Los Angeles Times provides perspective: "...Humans aren't well wired to act on complex statistical risks. We care a lot more about the tangible present than the distant future. Many of us do that to the extreme — what behavioral scientists call hyperbolic discounting — which makes it particularly hard to grapple with something like climate change, where the biggest dangers are yet to come. Our mental space is limited and we aren't primed to focus on abstruse topics. Except for a small fraction that are highly motivated, most voters know little about the ins and outs of climate change, or the policy options relating to it. Instead, voters' opinions about such things derive from heuristics such as political party affiliation and basic ideology..."