Couple of Arctic Smacks - Thaw One Week Away

"It was so cold I almost got married" cracked Shelly Winters. I hear you. A cold snap like this makes me wonder (out loud) how the pioneers at Ft. Snelling got by without indoor plumbing and heated car seats. They must have hibernated most of the winter.
"What good is the warmth of summer, without the cold of winter to give it sweetness" mused John Steinbeck. I think of these cold waves as insurance. If we didn't live up to our reputation every now and then we'd be L.A. with lakes. Everything would cost twice as much and take twice as long.
A double-shot of numbing air is on the way. This is the first wave; a couple inches of fluff may fall Sunday in advance of the second wave. In all 6 more nights below zero.
Models show another thaw late next week and the maps look a little more favorable for snow by late January. That may be wishful thinking on my part, but I see a greater potential for southern storms tapping Gulf moisture. I'd wager 20s, even 30s (above zero) for the Super Bowl.
A well-timed snowstorm on Feb. 4? It's much too early to speculate, but a guy can dream.
---
Plenty Cold - But a Shorter Cold Wave This Time. The last arctic spell lasted about 11 days, give or take. This time around: 6 days. More subzero nighttime lows but the sun should be out much of the time into next Tuesday with daytime highs in single digits. Delightful. 30s will feel good by the end of next week. ECMWF (European) data for the Twin Cities: WeatherBell.
---
84-Hour Snowfall Potential. You may get an unsettling urge to ski Kentucky in the coming days; some half foot amounts possible near Louisville and Indianapolis; maybe a foot for the hills of western Pennsylvania. A couple inches of snow may fall across much of Minnesota on Sunday ahead of the next clipper. Image: tropicaltidbits.com.
---
A Little More Promising for Snow? There's a statistically significant chance I'm grasping at straws here, but the extended GFS 500mb winds show an active southerly branch of the jet stream, capable of pushing Pacific and Gulf moisture across the Plains into the Midwest - in theory. This longwave trough setting up over the west or Rockies may become a storm incubator, pumping out a series of low pressure systems within 1-2 weeks. By then the question may be: snow or rain or a mix?
---
This Year's Flu is Especially Miserable. Here's Why. The Daily Beast explains why so many of us are seriously under the weather: "...That cat-and-mouse game means that while viruses are evolving faster and faster, scientists developing the flu shot are struggling to keep up. This year's vaccine was a "mismatch," according to Hensley, of what the H3N2 was expected to look like and how it actually turned out. "There are different H3N2 viruses, and if you're looking at the sequences, there is diversity in what is circulating," he said. That brings us back to the chicken egg problem. Flu vaccine development involves choosing the predicted human virus strains, which are then propagated. The viral bits have proteins that are isolated from the viruses and injected into a fertilized chicken egg; the virus then replicates again in the chicken egg..."
File photo: AP.
---
U.S. Cold Snap Was a Freak of Nature, Quick Analysis Finds. Seth Borenstein reports for AP: "...The study by the World Weather Attribution analyzed weather records dating back to 1880 and found the cold weather that hit a swath of the U.S. from Maine to Minnesota tends to happen once every 250 years. In the early 1900s, it happened about once every 17 years. Climate change has made such cold spells less common and less intense, the group said. That finding agrees with earlier studies, said University of Georgia meteorology professor Marshall Shepherd, who wasn't part of the study. "I think the public frenzy over the recent cold snap illustrated that we are less acclimated to such events," he said in an email. The study, based on observations and statistics, did not find evidence for a popular scientific theory that links melting Arctic sea ice to blasts of cold air escaping the top of the world..."
---
---
Praedictix Briefing: Issued Thursday, January 11th, 2018:
* A potent cold front will continue to move east throughout the next couple days, bringing the threat of wintry precipitation along with it.
* Ice and snow will be possible from the mid-Mississippi Valley into the Northeast later today into the weekend, with the potential of significant accumulations in some areas. As the cold front passes through, rain will change over to a period of ice before becoming snow.
* The heaviest ice looks to be across portions of the mid-Mississippi Valley into the Ohio and Tennessee River Valleys, where at least a tenth of an inch of ice could fall in locations like Memphis and Nashville (TN), Paducah (KY), Indianapolis (IN) and Cleveland (OH) tonight into Friday. This amount of ice will cause travel troubles across the region and bring the potential of downed trees/branches and powerlines, leading to power outages.
* Snow totals across these areas with the heaviest ice are expected to be in the range of 1-5", with heaviest amounts (6-12") possible into the weekend from Cleveland (OH) to Buffalo (NY) and Burlington (VT).
* Heavy rain will also be possible across parts of the Northeast over the next couple days ahead of this system. Rainfall totals of 1-3"+ in spots could lead to river flooding and ice jams, especially in combination with snow melt.
---
Snow And Ice The Next Couple Days. A cold front and center of low pressure will continue to move east over the next couple days, bringing the threat of wintry precipitation including ice and snow along with it. Already this morning, snow and freezing rain is falling in the wake of this front from Kansas to the upper Midwest. The front will move through the Ohio and Tennessee Valleys as well as the Southeast tonight into Friday, bringing snow and ice into areas from Memphis to Indianapolis and Detroit by Friday morning. The front will continue eastward into the weekend, with snow and ice spreading into Nashville, Cincinnati and Buffalo during the day Friday, and into Pittsburgh Friday Night. With snow and ice expected across these regions once this front passes, travel will quickly become treacherous. Ahead of the cold front heavy rain is expected, especially across portions of the Northeast. For example, Boston could see 1-3" of rain Friday into the midday hours Saturday before precipitation transitions to snow and sleet during the late afternoon hours. Due to the heavy rain and rapid snow melt expected, some flooding is possible along with isolated ice jam flooding.
---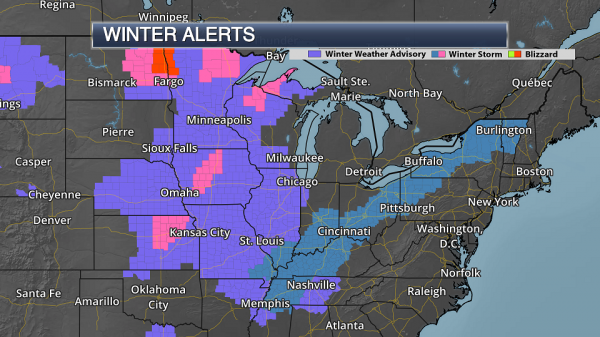 Watches, Warnings And Advisories. Numerous winter watches, warning and advisories are in effect across the eastern two-thirds of the nation this morning. Blizzard Warnings are in effect across the Red River Valley in parts of North Dakota and Minnesota (including Grand Forks) through the mid-morning hours due to low visibility from blowing snow. Across the Midwest, Winter Storm Warnings and Winter Weather Advisories are in effect throughout portions of Thursday (and in some eastern areas into early Friday morning) for the potential of accumulating snow and blowing snow and/or freezing rain and sleet.
Meanwhile, Winter Storm Watches are up for the potential of ice and snow from the mid-Mississippi Valley into the Northeast. Here, ice of at least a tenth of an inch and/or snow accumulation of several inches could lead to travel issues as well as power outages.
---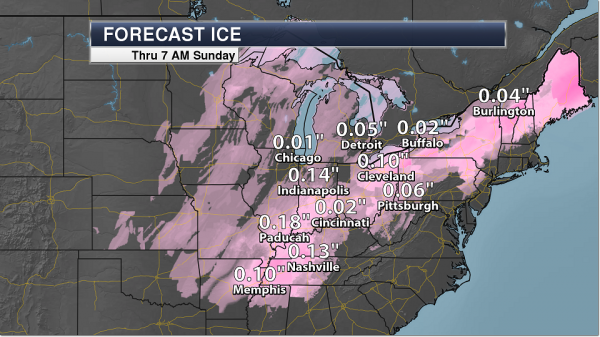 Forecast Ice. Before precipitation changes over to snow, a period of a wintry mix to ice is expected. This will occur across portions of the Ohio and Tennessee River Valleys tonight into Friday, with ice accumulations between a tenth and two-tenths expected from Indianapolis south to Nashville and Memphis. Rain will change over to ice in Cleveland and Buffalo during the day Friday. Over this entire area from the mid-Mississippi Valley to the Northeast, enough ice is expected to accumulate to make roads slippery across the region. However, areas that see higher accumulations will see treacherous travel conditions, as well as the potential of downed trees/branches and power lines, which would lead to power outages.
---
Forecast Snowfall. Starting with today, snow will taper off throughout the day from Kansas to Wisconsin. The heaviest snow totals in these areas are expected across parts of western and northern Wisconsin into the upper peninsula of Michigan, where totals of 5-9" will be possible. Snow will then start up over the Ohio and Tennessee River Valleys tonight into Friday, spreading across areas like Cleveland, Buffalo and Burlington Friday Night into Saturday. Snow totals will be heaviest near the eastern Great Lakes and into New England, where a half of foot to a foot of snow will be possible. In the Ohio and Tennessee River Valleys, snow totals will generally be in the range of 1-5" into the first half of the weekend.
---
Heavy Northeast Rain. Before the snow and ice hits the Northeast, they will see a round of heavy rain into the end of the week and the weekend. Some areas of New England could see 2-4"+ of rain before the cold air crashes in, changing the precipitation type. Note the graphic above not only shows accumulated rainfall, but melted precipitation (ice and snow) as well through Sunday morning.
---
Northeast Flood Watches. This heavy rain, in combination with snow on the ground which will be melting, could lead to some river flooding and ice jams across the Northeast. Due to this potential, Flood Watches are in effect.
Summary: A complex system will be rolling east from the central United States into the eastern third of the nation over the next couple days. Ahead of it, heavy rain will be possible in portions of the Northeast which, in combination with melting snow, could lead to river flooding and ice jams. However, as the cold front marches east, it will change rain over to first a wintry mix and ice, then over to snow. Ice accumulations of a tenth to two-tenths of an inch (if not more) will be possible from the mid-Mississippi Valley into the Ohio and Tennessee River Valleys tonight into Friday, which will cause treacherous travel conditions and the potential of power outages. Following that will be snow, with 1-5" over these areas that potentially see the most significant icing. The heaviest snow is expected across the eastern Great Lakes into the Northeast Friday into Saturday, where a half a foot to a foot of snow is expected.
D.J. Kayser, Meteorologist, Praedictix
---
Personal Growth Often Co-Exists with Post-Traumatic Stress Following Natural Disasters. Nothing like an EF-5 tornado to put your priorities in order. Here's an excerpt of an interesting post at EurekAlert! Science News: "... In fact, post-traumatic stress may drive a search for meaning following a disaster." Prior research has indicated that several factors, including appreciation of life, relating to others, personal strength, new possibilities and spiritual change, contribute to post-traumatic growth. In order to understand the relationship between post-traumatic stress, personal growth, and communication with friends and family, MU researchers working with a Joplin community mental health partner examined these factors in a sample of 438 adult survivors of the Joplin tornado two and a half years after the event. Participants were asked how they were impacted by the tornado, about post-traumatic stress symptoms, and if they talked about the tornado with people they knew..."
May 22, 2011 file photo from Joplin, Missouri courtesy of NOAA.
---
2017: Third Warmest Year on Record for USA.
Here's an excerpt from
NOAA NCEI
: "
Based on preliminary analysis, the average annual temperature for the contiguous U.S. was 54.6°F, 2.6°F above the 20th century average. This was the third warmest year since record keeping began in 1895, behind 2012 (55.3°F) and 2016 (54.9°F), and the 21st consecutive warmer-than-average year for the U.S. (1997 through 2017). The five warmest years on record for the contiguous U.S. have all occurred since 2006. During the year, the U.S. experienced 16 weather and climate disasters with losses exceeding $1 billion, with total costs of approximately $306 billion – a new U.S. annual record
..."
---
2017's Fires, Hurricanes and Natural Disasters Cost Over $300B
. Here's a clip from
Fortune
: "
The number of meteorological disasters in 2017 was unprecedented. So, too, was the dollar value of the damage they caused. The National Oceanic and Atmospheric Administration (NOAA) estimates the total cumulative damage of last year's floods, fires, and other weather events was $306.2 billion, a new record in the U.S. That tops the $215 billion (CPI adjusted) that came in 2005, the year of Hurricane Katrina (and three other major storms). Hurricanes made up the majority of the 2017 total, with Harvey, Irma, and Maria causing $265 billion in damages.
.."
September 6, 2017 file image of Hurricane Irma: NOAA and AerisWeather.
---
How You Could Get an Early Warning for the Next Big Earthquake. Here's an excerpt from WIRED.com: "...Using a free app called QuakeAlert, two beta-testers who work at the University of California Berkeley received notifications—though only two and five seconds before feeling the quake. Two others, up near Sacramento but close enough to register intensities over 2.0, received push alerts a full 27 seconds before any noticeable tremors. Developed by Santa Monica-based Early Warning Labs, QuakeAlert is one of the few ways Americans can get advance notice of an impending quake. While nations like Japan and Mexico already have early warning systems that send texts and siren blares out to citizens ahead of an impending quake, the US is still stuck in beta mode..."
---
Xcel Attracts "Unprecedented" Low Prices for Solar and Wind Paired With Storage. Here's the intro to a story from Greentech Media: "An Xcel Energy solicitation set a new solar-plus-storage record after attracting a median price of $36 per megawatt-hour. The rate is 20 percent lower than the cheapest PV-plus-battery power-purchase agreement seen to date, which came in a NextEra Energy Resources contract for Tucson Electric Power signed in May last year, at $45 per megawatt-hour. The NextEra deal, which included 4 hours of lithium-ion battery-based storage, saw flow battery maker ViZn Energy Systems promising to deliver solar-plus-storage at a cost of $40 per megawatt-hour, still 9 percent above the median rate seen in the Xcel bid..."
---
Improving Ourselves to Death. Is the self-help craze finally hitting a wall? Here's an excerpt from The New Yorker: "...In our current era of non-stop technological innovation, fuzzy wishful thinking has yielded to the hard doctrine of personal optimization. Self-help gurus need not be charlatans peddling snake oil. Many are psychologists with impressive academic pedigrees and a commitment to scientific methodologies, or tech entrepreneurs with enviable records of success in life and business. What they're selling is metrics. It's no longer enough to imagine our way to a better state of body or mind. We must now chart our progress, count our steps, log our sleep rhythms, tweak our diets, record our negative thoughts—then analyze the data, recalibrate, and repeat..."
---
Snuggle Robots and Talking Toilets. CES 2018's Wildest Gadgets. The Washington Post reports: "Are you ready to talk to your toilet? Or cuddle with a robot? Those are just a few of the ideas we've seen at CES 2018, the annual consumer technology confab here at the Las Vegas Convention Center and other venues. Sure, there are tech titans here battling to control our computers, TVs and smart homes. But our favorite part is the thousands of other companies that gather to launch something new. While these ideas sometimes catch on, like fitness trackers and wireless ear buds, many go nowhere. But the eager attempts are always interesting and often say something about where we're headed in our relationships with technology. Here are the most out-there ideas that caught our attention..."
Image credit: "The Kohler Numi toilet." (Image courtesy of Kohler).
---
Japanese Astronaut Sorry for 9cm ISS Growth Mistake. BBC has the baffling story: "A Japanese astronaut has apologised for wrongly stating he has grown 9cm (3.5in) since arriving at the International Space Station (ISS) just over three weeks ago. Norishige Kanai said in fact he grew by 2cm, blaming "a measurement mistake". "I'm very sorry for tweeting out such fake news," he tweeted in Japanese. His original incorrect claim sparked global fascination among social media users. Astronauts grow an average of between 2-5cm in space. This is because of the absence of gravity which allows the vertebrae in their spines to spread apart..."
Photo credit: "Astronaut Norishige Kanai (L) left Earth for the ISS last month on a six-month mission." Reuters.
---
Switzerland Rules Lobsters Must Be Stunned Before Boiling. The Guardian explains: "The Swiss government has ordered an end to the common culinary practice of throwing lobsters into boiling water while they are still alive, ruling that they must be knocked out before they are killed. As part of a wider overhaul of Swiss animal protection laws, Bern said that as of 1 March, "the practice of plunging live lobsters into boiling water, which is common in restaurants, is no longer permitted". Lobsters "will now have to be stunned before they are put to death," the government order read. According to Swiss public broadcaster RTS, only electric shock or the "mechanical destruction" of the lobster's brain will be accepted methods of stunning the animals once the new rule takes effect. Animal rights advocates and some scientists argue that lobsters and other crustaceans have sophisticated nervous systems and likely feel significant pain when boiled alive..."
File photo credit: "Animal rights advocates and some scientists argue that lobsters and other crustaceans have sophisticated nervous systems." Photograph: Gareth Phillips for the Guardian.
---
2.4" of snow fell at MSP International Airport yesterday.
37 F. high yesterday (12:21am) Afternoon readings were in single digits.
23 F. average high on January 11.
10 F. high on January 11, 2017.
January 12, 2000: Snow falls in a narrow band over the Twin Cities. Maplewood receives 5.5 inches, while Chanhassen gets 12.
January 12, 1888: The infamous 'Blizzard of '88' occurs. It hit during a mild day when many children were heading home from school. They made up the majority of the 200 people that died. At the end of the storm the thermometer at St. Paul read -37.
---
---
TODAY: Sunny and numb. -20F wind chill early. Winds: N 7-12. High: 4
FRIDAY NIGHT: Clear and plenty cold. Low: -10

SATURDAY: Bright sun, allergies under control. Winds: NW 5-10. High: 3

SUNDAY: Next clipper, few inches of fluff? Winds: S 8-13. Wake-up: -5. High: 11

MONDAY: Reinforcing jab of arctic air. Bright sun. WC: -20. Wake-up: -4. High: 2

TUESDAY: Blue sky, less wind. Chilly. Wake-up: -9. High: 4

WEDNESDAY: Partly sunny, trending milder. Wake-up: -6. High: 15

THURSDAY: More clouds, above average again. Wake-up: 6. High: 29
* Thaw likely by next Friday.
 
Climate Stories...
New York City Sues 5 Oil Companies Over Climate Change. The Associated Press reports: "New York City is suing five major oil companies, claiming they have contributed to global warming. Mayor Bill de Blasio says the city will be seeking billions in the lawsuit to recoup money spent by the city for resiliency efforts related to climate change. The defendants in the city's federal lawsuit are BP, Chevron, ConocoPhillips, Exxon Mobil and Royal Dutch Shell. A BP spokesman declined comment. A Shell spokesman said climate change is a complex issue that should not be addressed by the courts. The other three did not immediately comment. The lawsuit follows the city's announcement that it plans to divest its pension funds from fossil fuel companies..."
File photo credit: "In this Jan. 19, 2016 file photo, a man watches a BP refinery in Gelsenkirchen, Germany. New York City officials say they will begin the process of dumping about $5 billion in pension fund investments in fossil fuel companies, including BP, because of environmental concerns." (AP Photo/Martin Meissner, File)
---
The Best Countries to Escape the Worst Effects of Climate Change. A story at Business Insider caught my eye: "...That said, some countries will fare far better than others, according to UK-based energy comparison service Eco Experts, which created a color-coded map using data from the Notre Dame Global Adaptation Index. The index analyzes 181 countries based on factors like healthcare, food supply, and government stability and ranks them on their ability to cope with the challenges posed by a warming planet. Norway ranked #1, while a handful of other Nordic countries (and New Zealand) followed. While the maps provide a great zoomed-out perspective of what will happen globally as the earth warms, there are a couple caveats to keep in mind when checking it out:
---
America's Most Pressing Threat? Climate Change. So says new research highlighted at Bloomberg View: "...Some of the most obvious and pressing concerns include:
Water scarcity, droughts and resource struggles leading to wars and terrorism. Many studies have confirmed the broad effect of drought and water scarcity in driving violence across a wide variety of countries and regions. Syria, Sudan, Mali and the broad Arab world continue to be battered by rising temperatures and droughts. Resulting famines and economic hardship provide a breeding ground for recruiting disaffected, unemployed youth. You can drop a plumb line from global warming to terrorism and strife in many parts of the world.
Rising sea levels that swamp our ports and coastlines. A brilliant new novel, "The American War" by Omar El Akkad, is set in a 21st-century U.S. where rising sea levels have swamped much of Florida and led to a second Civil War. While this is evocative fiction, the grain of truth is that the seas are rising as the polar caps melt, and over time lower-lying areas of the country -- including some of our most vital military bases -- are at risk of flooding and eventually disappearing..."
---
The Only Force That Can Beat Climate Change is the U.S. Army. Here's an excerpt from Foreign Policy: "...This is because the most promising avenue to convince conservative American voters and to generate genuinely serious action in the United States against climate change would be to firmly establish the link between global warming and critical issues of national security. The threat should be obvious, but even before Donald Trump took office, the security elites in the United States and other major countries had not yet really integrated it into their thinking. Thus the vast majority of reporting and analysis of security issues in the Persian Gulf relates to classical security threats: the future of the Iran nuclear deal, the geopolitical and religious rivalry between Saudi Arabia and Iran, the Saudi-led boycott of Qatar, and so on. Almost unnoticed by security institutions has been a report from the Massachusetts Institute of Technology, which states that by the last quarter of this century, climate change is likely to make it impossible for people in the Persian Gulf and South Asia to operate in the open for much of the year due to a combination of extreme heat waves and humidity..."
---
A Floating House to Resist the Floods of Climate Change. The New Yorker has an interesting article: "...It was statistics like these that animated the experts who had assembled in Ontario for the International Conference on Amphibious Architecture, Design and Engineering, a three-day event organized by Elizabeth English, an associate professor at the University of Waterloo. Unlike traditional buildings, amphibious structures are not static; they respond to floods like ships to a rising tide, floating on the water's surface. As one of English's colleagues put it, "You can think of these buildings as little animals that have their feet wet and can then lift themselves up as needed." Amphibiation may be an unconventional strategy, but it reflects a growing consensus that, at a time of climatic volatility, people can't simply fight against water; they have to learn to live with it..."
Image credit: "As major storms become more common, could amphibious architecture keep at-risk neighborhoods intact?" Illustration by Seb Agresti.