The Sinking of the SS Edmund Fitzgerald - November 10, 1975
"On November 10, 1975 the SS Edmund Fitzgerald sank in Lake Superior. All 29 crew members died. At the time, it was the worst shipping disaster on the Great Lakes in 11 years. Other shipping disasters on the Great Lakes, in which weather played a role include:
Nov. 11, 1913: eighteen ships were lost killing 254 people.
Nov. 11-13, 1940: 57 men died when three freighters sank in Lake Michigan.
Nov. 18 1958: 33 men died on Lake Michigan with the sinking of the Carl D. Bradley.
Nov. 29, 1966: Daniel J. Morrell sank in Lake Huron killing the 28 crew members."
"..The lake it is said never gives up her dead
when the skies of November turn gloomy
With a load of iron ore 26,000 tons more
than the Edmund Fitzgerald weighed empty...."
See more from CIMSS at the University of Wisconsin for more Info:

__________________________________________________________________________
Weather Outlook Saturday - November 10th, 2018
High temps on Saturday will be VERY chilly for the early part of November. In fact, these temps are more typical of early/mid December! High temps will range from the mid to upper 20s in southeastern MN, while highs in the northern part of the state will only top out in the lower 20s. These readings will be -15F to -20F below average.
______________________________________________________________________________
Temperature Outlook
Temperatures in the metro have been running nearly -3.5F below average so far this month and the next several days will continue to run significantly below average. In fact, temps through the middle part of next week look to continue to be more December-like. However, some of the extended forecast models are suggesting that temps will once again warm to at or even above average levels by the middle part of the month.
_________________________________________________________________________
Weather Outlook Ahead

Weather conditions across the Upper Midwest look a little quieter this weekend in the wake of a large storm that dumped nearly a foot of snow across parts of the U.P. of Michigan. There will be another weaker wave of energy that will scoot across the international border with light snow accumulations late Saturday into Sunday.
Snowfall Potential
According to NOAA's NDFD, minor snow accumulations will be possible across the northern half of the state, where some 1" to 2" tallies can't be ruled out. This light snow chance will be in association with next clipper that will scoot through the region later Saturday into Sunday.
 ________________________________________________________________________________
Remembering The Edmund Fitzgerald. Feels Like December
By Todd Nelson, filling in for Douglas.
"The legend lives on from the Chippewa on down of the big lake they call 'gitche gumee' - Superior, they said, never gives up her dead - When the gales of gales of November come early." Those were the words from Gordon Lightfoot's famous song that paid tribute to the Edmund Fitzgerald and all 29 crew members that were lost 43 years ago today.
That storm boasted 50 mph winds and 20 foot waves, which is not uncommon across the Great Lakes at this time of the year. In fact, another notable storm took down 18 ships, killing 254 people on November 11, 1913.
Yesterday's single digit, face-numbing wind was associated with a storm system that dumped nearly a foot of snow across the U.P. of Michigan. Closer to home, we had much less snow, but it sure caused issues on metro roads. Traffic maps looked like a Stephen King movie - ugh! Welcome back to winter driving.
By the way, this morning was the coldest the mercury has been since early April. It'll feel like December as another round of snow develops late today. Shoveling optional.
_____________________________________________
Extended Forecast
SATURDAY: Cold. Light snow late PM. Winds: SSE 10-15. High: 28.
SATURDAY NIGHT: Another light snow chance, mainly north. Winds: SSE 5-10. Low: 23.
SUNDAY: Lingering flurries. Breezy afternoon. Winds: NW 10-20. High: 32.
MONDAY: Peeks of sun. A touch of December. Winds: NW 10-15. Wake-up: 17. High: 26.
TUESDAY: Still brisk. Mix of clouds and sun. Winds: WSW 5. Wake-up: 13. High: 27.
WEDNESDAY: Dry. More sunshine. Winds: SW 5-10. Wake-up: 18. High: 35.
THURSDAY: Light rain/snow mix? Mainly north. Winds: WSW 10-15. Wake-up: 27 High: 39.
FRIDAY: Northing rough. Winds: WNW 5-10. Wake-up: 24. High: 36.
______________________________________________________
This Day in Weather History
November 10th
1999: Late season hail falls in Eden Prairie. Pea size hail (0.25 inch. in diameter) up to one foot deep collected near storm drains near Hennepin Technical College and Hwy 212. Pea size hail about 4 inches deep was also reported on grass near Hwy 5 and Mitchell Rd. The hail and torrential rains forced drivers off the road in Bloomington.
1998: A potent storm nicknamed a 'land hurricane' sets a new all-time record low pressure for Minnesota around noon at Albert Lea and Austin as it passes overhead. The automated weather observing equipment at both airports measured a barometric pressure of 28.43 inches, which broke the previous record of 28.55 inches set on 11 January 1975 in Duluth. The new record for the Twin Cities was set with a reading of 28.55 inches. The previous record was 28.77 inches, set on April 13th of 1964. 10 inches of snow fell at Madison, MN and St. Cloud State University had a wind gust to 64 mph.
1975: The Edmund Fitzgerald sinks off Whitefish Bay, causing 29 fatalities.
1913: A severe windstorm occurs on Lake Superior. Three ships were lost. Winds were clocked at 62 mph at Duluth.
_______________________________________________________
Average High/Low for Minneapolis
November 10th
Average High: 45F (Record: 69F set in 2012)
Average Low: 29F (Record: 3F set in 1986)
Record Rainfall: 1.36" set in 1915
Record Snowfall: 5.0" set in 1896
_________________________________________________________
Sunrise/Sunset Times for Minneapolis
November 10th
Sunrise: 7:03am
Sunset: 4:50pm
Hours of Daylight: ~9 hours & 46 minutes
Daylight LOST since yesterday: ~2 minutes & 32 seconds
Daylight LOST since summer solstice (June 21st): 5 hours and 45 Minutes
__________________________________________________________
Moon Phase for November 10th at Midnight
3.6 Days Since New Moon
_________________________
What's in the Night Sky?
According to EarthSky.org this is what will be visible in the night sky over the next several nights: 
"This weekend – Saturday, November 10, and Sunday, November 11, 2018 – you'll find the moon and Saturn at early evening. More about the pair below. Also, the North Taurid meteors at their best at and around the midnight hour. For the fun of it, on our chart at top, we also show you the whereabout of the dwarf planet Pluto. You won't see Pluto with the eye; it's about 2,000 times fainter than the dimmest visible star. The 2019 lunar calendars are here! Order yours before they're gone. Makes a great gift. About the North Taurids … A crescent moon in the west in the evening is a setting moon. So moonlight will not obstruct this year's North Taurid meteor shower. The moon (along with the planet Saturn) will set by early to mid-evening, while the North Taurids will fly most abundantly for several hours, centered around 12:30 a.m. local time (the time on your clock no matter where you are on the globe). This shower offers perhaps five or so meteors per hour, but it's known for producing fireballs. Click here for tips on watching the Taurids."
See more about the meteor shower HERE:
 _______________________________________________________________________
Praedictix Briefing
: Friday, November 9
th
, 2018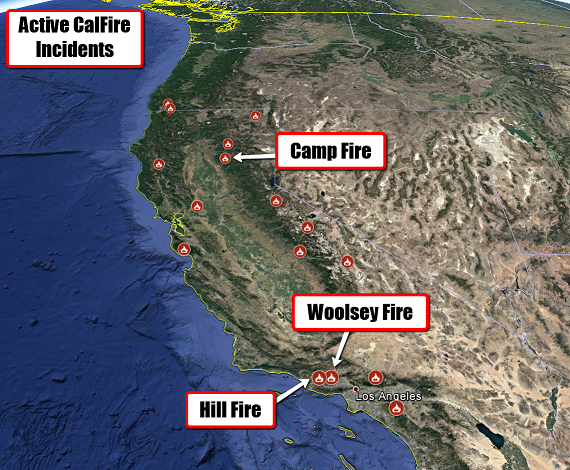 Fires Burning Across California. Three major wildfires broke out in California Thursday – the Camp Fire in northern California, as well as the Woolsey and Hill fires in southern California. These fires quickly spread Thursday and Thursday night across the region due to high winds and low humidity values. These fires have destroyed numerous structures, and thousands of residents are under evacuation orders.
Camp Fire. The Camp Fire has been quickly spreading across parts of Butte County after being ignited around 6:30 AM Thursday. At times this fire has been burning at a rate of approximately 80 football fields per minute. Cal Fire says that much of the community of Paradise has been destroyed, with at least several hundred buildings gone and an additional 15,000 structures in the region threatened. Butte County officials believe that there are fatalities, but the exact number is unknown. Numerous evacuation orders are in place for areas including Paradise, Magalia, Concow, Butte Creek Canyon, Butte Valley, Stirling City, Inskip, and Chico. This fire has burned at least 20,000 acres as of last night and is 0% contained.
More information is available from:
Woolsey And Hill Fires. The Woolsey Fire across parts of Los Angeles and Ventura Counties has exploded overnight, now burning approximately 8,000 acres as of 3 AM local time. The fire is 0% contained. This fire jumped Hwy 101 near Chesebro Rd. this morning. About 75,000 homes in Los Angeles and Ventura Counties are under either mandatory or voluntary evacuation orders, including a voluntary evacuation in parts of the city of Los Angeles.
More information is available from:
Also burning in southern California is the Hill Fire, which started Thursday afternoon in Ventura County and jumped the 101 Freeway within 12 minutes of starting. As of Thursday evening, 7,000 acres have burned with over 1,200 homes evacuated. It is expected to burn all the way to the ocean. Camarillo Springs and Cal State Channel Islands have been evacuated. This fire is burning in the footprint of the Springs fire from a few years ago.
More information is available from: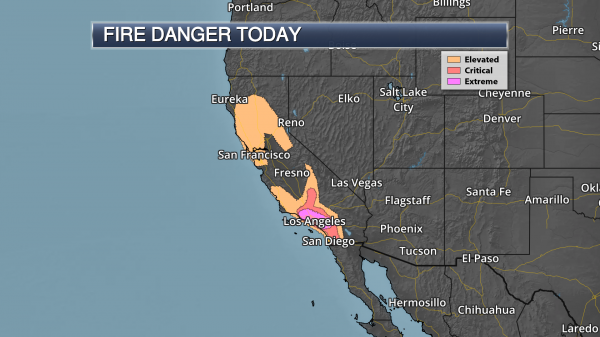 Fire Danger Continues Today. An extreme fire danger continues today across southern California in associated with a strong Santa Ana wind event across parts of Ventura and Los Angeles Counties down into the southern California valleys, coastal foothills, mountains, and Orange County. Across these areas, wind gusts of 40-70 mph will be possible. These winds, along with low humidity values, will allow any fires that either ignite or are ongoing to quickly spread. Across northern California, elevated fire conditions will continue throughout the day. Even though wind speeds will be on the decrease today, low humidity will allow that fire danger to continue.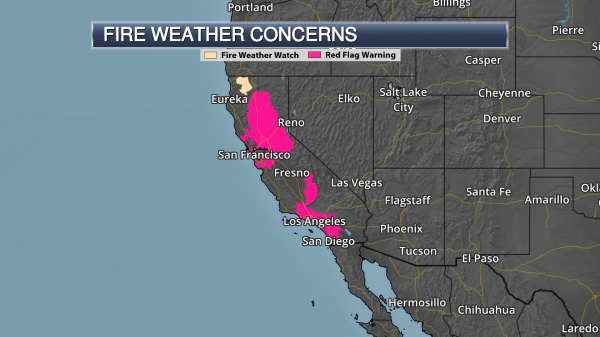 Red Flag Warnings. Due to the expected fire weather conditions, Red Flag Warnings are in effect today across parts of California. Across northern California, they are in effect through the morning hours. In southern California, Red Flag Warnings will continue until 10 PM PST tonight. Meanwhile, in the western Klamath National Forecast, Fire Weather Watches are in effect from Saturdayevening until Sunday afternoon for strong gusty winds and low humidity values.
Los Angeles Area Wind Gusts Today. Wind gusts will easily gust over 40-50 mph, especially east of town near Pomona and Santa Ana. Again, these winds will help any fires that either ignite or are ongoing to quickly spread.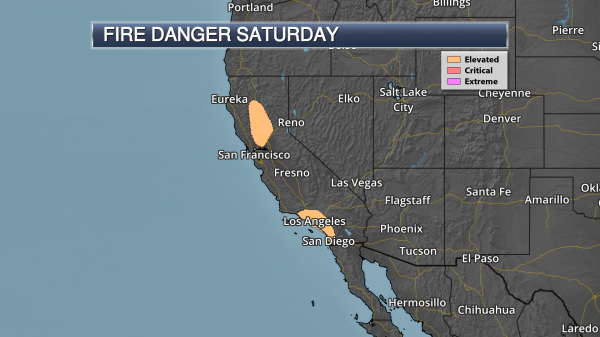 Elevated Fire Risk Saturday. An elevated fire risk will continue Saturday across northern and southern California due to low humidity values and surface winds that could reach 15-20 mph.
Fire Danger Increases Again Sunday & Monday. As we head toward Veterans Day and Monday, wind speeds will start to increase across southern California as high pressure moves south into the Great Basin. With these stronger winds and low humidity values, elevated to critical fire conditions will once again be possible.
D.J. Kayser, Meteorologist, Praedictix
_________________________________________________________________________
3-7 Day Hazard Forecast
1.) Heavy rain from the eastern Gulf coast northeastward across the Southeast, mid-Atlantic, and Northeast, Mon-Tue, Nov 12-13.
2.) Heavy snow across portions of the Great Lakes and interior Northeast, Tue-Wed, Nov 13-14.
3.) Periods of heavy precipitation for south-central and southeastern (including the Panhandle) portions of Alaska, Mon-Fri, Nov 12-16.
4.) Much below normal temperatures shift eastward with time from the Great Plains to the Appalachians, Mon-Tue, Nov 12-13.
5.) Much below normal temperatures for most areas east of a line stretching from the central Great Lakes to the Middle Mississippi Valley to the southern Plains, Wed-Thu, Nov 14-15.
7.) Critical wildfire risk for southern coastal California, Mon, Nov 12.
8.)High Winds for south-central and southeastern (including the Panhandle) portions of Alaska, Mon, Nov 12, and Thu-Fri, Nov 15-16.
9.) High significant wave heights for south-central and southeastern (including the Panhandle) portions of the Alaska coast, Mon, Nov 12, and Thu-Fri, Nov 15-16.
10.) Flooding possible, and occurring/imminent across portions of the Lower Mississippi Valley, the Southern Plains, and the northern mid-Atlantic.
11.) Slight risk of much below normal temperatures for most of the eastern third of the CONUS, the Lower Mississippi Valley, and portions of Texas, Sat-Mon, Nov 17-19.
12.) Moderate risk of much below normal temperatures for the Northeast, Sat-Mon, Nov 17-19.
13.) Severe Drought across the Central Plains, the Central Rockies, the Northeast, the Central Great Basin, the Northern Plains, the Southern Plains, the Northern Great Basin, the Southern Rockies, California, the Northern Rockies, the Alaska Panhandle, the Pacific Northwest, and the Southwest.

____________________________________________________________________________
 Temperature Outlook Saturday - November 10th
High temps on Saturday will be VERY chilly across much of the central US with high temps running well below average. In fact, folks from Minnesota to Texas will be nearly -15F to -20F below average. The only warm spots will be in Florida and California where readings will be above avearge.
_________________________________________________________________________
Temperature Trend
Here's the temperature outlook as we head through the next few days. Note the very chilly blues and purples showing up across much of the nation. These temps will be quite a bit below average and will be more December-like rather than early November. 
8 to 14 Day Temperature Outlook
According to NOAA's CPC, November 16th - 22nd will be warmer than average across much of the western two-thirds of the nation. The only cooler than average spots will be in the Northeast and Alaska.
________________________________________________________________
Weather Outlook Ahead
The storm system responsible for our snow Thursday night/early Friday morning will continue to wrap up over the Great Lakes on Saturday with areas of heavy snow and strong winds. Another clipper will track across the international border with more light snow. At this point, there are no big storms brewing in the Western US. 
___________________________________________________________________
7 Day Precipitation Outlook
According to NOAA's WPC, the 7-day precipitation outlook suggests heavy rains continuing across the Eastern US. Some locations could see upwards of 2" to 4"+ through the end of next week. Folks in the Western half of the country will stay mainly dry expect for folks in the Pacific Northwest.
Snow Potential
Snowfall potential over the next 5 days will be fairly impressive across the high elevations across the Rockies, the Great Lakes and across the high elevations of the Northern New England States. The rest of the Central US will have spits and spats of light snow over the next few days.
_______________________________________________________________________________
US Drought Outlook
Extreme and exceptional drought conditions continue across the western half of the country and especially the Desert Southwest. Much of the eastern two-thirds of the nation remains drought-free with the exception of a few areas.
_______________________________________________________________________
"El Nino is Strengthening"
"We have known for a while that the tropical Pacific was transitioning from a neutral situation (near normal surface and subsurface temperatures in the tropical central/eastern Pacific) to an El Nino (above normal tropical ocean temperatures).  But during the past month, the warming has revved up and we will be officially in an El Nino very soon. And we care about this, because El Ninos tend to make it warmer than normal in the NW with less snow, with the effect stronger as the sea surface temperature warms. Lets  start by looking at the sea surface temperatures for some "official" areas of the tropical Pacific."
____________________________________________________________________________
"The worst storms on Earth are nothing compared to the weather on other planets"
"Sulfuric acid raining from the sky. Epic dust storms raging for months on end. And giant hurricanes that could swallow Earth whole. If you think Earth has some bad weather, think again. Now Mercury has little to no atmosphere, and therefore, no real weather to speak of. But you would feel the full brunt from the most powerful storms in our solar system called coronal mass ejections. These explosive storms form on the Sun and bathe Mercury's surface in high-energy radiation. So if the lack of oxygen and extreme temperatures don't kill you, the radiation certainly will. This isn't as much of a problem on Venus, however. After all, the entire planet is covered with clouds. Bad news is, they're toxic. These clouds rain sulfuric acid that's so corrosive it would eat through your skin on contact. On Mars the surface is rocky and desert-like. So wind can stir up loose soil, creating giant dust devils twice the height of Mt. Everest. But that's nothing compared to the dust storms that sometimes engulf the entire planet for months at a time."
____________________________________________________________________________

"Data From a Dead Satellite Reveals Lost Continents Under Antarctica"
"These gravity images are revolutionizing our ability to study the least understood continent on Earth—Antarctica. The new research, published in Scientific Reports, sheds light on the murky geological history of Antarctica over the past 200 million years, and condenses it in this 24-second animation. The video reconstructs the tectonic fallout of Antarctica splitting from the bygone landmass of Gondwana, which was one subsection of the supercontinent Pangaea. Beginning around 180 million years ago, the core landmasses of Antarctica, India, and Australia broke off from Gondwana, and slowly shifted to their current locations."
_____________________________________________________________________________
"NASA's mission to 'Touch the Sun' just reached its first major milestone with close flyby"
It's been a busy month for the Parker Solar Probe which, if you haven't been keeping track, is currently moving fasterthan any man-made object ever and also closer to the sun than anything humans have ever built. The spacecraft launched a couple of months back, but it's finally ready to do some science, and it just made it first close pass by our Sun, which is obviously cause for celebration. The probe, which will make dozens of passes of the star, achieved its closest distance of this particular loop (called "perihelion") on Monday night. Now, its handlers back on Earth are eagerly awaiting word from the craft so that it can share whatever information it has gathered.
_______________________________________________________________________________
"The Ozone Hole Could Heal in Our Lifetimes, UN Reports"
"When the world gets its act together, it can actually solve big problems. Case in point: The ozone hole, which if everything goes according to plan could be healed up by the 2060s, according to a new report from the United Nations. According to the report, a decades-old international treaty to ban ozone-depleting chemicals has led to their decline and "much more severe ozone depletion in the polar regions has been avoided." There's still work to be done, but this definitely falls into the Good News category. "We're at the turnaround point," Paul Newman, a scientist who helps run NASA's Ozone Watch and chaired the UN report, told Earther. The report is put out every four years, and this is its fifth iteration. It tracks a 1980s-era environmental problem we're still feeling the effects of today. The ozone hole is driven by a number of chemicals that were commonly found in aerosol cans, air conditioners, and refrigerators, called chlorofluorocarbons and hydrochlorofluorocarbons. Those chemicals unleash chlorine in the stratosphere, which in turn can break apart ozone molecules. When that happens, more ultraviolet light from the sun makes it to the surface, increasing the risk of bad things like skin cancer. The problem was particularly noticeable over Antarctica, where an ozone hole began to form each spring."
______________________________________________________________________________
"NASA Video of "Weird Goings-On" in Comet's Tail May Rewrite Comet Science"
"Comet McNaught has been a bright, beautiful mystery since 2007, when a group of stupefied researchers at the Naval Research Laboratory in Washington, D.C., captured it in a satellite image. The earthlings that first spotted the comet were struck by its brightness and its strange configuration. Not only was it so luminous that it was visible during the daytime from some parts of the Earth, but it also sported several long, peacock-feather-like tails. These tails are thought to hold important clues to how planets and moons were formed billions of years ago, but for years, they didn't have all the tools to probe this question further. But that changed this week, when a Ph.D. student in London unraveled the mystery of Comet McNaught. Astrophysicist Karl Battams at the Naval Research Laboratory called it "one of the most beautiful comets we've seen for decades." For all its beauty, however, Comet McNaught had strange patterns in its dust tail, detailed in the video above."

______________________________________________________________________________
Thanks for checking in and don't forget to follow me on Twitter @TNelsonWX