Puddles, but No Heat Waves For This Year's Minnesota State Fair
"Paul, what time will it rain at my exact GPS coordinate? Please be precise." If only the weather worked that way.
Summertime showers are random, spotty and notoriously imprecise. Unlike weather systems from October through April, when precipitation tends to be more widespread, summery "convective" rainfall is often hit or miss. In spite of Doppler radar and amazing supercomputers, we still can't predict, with a high degree of confidence or specificity, if a specific location will get rain at a specific time.
Frustrating? You 'betcha!
Which brings us to the Minnesota State Fair. If you are heading out today, lug along something waterproof. It won't rain all day, but a few hours of showers are likely as a warm frontal boundary bullies its way north. At least it'll be comfortable, with highs in the 70s.
The driest days for people-watching and eating yourself into a fair-weather coma? Saturday, again next Tuesday and Wednesday. T-storms sprout Sunday, with another wave of rain Monday; again late next week.
Regardless, the 7-Day Outlook calls for deep-fried, sugar-coated fun! 
---
Not Quite as Wet. At least for the MSP metro, where the latest NAM model run prints out closer to .25" of rain by tonight. In contrast some 1-2" amounts are expected over northern Minnesota and Wisconsin. Map: pivotalweather.com.
---
---
September Outlook. NOAA NCEP's CFSv2 climate model shows a mild bias for much of the nation next month, with the possible exception of the East Coast.
---
---
Hurricane Lane Edges Closer to Hawaii, Unleashing Potential "Flooding Disaster"
. Jason Samenow reports on the greatest threats facing the island chain at
Capital Weather Gang
: "
Dangerous Category 4 Hurricane Lane is pushing ever closer to the Hawaiian Islands and has already begun unloading excessive amounts of rainfall on the Big Island. Water from both torrential rainfall, exceeding 30 inches in some places, and battering waves, up to 25 feet on the south side of the islands, are likely to pose the biggest threat. The resulting flooding may be devastating. "The slow movement of Lane also greatly increases the threat for prolonged heavy rainfall and extreme rainfall totals," the Central Pacific Hurricane Center, based in Honolulu, said Thursday. "This is expected to lead to life-threatening flash flooding and landslides over all Hawaiian Islands.
..."
Map credit: "
---
Praedictix Briefing: Issued Thursday, August 23rd, 2018:
Hurricane Lane has started to move to the northwest, which will help bring the system dangerously close to the Hawaii Islands over the next two to three days. While some weakening is expected, it is likely to remain a hurricane into the first half of the weekend.
Lane will bring a multitude of threats to Hawaii, including dangerous winds that could top hurricane force, excessive rain that could lead to flash flooding, and large surf along the coast. Already over 13" of rain has been reported on the Big Island, and flash flooding has occurred in Hilo.
Hurricane Warnings are in effect for Hawaii County, Maui County and Oahu. Hurricane Watches are in effect for Kauai.
We are also tracking two tropical systems in the western Pacific – Tropical Storm Soulik and Typhoon Cimaron. Soulik will impact the Korean Peninsula over the next day or so, and Cimaron will make landfall the southern Japan mainland (mainly west of Tokyo).
Hurricane Lane image above: NASA.
---
Lane On Satellite. Lane has been slightly weakening over the past few hours as the system continues to track toward Hawaii. As of the 2 AM HST update from the Central Pacific Hurricane Center, Lane had sustained winds of 130 mph and was moving to the northwest at 7 mph. The eye of Lane was located about 230 miles south-southwest of Kailua-Kona, or about 335 miles south of Honolulu.
---
Heavy Rain Already Falling In Hawaii. Rain bands from Hurricane Lane have already been impacting parts of the Hawaiian Islands. On the Big Island, almost 14" of rain has fallen at the Waiakea Experimental Station in the past 24 hours, with 12.29" at Mountain View and 8.75" at the Hilo airport. This rain has caused flooding in Hilo, with the Bayfront Highway reported closed due to flooding according to the National Weather Service. However, you can see that the eye of Lane is still far south of Hawaii, appearing toward the bottom extent of what the radar can see.
---
Forecast Track. Lane will continue to move somewhat slowly to the north and/or northwest over the next couple days. This motion will continue to bring Hurricane Lane dangerously close to the Hawaiian Islands through the end of the week. By Saturday, a sharp turn to the west should occur, but it is difficult to know exactly when that will occur. It is important to not directly focus on the exact path of the system, as dangerous weather conditions from Lane will extend further out from the center of the storm. Impacts from Lane – including damaging winds, heavy rain, and storm surge - are still expected across all of the main Hawaiian Islands into the weekend. Lane should continue to slowly weaken over the next couple days before rapid weakening occurs into the weekend as upper-level winds increase, helping to disrupt the system.
Here are local county websites which include the latest information on how they are preparing, including any open emergency shelters:
Hawaii County: http://www.hawaiicounty.gov/active-alerts
Maui County: https://www.mauicounty.gov/
Honolulu County: http://www.honolulu.gov/
Kauai County: https://www.kauai.gov/
---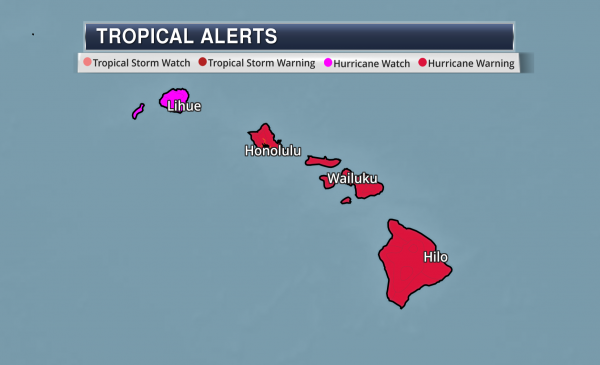 Hurricane Watches and Warnings. Due to the threat of hurricane force winds from Lane, Hurricane Warnings are now in effect for Hawaii County, Maui County and Oahu – including Hilo, Kona, Kahului and Honolulu. Hurricane Watches are in effect for Kauai County including Lihue.
SUMMARY OF WATCHES AND WARNINGS IN EFFECT:
A HURRICANE WARNING IS IN EFFECT FOR...
* OAHU
* MAUI COUNTY...INCLUDING THE ISLANDS OF MAUI... LANAI... MOLOKAI AND KAHOOLAWE
* HAWAII COUNTY
A HURRICANE WATCH IS IN EFFECT FOR...
* KAUAI COUNTY...INCLUDING THE ISLANDS OF KAUAI AND NIIHAU
Local Hurricane Statements: http://forecast.weather.gov/wwamap/wwatxtget.php?cwa=usa&wwa=Hurricane%20Local%20Statement
Local Hurricane Warning Statements: http://forecast.weather.gov/wwamap/wwatxtget.php?cwa=usa&wwa=Hurricane%20Warning
Local Hurricane Watch Statements: http://forecast.weather.gov/wwamap/wwatxtget.php?cwa=usa&wwa=Hurricane%20Watch
---
Most Likely Arrival Of Tropical Storm Force Winds. Tropical storm force winds of 39+ mph will start to reach the Big Island of Hawaii throughout the day as Lane approaches, spreading across Maui County later today and toward Oahu late tonight. Tropical storm force winds will reach Kauai County by Friday night.
---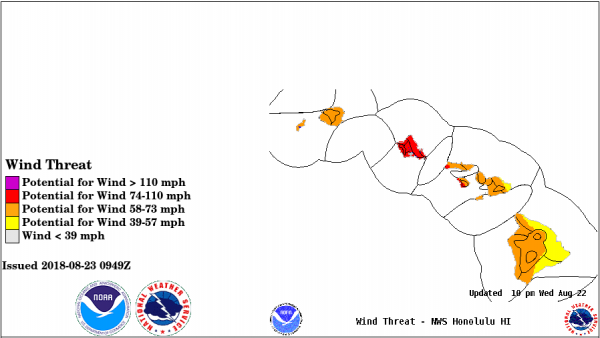 Wind Threat. Right now the greatest threat of hurricane force wind gusts will be across Oahu and far eastern parts of Maui County starting as early as tonight. Some hurricane force wind gusts can't be ruled out across the other islands as well, though the potential is greater to see higher-end tropical storm force winds across these areas. You can view an interactive map of these threats by clicking here.
The Central Pacific Hurricane Center notes in their forecast discussion about Lane that, "Lane will pass dangerously close to the main Hawaiian Islands as a hurricane Thursday and Friday, and is expected to bring damaging winds. These winds can be accelerated over and downslope from elevated terrain, and will be higher in high rise buildings."
---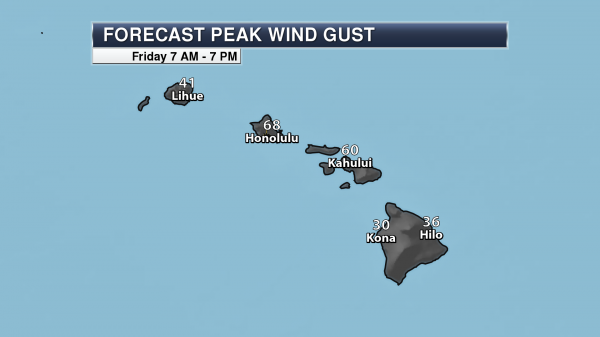 Peak Wind Gusts Friday. The strongest wind gusts as we head into Friday across Hawaii will likely be across Maui County and Oahu, with wind gusts up to at least 60 mph possible for areas like Kahului and Honolulu.
---
Peak Wind Gusts Saturday. As Lane moves east into Saturday, the strongest wind gusts are expected across Kauai County, with wind gusts over 50 mph possible in Lihue.
---
Heavy Rain Threat. Lane will also bring the potential of very heavy rain to the Hawaiian Islands, with the potential of at least 10-20" through Saturday. Some isolated areas could receive 30" of rain. This heavy rain could lead to flash flooding.
---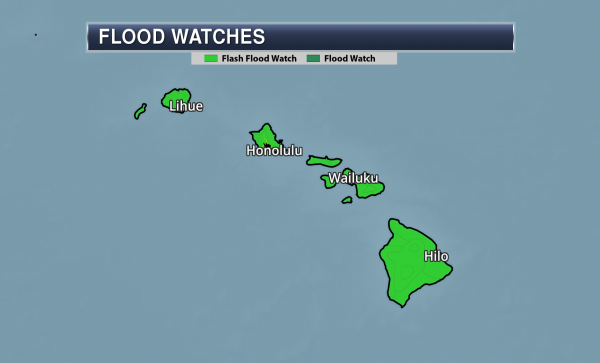 Flash Flood Watches. Due to the threat of heavy rain with Lane, Flash Flood Watches have been issued for all of Hawaii through late Friday Night.
---
Storm Surge Threat. We will also be watching the threat of storm surge flooding. The greatest storm surge threat will be across parts of western Hawaii County and southern Oahu, where storm surge flooding of at least three feet above normally dry ground will be possible. However, most south and west-facing coastlines could see storm surge flooding of at least a foot.
---
Two Tropical Systems In The West Pacific. Over in the western Pacific, we are tracking two tropical systems – Soulik, which will impact South Korea over the next day or so, and Cimaron, which will make landfall in southern mainland Japan soon. As of Thursday morning U.S. time, Tropical Storm Soulik had winds of 70 mph and was moving to the north-northeast at 7 mph. Typhoon Cimaron had winds of 90 mph and was moving to the north at 23 mph.
---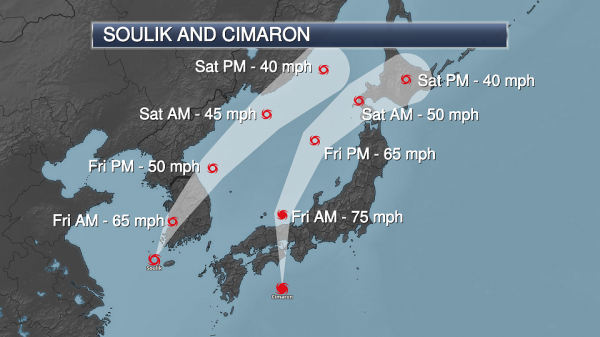 Forecast Path For Soulik And Cimaron. Here's a breakdown of the forecast for these two systems:
Soulik will continue to weaken over the next couple days, bringing damaging wind gusts and flooding rains to South Korea through

Friday

.
Cimaron will continue to move toward southern mainland Japan, making landfall soon with equivalent winds of a Category 1 hurricane. Cimaron will continue to bring the potential of strong winds, heavy rain, and storm surge along with it, but the highest impacts from this system will be west of Tokyo.
Graphic credit: AerisWeather and Praedictix.
---
Forecast Rainfall. Heavy rain will be a threat with these two systems, with areas along the path of the systems potentially picking up 3-12"+ of rain. This could lead to flash flooding and mudslides.
D.J. Kayser, Meteorologist, Praedictix
---
In 1968, Scientists Tried Taming Hurricanes. The experiment didn't yield any significant (positive) results, but an attempt was made to weaken the intensity of these storms, which get their energy from warm ocean water. Here's an excerpt from Science News: "...The goal of the U.S. government's Project Stormfury, which began in the 1960s, was to knock the wind out of tropical cyclones. By injecting clouds with particles of ice-forming silver iodide, researchers hoped they could disrupt the destructive eye wall of such storms. Meteorologists tested only a few hurricanes with this cloud-seeding approach because of strict rules and fickle hurricane seasons. The project shut down in 1983. Although it failed to meet its goal, Stormfury helped scientists improve hurricane forecasting (SN Online: 9/21/17). Researchers have proposed other hurricane-busting methods, such as dispersing sulfate aerosols into the stratosphere to try to cool the planet and reduce the number of hurricanes..."
Photo credit: "Seeding Storms. Although scientists weren't successful in stopping hurricanes through cloud seeding, their research during Project Stormfury proved useful for future hurricane forecasting." Lt. David Cowan/NOAA.
---
Scientists Want to Fly an Armored Warplane Into Hailstorms. Come again? Not sure I'd want to be (beta) pilot for this mission, as reported at Scientific American: "...His remarks came at the start of a three-day conference hosted by the National Center for Atmospheric Research (NCAR) to explore ways to reduce hail damage and to make better forecasts. Methods such as cloud-seeding that could prevent larger storms from forming were also discussed. Andrew Heymsfield, an NCAR senior scientist, said the lab has been in talks with the Navy to procure a surplus Navy A-10 for research missions. Known as the Warthog, the titanium-armored aircraft was used to attack tanks during the Gulf War with a nose-mounted gatling gun. The plane would be fitted with instruments and flown into large forming hailstorms to learn more about the internal workings of the most damaging storms..."
File image: Stars and Stripes.
---
Forecast Calls for More Smoke. Here's the midday Thursday visible (Geo-color) image, showing thick palls of wildfire smoke over the western USA and much of Canada. Image credit: NOAA and AerisWeather.
---
---
Sigh of Relief? Old Farmer's Almanac Predicts Milder Winter for Minnesota
. Here's an excerpt from
Star Tribune
: "...
The almanac says the coldest periods will be in much of December and from late January into February. The snowiest periods will be from mid-November until mid-December, and early and late March. "If this is a typical El Niño winter, odds are most towns will see less snow," Douglas said. "I love snow, and a lot of people do, so my advice is when it does snow this winter, take advantage and don't assume it will stick around indefinitely." Last year, Old Farmer's Almanac said most of the state would be mild and dry, with the southern part being mild and snowy. "It got some parts right and some parts wrong … but even a milder winter can be character building," Douglas said
."
---
Red Hot Planet: This Summer's Punishing and Historic Heat in 7 Maps and Charts. Capital Weather Gang has a good summary; here's a clip: "The headlines of record-crushing heat in the Northern Hemisphere began in June and haven't stopped midway through August. Scores of locations on every continent north of the equator have witnessed their hottest weather in recorded history. The swelter has intensified raging wildfires in western North America, Scandinavia and Siberia, while leading to heat-related deaths in Japan and eastern Canada. Even with the peak of summer having passed, several locations in western North America notched their highest temperatures on record last week. They included Calgary in western Canada and Glacier National Park in Montana, where the temperature touched the century mark for the first time in 70 years of records..."
Image credit: Robert Rohde/Berkeley Earth.
---
The Next Major Innovation in Batteries May Be Here. Because everything (including clean, renewable energy) is being disrupted. Quartz explains: "Lithium-ion batteries were first introduced to the public in a Sony camcorder in 1991. Then they revolutionized our lives. The versatile batteries now power everything from tiny medical implants and smartphones to forklifts and expensive electric cars. And yet, lithium-ion technology still isn't powerful enough to fully displace gasoline-powered cars or cheap enough to solve the big energy-storage problem of solar and wind power. Dave Eaglesham, the CEO of Pellion Technologies, a Massachusetts-based startup, believes his company has made the leap beyond lithium-ion that will bring the battery industry to the next stage of technological disruption. He and his colleagues have accomplished something researchers have been struggling with for decades: they've built a reliable rechargeable lithium-metal battery..."
---
How Microsoft Tackles Russian Hackers - And Why It's Never Enough. A digital game of whack-a-mole, right? Here's an excerpt from WIRED.com: "...Specifically, Microsoft has used a technique known as sinkholing, a way to divert network traffic from its planned destination to a different server. Microsoft combines its broad visibility into its billions of users, and the chops of its internal Digital Crimes Unit, to get a jump on phishing sites like the ones Fancy Bear established, get legal permission to take over those domains, and then send any traffic that heads their way to oblivion instead. "It's not a gimmick, but it's also not an innovation," says David Kennedy, CEO of the threat tracking firm Binary Defense Systems, who formerly worked at the NSA and with the Marine Corps' signal intelligence unit..."
---
Even Teens Are Worried About Too Much Smartphone Use. CNN.com has the story: "More than half of all teenagers think they use their phones too much, according to a Pew Research Center survey released Wednesday. A quarter of teens reported feeling anxious, lonely and upset without their phones. Girls were more likely to report feeling that way.  Screentime and phone addiction have received increasing attention from the companies selling them. Google, Facebook and Apple have created tools to help people cut down on the amount of time they spend using their devices. Doctors and other experts worry that phones, tablets and other screens might affect everything from cognitive development to social skills. The Pew study is the latest in its series of inquiries focusing on kids aged 13 to 17..."
---
Jeff Bezos Banned PowerPoint in Meetings. His Replacement is Brilliant
. Back to basics with story-telling, as reported at
Inc.com
: "...
Anthropologists say when humans gained control of fire, it marked a major milestone in human development. Our ancestors were able to cook food, which was a big plus. But it also had a second benefit. People sat around campfires swapping stories. Stories served as instruction, warning, and inspiration. Recently, I've talked to prominent neuroscientists whose experiments confirm what we've known for centuries: The human brain is wired for story. We process our world in narrative, we talk in narrative and--most important for leadership--people recall and retain information more effectively when it's presented in the form of a story, not bullet points
..."
---
The Life-Changing Benefits of Living with a Random Roommate in College
. Food for thought, courtesy of Q
uartz
: "
Meeting your freshman-year roommate has long been a suspense-filled rite of passage for new college students. But these days, there's a lot less mystery about who you'll be bunking with: Many colleges let students pre-select roommates using Facebook or other matching platforms. Now the trend seems to be undergoing a reversal as colleges recognize the value of randomized roommate assignments. Their reasoning? It's become all too easy to pre-select a roommate online who shares the same religion, political views, class background, or living habits as you. The hope is that random pairings will foster connections between students of different backgrounds, helping to expand their perspectives—which, colleges argue, is what the undergraduate experience is all about
..."
Photo credit: "Everyone has a good freshman year roommate story." REUTERS/Brian Snyder.
---
81 F. high temperature yesterday in the Twin Cities.
80 F. average high on August 23.
77 F. high on August 23, 2017.
August 24, 2006: Tornadoes and large hail strike southern Minnesota. One person died and 37 were injured when a strong tornado began 4 miles west-southwest of Nicollet in Nicollet County, and moved almost due east for 33 miles to near Waterville in Le Sueur County. Many storm chasers captured the tornado on video. The largest hail reported was grapefruit-sized at New Prague in Scott County.
August 24, 1934: Early cool air invades southern Minnesota. Rochester and Fairmont have lows of 34 degrees.
---
FRIDAY: Showers and T-storms likely. Winds: SE 8-13. High: 76
FRIDAY NIGHT: T-showers linger. Low: 66
SATURDAY: Probably the sunnier, drier day of the weekend. Winds: S 5-10. High: 85
SUNDAY: Sticky, few T-storms nearby. Winds: S 7-12. Wake-up: 70. High: 86
MONDAY: More numerous showers & T-storms. Winds: SW 7-12. Wake-up: 72. High: 85
TUESDAY: Intervals of sun, less humid. Winds: W 10-15. Wake-up: 64. High: 77
WEDNESDAY: Mix of clouds & sun, comfortable. Winds: E 5-10. Wake-up: 61. High: 78
THURSDAY: Growing risk of showers and storms. Winds: SE 7-12. Wake-up: 60. High: near 80
---
Climate Stories...
More Hurricanes for Hawaii? Will warming oceans increase the risk for the Hawaiian Island Chain? Here's an excerpt of a study done in 2013, highlighted at EurekAlert: "...In our study, we looked at all tropical cyclones, which range in intensity from tropical storms to full-blown category 5 hurricanes. From 1979 to 2003, both observational records and our model document that only every four years on average did a tropical cyclone come near Hawaii. Our projections for the end of this century show a two-to-three-fold increase for this region," explains Murakami. The main factors responsible for the increase are changes in the large-scale moisture conditions, the flow patterns in the wind, and in surface temperature patterns stemming from global warming. Most hurricanes that might threaten Hawaii now are born in the eastern Pacific, south of the Baja California Peninsula..."
---
Sea Level Rise is Eroding Home Value, and Owners May Not Even Know It. The Washington Post reports: "...Boineau is one of many homeowners on the front lines of society's confrontation with climate change, living in houses where rising sea levels have worsened flooding not just in extreme events like hurricanes, but also heavy rains and even high tides. Now, three studies have found evidence that the threat of higher seas is also undermining coastal property values as home buyers — particularly investors — begin the retreat to higher ground. On a broad scale, the effect is subtle, the studies show. The sea has risen about eight inches since 1900, and the pace is accelerating, with three inches accumulating since 1993, according to a comprehensive federal climate report released last year. Scientists predict the oceans will rise an additional three to seven inches by 2030, and as much as 4.3 feet by 2100...."
---
---
Feeling Sick? You May Have a Case of Climate Change. Some interesting statistics and trends highlighted in a post at HuffPost: "Climate change is, quite literally, making us ill.  The Centers for Disease Control and Prevention reported this spring that diseases from mosquito, flea and tick bites tripled in the U.S. between 2004 and 2016, with more than 640,000 cases seen during that period of time. Maine alone saw a 20-fold increase in cases of the tick-borne illness Lyme disease. The danger showed no sign of abating this year, with ticks crawling into Mainers' lives as early as May.  Their premature arrival was largely a product of warmer temperatures in the region ― temperatures that reflect the broader trend of global climate change. It is perhaps for this reason that Lyme disease—once a regional problem largely confined to New England—has now been detected in all 50 states...."
Graphic credit: CDC. "Disease cases from infected mosquitoes, ticks, and fleas have tripled in 13 years."
---
---
Florida's Red Tide Crisis Shows That Climate Change Isn't Just Dangerous - It's Ugly. Quartz has the story: "All the water birds—pelicans, egrets, cormorants—are gone. Flies swarm the coast of the seaside city of Sarasota, Florida. Crows caw. The air stinks of death. Carpets of fish, belly-up, mouths gaping, line the shore. This is the putrid new world created by a toxic red algae bloom spanning 130 miles of the state's west coast, which has so far killed masses of fish, 12 dolphins, more than 500 manatees, 300 sea turtles, countless horseshoe crabs, a whale shark, and the local economy. The docks behind otherwise desirable condo buildings are surrounded by fish carcasses. The waters of the bay are dotted with them, silver and white, glinting in the hot sun, looking from a distance like the crests of thousands of small waves. At least 100 tons of sea creatures have fallen victim to the toxic bloom known as "red tide..."
Photo credit: "The shore isn't charming anymore." Ephrat Livni.
---
Shipping in The Arctic is Here: Headlines and links courtesy of Climate Nexus: "A Danish company is aiming to become the first to send a cargo vessel through a route in the Arctic. Shipping giant Maersk announced earlier this week that it plans to send a reinforced container ship along Russia's north coast in early September as a test run. As the Arctic warms twice as fast as the rest of the planet and sea ice hit near-record low levels this year, global shipping companies have expressed interest in sending ships through newly-navigable routes to save time. CO2 emissions from international shipping represent about 2.2 to 3 percent of global CO2 emissions, and if left unregulated, emissions could increase by as much as 250 percent by 2050." (Axios, CNN, NPR, The Independent, Fortune, Fox)
---
Arctic's Strongest Sea Breaks Up for First Time on Record. The Guardian and MSN.com have the latest: "The oldest and thickest sea ice in the Arctic has started to break up, opening waters north of Greenland that are normally frozen, even in summer. This phenomenon – which has never been recorded before – has occurred twice this year due to warm winds and a climate-change driven heatwave in the northern hemisphere. One meteorologist described the loss of ice as "scary". Others said it could force scientists to revise their theories about which part of the Arctic will withstand warming the longest. The sea off the north coast of Greenland is normally so frozen that it was referred to, until recently, as "the last ice area" because it was assumed that this would be the final northern holdout against the melting effects of a hotter planet..."
Photo credit: Reuters. "A giant iceberg that has drifted towards an Innaarsuit settlement in west Greenland."
---
---
---
"This is About What We Breathe". Doctors Warn About Health Implications of Climate Change. Here's an excerpt from CBC: "...For the longest time, we were talking about the polar bears and asking people to change their behaviours on behalf of the polar bears," Howard said. "But really, we are seeing very clearly that this is about our children. This is about what we breathe." Some scientists have warned climate change is contributing to the intensity of forest fires with hotter, drier summers creating more extreme fire conditions. "The fires have been getting so much worse recently that the evidence based around smoke is really developing, but there are still some questions that we don't have answers to," Howard told Renee Filippone, guest host of CBC's The Early Edition..."
Photo credit: CBC. "A fire burns at the Pondosy Bay Wilderness Resort near Tweedsmuir, B.C." (Pondosy Bay Wilderness Resort).
---
Most Economic Forecasts Have Blind Spot: Climate Change. A story at Click Orlando caught my eye; here's a clip: "...Climate change is having a real impact, not just on the environment but on the economy too. And a growing body of research by economists and climate scientists shows that extreme weather will weigh on economic growth even more so in the future. But almost no mainstream economic forecasting model takes that into account, in an omission that some economists say could affect the accuracy of economic predictions going forward. The most recent study to quantify the economic impact of the carbon emissions that spur climate change was featured last week in a brief by the Federal Reserve Bank of Richmond. By evaluating the performance of state economies in previous years, the report found that every one-degree increase in average summer temperatures decreases annual state-level output growth by between 0.15 and 0.25 percentage points..."
File image: NASA.
---
Exclusive: Some Arctic Ground No Longer Freezing - Even in Winter. National Geographic has the story; here's a clip: "...Every winter across the Arctic, the top few inches or feet of soil and rich plant matter freezes up before thawing again in summer. Beneath this active layer of ground extending hundreds of feet deeper sits continuously frozen earth called permafrost, which, in places, has stayed frozen for millennia. But in a region where temperatures can dip to 40 degrees below zero Fahrenheit, the Zimovs say unusually high snowfall this year worked like a blanket, trapping excess heat in the ground. They found sections 30 inches deep—soils that typically freeze before Christmas—that had stayed damp and mushy all winter. For the first time in memory, ground that insulates deep Arctic permafrost simply did not freeze in winter..."
Photo credit: "Ground collapses at Duvanny Yar, a permafrost megaslump along the Kolyma River in northern Siberia. New research suggests that some land in Arctic Alaska and Russia may no longer freeze at all. This constantly moving landslide, driven by erosion and sped up by warming temperatures, is an important research site for scientists, who use it to track what happens as carbon-rich land that has been frozen for centuries begins to thaw." Photograph by Katie Orlinsky, National Geographic.