Blog Post by: Paul Douglas
February 20, 2014 - 9:17 PM
Latest WRF Snowfall Predictions. The best chance of 10-12" will be from Mankato and Shakopee into western Hennepin County, closer to 7-10" for the eastern metro. Very plowable. Snow will fall at the rate of 1-2" an hour until 3 AM. Thunder-snow is possible as winds increase to 30-35 mph, creating white-out conditions in open fields in the suburbs and greater Minnesota. Think twice before traveling overnight.
---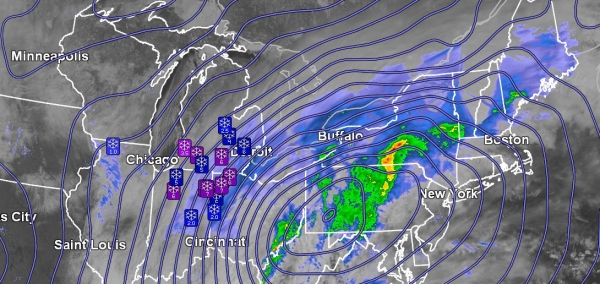 Storm Reports
-89 MPH wind gust just E of Springfield, TN
-Overturned semi on I-65 near Frankfort, IN, leaking propane, closed interstate, per radio reports
-Quarter-sized hail reported at Brookhaven, MS
-Quarter-sized hail in Hiwannee, AL
-Est. 60 MPH wind gust in Advance, IN
-1" hail at Pleasant View, TN
-Funnel cloud spotted in Nashville northern suburbs
-NWS New Orleans says report of a tornado near Magnolia, MS was an error
-More than 35,000 homes without power in Missouri (mostly near St. Louis), 31,000 without power in Illinois
-3,000 homes without power in Rochester, MN
-Golf ball-sized hail in Bowling Green, KY
-65 MPH wind gust Saltillo, AL
-71 MPH wind gust reported in downtown Indianapolis
-75 MPH wind gust at Marion airport, IN
-80 MPH wind gust in Cross Plains, TN
-95 MPH wind gust in Hendersonville, TN (near Nashville)
-Power out in Santa Fe, TN
-Parts of NW side of downtown Nashville have lost power - more than 6,000 in Nashville (number rising)
-More than 2,000 customers without power in northern Hamilton County, IN
-Roof damage reported on the west side of Tipton, IN
-Half-dollar size hail Shelbyville, IN
-One injury in Alton, MO when a utility pole fell on top of their car
---

Confirmed Severe Storm Reports. 118 separate reports of severe wind damage - the strongest wind gust I've seen is 95 mph in Hendersonville, near Nashville. There are 12 confirmed tornado touchdowns, all in Illinois - no reports of major or widespread damage from these tornadoes, at least not yet. NOAA SPC has more details on the outbreak here.
---
Facts
-New tornado watch for New Orleans and southern LA just issued
-About 23 million Americans under a tornado watch right now
-Tornadoes in TN would be first for them of 2014
-NWS Nashville says the cap is eroding, meaning we could be in for a long night:
https://www.facebook.com/US.NationalWeatherService.Nashville.gov/posts/598987156844239
---

Tornado Watches Currently In Effect. The threat of (isolated) tornadoes remains thru roughly midnight, especially southeastern Indiana and Kentucky. The atmosphere stabilizes later tonight and the squall line will begin to weaken.
Snow totals:
Twin Cities: 5-6" (snowing at the rate of 1"/hour)
Goodhue, MN: 8"
Manly, IA: 7.5"
Plainview, MN: 7.5"
Austin, MN: 7"
Albert Lea, MN: 6.8"
Grand Meadow, MN: 10"
Flights:
-About 900 cancellations nationwide, mostly at O'Hare (36% of flights delayed), Midway (29% cancelled) and MSP (26% of flights delayed/cancelled)
---
Paul Douglas - Senior Meteorologist - Alerts Broadcaster

© 2018 Star Tribune