Shifting Gears - First Thaw in 3 Weeks Arrives Next Week
Blog Post by: Paul Douglas
February 14, 2014 - 11:41 PM
Olympic Daydreams
I wonder if I'd get any points from Olympic judges for just skating in a sloppy circle, waving at the crowd? Better yet, pick a person at random from the stands to "compete" in each event. For some perspective. It's a wonder I'm not in charge of programming at NBC Sports.
We've had our own Winter Games: 44 subzero nights - most since 1981-82; coming off a stretch of 17 subzero nights in a row. That's the 8th longest subzero streak in Twin Cities climate records, according to Dr. Mark Seeley.
Since 2010 I've been telling you that something has changed with the jet stream. It may be related to summer ice melt in the Arctic (too early to know) - but the weather, increasingly, is getting stuck. The same persistent block responsible for our stubborn Polar Vortex is creating historic drought across California and strafing Britain with a parade of record floods.
A weak clipper may brush us with an inch of snow today; a few more inches Monday - again next Thursday. By the middle of next week highs approach 40F.
There is hope in the extended outlook.
It could always be worse. Chicago has picked up 62 inches of snow this winter. Central Park (New York City) is up to 54". Here in the Twin Cities? A mere 40.4 inches...and counting.
---
* 88% of the Great Lakes are ice-covered, the most since 1994, when 94% of the lakes were frozen. Details here.
---
Additional Snowfall By Tuesday Morning. A dusting or coating is possible today, with a better chance of an inch or two of snow Sunday night into Monday morning - heavier amounts closer to Dubuque, Madison and Green Bay. Grand Marais may pick up as much as 8" of snow. NAM guidance: NOAA and Ham Weather.
---
Ring The Church Bells. The last time the Twin Cities saw freezing? 34F on January 29. We're due for a thaw, and it's coming next week, with 3 days above freezing, followed by a slight cooling trend the end of next week. A higher sun angle is (finally) starting to show up on the weather maps. Graph: Weatherspark.
---
Below Zero Nights Ending? We can only hope and pray. Here's an excerpt from Dr. Mark Seeley's latest edition of Minnesota WeatherTalk: "For the Twin Cities the count of nights with 0 degrees F or lower temperatures stands at 44 for the current winter season (since December 1st), the most since the winter of 1981-1982. A string of 17 consecutive days with minimum temperatures of 0 degrees F or lower was observed from January 26 to February 11, the 8th longest such streak in the Twin Cities climate records...Some other counts of days with 0 degrees F or colder this winter for other cities include:
St Cloud 52 days (most since 1981-1982)
Duluth 58 days (most since 1964-1965)
Rochester 42 days (most since 1978-1979)
International Falls 65 days (most since 2008-2009)..."
---
Days At Or Below Zero In The Twin Cities. More perspective on subzero fun at MSP from the Minnesota DNR; here's an excerpt: "...How does the winter of 2013-14 stack up for counts of minimum temperatures at or below zero in the Twin Cities? As of February 11, there have been 44 minimum temperatures of zero or colder: 13 in December, 20 in January and 11 so far in February..."
---
Frost And Thaw Depths. How bad will spring flooding be? It depends on many factors, including the rate of warming, and whether (heavy) rain accompanies the inevitable warm fronts to come. That, and the depth of the ground frost. Until we lose frost from the ground rain and melting snow will be unable to soak into topsoil. With this year's persistent chill the ground frost is unusually deep, over 70" deep in Otsego (Wright County). Thanks to MnDOT for providing this link to check out frost depth close to home.
---
Roses In Bloom Across Germany. A relative near Cologne, Germany sent me this photo of her prize roses, now in full bloom. In mid-February. Yes, highly unusual. Eva Fels-Huber writes:
"We are still waiting for winter to arrive. We had springlike temperatures since December, 10-12C every day. The birds are singing; my roses started blooming in mid-January."
Highs have been in the 50s in recent weeks. My father, who translated the e-mail for me, points out that roses bloom after crocus, tulips, and daffodils. The Symphony of the Seasons is seriously messed up. Springlike weather in Sochi for the (alleged) Winter Olympics, while the Polar Vortex stalls over the northern USA. Biblical flooding in Britain while California wilts during historic drought. The Winter of All or nothing.
---
Alerts Broadcaster Briefing: Issued Saturday night, February 14, 2014.
* Computer guidance showing a growing potential for blizzard or near-blizzard conditions for Boston and Cape Cod late Saturday and Saturday night, with sustained winds of 30-40 mph producing white-out conditions.
* 6-10" of additional snow likely in the Boston area, over 1 foot for Cape Cod with significant blowing and drifting, peaking Saturday night.
* New York City may pick up about 2" of snow from this coastal storm Saturday; heavier amounts over Pennsylvania and upstate New York.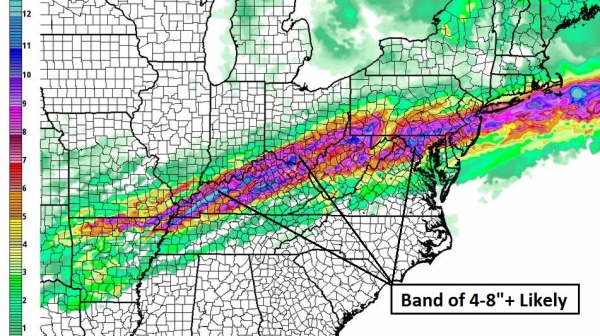 Additional Snowfall. Our models show the brunt of the next Nor'easter staying out to sea, just clipping Boston and Cape Cod with heavy snow and strong winds. Conditions will deteriorate as the day goes Saturday in the Boston area; the worst travel conditions coming Saturday night. Map: NOAA and Ham Weather.
---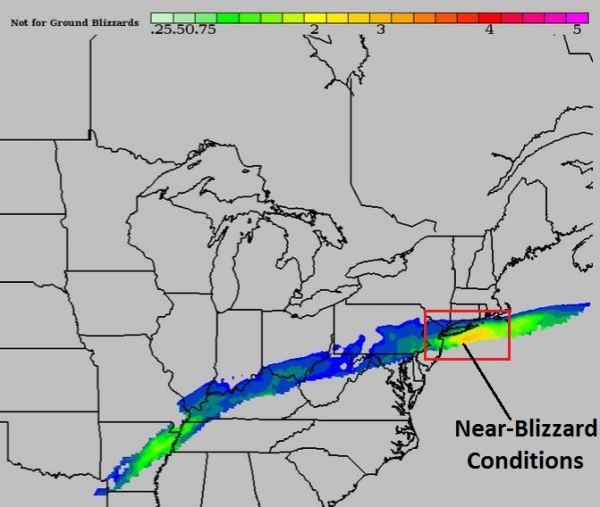 Blizzard Potential: 9 PM Saturday Evening. Our internal BPI models show a strong probability of blizzard conditions from Concord and Peabody into metro Boston, conditions become progressively worse the closer you get to Cape Cod, where white-out conditions are likely Saturday night.
Summary: Although the brunt of the next coastal storm will remain just offshore, there's growing confidence in a forecast of hazardous to treacherous winter conditions from near Providence to Boston Saturday PM and nighttime hours. I expect delays and cancellations at Boston Logan, especially after 3 PM ET Saturday. Conditions improve during the day Sunday as snow tapers and winds begin to ease.
Paul Douglas - Senior Meteorologist - Alerts Broadcaster
---
Snowy Perspective. The meteorologists at WeatherNation TV have compiled some interesting (and at times jaw-dropping) stats about the recent East Coast storm, and the extent of winter disruption. Image above: NOAA.
Roanoke, VA:
19"- biggest 24-hour snowfall in 18 years
Third-biggest snowfall recorded
Blacksburg, VA:
20.1"- 3rd-snowiest snowfall recorded
Philadelphia, PA:
4th 6"-plus
5th snowiest season on record already!
Central Park, NYC:
54" so far this season, now 9th snowiest season on record
Minneapolis averages 54" for the season, has 40.4" so far this year.
Baltimore:
Set single-day precip/liquid equivalent total with 1.77"
A Real Winter

- This winter has led to the most flight cancellations in 25 years
- More than 75,000 flights have been cancelled since Dec. 1 (about 5.5% of flights)
- Includes 14,000 flights cancelled this week alone
---
Winter-Cane. Although this week's ice and snow storm didn't produce as much structural damage as a hurricane, if you look at economic losses related to the wintry smack damage will probably be equivalent to a moderate hurricane hitting a populated coastal region of the USA; one weather analyst at Planalytics estimates $15 billion in economic losses. That, and the the fact that New York City has picked up considerably more snow than the Twin Cities, Denver and Anchorage (!) is the subject of today's Climate Matters: "WeatherNationTV Chief Meteorologist looks at the details and impacts of the winter storm that impacted everything from Texas to Maine. We've seen the pictures of the damage, but what happened? 75,000 flights cancelled this winter and find out which places are WAY above normal for snowfall."
---
Snow On The Ground In Portions Of 49 States. Only Florida is entirely snow-free. That's comforting. USA Today has the story; here's a clip: "Snow is on the ground in 49 out of the 50 states — only the Sunshine State of Florida is completely snow-free, according to a map produced Thursday morning by the National Oceanic and Atmospheric Administration. (This doesn't mean that those 49 states are snow-covered, of course, only that some part of each state has snow.)..."
---
Warm Weather Leaves You In The Mood To Buy. No kidding. And we tend to attach a higher price/value to objects when it's warm outside. Confirming what may just be good old fashioned common sense, here's a clip from The Journal of Consumer Psychology at sciencedirect.com. What, you don't skim this from time to time? "A series of five field and laboratory studies reveal a temperature-premium effect: warm temperatures increase individuals' valuation of products. We demonstrate the effect across a variety of products using different approaches to measure or manipulate physical warmth and different assessments of product valuation. The studies suggest that exposure to physical warmth activates the concept of emotional warmth, eliciting positive reactions and increasing product valuation. Further supporting the causal role of emotional warmth, and following prior research relating greater positive feelings to reduced distance, we find that warm temperatures also reduce individuals' perceived distance from the target products..."
---
Auroras For Valentine's Day? More activity on the sun - no promises (there never are), but here's a clip from spaceweather.com: "Three CMEs are heading for Earth. Individually they are minor clouds. However, by striking Earths magnetic field in quick succession on Feb 14-15, they could cause significant geomagnetic activity around the poles. High latitude skywatchers should be alert for auroras on Valentines Day when NOAA forecasters estimate a 60% chance of geomagnetic storms..."
---
El Nino May Make 2104 The Hottest Year On Record. New Scientist has the article; here's the introduction: "Hold onto your ice lollies. Long-term weather forecasts are suggesting 2014 might be the hottest year since records began. That's because climate bad-boy El Niño seems to be getting ready to spew heat into the atmosphere. An El Niño occurs when warm water buried below the surface of the Pacific rises up and spreads along the equator towards America. For nine months or more it brings rain and flooding to areas around Peru and Ecuador, and drought and fires to Indonesia and Australia. It is part of a cycle called the El Niño-Southern Oscillation..."
* NOAA NCEP's latest ENSO discussion is here.
---
Flood Simple: The U.K. Flooding Crisis Explained. I thought The Guardian did a very good job explaining why the wettest winter in 250 years across much of Britain is creating so much chaos and devastation; here's an excerpt: "Rainfall which in many areas has been twice the average for January and February has left large parts of southern England under water. What causes the unusual weather, why is the country so ill-prepared, and what will be the political effect of 2014's watery winter?..."
Photo credit above: "Flood waters inundate the area as one house stands alone near the flooded village of Moorland in Somerset, southwest England, Thursday Feb. 13, 2014. The house is owned by Sam Notaro, who has built his own levee to hold back the flood waters, as the local communities face further misery in the coming days with heavy rain, wind and snow predicted to sweep across Britain." (AP Photo/Steve Parsons, PA)
---
U.K Floods: How Bad Have These Floods Been? Although much of Britain has experienced the most winter rain in the last 250 years, previous years have seen even worse flooding across the United Kingdom. The BBC provides perspective; here's an excerpt: "...Clearly, the bad weather is not yet over, but so far the Environment Agency says that since the beginning of December, 5,800 homes and businesses have flooded. As devastating as flooding is for residents, from a statistical point of view the national scale of the damage is, so far, relatively limited. In the summer floods in 2007, 48,461 homes were flooded and 6,896 businesses, according to the Environment Agency..."
---
The Dust Bowl Returns. With California entering the third year of an historic drought, and precious little rain or snow this winter season, the stage is set for a year of extreme drought, water shortages and record wildfires out west. Here's a clip from a story at The New York Times: "...Experts offer dire warnings. The current drought has already eclipsed previous water crises, like the one in 1977, which a meteorologist friend, translating into language we understand as historians, likened to the "Great Depression" of droughts. Most Californians depend on the Sierra Nevada for their water supply, but the snowpack there was just 15 percent of normal in early February. And the dry conditions are likely to make the polluted air in the Central Valley — which contributes to high rates of asthma and the spread of Valley Fever, a potentially fatal airborne fungus — even worse. The current crisis raises the obvious question: How long can we continue to grow a third of the nation's fruit and vegetables?.."
Photo credit above: "A sercret service agent looks over a farm field as President Barack Obama speaks to the media on California's drought situation Friday, Feb. 14, 2014 in Los Banos, Calif. Farmers in California's drought-stricken Central Valley said the financial assistance President Barack Obama delivered on his visit Friday does not get to the heart of California's long-term water problems." (AP Photo/Los Angeles Times, Wally Skalij, Pool).
---
This Is What The World's Largest Solar Plant Looks Like When It's Catching Rays. The Verge has the story - here's an excerpt: "A massive solar plant in the Mojave Desert officially began operation today after years of construction, testing, and development. Co-owned by NRG Energy, BrightSource Energy, and Google, the Ivanpah Solar Electric Generating System is said to be ready to generate nearly 30 percent of all solar thermal energy produced in the United States. The plant consists of three 459-foot tall towers each with tens of thousands of robotic, garage-door sized mirrors that angle sunlight toward a water boiler sitting atop them..."
All images credit of BrightSource Energy.
---
From The Desk Of A Former FCC Commissioner. Will the pending Comcast - Time Warner merger be a good thing for consumers? The big get bigger, which seems to be the way of the world. Here's an excerpt of an interesting take from a former FCC Commissioner at Columbia Journalism Review: "...So instead of making good things happen, I would be spending untold hours listening to big media tell me how their latest merger proposal would translate into enormous "efficiencies" and "economies of scale" to produce more and better news. Meanwhile, everywhere I looked, I saw newsrooms like yours being shuttered or drastically downsized, reporters getting the axe, and investigative journalism hanging by the most slender of threads. Instead of expanding news, the conglomerates cut the muscle out of deep-dive reporting and disinvested in you..."
---
Still Mad As Hell. Remember Howard Beale in the movie "Network"? We're so far beyond that now. An Op-Ed from Maureen Dowd at The New York Times resonated with me; here's an excerpt: "...What would Paddy rant about the viral, often venomous world of the Internet, Twitter and cable news, where fake rage is all the rage all the time, bleeding over into a Congress that chooses antagonism over accomplishment, no over yes? What would he think of ominous corporate "synergy" run amok, where "news" seamlessly blends into promotion, where it's frighteningly easy for corporate commercial interests to dictate editorial content?..."
---
The Ice Desk: It's What Stations Are Wearing This Winter. At least NBC affiliates. If you've been admiring KARE's Ice Desk (in honor of the Winter Olympics) feast your eyes on what other stations are doing around the USA, courtesy of TVSpy: "It seems a historical record of sorts is being created of what appears to be the recent trend of stations sending their anchors out into the freezing cold to report the news from behind desks made of ice. With thanks to Poynter and TVSpy rival FTVLive, we cobbled together our own list of stations jumping on the ice trend..." (Photo: WJAR-TV in Providence).
---
In The Digital Age, Breaking Up Is Hard To Do. Because the Internet (and Facebook specifically) has a long, long memory. Here's an excerpt from a cautionary tale at The Los Angeles Times: "It's Valentine's Day, and I'm not celebrating. A few weeks ago my fiancee and I broke up. It was a difficult breakup, so I immediately stopped following her on Facebook, Twitter and Instagram, and deleted her name from my iPhone address book. I thought that would be enough to disconnect her from my digital life. But I'm finding out — as many others have in the age of smartphones and social networks — that connecting is easy, but severing ties online is nearly impossible..."
---
Death To Cupid. Love Is Not "All You Need". Far From It. New Republic has the cheerful story, a powerful antidote to all those dopey Hallmark cards you've gotten over the years. Here's a clip: "...Nineteenth-century German philosopher Arthur Schopenhauer believed that "love is an illusion like no other; it will induce a man to sacrifice everything he possesses in the world, in order to obtain this woman, who in reality will satisfy him no more than any other"—but it's an essential illusion, tricking a man into thinking he's acting in his own interest when, in fact, he's helping preserve the species..."
---
32 Famous People Rejected By Saturday Night Live. I found this nugget interesting, courtesy of Mental Floss. Here's a clip: "The 39-year history of Saturday Night Live is littered with thousands of sketches, hundreds of guest hosts, and even more Not Ready for Prime Time Player wannabes—some more memorable than others. In fact, the list of now-famous folks who auditioned and were denied access to a permanent spot in 30 Rock's Studio 8H is long enough to fill multiple casts on their own..." (Image above: NBC).
---
A big event, Sizzle For A Cause, is coming Thursday Feb. 20th from 6:30-9:30 p.m. at Bayview Event Center in Excelsior. This Iron Chef style competition will feature five Minnetonka area restaurants. Enjoy live music, delicious appetizers, wine, beer or cocktails. I'm honored to be a returning judge, along with Mrs. Minnesota Tara Malone Mulkey, Lifestyle Expert Ross Sveback, Natalie Hagemo Host at MY TALK 107.1 and WCCO Host Mike Woodley. The event benefits the ICA Food Shelf. It's going to be sizzling HOT! Get your tickets fast at: icasizzle.eventbrite.com ….or, for more info: www.facebook.com/sizzle2014,
Here's a YouTube clip of the event. I had a blast participating last year - hope you can stop by and make an appearance, supporting a very good cause, the ICA Food Shelf: http://youtu.be/GqwGOB8A14E
---
---
16 F. high in the Twin Cities Friday.
29 F. average high on February 14.
34 F. high on February 14, 2013.
13" snow on the ground in the Twin Cities.
40.4" snowfall so far this winter at KMSP.
---
TODAY: Dusting or coating of light snow and flurries. Winds: SE 10-15. High: 20
SATURDAY NIGHT: Flurries taper, a few slick spots. Low: 8
SUNDAY: Partly sunny, not subzero. High: 24
SUNDAY NIGHT: More light snow arrives - roads may be slick for the Monday AM commute. Low: 20
MONDAY: A few inches of additional snow? Potentially plowable. High: 26
TUESDAY: Patchy clouds, turning milder. Wake-up: 24. High: 36
WEDNESDAY: Hints of March. Clouds increase. Wake-up: 21. High: 38
THURSDAY: More accumulating snow/ice. A few inches of slushy snow possible. Wake-up: 31. High: 34
FRIDAY: Colder with intervals of sun, better travel day. Wake-up: 15. High: 26
---
Climate Stories...
The End Of Snow? Just in case you missed this article in the Sunday New York Times; here's an excerpt: "...The planet has warmed 1.4 degrees Fahrenheit since the 1800s, and as a result, snow is melting. In the last 47 years, a million square miles of spring snow cover has disappeared from the Northern Hemisphere. Europe has lost half of its Alpine glacial ice since the 1850s, and if climate change is not reined in, two-thirds of European ski resorts will be likely to close by 2100. The same could happen in the United States, where in the Northeast, more than half of the 103 ski resorts may no longer be viable in 30 years because of warmer winters..."
Photo credit above: "Slopes were closed last month at Fichtelberg mountain in Oberwiesenthal, Germany." Jan Woitas/European Pressphoto Agency.
---
Global Warming, Winter Weather And The Olympics - Five Leading Climate Scientists Weigh In. Is there a connection between "global weirding" and what's happening in the Arctic during the summer months? Here's an excerpt from Andy Revkin at The New York Times: "...The research linking summertime Arctic sea ice with wintertime climate over temperate latitudes deserves a fair hearing. But to make it the centerpiece of the public discourse on global warming is inappropriate and a distraction. Even in a warming climate, we could experience an extraordinary run of cold winters, but harsher winters in future decades are not among the most likely nor the most serious consequences of global warming..."
Photo credit above: "Visitors to the Olympic Park enjoy the warm weather at the 2014 Winter Olympics, Friday, Feb. 14, 2014, in Sochi, Russia." (AP Photo/David J. Phillip).
---
The Gravitational Pull Of Planet Carbon. Can we eventually wean ourselves off our global addiction to carbon-based fuels? An epic question, and I'm still cautiously optimistic that the markets will come up with cleaner, cost-effective alternatives in the years to come. If we can save money AND clean up the air in the process it becomes a win-win proposition. Here's an excerpt from Huffington Post: "...In the past few years, the ever more widespread use of new extractive technologies -- notably hydraulic fracturing (to exploit shale deposits) and steam-assisted gravity drainage (for tar sands) -- has led to a significant increase in fossil fuel production, especially in North America. This has left in the dust the likelihood of an imminent "peak" in global oil and gas output and introduced an alternative narrative -- much promoted by the energy industry and its boosters -- of unlimited energy supplies that will last into the distant future..."
© 2018 Star Tribune