Time for annual 'running of the bulls' on your favorite bluegill lake
Blog Post by: Ron Hustvedt
June 25, 2011 - 4:55 PM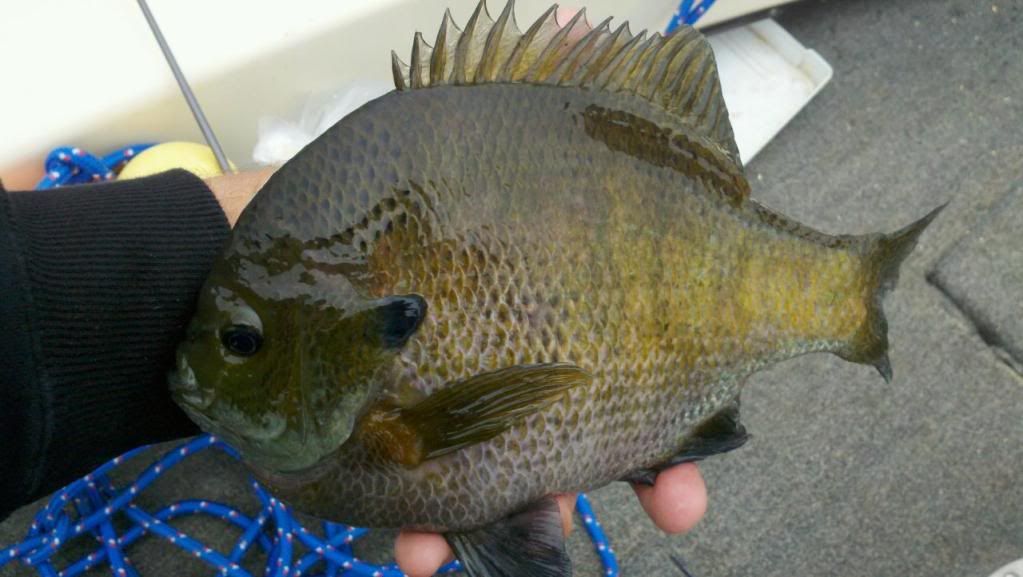 Some people don't like it when bass are called "bucketmouths" or muskies are called "water tigers" but that's a different argument for a different day. Those same folks might not like it that big bluegills are called "bulls" but I know how to change their mind.
Let them hook into one and try to battle it.
Big bluegills defy the term "panfish" because they exceed the size of your average pan. I'm talking trophy fish in the 10-inch and above range. The kind of bluegill that has a big bump on its head and looks almost freakish compared to the small ones that tend to hang out at every dock in the summertime.
"When these massive creatures turn sideways after a solid hook set, the term "bull" makes complete sense," said Bryan "Beef" Sathre of Fathead Guide Service in the Bemidji and Cass Lake area. Sathre is a bluegill trophy hunter who loves to tie into big bluegill, wrestle with them for awhile, snap a quick photo, then watch it swim away to fight another day.
"Pound for pound, bluegills are the toughest fish in the freshwater world. I tied into one the other day and swore I'd hooked into a pike until I got it closer to the boat," he said.
Right now is one of the best times around for catching big bluegill, Sathre said. That's because this is the time of the year when they are sitting on their beds and are extremely aggressive. It's also the time of the year when they are at their most vulnerable state.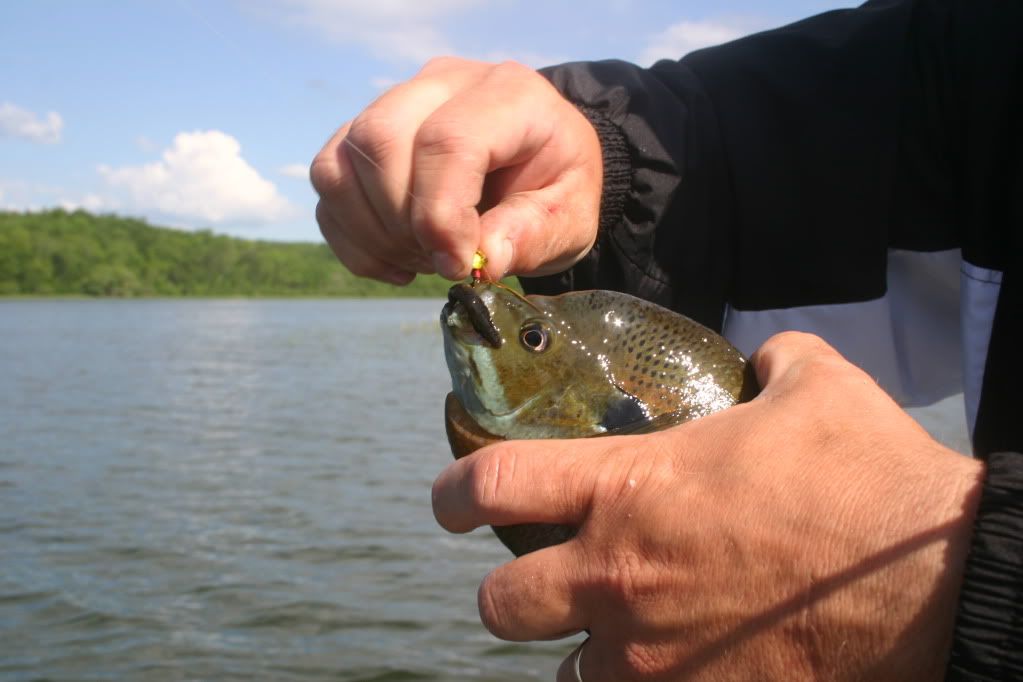 For that reason, if you go after these bull bluegills, please be sure to practice catch-photo-release. "If you want a meal of sweet-tasting bluegill fillets then keep a few smaller ones for the frying pan. Anything 10-inches or larger should quickly be released in my boat. It's a good rule to consider in yours too," Sathre urged.
He fishes for them like they do for tarpon in coastal areas, "We're sight fishing a lot of these bluegill locations. What I look for are transition points in the bottom in shallow bays and flats. My Costa del Mar polarized sunglasses help me find their nests that stand out as sandy holes." This is the result of the bluegill fanning out a nest that they guard very vigorously.
Another fantastic location is in the six to eight foot emerging cabbage beds or reeds adjacent to this deeper water. This is where they stage before spawning and hangout as they recover and is a fantastic secondary location.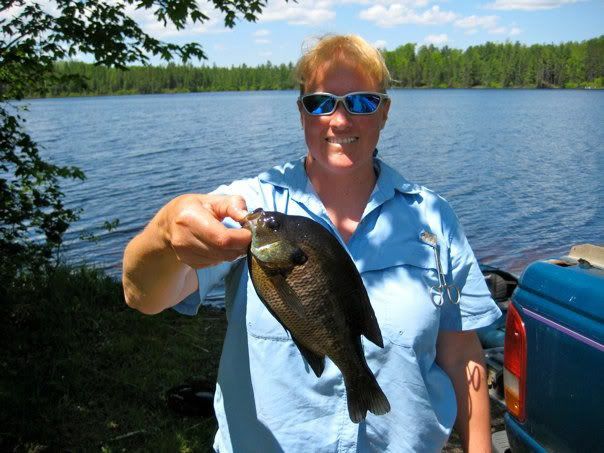 "I'll move in with the trolling motor until I'm 20 to 30 feet away and then cast to them with a slip bobber and small jig tipped with a waxworm or panfish leech. An ultra-light rod makes everything so much more fun and I really like the castability of the Bionic panfish line in four-pound test. It has low visibility but is strong enough to handle the largemouth, smallmouth, crappie, perch, pike and rock bass that are bound to hit your lure in these locations," Sathre said.
For lure selection, Sathre said he likes a 1/16th to 1/32nd firefly minnow or small jig. "If it's windy I'll go with the larger size. You don't have to worry about spooking them with the cast or getting right on top of them. Get it close and they'll come to you," he said.
Another great tactic is to go baitless and throw panfish Slurpies tubes on a float system. Case it up there, let the jig sink, reel it in a few feet, wait for the jig to catch up, pause, and repeat the process.
"Super pro bobbers from Northland Tackle do a great job in all conditions. If it's windy then I use the weighted bobbers. Either way, balance the bobber so that you can detect a subtle bite. The other day I had it so my bobber was barely above the water making for very little resistance once a bluegill hit my jig," he said.
Where does Sathre pursue these massive bluegill? Most anywhere in the state has the potential for big bluegill waters. Around the metro they are a well guarded secret but go ahead and try asking your local baitshop. Lake Minnetonka or Waconia might be the best bed in the west metro while Bald Eagle Lake and the Mississippi River backwaters might be the best choice in the east metro.
"In my neck of the woods up here in Bemidji I like lakes such as Turtle River, Rabideau, Grace, Wolf, Andrusia, Grant, Irving and Blackduck," Sathre said.
Just remember to catch-photo-release these trophies so they can continue to raise the next generation of bulls.
© 2018 Star Tribune