When Weather Stalls Bad Things Often Result

There's an angle to the Hurricane Harvey story that has been under-reported. The only way you can get 50 inches of rain crippling a major U.S. city is if a storm stalls for an extended period of time. Most hurricanes move at 15-30 mph, all hell breaks loose for 12-18 hours, and then skies clear and it dries up. Not with Harvey, which will wobble over the same waterlogged counties for nearly a WEEK.
I've said it before, I'll say it again: when weather patterns stall, bad things happen. A blocking pattern forced "Sandy" into New Jersey in October, 2012. Weather holding patterns are blamed for California drought, Russian fires and deadly European heat. And 30" of snow here! (Halloween Super-storm of 1991). A symptom of climate change? More research is required, but there may be a link.
No complaints today, but a few showers may pop up late Wednesday and Thursday. Stronger T-storms may bubble up over the weekend - at least daytime highs reach the 80s both days. Soak up any warmth, because models show a blustery taste of autumn after Labor Day.
An early winter? Don't bet on it.
---
Photo credit above: DoubleHorn Photography.
---
Staggering Amounts of Water. From Phil Newell at Climate Signals: "Parts of Houston saw over two feet of rain in 24 hours, as the entire metropolitan Houston region is flooding. At least five people have died, and on Sunday there was a two and a half hour wait for 911 assistance. At least nine trillion gallons of water have fallen on Texas, with an additional five to 10 trillion gallons to come over the week - up to 50 inches of rain, meaning some areas will get a year's worth of rain in a week. According to the National Weather Service, "This event is unprecedented & all impacts are unknown & beyond anything experienced..."
---
* Check out the entire (amazing) 1:06 minute loop of Harvey; the persistence of feeder bands pumping a firehose of moisture into the Houston area is staggering. 2-minute MRMS radar data (which includes FAA, mobile and even commercial television station radar data) is included in this loop of Harvey, courtesy of AerisWeather.
---
---
From Politico Playbook: FEMA Director Says Harvey is Probably the Worst Disaster in Texas History by WaPo's Joel Achenbach and Lisa Rein: "The disaster Hurricane Harvey - now a tropical storm - has created is immense in scale, encompassing thousands of square miles of Southeast Texas. It has brought epic flooding that will affect millions of people. Rivers are still rising, the rain still falling. 'This will be a devastating disaster, probably the worst disaster the state's seen,' William 'Brock' Long, administrator of the Federal Emergency Management Agency, told The Washington Post on Sunday. 'The recovery to this event is going to last many years to be able to help Texas and the people impacted by this event achieve a new normal.'" http://wapo.st/2xFfizz
Photo credit: NASA, International Space Station.
---
---
Houston's Hospitals Treat Storm Victims and Become Victims Themselves. The New York Times reports.
---
Adding Atmospheric Insult to Meteorological Injury. As if a Category 4 hurricane wasn't bad enough, Harvey has stalled for the better part of 4 days, sandwiched between two high pressure bubbles that are nearly stationary. The storm has nowhere to go, so it creeps along, all the time funneling moisture from the Gulf of Mexico into southeastern Texas. Map credit: Los Angeles Times.
---
Unbelievable. Harvey's core moved out over the warm waters of the Gulf of Mexico late yesterday, and that means another surge of heavy rain for southeastern Texas today and Wednesday before conditions finally start to dry out during the day Thursday. Another 10-20" of rain may fall, on top of the 3 feet of rain that's already fallen. You can also see "Irma" pushing across the Carolinas and then (mercifully) pushing out into the Atlantic as it strengthens into a hurricane. 84-hour NAM guidance: NOAA and Tropicaltidbits.com.
---
Houston Orders First Evacuations, Days After It Told People to Stay for Harvey. The hard reality: you can't move 6-7 million people; even if you had weeks to evacuate it would be a logistics nightmare. Hurricane Rita proved that back in 2008. Here's an excerpt from Daily Beast: "...Now it's too late to leave the city, with almost every roadway in and out closed. Even Sanchez admitted as much on Twitter: "I can keep telling you to stay put, but the reality is YOU CAN'T GET ANYWHERE RIGHT NOW." More than 250 highways in Texas are closed, Abbott said. Turner defended the decision not to evacuate Sunday, saying, "You can't put 6.5 million people on the roads," referring to the population of the metro Houston area. Kathleen Blanco, who was Louisiana's governor during Hurricane Katrina, told The Daily Beast on Sunday that an advanced plan on how to evacuate the most susceptible to flooding is what was needed..."
---
Fatalities in the United States from Atlantic Tropical Cyclones. Edward Rappaport studied tropical systems in the Atlantic basin from 1963 to 2012 and discovered that 3 out of 4 deaths were related to storm surge and inland flooding. Check out his paper at the American Meteorological Society.
---
---
Harvey Has Broken Records on Tornado Warnings Every Day So Far. Conditions have been ripe with the severe feeder bands of moisture sweeping in off the Gulf of Mexico, with sufficient low-level wind shear for relatively small, brief tornadoes. Over 150 tornado warnings and counting. Here's an excerpt from HuffPost: "...Houston is seeing a record-breaking number of tornado warnings each day, based on records since 1996 from the Iowa Environmental Mesonet database. The warnings have broken the previous day's number since the storm hit land on Friday. Meteorologist Daryl Herzmann says the number of warnings given by the National Weather Service are the most noted in any reliable record for the Houston area to date.  "The simple explanation is the exceptional nature of what Harvey is doing now," Herzmann, who oversees the IEM database, told HuffPost. "It has a near perfect environment for tornadoes to form in the southeast quadrant of the storm..."
---
Tropical Storm Irma? Conditions are ripe for a tropical disturbance to strengthen into "Irma" today, packing 40 mph winds and 2-4" rains for the eastern Carolinas and Virginia Tidewater.
---
Praedictix Briefing: Issued Monday morning, August 28th, 2017
* Harvey continues to produce life-threatening rainfall and catastrophic flooding across the southeastern Texas coast, including in the Houston area. Some overall rain totals have now topped 30" in spots. An additional 15-25" of rain will be possible this week along the upper Texas coast.
* The flood risk will continue to spread into Louisiana as well, with rainfall amounts of up to 25" possible in southwestern parts of the state, and 15" in south-central Louisiana.
* Harvey will finally get pushed off to the northeast as we head toward the end of the week, with the rain threat tapering off. However, the flood threat for some could last for months.
* We're also tracking a disorganized Potential Tropical Cyclone Ten, sitting off the southeast Atlantic coast. This likely will become Irma within the next 24 hours or so while impacting the Mid-Atlantic coast with heavy rain and gusty winds before quickly heading out into the Atlantic.
---
Major Flooding Continues In Houston. With additional rain in the Houston area Sunday, major flooding continues across the Houston metro this morning and likely will for days as, not only is more rain expected, but the water will be very slow to recede. 16.07" of rain fell at Houston Intercontinental Airport Sunday, making it the wettest day in Houston history (which was preceded by the fifth wettest day in history on Saturday). Texas Governor Greg Abbott has activated 3,000 federal and state guard members; meanwhile Hobby airport will be closed until at least Wednesday. Water is being released from the Barker and Addicks reservoirs to avoid putting too much pressure on the dams. Residents are being asked to leave their homes due to additional flooding from this controlled release that is expected to continue for an extended period of time – potentially months. FEMA expects over 30,000 people to be placed in shelters. The city of Houston is updating their emergency information website at http://www.houstonemergency.org/ with the very latest.
---
20-30" Of Rain In The Past 48 Hours. With more rain falling Sunday in Houston, two day rain totals are now up over 30" in parts of southern Harris County.
---
Flash Flood Warnings. Due to all the heavy rain across the region, numerous Flash Flood Warnings are in effect from east of Austin to Lake Charles and north to Nacogdoches. As the rain has slowed this morning, the National Weather Service office in Houston has replaced the Flash Flood Warning for the Houston metro with a Flood Warning. However, very dangerous and catastrophic flooding is still ongoing and likely will be for days. New Flash Flood Warnings could be issued at a later time if rainfall rates increase.
---
Numerous Road Closures/Flooded Roads. Travel remains impossible as many roads around the Houston metro are water covered.
Houston TranStar has a list of high water locations: http://traffic.houstontranstar.org/roadclosures/#highwater
View the above map of road closures and flooded roads in Houston from Houston TranStar:https://traffic.houstontranstar.org/layers/layers.aspx
View an interactive map for the state of Texas showing road closures from TXDOT: https://drivetexas.org/#/7/28.832/-95.479?future=false
---
Harvey Meanders South. Harvey is slowly moving off the Texas coast back into the Gulf of Mexico today, and some slight strengthening could occur before making another landfall during the middle of the week along the upper Texas coast. After that time, Harvey will push into the central U.S. toward the Ohio and Tennessee Valleys. However, note that Harvey will continue to directly impact the Houston area through Wednesday night/Thursday morning.
---
Additional Flooding Rain. The rain just keeps coming as Harvey is slow to move out of the region. Additional rainfall amounts of 15-25" of rain will be possible this week along the upper Texas coast. That means some areas could wind up receiving 50" of rain in about a week across parts of coastal Texas. This will continue to bring catastrophic and unprecedented flooding to the southeastern Texas coast. The flood threat continues to spread into Louisiana this week as well. Rainfall amounts of 15-25" are possible in southwestern parts of Louisiana, with 5-15" in south-central Louisiana.
---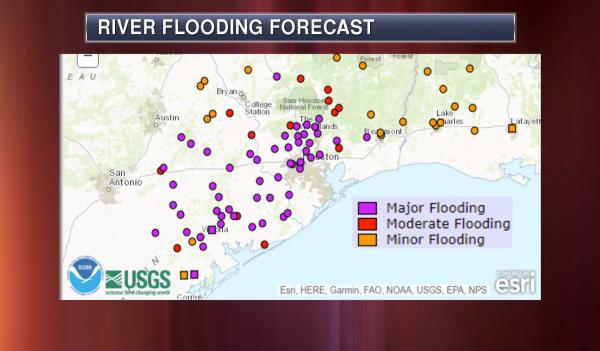 Historic River Flooding Continues. River/bayou flooding will continue for a while as not only Harvey takes its time to vacate the state, but as water from upstream steams and tributaries continue to flow into the main rivers as well. Nearly every waterway in Harris County (which includes Houston) has reached its banks and, in many cases, exceeded them. 
---
Another Tropical System. We're also tracking Potential Tropical Cyclone Ten, sitting off the southeast Atlantic coast as of this morning. It is a bit unorganized at this moment, but could become Tropical Storm Irma in the next day or so. The main threat for parts of Florida, Georgia and the Carolinas will be rain as this system moves through along with strong winds, however the highest winds should remain on the eastern side of the system (mainly offshore). Tropical Storm Watches are in place from South Santee River, SC, to Duck, NC, including Albemarle and Pamlico Sounds.
---
Heavy Rain Threat. This system will bring the potential of 3-6" of rain with it to parts of the coastal Carolinas over the next couple days. Flash Flood Watches are in effect.
---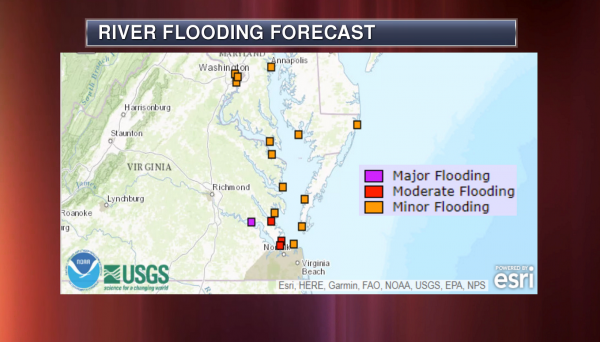 Coastal Flooding. As this system moves through, we will also watch the potential of coastal and river flooding - especially at high tide - with a storm surge of up to two feet possible.
Summary: Harvey will continue to bring devastating rains and flooding to parts of Texas and Louisiana over the next several days, with an additional 15-25" of rain in spots. This rain will finally start to relent as we head toward the end of the week and a storm system finally helps push Harvey out of the region, but the flooding could last for months. This is clearly a catastrophic event, one which the effects of will be felt for a long time across the region. We are also tracking another system in the Atlantic which likely will become Irma later today that will bring heavy rain and gusty winds to parts of the Mid-Atlantic coast over the next couple days.
Meteorologist D.J. Kayser, Praedictix
---
Houston's Explosive Growth Amid Disregard of Flood Preparedness. NPR takes a look at a convergence of factors that made flooding in Houston worse: "...Number one is unchecked development. As you mentioned kind of at the top, we - a lot of this pasture land, prairie land that used to absorb these floodwaters when they came over Houston has been paved over. And that has caused some of this flooding to get a lot worse. And, of course, development also means you've got more in harm's way. You got more people living in Houston than you did 10 years ago. You've got more pavement and more of structures in Houston than you did 10 years ago. So that's, obviously, going to put more in harm's way when you have these kinds of torrential rain storms. And then the next factor is climate change. It's seeming increasingly clear, according to scientists, that because of climate change, these storms are going to get more frequent and they're going to get more severe. So you put those two things together, and you've got a big problem..."
---
---
Hell and High Water. Read the ProPublica and Texas Tribune background piece about Houston's vulnerability to major flooding, released on March 3, 2016. In 20/20 hindsight it was prescient: "...If a storm hits the region in the right spot, "it's going to kill America's economy," said Pete Olson, a Republican congressman from Sugar Land, a Houston suburb. Such a storm would devastate the Houston Ship Channel, shuttering one of the world's busiest shipping lanes. Flanked by 10 major refineries — including the nation's largest — and dozens of chemical manufacturing plants, the Ship Channel is a crucial transportation route for crude oil and other key products, such as plastics and pesticides. A shutdown could lead to a spike in gasoline prices and many consumer goods — everything from car tires to cell phone parts to prescription pills. "It would affect supply chains across the U.S., it would probably affect factories and plants in every major metropolitan area in the U.S.," said Patrick Jankowski, vice president for research at the Greater Houston Partnership, Houston's chamber of commerce..."
---
---
---
Cool, Wet Weather Setting Farmers Behind. The corn crop is running about 9 days behind where we were in 2016, although this varies by county to county and farm to farm. The USDA has an update here.
Lukewarm, Then Touch of Autumn Next Week. European (ECMWF) guidance brings a shot of cooler air south of the border by the middle of next week, but temperatures rebound into the 70s for the second weekend of September. I still think it's going to warm up later in September again. Twin Cities numbers: WeatherBell.
---
2 Week Outlook: Warm Central & Eastern USA. Long-range GFS model guidance at 500mb shows a cut-off low producing rain for New England, but temperatures well above average east of the Rockies.
---
Stanford Scientists: Switch to Renewables Would Save 7 Million Lives Per Year, Create 24 Million Jobs. Here's the intro to a story at Climate News Network and EcoWatch: "Californian scientists said a fossil fuel phase-out is achievable that would contain climate change, deliver energy entirely from wind, water and sunlight to 139 nations, and save up to 7 million lives each year. They said it would also create a net gain of 24 million long-term jobs, all by 2050, and at the same time limit global warming to 1.5°C or less. The roadmap is entirely theoretical, and depends entirely on the political determination within each country to make the switch work. But, the researchers argued, they have provided a guide towards an economic and social shift that could save economies each year around $20 trillion in health and climate costs..."
---
Postpartum Depression Can Affect Dads. Scientific American has the story: "...Despite the skepticism, postpartum depression in fathers is very real, with estimates that around 10 percent of men report symptoms of depression following the birth of a child, about double the typical rate of depression in males. Postpartum depression in women has been linked with hormonal shifts, but the role of hormones in men's postpartum depression has been unknown..."
---
A Father's Age at Conception Influences a Child's Social Behavior Later On. An article at Big Think made me do a double-take: "...Many studies have focused on the impact an older mother has on a child's development. For a woman, having a child later in life increase the risk of miscarriage, a difficult pregnancy, and the child having a developmental disorder. One plus side though, older women might parent better.  Now, studies are turning toward older fathers. New research has shown that children born to a father over age 35 have a higher risk of autism, schizophrenia, or a birth defect. One study found that children born to dads over age 40 may even risk lower scholastic achievement..."
---
---
74 F. high yesterday in the Twin Cities.
78 F. average high on August 28.
85 F. high on August 28, 2016.
August 29, 1948: An airliner crashes during a thunderstorm near Winona, killing 37 people on board.
August 29, 1863: A devastating killing frost affects most of Minnesota, killing vines and damaging corn.
---
TODAY: Partly sunny, mild. Winds: E 3-8. High: 78
TUESDAY NIGHT: Mostly clear. Low: 60

WEDNESDAY: Warm sun, late-day T-storms. Winds: W 5-10. High: 81

THURSDAY: Patchy clouds, isolated shower? Wake-up: 59. High: 75

FRIDAY: Partly sunny and lukewarm. Winds: SE 7-12. Wake-up: 58. High: 77

SATURDAY: Some sun, few passing T-storms. Winds: NW 8-13. Wake-up: 62. High: 81

SUNDAY: More sun, nicer day. T-storms late. Winds: SW 8-13. Wake-up: 63. High: 83

LABOR DAY: Mix of clouds and sun, cool wind. Winds: NW 10-20. Wake-up: 58. High: 73
---
Climate Stories...
Did Climate Change Intensify Hurricane Harvey? A warmer climate didn't trigger the formation of Harvey, but did it "juice" the storm, increasing rainfall amounts? Here's an excerpt from The Atlantic: "...All of this said, a storm like Harvey could have happened even if there was no climate change. Planning experts have long fretted over the possibility of a major hurricane striking Houston. Harvey is also a powerful hurricane forming in one of the most hurricane-friendly regions of the world at the peak of hurricane season. Storms similar to it would form in any climate. But Trenberth says that the extra heat could make the storm more costly and more powerful, overpowering and eventually breaking local drainage systems. "The human contribution can be up to 30 percent or so up to the total rainfall coming out of the storm," he said. "It may have been a strong storm, and it may have caused a lot of problems anyway—but [human-caused climate change] amplifies the damage considerably..."
---
Climate Connection. Here are a few quotes regarding Hurricane Harvey's impacts made worse by a warmer, wetter background climate, courtesy of Climate Signals:
---
The Military Can Fight Climate Change. Here's an excerpt of an Op-Ed at News & Observer: "...Perhaps Cheney's most compelling point is that long-term changes in the weather lead to changes in economies and living patterns that can trigger military conflicts. He noted that the carnage in Syria had its roots in climate change as much as much as in politics. A drought over several years – the worst in modern Syrian history – dried up farmland and forced as many as 1.5 million rural people to move into Syria's cities. That displaced population – including many young men who without work – helped fuel the rise of ISIS..."
Photo credit: "Some of the 35 T-45 jets arrive at Naval Air Station Fort Worth in Fort Worth, Texas on Aug. 24, 2017. Thirty-five Navy and Marines T-45s arrived at Naval Air Station Fort Worth from Kingsville as part of an evacuation in advance of Hurricane Harvey." Max Faulkner - TNS.
---
Russian Tanker Just Set Arctic Speed Record. Which doesn't bode terribly well for arctic ice. Here's a clip from Popular Mechanics: "A Russian tanker just set two Arctic records. The ship not only traveled through the Arctic in record time, but has done so without the use of an icebreaker escort. The Christophe de Margerie, owned by the Russian shipping company Sovcomflot, carried a cargo of liquefied natural gas (LNG) from Norway to South Korea in 19 days, 30 percent faster than traditional southern shipping routes through the Suez Canal. It traveled the Northern Sea Route, Russian Arctic coast from the Kara Sea, along Siberia, to the Bering Strait in just 6 days, 12 hours, and 15 minutes..."
Photo credit: Sovcomflot.
---
Study: Katharine Hayhoe is Successfully Convincing Doubtful Evangelicals About Climate Change. Here's an excerpt from The Guardian: "...There are also evangelicals who have tried to convince their peer group about the reality of human-caused climate change and our moral obligation to address it. These include the Evangelical Environmental Network, the Evangelical Climate Initiative, the Young Evangelicals for Climate Action, and evangelical climate scientists like Sir John Houghton and Doug Hayhoe's daughter Katharine Hayhoe (one of TIME magazine's 100 most influential people). However, a majority of evangelicals continue to reject the reality of human-caused climate change, and there hasn't been research quantifying the effectiveness of these evangelical climate leadership efforts..."
---
How Farmers Convinced Scientists to Take Climate Change Seriously. The Washington Post explains: "...The farce of climate denial is also its tragedy. It is particularly tragic that people who had once warned the world of the potential catastrophic effects of human influence on the atmosphere are now the ones helping to ensure the actual catastrophic results of this influence continue unabated. While no individual weather event, including Harvey, can be directly attributed to climate change, models are now capable of showing how climate change can exacerbate storm surges. Instead of picking apart every individual event, we should remember how the science of anthropogenic climate change been refined over a half-century of research and debate, and that, if anything, scientists have long been far too conservative in their predictions and timelines..."
Photo credit: "A home damaged by Hurricane Harvey remains surrounded by flood waters on Saturday, in Rockport, Tex." (AP)