Extended Outlook: A Proliferation of Potholes

Potholes are more likely in March and early April than any other time of the year. Blame snow on the ground - sloppy, rainy springs - and the freeze-thaw cycle.
Water has an unpleasant tendency to freeze at it expands. Water seeps into cracks in the highways. At night the mercury dips below 32F and water expands into ice. Traffic puts additional weight on the roads, pulverizing the surface over time. Cracks mutate into craters.
Salt makes things worse, lowering the freezing temperature below 32F, prolonging this damaging freeze-thaw cycle. The result: good news for tire dealers!
If it's any consolation our weather pattern looks quiet into next week, with little or no risk of big tournament storms or white-knuckle commutes. A few decorative flurries are possible Saturday, with weekend temperatures near normal for a change.
ECMWF (European) guidance says 66F next Friday in the Twin Cities, which I'm not buying with snow on the ground and icy lakes. But highs may surge well into the 50s. Long-range GFS guidance shows more 50s between March 20-25. Spring is coming. Really! 
---
Why Are Potholes More Likely to Form in Spring? Here's the best explanation I've seen, courtesy of the Summit County Engineer's Office in Akron, Ohio: "They are caused by the expansion and contraction of ground water after the water has entered into the ground under the pavement. When water freezes, it expands. Think of when ice cubes are made. A tray full of water is put into the freezer, and when you remove the tray from the freezer, you will notice the water has expanded. This same effect happens when water gets into the ground under the pavement. If it has a chance to freeze, it will take up more space under the pavement, and the pavement will expand, bend, and crack, which weakens the material pavement. Then when ice melts, the pavement contracts and leaves gaps or voids in the surface under the pavement, where water can get in and be trapped. If the water freezes and thaws over and over, the pavement will weaken and continue cracking. As the weight of cars and trucks pass over the weak spot in the road, pieces of the roadway material weaken, which will cause the material to be displaced or broken down from the weight, creating the pothole. What happens when salt is brought into the picture? Water will freeze at 32 degrees Fahrenheit. When salt is used, it lowers the temperature that water will freeze. This creates an artificial freeze-thaw cycle that permits more occurrences of the damaging cycle to occur. This happens more often in the spring because of the melting that takes place and because the temperatures fluctuating above and below the freezing point very frequently."
---
---
MnDOT Frost Depths seem to be a lot deeper than what is being reported by NOAA. Not sure why there's such a big difference - something I'm looking into.
---
Touch of Spring Fever Next Week. Models are fairly consistent, bringing a taste of late March, even early April into town late next week with 50s by Friday, March 16. Ring the church bells! ECMWF data: WeatherBell.
---
Unusual Temperature Anomalies for April? It's just a forecast, but NOAA's CFSv2 climate model has been consistently predicting a much warmer than average April for most of North  America. 12-18F warmer than average for much of Minnesota? I have my doubts, but we'll see. Map: WeatherBell.
---
Praedictix Briefing: Issued Thursday, March 8th, 2018:
* Over two feet of snow has fallen in parts of the Northeast due to a coastal storm moving through the region. More than 700,000 power outages have occurred due to this system, with over 318,000 reported this morning in Massachusetts and 245,000+ in New Jersey.
* More heavy snow will be possible today, mainly across parts of northern New England. In parts of Maine, snow totals could top a foot over the next 24 hours before snow finally starts to comes to an end. This will continue to cause travel troubles across the region today.
* We are keeping our eye on the potential of a third coastal storm as we head into next week, but since this storm is several days out potential impacts on the Northeast are still unknown at this time. Meanwhile, some places where the snow has ended are waking up to two feet or more of snow including:
26" in Monroe and Sloatsburg, NY
24.3" in Highland Mills, NY
24" in New Fairfield, CT
New York City received 3.2" in Central Park and 2.8" at JFK airport. Philadelphia received 6.1" of snow. Through 7 AM this morning, Boston had received 5.9" of snow.
---
Winter Storm Warnings. Some Winter Storm Warnings remain in effect this morning across New England for the potential of more heavy snow expected throughout the day. These warnings are in effect for:
Boston (MA) through

1 PM

today
Portland and Augusta (ME) through 

4 PM

today
Burlington (VT) through

7 PM

tonight

Caribou (ME) though 

10 AM

Friday
---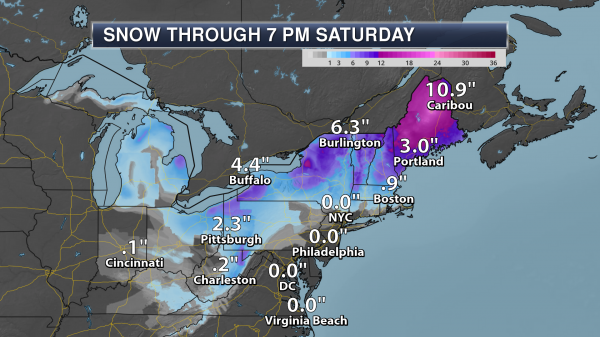 Additional Heavy Snow. The heaviest snow is expected across Maine into Friday, with over a foot possible in spots. This would cause travel issues across the state. In Boston, additional amounts of less than an inch are possible today. Map credit: AerisWeather and Praedictix.
---
Timing The Precipitation. Snow will continue to move through New England today, making its way out of southern New England this morning but lingering throughout the day in northern parts of the region. Snow associated with this system could push out of the lower 48 as we head into Friday morning with other additional light snow showers possible over parts of the Northeast on Friday.
---
A Third Coastal Storm? Note that this is several days away so details will change leading up to this potential system, but it appears a third coastal storm could form off the Mid-Atlantic coast late in the weekend or early next week. What impacts this system could have on the Northeast will depend on the overall path, which we won't know for a few more days. We'll send updates on this potential third coastal storm as needed.
Summary: The coastal storm we've been tracking the past couple days continues to push off to the north as we head through the end of the week, with snow continuing across part of New England today. Additional snowfall amounts of a foot or more will be possible across parts of Maine through midday Friday. This snow will continue to cause travel troubles across the region.
D.J. Kayser, Meteorologist, Praedictix
---
Nor'easter Preview of Coastal Future: The damage caused by flooding during high tides during this past weekend's nor'easter are increasing alarm bells for East Coast residents as they prepare for another storm this week. The impacts were felt especially strong in the greater Boston area, as the city experienced its third-highest tide on record Friday and rescuers evacuated over 100 people from flooding in Quincy. NPR reports that an upcoming NOAA study scheduled to be released later this week will flag communities where flooding could be a "weekly event" in the future and shows how tidal flooding is accelerating in about a third of the places surveyed. The report demonstrates how the problem "is going to become chronic rather quickly," NOAA's William Sweet told NPR. "It's not going to be a slow, gradual change." (NOAA report: NPR. Storm impacts: InsideClimate News. Upcoming nor'easter: Earther)
---
---
Why Don't Tornadoes Hit Cities More Often. A veteran meteorologist focused on tornado research explains at Scientific American: "...The glib answer for why tornadoes don't strike urban areas that often is: Cities are small. If you take a look at Google Maps and see what percentage of the U.S. urban and suburban areas cover, it's a pretty small fraction. The regions where you have peak tornado frequencies—from Texas up through Kansas, and even east toward Atlanta and the Southeast—are open country, so that's where most tornadoes spend the overwhelming fraction of their lifetimes. It's very rare that one encounters a city, as happened in Atlanta last weekend..."
---
List of Tornadoes Striking Downtown Areas of Large Cities. No, a few high-rise buildings and some concrete won't inhibit a tornado from striking, as this long list at Wikiwand seems to prove.
---
RENEWABLES: From Climate Nexus: "Massive solar energy site to provide power to Dane County Regional Airport (Madison.com), major US solar company blames job cuts on Trump's solar import tariff (ThinkProgress), French renewable energy firm Neoen plans to list shares by end of 2018 - source (Reuters), why not get your own wind turbine? Many reasons." (New York Times $)
File photo credit: Glen Stubbe, Star Tribune.
---
Civil:  A New Platform for Journalism? I stumbled on this site, which is testing new models to ensure journalistic inclusion, accuracy and transparency. In an era of fake news we need all the help we can get. Details via Civil: "The ad-driven revenue model that traditionally funded quality journalism has not translated to the digital economy. Journalism is a fundamental pillar of free, democratic societies, and newsrooms around the world are facing an existential threat like never before. We're committed to introducing a new funding model that enables journalists to focus on journalism, not satisfying clicks-over-quality mandates from third parties like advertisers and publishers..."
---
Have You Been Creeped Out by Amazon Alexa's Laugh Yet? CNN has the story: "It's quiet in the house. Nobody else is home and the cat is fast asleep. Then you hear a disembodied woman's voice let out a short, mocking cackle. No, you're (probably) not being haunted, it's just Amazon's Alexa voice assistant malfunctioning in a profoundly creepy way. Some Alexa users have reported hearing an unprompted laugh from their smart speaker devices in the last day. The laugh happens randomly, when nobody is using the device, or in response to request to turn on or off lights..." 
Photo credit: CNN Money, which has more perspective here.
---
Utah Accidently Sends Picture of Topless Woman to Every Lawyer in the State. You can't make this stuff up. Here's an excerpt from Fortune: "Members of the Utah State Bar got an unexpected surprise when they opened a note from the organization Monday. The state certification agency, in a note meant to advertise its annual spring convention in St. George, accidentally also attached an image of a topless woman—and the email was sent to every member attorney. According to the organization's website, more than 11,000 attorneys belong to the Utah State Bar. "We are horrified," John Baldwin, executive director of the Bar, said in an email..."
---
America Has a Billion Dollar Drunk Shopping Problem. MarketWatch has the sordid details: "Nearly half of American adults admit to regularly shopping while drunk — and it appears to be getting worse. Americans spent an average of $448 per person in drunk purchases in 2017, nearly double what they did in 2016, a new survey of 2,000 adults from shopping comparison site Finder.com found. That would equate to billions of dollars on drunk shopping per year nationwide, the authors said..."
---
31 F. maximum temperature in the Twin Cities yesterday.
37 F. average high on March 8.
36 F. high on March 8, 2017.
March 9, 1918: A snowstorm hits Minnesota and dumps nearly 11 inches at the Twin Cities.
---
---
FRIDAY: Partly sunny, quiet. Winds: SE 3-8. High: 34
FRIDAY NIGHT: Partly cloudy. Low: 20

SATURDAY: Patchy clouds and flurries. Winds: SE 7-12. High: 37

SUNDAY: Mix of clouds and sun, average temps. Winds: NW 8-13. Wake-up: 27. High: 38

MONDAY: More clouds than sun, breezy. Winds: NW 10-15. Wake-up: 25. High: 37

TUESDAY: Bright sunshine, still brisk. Winds: NW 5-10. Wake-up: 21. High: 33

WEDNESDAY: Plenty of sun, turning milder. Winds: SW 7-12. Wake-up: 25.  High: 43

THURSDAY: Fading sun, risk of spring fever. Winds: S 7-12. Wake-up: 30. High: near 50
---
Climate Stories...
Swiss Residents Are Wrapping Glaciers in Blankets to Keep Them from Melting. I'm pretty sure this is nothing to worry about. Move along! Nothing to see here. Quartz reports: "Every summer for the last eight years, people who live in the Swiss Alps have been wrapping a beloved glacier in blankets. The white canvas blankets are intended to reflect sunlight off the Rhone Glacier, to try to reduce how much of it disappears each year. And Swiss glaciologist David Volken says it's probably working; he told Agence France-Presse the blankets may reduce seasonal melting by as much as 70%. The Rhone Glacier is a popular tourist destination that has been shrinking rapidly over the last decade; of the roughly 1,148 feet (350 meters) in ice thickness lost since 1856, 131 ft has disappeared in the last 10 years alone, according to AFP. Thus the blankets..."
Photo credit: "Bundled up for summer." (Arnd Wiegmann/Reuters)
---
DOI Official Thinks Scientists Shouldn't Describe Climate Impacts As "Dramatic": Headlines and links courtesy of Climate Nexus: "High-level Interior Department officials took issue with a US Geological Survey study whose press release described glaciers as "dramatically reduced" due to climate change, the Washington Post reports. Emails reviewed by the Post, obtained in a Freedom of Information Act request issued by a former DOI scientist who resigned last year over censorship, show Assistant United States Secretary of the Interior for Insular Areas Doug Domenech highlighting the terminology in the USGS press release as an example of scientists "going outside their wheelhouse." DOI official Scott Cameron responded to Domenech's email and emphasized the "need to watch for inflammatory adverbs and adjectives in...press releases." The press release in question detailed how climate change had shrunk the size of 39 glaciers in Montana by as much as 85 percent since 1966." (Washington Post $)
---
Apparently We Can Let the Stock Market Fight Climate Change. WIRED.com has the story: "...So how can we move the majority of investors to integrate environmental factors into their thinking?" asks Soh Young In, an engineering doctoral student at the Global Projects Center at Stanford. "That's the problem. They think that environmental factors are a suboptimal decision." In a new working paper, In and her fellow researchers hope to convince those skeptical investors otherwise.Finance researchers and analysts have been chewing on this problem for years—how (and whether) to integrate environment, social, and governance factors, or ESG, into investment planning. Stipulate that the right-thinking humans who work in finance know climate change is an existential threat; what they don't know is how to put that knowledge to work without sacrificing money..."
---
A Promising Technology to Fight Climate Change is Finally Becoming a Reality. We'll see if it becomes cost effective - and scales. Slate takes a look at carbon sequestration technologies: "...Technologies already exist that can capture carbon emissions from all of these processes, and ongoing projects have shown carbon dioxide can be safely and securely stored in geological formations deep underground. The issue has not been capability—it has been cost and a lack of financial incentives. The fact that CCS allows for fossil fuel use while reducing carbon dioxide emissions enabled the practically unthinkable event of a Republican-controlled Congress passing strong climate legislation. A broad coalition, including Democratic climate hawks and Republicans from oil and gas-producing states, backed the legislation that significantly increases the "Section 45Q" tax credits for geologic storage of carbon dioxide..."
Photo credit: Brian Snyder, Reuters.
---
CLIMATE IMPACTS: Headlines and links courtesy of Climate Nexus: "Arctic not so chill this record warm winter (AP), mountain snow in the western US is declining because of climate change, a new study finds (Buzzfeed), 13 cities may exceed 2C temperature rise by 2020s, say scientists (Reuters), sinking shoreline threatens coastal communities in Indonesia." (Reuters)