Plowable Snow Today into Wednesday. January Thaw Last Half of Month

It's a manic weather map: snow on the ground in every state but Florida as of last Saturday, some of the worst California flooding in nearly 20 years, with gusts up to 174 mph in the Sierra Nevada range, and a Chinook wind boosting the mercury up to 60F at Denver yesterday - a taste of milder, Pacific air to come.
Grinding cold for Minnesota? I remember far worse in the 80s and even the early and mid 90s. On this date in 1982 northern Minnesota saw -30F air temperatures, with winds over 40 mph. That translated into wind chills of -71F with the new (warmer) formula, and -100 with the old formula!
School-closing cold. So a few nights in a row below zero is no big deal at this northerly latitude.
Nice to see it can still snow in January. Expect a couple inches today, another inch or so tomorrow as the next slap of colder air approaches. 2 subzero nights late week and then real warming begins.
ECMWF (European) guidance shows a thaw by next Monday; maybe 40 degrees by the middle of next week. Warm, wet Pacific winds keep us in the 30s for much of the latter half of January, with spurts of slushy snow.
---
---
Potentially Plowable. Another 2-4" burst of snow today (possibly mixed with sleet and freezing rain) gives way to a third burst on Wednesday with temperatures much colder; meaning more of a light, powdery snowfall. A couple inches in the Twin Cities today, another couple inches tommorrow. Some 3-5" totals are possible by Wednesday night. NAM guidance above: Tropicaltidbits.com.
---
Taste of What's To Come. While we basked in the low 20s Monday temperatures shot up to 60F in the Denver area. Granted, they had an assist from the Rocky Mountains and a strong Chinook wind, and there isn't much snow on the ground in Denver, but Pacific-warmed air will be sweeping across much of the USA next week. Monday afternoon 3 PM temperatures: Aeris AMP.
---
Sight For Sore Eyes. After one more (fleeting) burst of cold air late in the week temperatures recover for an extended period of time; a thaw likely next week; in fact 40 degrees is not out of the question by the middle of next week. ECMWF numbers: WeatherBell.
---
2016: Record Combination of Warmth and Moisture for Minnesota. Here's an excerpt of an excellent review of last year, with thanks to the Minnesota Climate Office and the Minnesota DNR: "...With statewide average precipitation of 33.70 inches,  and an average temperature for the year of 44.5 degrees F, this was the 2nd wettest and 5th warmest year on record for Minnesota, back to 1895. Perhaps more impressively, none of the 122 years on record have been both this warm and this wet. In other words, we have never observed this combination of warmth and moisture in Minnesota. The precipitation surplus was fueled by a very wet July through September, which ran 50% above normal statewide (even more so in southern Minnesota). Many of the other months were near normal or slightly drier than normal. Above-average temperatures, on the other hand, were spread across the calendar. Across the state, every month was warm, with the exception of April in the north, and December in the far south and southeast..."
Graphic credit: "Chart showing annual statewide combinations of average temperature and total precipitation. No year back to 1895 was both as warm and as wet as 2016."
---
2016: Total of 15 Weather and Climate Disasters. Only 2011 saw more, according to NOAA NCDC: "In 2016, there were 15 weather and climate disaster events with losses exceeding $1 billion each across the United States. These events included a drought event, 4 flooding events, 8 severe storm events, a tropical cyclone event, and a wildfire event. Overall, these events resulted in the deaths of 138 people and had significant economic effects on the areas impacted. The 1980–2016 annual average is 5.5 events (CPI-adjusted); the annual average for the most recent 5 years (2012–2016) is 10.6 events (CPI-adjusted). Three new billion-dollar disaster events were added during the 4th quarter, bringing the 2016 total to 15 events. This represents the 2nd highest total number of events surpassing the 11 events observed in 2012. The record number of events in one year (since 1980) is 16, as observed in 2011..."
---
Billion Dollar Weather and Climate Disasters Since 1980. Severe storms and flooding events have been on the increase, especially since 2010, according to NOAA NCDC.
---
More Heavy Rain for California. 12 KM NAM data from NOAA shows the latest surge of Pacific moisture pushing into California; a few more inches of rain, with accompanying mudslides, road closures and high winds capable of power outages. Snow and ice pushes across the Upper Midwest with accumulating snow from Minnesota and Wisconsin into northern Michigan; the atmosphere warm enough for rain south of Milwaukee, Chicago and Detroit. 84-hour Future Radar: Tropicaltidbits.com.
---
Sustained Winds - Noon Tuesday. This is from NOAA's 3 KM HRRR model, showing sustained winds of 30-50 mph in the San Francisco Bay area, but closer to 60-80 mph over the Sierra Nevada. Map: Aeris Maps Platform (AMP).
---
AerisWeather Briefing: Issued Monday afternoon, January 9th, 2017:
* Heavy rain over the weekend – over six inches in spots – has led to numerous reports of flooding across California and into Nevada. The Truckee River has hit major flood stage in some areas.
* Another round of heavy rain is expected Tuesday and into Wednesday across the region, with at least another 1-3" of rain falling for areas like San Francisco and Redding. This will continue to create flooding issues through the middle of the week.
* The good news is that a dry stretch of weather is expected across the region after this next round of rain as we head toward the end of the week and into the weekend.
---
Very Heavy Rain Recently Across The West. Parts of California have received over 10" of rain within the past couple weeks – and in some areas that fell over a 48 hour period during the weekend. This has led to numerous reports of flooding across the region. A number of roads are closed in California due to flooding or mud slides – CalTrans has a list available at http://dot.ca.gov/hq/roadinfo/Hourly.
---
---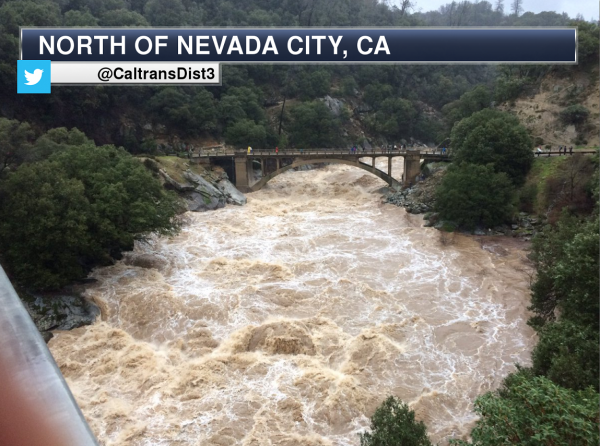 River Flooding Ongoing. All this rain has also led to swollen rivers. You can see the Truckee River almost reach the bottom of a bridge in Reno, NV in the first image, with water levels highs near Nevada City, CA in the second image above.
---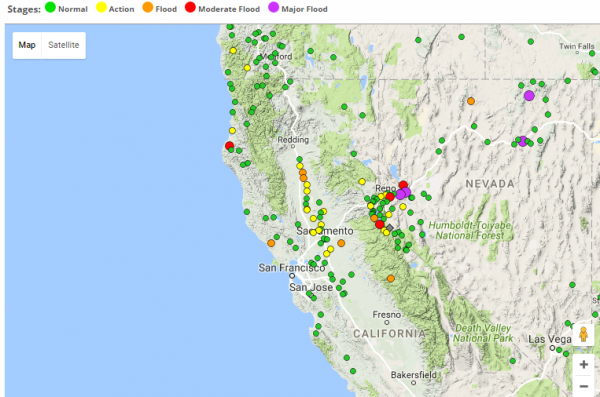 Rivers In Major Flood Stage. The Truckee River – which runs through the Reno area – has reached major flood stage along parts of the river, particularly just east of town. Flooding has also been recorded on the Sacramento River. Map credit: NOAA.
---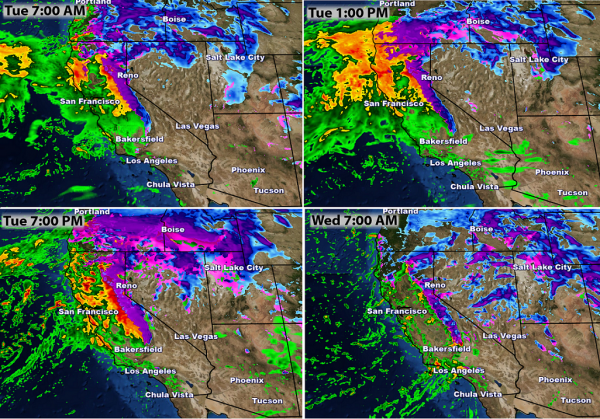 More Rain On The Way. We talked about a third round of heavy rain moving in toward the middle of this week in our briefings last week – and as advertised, rain will begin once again across the region as we head into Tuesday morning. Rain, heavy at times, can be expected across central and northern California throughout the day Tuesday before tapering off heading into Wednesday. Meanwhile, snow will fall at higher elevations, but snow levels will be lower versus what they were at this weekend.
---
Flood Watches In Effect. Flood Watches continue to be in effect as we head into the middle of the week for parts of California and Oregon as an additional 1-6" of rain can be expected with this next system moving in. This will only make the flooding situation worse across these areas.
---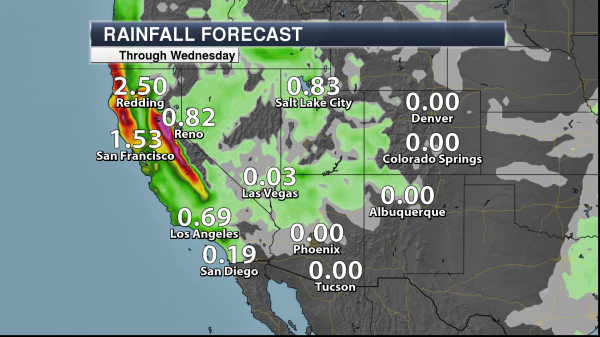 Rain Through Wednesday. An additional 1.50"+ of rain will be possible in the Bay Area as we head through the next 48 hours, with over 2" possible for Redding. Some of the higher terrain areas could pick up an additional 3-6"+ by the time this next batch of rain ends during the middle of the week. Ma credit: Aeris.
Summary: After a weekend of very heavy rain across portions of the west coast – particularly in California – another round of heavy rain is likely as we head into Tuesday and Wednesday. Rainfall totals could top an inch and a half in the Bay Area, with totals of six inches or more of rain in the higher terrain. Already some rivers across the region are in major flood stage, and any additional rain over the next several days will continue to exasperate the problem. Facilities that have had issues in the past with situations like this will continue to see issues over the next several days. The good news is once we get past this next round of rain, conditions look to dry out across the region late this week and into this weekend.
D.J. Kayser, Meteorologist, AerisWeather
---
Watch: Here's Why Minnehaha Falls Are Dangerous in Winter. Lake Minnetonka Patch has a link to the story: "Every winter, the Minnehaha Falls transform from a powerful waterfall to a beautiful frozen tundra. Nature lovers capture amazing photos there every year. And every year, the Minneapolis Park and Recreation Board reminds residents that the only safe (and legal) spot to view the frozen Minnehaha Falls is from the footbridge above the falls or the overlook near the Pavillion and the Sea Salt restaurant. One of the most recent and unfortunate examples of how the falls can be dangerous came this weekend. WCCO reported that a woman was injured after being hit by falling ice at Minnehaha Falls Sunday afternoon..."
---
California Braces for Flooding, Avalanches as Sierra Gets Slammed With Rain, Snow. The Washington Post has a good overview of the threat: "A powerful storm blasted the Sierra Nevada with waves of torrential rain and heavy snowfall on Sunday, leaving a vast swath of California bracing for potentially disastrous floods, avalanches and mudslides. The latest weather comes just days after the mountains around Lake Tahoe and Yosemite National Park received several feet of snow over the span of a week. At Mammoth Mountain, a ski resort bordering Yosemite, the 11,000-foot peak got 84 inches of snow in just two days. This week's forecast calls for several more feet of snow, as well as heavy rain, part of a meteorological phenomenon known as the "Pineapple Express," which brings an atmospheric river of warm moisture north from the tropics..."
Photo credit: "Snow is cleared from the Donner Pass rest area near Truckee, Calif., on Saturday." (Bob Strong/Reuters).
---
---
A Nevada National Guard official says high-water vehicles arrived but were not needed to evacuate residents affected by flooding in a town east of Reno. Lt. Col. Mickey Kirschenbaum said Monday that guard members and five of the big vehicles will remain for now in Lockwood. Kirschenbaum says it appears residents who wanted to leave a neighborhood cut off by flooding were able to make their way out. Kirschenbaum says plans have been called off for the guard to use two more of the 2.5-ton diesel vehicles to shuttle damage assessment teams to Sparks. He says regular emergency vehicles are being used
..."
Photo credit: "A van drives through flooded water on Green Valley Road in Graton, Calif., Saturday, Jan. 7, 2017. On the California coast, weather forecasters anticipate a storm surge from the Pacific called an atmospheric river to dump several inches of rain from Sonoma to Monterey counties, and up to a foot in isolated places in the Santa Cruz mountains." (AP Photo/Jeff Chiu)
---
California Today: Severe Flooding, But Does That Mean Drought Relief? Much of the water is running off into streams, rivers and the Pacific Ocean. Snowpack in the mountains melts slowly, filling reservoirs and providing water for consumers and agriculture yearround. It's money in the bank. Here's a clip from The New York Times: "...Much depends on the resilience of the Sierra Nevada snowpack, which acts as California's largest water storage facility by replenishing depleted rivers and reservoirs after the winter. The latest data showed the snowpack's depth roughly equal to its historical average, an encouraging sign. But those gains could be threatened if warm weather melts it too soon. And while Northern California has seen copious precipitation since the fall, other parts of the state — notably, in the San Joaquin Valley and the Central Coast — remain severely parched..."
Photo credit:"A flooded road in Graton, just west of Santa Rosa, on Saturday." Credit Jeff Chiu/Associated Press.
---
A Stormy Rut In The Jet Stream. Looking out 2 weeks the GFS model continues to carve out a full latitude trough of low pressure, a storm incubator capable of spinning up a family of storms, with potentially heavy wet snow for the Plains and Upper Midwest. The east coast looks unusually mild.
---
February: Pockets of Freakish Warmth? The latest runs of NOAA's CFSv2 (Climate Forecast System) model show a warm solution for much of North America next month. No, I'm not buying it yet, but with such a strong Pacific signal and an almost El Nino-like subtropical jet stream pumping warmth and moisture into the western USA (persistently) I wouldn't be surprised to see February make up for January's chill. February temperature anomalies: WeatherBell.
---
Lightning, Weather's Byproduct, May Become One of its Predictors. Here's are a couple of excerpts of a good New York Times explainer: "...When I got started back in the '80s, nobody cared," said Hugh Christian, a research professor at the University of Alabama at Huntsville and director of the team that developed a lightning sensor that will be attached to a truss of the International Space Station in 2017. It will augment coverage provided by a geostationary satellite, known as GOES-16, that was successfully launched in November. "It's been a long road," Dr. Christian said. "But now it's universally accepted that lightning flash rates are correlated with storm intensification and severity." This means the more that is known about lightning activity, the more advance warning it is possible to give people about the possibility of associated severe weather events like tornadoes and hail...In 2016, 38 people were killed by lightning in the United States. That's the highest death toll in 10 years, and some experts expect that number to climb in future years because of climate change. The stakes are higher in less-developed nations like India, where deaths average about 1,000 per year..."
---
U.S. Warns of "Imminent" Cyberattack Threat on Electric Grid. Another argument for solar, battery storage and not being totally dependent on the grid. CNET reports: "A report that Russian computer attackers had penetrated a Vermont electrical utility company may have turned out to be baseless, but the nation's grid is in "imminent danger" of cyberattacks, the Energy Department warned Friday. "Widespread disruption of electric service because of a transmission failure initiated by a cyberattack at various points of entry could undermine U.S. lifeline networks, critical defense infrastructure and much of the economy; it could also endanger the health and safety of millions of citizens," the DOE said in a massive 494-page report. "Also, natural gas plays an increasingly important role as fuel for the nation's electricity system; a gas pipeline outage or malfunction due to a cyberattack could affect not only pipeline and related infrastructures, but also the reliability of the nation's electricity system..." (Image: Department of Energy).
---
Bill Perry is Terrified. Why Aren't You? It only takes one nuke going off somewhere - anywhere - to radically change all of our lives, according to Bill Perry in a sobering interview at POLITICO Magazine: "...Nuclear bombs are an area of expertise Perry had assumed would be largely obsolete by now, seven decades after Hiroshima, a quarter-century after the fall of the Soviet Union, and in the flickering light of his own life. Instead, nukes are suddenly—insanely, by Perry's estimate—once again a contemporary nightmare, and an emphatically ascendant one. At the dawn of 2017, there is a Russian president making bellicose boasts about his modernized arsenal. There is an American president-elect who breezily free-associates on Twitter about starting a new nuclear arms race. Decades of cooperation between the two nations on arms control is nearly at a standstill. And, unlike the original Cold War, this time there is a world of busy fanatics excited by the prospect of a planet with more bombs—people who have already demonstrated the desire to slaughter many thousands of people in an instant, and are zealously pursuing ever more deadly means to do so..."
File photo credit: New York Times. "The mushroom cloud of the "Ivy Mike" hydrogen bomb test by the United States on Enewetak, an atoll in the Pacific Ocean, in 1952." Credit Department of Defense Nuclear Information Analysis, via Reuters.
---
The Ugly Unethical Underside of Silicon Valley. Erin Griffith has a must-read article at Fortune; here's a snippet: "...No industry is immune to fraud, and the hotter the business, the more hucksters flock to it. But Silicon Valley has always seen itself as the virtuous outlier, a place where altruistic nerds tolerate capitalism in order to make the world a better place. Suddenly the Valley looks as crooked and greedy as the rest of the business world. And the growing roster of scandal-tainted startups share a theme. Faking it, from marketing exaggerations to outright fraud, feels more prevalent than ever—so much so that it's time to ask whether startup culture itself is becoming a problem..." (Illustration: Alconic for Fortune).
---
The Most Solar-Friendly States in America? Greentech Media has the list and explainer: "Solar research and advocacy group Solar Power Rocks released its 2017 ranking of the states most friendly to rooftop solar Friday, based on a compilation of state renewables policies and incentives. Massachusetts retained top honors, shaking off New York and New Jersey, which had split the gold three ways last year. Eleven states earned failing grades, with Oklahoma, Alabama and Mississippi rounding out the bottom three. The ranking factors in 12 variables, including policy (like renewable portfolio standards, electricity prices, net energy metering), incentives (including tax credits, performance payments, tax exemptions), and outcomes (payback time and internal rate of return). The rankings don't equate to the states with the most solar; they capture the states with the policy framework most amenable to customers putting solar on their roofs..."
---
Solar Could Beat Coal to Become the Cheapest Power on Earth. Here's a clip from Bloomberg: "Solar power is now cheaper than coal in some parts of the world. In less than a decade, it's likely to be the lowest-cost option almost everywhere. In 2016, countries from Chile to the United Arab Emirates broke records with deals to generate electricity from sunshine for less than 3 cents a kilowatt-hour, half the average global cost of coal power. Now, Saudi Arabia, Jordan and Mexico are planning auctions and tenders for this year, aiming to drop prices even further. Taking advantage: Companies such as Italy's Enel SpA and Dublin's Mainstream Renewable Power, who gained experienced in Europe and now seek new markets abroad as subsidies dry up at home. Since 2009, solar prices are down 62 percent, with every part of the supply chain trimming costs..." (File photo: Apple).
---
Your Car Wants To Say Hello. And That's Only The Start. Is this what we can look forward to in a few years? The Washington Post reports: "Toyota's empathetic car of the future is there for you. You've had a frustrating day at work; it plays soft music and lowers the temperature. You're lost in an unfamiliar neighborhood; it offers to take over the driving. You start to nod off at the wheel; it taps you on the shoulder and starts up a conversation. This unconventional interplay between the driver and automobile is central to concept cars that Honda and Toyota unveiled at the annual CES technology conference in Las Vegas this week. In the not-so-distant future, vehicles will not only be safer or more efficient. They will be our companion, watching our every move..."
Photo credit: "The Concept-i from Toyota showcases what the company expects cars will look like in 2030. It was revealed on Wednesday at CES in Las Vegas." (Courtesy of Toyota).
---
The iPhone Remade Apple 10 Years Ago. Now It's Slowing Apple Down. WIRED takes a look at trends in the smartphone market: "...Today, Apple is facing a new reality. The smartphone market has gone flat, and Apple saw iPhone sales decline for the first time ever in 2016. Last year also saw Apple post its first annual sales decline since 2001, breaking a 15-year winning streak. The problem is, at this point, if you want an iPhone, you probably already have one. "The smartphone is your mobile phone, and the mobile phone market grows about 5 percent a year," says BGC analyst Colin Gillis. "We all used to have flip phones, and now we have smartphones. That transition is still ongoing, especially in emerging markets. But the booming growth is over..."
---
Math Says This Is The Perfect Age To Get Married. Between age 100 and 105. Just a hunch. Sure it's clickbait but I couldn't resist; here's an excerpt from Motto: "A study suggests that people should get married between the ages of 28 and 32 if they don't want to get divorced, at least in the first five years. Before we proceed to the explanation: Don't shoot me if you're older than that and not married yet. These are just statistics and can in no way account for your personal situation, or that last cheater/psycho/narcissist you wasted 18 months on. Nobody's blaming you. You are a wonderful and entirely loveable person. Now, moving on. The study was done by Nick Wolfinger, a sociologist at the University of Utah, and published by the generally pro-marriage Institute of Family Studies. It suggests that people who get married between 28 and 32 split up least in the ensuing years..."
---
---
---
.7" snow fell at Twin Cities International Airport on Monday.
23 F. maximum temperature yesterday in the Twin Cities.
23 F. average high on January 9.
22 F. high on January 9, 2016.
January 10, 1990: A January 'heat wave' forms. MSP Airport warms to 49 degrees.
January 10, 1975: The 'Blizzard of the Century' begins. Also called the 'Super Bowl Blizzard,' it was one of the worst blizzards ever. The pressure hit a low of 28.62. This was the record until 1998.
---
---
TODAY: 2-4" snow & ice possible - slippery travel. Turning gusty, colder. Winds: NW 10-20. High: 27 (falling rapidly by afternoon)
TUESDAY NIGHT: Snow tapers to flurries, colder. Still very icy. Low: 7

WEDNESDAY: Burst of snow; another inch or two? Winds: NW 8-13. High: 11

THURSDAY: Mostly cloudy, feels like -10F. Winds: NW 10-15. Wake-up: 1. High: 10

FRIDAY: Bright, ineffective sunshine. Windchills dip below -20. Winds: SE 3-8. Wake-up: -8. High: 7

SATURDAY: Mostly cloudy, not quite as numb. Winds: SE 5-10. Wake-up: -2. High: 21

SUNDAY: Clouds thicken, light mix late? Winds: SE 7-12. Wake-up: 15. High: 31

MONDAY: Melting icicles - January Thaw arrives. Winds: SW 5-10. Wake-up: 20. High: 34
---
Climate Stories...
When I Talk About Climate Change, I Don't Talk About Science. Southern Fried Science has a very interesting take on this: "...In stakeholder interviews, people generally understand and acknowledge the impacts of climate change on local and regional scales, as long as you don't call it "Climate Change". This has been my experience working in rural coastal communities, which tend to be strongly conservative and intimately connected to the changing ocean.Which is why, when I talk about Climate Change, I don't talk about science.  When I talk about Climate Change, I talk about Fishing. Fishing communities have a long, rich history in the United States. Many are among the oldest townships in the country, tracing their roots back before the Revolution. Fishing, in many ways, built this country. Fishermen know that things are changing, that black bass, scup, and butterfish (an important prey species in the tuna fishery) are moving further and further north..."
---
Vast Iceberg Poised to Crack Off Antarctica. Here's an update from Reuters: "A vast iceberg, expected to be one of the biggest ever recorded with an area almost the size of the U.S. state of Delaware or the Caribbean island state of Trinidad and Tobago, is poised to break off Antarctica. A rift, slowly developing across the Larsen C ice shelf on the Antarctic Peninsula in recent years, expanded abruptly last month, growing by about 18 km (11 miles). It is now more than 80 km long with just 20 km left before it snaps, scientists said. "The Larsen C Ice shelf in Antarctica is primed to shed an area of more than 5,000 square km (1,930 square miles) following further substantial rift growth," scientists at Project Midas at the University of Swansea in Wales said in a statement..."
Photo credit: "An Adelie penguin stands atop a block of melting ice near the French station at Dumont díUrville in East Antarctica January 23, 2010. Picture taken January 23, 2010." REUTERS/Pauline Askin/File photo
---
Is More Tech the Answer to Climate Woes? New Study Says Yes. Here's an excerpt from Greenbiz: "The pace of the global rollout of clean technologies needs to increase tenfold, exceeding the pace of change seen in previous industrial revolutions, if the world is to have any chance of meeting the climate change targets set out in the Paris Agreement. That is the conclusion of a new study from a team at Duke University, which compared the pace of change in per capita carbon emissions during the industrial revolution of the late 19th and early 20th century and the clean tech revolution that has been seen in recent years. "Based on our calculations, we won't meet the climate warming goals set by the Paris Agreement unless we speed up the spread of clean technology by a full order of magnitude, or about 10 times faster than in the past," said Gabriele Manoli, a former postdoctoral associate at Duke's Nicholas School of the Environment, who led the study..."
---
Study Documents Tree Species' Decline Due to Climate Warming. The Associated Press has the story: "...The study published in the journal Global Change Biology found death due to root freeze on 7 percent of the tree's range, including areas where it's most prolific. It cited snow-cover loss that led to colder soil. Additional mortality is likely as the climate warms, researchers said. "Lack of snow is only going to become more and more prevalent," said lead author Brian Buma, a University of Alaska Southeast assistant professor of forest ecosystem ecology. By 2070, winter temperatures in about 50 percent of the areas now suitable for yellow cedar are expected to rise and transition from snow to more rain, according to the study. Yellow cedar began to decline in about 1880, according to the U.S. Forest Service, and its vulnerability is viewed as one of the best-documented examples of climate change's effect on a forest tree..."
Photo credit: "Yellow-cedar in West Chichagof-Yakobi Wilderness Area, a pristine area of coastal Alaska, faces intensive mortality." Photo: Paul Hennon, U.S. Forest Service.
---
Global Warming Made Every State a Red State in 2016. ThinkProgress reports: "Last year was the second-hottest year on record for the United States (after 2012), the National Oceanic and Atmospheric Administration (NOAA) reported Monday. And only 2011 saw more billion-dollar weather disasters. But what made 2016 unusual was just how widespread the warming was. "The breadth of the 2016 warmth is unparalleled in the nation's climate history," explained NOAA. "No other year had as many states breaking or close to breaking their warmest annual average temperature..."
---
The Unprecedented Drop in Sea Ice, in One Terrifying GIF. Alarmist hype? Check out the trends for yourself. Here's an excerpt from ThinkProgress: "Arctic sea ice area and volume have collapsed in recent decades. And the North Pole has been freakishly warm this winter, as carbon pollution has made what would have been once-in-1,000-years heatwaves increasingly commonplace. But what's so remarkable about this year is that the ongoing drop in Arctic sea ice has been matched by an unexpectedly sharp drop in Antarctic sea ice. A new animation from Kevin Pluck shows just how unprecedented this is..."
Image credit: "A new animation (below, in motion) shows a precipitous decline in global sea ice." CREDIT: Kevin Pluck.
---
11 Ways to See How Climate Change is Imperiling the Arctic. National Geographic has a long, convincing look at the rapid changes underway at the top of the world: "...While the average temperature of the planet is slowly creeping up, the Arctic is warming far more quickly—as much as two to three times faster. On December 22, a weather buoy near the North Pole reported temperatures at the melting point of 32 degrees Fahrenheit. And recent research suggests that the average summer temperature in the region over the last century is higher than in any other century for at least 44,000 years. Maps and visualizations of the resulting changes in the Arctic make it clear that global warming is no hoax. Scientists are getting a vastly improved picture of what is happening in the Arctic today as sea-ice extent, thickness, and volume are tracked by satellites, ocean buoys, and submarines with upward-looking sonar. The measurements show that the Arctic keeps breaking records for rising temperatures and declining ice cover..."
Image credit: "On September 16, 2012, Arctic sea ice extent was at its lowest level since satellite monitoring began in 1979. This view of Earth, centered on the Arctic, is a mosaic of images taken on September 2, 2012 by NASA's Suomi-NPP satellite." Photo courtesy of NASA.
More information on NASA's Suomi NPP satellite platform here.
---
---
Bill Nye Heading to Netflix To Take on Climate Deniers. Here's an excerpt from Grist: "Bill Nye is heading to Netflix to take on climate change deniers — with help from a supermodel. Nye first found television fame in the '90s with his weekly children's show on PBS. Now, he's returning to the small screen — or, at least, the streaming device — with Bill Nye Saves the World, a Netflix series set to debut this spring. "Each episode will tackle a topic from a scientific point of view," Nye said in a statement, "dispelling myths, and refuting anti-scientific claims that may be espoused by politicians, religious leaders, or titans of industry." Those topics include some hot-button issues, like vaccinations, genetically modified foods, and climate change..."