September The Way It Was Probably Meant To Be?
My dear friend and WCCO Radio co-host, Jordana Green, offered to kick me in the Doppler if it rains on her son's bar mitzvah on Saturday. Luckily for me (and Maddox) the weather should cooperate, but I'll tell you what I told her: we make plans, we load up our calendars with outdoor events - and then we shake our fist at the sky when inevitable sheets of rain disrupt our special moment.
Look, Mother Nature owes us no favors - we just get in the way.
I saw 25F at Robinson, Minnesota Thursday morning. Avoid the temptation to remove shorts and T-shirts from your closet. After a string of comfortable days into the weekend, summer comes roaring back next week, with a run of 80s and sticky dew points.
Floodwaters are receding over southeast Minnesota, and most of us stay dry into most of next week. Finally, September the way it was meant to be.
Long-range models continue to push Hurricane Florence close to the Carolinas and Mid Atlantic coast by the end of next week. An unusual bubble of warm, stagnant air may steer this storm close to the USA. It's still too early to know.
---
---
F-F-F-Frosty. Not ready for this. Check out the official Thursday morning minimum temperatures over northeastern Minnesota. Map courtesy of AerisWeather and Praedictix.
---
---
The Inevitable Cool-Down. Not exactly cold, not yet, but the 2-week outlook for 500mb winds suggests a zonal flow and temperatures closer to average by September 20 (highs in the low to mid 70s?) Meanwhile the heat is forecast to linger over roughly the southern half of the USA.
---
Hurricane Porn. This far out the track/intensity forecast is still a WAG, but it's interesting (at least to me) that ECMWF is somewhat consistent in bringing a mature (potentially major?) hurricane to the Mid Atlantic coast by Thursday of next week. Steering winds are forecast to be unusually light, meaning "Florence" may meander just offshore. Again, confidence levels are (very) low, but we're looking for consistency from model run to run, and some semblance of agreement between ECMWF and GFS. It's probably a good idea to pay attention, but it's worth reminding everyone that the odds of this exact scenario playing out and verifying is small. The forecast will change over time as new data initializes the models. Map: WSI.
---
President Trump Declares "Major Disaster" in 27 Minnesota Counties. Bring Me The News has details: "The White House has declared a major disaster in Minnesota, following the damage and flooding caused by severe storms earlier this summer. President Donald Trump on Wednesday approved 27 counties and 3 tribal lands as eligible for federal disaster assistance. He did so at the request of Governor Mark Dayton, who wrote to the president last month after observing the wreckage caused by storms, tornadoes, straight-line winds and flooding in southeast and northern Minnesota between June 15 and July 11. The federal government will reimburse the state for 75 percent of the costs of repairing public infrastructure, including roads damaged in the storms. Gov. Dayton has said the state will pay for the remaining 25 percent from its emergency contingency fund..."
Photo credit: Murray County Emergency Management.
---
---
---
The Farmer's Almanac Forecast is "Fake News", And You're Falling For It. I have to agree with Praedictix meteorologist Joe Hansel; here's an excerpt of his timely post: "...Direct from their website, they "admit to is using a specific and reliable set of rules that were developed back in 1818 by David Young, the Almanac's first editor. These rules have been altered slightly and turned into a formula that is both mathematical and astronomical. The formula takes things like sunspot activity, tidal action of the Moon, the position of the planets, and a variety of other factors into consideration. The only person who knows the exact formula is the Farmers' Almanac weather prognosticator who goes by the pseudonym of Caleb Weatherbee. To protect this proprietary and reliable formula, the editors of the Farmers' Almanac prefer to keep both Caleb's true identity and the formula a closely guarded brand secret." I have a few problems with this. Problem #1… their formula was "altered slightly" from the 1st one made back waaaaaaaaaay back in 1818. We live in a time today that has seen scientific, engineering, mathematical, and technological marvels that have lead to multiple advancements in weather forecasting. I would never believe a model that so firmly stands by only obsolete information that is nearly 200 years old and refuses to get with the times..."
---
A Rare September Soaking. Details via the Minnesota DNR: "A well-forecasted heavy rain event drenched the already soggy southeast part of Minnesota with four to six inch rains. The Twin Cities saw steady light to moderate rain over a nine-hour period on September 4. The heaviest rains fell in a line from near Austin and Albert Lea, northeastward though Waseca and Zumbrota and across the Mississippi River into Wisconsin. The heaviest rainfall amount found from a volunteer rain gauge was 6.02 inches 4.7 miles north of Rochester. An automated rain gauge 2 miles northeast of Rochester measured 6.64 inches. The University of Minnesota, Southern Research and Outreach Center in Waseca saw 5.38 inches in the 24 hours ending in the morning of September 5, with an additional 1.06 inches falling the day before. Saturated fields were an issue as well as street flooding in the hardest hit areas. Rivers that were at flood stage the week before were on the rise once again. I-90 was closed for about a half an hour between Mapleview and Austin due to water on the road. A smaller area of heavy rain fell to the northwest of the Twin Cities metro area with some two to three inch rainfall amounts reported. 3.01 inches was reported just southeast of Maple Lake in Wright County."
---
Praedictix Briefing: Issued Thursday morning, September 6th, 2018:
Heavy rain continues to be the main story with Tropical Depression Gordon, with reports of over 10" of rain causing water rescues to be conducted in parts of Mississippi. An additional 3-6" of rain will be possible across parts of the midsection of the nation over the next several days from Arkansas to the Ohio Valley. This heavy rain will bring the potential of flash flooding to this region.
We're also tracking Hurricane Florence currently out in the middle of the Atlantic. This system doesn't pose a threat to land over the next five days, but there is uncertainty in the models as to the overall track of the system after that point. We will also be watching a couple other waves in the far eastern Atlantic that have the potential to become tropical systems over the next several days.
In the Eastern Pacific, Hurricane Olivia will continue to travel in a westerly direction through the weekend. It may have the potential to impact Hawaii next week as a weaker system, but there is uncertainty in the models as to the overall track of this system as well.
---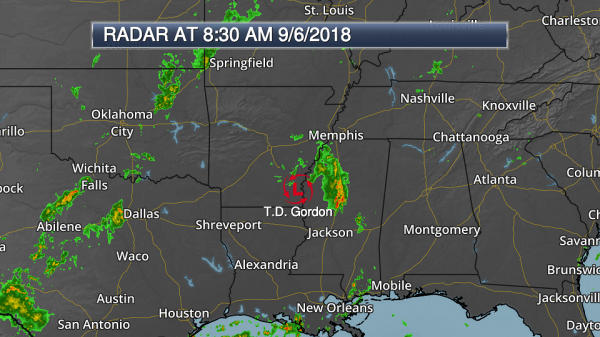 Morning Radar. Tropical Depression Gordon continues to produce heavy rain this morning across parts of Arkansas and Mississippi, with more storms expected to develop in association with the system later today across the region. As of 4 AM CT, Gordon had sustained winds of 25 mph and was located 115 miles north-northwest of Jackson, MS. The storm was moving west-northwest at 8 mph.
---
Flash Flood Emergency. At 7:59 AM CT a Flash Flood Emergency was issued for northern Holmes County, Carroll County, and eastern Leflore County in Mississippi until 12:45 PM. Water rescues have been occurring near Carrolton, and over 10" of rain has fallen in the warned area. Flash Flood Emergencies are more serious and life-threatening than traditional Flash Flood Warnings, as they are indicative of widespread flash flooding that will cause significant/catastrophic impacts to property and life.
---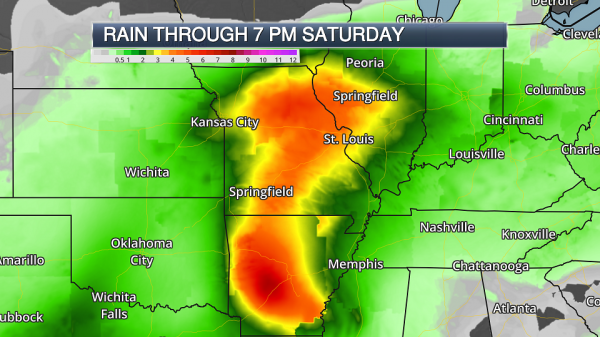 Rainfall Forecast. The main threat with what is left as Gordon will continue to be heavy rain over the next several days as the main system continues to drift to the northwest and moisture from the system gets wrapped up into a stalled frontal boundary from the central Plains into the Ohio Valley. Rainfall totals of 3-6", with isolated higher amounts, are possible through 7 PM Saturday across parts of Arkansas, Missouri, and Illinois. This could lead to flash flooding across the region.
---
Flash Flood Watches. Due to the potential of several days of heavier rain that could lead to flash flooding, Flash Flood Watches have been issued from Mississippi to Illinois. These Flash Flood Watches go until:
7 PM

tonight

across Mississippi and far eastern Arkansas

7 AM

Friday

across southern and central Arkansas
Into

Sunday

across Missouri and Illinois
---
Excessive Rain Outlooks. Moderate Risks of excessive rainfall that could lead to flash flooding remain in place today through Saturday across parts of the midsection of the country. These give us a good idea of where the heavier rain (with hourly rainfall rates of 2"+ possible) will be over the next several days. Looking at the timeframes:
Today the highest threat is across eastern Arkansas into far northwestern Mississippi

Friday

the highest threat exists from Arkansas into Missouri and Illinois

Saturday

the highest threat area covers eastern Missouri into central Indiana
---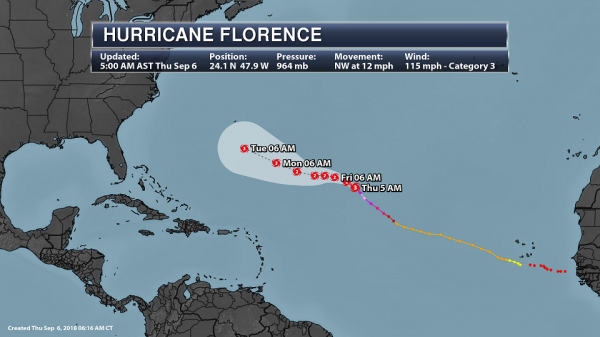 Tracking Florence. Out in the Atlantic, we're tracking Hurricane Florence, which has weakened a little as it is encountering stronger upper-level winds. As of 5 AM AST, Florence had winds of 115 mph and was moving to the northwest at 12 mph. Florence is expected to move to the northwest/west-northwest over the next couple days with a decrease in forward speed, turning to the west this weekend. Some additional weakening is expected today, but strengthening is possible this weekend into early next week. Right now Florence does not pose a threat to land over the next five days. Map credit: AerisWeather and Praedictix.
---
Considerable Uncertainty Next Week. As we head into next week, however, the uncertainty greatly increases with Florence. Ensemble models (where we are essentially running a model multiple times with slightly different parameters) show a wide spread in the potential future path of Florence – anywhere from curving out to sea to bringing impacts to the East Coast. It is too early to speculate what may happen next week with Florence, but it is something to keep an eye on as we head through the next several days.
---
Other Potential Atlantic Activity. There are two other systems we're keeping an eye on for the potential of formation over the next five days in the eastern Atlantic:
An area of low pressure several hundred miles west-southwest of the Cape Verde Islands has changed little in organization over the past day. However, conditions are favorable for development, and a tropical depression could form over the next few days. This area of low pressure has a 70% chance of formation in the next two days, and 90% over the next five days.
A wave that is will move off the Africa coast

Friday

has a 50% chance of formation in the next five days.
---
Tracking Olivia. Out in the eastern Pacific, Olivia has re-intensified into a major hurricane this morning. As of 5 AM PT, Olivia had sustained winds of 120 mph and was moving to the west-northwest at 14 mph. This system will continue to the west-northwest with an increase in forward speed through the end of the week, eventually turning to the west this weekend. Gradual weakening is expected as we head into the weekend.
---

Threat To Hawaii? As Olivia continues to move west into next week, there is the potential that there could be impacts from a weaker system in parts of Hawaii. Like Florence, however, there is a fair amount of uncertainty in the forecast path after five or so days. This will be another system we will keep an eye on into next week.
D.J. Kayser, Meteorologist, Praedictix.
---
---
This 84-Year Old Hurricane Hunter Has Flown Into the Eye of 574 Hurricanes. He's Not Done Yet. CNN.com has an interesting tale: "James McFadden has flown into hundreds of hurricanes in his five-decade career in federal government, but he still remembers his first flight. It was Hurricane Inez, a 1966 storm that slammed into the Caribbean, Florida and then Mexico. But mainly, the 84-year-old remembers just how utterly underwhelming it all was. "It wasn't that impressive a storm. So it was kind of (like), 'Well, that wasn't too bad,'" McFadden said. "I had heard all these stories about the hurricane hunters and what a fearsome job it was, and all that kinda stuff, and I was just sort of underwhelmed by my first hurricane penetration..."
File image: NOAA.
---
Is Air Pollution a Contributor to Dementia? The Washington Post reviews new research: "...Researchers Kelly C. Bishop, Nicolai V. Kuminoff and Jonathan D. Ketcham of Arizona State University cross-referenced more than a decade of Medicare records for 6.9 million older adults with EPA air-quality data to track how exposure to air pollution correlated with rates of dementia. They found that levels of fine particulate pollution known as PM2.5 were closely associated with higher rates of dementia. "A 1 microgram-per-cubic-meter [μg/m³] increase in average decadal exposure [of PM2.5] increases the probability of receiving a dementia diagnosis by 1.3 percentage points." To put those numbers in context, that increase in dementia odds is "equivalent to the elevated risk associated with a female aging from 74 to 77," Bishop and her colleagues write..."
---
Carbon Dioxide Emissions Fall as Nation Uses Less Coal and More Natural Gas. The trends are encouraging. Here's a clip from The Houston Chronicle: "The electric power industry made such a dramatic shift last year away from coal and toward natural gas and renewable energy sources, contributing to the industry's 4.6 percent decrease in emissions of carbon dioxide, the Energy Department reported. The decline was enough to offset emissions increases from all other business sectors. Electricity producers cut their emissions of carbon dioxide, a greenhouse gas that traps heat in the atmosphere and increases worldwide temperatures, by relying more on natural gas, a cleaner, more efficient fuel source that uses less energy to generate each kilowatt hour of power..."
---
Electric Buses Arrive in Duluth. Duluth News Tribune has details: "In the works for three-plus years, electric buses are arriving in Duluth at last. Two of the buses are already in the Duluth Transit Authority garage in Lincoln Park; five more of the $1 million a-piece whirring people movers are scheduled for delivery this month. "It sounds like a golf cart," said DTA spokesman Heath Hickok, test-riding one of the new buses on Friday. "This is a game changer. People who never ride the bus will want to ride the electric buses." The appeal of the electric bus felt instantaneous. There was something both new and classic about its curves — as if the manufacturer, Proterra, of South Carolina, took a rounded bus from the 1950s, raised it on whole milk and sent it to space camp..."
Photo credit: "Nate Mascarenas, who works in maintence for the DTA, takes one of the new DTA electric buses for a spin around the parking lot Friday morning. Five more of the $1 million buses are scheduled for delivery this month." Bob King / rking@duluthnews.com.
---
How Real News is Worse Than Fake News. Huh? Is more news making us more cynical and skeptical (of everything?) Here's an excerpt of an Op-Ed at Bloomberg: "...The world of the internet — fundamentally a world of information — is reporting on the failures of the elites 24/7. And while pretty much every opinion is available, some have more resonance than others. Is it not the case that, post-2008, most people really are skeptical of the ability of American elites to prevent the next financial crisis? Going even further back, I recall the optimism surrounding the Mideast peace talks of the 1970s or the Oslo accords of the 1990s. Hardly anyone honest has the same positive feelings about today's efforts at peace talks. Again, these impressions are based on actual information. An informed populace, however, can also be a cynical populace, and a cynical populace is willing to tolerate or maybe even support cynical leaders. The world might be better off with more of that naïve "moonshot" optimism of the 1960s..."
---
Airport Security Trays Carry More Germs Than Toilets, Study Reveals. So what, we should all wear gloves when we go through TSA checkpoints? Here's the story at CNN Travel: "What's the most germ-filled spot in an airport? The bathrooms? Those crowded waiting areas? The passport checking counter? Surprisingly, none of the above.  A new study from a team of experts from the UK's University of Nottingham and the Finnish National Institute for Health and Welfare, published in the BMC Infectious Diseases journal, has revealed those airport security plastic trays are the biggest culprit for spreading germs in airports. So next time you're dumping your phone, passport and laptop into the tray -- it might be worth having the hand sanitizer handy..."
---
These Eye-Popping Numbers Tell Us How Shockingly Full Flights Really Are These Days. No more free middle seats - I can't remember the last time I could spread out a little. I know - first world problems. Here's a clip from Forbes: "No, it's not just you. And it's not just your imagination. You're not the only air traveler feeling more pinched these days. The data, in fact, prove that you aren't crazy, and that you have every reason to feel pinched. More than 201 million additional passengers boarded U.S. airlines' flights in 2017 than did so in 2005, according to the Bureau of Transportation Statistics, an arm of the U.S. Department of Transportation. But U.S. carriers actually operated 1.6 million fewer flights last year than in 2005. So the mathematical equation is pretty simple: lots more passengers X fewer flights = more crowded conditions on planes..."
---
Uber to Block Low-Rated Riders in Australia and New Zealand. Uh oh. BBC News reports: "Uber is to block customers in Australia and New Zealand from its ride service if they have a low passenger rating. Riders rated four-out-of-five stars or lower will be banned for six months. Ratings are based on feedback left by drivers after each journey. The move is aimed at improving passenger behaviour, the company said. Uber told the BBC that Australia and New Zealand had been identified as a place to bring in the rule after feedback from drivers. The same policy was introduced in Brazil earlier this this year, Uber said, but it's the first time the control has been rolled out in an English-speaking market..."
---
74 F. high yesterday in the Twin Cities.
76 F. average high on September 6.
68 F. high on September 6, 2017.
September 6, 1881. Forest fires in Michigan and Ontario resulted in 'Yellow Day' in the northeastern U.S. Twenty villages in Michigan burned, and a total of 500 persons were killed. Fires caused 2.3 million dollars in losses near Lake Huron. Candles were needed at the noon hour.
September 7, 1990: Strong winds and hail up to 2 inches was reported in Swift, Douglas, Stevens, Kandiyohi, Meeker, Stearns, and Waseca Counties.
September 7, 1986: A touch of winter is felt in northern MN, with lows of 20 degrees at Embarrass and 30 at Duluth.
September 7, 1922: The fifth consecutive day of 90 degrees or above occurs in the Minneapolis area.
---
---
FRIDAY: Sunny and beautiful. Winds: E 7-12. High: 75
FRIDAY NIGHT: Clear and cool. Low: 55
SATURDAY: More comfortable sunshine. Winds: SE 8-13. High: 75
SUNDAY: Blue sky. Starting to like September again. Winds: SE 8-13. Wake-up: 56. High: 76
MONDAY: Sunny and mild. Winds: S 7-12. Wake-up: 58. High: 78
TUESDAY: Sunny, a bit stickier. Winds: S 8-13. Wake-up: 62. High: 81
WEDNESDAY: Hazy sun, feels like August. Winds: S 8-13. Wake-up: 64. High: 83
THURSDAY: Super-sized summer hangs on. Sunny and warm. Winds: S 8-13. Wake-up: 66. High: 85
---
Climate Stories...
We Could Shift to Sustainability and Save $26 Trillion. Why Aren't We Doing It ?
Dave Roberts asks the rhetorical question at
Vox
: "
$26 trillion by 2030. That, according to the most authoritative research to date, is the amount of money humanity could save through a global shift to sustainable development. It's a lot of money. Before you break your brain trying to imagine it, just pause to make a note that it's a positive sum (uh, extremely positive), not negative. Net savings, not costs. That might come as a surprise since decades of conservative and fossil fuel propaganda have made it conventional wisdom that cleaning up our act is expensive — that it costs more than the status quo. It is the argument hauled out against every single pollution regulation. The argument has always been false on a sufficiently long time scale. Sooner or later, humanity must live sustainably or it won't go on living — that's what "sustainable" means
..."
---
Submerged Risks Haunt Low-Level Airports
.
Bloomberg Opinion
explains the challenge: "...
Although most climate models predict between 0.2 meters and 2 meters of sea-level rise by 2100 (with a median estimate of 1 meter), the main risk to airports isn't that they'll be permanently submerged. Instead, it's that elevated waters and more extreme storms cause flooding that had previously happened only rarely to become a regular threats, necessitating increased capital spending on prevention measures and pushing up insurance premiums. That in turn risks undermining valuations, resulting in writedowns for the asset owners and in a worst-case scenario the necessity of moving to higher ground
..."
---
The World is Utterly Failing to Keep Climate Change Under Control
.
Popular Mechanics
reports: "...
Speaking in Bangkok ahead of a UN-sanctioned climate change conference there, Espinosa told the Reuters news agency that the goals set in Paris by almost 200 nations in 2015 are proving difficult to meet. First and foremost among those goals was "keeping a global temperature rise this century well below 2 degrees Celsius above pre-industrial levels and to pursue efforts to limit the temperature increase even further to 1.5 degrees Celsius." Speaking to Reuters, Espinosa said that "1.5 is the goal that is needed for many islands and many countries that are particularly vulnerable to avoid catastrophic effects. In many cases it means the survival of those countries
..."
Image credit: NASA.
---
Longer, Warmer Autumns.
Although the warming signal is most pronounced during the winter months (at night) falls are trending milder in the Twin Cities - snow and ice pushed deeper into November and December. Skeptical? Ask anyone who plays pond-hockey or tries to ice fish before December 1. Climate Central has details: "
This week, we examined the trends in average fall temperature across the U.S. Of the 244 cities analyzed, 80 percent have warmed at least 1°F in the last half-century, compared to only 1 percent which have cooled 1°F or more. The warming has been especially pronounced recently, as the last three falls have been within the 10 warmest on record in the U.S., and the two warmest came in 2015 and 2016. The warming climate effectively makes early fall an extension of summer, as the last characteristically hot day in most cities is also coming later in the year. While some will find that appealing, it means a delay in the return to cozy fall sweaters and hot chocolate in the evenings. And in the future, climate change may delay the time of peak fall foliage and cause leaves to drop more quickly, shortening the foliage season
..."