Meteorologists In Awe of Recent Tropical Development
Take a look at what Meteorologists are tweeting about right now... they are in awe of the recent tropical activity in the Atlantic and Pacific Basins. Tropical systems are stacked up in each basin and visible satellites and weather maps have people talking... take a look!
___________________________________________________________________________
"The Farmers' Almanac Winter Forecast is Fake News And You're Falling For It"
"The Farmers' Almanac is Pretentious - Every year, the Farmers' Almanac pumps out a winter 'pseudo-forecast' that I would say is not worth the paper it's printed on, pardon the cliché. I will not be sharing or going into detail their 'forecast' with you here. I will not give them the attention. You deserve a better outlook for winter. One that is actually based on science and made by meteorologists that have the knowledge and experience to back it up. Instead, I'll share with you this, taken right from the Farmers' Almanac website: "Contrary to the stories storming the web, our time-tested long-range formula is pointing toward a very long, cold, and snow-filled winter. We stand by our forecasts and formula, which accurately predicted the many storms last winter, as well as this summer's steamy, hot conditions."
See more from Praedictix HERE:
_________________________________________________________________________
Hints of Autumn
September 1st was the first day of Meteorological Fall, which marks the date where the warmest 3 months on average for the northern hemisphere are behind us. Shuffling around town over the last week or so, I've noticed a few subtle signs that fall is right around the corner. A few trees aren't quite the vibrant 50 shades of green that they once were and a few are already starting to shed a few leaves. 
MN DNR Fall Color Update
Hey - check this out! The MN DNR has now officially started updating their fall color report for the 2018 fall season. Interestingly, parts of northwestern Minnesota are already at 10% - 25%! Note that fall colors will start ripen over the next several weeks. 
 Typical dates for peak fall colors in Minnesota
According to the MN DNR, the typical peak for fall color starts in mid/late September across far northern Minnesota, while folks in the Twin Cities enjoy it around late September to mid October.

____________________________________________________________________________
"The Best Fall Foliage Train Trips to Take This Year"
"Living in a world of pristine beaches and towering castles, it's easy to forget that people from halfway around the world travel to our backyard to see the views we often take for granted. Some of the best foliage is right here in the U.S., and the autumnal scenery that photographers capture for postcards is something we can see on a leisurely drive just a few hours outside the city. Taking a weekend trip to see the fall leaves can yield some of the best sights you'll see all year. If you'd like to actually enjoy the views, instead of squinting at Google Maps in the driver's seat, taking a foliage train trip could be the perfect solution. Whether you're on a solo leaf-peeping excursion or have your children in tow, the train does all the work for you. The train is your chauffeur, your tour guide, and your GPS. You don't have to plan a route, keep your eyes on the road, or even remember to pack snacks. All you have to do is sip on your to-go cup of steaming hot cider or pumpkin spice coffee, sit back, and enjoy the ride."
See more from Travel and Leisure HERE:

___________________________________________________________________________
2nd Warmest Lowest Temperature For Meteorological Summer
Here's an interesting tweet from the NWSTwinCities, which suggests that the lowest temperature recorded in the Twin Cities for Meteorological Summer (June-August) was 52F. That ties for the 2nd warmest lowest temperature on record for that period. Alsto note that all but 1 of the top 10 years with the warmest minimum temperature for that period have been since 2000!
_____________________________________________________________________________
Record Crowds at Minnesota State Fair - A Run At 2 Million !!
The Minnesota State Fair is unreal. I absolutely love going and is a yearly tradition for our family. Between the food and people watching, it's a great way to spend a late summer day. According to the MN State Fair, 2018 was a record breaker! Not only were three 5 daily attendence records, but there was an all-time daily attendance record of 270,426 on Saturday, September 4th and there was also an all-time total attendance record of 2,046,533 - WOW! It really is incredible that more than 2 million people made their way to the Fair over a 12-day period.
____________________________________________________________________________
Seasonal Allergies... SNIFF SNIFF
Seasonal allergy sufferers are still battling waves of pollen that have been running at High to Medium/Medium-High over the last few weeks. The upcoming forecast suggests that we will still be running at Medium-High levels at times as we head into mid September, so keep the allergy meds flowing... Hopefully we'll all get through this together - AAACHOOOO!
______________________________________________________________________
"How Are Fall Allergies Different From Spring Allergies? Season Changes Can Bring New Symptoms"
"When temperatures drop and summer weather fades into autumn chill, there are certain things we all love: snuggly sweaters, hot cocoa, the smell of indoor fires. And there are others that, well, a lot of us could live without. Fall, like spring, is a prime season for allergies, and it can be hellish for people who are sensitive to hayfever. But fall and spring allergies are different in certain ways, and knowing how those differences play out can mean you're fully armed to deal when the sniffles begin. Dr. Purvi Parikh, an allergist/immunologist with the Allergy & Asthma Network, tells Bustle, "Fall and spring allergies are very similar in terms of symptoms. They both cause coughing, wheezing, nasal congestion, runny nose, sneezing, and itchy watery eyes. The main difference is the type of pollen." If you get hay fever, you're part of the 40 percent of allergy-havers with a pollen sensitivity. The big distinction between the seasons, Dr. Parikh says, is in the pollen allergens themselves, the elements that become airborne and irritate the airways of people with sensitivities."
______________________________________________________________________________
US Drought Monitor - Minnesota
Another bout of heavy rain impacted much of the state earlier this week, which helped overcome abnormally dry conditions across parts of central and southeastern MN. According to the US Drought Monitor, 27% of the state is now abnormally dry, which is down from 38% last week. Moderate drought conditions have decreased from 9% last week to a little less than 7% this week.
 ___________________________________________________________________
High Temps Sunday
Another wonderful day will be on tap across much of the state with comfy temps in the 70s and dewpoints in the 50s. Much of the state will also bask under mostly sunny skies - just about as good as it could get! Enjoy!!
Weather conditions over the next few days looks fairly quiet across the Upper Midwest and especially closer to home. There maybe a few T-showers across the Dakotas and northern Minnesota this weekend, but the rest of the state looks to stay mainly dry. The big story will be the continued heavy rains across the Ohio Valley on Sunday and into the Northeast Monday. The Twin Cities on the other hand may see a little light rain chance either PM Monday or PM Tuesday, but it's not expected to be much.
Rainfall Potential Through Monday
According to NOAA's NDFD, the weekend looks to stay mostly dry across most of the state. The only spot that might see a little rain would be the far northwestern corner, where moderate drought conditions persist.
_________________________________________________________________________________
Extended Temperature Outlook
The extended forecast as we head through the middle part of September shows temps flirting with the low/mid 80s again for much of next week. Keep in mind that our average high in the Twin Cities now is in the low/mid 70s. However, after a few days with temps in the 80s, it looks like a bigger cool down arrives by the 3rd week of the month with highs in the 60s!
_________________________________________________________________________
Postcard Perfect - Florence Threatens East Coast
By Paul Douglas
Here'a Public Service Announcement for anyone planning an outdoor wedding in June. Consider September.
I love every month and every season, but there's something extra-special about September.
Let me list the ways: your odds of a dry weekend are statistically higher in September than June or July. Less heat and humidity, better visibility, and a lower risk of hail the size of minivans.
Get ready for another stunning day, with a canopy of blue sky and a fresh breeze. A lonely thundershower may bubble up over far northern Minnesota Monday and Wednesday, but the MSP metro area may not be puddle-free thru Friday. High temperatures mellow into the 80s, with humidity levels ticking upward. More mid-August than mid-September.
We won't be griping about Minnesota's weather anytime soon, with a potentially major Hurricane Florence forecast to hit the Carolinas Thursday, and then stall out over the Mid Atlantic for several days. I'm increasingly concerned about a long-duration inland flooding disaster from the Carolinas to Washington D.C. Alert friends out east - stay tuned.
_____________________________________________
Extended Forecast
SUNDAY: Sunny. Just about perfect. Winds: SE 8-13. High: 74.
SUNDAY NIGHT: Mostly clear and quiet. Winds: SE 5. Low: 54.
MONDAY: Mild sunshine. T-shower far north. Winds: S 7-12. High: 76.
TUESDAY: Hazy sunshine, a touch of humidiy returns. Winds: S 7-12. Wake-up: 61. High: 80.
WEDNESDAY: Warm sunshine. T-storm up north. Winds: S 7-12. Wake-up: 66. High: 83.
THURSDAY: Sticky sun, feel like mid-August. Winds: SW 8-13. Wake-up: 67. High: 85.
FRIDAY: Few showers and storms. Winds: W 10-15. Wake-up: 67. High: 79.
SATURDAY: Front stalls. More T-storms. Winds: SE 8-13. Wake-up: 65. High: 80.
______________________________________________________
This Day in Weather History
September 9th
1979: 1 3/4 inch hail falls in Douglas County.
1917: Very chilly air moves into Minnesota, with a low of 17 degrees at Roseau.
_______________________________________________________
Average High/Low for Minneapolis
September 9th
Average High: 75F (Record: 95F set in 1947)
Average Low: 56F (Record: 38F set in 1883)
Record Rainfall: 1.79" set in 1900
Record Snowfall: NONE
_________________________________________________________
Sunrise/Sunset Times for Minneapolis
September 9th
Sunrise: 6:45am
Sunset: 7:35pm
Hours of Daylight: ~12 hours & 50 minutes
Daylight LOST since yesterday: ~3 minutes & 4 seconds
Daylight LOST since summer solstice (June 21st): 2 hours and 47 Minutes
__________________________________________________________
Moon Phase for September 9th at Midnight
0.5 Days Since New Moon
_________________________
What's in the Night Sky?
According to EarthSky.org this is what will be visible in the night sky over the next several nights: 
"Tonight – or any autumn evening – Cassiopeia the Queen can be found in the northeast after sunset. This constellation has the distinctive shape of a W, or M, depending on the time of night you see it. The shape of this constellation makes Cassiopeia's stars very noticeable. Look for the Queen, starting at nightfall or early evening. Cassiopeia represents an ancient queen of Ethiopia. The entire constellation is sometimes also called Cassiopeia's Chair, and some old star maps depict the queen sitting on the chair, marked by the five brightest stars of this constellation. These stars are Schedar, Caph, Gamma Cassiopeiae, Ruchbah, and Segin. If you have a dark sky, you can look below Cassiopeia in the northeast on these autumn evenings for a famous binocular object. This object is called the Double Cluster in Perseus. These are open star clusters, each of which consists of young stars still moving together from the primordial cloud of gas and dust that gave birth to the cluster's stars. These clusters are familiarly known to stargazers as H and Chi Persei."
 ________________________________________________________________________
"Flooding Rains In The Ohio Valley - Watching Florence Olivia Helene And Likely Isaac"
Praedictix Briefing. Saturday, September 8th, 2018
Heavy rains will continue across the Ohio Valley this weekend as the remnants of what was Tropical Storm Gordon slowly swirl through the region. An additional 3" to 6"+ can't be ruled out with flash flooding a possibility through PM 

Sunday

.
Tropical Storm Florence in the Central Atlantic continues to track west with an increase in intensity expected over the next several days as it omnously approaches the East Coast. There is still some uncertainly on whether or not this will make an East Coast landfall, but model trends are suggesting a greater potential of that happening late next week.
Tropical Storm Helene and Tropical Storm NINE (likely to become Isaac later today) have also developed in the Atlantic. Both systems are drifting west off the west coast of Africa and are forecast to become hurricanes by early next week.
Hurricane Olivia in the Eastern Pacific continues to track west toward the Hawaiian Islands and is forecast to impact the region as a tropical storm by early next week.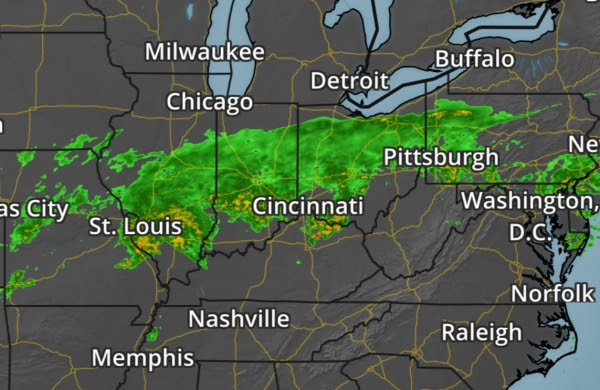 Morning Radar. Remnants of what was Tropical Storm Gordon will continue to swirl through the Ohio Valley this weekend. Areas of heavy rain were found from near St. Louis, MO to Indianapolis, IN to Pittsburgh, PA and even as far east as New Jersey. This rain is falling along an elongated stationary frontal boundary that will focus and enhance heavier rains in these areas through the rest of the weekend.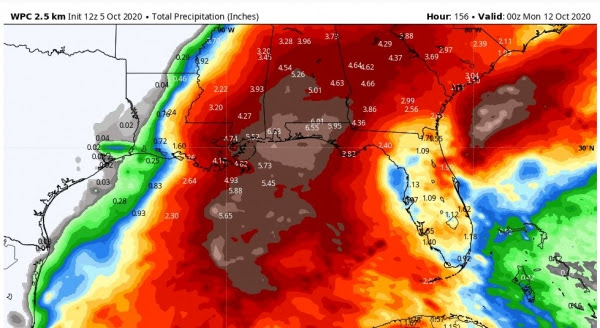 Rainfall Forecast. Heavy rain and flood concerns will continue to be the main threat as the remnants of Gordon move through the region. The rainfall forecast (image above) suggests a fairly wide swath of 3" to 6"+ (orange and red colors) extending from near St. Louis, MO to Indianapolis, IN to Columbus, MO to Pittsburgh, PA and into Central New York and New Jersey. Widespread showers and thunderstorms will continue to ride over the same areas through the weekend and early next week, which will prolonged the heavy rain chance and keep the flood threat at elevated levels.
Flood Concerns. The threat for heavy rain across the Middle Mississippi Valley to the Ohio Valley and into parts of the Northeast over the next 2 to 3 days has prompted several Flash Flood and Flood Watches (in green). Much of the Ohio Valley will remain in the flood threat through Sunday evening, while folks in the Northeast will have flood concerns lingering through Monday. Again, the potential of 3" to 6"+ of rain could not only prompt flash flooding on areas roadways, but folks near rivers, streams and creeks will also have to be weary as water levels are expected to rise and crest over the next several days. 
Excessive Rain Outlooks. There is a HIGH Risk of excessive rainfall today across parts of central/southern Illinois through parts of central/southern Indiana and far western Ohio, which means that areas of extremely heavy rainfall and flooding will be likely within these areas. A MODERATE Risk of excessive rain surrounds this area and extends from near St. Louis, MO to near Columbus, OH. By Sunday, the heaviest rain corridor will likely shift into the eastern half of Ohio to northern West Virginia and western Pennsylvania. Again, keep in mind that widespread 3" to 6"+ total rainfall amounts can be expected in these areas through the weekend, but the excessive rainfall outlooks suggest where the heaviest rains will be focused on Saturday and Sunday.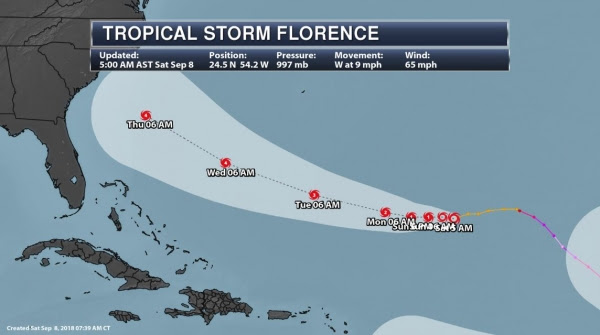 Tracking Florence. As of early Saturday morning, NOAA's National Hurricane Central suggested that "Florence" in the Central Atlantic was still a Tropical Storm. However, the forecast track is quite concerning as it drifts west over the next several days. According to NOAA's NHC, "Florence" could potentially become a major hurricane (category 3 with sustained winds of 111mph or stronger) by Tuesdaymorning. The official forecast track and cone of uncertainty brings "Florence" closer to the East Coast by late next week. While, extended forecasts still remain uncertain, those living along the East Coast should start making contingency plans as the storm continues to track west towards the US.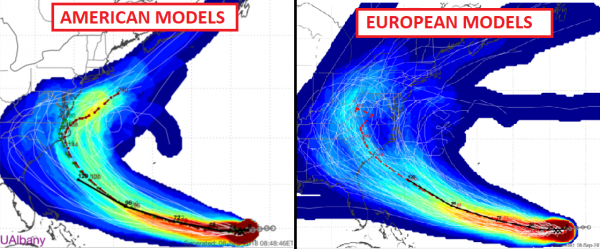 Forecast Uncertainty. Both American and European models are struggling with the exact track of this storm, which is to be expected this far out. However, we are starting to note that those model tracks aren't as dispersed as they were a few days ago. There seems to be a slight narrowing or focus on a potential track near the Carolina Coast late next week. With that said, we are still several days away from any potential close encounter or landfall with this system and things could and likely will change. However, it is imperative to keep an eye on forecasts as we head into the next several days as "Florence" continues to intensify and drift west toward the US.
Active in the Atlantic. According to NOAA's NHC, there are 3 other waves of energy that they are keeping an eye on. First of all, there is a weak wave west of "Florence" that has a low probability of tropical formation over the next 5 days. The 2 other waves of energy are located west of Africa that are both forecast to become hurricanes by early next week. As of early Tuesday, "Helene" was already a tropical storm and is forecast to intensify into a hurricane by late Sunday or early Monday as it drifts northwest over the next several days. Meanwhile, Tropical Depression "NINE" has developed west of "Helene" and is also forecast to become a hurricane ("Isaac") by early Tuesday morning. The track of that storm looks potentially a little more concerning as it drifts west toward the Lesser Antilles late next week.
Tracking Tropical Depression "NINE" and Likely "Isaac". According to NOAA's NHC, Tropical Depression "NINE" will intensify as it drifts west over the next several days. We will likely be tracking Tropical Storm "Isaac" at some point this weekend and potentially even Hurricane "Isaac" early next week. The forecast gets a little more concerning late next week as it approaches the Lesser Antilles, so we will have to monitor this system very closely during the 2nd full week of September, which is the typical peak of the Atlantic Hurricane Season and specifically on September 10th.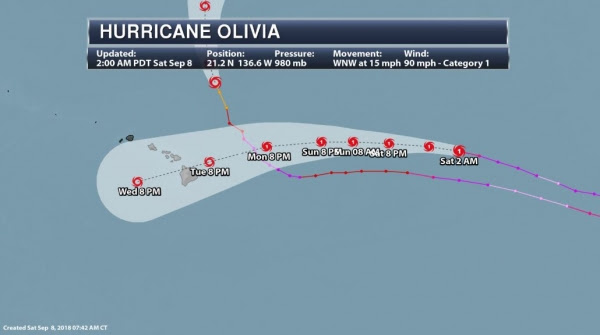 Hurricane Olivia. Last week, Hawaii had a close call with Hurricane "Norman", but thankfully that storm took a northerly track and scooted by east of the Island. Unfortunately, we may not be as lucky with "Olivia" as the official track takes it right over the islands by early/mid next week. The forecast also calls for a weaker, tropical storm to be impacting the islands at that point, but gusty winds and heavy rains will still be a concern if the forecast holds.
Todd Nelson, Meteorologist, Praedictix
____________________________________________________________________
 Tropical Climatology
This is neat map from NOAA's NHC, which shows where we typically see tropical cyclones develop during the first 10 days of September. Keep in mind that September 10th is the average peak of the Atlantic Hurricane Season, so this is typically the most active time for the Atlantic.
 ______________________________________________________________________
Average Peak of Atlantic Hurricane Season

According to NOAA, the average peak of the Atlantic Hurricane Season is on September 10th. Note that activity (on average) in late June and early July remains pretty tame. Things really start to heat up in August and September though!
_____________________________________________________________________________
Smoky Skies Have Improved
Wildfires continue to burn across the western part of the country. There are 2 fires near Redding, CA in the northern part of the state that have consumed nearly 70,000 acres - the Delta and Hirz fires. Those 2 fires seem to be contributing to the worst smoke issues in the Northwestern part of the country. However, some of that smoke is even drifting into the Midwest, but it is not as thick as it once was. 
______________________________________________________________________________
2018 Lightning Fatalities - EIGHTEEN
Did you know that lightning ranks as one of the top weather related killers in the U.S.? An average of nearly 50 people are killed each year in the United States and so far this year, 18 people have died from lightning; 14 have been males and only 4 have been females. Interestingly, from 2008-2017, 234 males have died, while only 65 females have died.
See Lightning Safety Tips From NOAA HERE:
__________________________________________________________________________
PRELIMINARY Tornado Count This Year
According to NOAAs SPC, the PRELIMINARY tornado count across the US this year stands at 802 (through September 7th). Note that this is less than the last couple of years, but more than what we had in 2013. Keep in mind that the short-term average (2005-2015) suggests an average of more than 1,200 tornadoes.

_________________________________________________________________________
Average Tornadoes in August By State
Here's the average number of tornadoes during the month of September by state. Florida sees the most with 8, while Minnesota averages only 2 tornadoes.
_____________________________________________________________
3-7 Day Hazard Forecast
1.) Heavy rain across portions of the the Northeast, Mon, Sep 10.
2.) High significant wave heights from the Carolinas through Cape Cod, Tue-Fri, Sep 11-14.
3.) High winds for much of the Coastal Plain from the Carolinas through Massachusetts, Wed-Fri, Sep 12-14.
4.) Heavy rain across coastal areas from the Outer Banks through Long Island and extending into the Central Appalachians, Thu-Fri, Sep 13-14.
5.) Flooding possible across portions of the Upper and Middle Mississippi Valley, the Great Lakes, and the Ohio Valley.
6.) Flooding occurring or imminent across portions of the Southeast, the Upper and Middle Mississippi Valley, and the Great Lakes.
7.) Flooding likely across portions of the Central Plains, the Upper and Middle Mississippi Valley, and the Ohio Valley.
8.) Slight risk of heavy precipitation for portions of the Mid-Atlantic and the Northeast, Sat-Sun, Sep 15-16.
Slight risk of heavy precipitation for portions of South Texas and extreme southwestern Louisiana, Sat-Mon, Sep 15-17.
9.) Slight risk of much below-normal temperatures for portions of the Great Basin, the Northern Plains, the Northern Rockies, California, and the Pacific Northwest, Sat, Sep 15.
10.) Severe drought for parts of New England, the middle Mississippi Valley, Great Plains, western U.S., and Hawaii.
_______________________________________________________________________
 Temperature Anomaly on Saturday
The temperature anomaly across North America on Saturday showed temperatures above avearge across much of the western US and the Southeastern US. However, cooler than average weather was across much of central US and Eastern Canada. Temperatures look to gradually warm across the Central US over the coming days.
Temperature Trend
Here's the temperature anomaly as we head closer to the middle part of the month. Note that there is initially cooler than average temps across much of the Central and Northeastern US, but warmer weather will gradually build in over the next several days. Meanwhile, cooler than average temps will build into the Pacific Northwest and Western Canada.
8 to 14 Day Temperature Outlook
According to NOAA's CPC, September 15th - 21st will be warmer than average across much of the nation, while, slightly cooler than average temps will only be found along the West Coast.
________________________________________________________________
Weather Outlook Ahead
The weather loop below shows active weather across the Central and Eastern US with the remnants of Gordon moving through the region. Heavy, flooding rains will make the weekend very wet and could linger into early next week across the Northeast. There will also be areas of heavy rain in Texas and the Lower Mississippi Valley, where isolated flood concerns maybe possible. Meanwhile, folks across much of the Western US will remain dry.
___________________________________________________________________
7 Day Precipitation Outlook
YIKES - According to NOAA's WPC, the 7-day precipitation outlook suggests areas of heavy rain continuing across parts of the Ohio Valley and into the Northeast as remnant moisture from Gordon slides through. There also appears to be another surge of heavy precipitation across the Mid-Atlantic States as "Florence" moves into the region, but the exact track is still yet to be determined. Areas of heavy rain will continue across southern Texas and into the Lower Mississippi Valley.
_______________________________________________________________________________
US Drought Outlook
Here is the national drought map from September 4th, which shows extreme and exceptional drought conditions across much of the Four-Corners region and for a few areas in the Central and Southern Plains. The good news is that several locations in the Central and Southern US have had some fairly good rains over the recent days/week and there is more on the way so some improvement is being seen there.
_______________________________________________________________________
"We've got apps and radars – but can ants predict rain?"
"It's often said that ants can predict impending rain and respond by changing their behaviour. Some people say that if you see ants building their mounds higher, or building them from different materials, this might signal the coming of rain. But is there any scientific evidence to support this piece of folk wisdom? The short answer is "no", although it is a difficult question to answer partly because of the sheer diversity of ants – there are 13,000 named species on the planet!"
______________________________________________________________________________
"SILENT KILLER: IN LONDON, AIR POLLUTION HAS BECOME A MATTER OF LIFE AND DEATH"
"According to researchers, air pollution kills thousands in the city every year. In January of 2018, the city reached its legal air pollution limit for the whole year within only a few weeks. The Royal College of Physicians has reported that around 40,000 deaths in the United Kingdom are attributable to exposure to outdoor air pollution, and have linked it to cancer, asthma, stroke and heart disease, diabetes, and obesity. Children, and poorer communities, are often most at-risk for the dangers of air pollution. "This is, without doubt, a public-health disaster," says Jonathan Grigg, a professor of environmental medicine at Queen Mary University of London and the lead author of the Royal College of Physicians' Report on the long-term effects of air pollution. Air pollution is hardly a new challenge in London. The early 20th century earned the nickname the "age of smoke." In December of 1952, a cloud of smog appeared in London. At the time, the city relied on cheap coal to generate power to heat homes. A period of cold weather, combined with windless conditions, formed a thick layer of smog over the city. The smog reduced visibility to only a few feet, and residents inundated hospitals.
"Wind and solar farms can make their own weather, including extra rain over the Sahara"
"You already know that using solar and wind power can influence the climate by reducing our dependence on heat-trapping fossil fuels. Now scientists say these renewable forms of energy can change the climate more directly — and do it in ways that might surprise you. If wind turbines and solar panels were deployed across the Sahara, more rain would fall and more plants would grow in the massive African desert, according to research published in Friday's edition of the journal Science."
______________________________________________________________________________
"We Just Sweated Through the Hottest Summer Nights on Record"
"The three-month span from June to August is always the worst season. It's a season of armpit sweat; a time of searching for shade or air conditioning. And if it felt like this summer sucked even more than usual, you're not imagining it. The summer of 2018's hellacious heat set a new record. U.S. summer nights were the hottest ever recorded, according to datareleased on Thursday by the National Centers for Environmental Information. Factoring in daytime highs, summer 2018 came in as the fourth warmest on record for the U.S., with temperatures 2.5 degrees Fahrenheit above the 20th century average. Every summer in the top 10 has occurred since 2002. Local temperature records further illustrate just how freaky warm nights were this summer. There were 6,160 record set for warm nights across the U.S. this summer, outpacing record cold nights by a ratio of 7.5 to 1."
______________________________________________________________________
"US Open heatwave finally set to end but Novak Djokovic demands action as players bake at all four grand slams"
*Players competing in the US Open semi-finals and finals this weekend will be blessed with cooler temperatures
*The tournament has been besieged by a heatwave and unbearable humidity
*Novak Djokovic described the Arthur Ashe Stadium as a 'sauna' on Thursday 
*All four grand slams in 2018 have been played out in the midst of heatwaves 
"The hottest year of grand slam tennis on record will reach a blessedly more temperate conclusion this weekend, with the scorching heat at the US Open set to die away. This will be a relief for all concerned, including Novak Djokovic, who called for action to be taken about ventilation on the Arthur Ashe Stadium after describing 'sauna' like conditions in his quarter-final. On Friday, the 31-year-old Serb will take on Japan's Kei Nishikori for a place in the final, while Rafael Nadal will reprise his outstanding Wimbledon encounter against Juan Martin Del Potro."
__________________________________________________________________
"California wildfires cause $845 million in insurance losses this year so far"
"Residents and business owners have filed more than $845 million in insurance claims as a result of this summer's Carr and Mendocino Complex wildfires, the first data on what's likely to be massive bill from a series of blazes that have hit the state this year. The startling tally comes less than a year after the devastating Wine Country fires in October totaled $10.4 billion in losses, making them the costliest wildfires in U.S. history. This year, more than 10,000 insurance claims have been filed for property losses as a result of the two Northern California fires, which damaged or destroyed more than 8,800 homes, 329 businesses, and more than 800 private autos, commercials vehicles, and other types of property, Insurance Commissioner Dave Jones said on Thursday morning. Those numbers are likely to climb as claims are adjusted and more people file with their insurers, Jones said. "The worst may be yet to come," Jones said, noting that wildfire season peaks in the fall. "The problem is growing. The risk is growing. The trajectory is in the wrong direction.""
___________________________________________________________________________
"Florida, one year after Hurricane Irma"
Hawks Cay Resort in the Florida Keys recently reopened after a $50 million renovation due ot hurricane damage. Hurricane Irma hit Florida a year ago. 

____________________________________________________________________________
"Where will lightning strike next? A new model could help pilots avoid dangerous storms"
"Weather models can forecast severe storms pretty well, but predictions of lightning have remained elusive. Now, researchers have created global simulations of lightning that more accurately capture when and where the strikes will occur—which could help people trying to avoid them, such as airline pilots. Lightning generally requires two ingredients. First, it needs warm, rising air, or convection, to create thunderclouds. It also needs the thunderclouds to contain icy pellets known as graupel. Colliding pellets transfer electric charge, creating an electric field. A lightning bolt forms when that field gets big enough. Weather and climate models, which divide the atmosphere into grid boxes of a certain size, have struggled to simulate lightning because their spatial resolution is too coarse, typically 100 kilometers or so. The processes that give rise to convective thunderclouds and graupel happen at too small a scale for computers to simulate them globally in any reasonable amount of time. To make daily forecasts, weather models have to instead rely on "parameterizations" for things like convection—ad hoc rules of thumb that can be performed quickly."
 _____________________________________________________________________________
"Hurricane Irma: One Year Later"
Since Hurricane Irma made landfall, Direct Relief has delivered nearly $40 million in medical aid to 63 partner healthcare facilities located throughout the Caribbean and southeastern U.S. Hurricane Irma, one of the most powerful storms ever recorded in the Atlantic, ripped through the Caribbean with Category 5 strength. Sustained winds as high as 185 mph caused catastrophic damage to numerous island nations as the storm continued toward the U.S. mainland. "The winds lasted 37 hours, making Irma the longest-lived storm of such intensity anywhere around the globe for at least the past 50 years. The United Nations Office for the Coordination of Humanitarian Affairs (OCHA) reported that over 90 percent of structures on hard-hit islands were damaged or destroyed. Hurricane Irma's death toll reached 129 across the Caribbean and the southeastern U.S., according to the U.S. National Hurricane Center, with 44 fatalities directly caused strong winds and heavy rains and 85 fatalities linked indirectly to the storm."
See more from Direct Relief HERE:
 __________________________________________________________________________
"Trillion-ton iceberg four times the size of London starts to 'spin' towards ocean"
"One of the largest icebergs ever recorded, a trillion-ton monster four times the size of London has begun moving and spinning as it breaks free of the ice. Last year, the iceberg A-68 broke off Antarctica's Larsen C ice shelf after years of cracks spreading across the ice – but it's remained 'stuck' near the ice shelf. But it's now on the move, according to Professor Mark Brandon of the Open University – who says the iceberg 'will not be stopped easily'. Brandon writes on his blog that in July, 'the weather conditions and ocean currents conspire to swing the trillion tonnes of the giant iceberg A68 in an anticlockwise direction. 'Sentinel-1 SAR satellite imagery from 29 August 2018 shows that to the north of the iceberg the wind is pushing the sea ice northwards faster than the iceberg is rotating."
 _______________________________________________________________________________
"Climate change increases strength of El Niño/La Niña, study"
"This summer was a season of scorching wildfires burning across the world - Greece and Sweden experienced unusually active wildfire seasons and both California and British Columbia experienced their worst wildfire seasons on record. Arson, fire management strategies, and lightning all contribute to wildfires, and many climate experts note that the average increase in temperatures over time has impacted the intensity of fires and area burned. A new study expands on climate change's impact on wildfires and reports that human-released greenhouse gases intensify El Niño and La Niña events that can drive regional temperature extremes and wildfire frequency. The study projected future climate conditions assuming that greenhouse gas emissions will continue on a business-as-usual pathway without any drastic political intervention. Regional climates to sea surface temperature anomalies that were affected by El Niño/La Niña were evaluated from a baseline period of 1920-1980 to current and future years to investigate how much current trends diverge from historic data. All of the climate simulations from the years 2040-2100 indicated that human-induced climate change produced increased El Niño/La Niña teleconnection (a linkage between weather changes occurring in widely separated regions) strength over many land regions and drove inter-annual variability in regional temperature extremes."
See more from The Weather Network HERE:
 ____________________________________________________________________________
"Wisconsin's catastrophic flooding is a glimpse of the Midwest's drenched future"
"An entire summer's worth of rain has fallen across a broad swath of the Midwest in recent days. The resulting record floods have wrecked homes and altered the paths of rivers, in one case destroying a waterfall in Minnesota. The worst-affected region, southwest Wisconsin, has received more than 20 inches of rain in 15 days– more than it usually gets in six months. Governor Scott Walker of Wisconsin declared a statewide emergency last week, mobilizing the Wisconsin National Guard to assist flood victims if necessary. The Kickapoo River in southwest Wisconsin rose to record levels — as high as six feet above the previous high water mark — producing damage that local emergency management officials described as "breathtaking." In the tiny Wisconsin town of Gays Mills, this is the third catastrophic flood in 10 years. After floods a decade ago, about a quarter of the residents left, and the town was partially rebuilt on higher ground. But this time around is even worse — with almost every home in the town damaged."
 _____________________________________________________________________________
Thanks for checking in and don't forget to follow me on Twitter @TNelsonWX