"Seasonal Lag" - Another January Thaw Late Next Week

"As the days lengthen, the cold doth strengthen" the proverb goes. 'Yeth it doth. No argument there. We've picked up 19 minutes of daylight since December 21. The sun is higher in the southern sky, but average temperatures don't start to trend upward again until after January 17.
Why is there a "seasonal lag"? A higher sun angle doesn't compensate for long nights and Canada snow cover until 3-4 weeks after the Winter Solstice.
I may be hallucinating from standing too close to the Doppler but I still see a pattern more favorable for wet, sloppy storms later this month. Models show a more active southerly branch of the jet stream steering winds, with a better chance of Gulf moisture reaching Minnesota, fueling more significant systems. We'll see, but I'd wager a stale corn dog we'll have more slush on the ground in time for that big football game on February 4.
No travel problems today, assuming you can get your vehicle started. A plowable snow arrives Sunday as a clipper ices up area roads.
Monday will take your breath away - but the mercury approaches 40F by next weekend!
---
Clipped again. Sunday's clipper will put down a narrow carpet of plowable snow amounts - I could easily see a band of 2-4" snows setting up over the metro area by afternoon and evening. The snow marks the leading edge of a reinforcing shot of numbing air - Monday forecast to be the coldest day of this latest outbreak. 12km NAM guidance: NOAA and tropicaltidbits.com.
---
---
Plowable Snowfall on Sunday? With about .14" liquid and a snow ratio of 20:1 I could easily see some 3" amounts in and around the MSP metro Sunday, maybe 4 or 5" north of I-94. These clippers are fickle; it's still impossible to tell where the heaviest snow bands will set up. But plan on slick roads midday and afternoon hours Sunday - it may be a very slow trek home after the Vikings game. Models suggest 1-2", but the local National  Weather Service is calling for closer to 3", which I happen to agree with. Graphic: Iowa State.
---
Stormier Pattern? It may just be wishful thinking, but the pattern appears to be evolving into late January with a much more active southerly branch to the jet stream, implying that southern moisture will have a better chance of reaching Minnesota. Nothing like Sunday's clipper, which will produce a light, powdery, Colorado-like snow, any storms by late month may be warmer, wetter and slushier. Too early for specifics, but snow lovers shouldn't give up hope just yet.
---
25th Least Snow, To Date. 2.4" on Thursday at MSP is the most snow we've had from a single "storm". I know, pathetic. According to NOAA data, the 9.6" that has fallen so far this winter ranks as the 25th least snow as of January 11. In recent years only 2003, 2005 and 2007 saw less snow as of the second week of January.
---
This Year's Flu is Especially Miserable. Here's Why. The Daily Beast explains why so many of us are seriously under the weather: "...That cat-and-mouse game means that while viruses are evolving faster and faster, scientists developing the flu shot are struggling to keep up. This year's vaccine was a "mismatch," according to Hensley, of what the H3N2 was expected to look like and how it actually turned out. "There are different H3N2 viruses, and if you're looking at the sequences, there is diversity in what is circulating," he said. That brings us back to the chicken egg problem. Flu vaccine development involves choosing the predicted human virus strains, which are then propagated. The viral bits have proteins that are isolated from the viruses and injected into a fertilized chicken egg; the virus then replicates again in the chicken egg..."
File photo: AP.
---
U.S. Cold Snap Was a Freak of Nature, Quick Analysis Finds. Seth Borenstein reports for AP: "...The study by the World Weather Attribution analyzed weather records dating back to 1880 and found the cold weather that hit a swath of the U.S. from Maine to Minnesota tends to happen once every 250 years. In the early 1900s, it happened about once every 17 years. Climate change has made such cold spells less common and less intense, the group said. That finding agrees with earlier studies, said University of Georgia meteorology professor Marshall Shepherd, who wasn't part of the study. "I think the public frenzy over the recent cold snap illustrated that we are less acclimated to such events," he said in an email. The study, based on observations and statistics, did not find evidence for a popular scientific theory that links melting Arctic sea ice to blasts of cold air escaping the top of the world..."
---
Severe Snow and Ice Mid South Into Northeast This Weekend
Praedictix Briefing: Issued Friday, January 12th, 2018:
* A potent cold front continues to move east today into Saturday, bringing the threat of wintry precipitation along with it.
* Ice and snow is already falling from Michigan to the mid-Mississippi Valley this morning, and will continue to fall throughout the day. There is the potential of up to an additional tenth of an inch of ice across this region, with 1-5" of snow possible. This amount of ice will cause travel troubles across the region and bring the potential of downed trees/branches and powerlines, leading to power outages.
* Snow and ice will spread into the Northeast tonight, with up to two-tenths of an inch of ice possible in the interior Northeast. Heavy snow will be possible in the eastern Great Lakes, with over a foot of snow possible for Rochester and Syracuse. Ahead of the transition to wintry precipitation, heavy rain will also be possible across parts of the Northeast today into early Saturday. Rainfall totals of 2-4"+ in spots could lead to river flooding and ice jams, especially in combination with snow melt.
---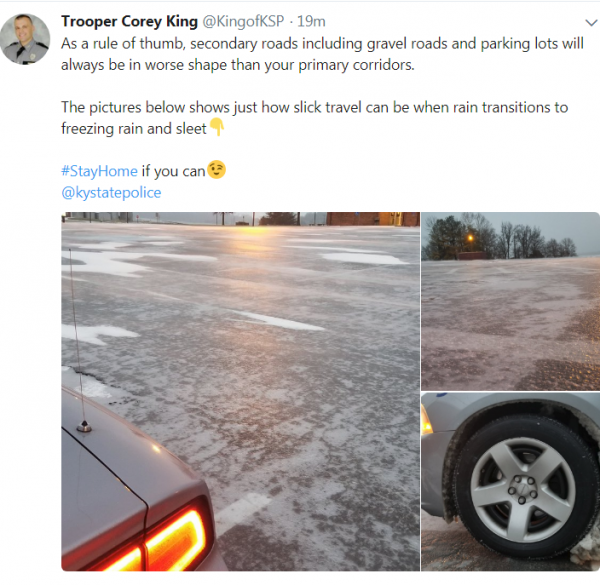 Icy Roads Across Parts Of The Ohio Valley. Roads are turning to ice due to freezing rain this morning in parts of the Ohio Valley, including in Kentucky. This photo, courtesy of Trooper Corey King on Twitter, shows a parking lot essentially covered in ice.
Get Current Road Information From State DOT Offices :
Michigan: https://mdotnetpublic.state.mi.us/drive/
Indiana: http://pws.trafficwise.org/pws/
Illinois: https://www.gettingaroundillinois.com/winterconditions/
Kentucky:  http://kytc.maps.arcgis.com/apps/webappviewer/index.html?id=327a38decc8c4e5cb882dc6cd0f9d45d
Tennessee: https://smartway.tn.gov/traffic?position=-85.97076699999997,35.88416963357006,8&features=incidents,traffic
Mississippi: https://www.mdottraffic.com/
---
Snow And Ice Into The Early Weekend. A cold front and center of low pressure will continue to move east over the next couple days, bringing the threat of wintry precipitation including ice and snow along with it. Snow and freezing rain is falling in the wake of this front from Michigan to the mid-Mississippi Valley this morning. By this evening, the front will be moving through parts of the Northeast and Mid-Atlantic, changing the ongoing rain over to ice and snow for areas like Buffalo and Cleveland today. This front will clear the east coast by tomorrow afternoon, with precipitation quickly ending Saturday. With snow and ice expected across these regions once this front passes, travel will quickly become treacherous. Ahead of the cold front heavy rain is expected, especially across portions of the Northeast. Due to the heavy rain and rapid snow melt expected, some flooding is possible along with isolated ice jam flooding.
---
Warnings And Advisories. Numerous winter warnings and advisories are in effect from the mid-Mississippi Valley to the Northeast this morning. These alerts are in effect for the potential of accumulating snow and/or freezing rain and sleet.
---
Forecast Ice. Before precipitation changes over to snow, a period of a wintry mix to ice is expected. This will occur across portions of the Ohio and Tennessee River Valleys throughout today, with additional ice accumulations up to about a tenth of an inch from Indianapolis south to Nashville. Rain will change over to ice in Cleveland and Buffalo today and in Caribou tonight. Ice will be possible Saturday in Boston. Over this entire area from the mid-Mississippi Valley to the Northeast, enough ice is expected to accumulate to make roads slippery across the region. However, areas that see higher accumulations will see treacherous travel conditions, as well as the potential of downed trees/branches and power lines, which would lead to power outages. Image: AerisWeather and Praedictix.
---
Forecast Snowfall. After the ice ends, precipitation will change to snow across the region. This snow will fall across the Ohio and Tennessee River Valleys today into early Saturday, spreading across areas like Cleveland, Buffalo and Burlington Friday Night into Saturday. Snow totals will be heaviest near the eastern Great Lakes and into New England, where over a half of foot of snow will be possible. For areas like Rochester and Dansville, NY, snow totals will be between a foot and a foot and a half. In the Ohio and Tennessee River Valleys, snow totals will generally be in the range of 1-5" into the first half of the weekend.
---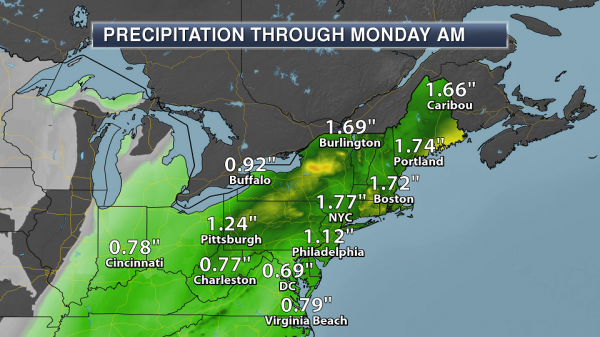 Heavy Northeast Rain. Before the snow and ice hits the Northeast, heavy rain will continue across the region today and into the weekend. Some areas of New England could see 2-4"+ of rain before the cold air crashes in, changing the precipitation type. Note the graphic above not only shows accumulated rainfall, but melted precipitation (ice and snow) as well through Monday morning.
---
Northeast Flood Watches. This heavy rain, in combination with snow on the ground which will be melting, could lead to some river flooding and ice jams across the Northeast. Due to this potential, Flood Watches are in effect.
Summary: A cold front will continue to move east into the early weekend, changing rain over to snow and ice as temperatures are quickly dropping behind the front. Before the front makes it to the Northeast, heavy rain will be possible which, in combination with melting snow, could lead to river flooding and ice jams. Already ice and snow is falling from Michigan to the mid-Mississippi Valley this morning as the front has already moved through. Ice accumulations of up to at least a tenth of an inch will be possible from the mid-Mississippi Valley into the Ohio and Tennessee River Valleys today, which will cause treacherous travel conditions and the potential of power outages. Following that will be snow, with 1-5" over these areas. Into the Northeast, precipitation will change over to ice tonight into Saturday in spots, then snow. The heaviest snow is expected across the eastern Great Lakes into the Northeast through tomorrow, where areas like Rochester, NY, could see over a foot of snow.
D.J. Kayser, Meteorologist, Praedictix
---
Inside the 4-Day Disaster That Nearly Broke JFK Airport. A convergence of unfortunate events, all snowballing into something truly unmanageable.  WIRED.com takes a look at how things went so wrong, so fast: "...Still wondering what happened? The key point to hold in mind is that, like any ballet, air travel is an exquisitely managed operation. Airlines plan their schedules months in advance, down to the minute. They obsess over turnaround times, how long it takes them to get one batch of fliers off a plane and a fresh group in their place. Canceling a flight is never a fun choice, because it means losing two planeloads of fares—one for the original journey and another for the return flight it would have made. Airlines operate with profit margins around 3 percent, which is why they charge you for everything they can think of, and weep when they lose the chance. And this nasty New York weekend, an Arctic blast sent the game of pick-up sticks flying..."
---
Personal Growth Often Co-Exists with Post-Traumatic Stress Following Natural Disasters. Nothing like an EF-5 tornado to put your priorities in order. Here's an excerpt of an interesting post at EurekAlert! Science News: "... In fact, post-traumatic stress may drive a search for meaning following a disaster." Prior research has indicated that several factors, including appreciation of life, relating to others, personal strength, new possibilities and spiritual change, contribute to post-traumatic growth. In order to understand the relationship between post-traumatic stress, personal growth, and communication with friends and family, MU researchers working with a Joplin community mental health partner examined these factors in a sample of 438 adult survivors of the Joplin tornado two and a half years after the event. Participants were asked how they were impacted by the tornado, about post-traumatic stress symptoms, and if they talked about the tornado with people they knew..."
May 22, 2011 file photo from Joplin, Missouri courtesy of NOAA.
---
The World's First Major City to Run Out of Water May Have Just Over 3 Months Left. A story at Quartz caught my eye: "It's the height of summer in Cape Town, and the southwesternmost region of South Africa is gripped by a catastrophic water shortage. Unless the city adopts widespread rationing, the government says, the taps "will be turned off" on April 22, 2018, because there will be no more water to deliver. This would make Cape Town the first major city in the world to run out of water, according to Anthony Turton, a professor at the Centre for Environmental Management at the University of the Free State in South Africa, who spoke to the New York Times. "It's not an impending crisis—we're deep, deep, deep in crisis." The shortage is the result of a multi-year drought..."
Photo credit: "Extremely rare drought events might not be so rare in the future." (Tim Johnson/Unsplash).
---
Scientists Zoom In on Fast Radio Bursts, the Most Mysterious Signals in Space. The Washington Post has a fascinating article: "...Scientists have been befuddled by fast radio bursts, or FRBs, since the first one was discovered in 2007. They are far more powerful than anything in our own galaxy and so fast and focused that they seem to have shot out of the barrel of some cosmic gun. They are also dispersed — high-frequency wavelengths arrive earlier than lower-frequency ones, indicating the bursts travel long distances across vast expanses of space to reach Earth. Research suggests as many as 10,000 of these bursts occur every day, but so far, astronomers have spotted only a few dozen. Of those, just one has gone off more than once: a signal called FRB 121102, captured in 2012 by the Arecibo Observatory in Puerto Rico..."
Photo credit: "In this illustration, the Arecibo telescope in Puerto Rico detects a flash from the fast radio burst source FRB 121102 emanating from deep in extragalactic space." (Image design: Danielle Futselaar; Photo: Brian P. Irwin, Dennis van de Water/Shutterstock.com)
---
Switzerland Rules Lobsters Must Be Stunned Before Boiling. The Guardian explains: "The Swiss government has ordered an end to the common culinary practice of throwing lobsters into boiling water while they are still alive, ruling that they must be knocked out before they are killed. As part of a wider overhaul of Swiss animal protection laws, Bern said that as of 1 March, "the practice of plunging live lobsters into boiling water, which is common in restaurants, is no longer permitted". Lobsters "will now have to be stunned before they are put to death," the government order read. According to Swiss public broadcaster RTS, only electric shock or the "mechanical destruction" of the lobster's brain will be accepted methods of stunning the animals once the new rule takes effect. Animal rights advocates and some scientists argue that lobsters and other crustaceans have sophisticated nervous systems and likely feel significant pain when boiled alive..."
File photo credit: "Animal rights advocates and some scientists argue that lobsters and other crustaceans have sophisticated nervous systems." Photograph: Gareth Phillips for the Guardian.
---
From Nazi Germany to Australia: The Incredible True Story of History's Longest Kayak Journey. If this isn't a movie script I'm not sure what is. Vanity Fair has the long (and excellent) read: "With Germany in tatters, his small business bankrupt, Oskar Speck got into his kayak in 1932 for what would become an epic, seven-and-a-half-year paddle; 30,000 miles, packed with hero's welcomes and near-death escapes, all the way to Australia. But as Speck battled sharks, hostile locals, and malaria, Hitler rose to power and W.W. II began. This is the  story of Speck's voyage, an adventure nearly lost to history..."
Photo credit: "Oskar Speck in his kayak, Sunnschien. Inset, Spekc's German passport." Photographs from The Australian National Maritime Museum. Large photograph, gift from John Ferguson, Digital colorization by Lee Ruelle, bequest of Nancy Jean Steele.
---
"Black Snows" Reported in Kazakhstan. That can't be good - another reason why I'm glad we have a Clean Air Act in the USA. Details via The BBC: "Much of the snow in the city of Temirtau in central Kazakhstan is black. Instead of the usual white powder that children love to play with, the snow looks more like coal after a mysterious dark dust settled on the city in the beginning of January. Many residents, worried about their health, took to social media to call on the government to investigate the incident. "We can't live like this. We're suffocating here," wrote one user. A special group of scientists, made up of both independent ecologists and government experts, is working to identify the causes..."
---
2" snow on the ground in the Twin Cities.
3 F. high on Friday at MSP.
23 F. average high on January 12.
14 F. high on January 12, 2017.
January 13, 1916: The high temperature in the Twin Cities only reaches a frigid -14 degrees.
---
SATURDAY: Bright arctic sunshine! Winds: NW 3-8. High: 4
SATURDAY NIGHT: Partly cloudy. Low: -6

SUNDAY: 2-3" snow expected from a clipper. Icy roads likely. Winds: S 10-15. High: 13

MONDAY: Arctic breeze returns with cold sun. Feels like -20F. Wake-up: -6. High: 0

TUESDAY: Cold start, still comfortably numb. Wake-up: -12. High: 3

WEDNESDAY: Some sun, getting better. Wake-up: -3. High: 22

THURSDAY: More clouds, a welcome thaw. Wake-up: 13. High: 33

FRIDAY: Gray, with hints of February. Wake-up: 22. High: 38
---
Climate Stories...
Let It Go: The Arctic Will Never Be Frozen Again. Grist outlines new, and startling, research on the state of the Arctic: "Last week, at a New Orleans conference center that once doubled as a storm shelter for thousands during Hurricane Katrina, a group of polar scientists made a startling declaration: The Arctic as we once knew it is no more. The region is now definitively trending toward an ice-free state, the scientists said, with wide-ranging ramifications for ecosystems, national security, and the stability of the global climate system. It was a fitting venue for an eye-opening reminder that, on its current path, civilization is engaged in an existential gamble with the planet's life-support system. In an accompanying annual report on the Arctic's health — titled "Arctic shows no sign of returning to reliably frozen region of recent past decades" — the National Oceanic and Atmospheric Administration, which oversees all official U.S. research in the region, coined a term: "New Arctic..."
The 96-page (PDF) report from NOAA is here.
---
River Floods Will Threaten Tens of Millions in Next 25 Years. In this case we're talking about more river flooding as rainfall amounts/rates increase; this is separate from the risks posed by rising sea levels. Scientific American summarizes new research findings: "Climate change will put tens of millions more people around the world at risk of exposure to flooding rivers over the next 25 years, an alarming new study reports—unless policymakers invest in significant adaptation measures. While rising sea levels can increase the risk of coastal flooding, the study focuses instead on fluvial floods, which happen when rivers overflow their banks. As global temperatures rise, storms and heavy rainfall events are expected to become more severe in many parts of the world, increasing the risk of these flooding events. According to the study, published yesterday in Science Advances, more than half the United States alone will need to double existing flood protections—through the building of new dikes, levees and other infrastructure updates—to prevent additional people from being affected in the future..."
File photo: U.S. Coast Guard.
---
Global Warming Will Expose Millions More to Floods. A story at phys.org has more perspective.
In North America, it could rise from 100,000 to one million.
"More than half of the United States must at least double their protection level within the next two decades if they want to avoid a dramatic increase in river flood risks," said lead author Sven Willner from the Potsdam Institute for Climate Impact Research (PIK).
The increase in river flood risks over the next few decades is being driven by the amount of greenhouse gases already emitted into the atmosphere by the burning of fossil fuels.
When more heat-trapping pollutants surround the Earth, more moisture is held in the air, leading to more rainfall.
Cutting these emissions is crucial to reducing flood risks for future generations.
Read more at:
https://phys.org/news/2018-01-global-expose-millions.html#jCp
---
Analysis: Has There Been a "Greening" of Christianity? The Daily Climate examines the trends: "...There are two main arguments: First, consistent with White's thesis, is that Christianity emphasizes human dominion over the Earth, which undermines any obligation to protect the environment. A second, competing perspective emphasizes the importance of stewardship, and that the Christian faith instills an ethic of "creation care." The relationship between religion and the environment has taken on more practical significance in recent years with the increasing importance of climate change. Many faith-based organizations have become vocal advocates at the local and national level for policies to address climate change..."
---
New York City Sues 5 Oil Companies Over Climate Change. The Associated Press reports: "New York City is suing five major oil companies, claiming they have contributed to global warming. Mayor Bill de Blasio says the city will be seeking billions in the lawsuit to recoup money spent by the city for resiliency efforts related to climate change. The defendants in the city's federal lawsuit are BP, Chevron, ConocoPhillips, Exxon Mobil and Royal Dutch Shell. A BP spokesman declined comment. A Shell spokesman said climate change is a complex issue that should not be addressed by the courts. The other three did not immediately comment. The lawsuit follows the city's announcement that it plans to divest its pension funds from fossil fuel companies..."
File photo credit: "In this Jan. 19, 2016 file photo, a man watches a BP refinery in Gelsenkirchen, Germany. New York City officials say they will begin the process of dumping about $5 billion in pension fund investments in fossil fuel companies, including BP, because of environmental concerns." (AP Photo/Martin Meissner, File)
---
The Best Countries to Escape the Worst Effects of Climate Change. A story at Business Insider caught my eye: "...That said, some countries will fare far better than others, according to UK-based energy comparison service Eco Experts, which created a color-coded map using data from the Notre Dame Global Adaptation Index. The index analyzes 181 countries based on factors like healthcare, food supply, and government stability and ranks them on their ability to cope with the challenges posed by a warming planet. Norway ranked #1, while a handful of other Nordic countries (and New Zealand) followed. While the maps provide a great zoomed-out perspective of what will happen globally as the earth warms, there are a couple caveats to keep in mind when checking it out:
---
America's Most Pressing Threat? Climate Change. So says new research highlighted at Bloomberg View: "...Some of the most obvious and pressing concerns include:
Water scarcity, droughts and resource struggles leading to wars and terrorism. Many studies have confirmed the broad effect of drought and water scarcity in driving violence across a wide variety of countries and regions. Syria, Sudan, Mali and the broad Arab world continue to be battered by rising temperatures and droughts. Resulting famines and economic hardship provide a breeding ground for recruiting disaffected, unemployed youth. You can drop a plumb line from global warming to terrorism and strife in many parts of the world.
Rising sea levels that swamp our ports and coastlines. A brilliant new novel, "The American War" by Omar El Akkad, is set in a 21st-century U.S. where rising sea levels have swamped much of Florida and led to a second Civil War. While this is evocative fiction, the grain of truth is that the seas are rising as the polar caps melt, and over time lower-lying areas of the country -- including some of our most vital military bases -- are at risk of flooding and eventually disappearing..."