Updated 6:31 pm:
Latest Models. Here is the output from WSI's 4km. RPM model, which probably has the right idea: 3-4" of slush southern metro, maybe 5-6" downtowns with 7-9" northern and western suburbs late tonight into Thursday. Upward motion may be strong enough for a period of thunder-snow late tonight, capable of 2" snow/hour.
Winter Storm Warning in effect for much of central Minnesota, including the Twin Cities.
1.64" liquid precipitation predicted by Friday (00z NAM model).
Light Sleet, freezing rain and snow today - mix will keep amounts down a bit.
Mostly snow tonight into Thursday night, when the more significant accumulations should pile up.
4-8" additional snow possible across much of the MSP metro area by Friday morning, on top of the 1-2" that fell overnight.
Snow Day tomorrow for some area schools? At this point nothing would surprise me. The worst commute will be AM Rush Thursday.
The Longest March
"It'll melt" my wife muttered yesterday, sick of me whining about the prospect of a towering pile of slush - 10 weeks away from the Summer Solstice.
Just when you thought things couldn't get any stranger. Here comes another baffling "Black Swan" weather extreme: ice, sleet and snow today, then heavy snow tonight into Thursday. Our in-house weather models hint at near-blizzard conditions here Thursday morning. Models print out another 1" liquid; most of that falling as heavy, wet, gloppy snow, mixing with a little sleet at times overnight.
Ice, coupled with high water content in the snow, may bring down smaller tree limbs tomorrow morning. I wouldn't even be surprised to see some power outages. Yes, one of the biggest snowfalls of winter will come during the second week of April.
Even with a snow ratio of 8:1 (8" snow for every inch of liquid precipitation) the metro may wind up with 4-9" amounts by Friday (snow totals from the entire storm in the 5-10" range, but southwest MN could pick up 15+". This factors in relatively warm ground temperatures and some melting of snow on contact (mainly today). Right now Thursday appears to be the worst travel day, statewide.
Flurries taper Friday morning, peeks of sun Saturday - the atmosphere warm enough for rain on Sunday. Whew. The ECMWF shows more light rain/snow by next Wednesday, but nothing like the next 48 hours.
This may wind up as the biggest April snowfall since 1983. Before you consider hijacking a southbound barge on the Mississippi: long-range models show 50s the last week of April.
Light a candle.
Winter Storm Warning. This storm is coming in waves, the first wave early this morning, falling as a wintry mix of sleet, freezing rain and some snow; maybe a slushy inch or two early. We should see mostly sleet today, before a changeover to wet snow tonight and Thursday, with another 5-8" or more in the metro area. Totals will range from 6-12", a big variation possible across the metro area. Details from NOAA:
 A POWERFUL STORM SYSTEM WILL PRODUCE A COUPLE ROUNDS OF WINTRY PRECIPITATION OVER THE NEXT COUPLE OF DAYS. THE FIRST ROUND OF PRECIPITATION WILL ARRIVE LATE TONIGHT IN THE FORM OF A WINTRY MIX OF RAIN...FREEZING RAIN AND SLEET ACROSS MOST OF SOUTHERN MINNESOTA AND WESTERN WISCONSIN. MORE SNOW IS POSSIBLE ACROSS CENTRAL MINNESOTA. HOWEVER...SNOW TOTALS WILL BE LIGHT TONIGHT AND THROUGH THE FIRST HALF OF WEDNESDAY. THE WINTRY MIX COULD CREATE SOME SLICK SPOTS FOR THE WEDNESDAY MORNING COMMUTE. A SECOND MUCH MORE SIGNIFICANT ROUND OF WINTER WEATHER IS EXPECTED LATE WEDNESDAY AFTERNOON INTO THURSDAY AFTERNOON. ALTHOUGH THERE STILL COULD BE A MIX OF SLEET...RAIN AND SNOW IN SOUTHERN MINNESOTA AT TIMES LATE WEDNESDAY...MANY LOCATIONS WILL MAKE THE CHANGE OVER TO MODERATE OR HEAVY SNOW WEDNESDAY NIGHT. SNOWFALL ACCUMULATIONS OF 10 TO 12 INCHES WITH LOCALLY HIGHER AMOUNTS APPROACHING 14 OR 15 INCHES ARE EXPECTED IN A BAND CENTERED ALONG A LINE FROM REDWOOD FALLS...TO THE TWIN CITIES METRO...TO LADYSMITH IN WISCONSIN. SNOW TOTALS WILL DROP OFF TO THE NORTH AND SOUTH OF THIS HEAVY BAND TO JUST 4 TO 6 INCHES NEAR ALEXANDRIA AND LITTLE FALLS AND PERHAPS AS LITTLE AS 3 TO 5 INCHES NEAR THE IOWA AND MINNESOTA BORDER. LOCATIONS IN SOUTH CENTRAL MINNESOTA SHOULD END UP WITH MORE SLEET AND FREEZING RAIN.
"Heart Attack Snow". Be careful out there - any snow that falls between now and Friday morning will have a very high water content, cement-like snow, which will be difficult to get off your driveway or sidewalk. If you have a heart or respiratory condition think twice before getting out there and trying to clear your driveway. (photo credit: AP/Orlin Wagner).
Character Building Weather. No, the storm isn't over, although I do expect a bit of a lull again today, with a mix of snow, sleet, even some rain mixing in. After a slushy start many roads will become wet with temperatures in the mid 30s. The Main Event comes tonight into Friday morning as the main surge of moisture tracks right up the Mississippi River Valley, and by then the atmosphere should be cold enough for mostly-snow. How much? Even with a snow ratio of 8:1 we should wind up with at least 6-8" of slush; some suburbs could wind up with 10", even a cool foot. Consider this our April Weather Tax. A little pain now, but better, milder days ahead. Right?
Weather Story. The local Twin Cities National Weather Service office has a good explanation of the impending snow blitz. I'm thinking 6-12", factoring in more sleet and rain at times today into early tonight, but I don't see how the MSP metro area doesn't see a plowable snowfall by Friday morning.
Very Plowable. How much snow ultimately piles up by Friday morning depends on how long we see a wintry mix today. More sleet and freezing rain will mean lower snowfall totals, but precipitation should fall as all snow tonight and Thursday. The local Twin Cities NWS office is predicting 12", which could very well happen. I'm going with 6-12", to reflect the wintry mix today, changing to all snow tonight and tomorrow. Yes, it's going to be a pile.
NAM Solution. Here is the 00z NAM solution, showing some 10-12" amounts close to the metro by Friday morning. The heaviest amounts will probably pile up just south/west of MSP, closer to Willmar and Glencoe.
Round 2. The WSI RPM model looks a lot more reasonable this morning, hinting at another 6-9" slush across the metro area from tonight into early Friday morning. As much as 16" of additional snow may blanket southwest Minnesota.
Pulses Of Moisture. The NAM model shows a surge of moisture tapering this morning; the main event coming tonight into Thursday, tapering to flurries by Friday morning. A period of sleet may mix in with the snow tonight, but the lowest 7,000 feet of the atmosphere should be cold enough for all snow tomorrow. Animation: NOAA.
European Solution. The ECMWF is also hinting at a mix of sleet, snow and possibly some freezing rain today, with surface temperatures just above freezing. Hopefully that will keep major roads wet/slushy. The worst travel conditions will come tonight into Friday morning, when precipitation should fall as all snow, with air temperatures at or just below 32 F. The sun peeks out Saturday, enough warm air aloft for rain on Sunday. Thank God for small favors.
In Search of Spring. I realize the models keep pushing back any real warmth - it feels like a meteorological mirage, but I am obliged to share the latest GFS outlook, hinting at 50s, even a brush with 60 the last week of April. Keep the faith.
Alerts Broadcaster Briefing: Here is an excerpt of a briefing we issued for our corporate clients on Tuesday:
Much of the east is experiencing May-like warmth with 70s and 80s, but March is hanging on for dear life over the Plains and Upper Mississippi Valley. A potentially record April snowstorm is brewing from northern Nebraska into South Dakota and portions of Minnesota and Wisconsin, probably one of the 10 biggest April snows on record for parts of the Upper Midwest. Lovely. A few highlights:
* 1 to 2 foot snows are imminent from northern Nebraska to Pierre, Sioux Falls and southwestern and west central Minnesota. On our nuisance-plowable-crippling snowfall rating scale, this will be crippling for South Dakota and portions of Minnesota, with as much as 6-12" in the Twin Cities by Friday morning, like something out of mid-February.
* High water content (1-2+" liquid) will  mean a very heavy, wet, sloppy snowfall capable of bringing down tree limbs and power lines. I expect sporadic power outages at the height of this slop-storm Wednesday & Thursday.
* River, stream and urban flooding will accelerate from Wisconsin into the Chicago area over the next 48 hours, as 2-3" rains fall on partially frozen ground.
* Moderate threat of severe storms over central Oklahoma. I expect a few large, violent, long-track tornadoes from near Oklahoma City to Tulsa this afternoon.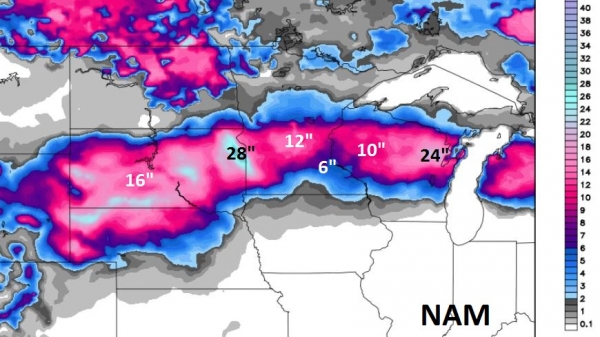 Continuity. We look for consistency and continuity from model to model, and run to run (4 major model runs daily). The NAM model also shows a foot of snow for central Minnesota, as much as 28" near the Minnesota - South Dakota border, with more snow for Wisconsin; as much as 10-12" for Eau Claire and closer to 20-24" for Green Bay, Wausau and Appleton, Wisconsin. This was the 12z Tuesday NAM run; the latest run (up top) is more impressive with snow amounts.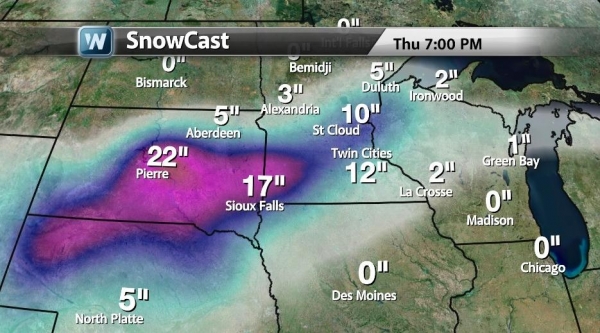 Adonis Model. One of the models we run here at Alerts Broadcaster is Adonis, which shows some 17-22" amounts from central South Dakota into southwestern Minnesota, and as much as a foot of snow into the Twin Cities; lesser amounts for Wisconsin.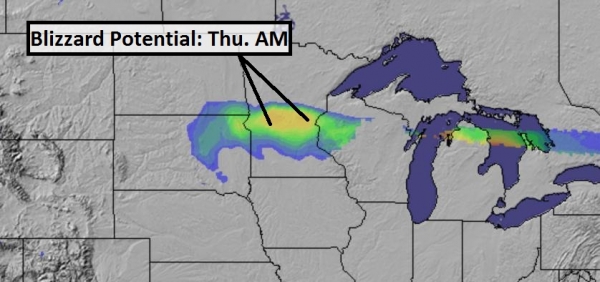 Blizzard Potential Index. Alerts Broadcaster's proprietary BPI shows near-blizzard conditions pushing across South Dakota into central Minnesota by Thursday morning. A blizzard is defined as sustained winds over 35 mph, with visibility under 1/4 mile in falling/blowing snow. Near-blizzard conditions can't be ruled out in the northern/western suburbs of the Twin Cities by Thursday.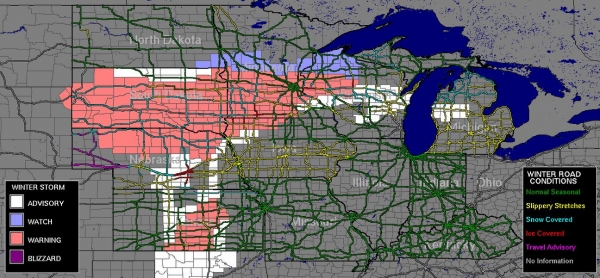 Travel Conditions. Roads are already snow-covered over South Dakota and southwestern Minnesota. A period of glaze ice (freezing rain) is likely over central and southern Minnesota by tonight, changing to mostly snow by Wednesday PM hours. For the latest road conditions over the Upper Midwest and Great Lakes click here.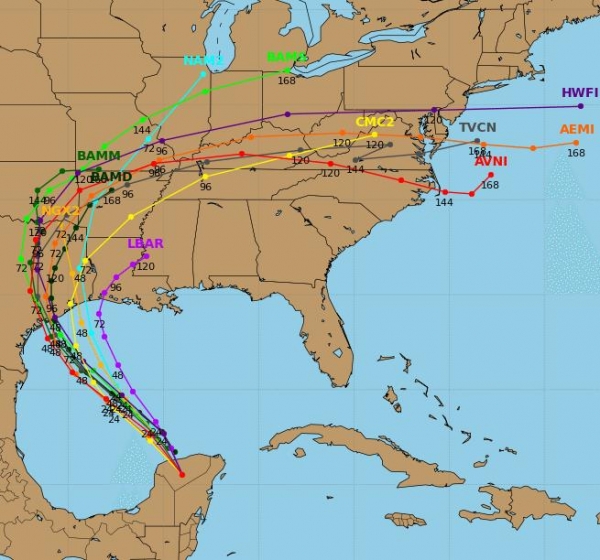 Storm Track. One of the problems with this storm: very slow forward motion, which will prolong heavy rain, ice and snow, complicating travel, and increasing the potential for impacts to facilities and possible power outages. The center of this unusually intense storm is forecast to reach Ohio by Friday, pushing strong to severe storms into the Northeast by Friday.
Rainfall Prediction. Many towns from South Dakota into Minnesota, Wisconsin, northern Illinois and Lower Michigan will see 2-3 weeks worth of precipitation over the next 72 hours. Keep in mind the ground is still frozen over most of this region, meaning rain (and melting snow) will almost immediately run-off into streets, streams and rivers. I expect flooding reports to increase the latter half of this week - facilities prone to flooding should stay alert.

Severe Risk Shifts Eastward. Hail, damaging winds and tornadoes push into the Mississippi and Ohio River Valley tomorrow; damaging storms possible as far north as Chicago, Indianapolis, Columbus, and Pittsburgh. Storms may approach severe limits from Washington D.C. to Philadelphia and New York City as the front arrives late Friday.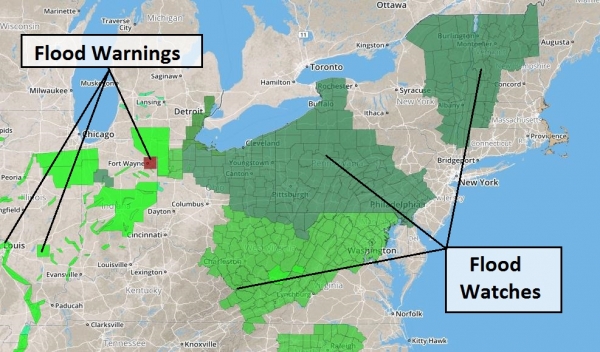 Latest Watches & Warnings. NOAA has issued warnings from Colorado into the Twin Cities, meaning treacherous, potentially dangerous weather is imminent.
Summary: Much of the central USA will earn it's spring this year. What will probably be one of the Top 10 April snowfalls on record will impact a wide swath of the Plains and Upper Mississippi Valley from today into Friday. River flooding will accelerate, with the greatest concerns from Wisconsin into Chicago, Indianapolis and Detroit. The cold, snowy weather has delayed peak crest for the Red River in Fargo, but added moisture in the snowpack will probably make a bad situation worse, with an eventual crest still 1-2 weeks away. Deep into the warm, humid air tornadoes are likely between 2pm and 9 pm today, with the greatest potential for destructive tornadoes from north Texas into Oklahoma.
This is a volatile, high-impact pattern, affecting 20-25 million Americans over the next 72 hours. We'll keep you posted.
Why Has It Been So Cold This Spring? Live Science has a good explanation; here's an excerpt: "...This March, however, the mass of warm air — a high-pressure system that repels incoming weather systems — has redirected air currents and created a pattern of winds coming from the Northwest, blasting the eastern two-thirds of the United States with Arctic air, Carbin said. "This obstinate mass of warm air over Greenland has redirected air currents like a rock in a stream," Carbin said. However, the spring season hasn't been cold everywhere. In fact, the southwestern United States has been warmer than average, as the region has been unaffected by the blocking system in the North Atlantic, said Bob Henson, a meteorologist and science writer with the University Corporation for Atmospheric Research in Boulder, Colo..."
Why No Seasonal Tornado Forecast? A few brave souls issue (general) hurricane predictions 2-4 months before the start of hurricane season (June 1) - why no long range tornado trends our outlooks? Here's an excerpt of an interesting story at earthsky.org: "Every year, we get new outlooks on the upcoming hurricane season in the Atlantic. Updates from Colorado State (CSU) typically come in the winter, and a new outlooks from CSU and NOAA arrive around May, about a month before the official start of each year's hurricane season. NOAA also provides seasonal outlooks projecting who is likely to receive more/less precipitation and who could see cooler/warmer temperatures. We all know that these outlooks have flaws; they are not perfect. But there's methodology and thought that goes into them, and they are informative. Meanwhile, we never hear of an official tornado or severe weather outlook for the United States. Private sector companies or local national weather service offices might issue their particular outlook for specific regions, but those outlooks are local and not widely publicized. Why is no widespread seasonal tornado forecast? This post will explain why it's possible to create a yearly outlook for hurricane season in the summer/fall, but not for tornado/severe weather season in the spring..."
Graphic credit above: "Climatology, the scientific study of climate. can help predict who typically sees the most active severe weather, but it can't yet create a seasonal forecast." Image via NOAA/SPC.
Aereo "Prepared For The Controversy" As Fox, Univision Threaten Cable Switch. Television is ripe for disruption - will Aereo be the technology to pull this off? Here's an excerpt of an interesting perspective from TVspy.com: "On Monday, Fox and Univision both threatened to take their programming off the broadcast airwaves and convert to cable channels if Aereo continues to have legal success, The New York Times' Brian Stelter reports:
While viewed largely as saber-rattling, the idea that the networks could be converted into cable channels gained attention in the television world because such a move would have wide-reaching implications for viewers and station owners.

The possibility had not been publicly broached by a major broadcaster until Chase Carey, the chief operating officer of Fox's parent, News Corporation, spoke at a conference of broadcasters on Monday morning..."
* more details from Brian Stelter at The New York Times.
Sony Announces New, Smaller, "Cheaper" 4K TV Sets. Yes, HDTV is so 2002. Too bad there's precious little 4k programming. That will change in the coming years, but do you really want to be an early adopter? Details from gizmag.com: "If the US$24,999 price tag of Sony's flagship 84-inch 4K TV was a little rich for your blood, then the company's upcoming 55- and 65-inch models might just pique your interest. The $4,999 and $6,999 respective price tags are still fairly hefty, but the company is working to make the prospect of early 4K adoption that little bit more appealing by launching its own 4K media player, the FMP-X1, alongside the new sets..."
Perspective. No, we won't see this much snow.
44 F. high in the Twin Cities Tuesday.
55 F. average high on April 9. Ha!
48 F. high on April 9, 2012.
.33" rain fell at KMSP yesterday.
Trace of snow and sleet Tuesday in the metro area.
Happy To See (Mostly) Rain Tuesday. It was a cold rain, mixing with sleet at times. Tuesday highs ranged from 32 at Alexandria to 39 St. Cloud, 44 in the Twin Cities. Late evening storms were (borderline) severe over far southern counties of Minnesota - hints of our stunted spring to come.
TODAY: Winter Storm Warning. Mostly cloudy - a little light mix by late afternoon. Wet roads. Winds: NE 20. High: 36
WEDNESDAY NIGHT: Winter Storm Warning. Mostly snow, possibly heavy at times. Travel becomes tougher. Low: 30
THURSDAY: Winter Storm Warning. Worst travel day. Heaviest snow during the morning and midday hours. Plowable. Another 4-9" possible MSP metro. Wake-up: 30. High: 33
FRIDAY: Flurries taper, late PM clearing. Travel conditions slowly improve. Wake-up: 27. High: 37
SATURDAY: Glimmers of sun (and spring), melting snow. Wake-up: 25. High: 43
SUNDAY: Rain likely. What a mess. Wake-up: 34. High: near 50
MONDAY: Mix of clouds and sun. Wake-up: 37. High: 48
TUESDAY: Chance of a little rain. Wake-up: 35. High: 43
Climate Stories....

Map Of Recent Weather Disasters In Minnesota. Some remarkable details and graphics from Environment Minnesota: "...Higher temperatures lead to more major rainstorms and heavy snowstorms—for two reasons. First, warmer temperatures lead to greater evaporation, so more water in our lakes and oceans becomes airborne. Second, warmer air can hold more water vapor. This means that when it rains, the atmosphere will have more moisture to work with and so heavy downpours and more intense hurricanes are more likely—as is more of the flooding that often results from these storms. Already, the number of extreme precipitation events increased 24 percent over the continental U.S. between 1948 and 2006, and at least 14 weather-related disasters causing at least $1 billion in damage hit the U.S. in 2011 alone, many of which involved devastating floods." Check out this interactive map to see which weather-related disasters have hit Minnesota in recent years.
Weather-Related Disasters Since 2007. Map above courtesy of Environment America.
Forecast: More Severe Thunderstorms In A Warming World. My friend and colleague, meteorologist Jason Samenow, has the story at The Washington Post's Capital Weather Gang: "Severe thunderstorm season is upon us and dangerous storms are forecast to develop over the next few days in the Plains and Midwest.  Global warming is often connected with increased extreme weather, but will it make warm season thunderstorms more severe? On balance, yes – the latest research concludes: models and theory point to an increase in severe thunderstorms as the climate warms.
Severe thunderstorms require two primary ingredients:
1) Energy or fuel supplied from hot, humid air to feed violent vertical storm motions (updrafts and downdrafts).  A common metric for this is a quantity called CAPE, convective available potential energy.

2) Turning winds with altitude, or wind shear to help storms spin. Wind shear is driven by temperature contrasts and is a necessary ingredient for tornadoes..."
Image credit above: NOAA.
Climate Change In The Southeastern U.S. Could Mean Endless Severe Thunderstorms. You think the weather in Atlanta, Huntsville and Miami is tropical now? Just wait. Here's an excerpt from The Atlantic Cities: "Scientists who probe the atmosphere is search of tomorrow's weather have already picked up signs of major heat waves looming for American cities, particularly eastern 'burgs like Boston, Baltimore, and Philadelphia. Now NASA is giving us a heads-up that residents of yet more cities might soon face increased risks of getting frizzled by lightning or charley-horsed by walnut-sized hailstones. The space agency has released new weather models based on a 2007 study by Purdue University's Robert Trapp, who examined what might happen if the concentrations of atmospheric greenhouse gas were to continue increasing until the end of the century. Trapp's evidence suggested that by the late 21st century the United States (and no doubt other places) will have many more days with ideal conditions for severe thunderstorms – you know, the ones with towering convective clouds and associated "high-impact weather such as destructive surface winds, hail and tornadoes..."
Photo credit above: John Kerstholt - Wikipedia.
Don't Just Talk About The Weather. Here's an excerpt of an Op-Ed in the Baltimore Sun arguing for weather modification and geo-engineering, to help us deal with climate change and an uptick in natural disasters. What can possibly go wrong? "Last December, an American milestone passed virtually unnoticed. Forty years earlier, Harrison Schmitt became the 12th and last person to walk on the moon. Mr. Schmitt and the 11 men who preceded him — beginning with Neil Armstrong in 1969 — had this in common: All were employees of the United States government. Some have argued that sending men to the moon may not have been the most prudent use of American resources or ingenuity. But the realization of President John F. Kennedy's dream of a U.S. moon walk before the end of the 1960s became a symbol of the scientific and imaginative leadership of this country and what Kennedy termed our "freedom doctrine" during the Cold War. Now, the United States has an opportunity, even an obligation, to mobilize its resources and knowhow to achieve a more practical, and pressing, end. Increasingly under siege by destructive and deadly weather events — wrought, many scientists believe, by man-made climate change — we need to make a national commitment to weather research, including the fields of geo-engineering, weather modification and storm mitigation..."
What Does Climate Change Have To Do With Health Care? Here's the intro to a story at Forbes: "What health scientists are telling us is that climate change will bring increased asthma, more virulent allergens, medical emergencies from heat stress, the spread of water- and vector-borne diseases and increased severe weather events. The Lancet, Britain's premier health journal, calls climate change "the biggest global health threat of the 21st century." Given these dire warnings, one would expect that the healthcare sector would be prepared for the coming public health storm. Nothing could be further from the truth. When Hurricane Katrina hit New Orleans, the hospitals were completely flooded along with everyone else. But because they all had their electrical equipment as well as their back-up generators in the basement, , they lost all power. And because none of the windows in the hospital were operable, hospital staff had to break all the windows in the hospitals' upper floors to get air into the facility..."