Tornado Watch Until 8 PM. The watch from NOAA SPC includes Redwood Falls, Willmar, Windom and Marshall, much of southwestern Minnesota is in the high risk area. There is a moderate threat of a few EF-2+ tornadoes into the evening hours south/west of the Twin Cities (which are not in the watch). At least not yet.
* Enhanced severe storm risk later today from eastern Nebraska and southeastern South Dakota into much of Iowa and southern Minnesota - once again a few large, violent, long-track tornadoes can't be ruled out.
* Primary risk is severe wind damage from a (likely) derecho or MCS, capable of straight-line winds in excess of 70-80 mph, impacting northern Iowa and southern Minnesota by late afternoon and evening.
* Twin Cities metro may be impacted by damaging winds between 6 PM and 9 PM.
* Flooding rains likely over the next 5 days; downpours falling on saturated soil will result in more flash flooding.
---
Strong Risk of Severe Storms. NOAA SPC has issued a "Moderate Threat" from Sioux Falls and Omaha to Des Moines, Fairmont, Albert Lea, and Rochester Minnesota into the southern suburbs of the Twin Cities. This is where violent winds (straight-line and tornadic) are most likely by the evening hours. A slight risk extends into St. Cloud, Green Bay and Milwaukee.
---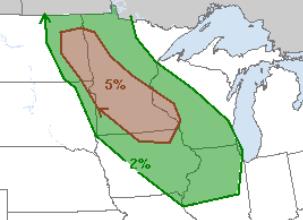 Pinpointing Greatest Tornado Risk. A 10% probability means a 1 in 10 chance of an EF-2+ strength tornado within 25 miles of any location in the region shaded in yellow. Facilities from Kansas City and Lincoln to Omaha, Des Moines, Sioux Falls and the Twin Cities. A few large, long-track tornadoes capable of extensive damage and injury can't be ruled out, especially in the 5-10% risk area.
---

Damaging Winds - Large Hail. The region impacted by strong to severe straight-line winds will far exceed the aerial coverage of communities impacted by (stronger) tornado-related winds later today. We expect a derecho or MCS (meso-convective system) to form, capable of straight-line winds in excess of 70-80 mph with 2"+ hail. The region most vulnerable to damaging winds and hail includes Iowa and southern Minnesota.
---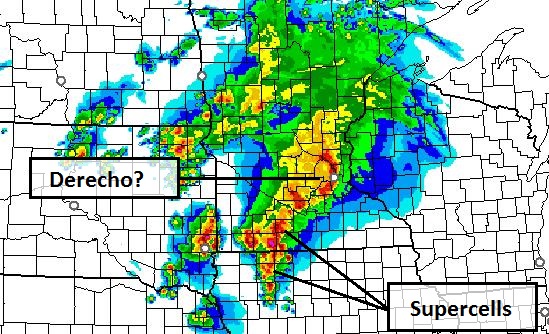 8 PM This Evening. NOAA's HRRR model shows evidence of a bow echo or possible derecho pushing across central and southern Minnesota, capable of damaging straight-line winds. Farther south, a few rotating "supercell" thunderstorms may spawn tornadoes from southern Minnesota into northern Iowa by late afternoon and evening.
---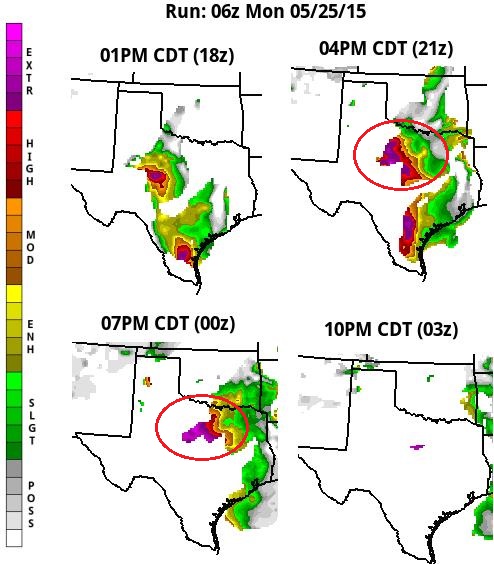 Timing The Outbreak. Alerts Broadcaster's exclusive TPI (Tornado Potential Index) shows the maximum risk area (purple-shaded) pushing from Sioux Falls and Omaha by mid afternoon into Iowa and far southern Minnesota during the late evening and overnight hours. There is a strong possibility of a few EF-2+ intensity tornadoes with this outbreak, especially over Iowa.
---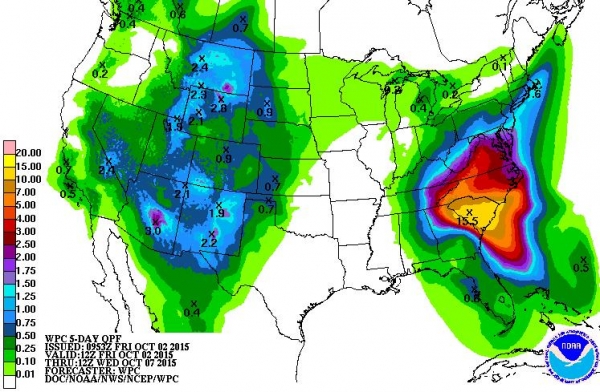 June Monsoon. Once again weather systems have stalled, the pattern is "stuck" for much of this week. Thunderstorms, some severe, will redevelop along the northern edge of hot, sticky air, with some 2-5" rainfall amounts over the next 7 days from the Red River Valley into the Upper Midwest, Great Lakes and Ohio Valley. Flash flooding can't be ruled out with these storms in the coming days.
Summary: June is the wettest, most severe month of the year for most of the Upper Midwest, and that won't be hard to believe this week. Today's risk includes tornadoes and straight-line winds, but we're also tracking the potential for more excessive rains aggravating the risk of street and urban flooding - some streams and rivers will overflow their banks, and areas that normally experience wet weather headaches may have water issues this week. Stay alert for possible PDS (Particularly Dangerous Situation) Tornado Watches and Tornado Emergencies, if and when confirmed tornadoes move into heavily populated areas later today. We'll keep you posted.
Paul Douglas