Metro on the Edge of a Heavy, Plowable Snowfall?

Me: "It's spring!". Old Man Winter: "Hold my beer". This is why meteorologists have ulcers on their ulcers. Rarely is a snow forecast black or white. It's usually some nebulous shade of gray.
The Twin Cities metro may wind up on the sharp edge of a heavy snow band. A plowable, 6-inch-plus snowfall is likely over western and southern Minnesota. Significant snow is likely as close as Willmar, Glencoe and Mankato. But a 50-mile wobble in the storm track could make the difference between 2 and 8 inches for southwest suburbs. Travel tonight will be difficult south and west of the metro, but a high sun angle should melt (most) of the snow within 2 days. The beauty of a late-March, Tournament Storm.
We dry out Saturday afternoon and Sunday; the atmosphere probably mild enough for some rain Monday and early Tuesday - before a cooler, drier push by midweek. Longer-range models suggest a chilly start to April with more slushy encounters.
I keep waiting for a real warm front. One of these days we'll be pleasantly surprised. Hey, Minnesotans get to enjoy multiple springs. Keep the faith. 
---
Watches and warnings above courtesy of NOAA and AerisWeather.
---
Sharp Snowfall Gradient over the Twin Cities Metro? It still looks that way, with little or no snowfall north and northeast of St. Paul, but plowable amounts of slush over far western and southern suburbs, with as much as 6-10" from Redwood Falls to Albert Lea.
---
A Very Close Call. Last night's 00z 12km NAM was more in line with GFS and ECMWF solutions, showing a couple inches for the immediate metro (more southern and western suburbs) but very little, if any, snow north and east of St. Paul from Friday night's system. Over a foot from near Alexandria to Mankato to Albert Lea? I wouldn't be at all surprised. Map: pivotalweather.com
---
12z Thursday ECMWF Solution. European guidance yesterday kep the heaviest snow bands just south and west of the Twin Cities, similar to the 12z Thursday GFS solution. A sharp gradient is likely on the northern/eastern edge of this snow band - going from a coating of flurries to 3-4" in the span of 20-40 miles.
---
Spaghetti Plot. Most of the models are coming in closer to 2-3" (for MSP International Airport), but the NAM models on Thursday were inflating snowfall predictions to over 10". Stay tuned - hopefully the models come into alignment during the day on Friday, but I'm leaning toward the (much) lower range for the downtowns.
---
No Risk of any Sudden Warm Fronts. Temperatures should be mild enough for rain showers early next week with a shot at 50F by Wednesday, according to ECMWF guidance. That said, I see a cool bias as we push into early April. Twin Cities numbers: WeatherBell.
---
New York City Hasn't Seen Snow Like This in 130 Years. Here's an excerpt from CNN: "...This marks the fifth consecutive season that at least 30 inches of snow have fallen in New York City. The only other recorded time it snowed this much, for this long a period, was back in the 1880s (records begin in the 1869-1870 season). That five-year stretch occurred mostly during the presidential administration of Chester A. Arthur, another president who made a name for himself in New York..."
---
Why Are There Suddenly So Many Nor'Easters? Great question. Here's an excerpt from The Atlantic: "...Big northeast snowstorms simply don't form very often, Uccellini said: When he and his coauthor studied the half-century of weather between 1949 and 2003, they only found 47 storms that could be classified as nor'easters. But it does make sense that the eastern U.S. has seen so many nor'easters in the last few weeks, he said. If the atmosphere is in the mood to produce a nor'easter, it doesn't stop after making just one. "One of the things we emphasized in the book is the episodic nature of these storms. They come in batches," Uccellini told me. Northeast snowstorms can only emerge from a very specific set of circumstances. When those circumstances are achieved, storms can follow one after another, walloping the coast week after week..."
---
Praedictix Briefing: Issued Thursday, March 22nd, 2018:
Heavy rain continues to fall across parts of California this morning, with some areas reporting over 3" of rain in the past 24 hours.
Due to expected additional heavy rain across southern California today, Flash Flood Watches remain in effect, especially across burn scar areas where mud slides and debris flows will be possible.
Rain will taper off across the region

tonight

, and drier weather is expected

Friday

in Los Angeles.
We're also tracking new Winter Storm Watches and Warnings from the Dakotas into the Ohio Valley ahead of a system will bring a stripe of 6-12" of snow to the region

tonight

into the first half of the weekend.
---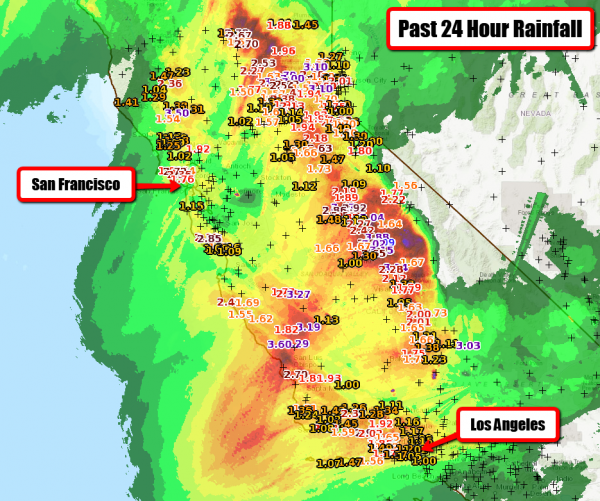 Rain Totals So Far. Numerous rainfall totals of at least 1"+ (which is shown on the map above) have fallen over the past 24 hours. Record rain fell in Paso Robles (1.95"), Santa Barbara (1.85"), Camarillo (1.68"), and Madera (1.21") Wednesday.
---
Heavy Rain Continues Today. We will see heavy rain continue across southern and central California today, with rainfall rate of 0.50"-1" per hour possible at times. This rain will finally start to taper off across the region tonight, with a drier day Friday expected.
---
Additional Southwest Rain. An additional 3-6" of rain will be possible across southwest facing foothills and mountains in parts of southern California today, which will lead to the potential of flash flooding across the region. Heavy precipitation will also be possible across the Sierra the next couple days, with some of that falling as 1-3 feet of snow.
---
Additional Rain Around Los Angeles. An additional 0.50"-2" of rain will be possible in and around the Los Angeles metro today, with rainfall rates of 0.50"-1" per hour possible. Map: AerisWeather.
---
Flash Flood Watches. Flash Flood Watches continue across portions of central and southern California today for the potential of additional heavy rain which could cause flash flooding and debris flows, especially across burn scar areas.
---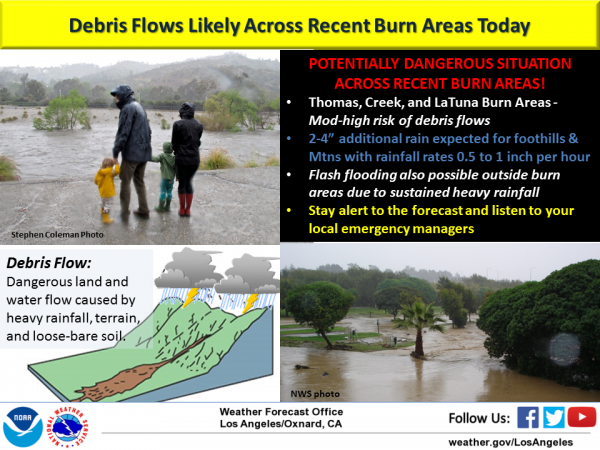 Burn Scar Concerns. We will continue to watch the threat for dangerous mud slides and debris flows across recent burn scar areas across southern California. An additional 2-4" of rain is expected across the foothills and mountains in the Los Angeles area, which would have the potential to trigger these debris flows. Other rain events so far this winter have already caused mud slides in some of these burn scars, so we can expect the same this time around. (Graphic: National Weather Service Los Angeles).
---
Winter Storm Concerns From North Dakota To Kentucky. As a strong system moves east out of the Rockies into the end of the week, heavy snow is expected to spread across parts of the upper Midwest to the Ohio Valley. This snow will start late tonight across western North Dakota, spreading into the Ohio Valley by Saturday morning. Numerous Winter Storm Watches and Warnings are in effect from North Dakota to northern Kentucky. Here's a breakdown of alerts in place for some of the larger cities this morning:
Bismarck, ND is under a Winter Storm Warning from

4 AM

Friday

to

7 AM

Saturday

for the potential of 6-12" of snow.
Fargo, ND is under a Winter Storm Watch from

Friday

morning to

Saturday

morning for the potential of 5-8" of snow.
Minneapolis, MN is under a Winter Storm Watch from

Friday

evening to

Saturday

morning for 3-8" of snow.
Indianapolis, IN is under a Winter Storm Watch from late

Friday

night through

Saturday

evening for the potential of 3-8" of snow.
Cincinnati, OH is under a Winter Storm Watch from late

Friday

night through late

Saturday

night for the potential of 3-5" of snow.
---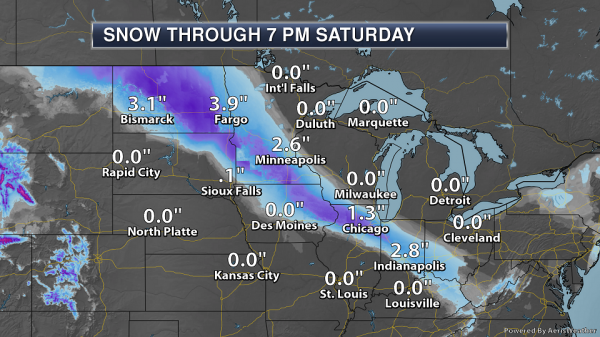 Snowfall Forecast Through Saturday Evening. A band of 6-12" of heavy, wet snow is expected from North Dakota into parts of northern Kentucky and southwestern Ohio through Saturday evening. Totals are expected to quickly taper off on either side of this heavy band of snow, likely with a tighter gradient than is currently shown from Minnesota to Kentucky. Snow will continue after this time frame across parts of the Ohio Valley to southwestern Virginia.
---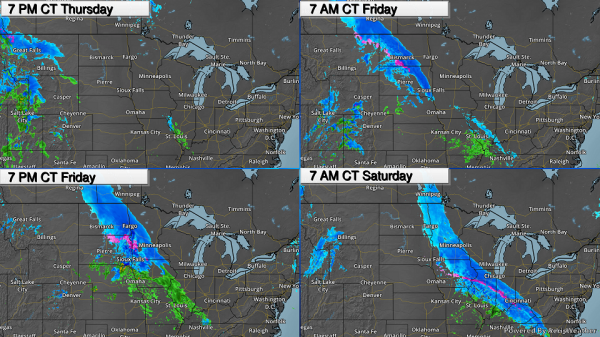 Timing The Precipitation. Snow will start overnight across parts of the Dakotas, including in Bismarck, falling at rates of 1-2" per hour. As this precipitation moves east through South Dakota into Minnesota, precipitation could start out of rain Friday before transitioning over to heavy snow Friday Night from Minnesota to the Ohio Valley. Snow will continue into Saturday from parts of the upper Midwest to the Ohio Valley. Winds will also be gusty while the snow is falling with gusts up to around 35 mph across the upper Midwest. This will potentially cause whiteout conditions.
Summary. Heavy rain will continue to fall across portions of California today, with an additional 3-6" across parts of the state. This will lead to the potential of flash flooding and debris flows, especially in recent burn scar areas. We're also tracking a system which will bring the potential of heavy snow (6-12") from the Dakotas to the Ohio Valley starting tonight into the first half of the weekend. Winter Storm Watches and Warnings are in effect.
DJ Kayser, Praedictix Meteorologist
---
Toxic Impact of Hurricane Harvey Worse Than Public Was Told. Daily Beast has the details: "The toxic impact of Hurricane Harvey was far more widespread than authorities admitted at the time, according to documents pieced together by the Associated Press, which found more than 100 cases of chemical spills being reported in the storm's aftermath. The hurricane that slammed into the Texas coast in late August last year caused widespread damage to numerous chemical plants and refineries, including one incident in which half a billion gallons of industrial wastewater mixed with storm water, land eaked out of a chemical plant in Baytown, east of Houston. The AP reports cancer-causing pollutants such as benzene, vinyl chloride, and butadiene were found in neighborhoods and waterways after the storm dissipated. Most of the incidents were never publicized and the potential toxicity of some of the biggest leaks were initially understated—and only a handful appear to have been investigated by Texas authorities..."
File image from August 25, 2017 courtesy of NASA ISS.
---
Stopping Hurricanes by Blowing Air Bubbles? Never say never, but I have my doubts. Here's an excerpt of an explainer at Newsweek: "...The bubble curtain method involves placing perforated pipes below the water before pumping bubbles of compressed air through them. The idea is that the bubbles will rise, taking cold water with them that will cool the surface. The SINTEF team say that, ideally, the pipes should be placed between 100 and 150 meters below the surface to ensure that the water being carried to the surface is cold enough. "By bringing this water to the surface using the bubble curtains, the surface temperature will fall to below 26.5 degrees Celsius, thus cutting off the hurricane's energy supply," Eidnes said. "This method will allow us quite simply to prevent hurricanes from achieving life-threatening intensities." The researchers say that such a system of pipes could be deployed on a large scale..."
---
---
Sirens, Alerts and Helmets: A Realistic Look at Tornado Warnings and Survival. WIBC.com shares an interview with Alabama weather legend James Spann. Here's an excerpt that caught my eye (that I happen to agree with): "...Spann spoke emphatically about what he considers an antiquated warning system that many people believe is a definitive source for tornado warnings - sirens. "This is a product of WWI. What year is this? Last time I checked this is like 2018 and why is  it most people to this day connsider this to be their primary source of tornado warning information? asked Spann. Sirens are operated by emergency managers, generally, and are not controlled by the National Weather Service. "They're something you can never hear in a house, in a school or a business or a church...."
---
Bomb Cyclones, Nor'easters, and the Messy Relationship Between Weather and Climate. Amen to that. The New Yorker attempts (and succeeds) in connecting the dots; here's an excerpt: "...Francis had already noted, in 2009, that the jet stream was weakening, especially after summers when Arctic sea ice was at record lows. She proposed that Arctic warming was the culprit, positing that higher temperatures decreased the pressure gradient between the North Pole and the midlatitudes, sapping the jet stream of its energy. Building on that research, Francis and Vavrus found that, in the previous three decades, as the Arctic heated up, the jet stream's amplitude—the distance it strayed north and south in its journey around the globe—had grown in the fall and winter by about ninety miles. This increased waviness, they suggested, meant that the eastward progression of weather patterns embedded in the jet stream could also be slowing down, causing, among other things, frigid blobs of polar air to linger over the East Coast and heat spells to persist in the West...."
* Click here to see a YouTube interview with Dr. Jennifer Francis, examining the possible link between rapid arctic warming and changes in the configuration of the jet stream over time.
---
Byron Allen's Entertainment Studios Acquires Weather Channel. Didn't see this coming. Here's an excerpt from Variety: "...Adding another pillar to his growing TV and film portfolio, Byron Allen's Entertainment Studios has reached a deal to acquire cable's Weather Channel in a transaction valued at about $300 million. Entertainment Studios is buying the Weather Group, parent company of the cabler and the Local Now streaming service, from Comcast and private equity giants Blackstone and Bain. That group purchased Weather Channel for $3.5 billion in July 2008. The digital operations of Weather Channel were acquired in 2015 by IBM in a deal pegged at around $2 billion. "The Weather Channel is one of the most trusted and extremely important cable networks, with information vitally important to the safety and protection of our lives," said Allen, who is chairman-CEO of Entertainment Studios..."
---
Ocean Plastic Predicted to Triple Within a Decade. Details via CNN: "Without intervention soon, the amount of plastic littering the world's oceans is expected to triple within a decade, a new UK government report warns. The "Foresight Future of the Sea" report from the UK Government Office for Science said our oceans have seen "unprecedented change as a result of direct human activity and climate change." It identified the rise of plastic in oceans, along with rising temperatures and sea levels and chemical pollution, as some of the biggest problems the marine environment faces. The report found that 70% of marine litter is non-degradable plastic which is projected to increase threefold between 2015 and 2025..."
File photo image: NOAA.
---
Golden Arches Go Green: From Climate Nexus: "McDonald's will aim to cut its greenhouse gas emissions at its restaurants and offices by one-third by 2030, the fast food giant announced Tuesday. The company also pledged to work to cut 31 percent of emissions from its supply chain, saying it would "prioritize action" on reducing emissions from beef production. The company's plan includes working with franchises and suppliers to install energy-efficient kitchen equipment and LED lights, promoting sustainable packaging and supporting sustainable beef grazing and agricultural practices." (Bloomberg, Reuters, USA Today, Fast Company, Fortune).
---
This Next Insect Invasion Is Going to Stink. Duluth News Tribune gives us all something to look forward to: "Asian lady beetles congregate en masse in our homes each autumn. Emerald ash borers are eating their way across neighborhoods and forests. Gypsy moths are munching across the state from east to west on their way across North America. But beware, Minnesota, you haven't smelled anything yet. Roll out the welcome mat for the next alien invader from afar, another unwelcome guest that arrived from Asia in packaging, probably in about 1996 near Allentown, Penn., and has been expanding across the continent ever since. Meet the brown marmorated stink bug, a creature so foul that it will eat its way across fields of farm crops, orchards, gardens and vineyards and then congregate by the hundreds in your home to spend the winter..."
---
This is a "Slow Roll". Will Facebook Ever Be The Same? A rhetorical question from Vanity Fair: "...Indeed, the repercussions are massive in both immediate and longitudinal ways. Just a couple of days into the Cambridge crisis, Facebook's stock has dropped by more than 20 points, which has led its market capitalization to fall by tens of billions of dollars. Senators Mark Warner and Amy Klobuchar have called for Mark Zuckerberg to testify before Congress. A British M.P. sent Zuckerberg a letter asking him to testify before Parliament. The Federal Trade Commission is exploring whether Facebook violated the terms of a 2011 consent decree around privacy. A shareholder has filed a class-action lawsuit. Facebook's chief security officer, Alex Stamos, is reportedly leaving the company after battling with executives about the company's response to Russian's involvement in the 2016 election. A #DeleteFacebook campaign has surfaced across social media..."
---
NASA Gets Response from Spacecraft 13 Billion Years Away. Pretty amazing, when you think about the distances involved. Science Vibe has details: "NASA has just received a response from the void, and believers everywhere are losing their collective minds. After 37 years of inactivity, the NASA spacecraft Voyager 1 fired up its thrusters for the first time in nearly four decades all the way over in interstellar space. This incredible – and unsuspected – triumph means Voyager 1 can once again communicate with Earth, from 13 billion miles away. Voyager 1, NASA's farthest and fastest spacecraft, is the only human-made object in interstellar space, the environment between the stars..."
---
43 F. maximum temperature in the Twin Cities on Thursday.
44 F. average high on March 22.
40 F. high on March 22, 2017.
March 23, 1966: A snowstorm brings a foot of snow to southern Minnesota.
---
---
---
FRIDAY: Cloudy. Afternoon rain changes to snow by evening. Winds; E 15-25. High: 41
FRIDAY NIGHT: Snow likely, possibly plowable southern and western suburbs. Low: 29
SATURDAY: Snow taper in the morning. Dry afternoon. Winds: E 10-15. High: 39

SUNDAY: Mostly cloudy and sloppy. Winds: SE 10-15. Wake-up: 27. High: 45

MONDAY: Rain showers likely. Winds: SE 10-15. Wake-up: 32. High: 47

TUESDAY: Early shower, clouds linger. Winds: NW 5-10. Wake-up: 34. High: 46

WEDNESDAY: Mix of clouds and sunshine. Winds: S 5-10. Wake-up: 32. High: 48

THURSDAY: Partly sunny and cooler. Winds: W 7-12. Wake-up: 29. High: 42
---
Climate Stories...
Climate Change May Mean More Spring Snowstorms in the Future. Counterintuitive, but rapid warming in the Arctic may be loading the dice in favor of more Nor'easters, says Rutgers research professor Jennifer Francis at The Washington Post: "...Less intuitive, though, is the increasingly clear role being played by the rapidly warming and melting Arctic. A growing pile of studies suggests that heat waves in the far north are slowing the west winds of the jet stream, allowing the normally bottled-up frigid air to plunge southward in giant lobes. For much of this winter, one of those cold lobes has been parked over the eastern United States — another key ingredient for coastal snowstorms. The bigger the lobe, the longer it tends to stick around, setting the stage for the parade of storms we've seen not only this month but during five of the past six winters as well. A study some colleagues and I published last week found that severe winters in the eastern United States were much more likely during Arctic heat waves — and this winter, the Arctic was particularly hot..."
Photo credit: "Building a snowman on the Mall on the first day of spring is fun, but it's not a great sign for the health of the climate." (Jonathan Newton/The Washington Post)
---
Global Carbon Emissions Hit Record High in 2017. Here's a clip from a Reuters story: "Global energy-related carbon emissions rose to a historic high of 32.5 gigatons last year, after three years of being flat, due to higher energy demand and the slowing of energy efficiency improvements, the International Energy Agency (IEA) said. Global energy demand rose by 2.1 percent last year to 14,050 million tonnes of oil equivalent, more than twice the previous year's rate, boosted by strong economic growth, according to preliminary estimates from the IEA. Energy demand rose by 0.9 percent in 2016 and 0.9 percent on average over the previous five years. Over 70 percent of global energy demand growth was met by oil, natural gas and coal, while renewables accounted for almost all of the rest, the IEA said in a report..."
File photo: "Steam rises at sunrise from the Lethabo Power Station, a coal-fired power station owned by state power utility ESKOM near Sasolburg, South Africa, March 2, 2016." REUTERS/Siphiwe Sibeko/File Photo /File Photo/File Photo.
---
Climate Science Tutorial in Federal Court: Headlines and links courtesy of Climate Nexus: "A federal judge presided over a science lesson Wednesday in California court after ordering five oil and gas companies and California cities suing them over climate change to present "the best science now available on global warming." US Federal Judge William Alsup ordered presenters, including three climate scientists selected to represent the California cities, to "stick to the science" in an effort "to try to educate the judge." A lawyer for Chevron, the only representative to present from the group of five of fossil fuel companies on trial, argued that while the oil giant accepts 2013 IPCC findings concluding it is "extremely likely" that humans contribute to warming, the company has questions about the accuracy of scientific models and how specifically to ascribe blame for warming to oil companies. "What we saw today was one oil company begrudgingly accept the scientific consensus while trying to overemphasize the extent of scientific uncertainty," San Francisco City Attorney Dennis Herrera said in a statement." (AP, The Guardian, Wired, Reuters, Earther, Bloomberg, McClatchy, San Francisco Chronicle, Business Insider, Grist)
---
Last 3 Years Hottest on Record, Severe Weather Hits 2018: UN. Reuters explains: "The past three years were the hottest on record and heat waves in Australia, freak Arctic warmth and water shortages in Cape Town are extending harmful weather extremes in 2018, the United Nations said on Thursday. Atlantic hurricanes and monsoon floods in India contributed to make 2017 the most costly year on record for severe weather and climate events, the U.N.'s World Meteorological Organisation (WMO) wrote in its annual report on the global climate. "The start of 2018 has continued where 2017 left off – with extreme weather claiming lives and destroying livelihoods," WMO Secretary-General Petteri Taalas wrote in the report..."
---
Tougher Climate Policies Could Save 150 Million Lives, Researchers Find. The Washington Post explains: "There is an overlooked benefit to greatly lowering carbon emissions worldwide, a new study says. In addition to preserving Arctic sea ice, reducing sea-level rise and alleviating other effects of global warming, it would probably save more than 150 million human lives. According to the study, premature deaths would fall on nearly every continent if the world's governments agree to cut emissions of carbon and other harmful gases enough to limit global temperature rise to less than 3 degrees Fahrenheit by the end of the century. That is about a degree lower than the target set by the Paris climate agreement. The benefit would be felt mostly in Asian countries with dirty air — 13 million lives would be saved in large cities in India alone, including the metropolitan areas of Kolkata, Delhi, Patna and Kanpur..."
File photo: Andy Wong, AP.
---
LAWSUITS: Headlines and links from Climate Nexus: "The judge in a federal climate change lawsuit wants a science tutorial (Vox), on trial for causing climate change, oil companies don't plan to deny it's happening (Sacramento Bee), Chevron says climate change lawsuit `not viable' as it prepares to educate judge on science (Forbes), a judge asks basic questions about climate change--we answer them (The Guardian), climate denial arguments make way to science tutorial by federal judge." (Climate Liability News).
---
Should Oil Companies Pay for Climate Change? Yes, There is Evidence. San Francisco Chronicle has the story: "On Wednesday, a federal judge will hold a "climate science tutorial" as part of San Francisco's and Oakland's nuisance cases against five oil giants for damages related to sea level rise. He has invited plaintiffs and defendants to present the history of climate science and "the best science now available on global warming, glacier melt, sea rise and coastal flooding." Last week another federal court rejected oil companies' efforts to get nuisance cases filed against them by Imperial Beach (San Diego County) and Marin and San Mateo counties moved from state courts into the federal system. The decision dealt the companies a huge blow, given favorable California law. At the heart of both cases are these central questions: What did fossil fuel producers know about climate change and its causes and effects, when did they know it, and how did their public statements square with what they knew? The answers could help determine whether these companies should pay for some of the billions of dollars needed to protect Californians from rising seas and damage from drought, wildfire and other extreme events worsened by climate change..."
Photo credit: DANIELLA BECCARIA, SEATTLEPI.COM. "People in kayaks protest against the Port of Seattle being used as a port for Shell Oil's Arctic drilling rig Polar Pioneer in May 2015."
---
The Arctic's Carbon Bomb Might Be Even More Potent Than We Thought. Chris Mooney reports for The Washington Post; here's an excerpt: "For some time, scientists fearing the mass release of greenhouse gases from the carbon-rich, frozen soils of the Arctic have had at least one morsel of good news in their forecasts: They predicted most of the gas released would be carbon dioxide, which, though a greenhouse gas, drives warming more slowly than some other gases. Scientists obviously weren't excited about more carbon dioxide emissions, but it was better than the alternative: methane, a shorter-lived but far harder-hitting gas that could cause faster bursts of warming. Now even that silver lining is in doubt. Research released Monday suggests that methane releases could be considerably more prevalent as Arctic permafrost thaws. The research finds that in waterlogged wetland soils, where oxygen is not prevalent, tiny microorganisms will produce a considerable volume of methane, a gas that doesn't last in the air much more than a decade but has a warming effect many times that of carbon dioxide over a period of 100 years..."
Photo credit: "In this 2009 photo, a hill of permafrost "slumps" from global warming near the remote, boggy fringe of North America in Canada's Northwest Territories, 1,400 miles from the North Pole." (Rick Bowmer/AP).