No Big Storms Between Now and Thanksgiving Day

My nervous tick tends to act up before Thanksgiving. Because, deep down, we all know that big storms, given a choice, PREFER to come on weekends and major holidays. There's no hard data to support
that premise, but here's the reality: with holiday travel plans more of us are weather-sensitive, more "weather-aware". When there is rain, snow or ice gumming up our drives, we make note of it.
Ice and snow will complicate travel in the northeastern USA today, while fires and poor air quality impact California. No headline-grabbing storms are brewing for the Upper Midwest, just a slushy coating late Friday with the next clipper, and a little rain or drizzle on Thanksgiving Day.
Expect 40s again today, and after cooling off over the weekend, another well-timed thaw arrives next week. I see 40s next Tuesday into Thanksgiving Day; ECMWF continues to suggest highs near 50F next
Wednesday. That's our new definition of a "warm front".
The overall pattern seems to favor cold weather for New England and a warm western US into December. No white Thanksgiving this year. Be careful on the ice! 
---
---
---
---
---
---
Graphics above courtesy of Praedictix and AerisWeather.
---
---
---
Late November: Modified Zonal. Long range GFS guidance still hints at average to slightly above average temperatures the last few days of November, with more of a Pacific influence for most of the USA. Maybe we'll balance things out after an unusually cold first half of the month.
---
A Busy 2018 Air Quality Alert Season: Blame It On The Wildfires. MPCA has an update on air quality conditions in 2018, made considerably worse by smoke from western (and Canadian) wildfires: "...In 2018, the MPCA issued nine air quality alerts, in large part due to wildfire smoke transported hundreds or thousands of miles from its source. For the first time ever, an air quality alert was issued for the entire state due to the expansive clouds of smoke that were enveloping the region. The MPCA anticipates that for years to come Minnesota will continue to see air quality concerns related to distant wildfires due to ongoing climate change-related drought and heat, and to previous fire management practices that have led to accumulation of excess fuels..."
---
El Nino Still Brewing for Winter Months. "In November you begin to know how long the winter will be" wrote Martha Gellhorn. Odds are, at this latitude, it'll be a long winter. That seems like a safe bet.bIf you're keeping score, November is running 8F colder than average. Which has many people wondering if this will be a savage, pioneer-like, 1970s winter. That scenario is still possible, but I doubt it.nThe Pacific Ocean is warming and NOAA predicts an 80 percent probability of an El Nino this winter. Although every El Nino is different, most correlate with milder, drier winters across the Upper Midwest. That said, my confidence level is low; anything can and will happen.
Image credit courtesy of NOAA, which has more than you ever wanted to know about a brewing El Nino here.
---
The Simple Reason That Humans Can't Control Wildfires. Stating the obvious, fire is unlike any other natural disasters. Here's a clip from The Atlantic: "...It was not like a bonfire or even a house fire. It was a wall of flame, probably 100 feet high. The vision made him realize it is impossible to fight wildfires. It also changed his life. Williams had never seriously studied wildfires before he saw the Las Conchas Fire in New Mexico. He is now a professor at Columbia, and one of the world's leading experts on how climate change has intensified the problem of wildfire. "The fire, to me—it's like an ocean," he said. "It's so strong that we don't really stand a chance of doing much to it. When it's that big, and there are helicopters dropping water and retardant on it, they're doing nothing. When you see firefighters spraying hoses at it, [the fire] is so hot that they can't even be close enough to be within hose-shot..."
Photo credit: "Firefighters battle the Camp Fire near Paradise, California." Stephen Lam / Reuters.
---
WILDFIRES: Climate Nexus has links and headlines: "California's "Camp Fire" death toll jumps to 48 as thousands of firefighters battle blazes (CBS), the simple reason that humans can't control wildfires (The Atlantic), California's wildfire and climate change warnings are still too conservative, scientist says (InsideClimate News), before and after photos show how wildfire reduced Paradise, California, to ashes (CNN), for Trump, even disaster response is colored in red and blue (Washington Post $), five myths about wildfires (BBC), 'megafire' that torched town now common in California (Reuters), National Guard to help search for remains from California's deadliest wildfire (Reuters), blame climate, but crowded forests also fuel California fires (Reuters), "the new abnormal": wildfires and climate change." (WAMU)
---
Google Crisis Wildfire Map. To get the latest details click here.
---
Praedictix Briefing: Issued Wednesday AM, November 14th, 2018:
---
Three large, destructive wildfires continue to burn in California this morning. The Camp Fire has now burned 130,000 acres and is 35% contained. The Woolsey Fire has burned 97,114 acres and is 40% contained. The Hill Fire has burned 4,531 acres and is 92% contained.
While winds have decreased today across southern California, sustained winds of 20-30 mph this morning will still fuel a critical fire danger across parts of the San Gabriel Mountains and from the San Jacinto to the Laguna Mountains.
We're also tracking an early season winter storm from the Mississippi Valley into the Mid-Atlantic and Northeast, which will bring snow and ice accumulations through the end of the week. Some of the heaviest ice will fall from the Shenandoah Valley south into western North Carolina, where totals could top a half an inch.
---
Numerous Large Wildfires in California. Multiple wildfires continue to burn in California with three major wildfires that are most concerning: the Camp Fire, the Woolsey Fire, and the Hill Fire.
---
Camp Fire Update. Firefighting crews continued to maintain containment lines yesterday with the Camp Fire. This fire has now burned 130,000 acres and is 35% contained. This fire has destroyed 7,600 single resident structures, 95 multiple resident structures, 260 commercial structures, and 859 other minor structures. Numerous evacuations and road closures remain in effect. More information is available from:
---
Woolsey And Hill Fire Update. The Woolsey Fire has burned 97,114 acres and is 40% contained. This fire has destroyed an estimated 435 structures, with 185 confirmed structures destroyed based off a damage assessment which is 20% complete. Numerous evacuation orders remain in effect, but some continue to be slowly lifted including in parts of Malibu.
The Hill Fire has burned 4,531 acres and is 92% contained.
For both fires, stronger winds, along with low humidity values and dry fuels, will impact firefighting efforts over the next couple of days. Firefighters are also battling steep terrain and limited access. More information is available from:
---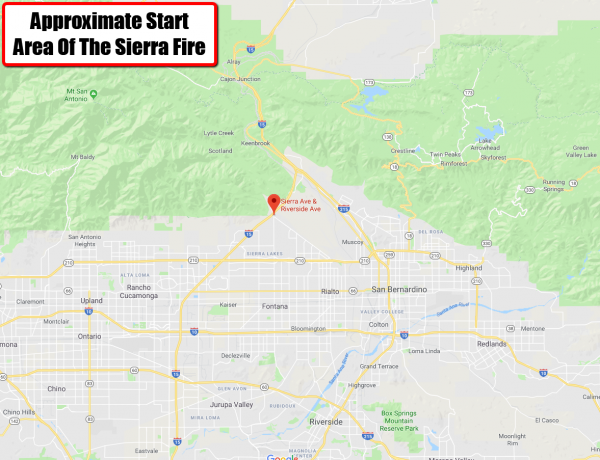 Sierra Fire. Last night a new fire sparked in Fontana, CA, near the intersection of North Riverside Avenue and Sierra Avenue. This fire was threatening homes on the border of Fontana and Rialto. The San Bernardino County Fire District said at around 5:30 AM this morning that the fire was 147 acres large. The good news is that they tweeted out this morning at around 2:30 AM that progress was being made and that neighborhoods were being patrolled for potential embers. More information can be found from the San Bernardino County Fire District on Twitter: https://twitter.com/SBCOUNTYFIRE
---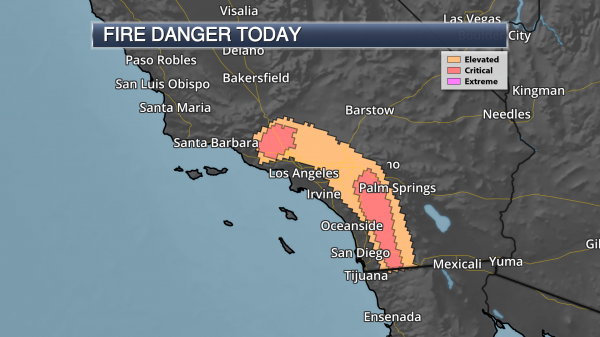 Critical Fire Danger Wednesday. Especially during the morning hours, sustained surface winds of 20-30 mph will be possible across parts of the San Gabriel Mountains and from the San Jacinto to the Laguna Mountains. Due to the potential of these stronger winds, along with continued low humidity values and dry fuels, a critical fire danger is in place across these regions. Winds are expected to weaken this afternoon and tonight.
---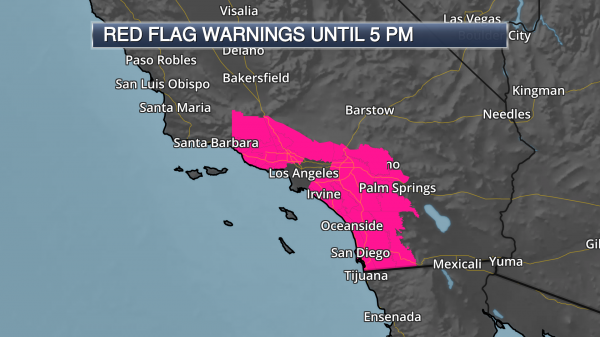 Red Flag Warnings. Due to the ongoing fire weather threat across the region, Red Flag Warnings remain in effect across southern California through 5 PM today.
---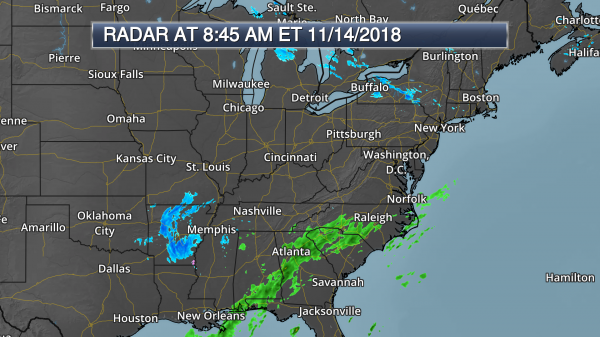 Snow Falling This Morning. We're also tracking the potential of snow and ice over the next several days from the lower Mississippi Valley into parts of the Northeast. Already this morning snow is falling across parts of Louisiana and Arkansas, with 0.6" of snow reported in Dubach, LA. Lake effect snow is also falling in the Lake Ontario snow belt, with 5" of snow reported in Constableville and Whitesboro, NY.
---
Tracking Wintry Weather. As an upper-level system moves into the central Appalachians, an area of low pressure will form in the Tennessee Valley. That is in addition to an area of low pressure which will be moving along the east coast, strengthening as it does so. Both of these systems will help bring wintry weather – both snow and ice – over the next several days from the Deep South into the Ohio Valley and the Northeast.
---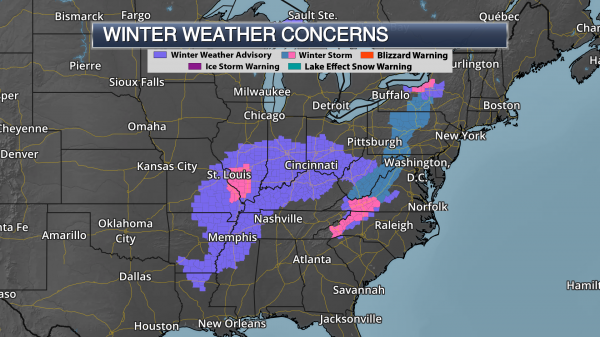 Winter Alerts In Place. Due to the wintry weather expected from the Mississippi Valley to the Mid-Atlantic and Northeast, numerous Winter Storm Watches and Warnings, as well as Winter Weather Advisories, have been put in place. Some winter alerts are also in effect in the Lake Ontario snow belt for the heavy snow occurring today. Some of the larger cities under winter alerts this morning include:
Memphis, TN: Winter Weather Advisory in effect through

Noon

Thursday

for 2-3" of snow, along with freezing drizzle and sleet that could mix in at times.
St. Louis, MO: Winter Weather Advisory in effect from

6 PM

tonight

to

6 PM

Thursday

for 2-5" of snow.
Indianapolis, IN: Winter Weather Advisory in effect from

1 AM to 7 PM

Thursday

for up to 2" of snow and up to 0.10" of ice.
Cincinnati, OH: Winter Weather Advisory in effect from

10 PM

tonight

to

Noon

Thursday

for up to 1" of snow and a light glaze of ice.
Columbus, OH: Winter Weather Advisory in effect from

10 PM

tonight

to

Noon

Thursday

for up to 1" of snow and a light glaze of ice.
Roanoke, VA: Winter Storm Warning in effect from

7 PM

tonight

to

1 PM

Thursday

for up to 2" of sleet and up to 0.5" of ice.
State College, PA: Winter Storm Watch in effect from

Thursday

morning to

Friday

morning for 3-6" of snow (localized 8" amounts) and up to 0.1" of ice.
Rochester, NY: Winter Weather Advisory in effect through

6 PM

this evening for additional lake effect snow totals of 2-4".
---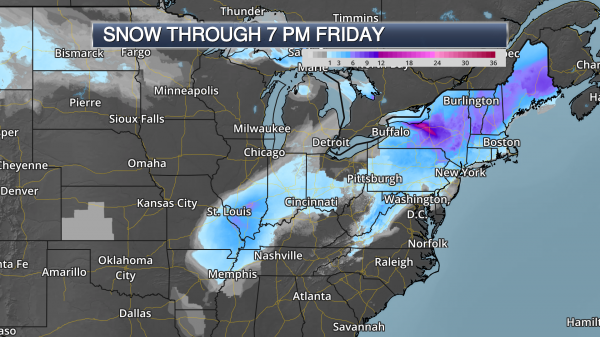 Snow Forecast. Today the heaviest snow will fall due to lake effect snow downwind of Lake Ontario, with additional snow amounts of 3-6" possible in the most constant snow bands. Snow will also fall across parts of the lower/mid-Mississippi Valley, with a few inches possible. Snow won't begin in St. Louis until tonight, continuing into Thursday from the mid-Mississippi Valley to the Ohio Valley. The heaviest snow across those regions is expected to fall just south and east of St. Louis, with 5-7" possible. At the same time, snow will be falling across parts of the Appalachian Mountains and Northeast, with the potential of up to 4" of snow possible in areas. Places like Philadelphia and New York City are currently expected to see less than an inch of snow at the moment.
---
Ice Forecast. Ice will also be an issue with these storms. Across parts of Kentucky and southern Indiana, ice totals of up to two-tenths of an inch will be possible. The heaviest ice, however, will fall across the Shenandoah Valley south into western North Carolina, with the potential of at least a half an inch of ice. Ice accumulations of that amount would be capable of damage to trees and power outages.
D.J. Kayser, Meteorologist, Praedictix.
---
What Trump Gets Wrong About Wildfires, By a Fire Scientist. Here's a snippet from a story at The Guardian: "...The severity of these fires is moderated by rain and snowfall. California's Mediterranean climate means that the state receives heavy precipitation for only a few short months in the winter, and this is all that the vegetation has to tide it over until the winter storms begin the next year. As the temperature increases in spring and summer and plants use up the water stored in the soil, the amount of water held in plants decreases, making them more flammable. Similar to fire wood, the drier it is, the easier it burns. Climate change is causing warmer temperatures, which dry out vegetation more. It is also causing winter precipitation to fall over a shorter period and the length of the fire season is increasing. Vegetation in California is increasingly primed for fire..."
---
The Terrifying Science Behind California's Massive Blaze. WIRED.com provides some perspective on why these fires have been so bad in recent years: "...North or south, the state is extremely dry already. But these warm winds ripping through the Sierras are only making matters worse, siphoning what little moisture California's vegetation has left. While the winds will likely die down a bit over the next few days, they're due to pick back up again Sunday, which could bring still more fires. This is what a climate change reckoning looks like. "All of it is embedded in the background trend of things getting warmer," Lareau says. "The atmosphere as it gets warmer is thirstier." Like a giant atmospheric mosquito, climate change is sucking California dry..."
---
These Wind Patterns Explain Why California's Wildfires Are So Bad. Santa Ana winds are a fixture across California - the problem is persistent drought and very low humidity levels creating the conditions necessary for larger/longer fires. WIRED.com has more analysis: "...The driving force has been extreme wind—gusts of up to 60 miles per hour, perhaps even 70 in the hills of Southern California—blowing through the state. Wind further desiccates already dry vegetation and pushes the fires along with incredible speed. Firefighters caught a break Saturday afternoon when winds died down a bit, but the gusts picked back up again Saturday evening in Northern California (and Sunday morning down south), and they are expected to continue blasting until Tuesday. Like a demonic analog of water, this air is flowing across the state, nourishing flames and parching plants..."
---
Hurricane Michael is Looking Even More Violent on Closer Scrutiny. The Washington Post provides more clarity on a nearly-Category 5 beast that leveled portions of the Florida Panhandle: "...Mike Brennan, chief of the hurricane specialist unit at the National Hurricane Center, said Hurricane Michael was violent in two really different ways. "You had the violence of the winds, the Category 4 winds in the eyewall there, but then you had the violent storm surge that was obviously powerful enough to wipe buildings off their foundation," Brennan said. The unlucky people of Mexico Beach suffered both the maximum winds and the maximum storm surge — the rise in ocean water above normally dry land as the storm plows ashore. In this violent zone, propped against the storm's calm eye, the forward speed of the hurricane adds to the speed of its counterclockwise circulation. The overlap maximizes the surge..."
---
Better "Nowcasting" Can Reveal What Weather is About to Hit Within 500 Meters. MIT Technology Review takes a closer look at hyper-local forecasts in close to real time: "...Current forecasting is limited by the data and the scale on which it is gathered and processed. For example, satellite data has a spatial resolution of 50 to 100 km and allows the tracking and forecasting of large cloud cells over a time scale of six to nine hours. By contrast, radar data is updated every five minutes, with a spatial resolution of about a kilometer, and leads to predictions on the time scale of one to three hours. Another source of data is the microwave links used by telecommunications companies, which are degraded by rainfall. Clearly radar has great potential for nowcasting, and indeed, meteorologists have devoted significant resources to studying it..."
Image credit: Air Mobility Command.
---
Growing the Future. High-tech farmers are using LED lights in ways that almost resemble science fiction, according to a story at The Washington Post: "...We think climate change is making it much more difficult for a lot of farms around the country, around the world," he says, speaking from his office overlooking a demonstration kitchen for visiting chefs and others. In addition to shaping the plants, LEDs allow speedy, year-round crop cycles. This permits Zelkind and his team of growers and technicians to produce 200,000 pounds of leafy greens, vine crops, herbs and microgreens annually in a 12,000-square-foot warehouse, an amount that would require 80 acres of farmland (hence the company's name)..."
Photo credit: "Mike Zelkind, chief executive of 80 Acres Farms, grows tomatoes and other produce with artificial-light recipes made possible with new LED technology." (Maddie McGarvey for The Washington Post).
---
Chip and Joanna Gaines Aren't Done With TV Just Yet. Yes, I'm an HGTV junkie (no politics to contend with, no angry people with a cause) and I was happy to see this update on CNN: "...The couple are pairing again with Discovery, the network that owns HGTV, he said. "Discovery is thrilled to confirm that we are in exclusive talks with Chip and Joanna Gaines," the network confirmed in a statement. "The Gaineses are exceptional people, true authentic storytellers and creative visionaries who will nourish millions of people with quality, family-friendly programming accessible on a 24/7 network and across all screens. Stay tuned ... working out the final details ... more to come soon!..."
---
China Has Developed a Virtual Anchor to Deliver the News. Uh oh. Here we go. CNN Business has the harrowing details: "China's state news agency has debuted a virtual anchor designed to be able to deliver the news 24 hours a day.  Xinhua unveiled its "artificial intelligence news anchor" Wednesday at an internet conference in the eastern city of Wuzhen. "Hello, you are watching English news program. I am AI news anchor in Beijing," the computer-generated host announced in a robotic voice at that start of its English-language broadcast. Developed by Xinhua and Chinese search engine company Sogou, the anchor was designed to simulate human voice, facial expressions and gestures..."
---
1 Million Americans Live in RVs. Meet the "Modern Nomads". Some days this sounds pretty good. The Washington Post has the story: "...A million Americans live full-time in RVs, according to the RV Industry Association. Some have to do it because they can't afford other options, but many do it by choice. Last year was a record for RV sales, according to the data firm Statistical Surveys. More than 10.5 million households own at least one RV, a jump from 2005 when 7.5 million households had RVs, according to RVIA. Interest in "RVing" — either full time or on weekends — appears to be picking up, especially among young couples. Half of new sales are going to Americans under 45, and purchases by people of color are rising, RVIA found in its 2016 surveys, a change from the 20th century, when white retirees dominated campsites..."
File credit: thewoodoffice.com.
---
43 F. high temperature yesterday in the Twin Cities.
42 F. average high on November 14.
45 F. high on November 14, 2017.
November 15, 1976: So far this year there were over three thousand forest fires in Minnesota.
---
THURSDAY: More clouds, late shower. Winds: SW 10-15. High: 44
THURSDAY NIGHT: Shower or sprinkle with falling temperatures. Low: 30

FRIDAY: Colder, chance of a little light snow or flurries. Winds: NW 8-13. High: 39

SATURDAY: Getting sunnier, brisk! Winds: NW 7-12. Wake-up: 19. High: 30

SUNDAY: Cold start, intervals of sun. Winds: W 10-15. Wake-up: 15. High: 33

MONDAY: Sunny start, clouds stream in later. Winds: S 7-12. Wake-up: 13. High: 32

TUESDAY: Pacific breeze returns, thawing out. Winds: W 8-13. Wake-up: 25. High: 44

WEDNESDAY: Mildest day, touch of Indian Summer? Winds: S 7-12. Wake-up: 29. High: 48
---
Climate Stories...
Crime Likely to Increase in Winter as Temperatures Warm, CU Boulder Research Finds. The Denver Post highlights a new study that points out a possible trend: "Researchers at the University of Colorado Boulder have established scientific backing for long-held accepted wisdom that rising temperatures can lead to trouble in the streets. Scrutiny of monthly violent and property crime data from the FBI reported by 16,000 law enforcement agencies across the U.S. cemented the case for a seemingly simple concept: When the weather is more mild, people have more chance to get out and interact — and to cause trouble. That dynamic has been dubbed the Routine Activities Theory. A second, partner theory is the Temperature-Aggression Hypothesis, which holds that people act more aggressively in extreme heat..."
---
Scientists Acknowledge Key Errors in Study of How Fast the Oceans Are Warming. This is how science works. The Washington Post has an update: "Scientists behind a major study that claimed the Earth's oceans are warming faster than previously thought now say their work contained inadvertent errors that made their conclusions seem more certain than they actually are. Two weeks after the high-profile study was published in the journal Nature, its authors have submitted corrections to the publication. The Scripps Institution of Oceanography, home to several of the researchers involved, also noted the problems in the scientists' work and corrected a news release on its website, which previously had asserted that the study detailed how the Earth's oceans "have absorbed 60 percent more heat than previously thought." "Unfortunately, we made mistakes here," said Ralph Keeling, a climate scientist at Scripps, who was a co-author of the study. "I think the main lesson is that you work as fast as you can to fix mistakes when you find them..."
Photo credit: "The sun sets over sea ice floating on the Victoria Strait along the Northwest Passage in the Canadian Arctic Archipelago during the summer of 2017." (AP Photo/David Goldman).
---
Climate Change Will Heat Up Cities and Rural Areas Differently. The urban heat island effect amps up the background warming even more, according to research highlighted at CBC News: "Climate change isn't the only thing that will be heating up cities in the future — urbanization hikes temperatures too. A new study led by a University of Guelph researcher looks at how climate change will affect urban and rural areas differently, finding both good news and bad news. The good news, according to the study led by Scott Krayenhoff, an assistant professor of environmental sciences at the Ontario University, is that climate change appears to reduce the temperature boost from urbanization, known as the "urban heat island effect." The bad news is the combined heating effects of climate change and urbanization can't be cancelled out by adapting urban design for a warmer climate, especially when it comes to nighttime warming, says a report on the study published this week in Nature Climate Change..."
Photo credit: "A new study has found that cities are warming due to both urbanization and climate change." (Mike Blake/Reuters)
---
---
Activists to Swarm Hill to Win GOP Over on Climate Change. Here's an excerpt from Washington Examiner: "The 100,000-member strong Citizens' Climate Lobby wants to turn global warming into an issue that unites Republicans and Democrats rather than driving them apart. That's the message the bipartisan grassroots coalition will be bringing on Tuesday as it descends on Capitol Hill to deliver the first big lobbying push on climate change since the midterm elections. "We hope to find ways to continue to get Republicans to work to have this become a bridge issue and not a wedge issue in the House and Senate," James Tolbert, the climate lobby's conservative caucus outreach director, told the Washington Examiner..."
---
---
More stories....
Chairman of the Joint Chiefs: Climate Change a Source of Conflict Around the World. The Center for Climate & Security has a post on how military brass are taking a rapidly changing climate very seriously. The Worst is Yet to Come for California's Wildfires. 3 of California's 5 largest fires have taken place in the last 3 years, all in northern California, reports The Atlantic. Climate Change Plays Second Fiddle as California Burns. Is the media doing a good job connecting the dots? Probably not, argues The Columbia Journalism Review.